I'm so pleased to introduce you to Lindsay of Lindsay Living, a fellow Seattle fashion and lifestyle blogger. Not only is Lindsay gorgeous and stylish, she's one of the most genuine bloggers I've met. Most recently, Lindsay tackled a really interesting topic – whether fashion and feminism are incompatible or not. I really enjoyed (and agreed with) her take. Read on for her post today on the must have handbags for your closet!
Hi! I'm Lindsay and I'm so excited to be guest posting here on Hello Rigby! Thanks
so much for going on vacation, Jenn! Today I'll be talking to you about handbags. It's
a lot of fun to look at the sale bags at Nordstrom, or to paw through the aisles at TJ
Maxx and find a fantastic steal to add to your closet, but how can you be sure you're putting your money into the right pieces that will truly pull their weight in your
closet?
I'm a big fan of the "cost-per-wear" way of thinking. If I buy a handbag (or any item really) that I truly love I will use it a TON. If you think about the total price you paid and divide it by the number of times you will wear it over time that's the item's cost-per-wear. Using this line of thinking it stands to reason that spending a little more money on a thoughtful purchase will be more beneficial than throwing down dollars on an impulse sale buy.
In my opinion, a great handbag can take that Target dress from bargain to beautiful. It's all about context. Handbags are a great place to splurge because you use them over and over with many outfits. Plus, you can find great designer bags on clearance if you shop around. Here are five handbag styles I think you should have in your closet for maximum wear.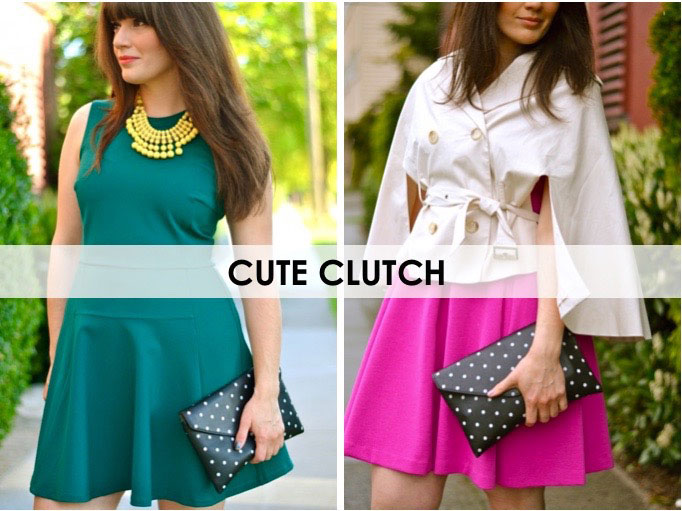 1. Cute Clutch When you're building a handbag wardrobe you want to think about all occasions. For example, your big ol' tote bag isn't exactly the right accessory to set off a beautiful dress you're wearing to a wedding. In comes the cute clutch. I've had several over the years but have found the one I go back to time and time again is this little black and white polka-dotted style from J.Crew. It's beautiful leather, lined, has a chain strap just in case I get sick of carrying it, and it's neutral colors go with any dress I pull out. Although I don't use a clutch too often, I have found many ways to wear this one. You also want to make sure the size you get will fulfill your needs. Mine has cardholders in the inside, so I don't carry my wallet in it, just cards, cash, phone, and a lipstick.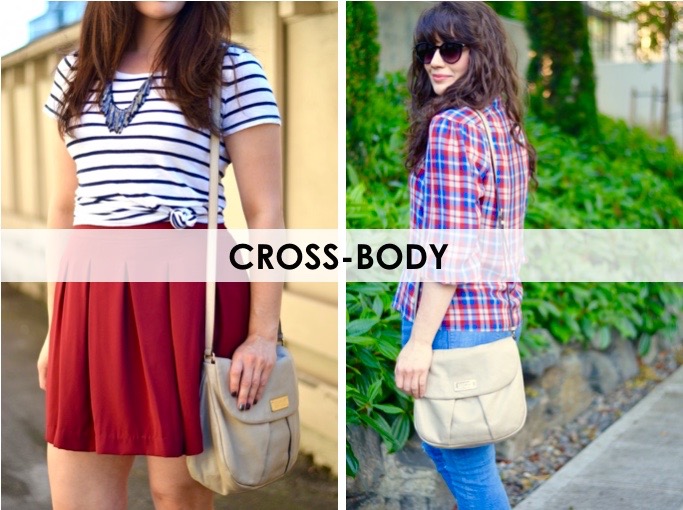 2. Cross-body Sometimes you just want to be hands-free. I have a few cross-body bags because they are just so easy to carry for any occasion. I love them when I'm out for a day of walking, sightseeing on a trip, or out shopping. It's nice to have your hands free and not worry about the weight of your bag bringing you down. This neutral version from Marc by Marc Jacobs goes with everything and is just small enough to be lightweight and just big enough to squeeze in a light jacket or umbrella if needed.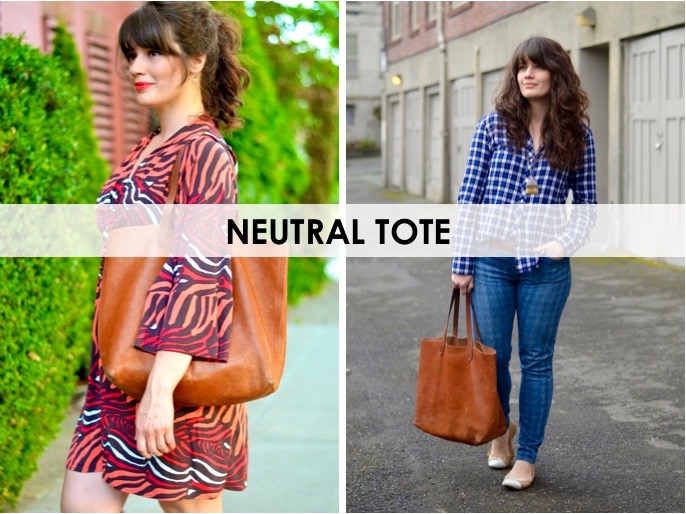 3. Neutral Tote Day in and day out many of us carry our lives with us in our handbags. For these kinds of days, nothing beats a big ol' tote. My Madewell Transport Tote has been a lifesaver and has been known to carry my camera, makeup bag, student work, my teacher planner, and a lunch. Now that's a workhorse! It's also a great carry-on when I'm traveling and fits comfortably over my shoulder no matter what I stuff inside. All that plus the cost-per-wear on this thing is nearly free at this point. I love this bag.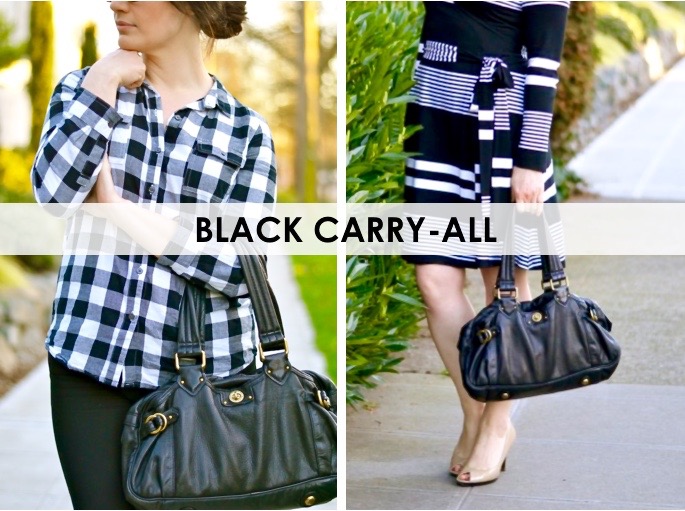 4. Black Carryall When I was building a handbag wardrobe years ago, one of my first investment pieces was this Marc by Marc Jacobs carry-all in classic black. It's made of buttery leather, has tons of roomy pockets, and has stood the test of time. It works with tons of outfits. Although it's smaller than my tote bag, I find I use it a ton for my everyday work routine. I still have room for a water bottle and my camera, but it's just as nice when I don't have much to carry. We have a plastic bag ban in Seattle, so if I forget a reusable shopping bag I can just throw a purchase into this bag and I'm good to go.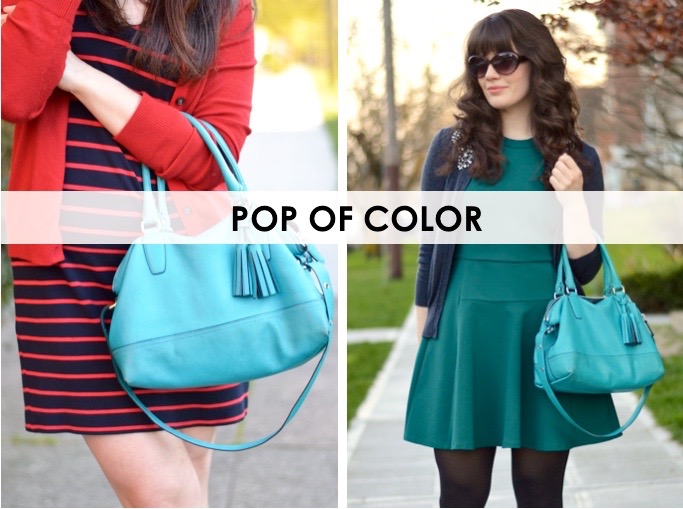 5. Pop of Color This list would not be complete without mentioning one of my favorite things: a pop of color handbag. I have a few favorites in this category, but nothing beats my Coach Molly satchel. The bright blue leather is an eye-catcher, always garners a lot of praise when I post it on Lindsay Living, and I have found it goes with a TON of outfits. The trick to a pop of color bag is finding one in a color that works with the majority of your closet. I have a lot of cool colors in my wardrobe that this bag works great with, but I've also surprised myself by putting it with red from time to time. Get creative with it!
I'd love to hear what bags you think are necessary for your closet, so please let me know in the comments below. Thanks again to Jenn for letting me swing by and visit. Happy summer, everyone!