You know what my favorite thing to do after a long, busy day is? Taking off my makeup! There's something so refreshing about taking a load off, lathering up, and getting every last but if makeup off my skin. It's funny how much one simple part of my night time routine can put me in a different, more relaxed mindset!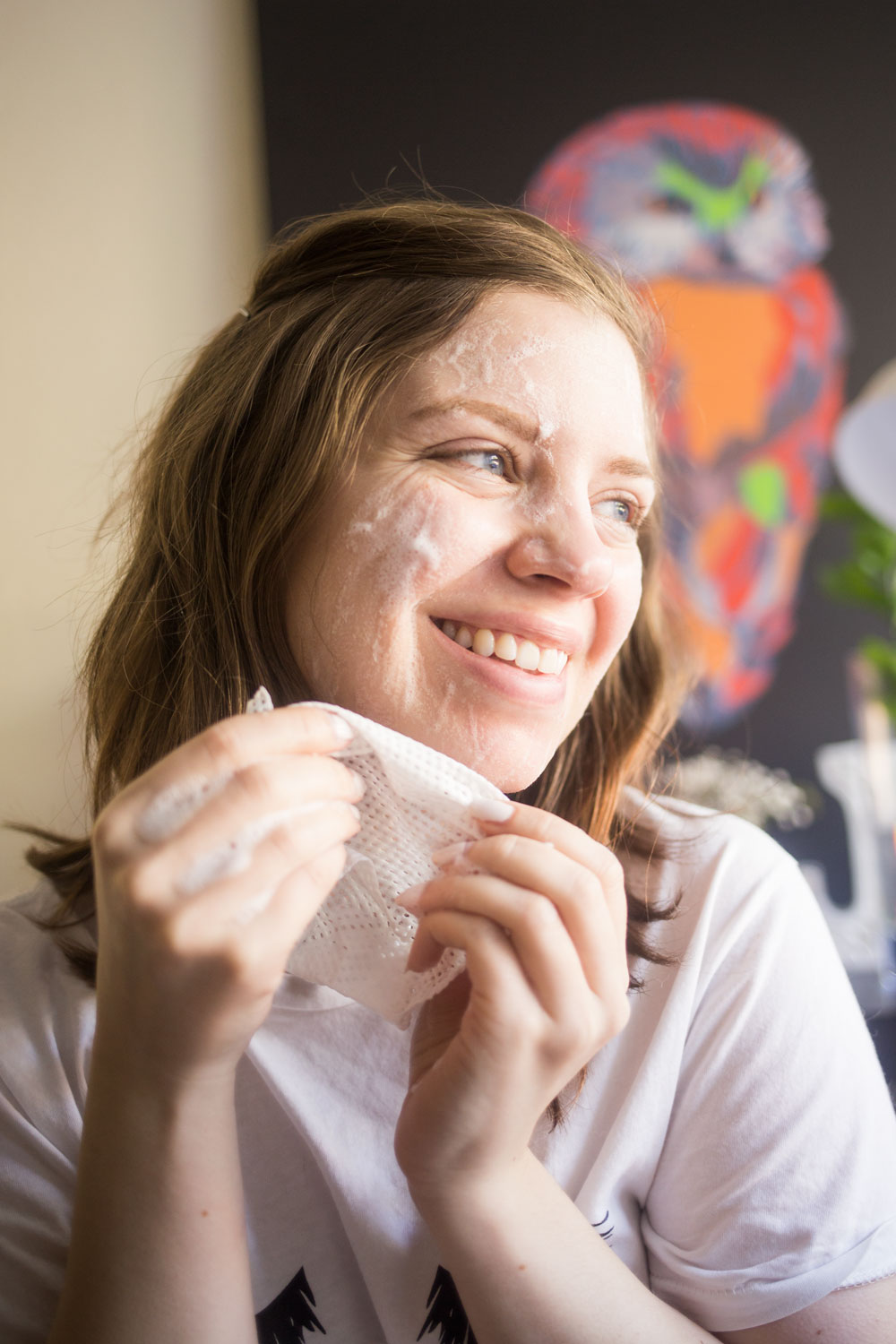 Disclosure: This post is sponsored by Olay. Thanks for supporting the brands who support this blog! All opinions are my own. :)
My Night Time Routine with Olay
When it comes to unwinding after a long day, I don't always maintain the exact same schedule, but I do try to stick to a general routine. It helps me feel like I'm more in control of my schedule, and especially during stressful times, this gives me the structure and normalcy that I crave. For me, it means sticking to the basics and planning for the next day ahead. I thought it would be fun to share what my average nightly routine looks like with you today!
Take off my makeup
The first thing I do when it comes to unwinding after a long day is removing my makeup. For me, that means choosing quality but convenient skincare as of late. We've been moving, so having something that I can take on the go is important to me because we're between two places right now. It's a little stressful, but my skincare routine doesn't have to be!
Discovering Olay Daily Facials Daily Clean 4-in-1 Water Activated Cleansing Cloths  was the perfect solution for me. Unlike some makeup removers, Olay Daily Facials lather up like a cleanser so instead of stripping my skin; I'm gently removing impurities and my makeup. I love how they feel on my skin, and because I do have sensitive and dry skin, I don't have to worry about them being too harsh. They also have multiple benefits, as they work as a gentle exfoliator, cleanser, mask, and toner all in one, and they leave my skin feeling noticeably hydrated and smooth. I appreciate a multi-tasking product, especially when most of my skincare options are packed away in boxes!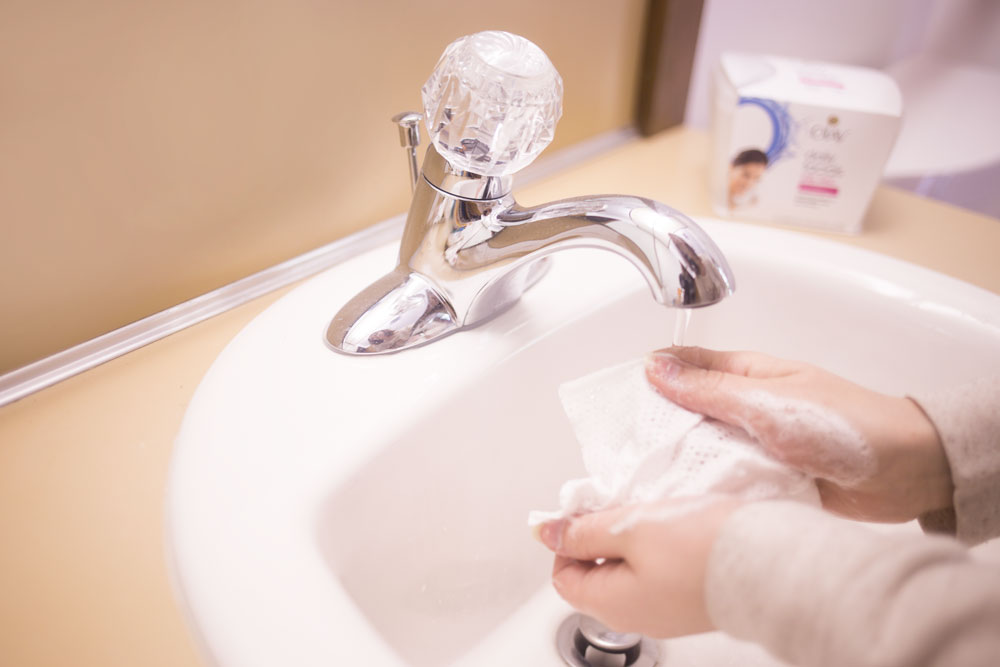 Plus, with the weather heating up here in Seattle, my skin is changing once again. Have you noticed that between seasons often can cause a skin battle? With the changing weather and the stress going on in my life, my skin needs a complete clean to prevent any breakouts, and Olay Daily Facials do just that. In fact, they give a more complete clean than a micellar water, makeup remover wipe, or a liquid cleanser! I love that they provide a better clean and give me healthier looking skin without all the extra products. And, with the warmer weather, I'm feeling even better about going without makeup! I love that #NoMakeupRequired look!
I also like that since they are a dry cloth, accidentally leaving the package open doesn't render them all useless! If you've ever done this with a traditional makeup wipe, then you'll know the disappointment of opening a container to find them all dried out! Plus at an affordable price, you really can't go wrong with this product.
Apply skincare
After using my Olay Daily Facials, I move onto the rest of my skincare routine. For me, it's been just the essentials lately. A serum after cleansing, a night cream, and an eye cream help to maintain my skin's hydration levels without too much fuss. I'll hop back on the full blown skincare routine train soon enough, but I have to be honest, moving has me feeling overwhelmed enough that sticking to the basics is enough for now.
Take care of the essentials
After I've taken care of my skin, I try to tackle all of the other necessary but less fun activities. Brushing my teeth, flossing, and planning for the next day are definitely not as enjoyable for me as taking care of my skin, but it just has to be done. I'll be honest, I kind of rush through these steps and probably am not as diligent about my oral health as I could be, so if you have any tips for me to love brushing and flossing more I'd love to hear them! :)
Planning for the next day
I'm not always the best about preparing for the next day, but I do try to at least plan my morning. I try to get my blog posts done in the mornings now, as I've found writing can be easier for me first thing as opposed to late at night. I usually write down what I need to get done to get my post out and make a list of any other urgent tasks I need to get done before I head off to work.
If I feel like it, I'll also plan my outfit. Usually, I dress pretty casually to work, but I'll often check my calendar to see if I have anything else on my agenda. Last week, for instance, I had an alumni mixer to attend after work that required a semi-professional outfit so I had to make sure I had something in my closet that would fit the bill!
Unwinding from the day
Once I've finished my skincare and taking care of the other things, I'll usually settle into bed for some reading. I use this time to catch up on Instagram comments, scroll through my Facebook News Feed, read and respond to a few emails, and attempt to read some blog posts. Lately, I've been more tired than usual, so this time tends to be cut short. It's weird getting tired before midnight, but that's what happens when you have a lot going on I suppose!
Have some quiet time
Finally, to end my night, I try to have some quiet time to unwind and eventually fall asleep. For me, I need to keep my phone off the bed and away from me to prevent both a distracting night's sleep and help me get up in the morning. I plug it in and charge it near my side of the bed, but far enough from me that I have to physically reach quite far to get it. Have I mentioned that I'm awful about waking up in the mornings? Well, I am, and I've found that keeping my phone farther than arms reach is helpful in making me more aware in the mornings.
After that, it's time for lights-out, and I'm off to sleep for the night! For me, having some structure in my night and mostly following the same routine has been helpful for relieving stress. Though it sounds silly, just doing the basic things each day like cleaning with Olay Daily Facials Daily Clean 4-in-1 Water Activated Cleansing Cloths, brushing my teeth, and planning for the next day ahead can help me feel calm.
Do you have a night time routine that you stick to? What does your routine look like? I'd love to hear about it in the comments below!
This is a sponsored conversation written by me on behalf of Olay . The opinions and text are all mine.