Affiliate Links: If you click on a link in this post, I may make a very small commission. Dr. Martens was kind enough to give these boots to me as a gift; no compensation was received for posting about them.
The fact that October is almost over is giving me a little bit of anxiety. Honestly, how is it almost Halloween? Is it really almost November? These are all realizations I had this weekend so I won't lie; I'm in panic mode this week. I even realized yesterday, while I was supposed to be relaxing during my every-other-month facial, that I forgot to rent us a car for our Miami trip coming up. Yep, hot mess express. Oops.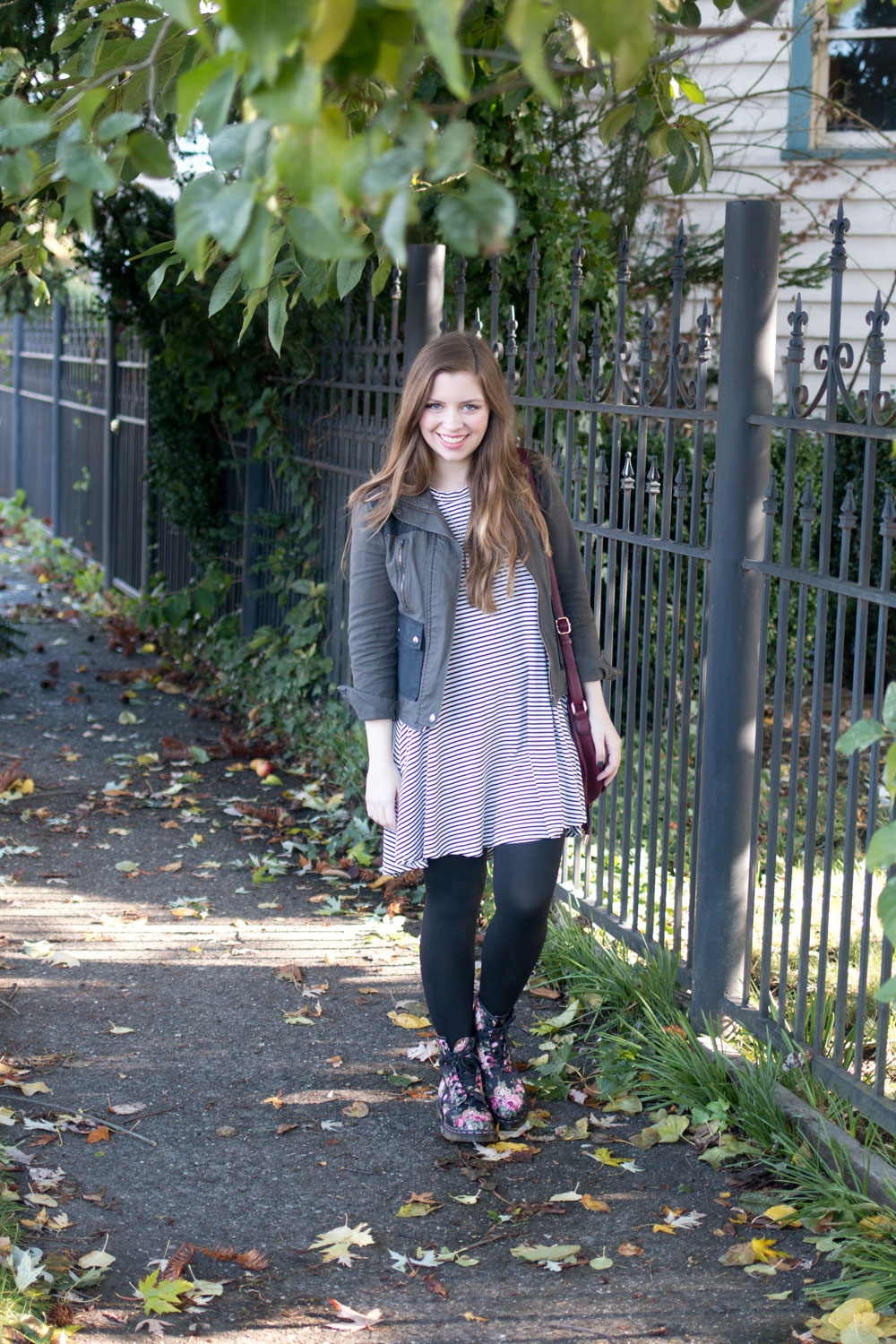 What I'm Wearing
Dress: Puella Trapeze Dress via Golden Tote (similar)
Jacket: Rubbish via Nordstrom (similar)
Necklace: Sophie Harper Pendant Necklace via Rocksbox (Use code hellorigbyxoxo for your first month free!)
Tights: DKNY Super Opaque Tight
Bag: Classic Saddle Bag via Dailylook (similar)
Boots: Dr. Martens 1460 Floral Print Boots
What I didn't forget about, however, is when I styled a bunch of looks with combat boots. I even told you I was going to style them in real life too. So I did! Dr. Martens was generous enough to gift me the boots I had been eyeing, and of course, I want to wear them as much as possible! I'm still in the breaking in phase, so while I won't be wearing them on any day of heavy walking quite yet, I am wearing them to work, to brunch, and on short errand runs.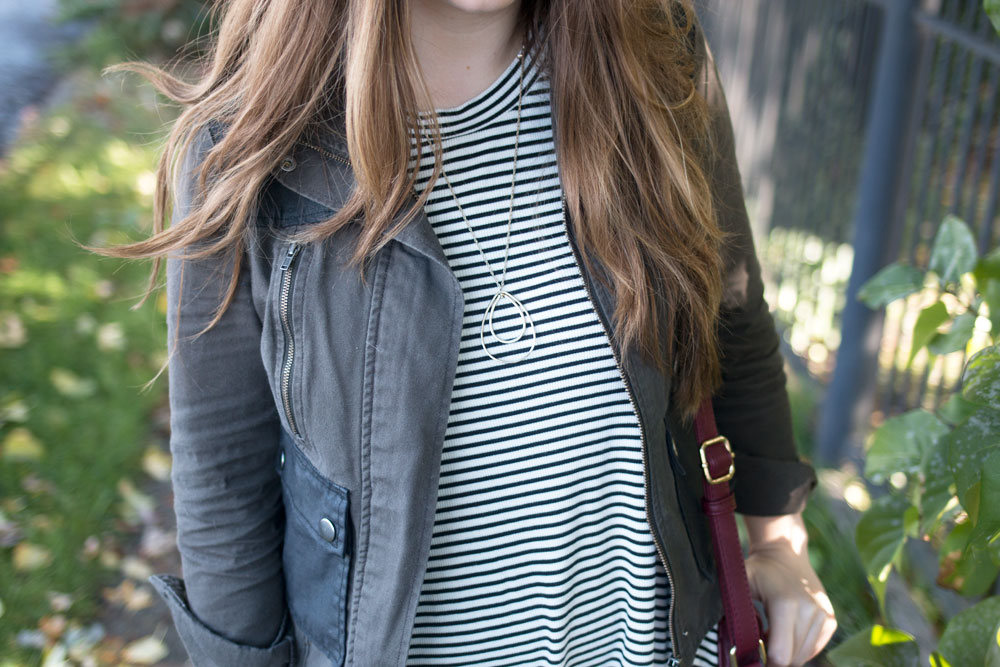 This particular day took us to Tacoma, where we met up with Dave's dad and stepmom for an overdue brunch. We went to Dirty Oscar's Annex, which once upon a time was featured on the Guy Fieri show Diner's Drive-Ins and Dives. I have to admit – over the years I feel like this place has become a little overrated when it comes to the quality food, but it definitely fits the "dive" part of the show. The restaurant is complete with a speakeasy front door, cocktails featuring moonshine, and overall unassuming facade.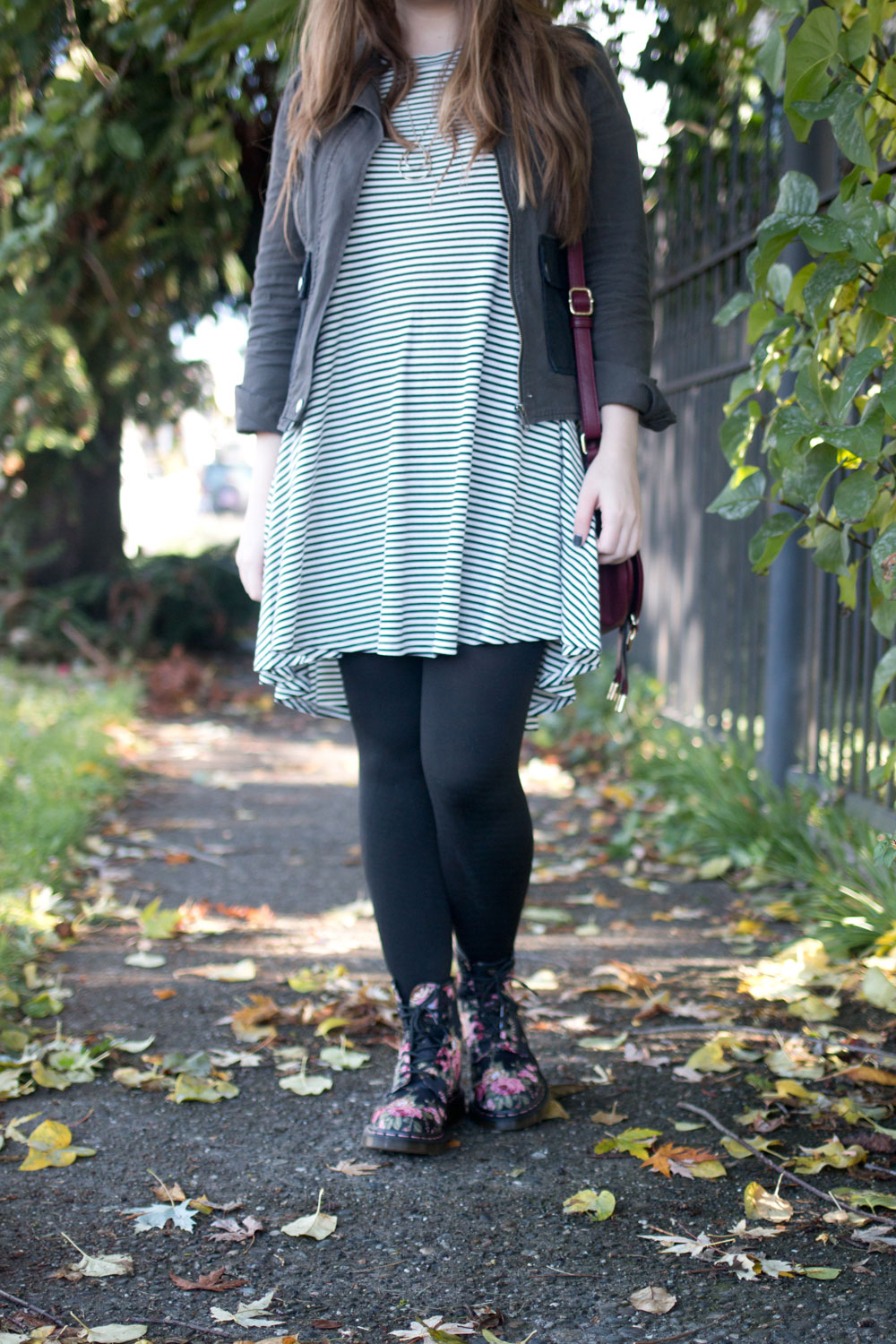 I decided to go with the "Parisian" outfit first. Admittedly it was probably my favorite, because really, who doesn't love stripes and florals together? I kind of failed at sticking to my original plan, but I loved the combination of olive green with the stripes and the floral print of the boots. With the fall colors of the boots and the jacket, I opted to go for my burgundy bag from Dailylook instead of a backpack. I added in tights because we were experiencing some wind (hence the crazy hair in a few shots, sorry about that), and it was a rather crisp morning. Guess that fall weather has finally arrived!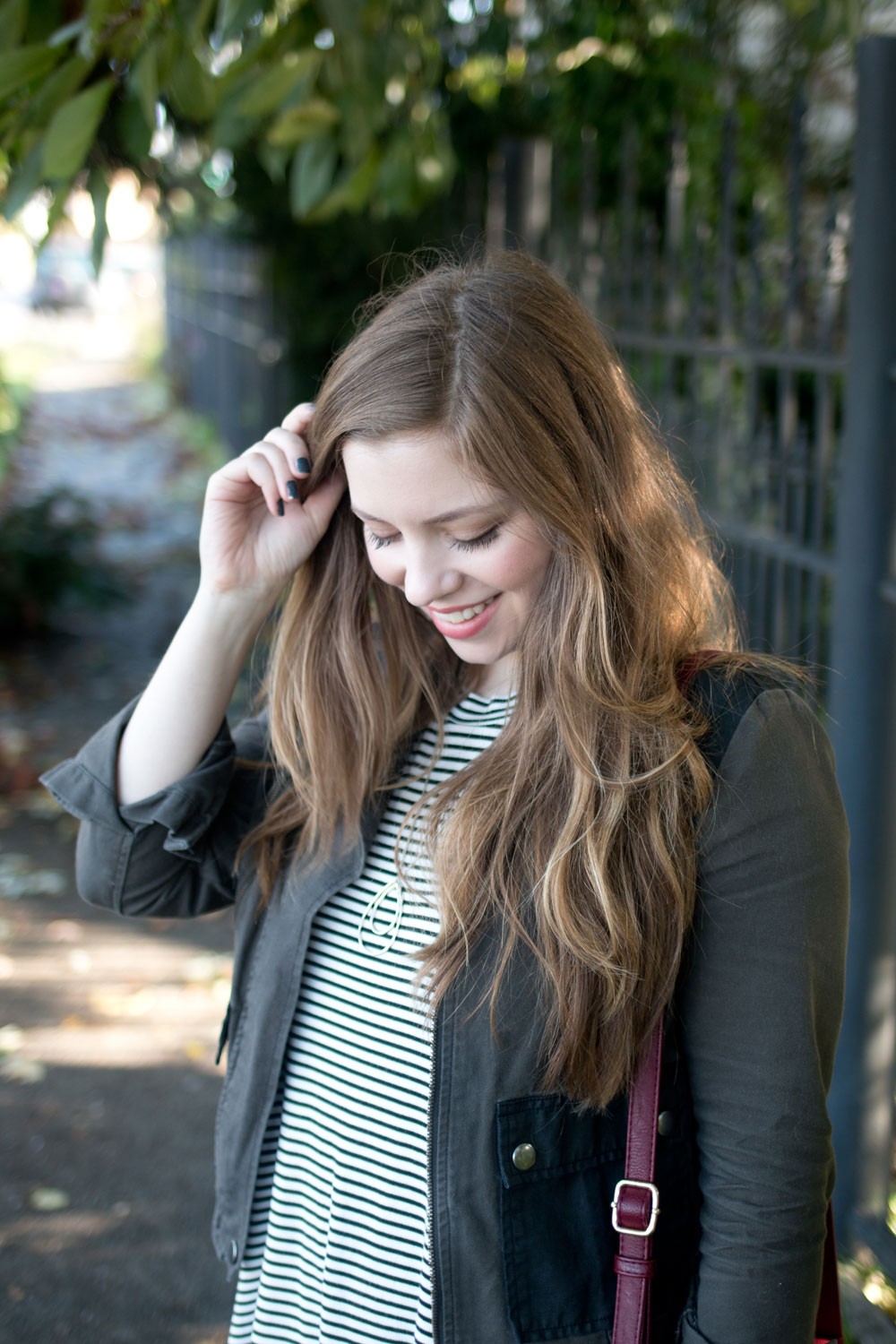 I hope this outfit with combat boots gives you some inspiration to create one of your own, or even just try a pair of combat boots. It was a trend that I honestly wasn't sure about, but I am happy to be embracing it and received quite a few comments on the boots.
Have you given combat boots a try this fall? How do you like to wear them?