Every month, we feel it coming. Whether your emotions shift, you feel bloated, or you get funky food cravings, you might be alerted that-time-of-the-month is on its way. Cue the sighs and groans, but what if we turned around and turned our periods into something to celebrate? While I don't love the period cramps, the exhaustion, or the hormonal headaches and breakouts, I love and appreciate my body. To me, that's something worth celebrating, and in these uncertain times, why not celebrate all that our bodies can do for us?!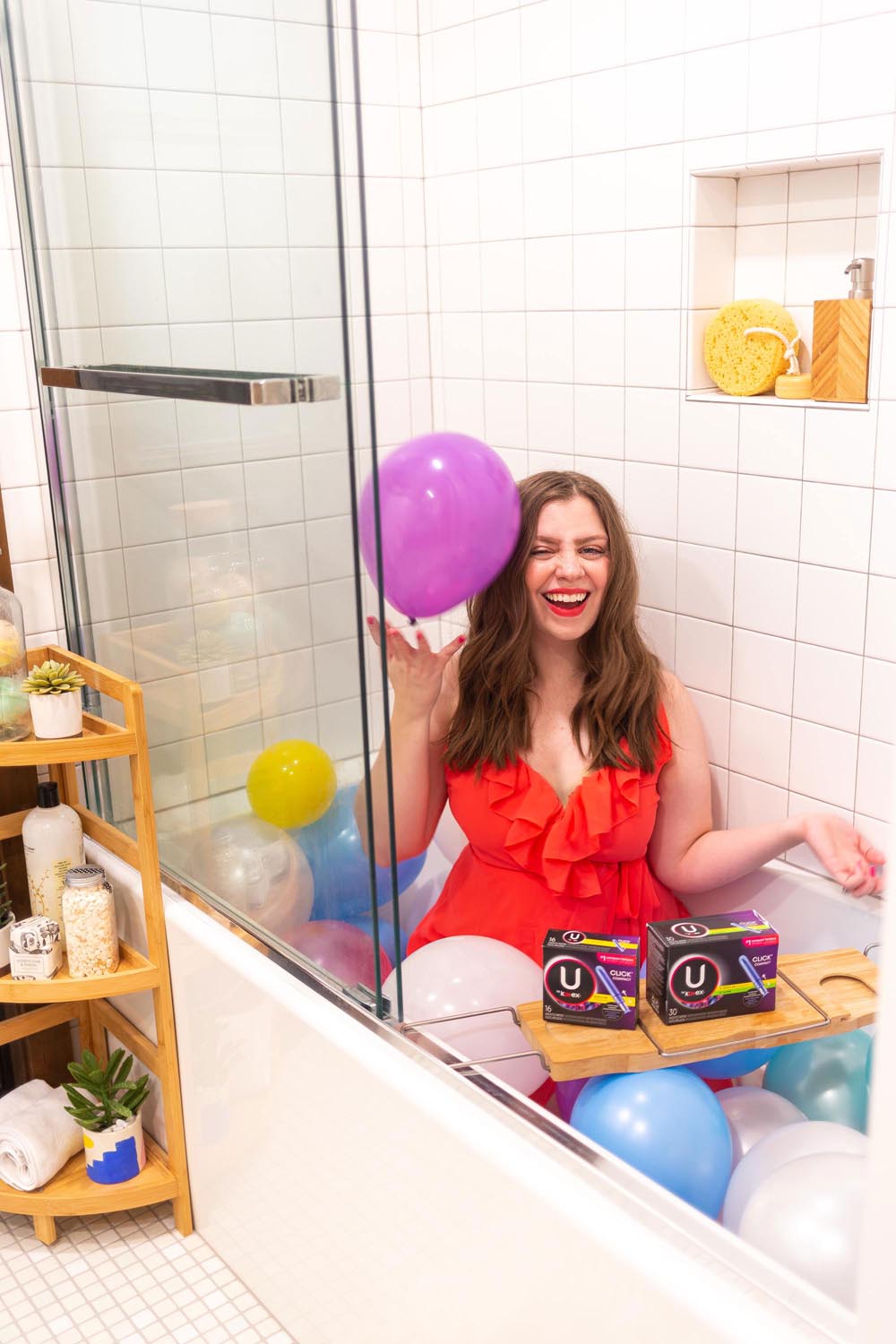 This post is sponsored by Kotex®, but all opinions are my own.
Let's celebrate this cycle with a period party! No, you don't need to don a party hat and have a cake made. We're celebrating our bodies for this period party by listening to them, practicing self-care, and treating ourselves! Whether this is your first period or your 300th, our cycles and bodies are worth it.
Thanks to the protection of U by Kotex® Click® Tampons, I really do feel like celebrating! From the brightly colored packaging to the comfortable applicator, I know I'll be able to do it all without worry with Kotex Click. Whether I'm taking time out of my day for self-care, exercising, or I'm conquering an endless stream of work, worrying about leaks is the last thing I want to do. Fortunately, Click Tampons are up to 100% leak-free and the #1 compact tampon that absorbs like a full-size tampon.
If you're dreading your monthly visitor and are ready to find out how to make that time of the month into something worth celebrating, then keep reading for the perfect self-care ideas!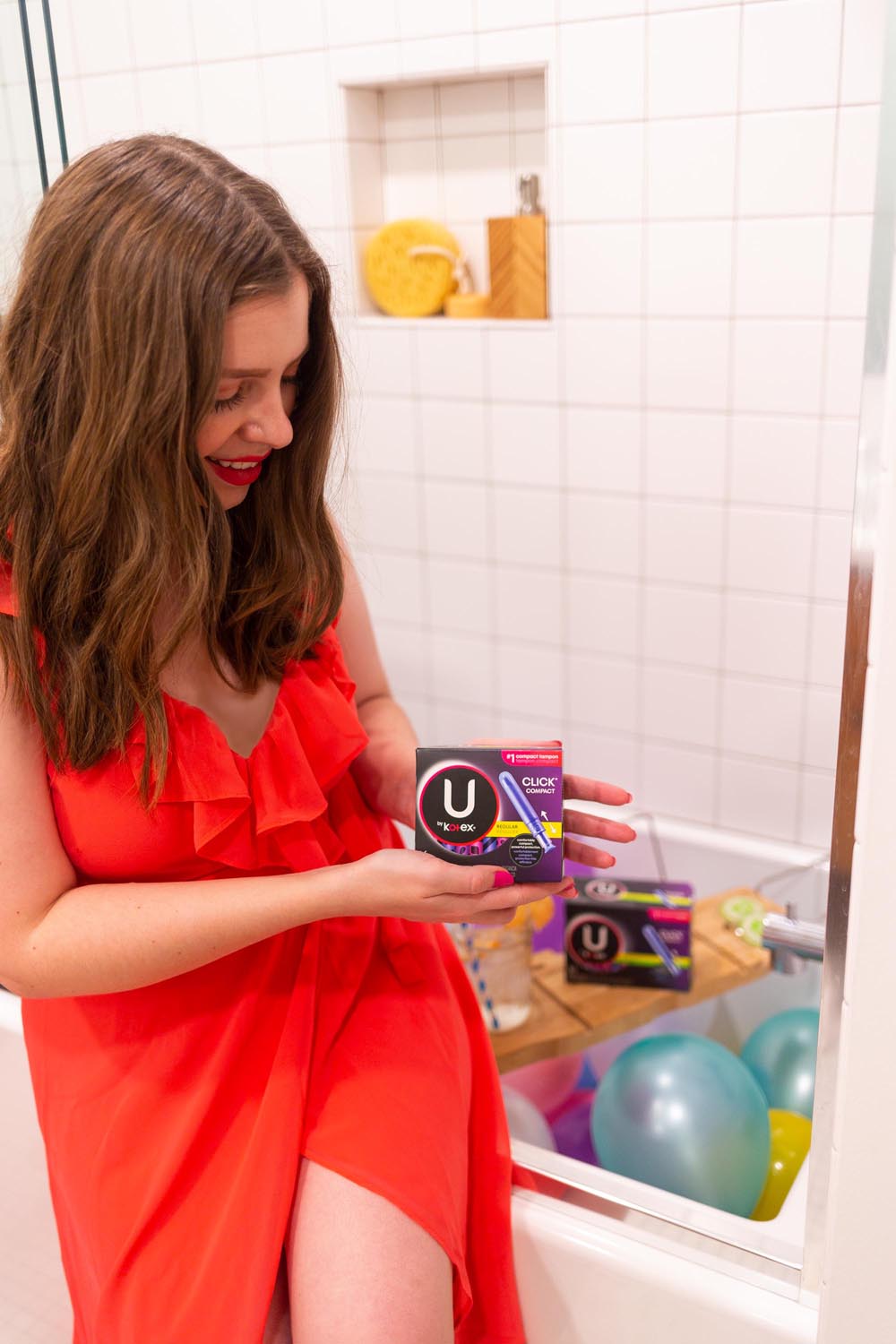 Pick up U by Kotex Click Tampons
When it comes to that-time-of-the-month, I like to plan ahead. When it's that time of the month, I know that my local Walmart will have everything I need in-store or via their convenient curbside or delivery services. I recently used Walmart's FREE curbside pick up service to pick up Click Tampons and groceries. I was pleasantly surprised by how easy it was to order for pick up! From shopping in the Walmart App to arriving at the store's pick up area to have my groceries delivered into my trunk without contact, it was so simple and efficient!
As a longtime U by Kotex customer, I remember discovering the bright colored packaging while perusing Walmart's shelves when I was in college over 10 years ago. I've been purchasing the tampons and panty liners ever since! I love that U by Kotex products are comfortable, up to 100% leak-free, and each Click compact tampon absorbs like a full-size tampon without taking up so much space in my purse. Are you a current Kotex Security Tampon wearer? If so, then you'll love to know that the Click Tampons have the exact same product benefits as your current tampon. There's no better time to switch to U by Kotex Click Tampons!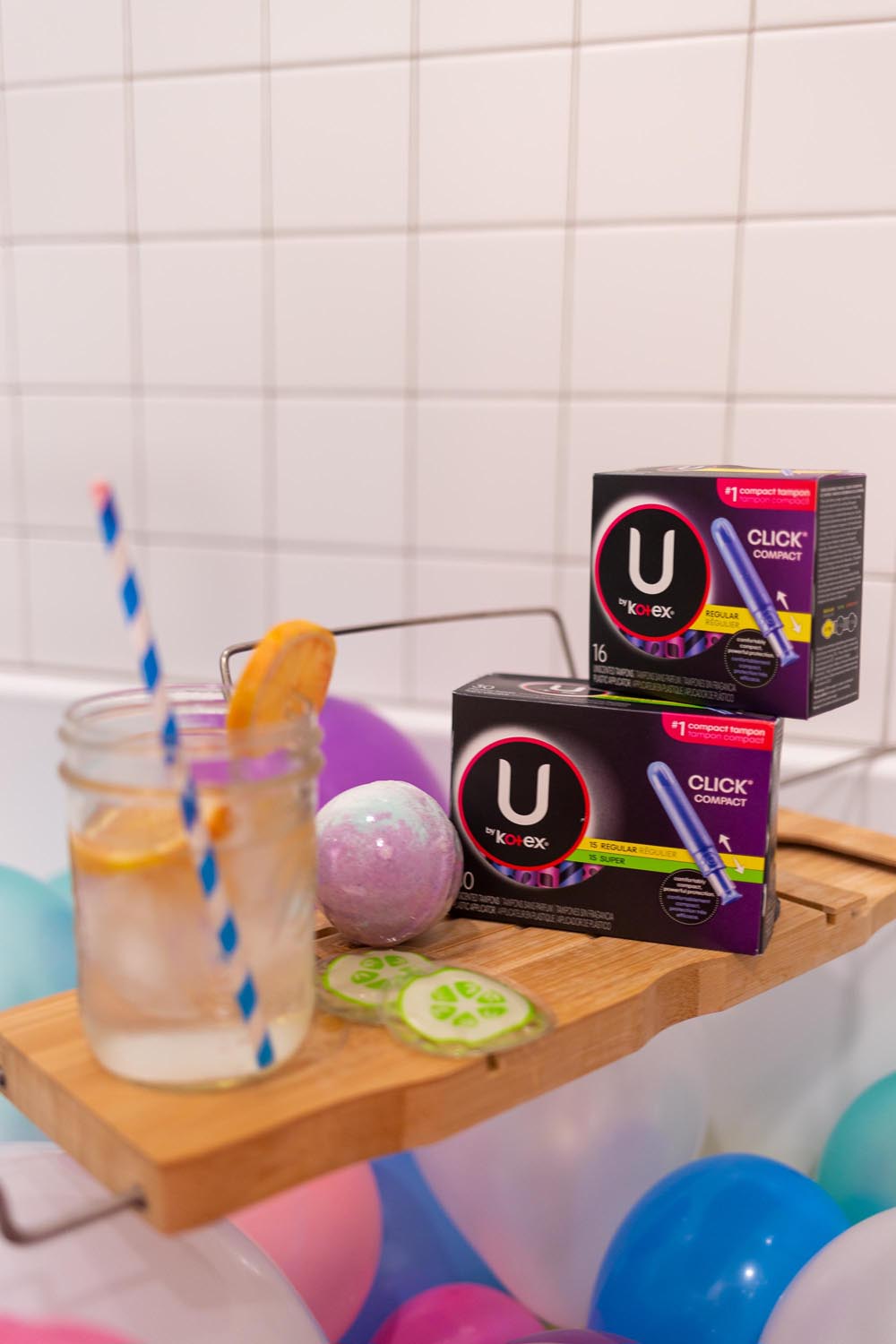 Make a Bath Time Celebration
Are you a fan of taking baths? I've always loved a good bath, but I've really found them to be super important for my mental health in the past year. In the bathtub, my racing thoughts slow down as I relax into the warm, scented water.
Not only that, but bath time during that time of the month can be a great tool to relax the body, including period cramps and lower backaches. Add some Epsom salts to the water for maximum relief and stir in to fully dissolve. I also love adding bubbles, a colorful bath bomb, and bath oil to boost my mood and hydrate and smooth my skin.
Treat Yourself to Something Sweet
Have an insatiable sweet tooth around that time of the month? Same! It's honestly a little out of control at times, which is why I've been on the hunt for the perfect sweet bite that will satisfy my craving without overdoing it on the sugar.
If you love chocolate, coconut, macadamia nuts, and peanut butter, I highly recommend these Royale Energy Bites. They're inspired by one of my favorite department store cookies, but don't require baking and are much healthier! ;)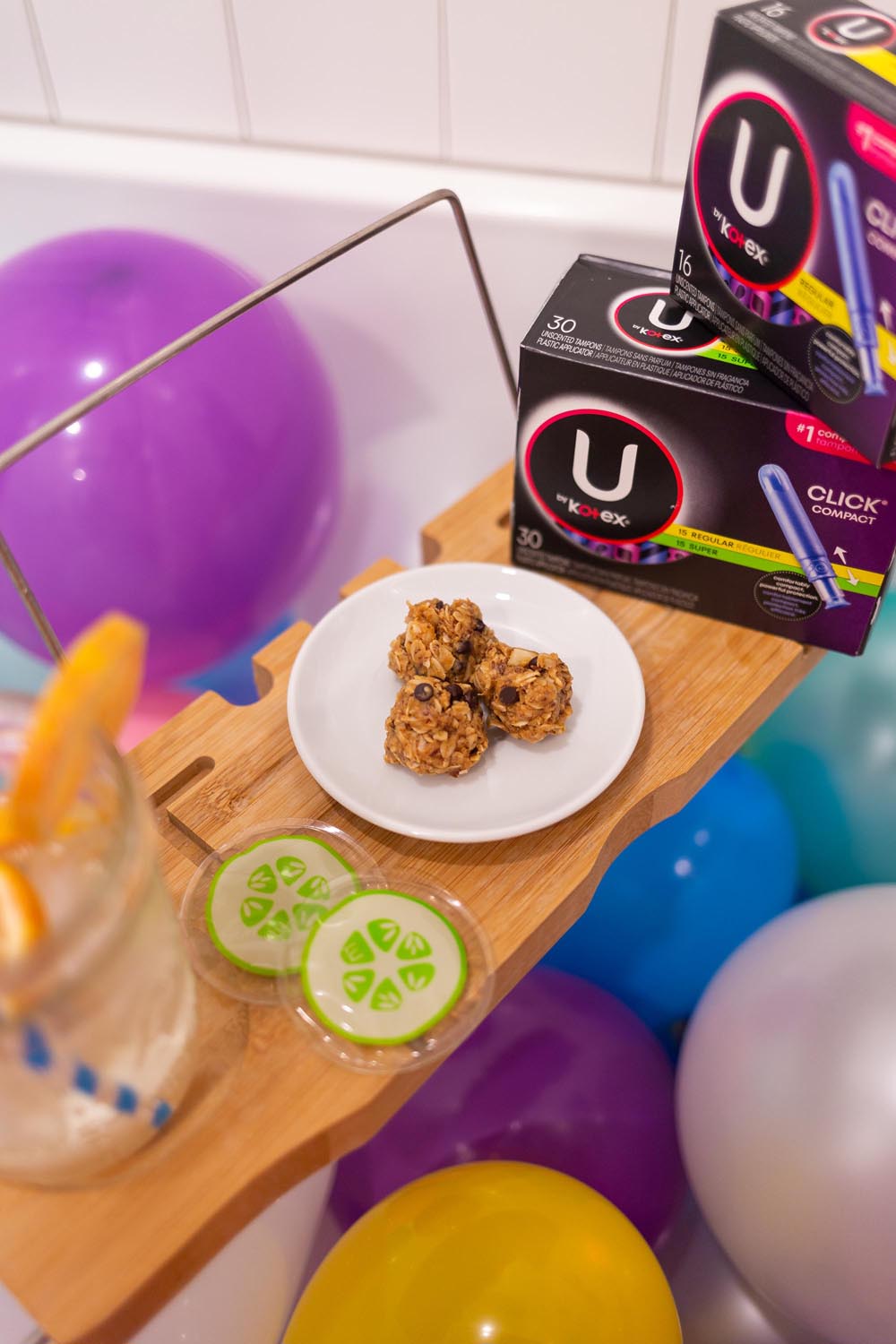 Royale Energy Bites
1 cup oats
1/4 cup flax seed, wheat bran, or chia seeds
1/3 cup mini dark chocolate chips
1/4 cup macadamia nuts, chopped
2/3 cup creamy peanut butter
1/3 cup honey
3/4 cup coconut flakes
1 tsp vanilla extract
In a large bowl, mix all ingredients together. Refrigerate for about 25 minutes, then roll into balls. Store the bites in an airtight container in the fridge for up to 1 week. Alternatively, place in a freezer-safe container to store in the freezer for 3-6 months.
Get a Good Night's Rest
Have you noticed that you need even more sleep during your period? The first sign I know that my period is coming is that unshakable exhaustion and the difficulty getting out of bed in the morning. Treat yourself to a great night's sleep by winding and powering down earlier. Instead of scrolling on your phone before bed, try starting a new book or unwinding with light exercise, a bath, or another relaxing activity. Then, when it comes time to go to sleep, you'll likely fall asleep much faster and sleep more soundly.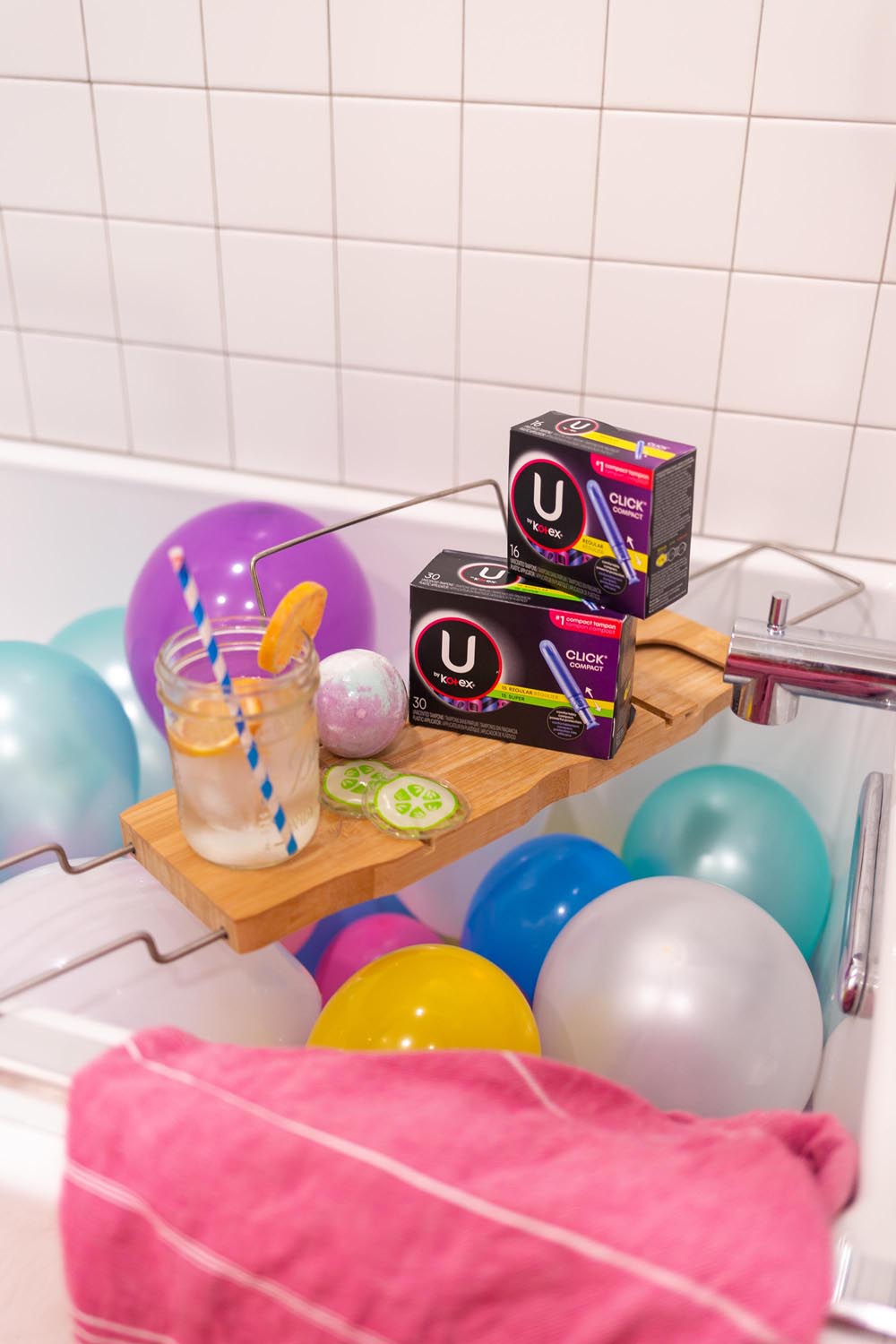 Face masks for hormonal breakouts
If you're like many of us and face hormonal breakouts during that time of the month, you are not alone. While frustrating, it's totally normal to have a period-related pimple. I often find a new "friend" on my chin a few days leading up to the start of my cycle. Besides spot treating the zit, I love treating my entire skin to hydrate, brighten, and soothe with face masks.
Even better? Combine self-care moments by applying a sheet mask before getting in the bathtub. By the time you're done with your bath, your sheet mask will be ready to come off, and you can pat in any remaining serum into your skin!
Up the Exercise
Feeling the period blues? Sometimes all it takes is a little light exercise to up your endorphins and get you feeling good again! My favorite period-friendly activities include:
Next time you're feeling the period blues, step outside, get some fresh air, and go for a little walk. It's one of my favorite activities when I'm feeling down. Plus, moving my body also helps the cramping and bloating feeling I often get at that time of the month!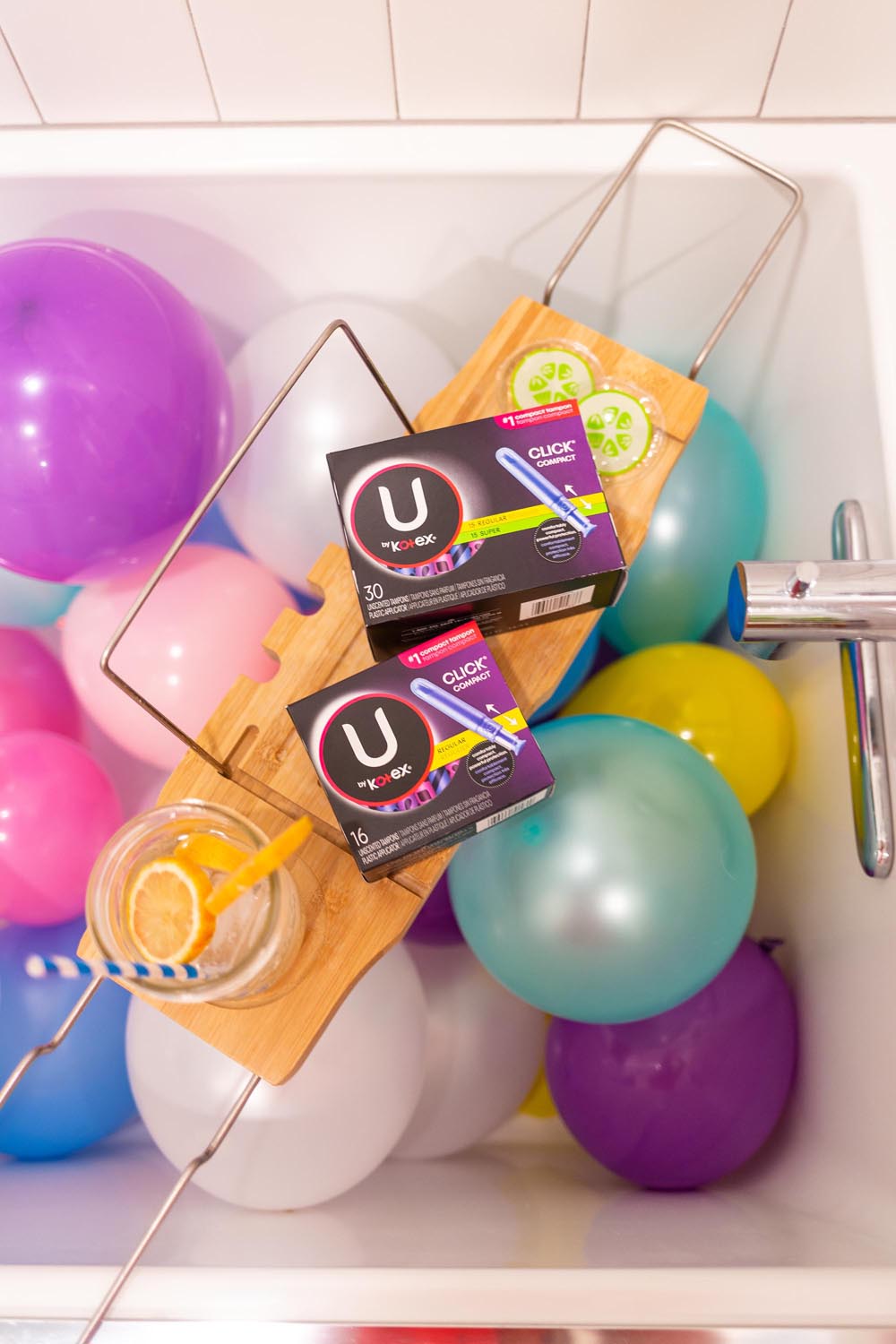 Stay Hydrated
When it's that time of the month, I've noticed I feel much better and feel less cramping when I'm keeping up with my hydration. I don't mind regular water, but lately, I've found that adding citrus, cucumber, or fresh herbs like mint makes it irresistible. It's quick and easy to make, plus it makes it easier to up my water intake. Bonus points that it tastes like I'm at a fancy spa!
So are you ready to celebrate yet? Don't forget to pick up U by Kotex® Click® Tampons for a worry-free and leak-free period. You can find them in-store at your local Walmart, or try out Walmart's Online Pickup & Delivery service using the Walmart App.
I hope these self-care suggestions will help make your next period breeze by and a cause for celebration. Plan a self-care bathtub party, treat yourself to something special, or make a little extra time for yourself during your next period. Your body is worth celebrating! Ultimately, a period party can be anything you'd like it to be. The important part is to pause, listen to your body, and slow things down to make time for self-care.
How will you celebrate your next period? Do you plan to make more time for self-care or something else? I look forward to hearing about it in the comments!