Are you heading back to the office soon? Or have you already? After a year (or more) of working at home, many of us are adjusting back to work-life in an office environment. While I enjoyed working at home for much of the pandemic, there is something empowering about dressing up for the day ahead. That's why I wanted to share how to style a button-up shirt for work! I encourage you to lean into your personal style, whether you lean classic, colorful, vintage, or some mix of all of the above, so you feel most yourself whether you're working in the office or at home.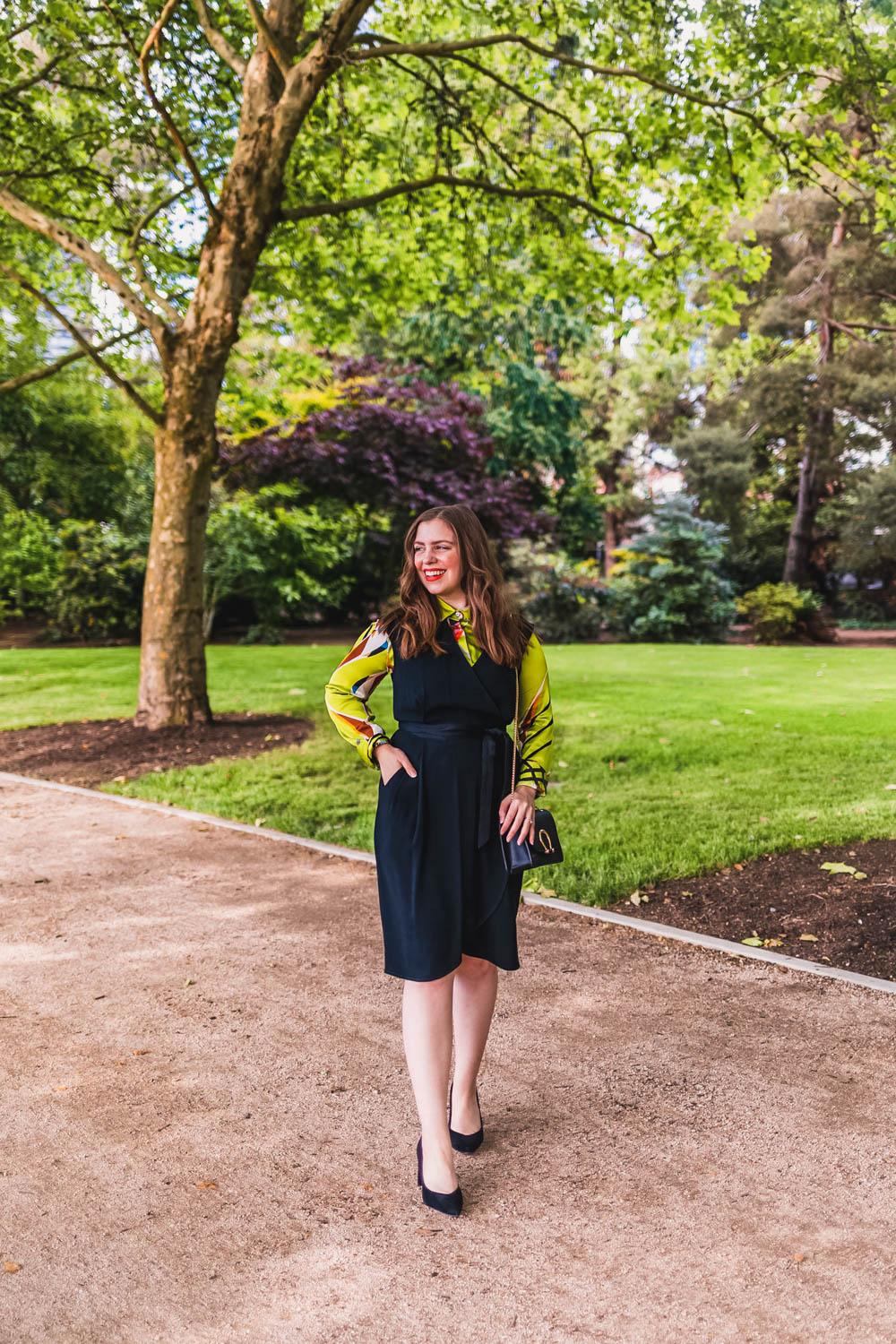 Before I jump into the outfits, I wanted to address the elephant in the room: my absence over the last few months here on the blog. If you don't follow me on Instagram, then you might not know that I recently started a new job. You might recall that I left my previous job to work full-time as a freelance blogger and content creator. And while I enjoyed the freedom that provided, what I didn't love was the inconsistency, especially in the midst of a pandemic when many businesses were scaling back their marketing or anything else that could be seen as "extra."
When an opportunity popped up, I figured why not interview and see where it went? After all, I didn't have a clear plan with my blog "career" and have always had the mindset of "let's try it and see what happens". Clearly, the interviews went well, and I'm now working as a marketing director for an independent financial firm in the greater Seattle area. I'm loving it so far!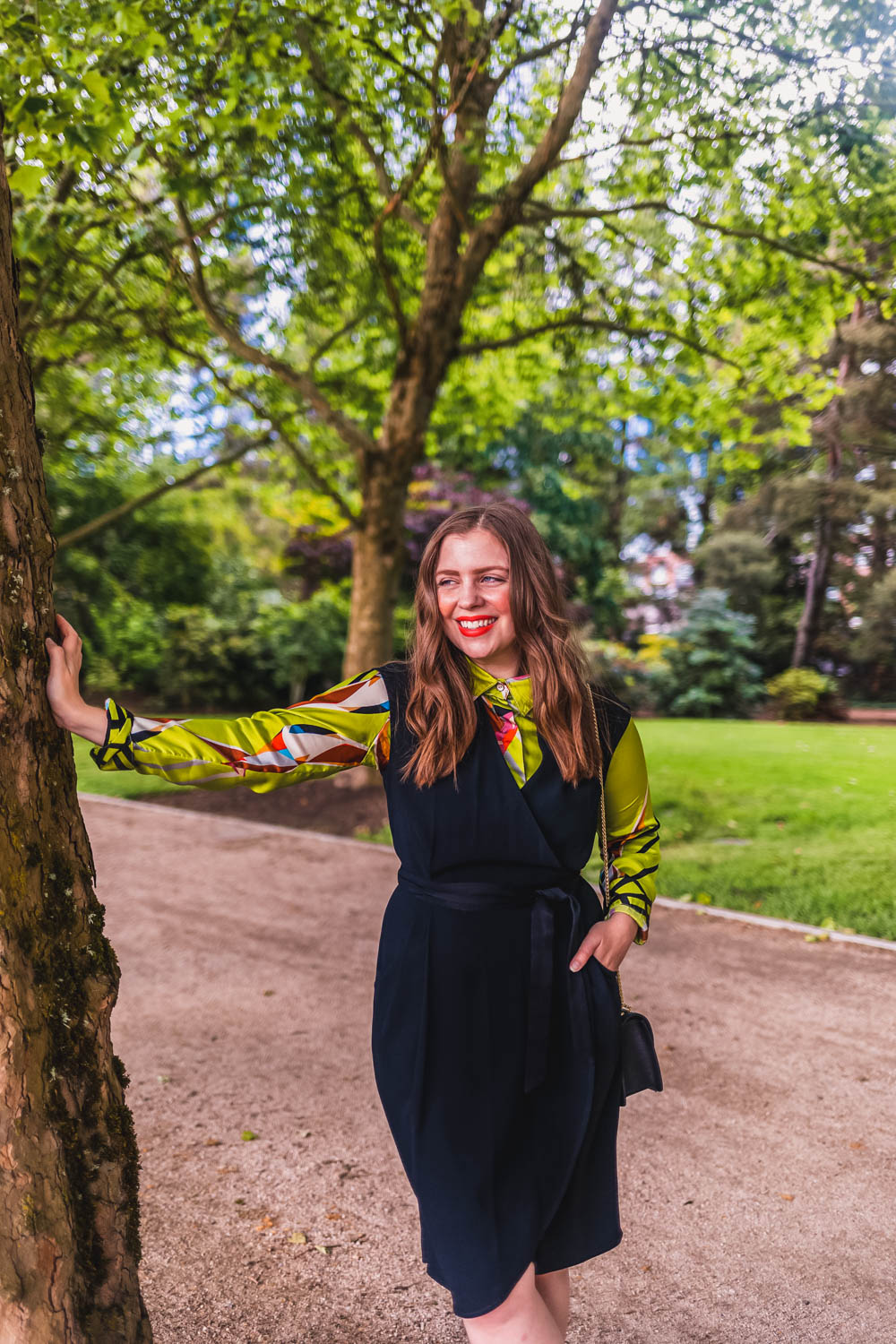 How to Wear a Button Up Shirt for Women
Beyond going back to working for someone else and being on a new schedule, the other biggest shift for me has been adjusting my wardrobe to accommodate a dressier environment. Coming from the tech industry previously, finance is much more of a suits-and-tie vibe over the jeans-and-a-hoodie fit that I'm used to. Fortunately, my wardrobe leans on the dressier side which was a great start. Even still, I found that I was missing some of the classic workwear staples like a button up shirt and good work pants that one might need for multiple days in the office every week.
All that to say, I always enjoy a good wardrobe challenge and have really been enjoying discovering my new workwear style. It's fun to play with classic workwear staples in a colorful way that reflects my personal style. As many of us head back into the office after a year (or more) of remote work, I thought it would be fun to share some styling tips and tricks and how to style a button up shirt for the office!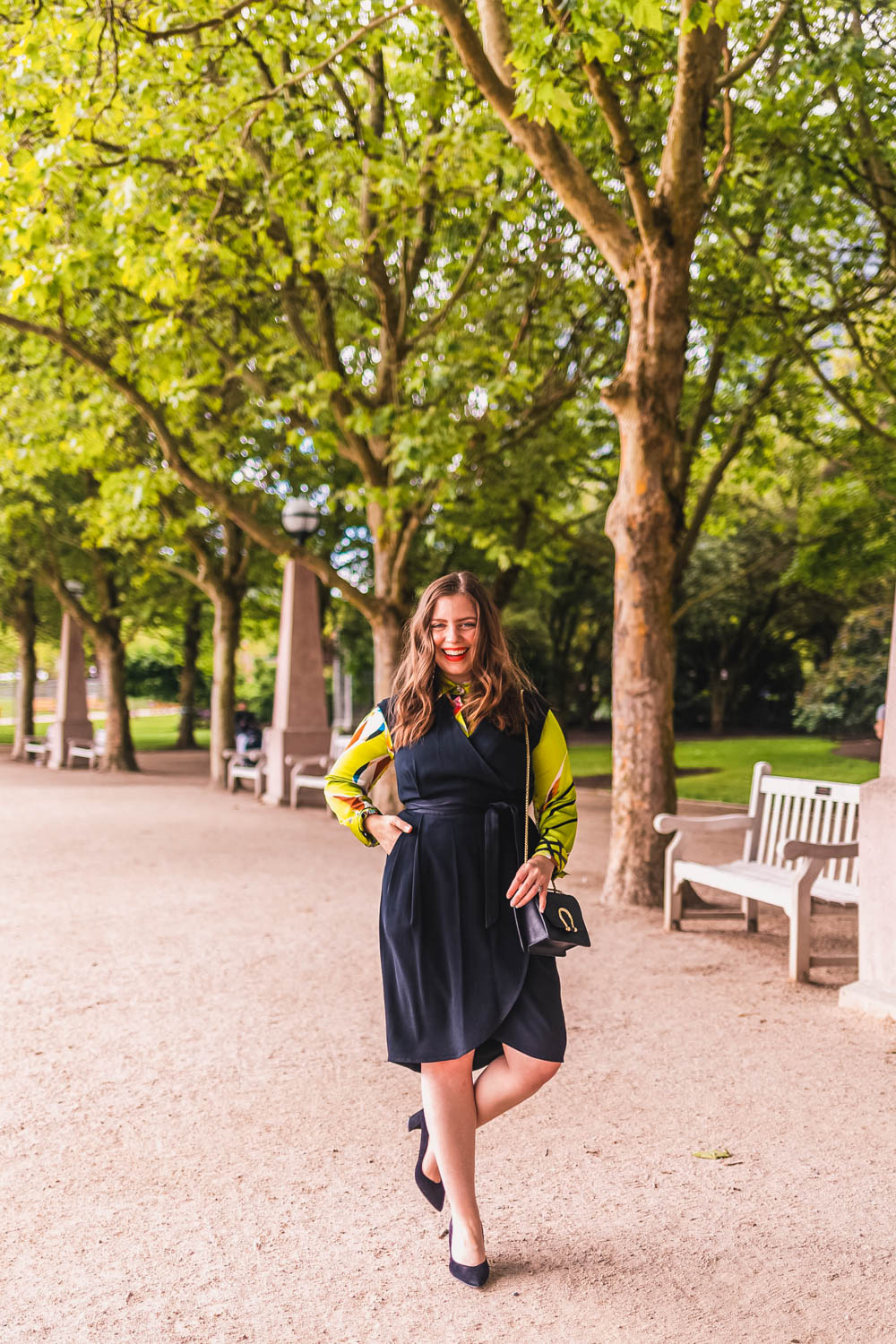 What to Wear with a Button Up Shirt
When it comes to styling a button up shirt, the options are truly endless. You can keep things simple with your dress shirt and a pair of tailored pants, pair it with a classic pencil skirt, or add some flair with a printed a-line skirt. Another classic pairing is under a suit, for both women and men. Finally, wear a button up under another piece in your closet. Button ups look great under a variety of sleeveless dresses, under jumpsuits, or wear a button up shirt under a sweater in the cooler months!
In this look, I'm wearing a gorgeous printed silk button up from Seattle-based woman-owned brand Farinaz. Each of the button up shirts featured in this post is from Farinaz, and if you see one you love, you can use code HELLORIGBY15 to save 15% on your order! I love all of their beautiful fabrics, colorful options, and fun print selection, which as you'll see in this post, are quite expansive and varied! Additionally, the wrap dress in this look is from another woman-owned brand, Gravitas New York. This piece can be worn two ways; as a wrap dress or open as a sleeveless cardigan!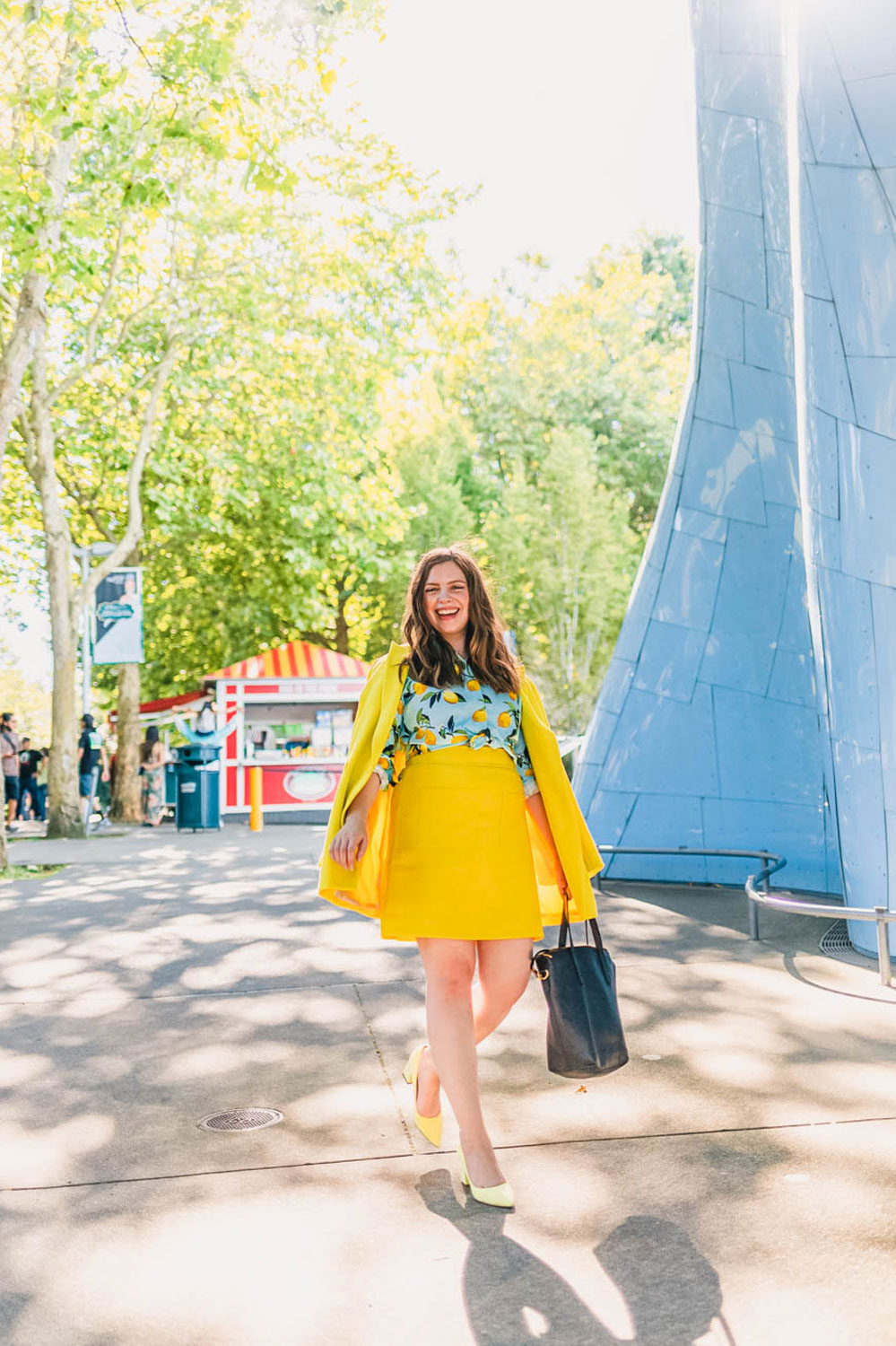 How to wear a button up shirt casually
Where does your office dress code fall? Mine is described as "business casual", and while most of the office leans on the dressier side, I like that I can play with color, prints, and textures at the office to express my personal style. I love a twist on a classic, and that's why I was inspired to style this fun lemon printed button up from Farinaz with a skirt suit! Each of the button up shirts featured in this post is from Farinaz, and if you see one you love, you can use code HELLORIGBY15 to save 15% on your order!
If your office leans to the casual side of business casual, or you work in a creative environment, you might wonder how to dress down your button up shirt so you don't look too dressed up. Alternatively, you might want to know how to incorporate your dress shirts into your weekend wear, and so you want to know how to wear a button up shirt casually. For either of these scenarios, I think a simple style fix makes a button up look less stuffy, and that's simply tying the shirt at your waist, or where the top of your skirt/pants fall.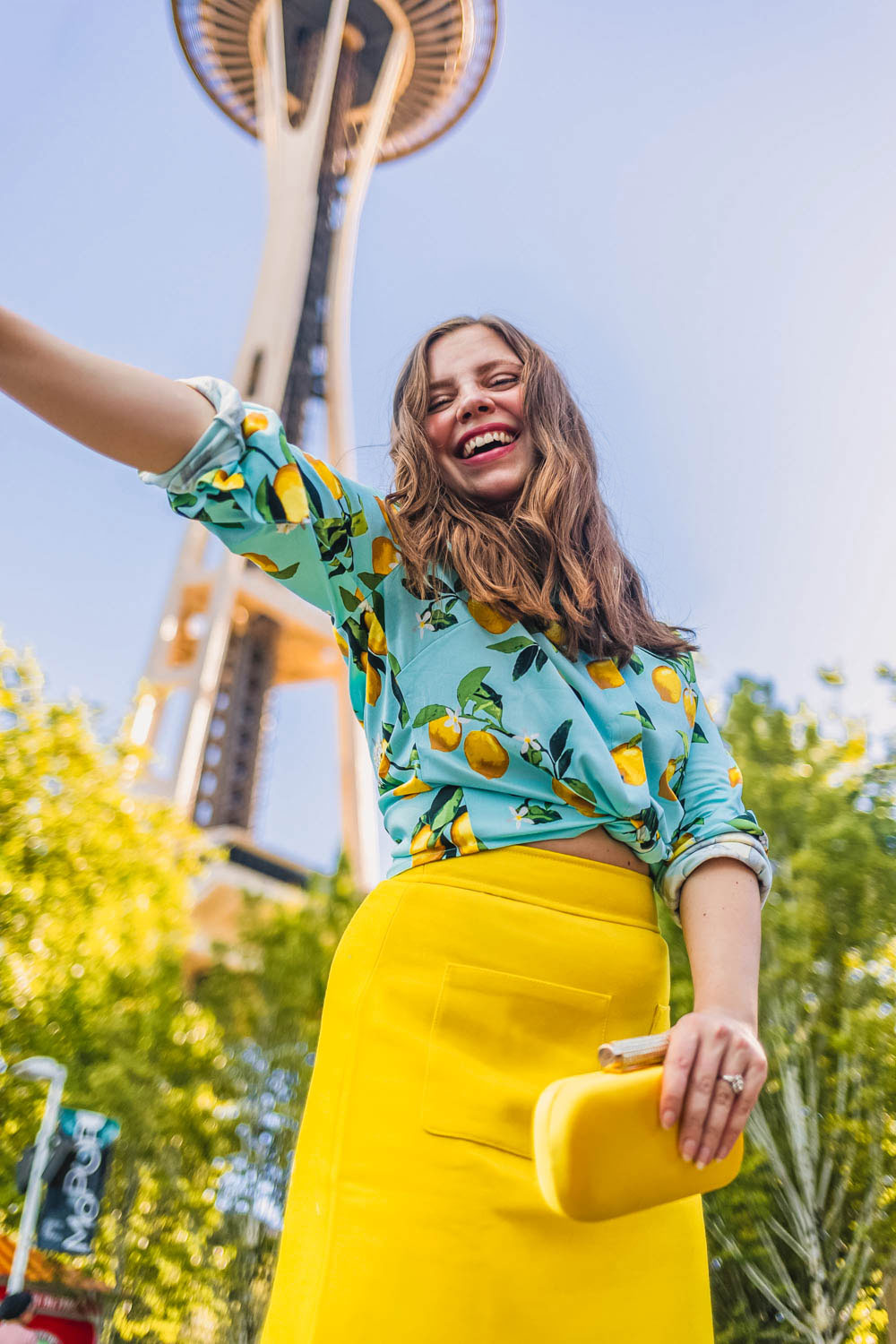 You can totally do this in an appropriate way for work, too! Just tuck and flip the ends of the tie. If you're worried about it flipping out throughout the day or exposing too much skin (hi, like me above!), you can also utilize a clip or safety pin to hold it in place. If you hate the look of bunching when tucking in your button up shirt to your pants to skirts, this is definitely something I'd recommend trying. Since the button up stays on the outside of your garment, no more awkward bunching!
I love bringing in pops of color to the office, and while this skirt might be a little short for a dressier office, it would be perfect for a casual or creative office. If you're concerned about the length, try styling shorter skirts in the fall and winter months with a pair of tights, or with knee-high or over-the-knee boots.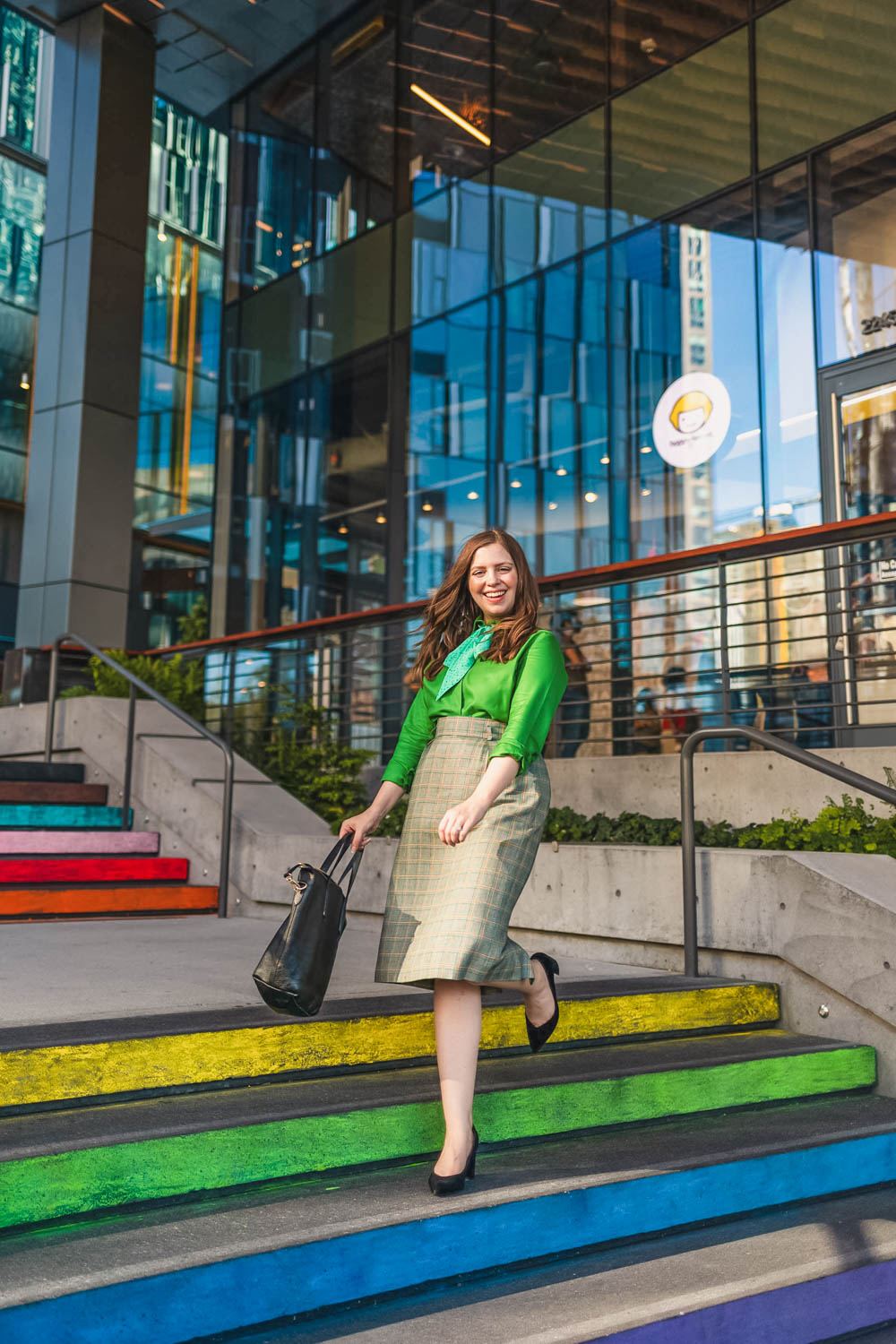 How to wear a scarf with a button up shirt
Bored of the standard button up shirt look? I feel that! My favorite way to restyle a plain button up shirt is with a scarf. A neck scarf can easily take a button up shirt from blah to wow in no time!
To get the look, all you'll need is a neck scarf and your button up shirt! For square scarves, fold two opposite corners together to make a triangle, and then roll the scarf. Then, simply tie it around your neck under the collar of your shirt. Finally, knot the scarf or create a bow at the front of the shirt. For skinny scarves, it's even easier! Just tie around your neck under the collar of the shirt, and then knot or create a bow with both ends.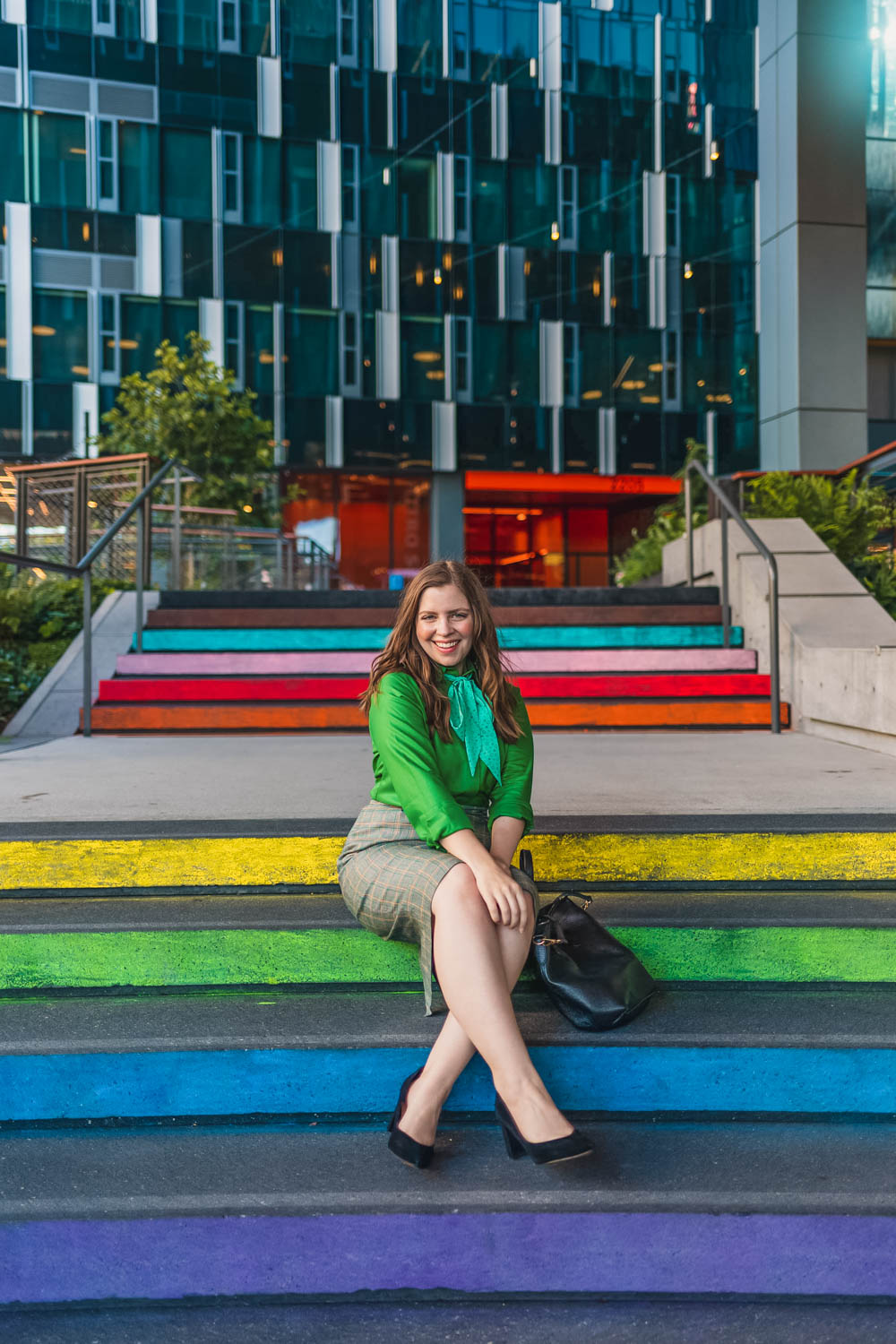 While this emerald green colored shirt from Farinaz is far from boring, I loved styling it with a printed neck scarf to give this office look my own personal flair. Don't forget that you can use code HELLORIGBY15 to save 15% on this and many more beautiful shirts from Farinaz!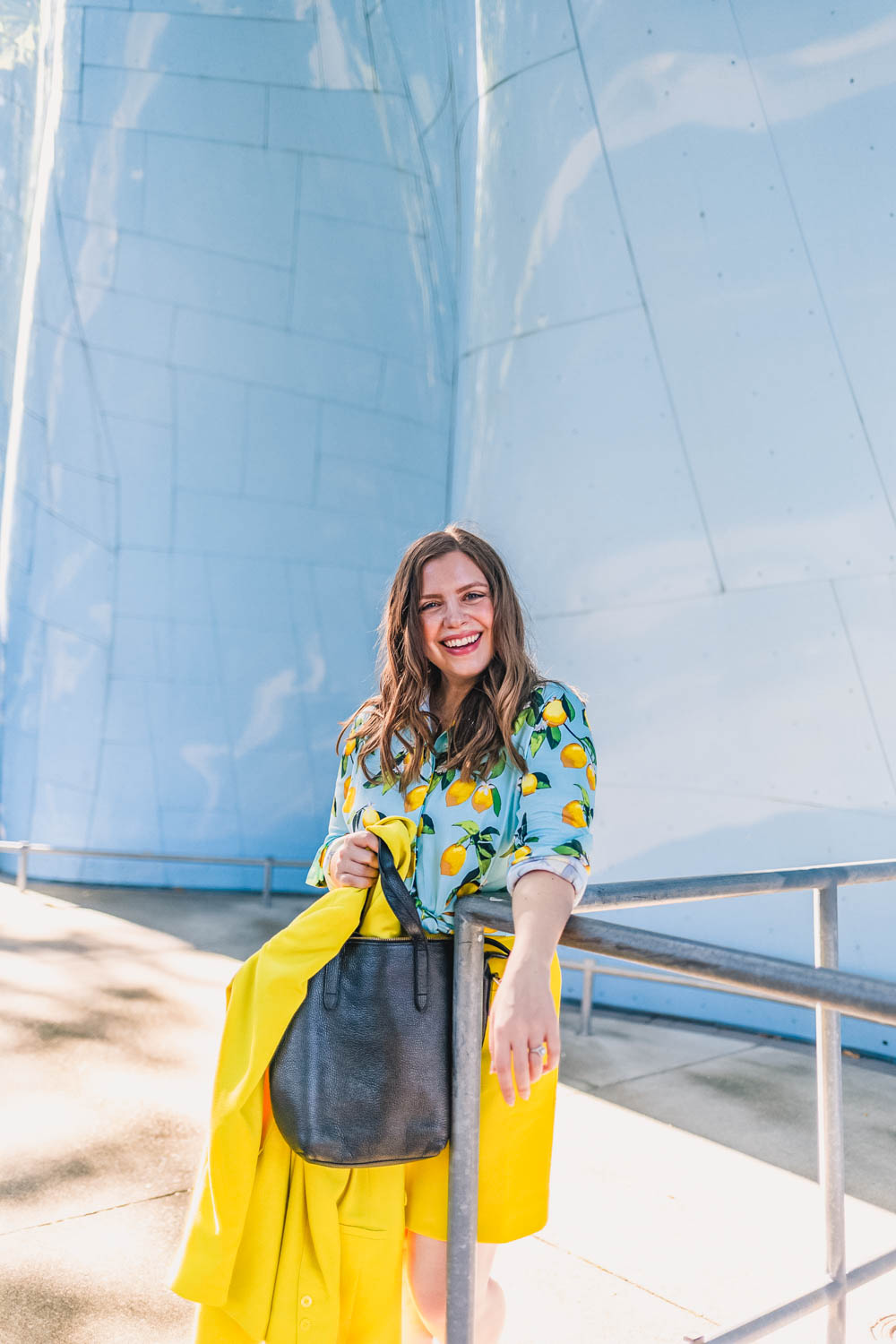 If you're heading back to the office after working remotely like many of us, I hope these styling ideas for how to wear a button up shirt are helpful! I always liked the saying, "dress for the job you want, not the job you have" and I feel like it rings true for many work scenarios. There's something empowering about dressing up; I feel instantly more confident when I love and feel good about what I am wearing!
The best part of it all is that through styling, there is truly a way to style a dress shirt for everyone. Button up shirts are not only for those into classic or minimalist styles. With the right accessories, colors, and other pieces from your wardrobe, you can easily discover your perfect button up shirt outfit!
How do you style a button up shirt? What wardrobe pieces do you struggle to style? I'd love to hear about it in the comments!
---
Looking for Even More Work Outfit Ideas? Try these!
Want to Save This Post for Later? Pin it!
How to Style a Button Up Shirt