Occasionally someone asks me what my favorite piece in my closet is, or what one fashion item I can't live without. My mind often wanders from one of my favorite vintage dresses to a favorite pair of ankle boots, but often lands on one of the many Cuyana pieces I own. After all, their carryall tote bag is probably the most life-changing item I have in my closet, and I thought it was about time to share some of my top Cuyana reviews for the products I own and love.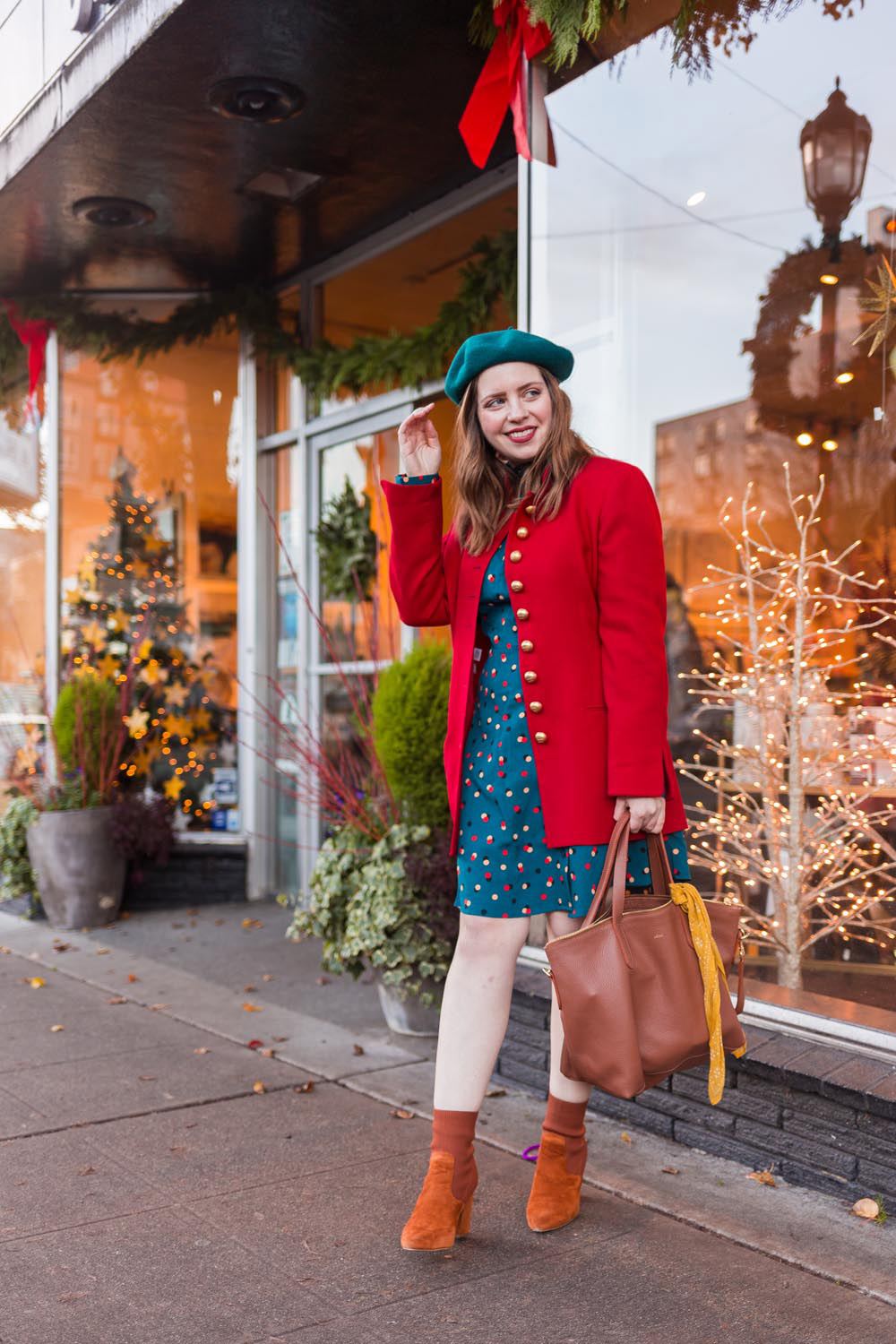 Disclosure: Cuyana graciously sent me the items featured in this post. Affiliate links are also used in this post, which means if you click a link and make a purchase, I may make a small commission at no cost to you. All opinions are my own!
Cuyana Reviews: The 10+ Items I Love + Recommend
Yes, I know. Life-changing sounds a bit extreme. But, as someone who almost always prefers style over function, it is rare to find something that satisfies both so well. Today, I thought I'd share Cuyana reviews and answer some of my most frequently asked questions about each of the items in one place. Is it worth the price? Which pieces are the best? And which size carryall tote is it that I'm carrying all the time anyway?
If you're curious about the brand, or if one of those questions ever came to mind, then read on for my Cuyana reviews!
Fewer, better.
That's their mission statement, and before I hop into the Cuyana reviews, I thought I'd share a little backstory about how I came to know the brand. I was first introduced to Cuyana more than two years ago when they had a pop up here in Seattle. I vaguely recalled running across the brand when they reached out to invite me to attend the event, and I said sure without a second thought once I perused their website.
Their leather goods and clothing are BEAUTIFUL, I remember thinking to myself.
When they offered to gift me a few items to take the brand for a spin, I spent hours perusing the site, being sure I picked just the right things for my wardrobe. After all, if I'm going to have fewer, better things, I want them to be perfect!
Now, after being gifted several of their products and using them almost every single day (Seriously, just look at my Instagram feed. I dare you to play "I Spy: the Carryall Tote Edition!") I can honestly say that Cuyana is one of my absolute top brands to recommend to young professional women. The leather is gorgeous. The bags hold their shape incredibly well. And they are perfect for the on-the-go lifestyle that so many of us have where we need to be prepared for anything at any time!
Top 10 Cuyana Reviews
Ok – now that I've sold you on the brand, let's jump into my Cuyana reviews and absolute favorite products!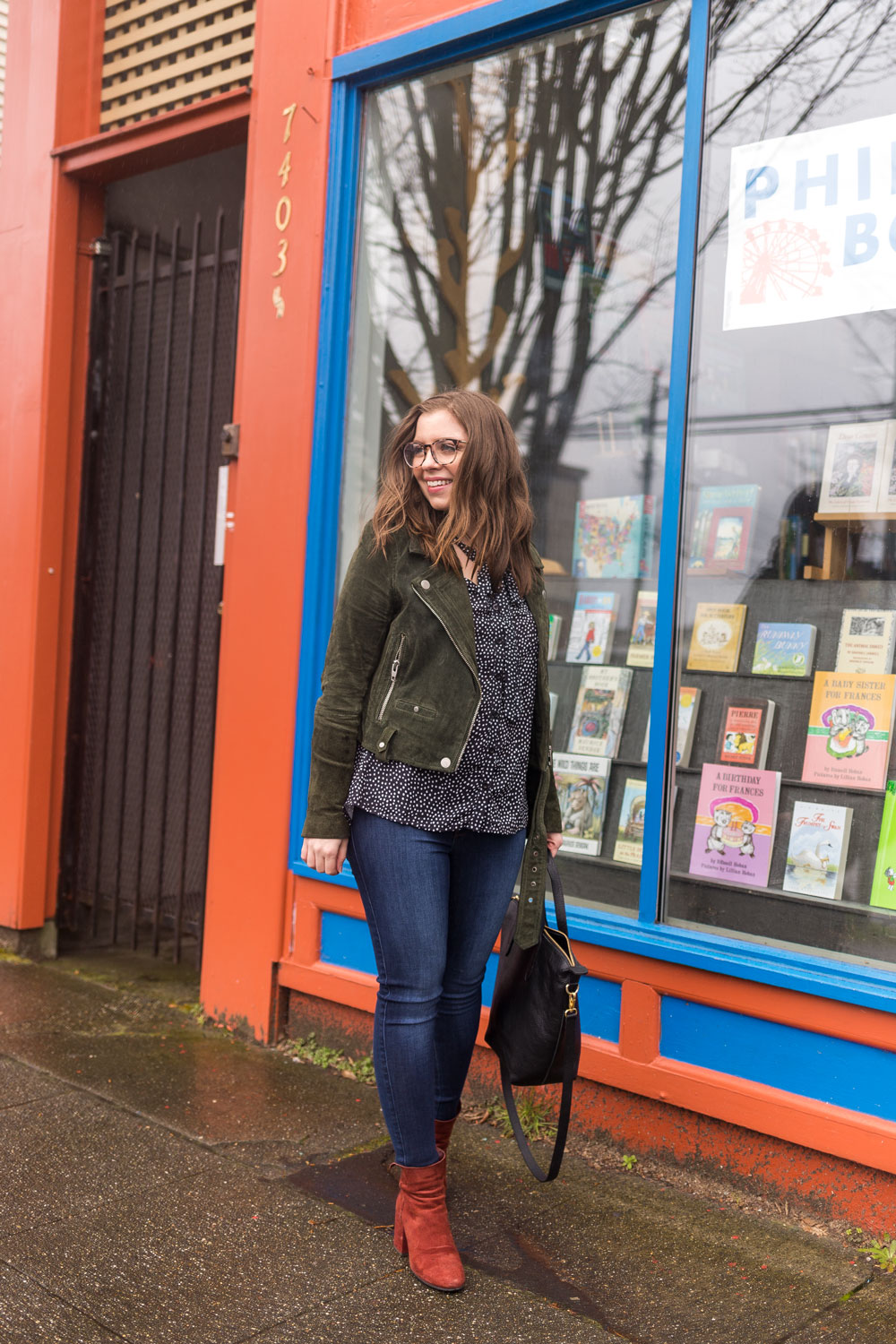 I'm asked most frequently about my Cuyana Small Carryall Tote, most likely because I almost always am carrying it. I own it in black, and it's been through A LOT. It's only about a year old, however, it's been on countless travel adventures, many photoshoots, to work almost every single day, and it even once caught my fall into a city street and sustained some (surprisingly) minor damage on the outside, and kept everything, including my precious DSLR and lens, on the inside safe and undamaged.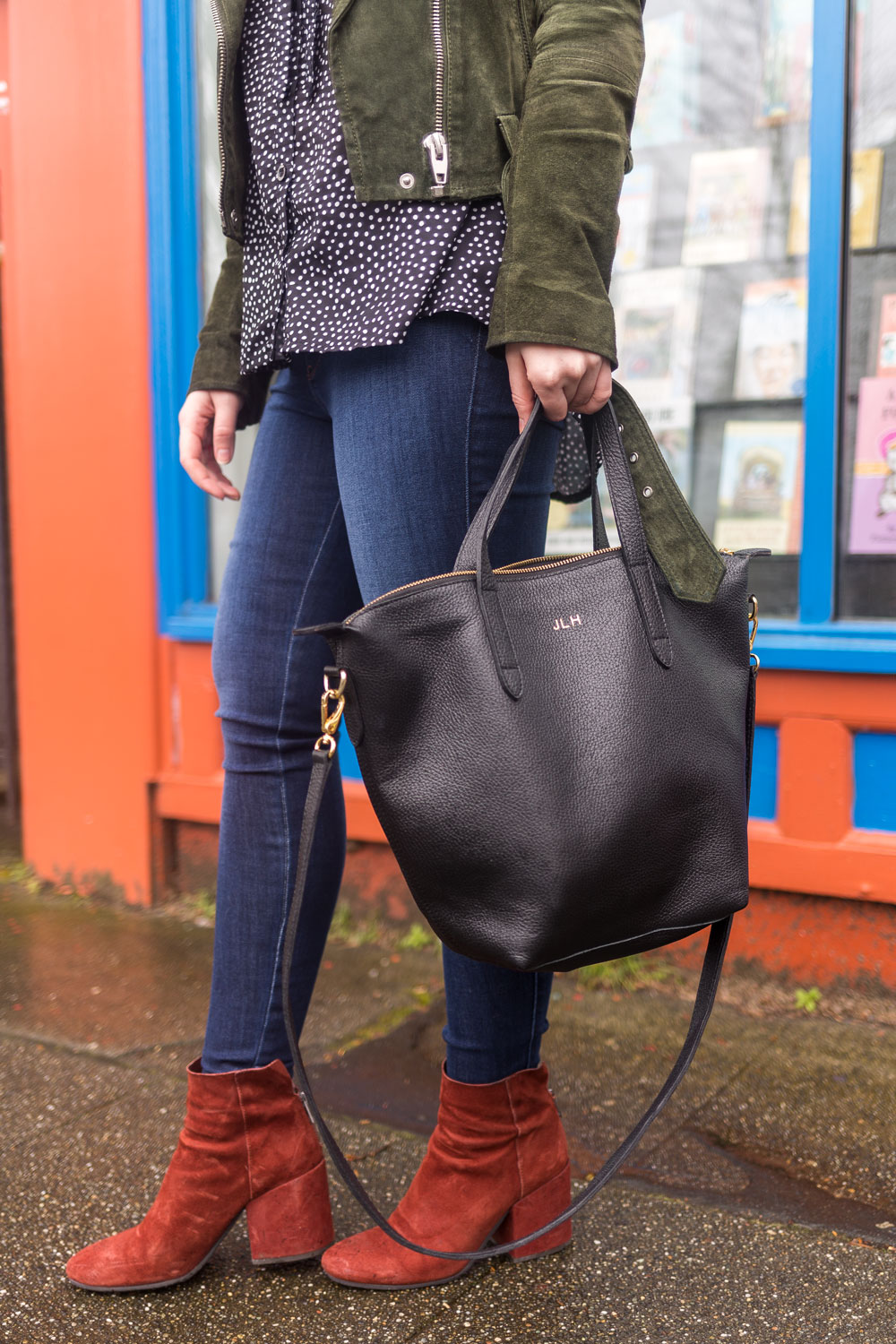 What it fits: The carryall tote is the smallest of the tote sizes. (It comes in small, medium, and oversized.) Despite its small label, it's actually fairly roomy. I can just barely squeeze my 13″ MacBook Pro inside with my DSLR with some jockeying around, which is why when Cuyana offered to send me a piece of my choice this holiday season, I requested the Medium Carryall Tote (more on that next!).
Typically when I carry this, I carry my DSLR and essentials (wallet, phone, keys, lipsticks, and maybe a small item like a scarf or t-shirt). On days when I need to carry my laptop, I can slip it inside but with no room to spare at the zipper opening. I bought this laptop cover so that I can protect my laptop from scratches yet still fit in this tote! When my laptop is in the bag, I can carry other small items like my wallet, keys, phone, and glasses, but nothing too large since the bag is essentially stretched to max capacity width wise.
Colors: Black, Sunshine (yellow), Blush, Navy, Stone
Price: $185 (+$15 to monogram, optional)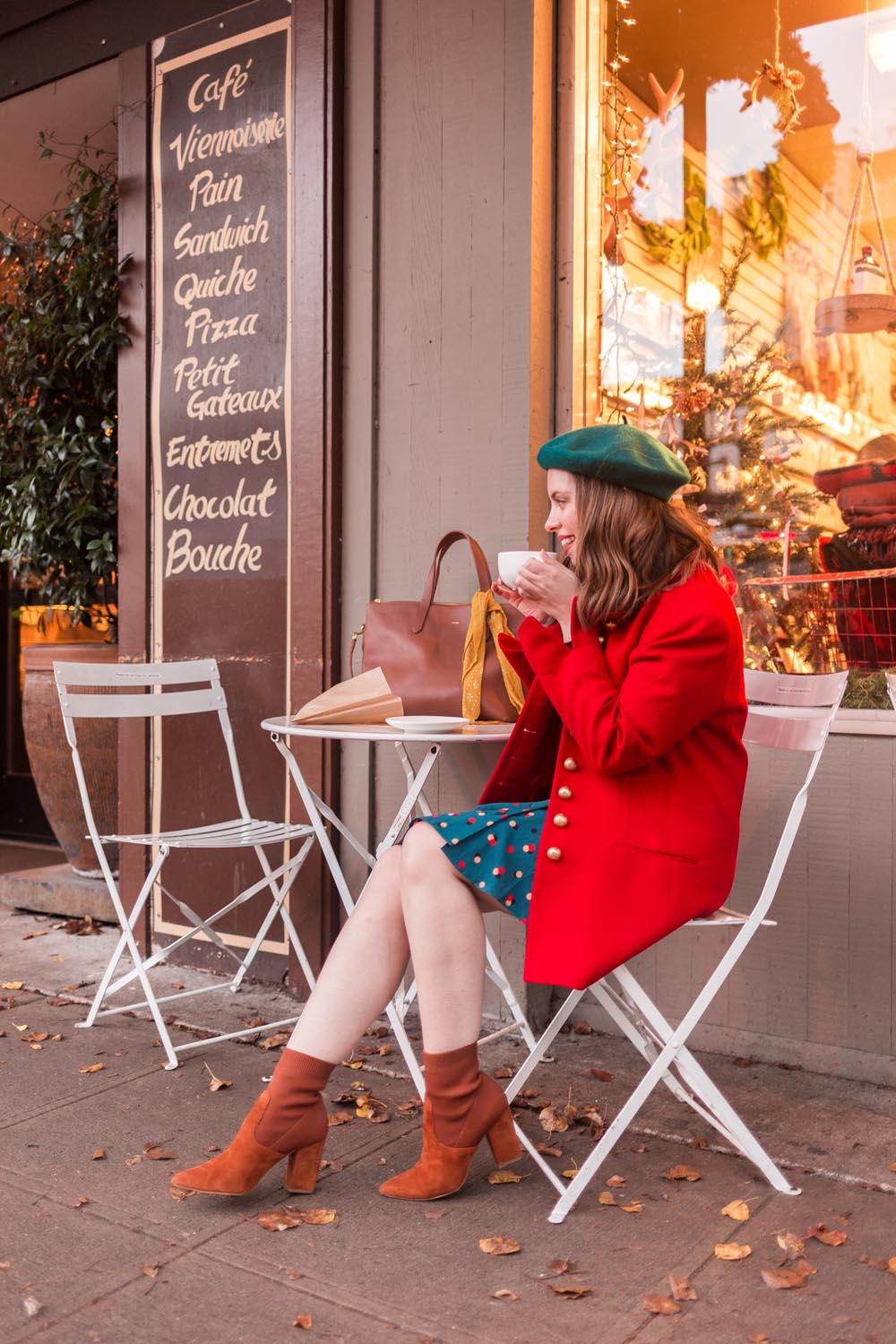 Earlier this year, Cuyana introduced the new Medium Carryall Tote. I'm pretty sure I put a thousand heart eye emojis on their announcement post on Instagram because it was exactly what I've been wanting!
While the Small Carryall Tote is almost perfect, it's just a touch too small to tote around my DSLR and laptop comfortably. I didn't need something huge like the Oversized Carryall Tote, but still wanted a zipper top and carryall strap option for my toting needs. See the pickle I was in? Fortunately, I must not have been alone which is why Cuyana created this little beauty!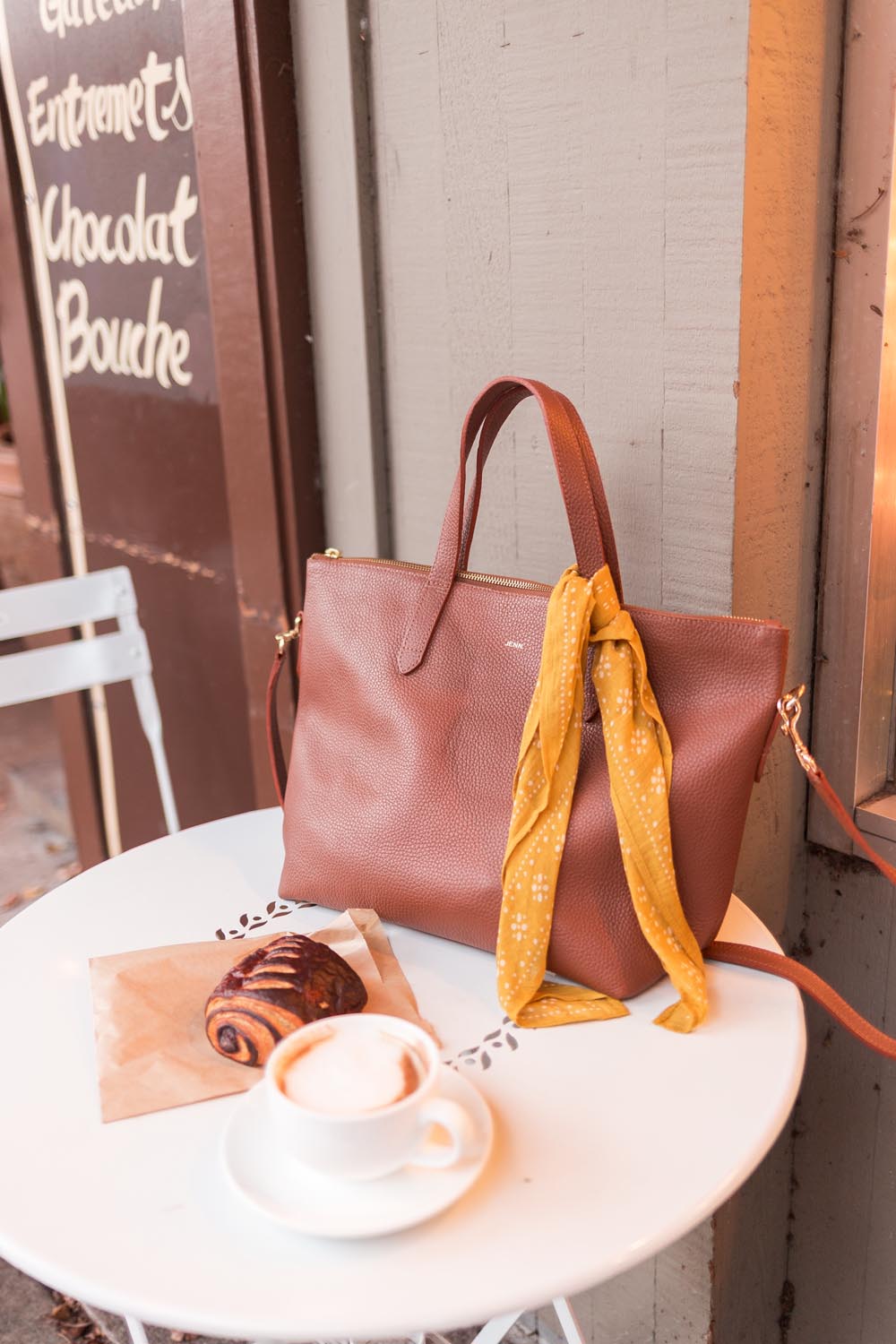 What it fits: The Medium Carryall Tote easily fits my 13″ MacBook Pro (also fits the 15″ MacBook Pro!), Canon 6D DSLR, wallet, keys, and phone with room to spare. When all of those things have been in the tote, I can typically fit a t-shirt, scarf, and maybe a few other small items in there as well.
Colors: Caramel, Black, Stone
Price: $215 (+$15 to monogram, optional)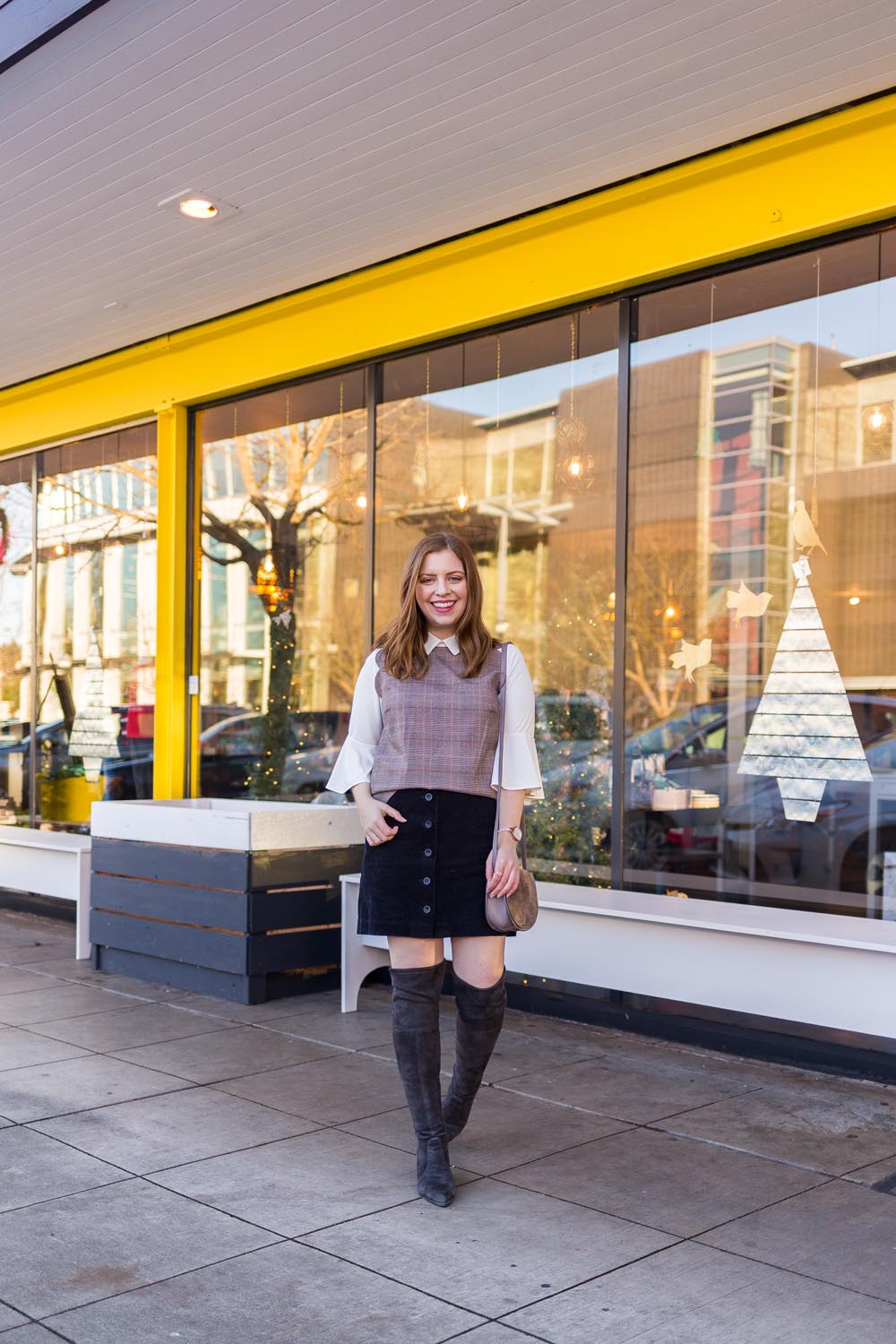 The Mini Saddlebag was one of the first pieces I ever tried from Cuyana. The shape is classic, and the small size means my shoulder won't get tired and I'll be sure to only bring with me what I actually need and will use. I love that there are two types of materials used; the flap is a beautiful suede, and the rest of the bag is made from smooth leather. If you live in a rainy city like Seattle, I recommend spraying the mini saddlebag to prevent water damage.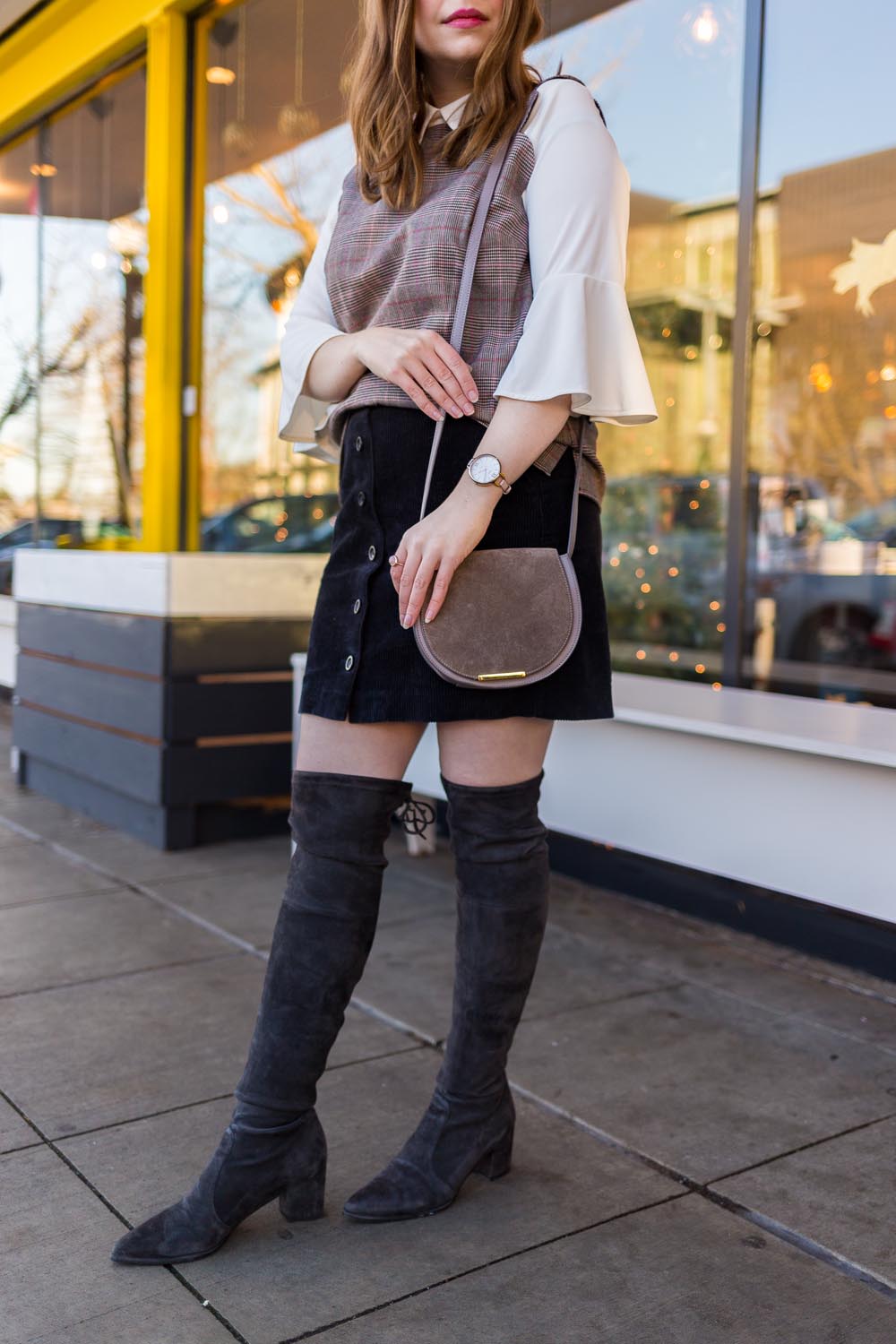 What it fits: This Saddle Bag is truly mini! I can fit my small wallet, keys, and maybe a lipstick in the pocket. There's not much room to spare in this little cutie!
Colors: Nude, Black, Blush
Price: $195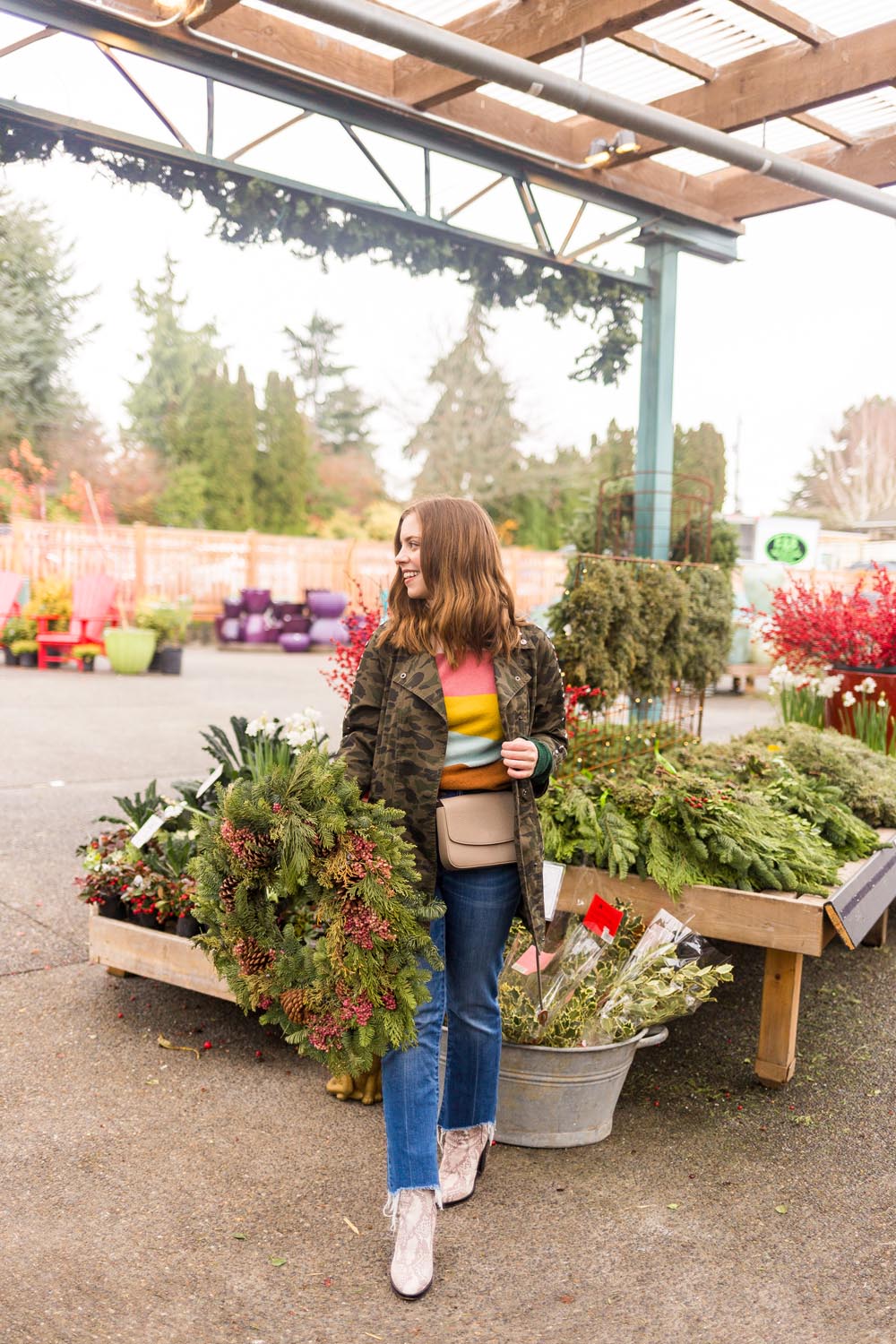 New to my collection this year is the 3-in-1 Mini Bag! This comes highly recommended from Cuyana for gifting this holiday season. Why? Well, because it can be converted into something for everyone! Since it's convertible, the 3-in-1 Mini Bag comes with two straps: one to wear around your waist or just under your shoulder, and one to wear it as a crossbody. Or forget the strap completely, and you have a clutch or toiletry bag for on the go!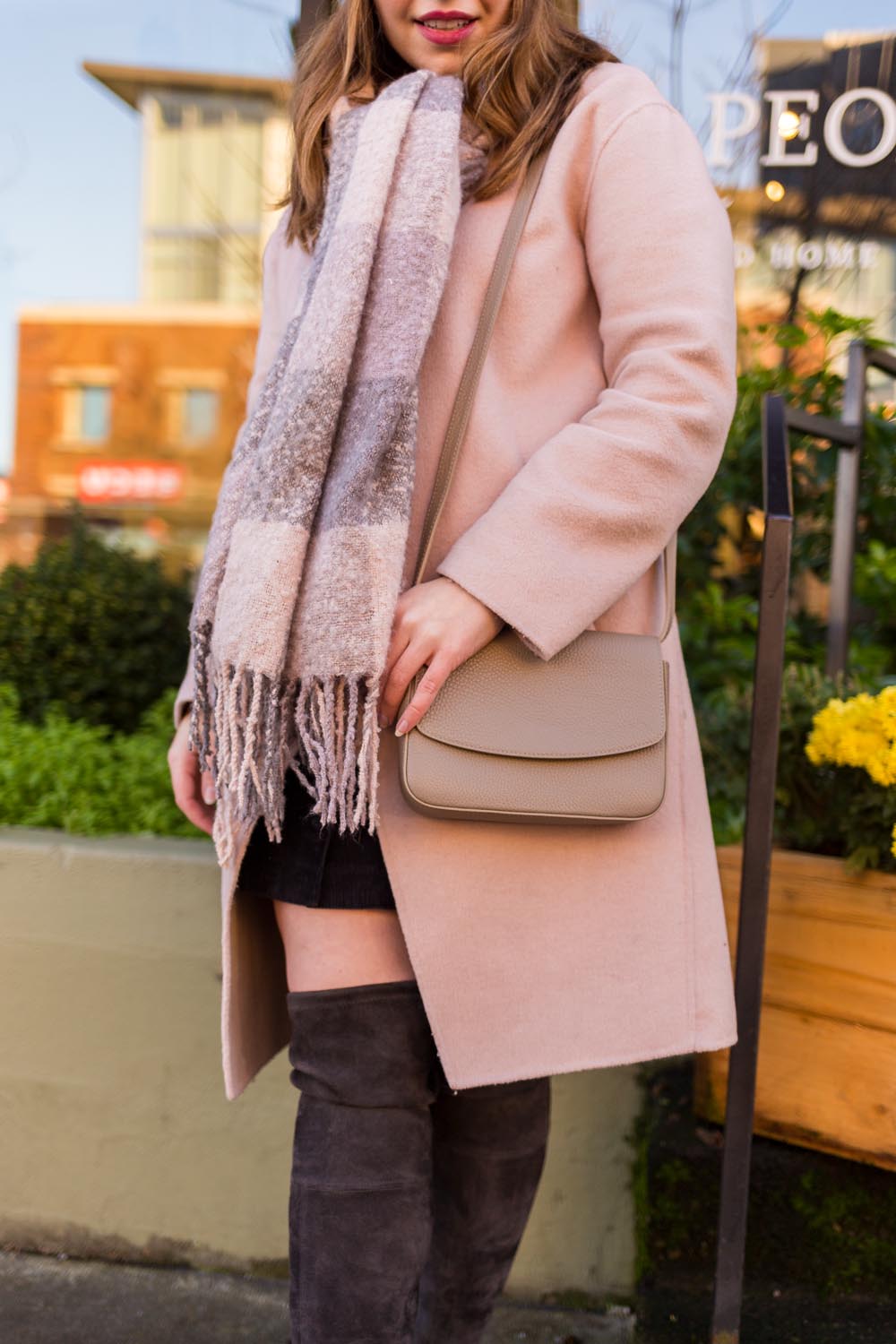 What it fits: While this 3-in-1 Bag is small, it's much roomier than the previous Mini Saddle Bag! I can fit a large wallet, phone, keys, and other small items in this bag.
Colors: Nude, Black, Blush
Price: $195
Looking for a stylish way to pack your earbuds or a mini wallet alternative for cash and coins? The next two pieces would be perfect! They also both make excellent stocking stuffers or affordable ways to treat a friend a special occasion or during the holiday season!
What it fits: The Leather Coin Pouch fits earbuds, small lip products like lip balm, coins, folded money
Colors: Black, Caramel, Quartz, Sapphire
Price: $45 (+$15 to monogram, optional)
What it fits: The Triangle Pouch fits earbuds, small lip products like lip balm, coins, folded money
Colors: Black, Blush, Burgundy, Caramel
Price: $50 (+$15 to monogram, optional)
Yep, Cuyana makes clothing, too! With classic lines, beautiful materials, and a neutral color palette, their pieces are perfect for the minimalist wardrobe. I'm by no means a minimalist, but I do appreciate that I will be keeping this wool cashmere turtleneck sweater in my closet for years to come and won't need to replace it anytime soon!
How it fits: The Wool Cashmere Turtleneck Sweater is lightly cropped, tight on sleeves and neck, loose through the body. Size up for slightly oversized fit or order your normal size for fit as seen on me/the Cuyana model.
Colors: Black, Camel, Charcoal
Price: $155
A beautiful silk tee is something that every wardrobe needs! This silky smooth option from Cuyana is perfect for tucking into skirts, layering under dresses, or just wearing with jeans on the weekend. It comes in a variety of classic colors, and check back for new colors as the seasons change!
How it fits: The Silk Tee is high low; slightly higher in front which makes it easy to half-tuck in with lower back to cover your behind. Fits true to size.
Colors: Black, Blush, Navy, White
Price: $155
My Future Purchases
I'd be lying if I said there wasn't always something on my wishlist from Cuyana! I'm going to be trying out their partnership with thredUP this holiday season (more on that below!) and when I get my credit, I'm definitely shopping for the items below!
Because I own two carryall totes, I thought it would be fun to order the crossbody leather strap in snakeskin. The neutral-toned print will go perfectly with either of my totes, and it looks slightly wider than the standard carryall tote strap which will be perfect for days when my bag is filled to the brim!
Sizing: One Size
Colors: Black/Stone, Blush/Lipstick, Caramel/Blush, Black/Snake
Price: $55-65 (+$15 to monogram, optional)
The mini circle bag makes for the perfect shoulder or belt bag, while the classic circle bag is perfect for everyday wear. I'm honestly more drawn to the mini circle bag, which is most likely what I'll order when it returns in stock in burgundy or blush!
Sizing: Mini // Classic
Colors: Black, Burgundy, Sapphire, Soft Rose, Stone // Black, Blush
Price: $140-160 (+$15 to monogram, optional)
I've carried the same small studded wallet for the past 5 years now, and I think it's about time to upgrade to something that doesn't look quite so worn. I love the size, but the embellishments show the impact of daily use. Something sleek and simple like the zip around wallet will be the perfect replacement!
Sizing: Mini // Small // Classic
Colors: Black, Blush/Ecru, Caramel // Blush, Burgundy, Clay, Passionfruit // Black/Red, Blush/Ecru, Carmel/Red, Forest, Navy/Stone, Red/Red, Stone/Red
Price: $110-125 (+$15 to monogram, optional)
Finally, every bag needs a little piece of flair, right? A bag tassel will be perfect! I'll probably be grabbing one for each of my totes, and for the convertible bag, too. #sorrynotsorry
Sizing: One Size
Colors: Black, Caramel, Stone, Black Smooth
Price: $35 (+$15 to monogram, optional)
Cuyana Promo Code
While I wish I had one for you, unfortunately, it's rare for Cuyana to be discounted. Instead, I can suggest a couple of ways to save on your next purchase below!
Sell to ThredUp and Receive Cuyana Credit
If you're looking to save on your next Cuyana purchase, consider sending some of your unwanted pieces to ThredUp through the Cuyana x thredUP partnership program. You'll receive an additional 15% credit from Cuyana, and 5% of the profits from your Cuyana purchase will benefit the H.E.A.R.T. (Helping Ease Abuse Related Trauma) organization.
Places to find Cuyana at a Discount
Not interested in selling anything? Try searching for your favorite Cuyana pieces at the below secondhand retailers!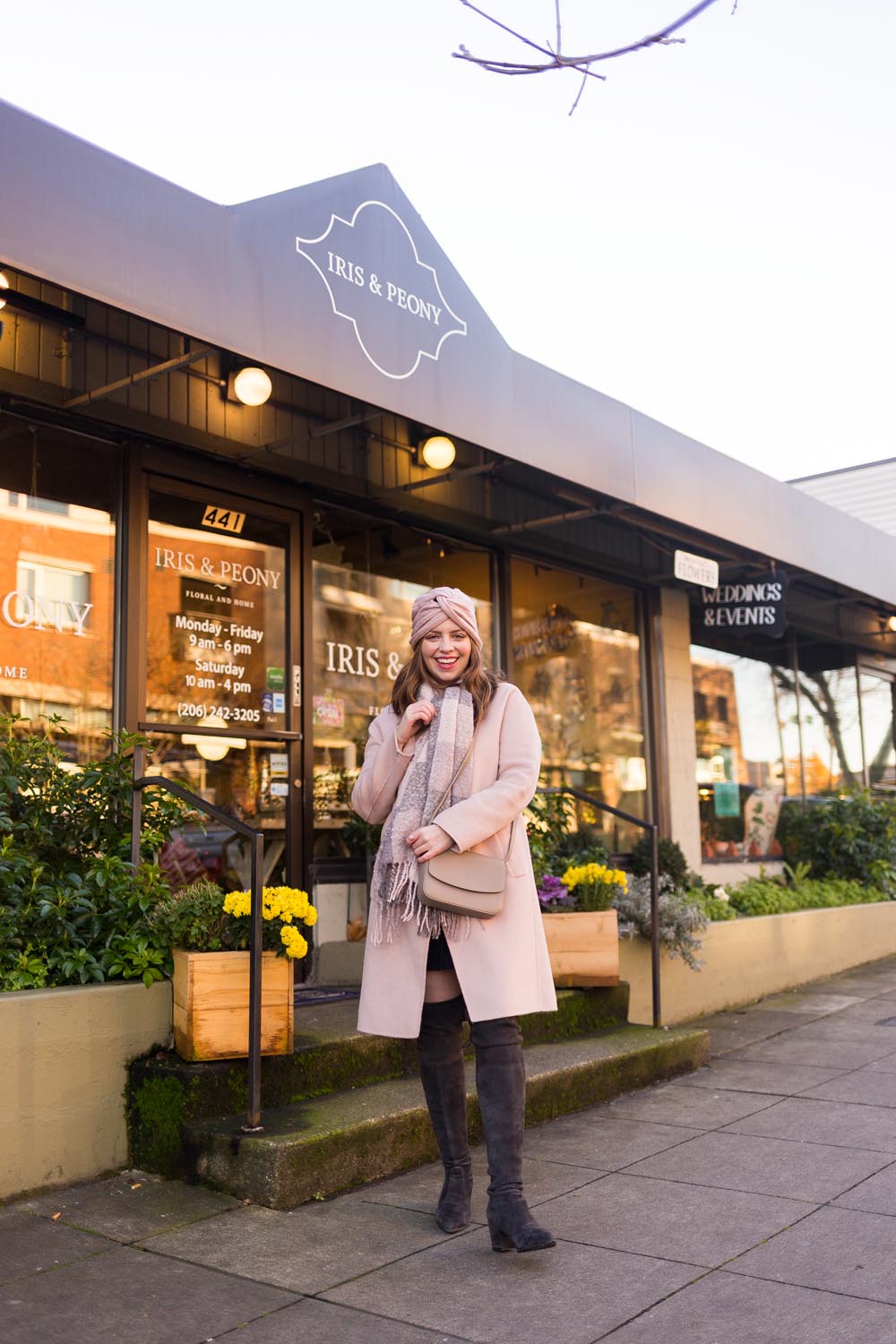 If you can't tell by now, I'm a huge fan of Cuyana and think their products are truly top-notch. If you're in the market to upgrade your bag wardrobe or are interested in trying out one of their leather accessories or clothing pieces, I hope these Cuyana reviews will help you make the best decision!
Photos by Lisa of Story of My Dress and Megan of Diary of This Girl
Were these Cuyana reviews helpful? Is there anything you'd like to know about the brand that I haven't covered or any products from Cuyana you'd like me to review? I'd love to hear about it in the comments!