When it comes to shopping for fall, I don't think it's a secret that I (and almost everyone else, it seems) love hitting up the Nordstrom Anniversary Sale. Each year, I refresh worn-out staples like ankle boots, find a statement piece for the season, and shop the latest trends. It's a good time to dive into your closet and see what could use an update. That's why I've rounded up these Nordstrom Anniversary Sale picks that are also great wardrobe basics!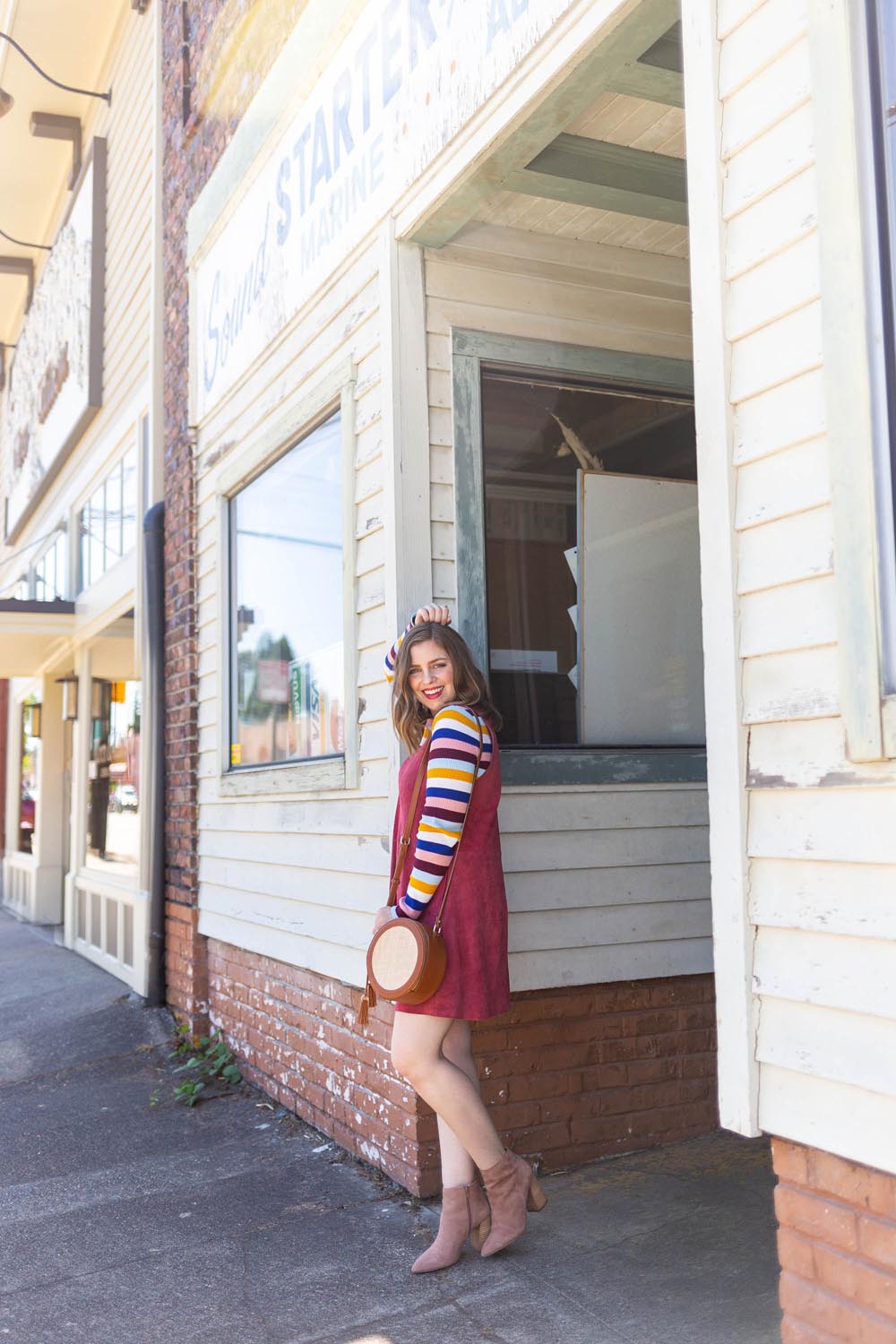 Disclosure: While this post is not sponsored, it does contain affiliate links. If you click a link and make a purchase, I may make a small commission similar to a sales associate at a department store. All opinions are my own!
I like to be smart about the sale, set a spending limit, and plan what I'm shopping for ahead of time so I don't get sucked in by the shiny sale prices. With that said, over the years I've noticed some of my absolute favorite pieces seem to get updated for the sale each year. New colors, fabrics, and textures get released, but still, the garment is mostly the same as the year before.
I've rounded up 10 of my all-time favorite Nordstrom Anniversary Sale picks that return every year. Hopefully, you'll find a new favorite or great wardrobe basic, too! And don't miss the special surprise at the end of today's post. :)
Update the Foundations
Ultimately, your clothes will only look as good as your foundations. And, it's important to not only have foundational garments like bras, camisoles, underwear, and shapewear that fit well but are also comfortable. After many years and many uncomfortable bras, I've finally found one that I can highly recommend to my fellow bustier friends: the Rive Gauche Bra. While it looks like it might be too lacy, I don't have any issues with this one showing through t-shirts. Even better? It fits true to size, unlike many others where you have to try on dozens to find a great fit.
When it comes to my favorite wireless options, I've found one that gives me support, coverage, and is wire-free: the True & Co True Body Wireless Bra. Seriously, it's like you're not wearing a bra. It comes in a variety of colors and I wear mine in small. (I'm a 32DD for reference.)
For an inexpensive, wear at home wireless bra, I like this one from Halogen. It's inexpensive, comfortable, and gets the job done. When it comes to camisoles that work great under sweaters and blazers, check out this cute lace camisole from BP.
When it comes to underwear, I'm still working on finding a favorite to recommend. If you have a favorite, please let me know what it is in the comments!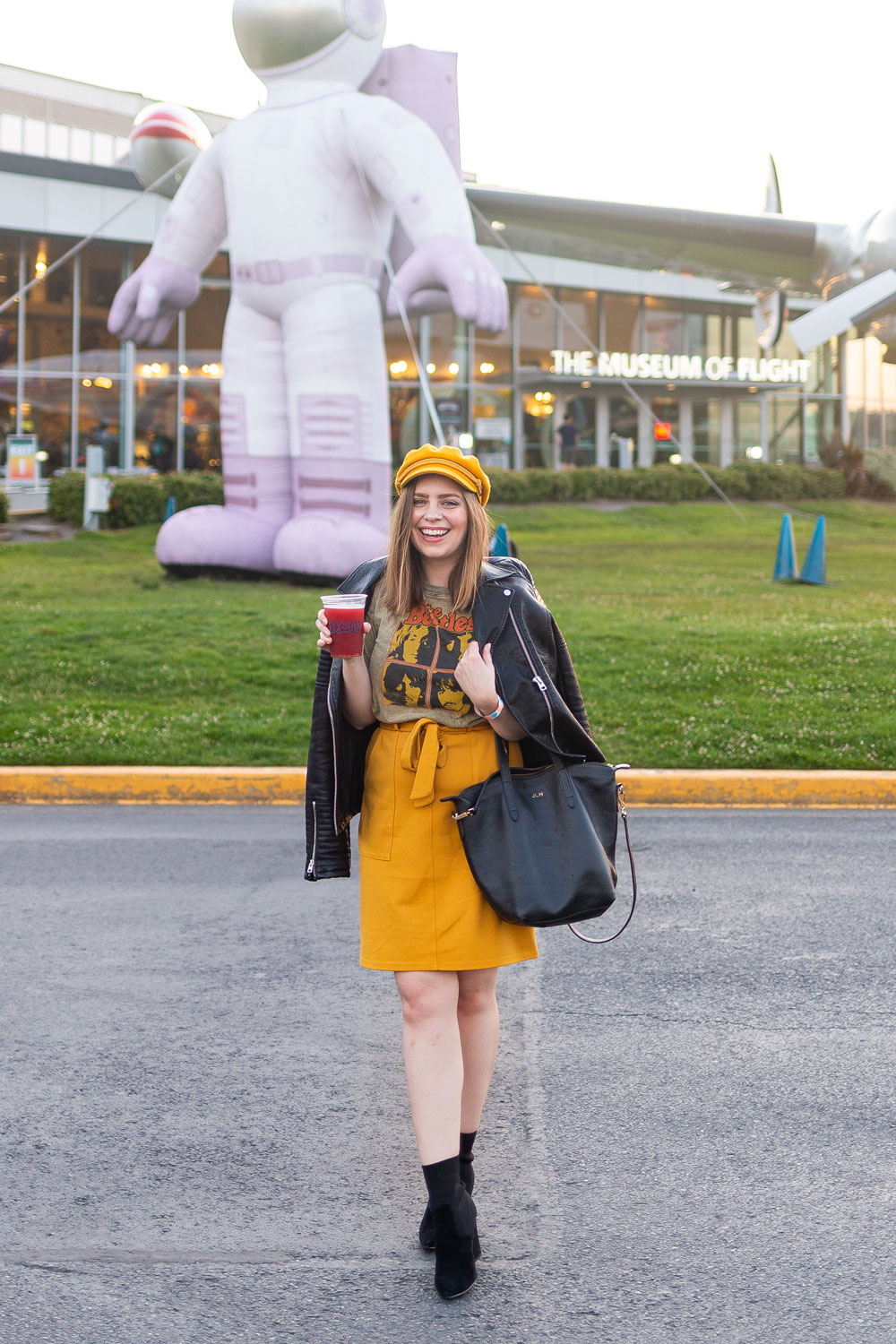 The Perfect Moto Jacket
When it comes to the perfect faux leather jacket, look no further than this one! Not only is it effortless cool with notched lapels and edgy belt detail, but it also comes in petite sizing. I don't know how often I've tried a great moto jacket only be drowning in the sleeves!
If faux leather isn't your thing, the sale also has a few other suede or faux suede options. A cult classic is this one from BlankNYC. It's also a huge steal for real suede and often sells out (and comes back in stock) regularly throughout the sale! PRO TIP: If you're having trouble grabbing it, try calling your local store so they can look it up in their system. They can let you know if a store has it in stock and have it shipped right to you!

​​​​​​​For those on a budget, there are plenty of options under $100! Also from BlankNYC, this faux suede one is a great option. With a slightly more slouchy and oversized fit, it would be the perfect option for layering sweaters underneath. For more color options, you can't beat this gorgeous faux suede jacket. It comes in a few fall-forward colors and has fun details that really make it seem luxe.

​​​​​​​Another under $100 option for those looking for faux leather is this one from BB Dakota. I like this option because it can be easily dressed up or down, and isn't quite as edgy as a traditional moto jacket; it almost looks like a blazer!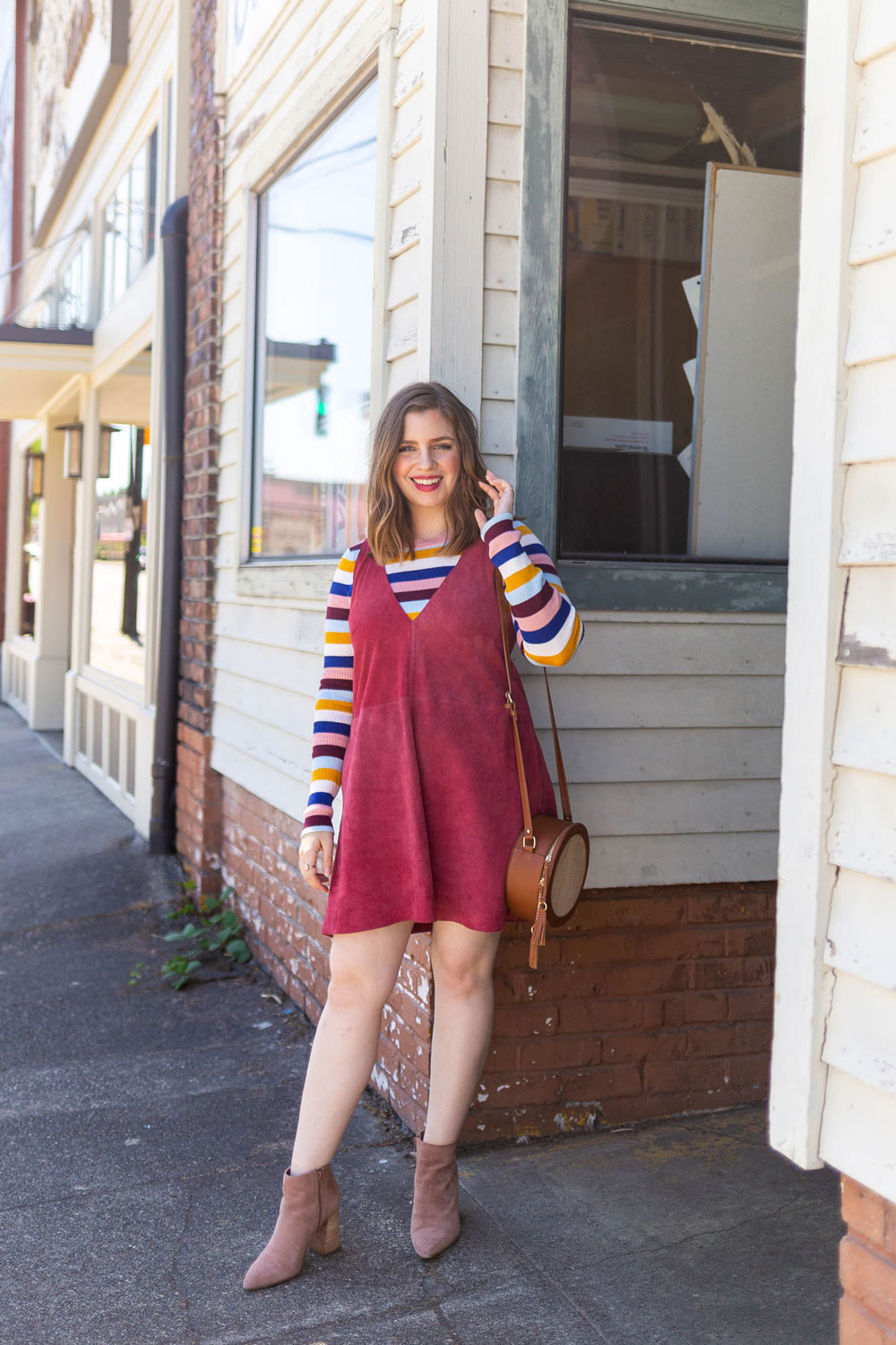 A Staple Ankle Boot
Over the years, I've come to love Steve Madden ankle boots. The style names might change, but the overall form and function is generally similar year after year. Each year I replace my ankle boots, and I always order a half size up from my regular shoe size for a comfortable fit. This year, this one is my pick! (Pictured above.)
Not into the pointed toe ankle boot? This one from Treasure & Bond comes in a traditional black as well as a fashion-forward snake print with a more rounded, yet still sleek, toe box. I'm also a big fan of Dolce Vita ankle boots which is why I'd also recommend checking this one out. I have a similar pair from the brand in a gray snake print, and love this trend for fall!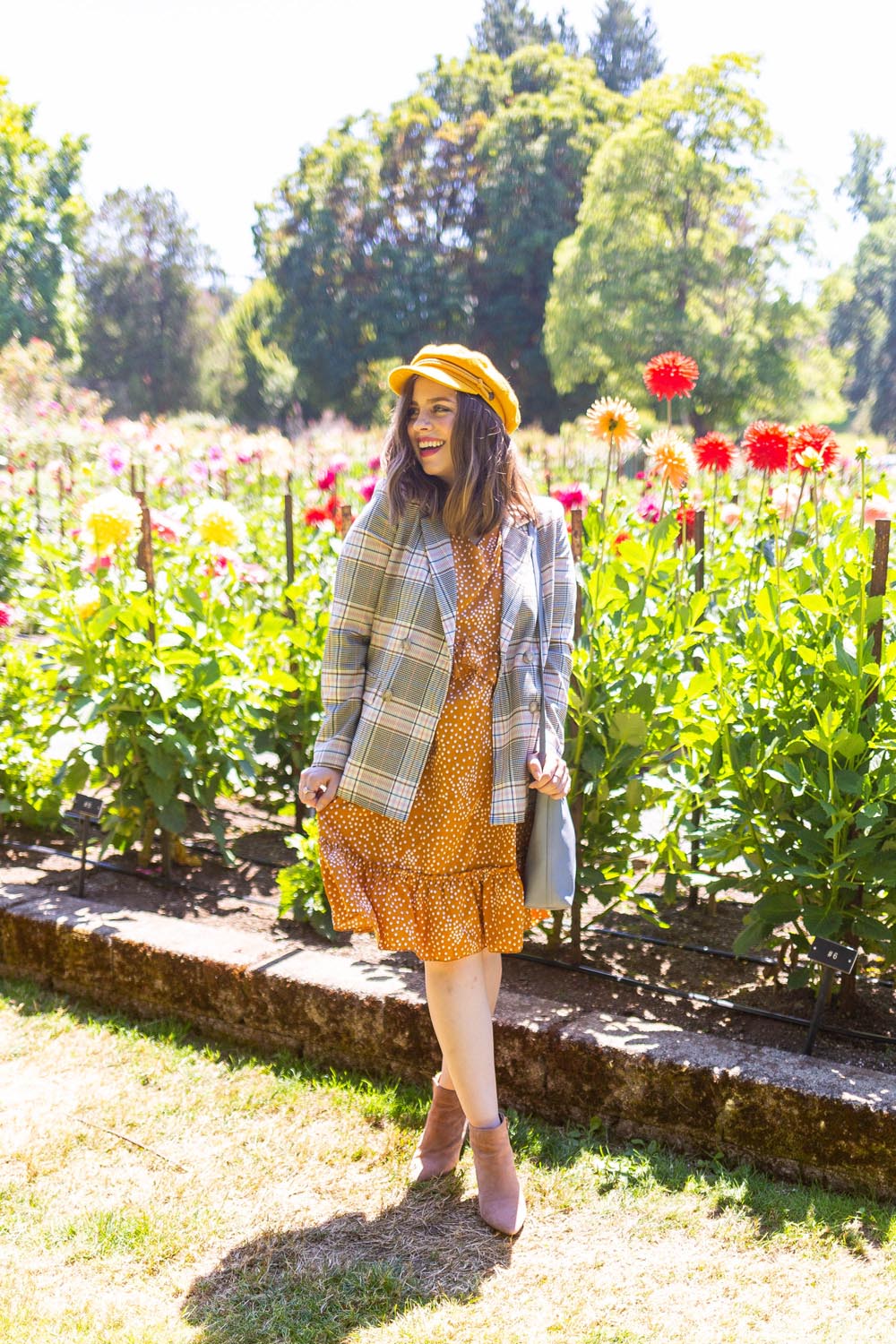 Falling for Plaid (Blazers)
It wouldn't be fall without a little (or a lot!) of plaid. I've been loving wearing blazers to dress up all of my outfits lately, from graphic tees to simple tanks to dresses, so I couldn't resist stocking up on a new one for fall. This is the one I selected for myself (pictured above), but it was honestly a toss-up because this one and this option are also great, too!
What's great about Nordstrom is their variety of size offerings. This blazer that I picked up for myself also comes in petite as well as plus sizing. Same with this gorgeous blazer, cut with a longer line and could easily be worn as a lightweight jacket. Grab the plus-size version here!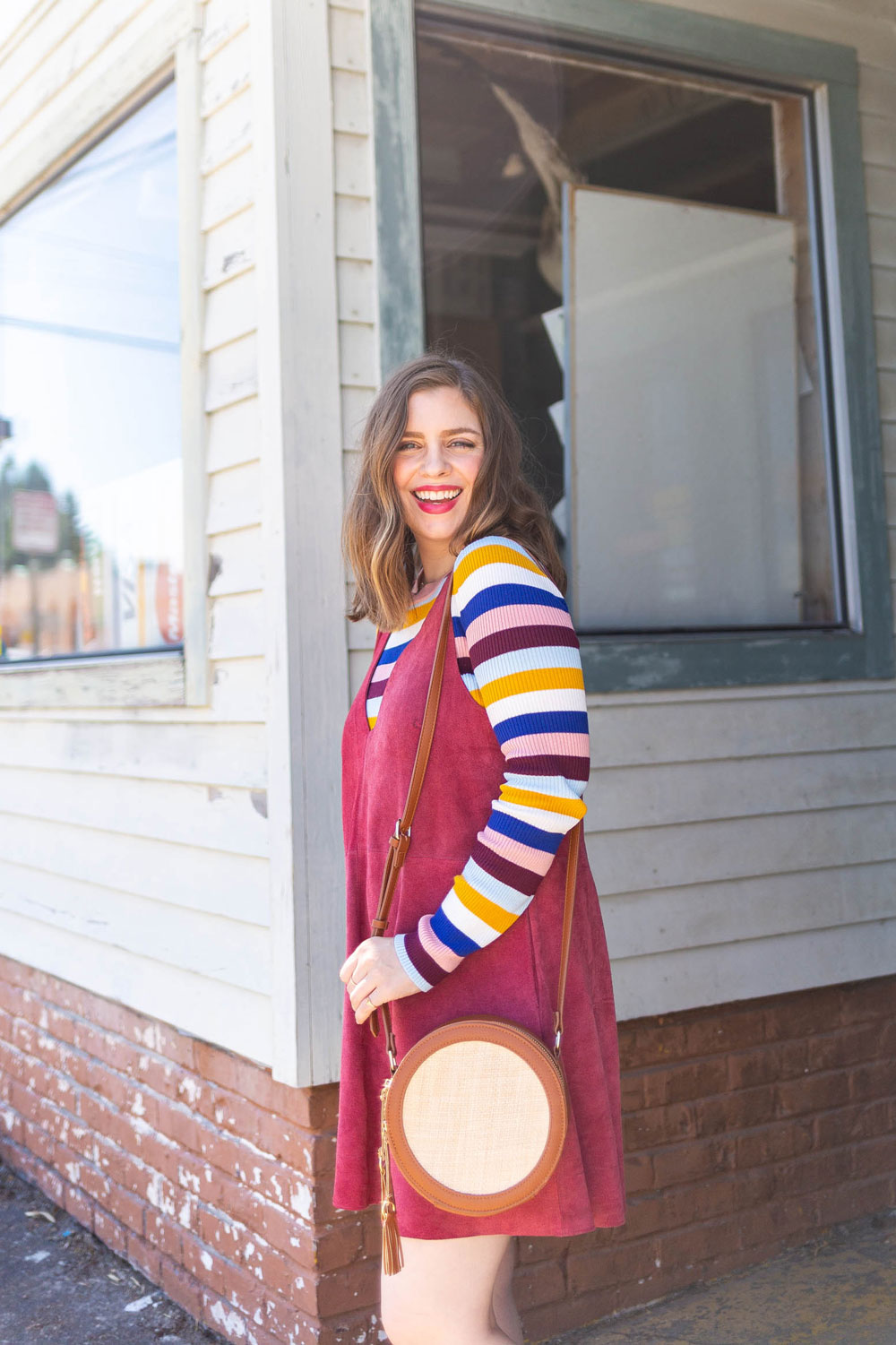 Refresh your Sweaters
When fall rolls around and the temperatures drop, you really can't have enough cozy sweaters. It's a bit hard to want to shop for sweaters when it's eighty degrees out which is probably why I was drawn to the lightweight sweater options this year. I picked up this lightweight sweater and this ribbed one (pictured) for myself.
It was hard to pare down all of the great sweater options, but I had to recommend this Halogen sweater, too, since I already own it. The stripe versions are my favorite and are definitely worth trying on. One final recommendation is this cute fuzzy turtleneck sweater. I love turtleneck sweaters for layering under dresses and jumpsuits when the temperatures drop, and I especially love the colorful and striped options available!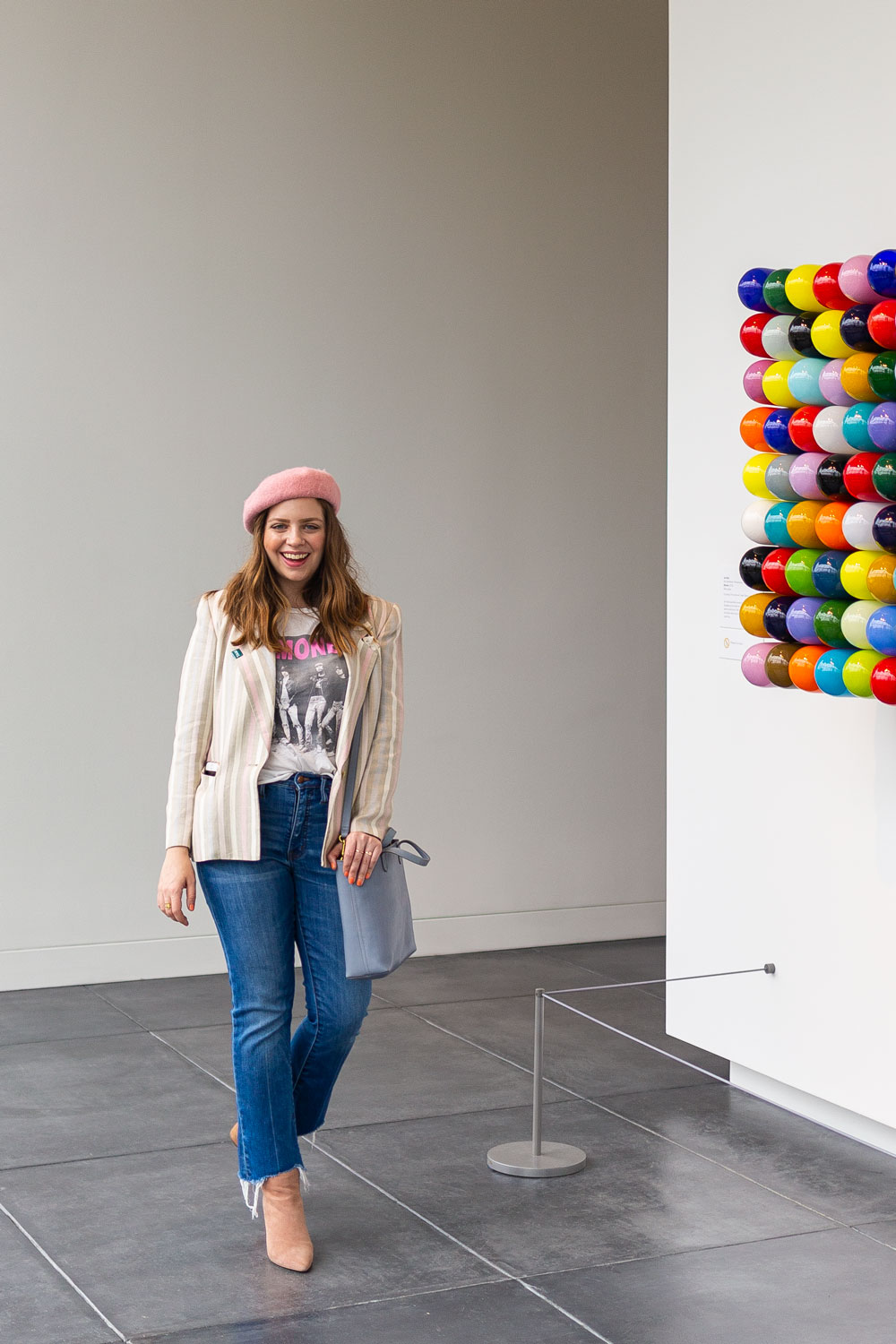 Deals on Denim
When it comes to stocking up on basics, you can't forget about the deals on denim! I think this is a great time to stock up on your favorite jeans brands, and mine happens to be Madewell. Conveniently, lots of styles from Madewell are on sale this year!
The pair I get the most wear out of are my Cali Demi Boot jeans. They have them in a sleek black denim which would be great to wear to a business casual office, or out on the town. I also love these skinny jeans, and this raw hem denim option!
Best of Beauty
It wouldn't be a good refresh if you didn't think about your beauty and personal care products, too! When it comes to fall, I'm all about the hydration. My personal favorite for getting my skin in tip-top shape is the Rose Hydration line from Fresh. The Rose Face Mask is a personal favorite, but you can't go wrong with anything in this set!
Another great option to keep you glowing? The Kopari Head-to-Toe Set! The Lip Love is one of my most-used products and if you've been wanting to try out a natural deodorant, this set has that too!
Finally, my picks are for hair care, and specifically, two brands that rarely ever go on sale. The first is this set from Oribe, which includes some of their best sellers in this trial set. Don't say I didn't warn you that you might get hooked on this brand! The other I'd recommend is Drybar, and this set is a great way to try out some of their best sellers, too! The Triple Sec is a cult favorite for a reason. :)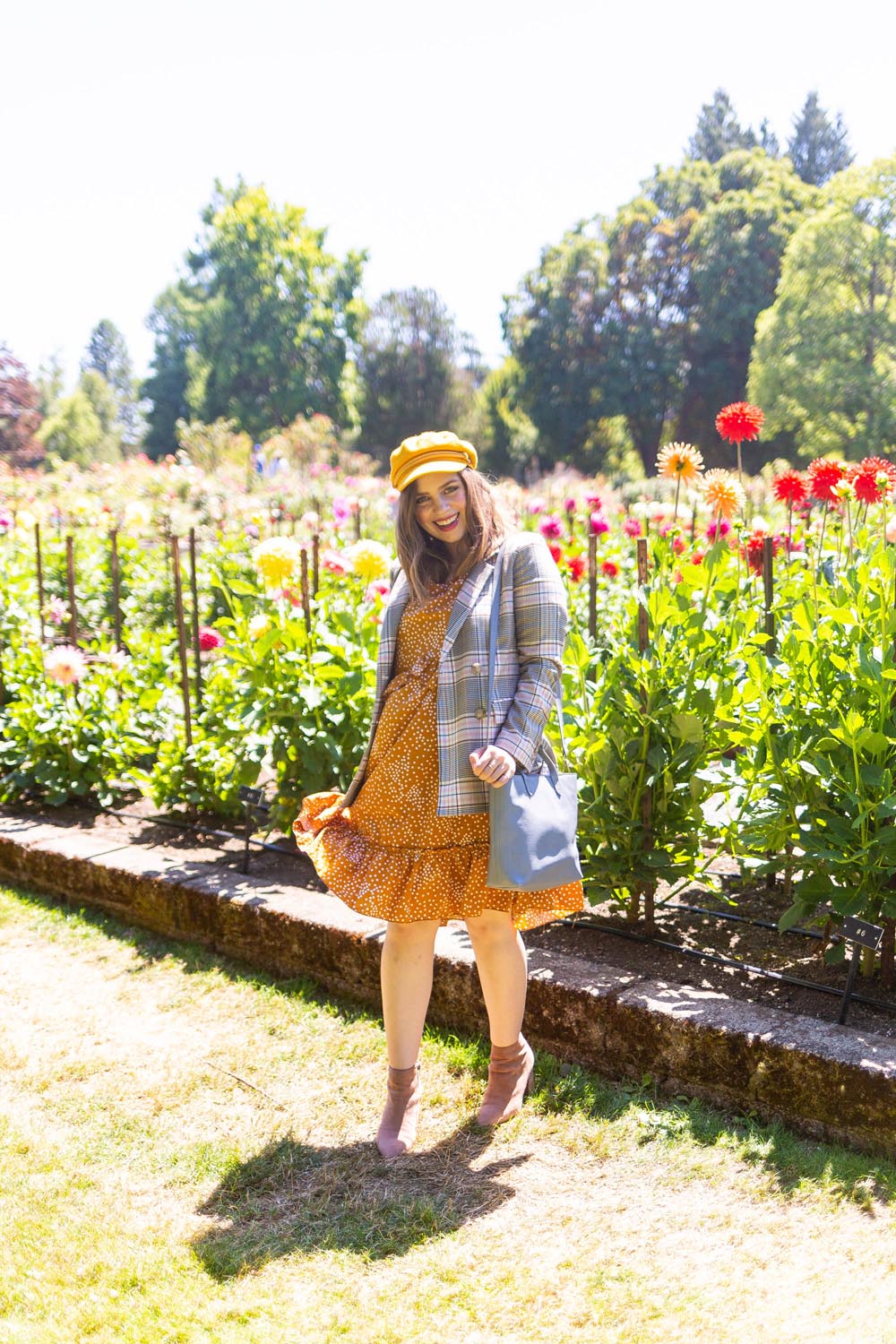 A Wear Everywhere Tote
Because my personal favorite brand of tote bag never goes on sale (BRB, sobbing!), I'm here to share with you the next best thing. What's that? The Madewell Transport Tote, of course! While I find the leather isn't quite as beautiful or luxe as my Cuyana totes, the price difference, when it's on sale, is pretty staggering. For nearly half the price, I think you'll enjoy either of the Transport tote options on sale.
For those with less to carry, the Small Transport tote (pictured above) is pretty efficient. It won't fit a laptop, but I can fit my DSLR, small wallet, phone, lipstick, and sunglasses. For those with a bigger haul, grab the Suede Stripe Transport tote and fill it up with all of your daily needs!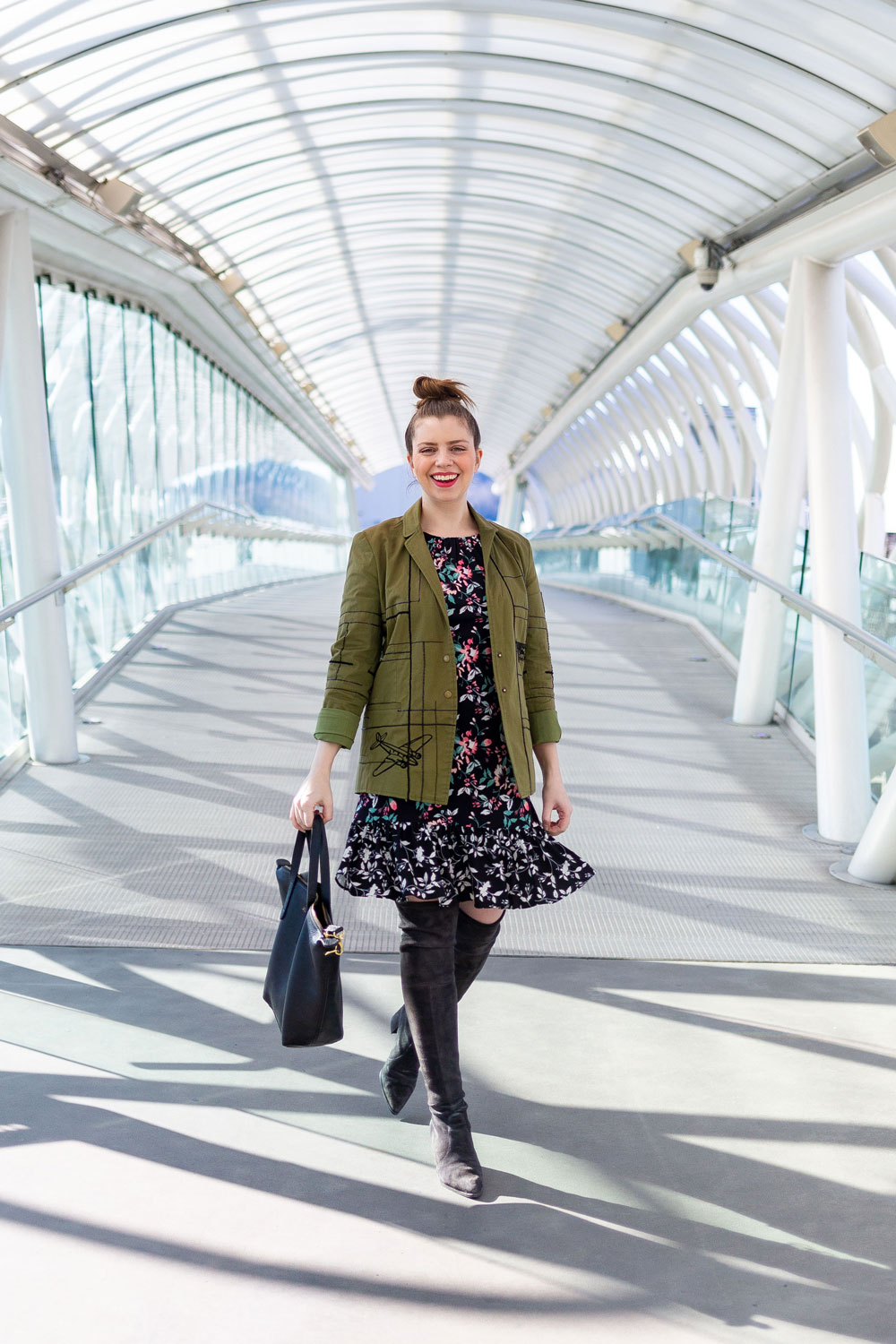 Splurge on a Classic Tall Boot
If you had told me my most worn boot in my closet would be my over-the-knee boots from Stuart Weitzman, I probably would have laughed. Not only did I never think I'd spend so much money on a boot, I never thought I'd love them as much as I do. But, it's true, and they're on sale at this year's #NSale. Grab one of two styles on sale, the Alina or the Darla!
Another tried and true boot classic? A pair of knee-high riding boots. My personal go-to brand is The Frye Company. While not inexpensive, the high-quality leather and craftsmanship of their products really make them stand out from the rest. I highly recommend the Melissa boot, and love this Carly boot, too!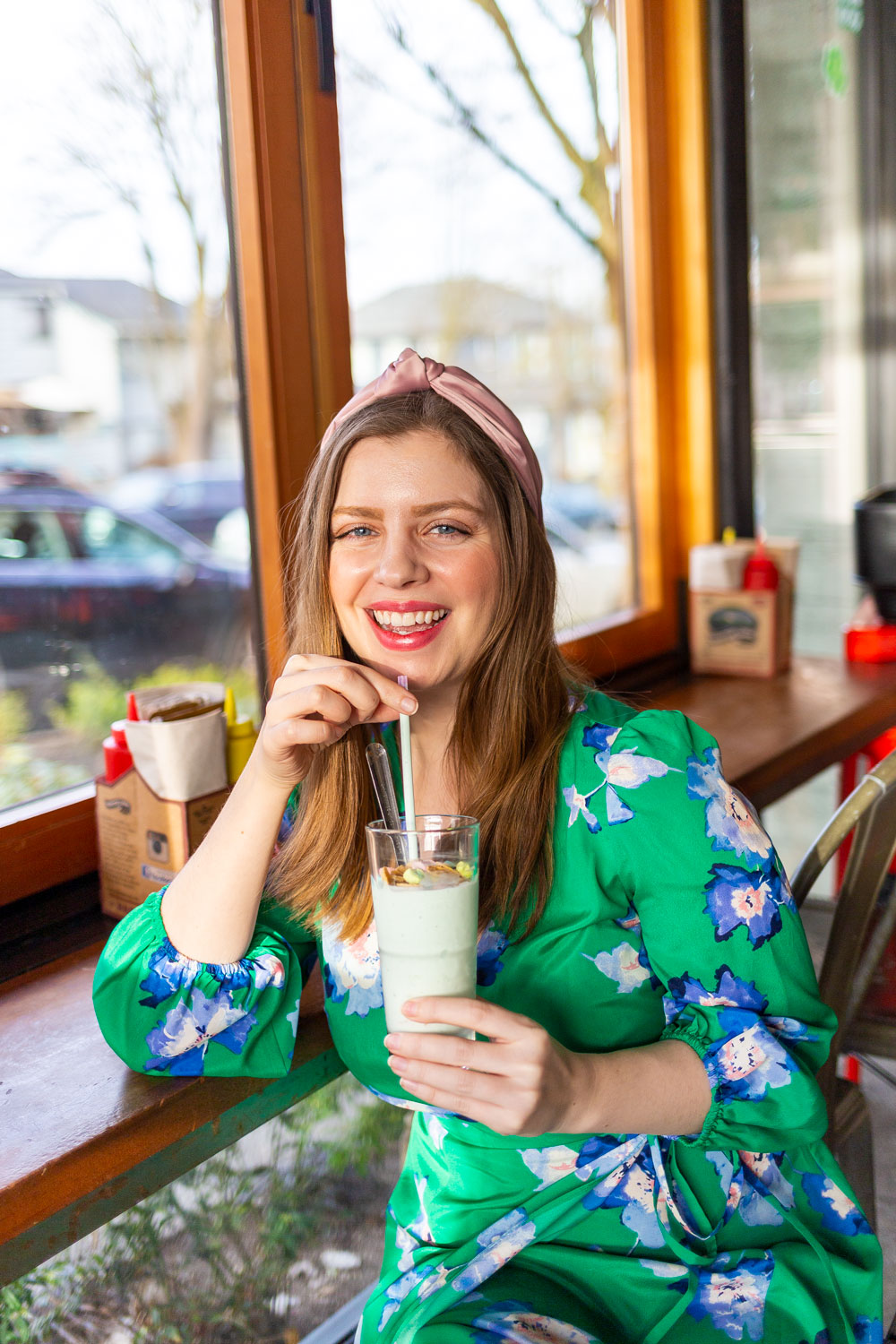 Wrap (Dress) it Up
If you ask me, the wrap dress is a closet staple that everyone should own. My personal go-to brand for classic wrap dresses in fun colors and prints is Eliza J, as seen above. Fortunately, Nordstrom seems to think these dresses are pretty great too by putting quite a few of them on sale this year!
A flattering knee-length wrap dress is perfect for anyone of any height. Eliza J also has more fitted take on the wrap dress, which would look beautiful under a fitted blazer or with a beautiful wool coat. I also can't resist a good midi length option, either. Yep, even as a petite girl I still love a midi! I think they look awesome dressed up with heels or dressed down with a pair of slouchy boots in the fall and winter. Even better, each of these styles mentioned also are available in plus sizing!
NORDSTROM $800 GIFT CARD GIVEAWAY
THE HOSTS
The Blue Hydrangeas | Tanya Foster | La Passion Voutee | Life With Mar | House of Leo Blog | Whats for Dinner Esq. | A Glamorous Life | Basking in Burgundy | Tonya Michelle 26 | By Jen Rose |
Jenna LeeAnn | Raising Tiny Texans | Alicia Wood Lifestyle | Uptown Fashion by Jess | The Samantha Show | Danielle Wrath | Hello Rigby | Happily Inspired | The Middle Page Blog | From the Family with Love |
THE GIVEAWAY
I've teamed up with my favorite bloggers to offer you an $800 Nordstrom gift card just in time for the sale! Use the widget below to enter the giveaway. The more "tasks" you complete, the more entries you will receive. Make sure to do the actions in the Rafflecopter before marking that they are done! The giveaway is open to US and Canadian residents only and will run from July 19 until August 2. Good luck! The winner will be announced (on the widget only) one week after the giveaway has ended. If you have any questions about the giveaway process, feel free to e-mail April at hello@thebluehydrangeas.com
Good luck, my friends, and happy shopping!
Have you picked up anything from the Nordstrom Anniversary Sale this year? What basics are you shopping for this fall? I can't wait to hear all about it in the comments!

---
Follow Jenn: bloglovin / twitter / facebook / instagram / pinterest / g+ / youtube
---