As we count down the days until fall officially begins, I can't help but get excited for the cozier fashion options that await us! Layering is one of my favorite ways to be comfortable during the autumn months. It's this time of year that I crave all of the soft and cozy clothing. To me, layering is a chic way to style super casual pieces in your wardrobe, and when it comes to figuring out how to wear a hoodie, it's my go-to suggestion.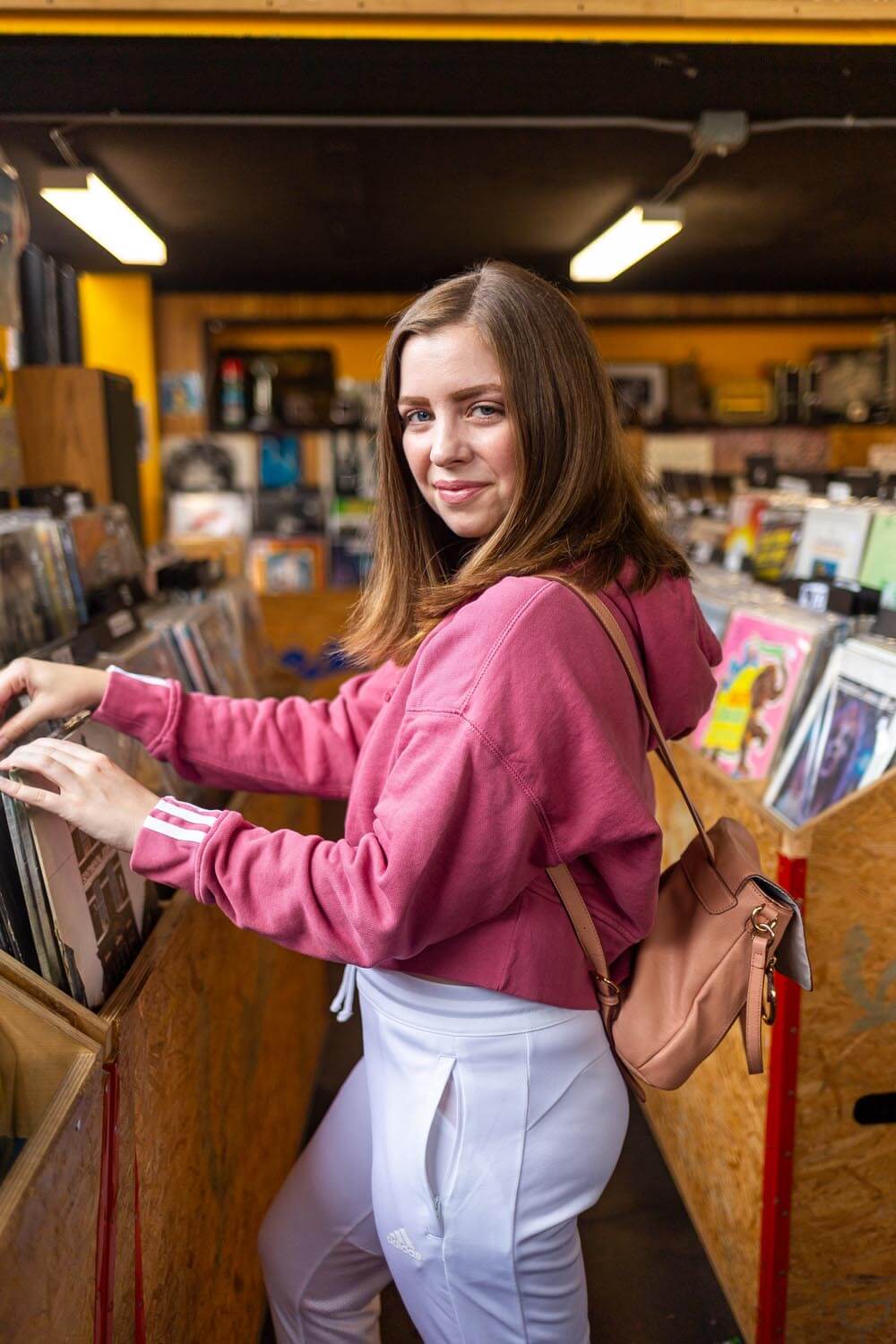 Disclosure: Thanks to adidas for sponsoring this post! All opinions are my own.
Who says you can't be comfortable and stylish in your favorite hoodie this fall? Incorporating this piece into your daily wardrobe is possible by styling it with other athleisure pieces, or flip the script and dress it up! While I wouldn't recommend these outfits as business formal attire, they are perfect for weekend errands and get-togethers.
Today, I thought I'd share two great ways to wear my brand new adidas Cropped Hoodie for fall! Option one keeps things sporty, while the second look dresses up the cropped hoodie trend!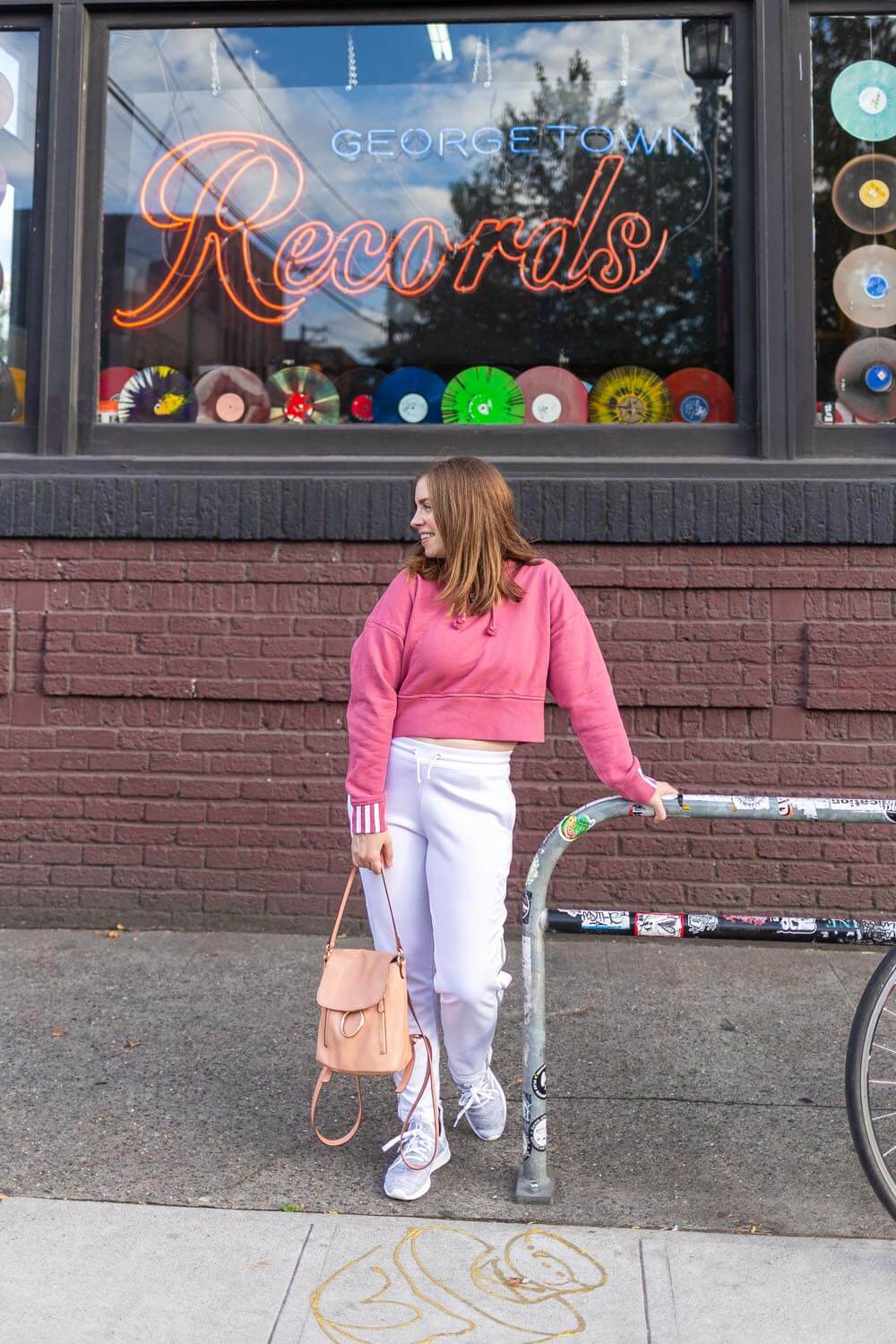 How to Wear a Hoodie with Athleisure Outfits
The first way I opted to style this cropped hoodie from the new adidas Fall Collection keeps things sporty. Pair your favorite slouchy track or sweatpants with your cropped hoodie. Then, add a pair of comfortable sneakers for the perfect weekend or airport look. If you're in the market for a new pair of sneakers, I recently picked up these Cloadfoam Pure Shoes. I can't get enough of them! They are so lightweight, sleek, and come in so many great colors. (I recommend sizing 1/2 size down from your normal sneaker or athletic shoe size for the best fit!)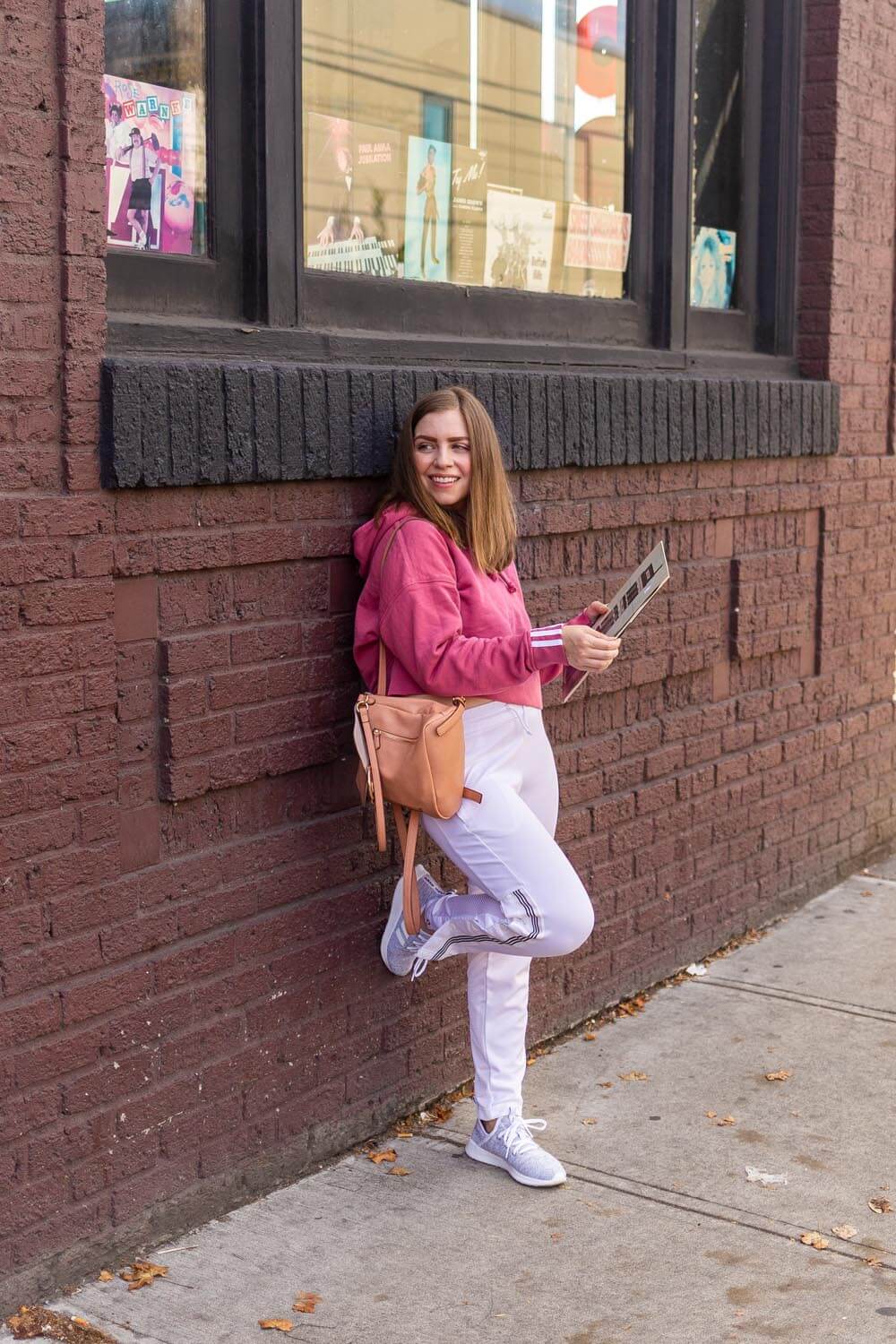 Recently, I started joining Dave for golf lessons, which I think has impacted my recent fashion choices by embracing a more sporty look. I wore this outfit on a Saturday afternoon to check out our local record shop. Afterward, we grabbed a bite to eat at a nearby food truck!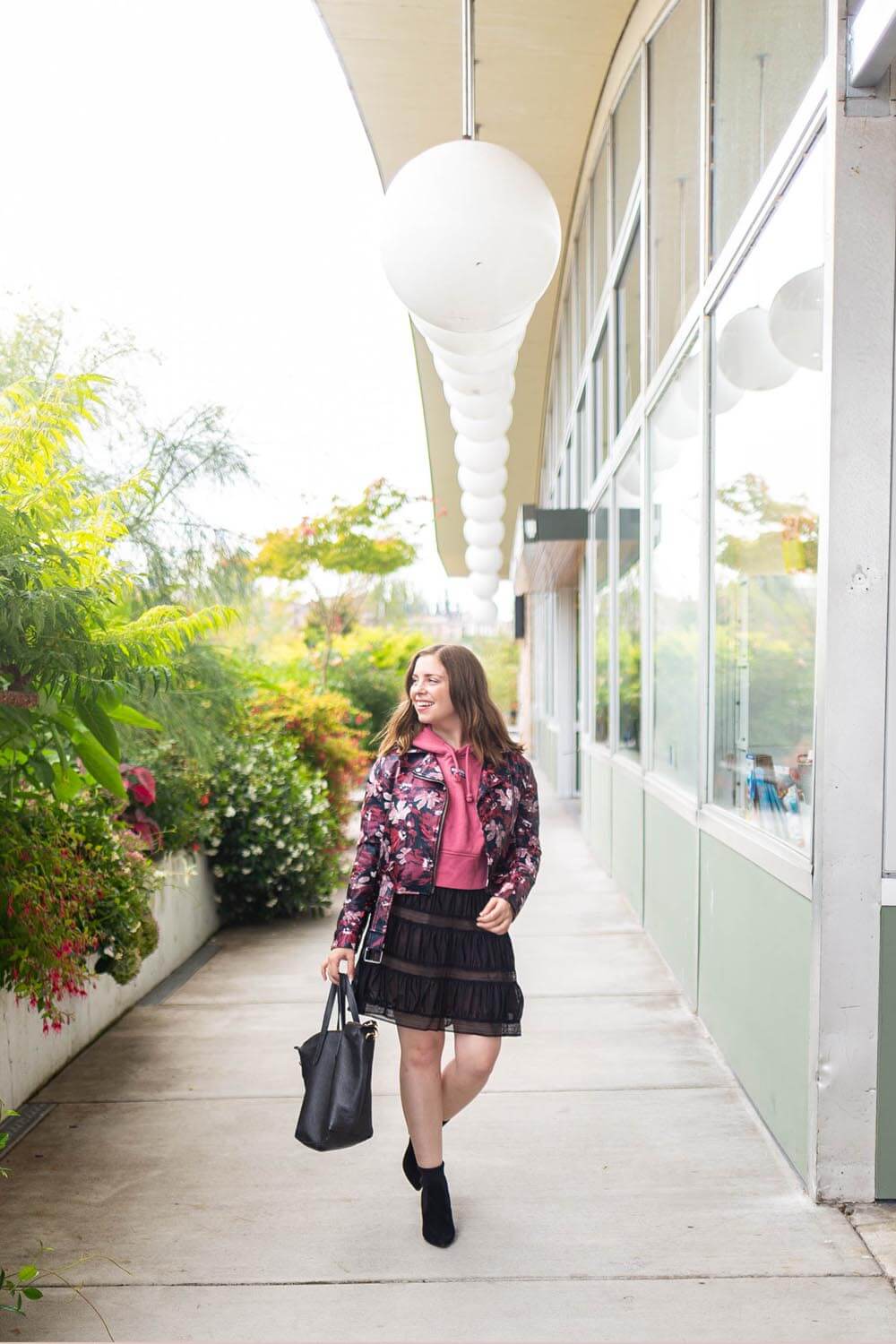 How to Wear a Hoodie and Still Look Stylish
While I was waiting for my cropped hoodie to arrive, I started imagining all of the different ways I might be able to dress it up. After all, it's so cute that I wanted to wear it more often than just for golf lessons, around the house, and for running errands! A pair of jeans might have been an easy outfit option, but I wanted to create an outfit that felt a little bit more "me".
I discovered that an easy way to style your hoodie for fall is over your favorite summer dress; it adds warmth to your look and gives a fun sporty feel. Plus, who's ready to pack away all of their summer dresses already? Not me!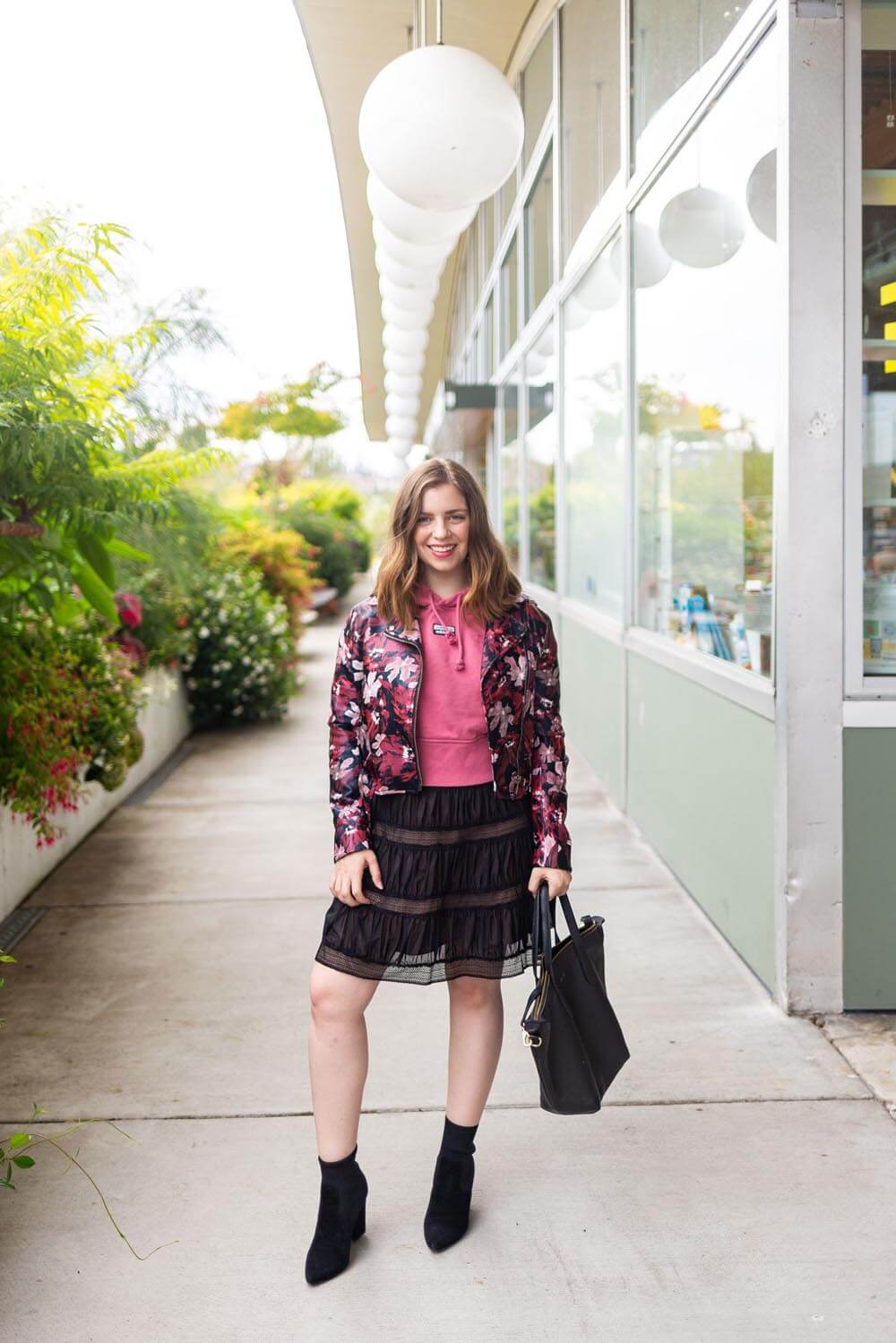 How to Wear a Hoodie under a Jacket
For this outfit, I incorporated a dress with an interesting skirt and layered it underneath my cropped adidas hoodie. To layer things up, I wore the hoodie underneath my jacket. The floral print of the moto jacket incorporated something I find myself gravitating to often: floral prints!
If you're like me and trying out a new style, I encourage you to find something that you love (like floral print) and incorporate that into your outfit. Even if you're wearing something that feels completely new and different for your personal style, elements of your look will feel like "you."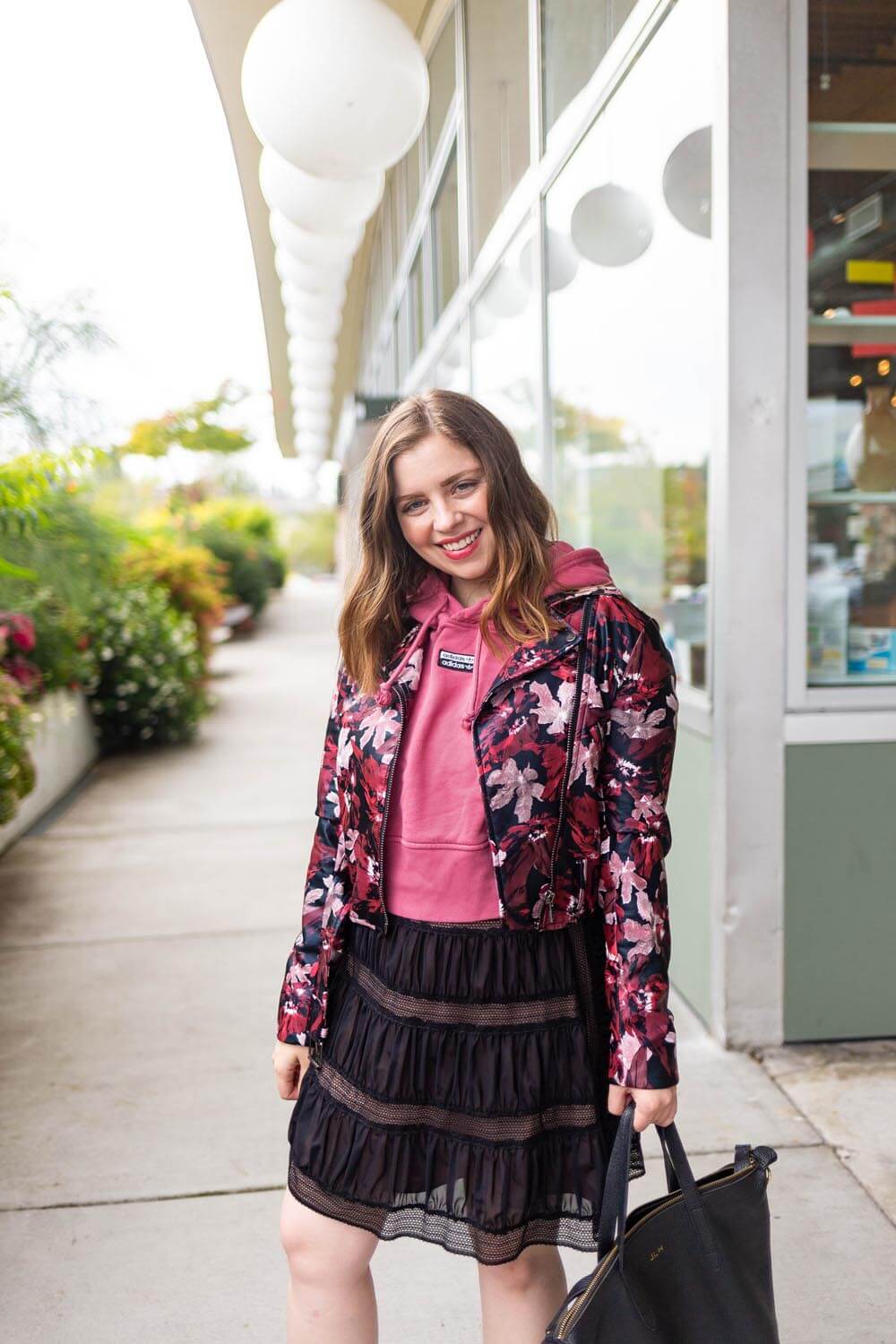 The final touch of my dressier look was with the accessories. A pair of sleek black sock booties were both comfortable and dressy enough to keep my outfit from feeling sloppy. My favorite leather tote is always a good choice for a day out and about with a friend!
Now that you have a couple of ideas on how to wear a hoodie for fall, I hope you'll give the cropped hoodie trend a try this season. It's perfect for a casual look with your favorite sweats or jeans. I also encourage you to take it up a notch and wear it with some of the other pieces in your closet for a fun dressy look!
How do you like to wear hoodies? Do you like to dress them up or down? I'd love to hear about it in the comments!