Oh, hello! It's me, your friendly Seattle Nordstrom shopper. I know, I know. Like every other blogger, their sister, Mom, AND grandma, I'm shopping the Nordstrom Anniversary Sale. I've been shopping at Nordstrom since I was little. Once I graduated college and had more of an "adult" budget for shopping, I got wise and shopped for fall items every July during the Nordstrom Anniversary Sale, too.

Fall happens to be my favorite season for fashion, so it's no wonder I get a little excited about the sale. If you've been shopping the sale for a while, too, you'll start to notice a pattern of brands and products that come back every year in new colors, washes, patterns, and textures. It's a great time to stock up on basics, but I personally prefer finding those standout, colorful pieces that really make a statement in my fall wardrobe.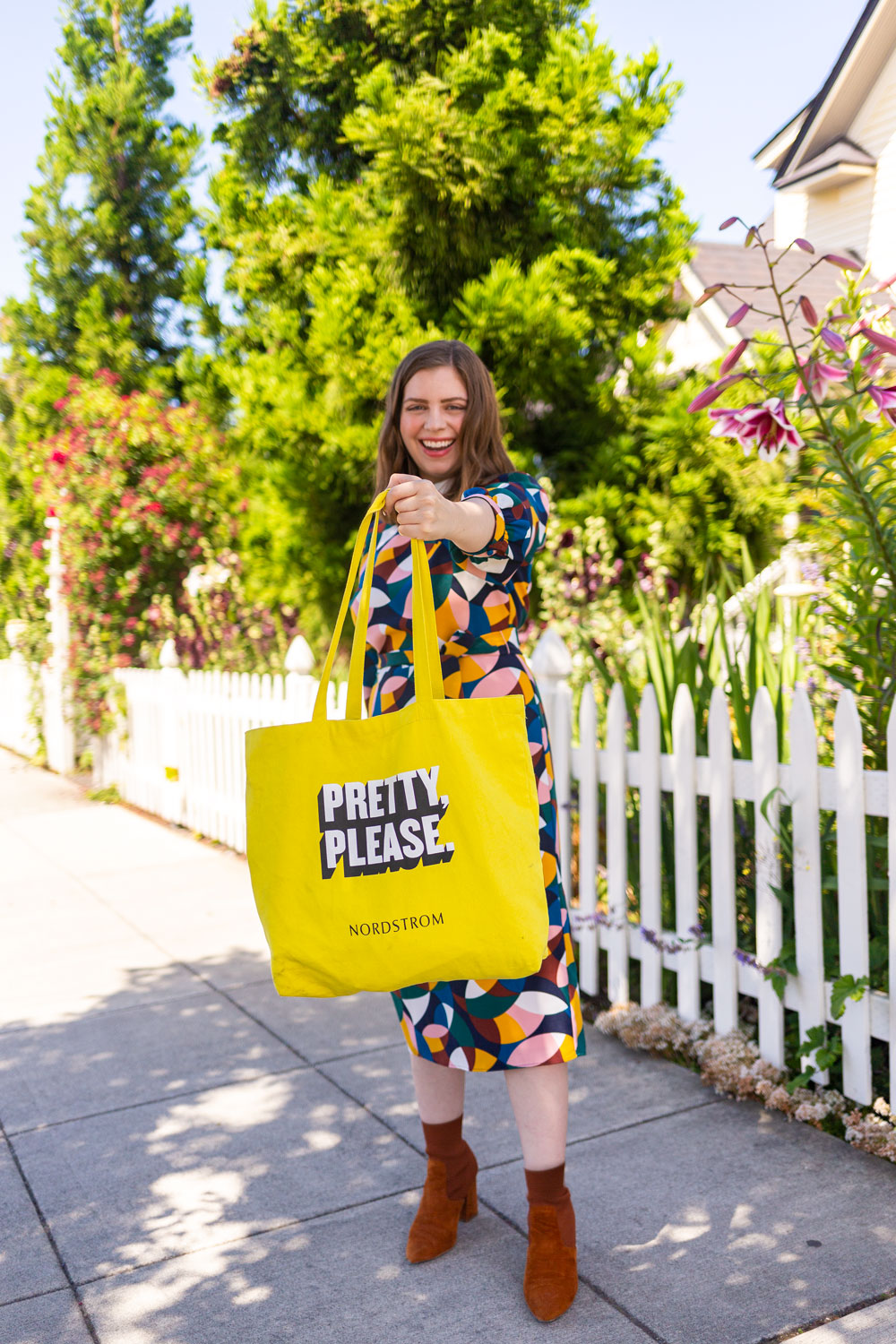 Disclosure: While this post is not sponsored, it does contain affiliate links. If you click a link and make a purchase, I may make a small commission similar to a sales associate at a department store. All opinions are my own!
While I love shopping the Nordstrom Anniversary Sale, the blogging community goes a little hard. I promise to not overwhelm you with #NSale picks over and over again, but when I asked on Instagram if you wanted to see colorful picks, you said yes. So here we are.

​​​​​​​I'm shopping many of these pieces myself, so stay tuned on Instagram this weekend when I pick them up at my local store if you'd like to see them "live". (Yes, I was the crazy person checking out at 9:30 am PST this morning when the sale went live to Nordstrom cardholders.)
In the meantime, read on for my top colorful picks from the Nordstrom Anniversary Sale 2019!
A few things to note before we jump into the colorful picks:
Currently, the Nordstrom Anniversary Sale is open to all Nordstrom cardholders. If you don't have a Nordstrom card, you can apply and if approved, shop the sale now. Be warned, this is a store credit card with a high-interest rate. I have mine set to autopay in full each month so that I don't forget to pay it after the sale and rack up fees!
Speaking of high interest, please don't go in debt over this sale just because you see other people bragging about their haul. A lot of this is smoke and mirrors to they can promote the products to their followers. However, I'm sure Nordstrom sees quite the uptick in returns following the sale if you get what I'm saying.
While this post is highlighting colorful, statement type of pieces, I always like to use this time of year to replenish basics. Some other things to check out include denim, bras, underwear, and home goods. Some of my favorite finds have been simple things, like our colorful comforter, these splurge-y bras (totally worth it!), Dave's favorite denim (perfect for men with an athletic build!), and this suede moto that gets re-released each year.
Restocks happen often. If you absolutely have to have something, I recommend checking back on it every so often. And worse case, you can buy it now in a different size and exchange it after the sale. That way, you'll guarantee the sale price. :)
Now with that said and out of the way, let's get to the fun stuff!
1 // Red + Pink Shirtdress, $63 (Also available in Petite, and in a black/white print, too!)
2 // Double Breasted Blazer, $131 (Also available Petite, and 3 other colors!)
3 // Red Croc Knee High Boots, $150-165
4 // Ribbed Striped Sweater, $30 (Also available in Plus and 7 other colors!)
5 // Floral Midi Dress, $63 (Also available in a blouse, too!)
6 // Circle Statement Earrings, $19 (Also available in blue and multicolor!)
7 // Stripe Sweater Dress, $50 (Also available in Plus!)
8 // Oversize Sweater, $45 (Also available in cream!)
9 // Statement Earrings, $38 (Also available in 3 other colors!)
10 // Pop Plaid Coat, $197
11 // Panama Hat, $39 (Also available in black/navy!)
12 // Block Heel Boot, $85 (Also available in black!)
13 // Pattern Mix Dress, $112
14 // Pointed Toe Bootie, $130-150 (Also available in 5 other colors!)
15 // Fuzzy Cardigan, $50 (Also available in Petite, Plus, and 4 other colors!)
16 // Leather Mules, $65 (Also available in black!)
17 // Circle Crossbody Bag, $186 (Also available in green and black!)
18 // Plaid Coat, $170
19 // Lightweight Sweater, $26 (Also available in 5 other colors!)
20 // Ruffle Hem Dress (Also available in petite and in green floral, too!)
21 // Crop Jumpsuit, $72 (Also available in 2 other colors!)
22 // Faux Fur Trimmed Leather Jacket, $140
23 // Poppy Print Dress, $112
24 // Floral Midi Dress, $119
25 // Tie Neck Blouse, $50

26 // Midi Dress, $99 (Also comes in black!)
And that's a wrap! There obviously are many other colorful options to shop throughout the Nordstrom Anniversary Sale, however, these are my personal top picks from my favorite and tried-and-true brands. If you have any questions about the sale, sizing, or anything else feel free to let me know! I'm happy to help.

Have you shopped the Nordstrom Anniversary Sale? What are you shopping for this year? I'd love to hear about it in the comments!


---
Follow Jenn: bloglovin / twitter / facebook / instagram / pinterest / g+ / youtube
---