What month is it again? If it wasn't for the streak of 80 degree days we've been having, you could tell me it was November, and I would probably believe you. I don't think I've ever spent quite so much time at home than I have over the last five or so months! Because of that, I'm always looking for new, fun things to do at home, and recently reminded of building pillow forts as a child! I wondered, could I make a pillow fort for adults?!
Disclosure: This post is sponsored by BabbleBoxx on behalf of Harlequin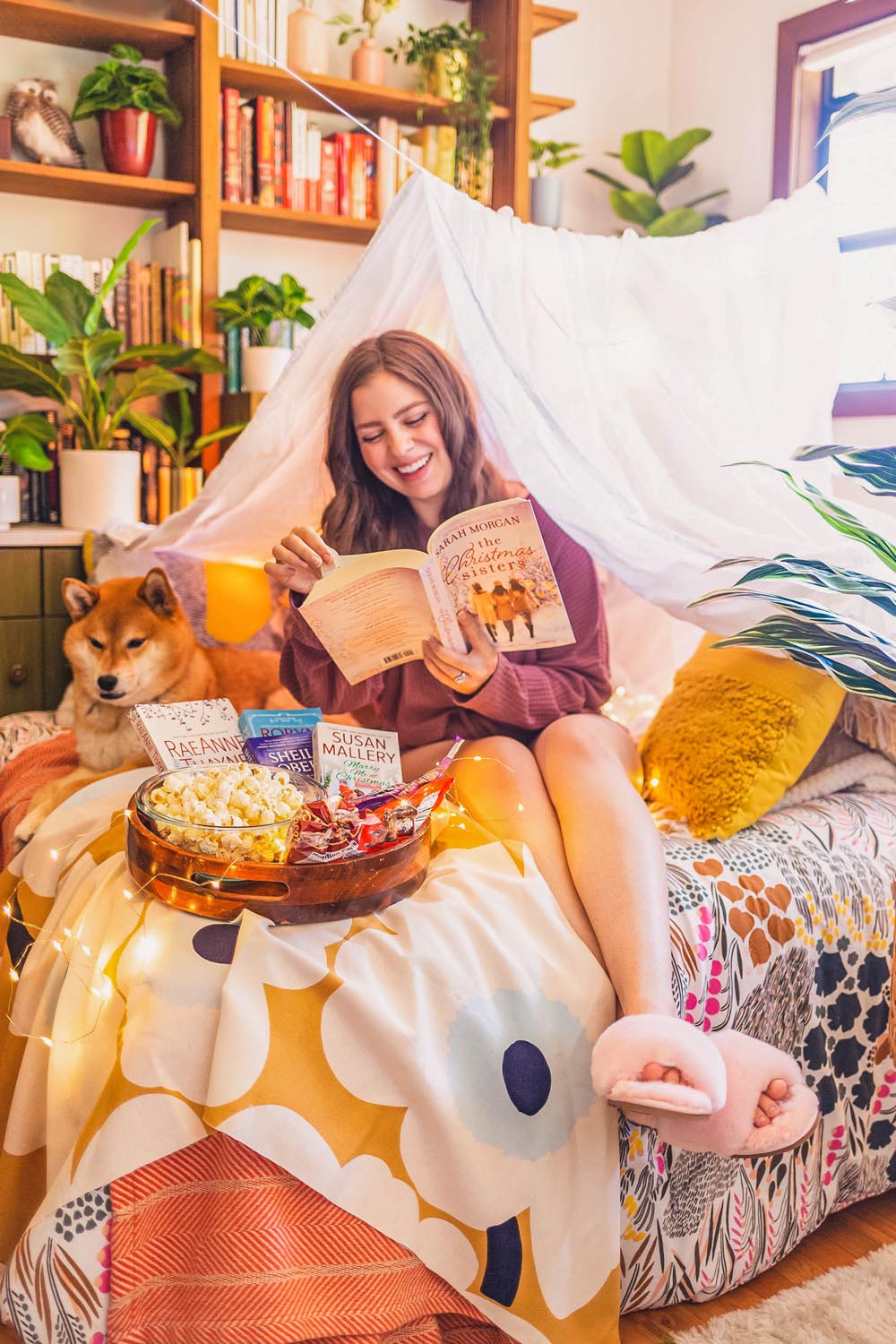 I'm sure you might also recall similar childhood memories of running around your home, collecting all the cushions from the couch, spare blankets, and throw pillows. Then, you'd pile up all the pillows and cushions, throw blankets across them, and have the perfect, cozy spot to play in, read, or nap for the rest of the day.
So I thought, why not recreate a pillow fort for adults?!
If you're feeling a bit stir crazy at home, then like me, you might be craving the comfort and joy that comes with cozying up with a good book in the fall. Or, maybe you feel like you want to skip straight through to the most wonderful time of year. Either way, why not treat yourself!
Are you in?! Grab your favorite Harlequin Christmas book (or find one to read on the list below!) and join me as I share some pillow fort ideas, perfect for adults, that you can recreate at home to celebrate Christmas in Summer!
Before we jump into the makings of the BEST pillow fort for adults, I think it's always a good idea to make sure you have all the supplies you'll need. These are the items I used in the construction of the pillow fort itself, which was large enough for one person (and one medium-sized dog) to fit comfortably inside!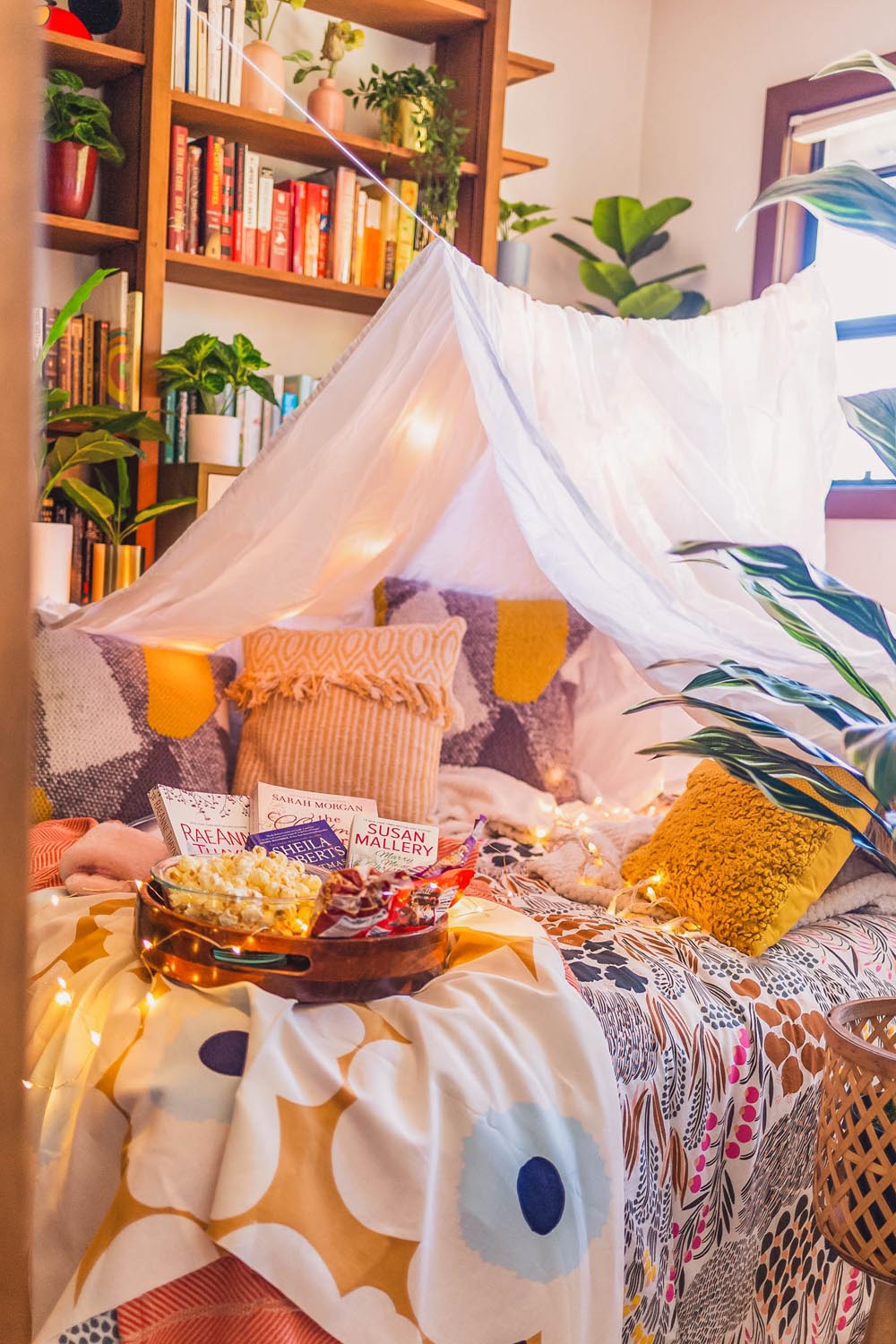 Supplies to Build a Pillow Fort for Adults
1 flat sheet
Rope or twine
Pair of scissors
5-6 medium-sized throw pillows
1-2 blankets
1 comforter or large cushion for the base (or you can set it up on an existing bed or mattress for ultimate comfort!)
And for added fun:
Harlequin Christmas books (see the full list below!)
Holiday lights
Twinkle lights
Snacks
Additional blankets and pillows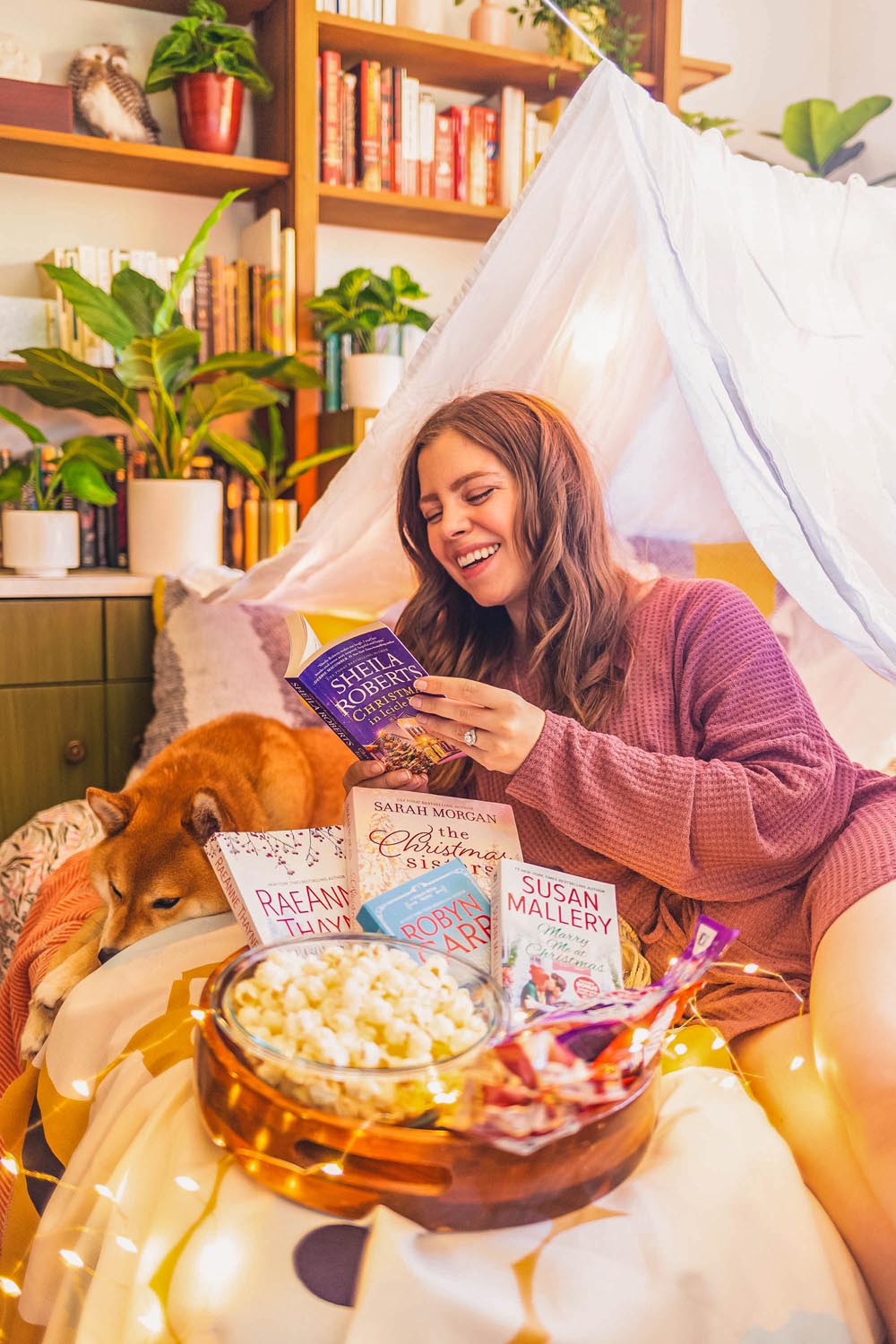 How to Make a Pillow Fort for Adults
First, assess where you'd like to set your pillow fort up. I utilized our guest room, which has a bed that is in the middle of the room. Find two sturdy spots that you can run your piece of rope or twine. In my case, I utilized the window latch and the closet door. Pull your cord taut, and be sure to double knot on both ends.
Once you've run the twine across the room, place your flat sheet on top. You can drape it however you want, but I pulled my sheet on each side until it looked somewhat centered and even. Then, place 2-3 (or more) pillows on opposite sides standing straight up. You might need to put them fairly close together, so they don't topple over, depending on how large/sturdy your pillows are. Finally, Pull your sheet over the pillows, so it drapes open, similar to a tent.
With your pillow fort mostly constructed and supplies in hand, let's get into all the cozy magic that you can enjoy inside!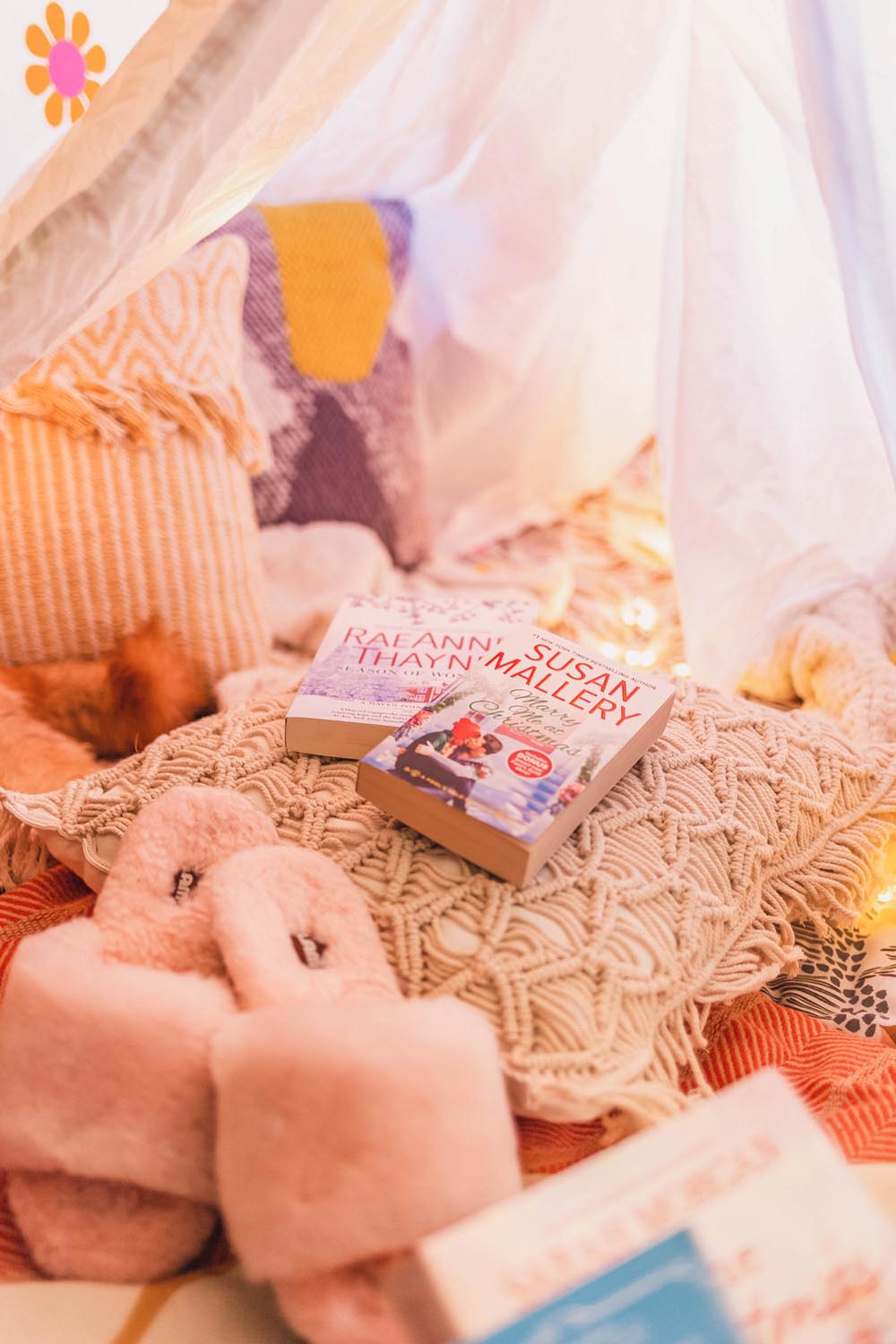 Fun Activities for your Pillow Fort for Adults
Anyone knows that you have to have something fun to do inside your pillow fort! That's why I'm thrilled to partner with Harlequin Books to share five reads that will bring you all the cozy holiday vibes and celebrate Christmas in Summer!
Founded in 1949, Harlequin is the leading publisher of books for women, and they have the best titles to escape the world and get lost!

The Book for the Person who can't WAIT for Christmas: The Christmas Sisters by Sarah Morgan
If you're already counting down the days to Christmas, then you'll probably relate to Suzanne McBride, who is dreaming of the perfect, cozy Christmas. Her three daughters are coming home for the holidays, but not without a little drama. Each of the daughters is dealing with their own set of problems, and it seems like Suzanne's dreams are unraveling before her eyes! Join in for this magical family story set in the snowy Highlands of Scotland.
Grab your copy of The Christmas Sisters and learn more about author Sarah Morgan here!
For the Person Who Binged Virgin River on Netflix: A Virgin River Christmas by Robyn Carr
Did you catch Virgin River on Netflix? The Netflix show is based on Robyn Carr's first book in the series, and if you loved the show as I did, then you'll want to return to Virgin River for the holidays! (P.S. Season two is on its way!)
In this book, Marcie Sullivan is returning to Virgin River to find Ian Buchanan, a marine who served alongside her late husband. Beneath his rough exterior, Marcie finds a sweet soul who is hurting from his painful past. Will Marcie be able to work a Christmas miracle and open his heart to love once again?
Grab your copy of A Virgin River Christmas and learn more about author Robyn Carr here!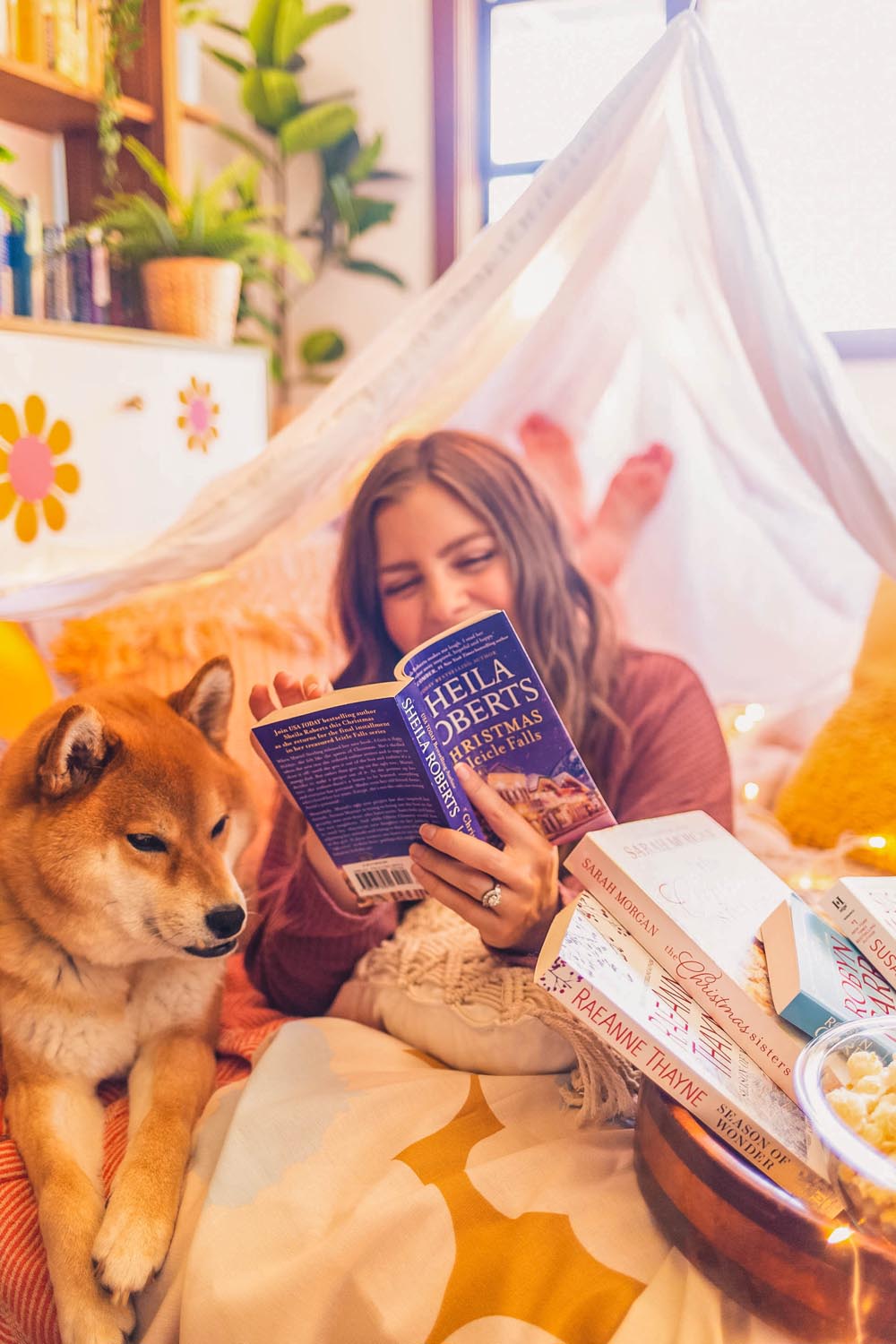 For the Person Who Finds the Beauty in Everyday Life: Christmas in Icicle Falls by Sheila Roberts
Muriel Sterling is the queen of Christmas and has recently published her book, A Guide to Happy Holidays. She believes everything and everyone has potential, even the ugly tree she ordered online, not to mention her old friend Arnie who hasn't made his feelings for her a secret. And Muriel isn't the only one who believes this. She's inspired two of her friends, too! Will all three of these women embrace the beauty of their own "ugly trees" just in time for Christmas?
Grab your copy of Christmas in Icicle Falls and learn more about author Sheila Roberts here!
For the Person Who LOVES a Wedding: Marry Me at Christmas by Susan Mallery
Bridal boutique owner Madeline Krug thinks that a Christmas wedding in her small town of Fool's Gold sounds perfect. Then, Jonny Blaze walks in. He's the gorgeous brother of the bride AND a movie star. And he is also who she is planning the wedding with! Madeline tries not to fall for the world's sexiest man, and of course, Jonny says he isn't looking for love. Will Madeline's celebrity crush turn into something more?
Grab your copy of Marry Me at Christmas and learn more about author Susan Mallery here!
For the Person Who Believes in Christmas Miracles: Season of Wonder by RaeAnne Thayne
Is there such a thing as second chances? Dani Capelli hopes so. After years of things not going her way, including divorce and living off of Mac and Cheese to enroll in vet school, she's hoping things are beginning to look up for her family. When the chance to take over a small-town veterinarian practice presents itself, Dani thinks it's just the change of pace she and her two daughters need. Will adjusting to this supposed charming mountain community be everything she's hoped for?
Grab your copy of Season of Wonder and learn more about author RaeAnne Thayne here!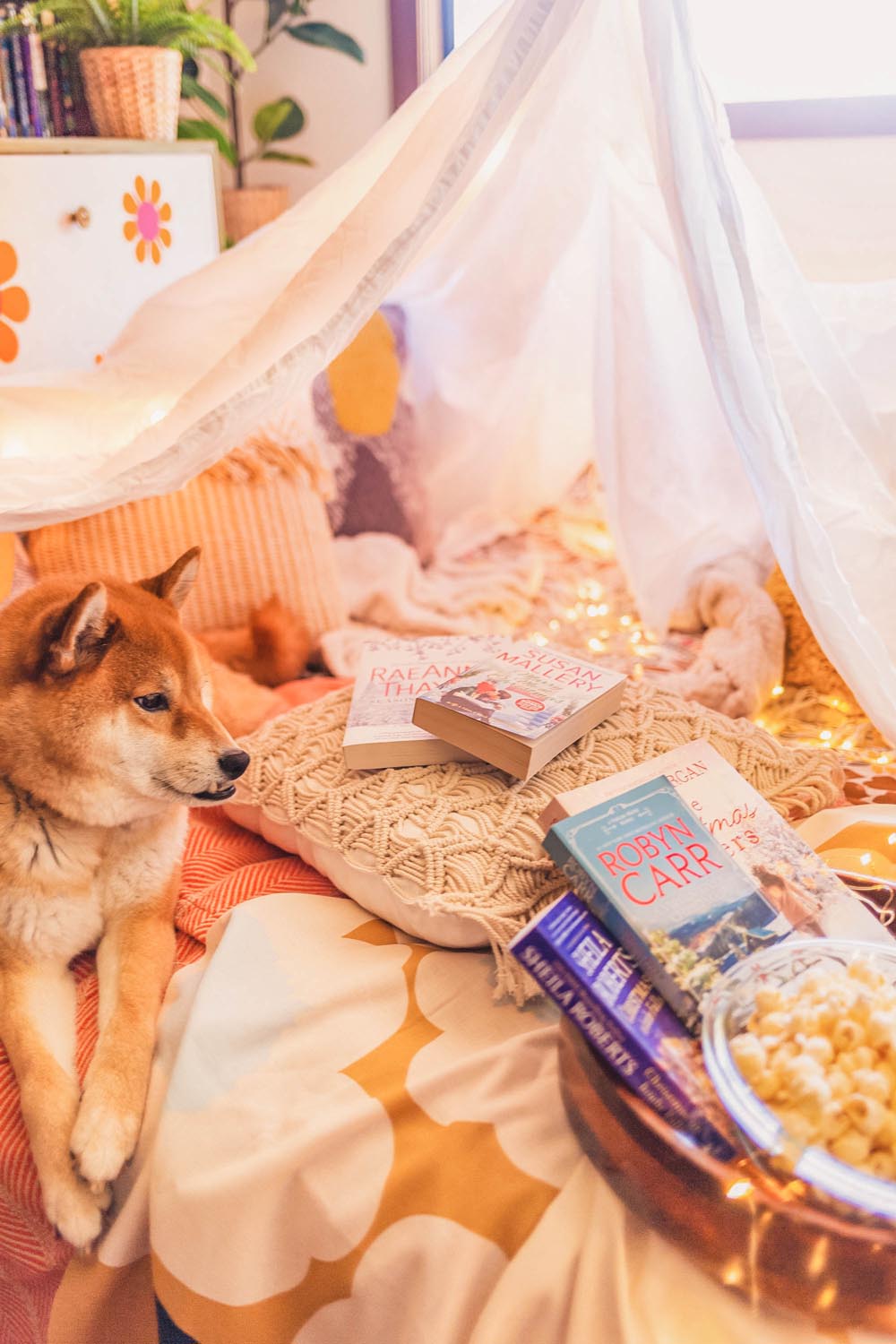 How to Create a Cozy Atmosphere Inside your Pillow Fort
A good pillow fort has to be cozy! For maximum comfort, I love layering my blankets and pillows to create a wide variety of spots to curl up into while reading.
If you're creating a pillow fort on a bed as I did, then you'll have a comfortable base layer. If not, you could start with an air mattress or a thick comforter. Then, pile a blanket at the bottom on each side of your pillow fort base pillows (the ones holding up your fort!) for extra stability. Then, add your softest and coziest blankets for curling up! Finally, toss in any additional pillows you might have at home to lean on or rest your head on while enjoying your pillow fort.
How to Set the Mood Inside your Pillow Fort for Adults
For the ultimate pillow fort experience, I can't recommend mood lighting enough! Whether you're constructing your pillow for adults during the daytime or late at night, a variety of light is critical.
Once I had constructed my pillow fort, I draped globe indoor/outdoor lights along the top of my pillow fort, pulling the string of lights loosely around the twine to start. Then, I added holiday lights inside the pillow fort, draping them atop the base pillows. Finally, I added twinkle lights to the tray that I utilized for snacks to create a whimsical appearance.
SAFETY NOTE: Do not leave lights on or plugged in unsupervised!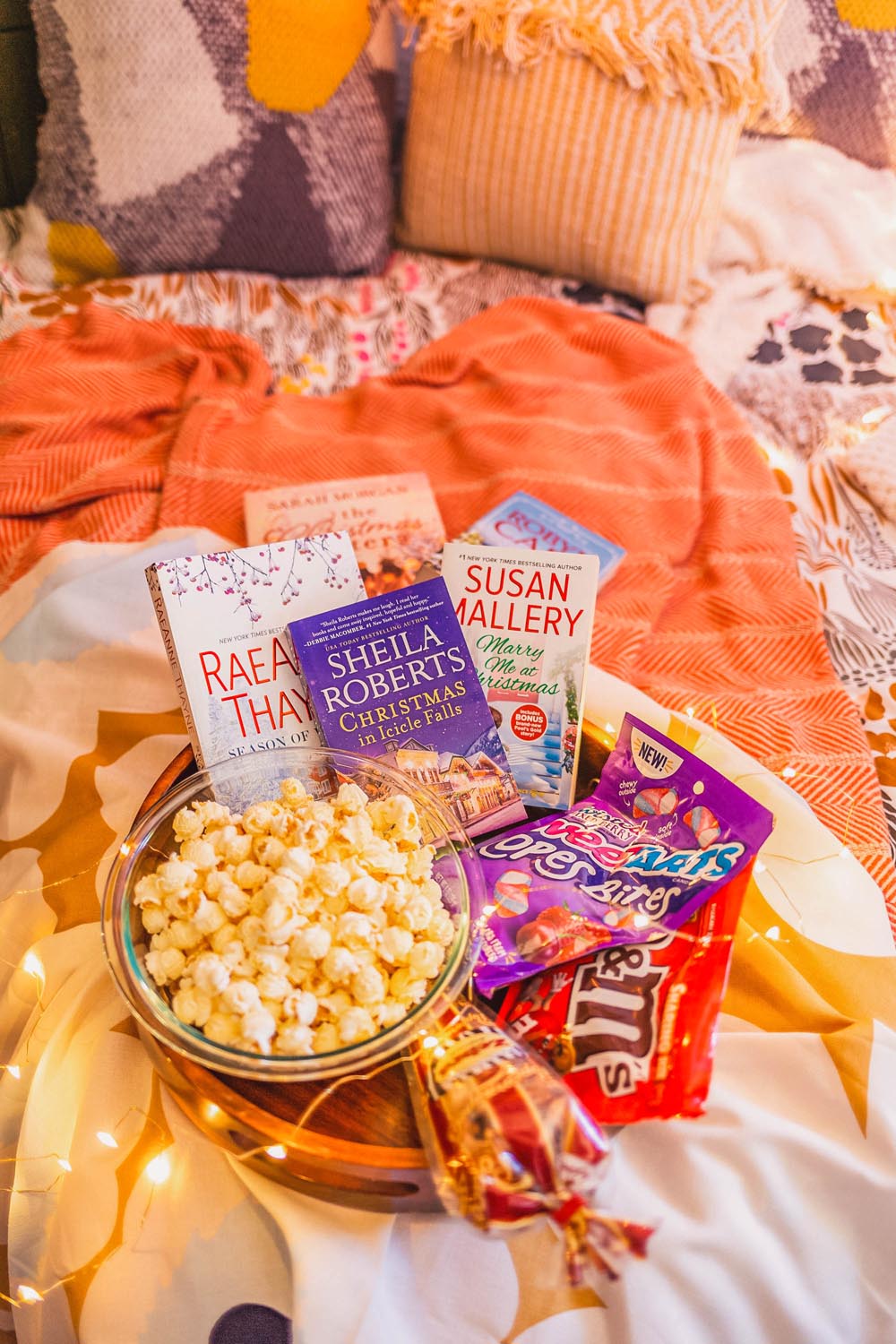 Don't Forget to Grab your Favorite Snacks
Are you a sweet or salty snacker? I like a good mix of both! With movie theaters closed, Dave and I have had bi-weekly movie nights at home where we make popcorn and try a variety of sweet, salty, and sour snacks. With lots of time to experiment, we've enjoyed lots of our tried and true snacks, plus discovered lots of new favorites!
Here are some of our favorite sweet and salty snacks:
Bob's Red Mill Popcorn (we love it in the air popper!)
Sweetarts Ropes Bites
Peanut Butter M&Ms
Popcornopolis Zebra Popcorn
Reese's Pieces
Sweetarts Cherry Ropes
SkinnyPop Original Popcorn
Hazelnut M&Ms
Sprouts Peanut Butter Puffs
Sourpatch Watermelon
Trader Joe's Dill Pickle Popcorn
Junior Mints
Sprouts Coconut Rolls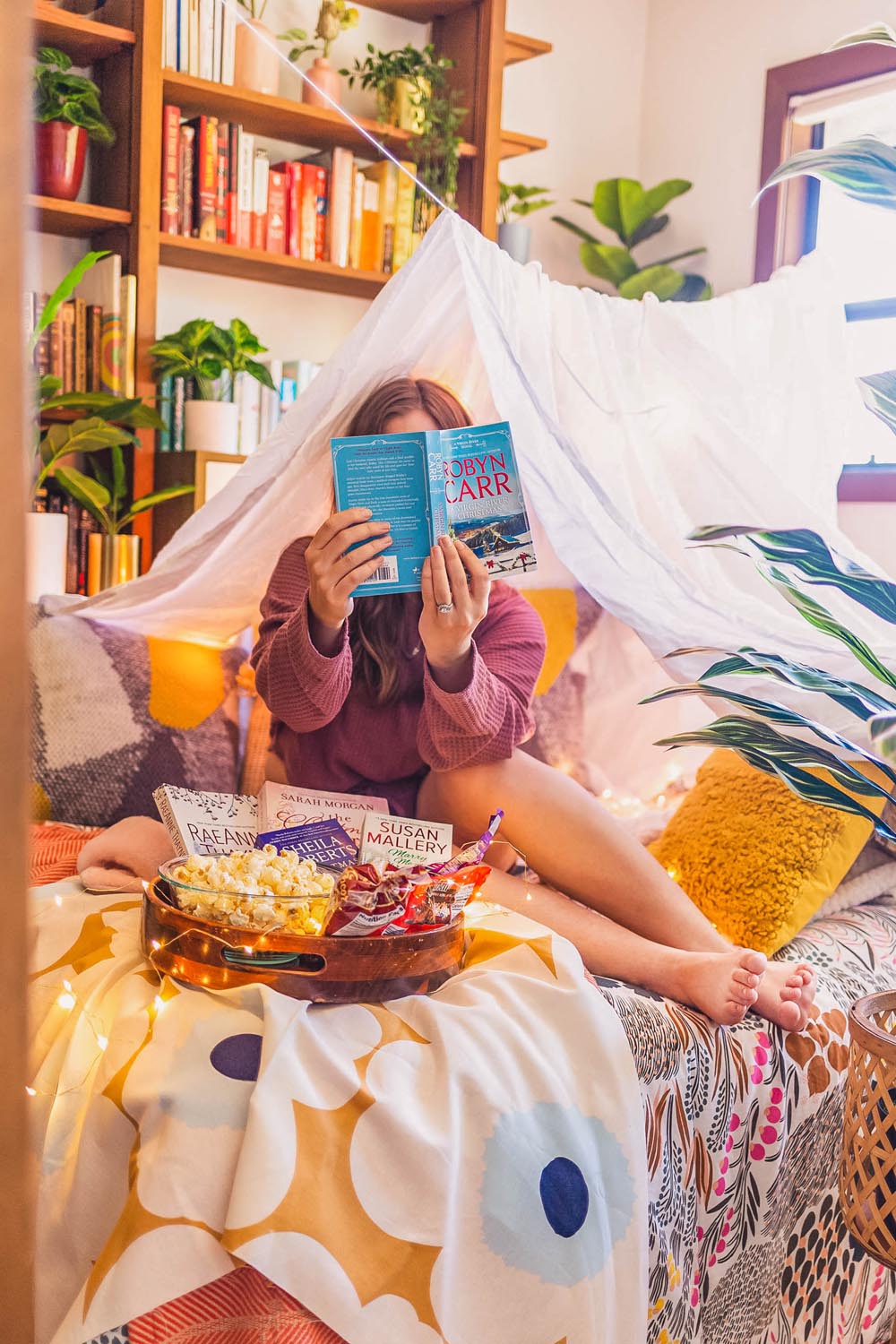 Play Some Holiday Tunes in your Pillow Fort for Adults
It's beginning to feel a lot like Christmas! Or is it? Why not add some fun holiday tunes in the background to set the mood of Christmas in Summer. Here are some great songs, whether you're looking to chill out or pump things up inside your pillow fort!
Chill Holiday Tunes
Christmas in July by Sufjan Stevens
Christmas Day by She & Him
The Perfect Christmas by Daniela Andrade
Merry Christmas Darling by The Carpenters
Wonderful Christmastime by Meiko
Happy Xmas (War is Over) by John Lennon
Pumped up Holiday Favorites
All I Want for Christmas is You by Mariah Carey
Last Christmas by Wham!
Rockin' Around the Christmas Tree by Brenda Lee
Christmas (Baby Please Come Home) by Darlene Love
What Christmas Means to Me by Stevie Wonder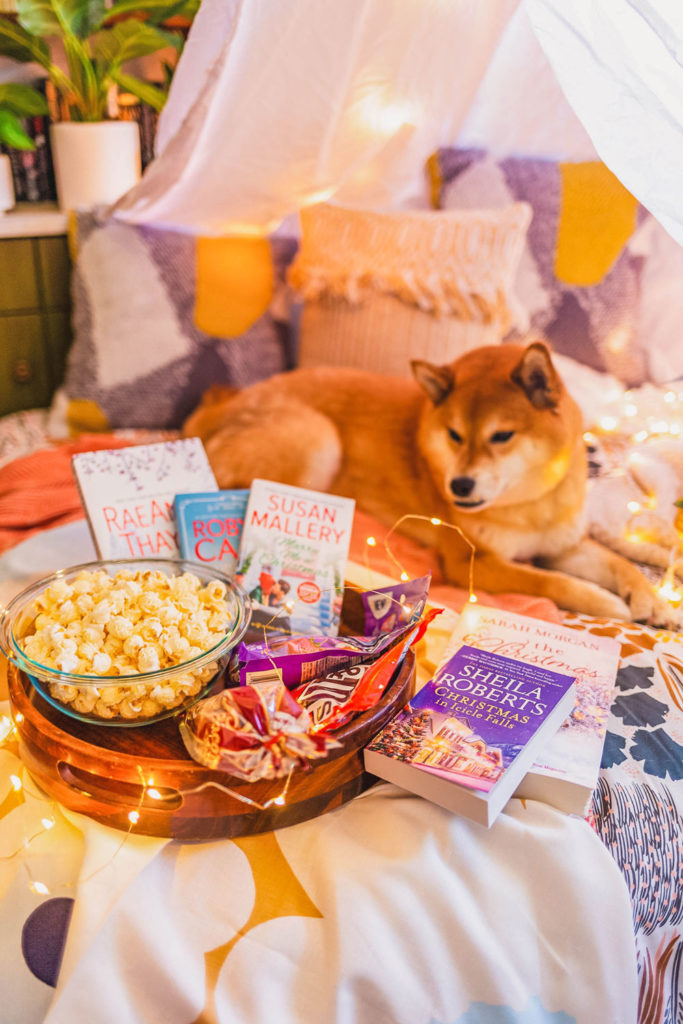 Whip Up a Holiday-Inspired Drink to Enjoy
It wouldn't be a Christmas in Summer celebration without some libations! Choose from a holiday cocktail or mocktail. Both of these recipes come from Harlequin!
Cranberry Margarita
2 oz of your favorite tequila
2 oz of cranberry juice
1 oz of fresh lime, squeezed
.75 oz of agave syrup
Sprinkle of sugar
Lime wedge, optional
Fresh cranberries, optional

First, add sugar to a clean plate. Wipe margarita glass rim with water, then dip in sugar. In a shaker, combine tequila, cranberry juice, lime juice, and agave syrup. Shake. Then, pour the drink into the margarita glass, and finish with the lime wedge and fresh cranberries.
Rosemary-Pomegranate Ginger Fizz
1 Can of Ginger-Ale
Sprinkle of Pomegranate Seeds
Sprig of Rosemary
Ice cubes
In a highball glass, add ice cubes. Pour ginger ale. Finally, add pomegranate seeds, and top with the rosemary sprig.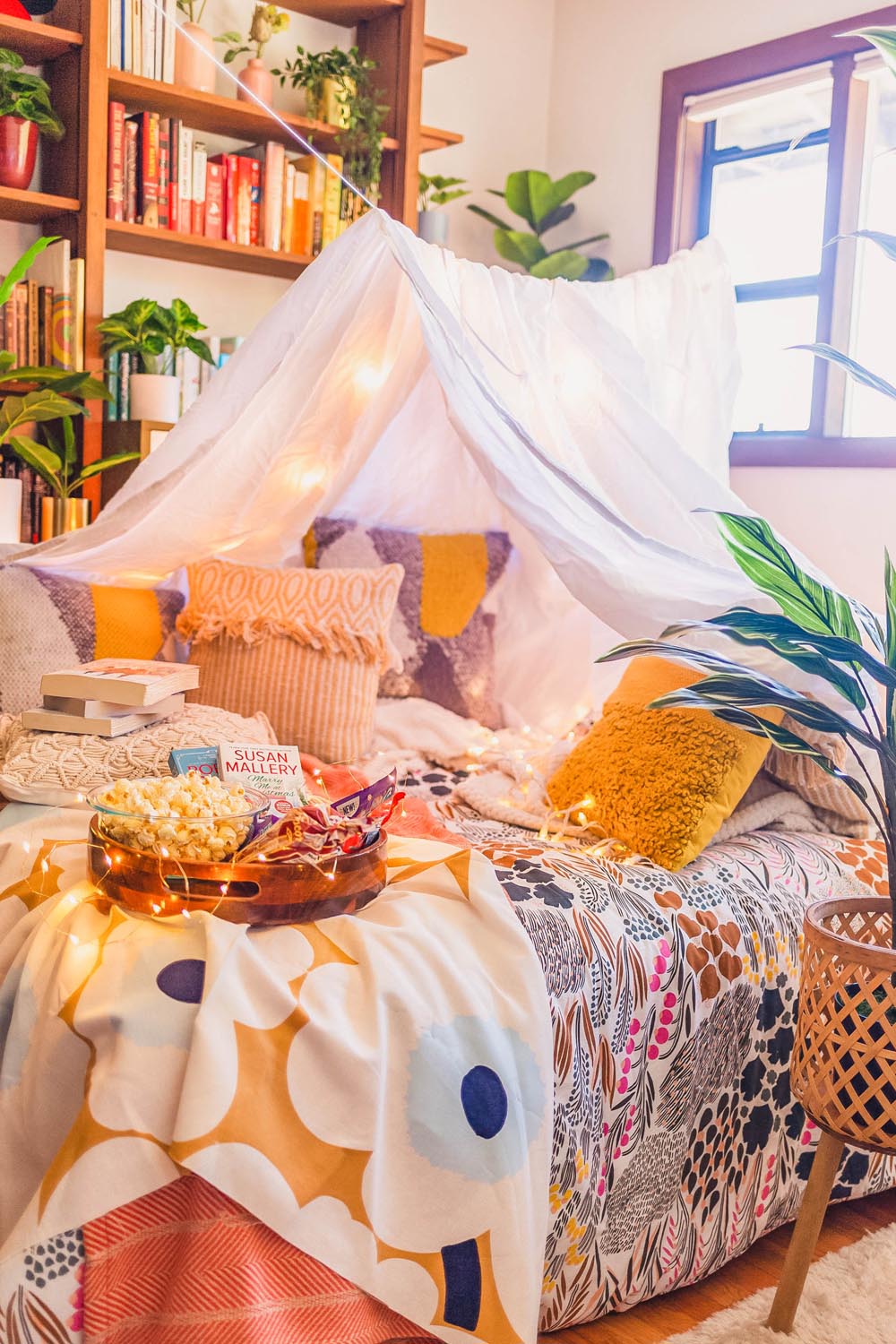 If you're looking for a fun way to escape and enjoy a cozy day at home, I highly encourage you to make a pillow fort for adults! It's such a fun way to relive simple childhood joys, and makes for the best cozy spot to read! Pick up one of the Harlequin books in this post to celebrate Christmas in Summer, grab your favorite snacks, and enjoy the BEST day!
Have you created a pillow fort at home before? What did you utilize to make your space your own?
---
Looking for More Fun Things to Do at Home? Try these Blog Posts!
Want to Save This Post for Later? Pin it!
How to Make a Pillow Fort for Adults