The sun is shining, the birds are chirping, and with Memorial Day behind us, summer is most definitely on its way. But, did you know summer doesn't actually begin for a couple more weeks? Regardless, I'm going to pretend I didn't learn that fun fact and celebrated its arrival a little bit early. Anyone else going to join me?!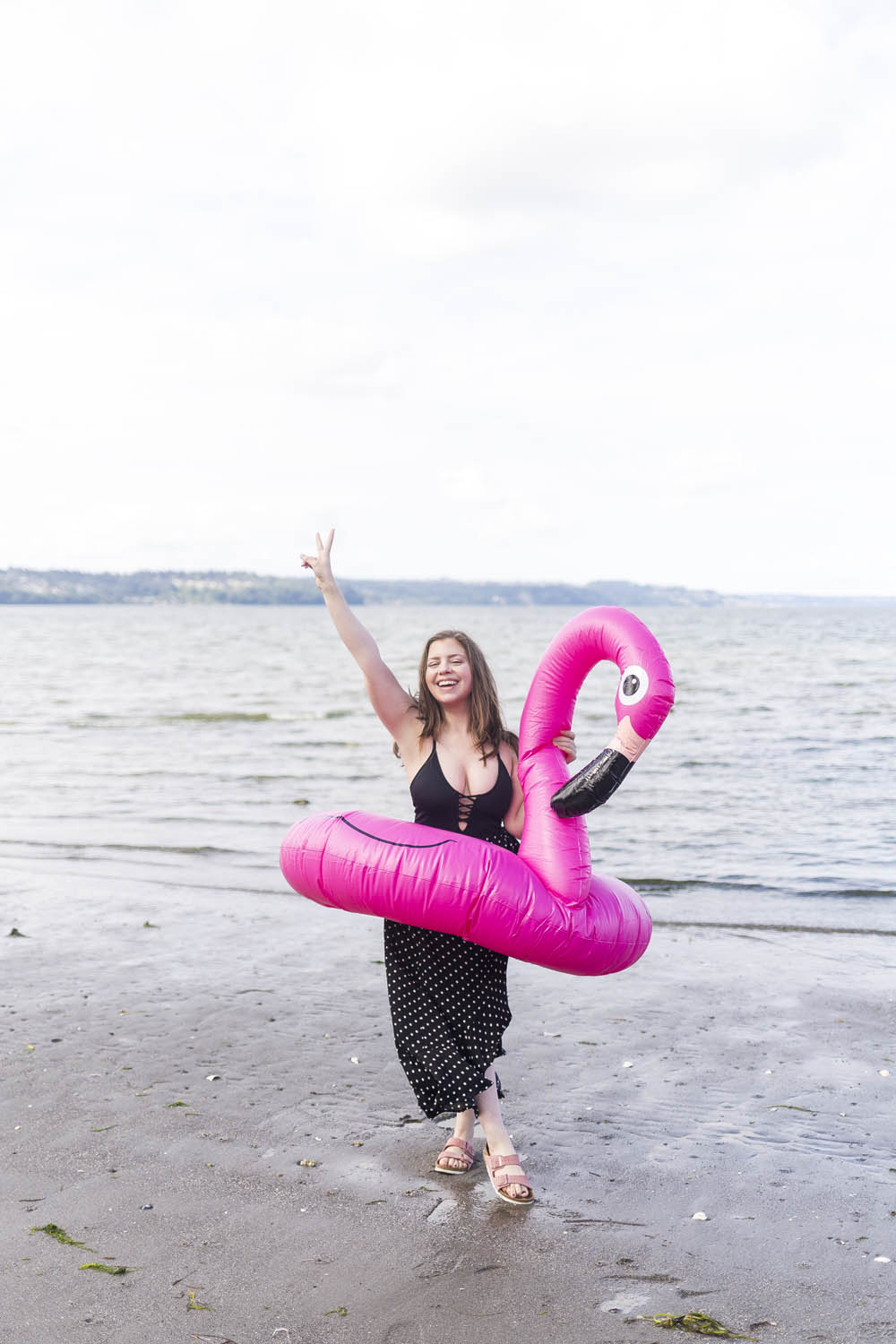 Disclosure: Thanks so much to Fred Meyer for sponsoring this post. All opinions are my own!
While I'm still pulling out my summer wardrobe and dusting off some of my favorite pieces from summer's past, I thought it would be fun to think up some of my favorite ways to celebrate summer and share them with you! Fortunately, I didn't have to look far for some inspiration! Everything I need to celebrate all things summer, from pool parties to backyard barbecues, is available at my favorite store Fred Meyer! From pool floats to swimwear and coverups to backyard grilling accessories and more, they're my go-to for one stop shopping.
While traveling for summer can be fun, it can also be expensive! Why not enjoy the comfort of home right from your backyard or neighborhood?! From hosting a summer party to a backyard BBQ, or even playing tourist in your community, I've got plenty of ideas to make it one to remember. Today, I thought it would be fun to share some easy ideas to celebrate summer right at home, so read on for some activities on my list this year!
1. Host a Backyard BBQ
We celebrated Memorial Day with a BBQ, and I think it will be the first of many this summer! There's nothing quite like a grilled hot dog fresh off the grill with all the accompaniments.
The best thing about BBQs? They can be as elaborate or simple as you'd like! You might remember that we got our first ever grill from Fred Meyer a few months ago and have already put it to good use cooking up hot dogs and s'mores! Add some delicious snacks and treats from the Fred Meyer Deli and Bakery and you'll be set. Or, if you're feeling adventurous and up to trying some new recipes, I've saved a few that you might like too!
Recipes for a BBQ
– Brown Sugar Grilled Salmon
– Greek Pasta Salad
– Grilled Vegetable Medley
– Peach Iced Tea
2. Spend a day at the pool
While we don't have a pool in our backyard, it's not too far to our city pool! I'm planning to bust out my new Big Mouth Flamingo Pool Float that I found at Fred Meyer for a day full of lounging. The bright pink float sure puts a big smile on my face!
Not to mention, a pool trip is a great excuse to pick out some new swimwear. I picked out a couple of cute swimsuits at Fred Meyer. Take your pick of stylish one-pieces, colorful bikinis, and cute swim cover-ups. I gravitated towards the Dorina brand of swimsuits, and I loved the GNW bandana print coverup dresses!
3. Take a trip to the beach
There's something special about living in Seattle, and come summer one of those things is living close to so many beaches and parks! While it may be true that our beaches are the rocky kind, where putting your toes in the sand doesn't have quite the same meaning, it's a beautiful way to breathe in the fresh air and celebrate summer!
We recently spent a morning at the beach. And while I wouldn't usually bring a pool float with me, the bright pink in the otherwise grey-blue landscape was fun for a photo. It also got several compliments from fellow beachgoers, who couldn't help but smile. Next time, I'm going to pack a picnic and make a whole day of it!
4. Try a new frozen drink recipe
Frosé was the hot drink last summer, and while I don't think it's going anywhere quite yet, I can't wait to try more frozen beverages. Not only are they tasty, but they're perfect for cooling off with on a hot day!
Looking to try a new frozen beverage recipe? There are some delicious non-alcoholic or alcoholic options below for some inspiration!
– Fruited Tea Punch (non-alcoholic)
– Sparkling Green Cocktail (alcoholic)
– Sweet Mixed Fruit Sangria (alcoholic)
– Frozen Mocha Latte (non-alcoholic)
– Honeydew Cooler (non-alcoholic)
– Frozen Berry Sangria Floats (alcoholic)
– Peach and Cherry White Wine Slushies (alcoholic)
5. Have a neighborhood potluck
BFFs with your neighbors? We aren't quite yet, which is why I think throwing a neighborhood potluck might be the best way to get to know them better. It's easy to bond and make friends over some yummy food!
Plus, many neighborhoods encourage Block Parties and even have a day every year to celebrate. Ours is in August, but check with your city or town to see if you have a day that's recognized each year! It'd be the perfect excuse to plan a fun gathering with your neighbors!
6. Grow a garden
Green thumb? Nope? Me either! I'm trying though, and this year I've planted some dahlias and marigolds that I picked up from Fred Meyer. I'm crossing my fingers they'll survive, and if they do, I'll try my luck on a few new plants next year. I figure you have to start somewhere, and even if my garden isn't huge that's okay!

7. Host an outdoor movie night
Our backyard has the perfect spot to project a movie on the side of our house… now all we need is the projector! Even if you don't have the ideal place, you can still gather up blankets and pillows to crowd around a small tv or laptop.
Or, if you're having a big gathering, rent a projector and an inflatable screen!
8. Make homemade ice cream
A few years ago, I got my own ice cream maker. And to be honest, while I haven't made ice cream all that frequently when I have it's so delicious! Fred Meyer carries ice cream makers, as well as other fun things like snow cone makers and all the cute dishes you'll need to serve your frozen treats!
9. Go backyard camping
While I love the idea of camping, being away from home without a proper restroom makes me a little nervous. Instead, I'm all about backyard camping! Why not pitch a tent in the backyard, roast some s'mores, grill up some hot dogs, and cozy up in your sleeping bag? Best of all, everything you need for your own backyard camping adventure can be found at Fred Meyer. And may I recommend an air mattress for a comfier sleep under your sleeping bags? They've got those too! ;)
10. Have a s'mores making contest
Lately, I've noticed a new trend of making s'mores with a Reeses Peanut Butter Cup, and I'm loving the creative twist on a delicious classic! Invite some friends over and challenge them to come up with the best s'more creation! That's a contest I'd definitely want to be the judge of.
11. Have an at-home spa day
If summer gets to be too busy or stressful, why not relax at home and have a spa day? I love that I can pick up everything I need for the perfect bath from Tree Hut, Shea Moisture, and Earth Therapeutics right in the cosmetics aisle at Freddy's! I recently picked up the Foot Scrub and Lotion from Earth Therapeutics, which is infused with peppermint and eucalyptus for a fresh and relaxing tingle!
12. Play tourist in your neighborhood or city
Craving an adventure but don't want to hop on a plane? I feel you! The best news is there is so much to explore – even in your own neighborhood! Try taking a different route around your neighborhood, explore on foot, or even visit a nearby city. Try a new restaurant, pop into a new boutique or visit a new park or hiking trail. I often find myself feeling the boredom blues when really, there's always something wonderful to do in the Pacific Northwest!
13. Spend the day catching up with a good book, or flipping through a magazine
One of my favorite spots to stop at Fred Meyer is the book and magazine aisle. They always have new releases, and it's how I discovered Atomic Ranch Magazine, which specializes in mid-century modern homes. I always pick up an issue if they have it, and like to peruse their other new titles too.
Once you've found something that's captured your attention, spend the day flipping through the pages or reading. Might as well lounge outside while you're at it, sipping on a frozen drink from above, or maybe just sparkling water. Enjoy!
14. Whip up a summer dessert
Every summer you can find me eating a favorite dessert: angel food cake, fresh strawberries, and whipped cream on top! Yum!
Use summer as the perfect excuse to treat yourself to your favorite summer treat, and if you don't have one, why not try something new? Here are a few great recipes to get you started!
– Baked Peaches
– The Perfect Ice Cream Sandwich
– Lemon Meringue Pie
– Strawberry Cream Tart
– Fruit Pizza on the Grill
15. Treat yourself to a new summer outfit
I wouldn't be me if I weren't mentioning what to wear at least a few times. Other than swimwear, don't forget to upgrade the rest of your wardrobe. Think a new summery tote bag, a new pair of sunglasses, and a new pair of sandals! I love shopping at Fred Meyer for little pieces to add to my wardrobe each season because they always have a great selection. From David and Young hats to Circus by Sam Edelman Shoes to Foster Grant's new fashionable sunglasses line, Surge, I know you'll find something to love all summer long!
And with that, I hope this list has given you a few fun ideas to utilize this summer. First on my list? A pool day with friends to give my new Flamingo Pool Float her maiden voyage int the water. After that, you'll more than likely find me poolside with the latest issue of Atomic Ranch or a fun summer read.
Happy Summer! How are you planning to celebrate summer? What's on your summer bucket list this year? I'd love to hear your plans in the comments!