This weekend, it felt like summer arrived. Today, well, Seattle weather wouldn't be Seattle weather if it didn't change its mind from time to time.
As I look out the windows of the airport and am currently seeing all gray. (I'm waiting to board a flight to San Francisco. More on that soon!) I'm reminded of our sunny Saturday, spent doing what we do best: eating, caffeinating, exploring neighboring cities, and getting ice cream. What can I say, we like our ice cream. ;)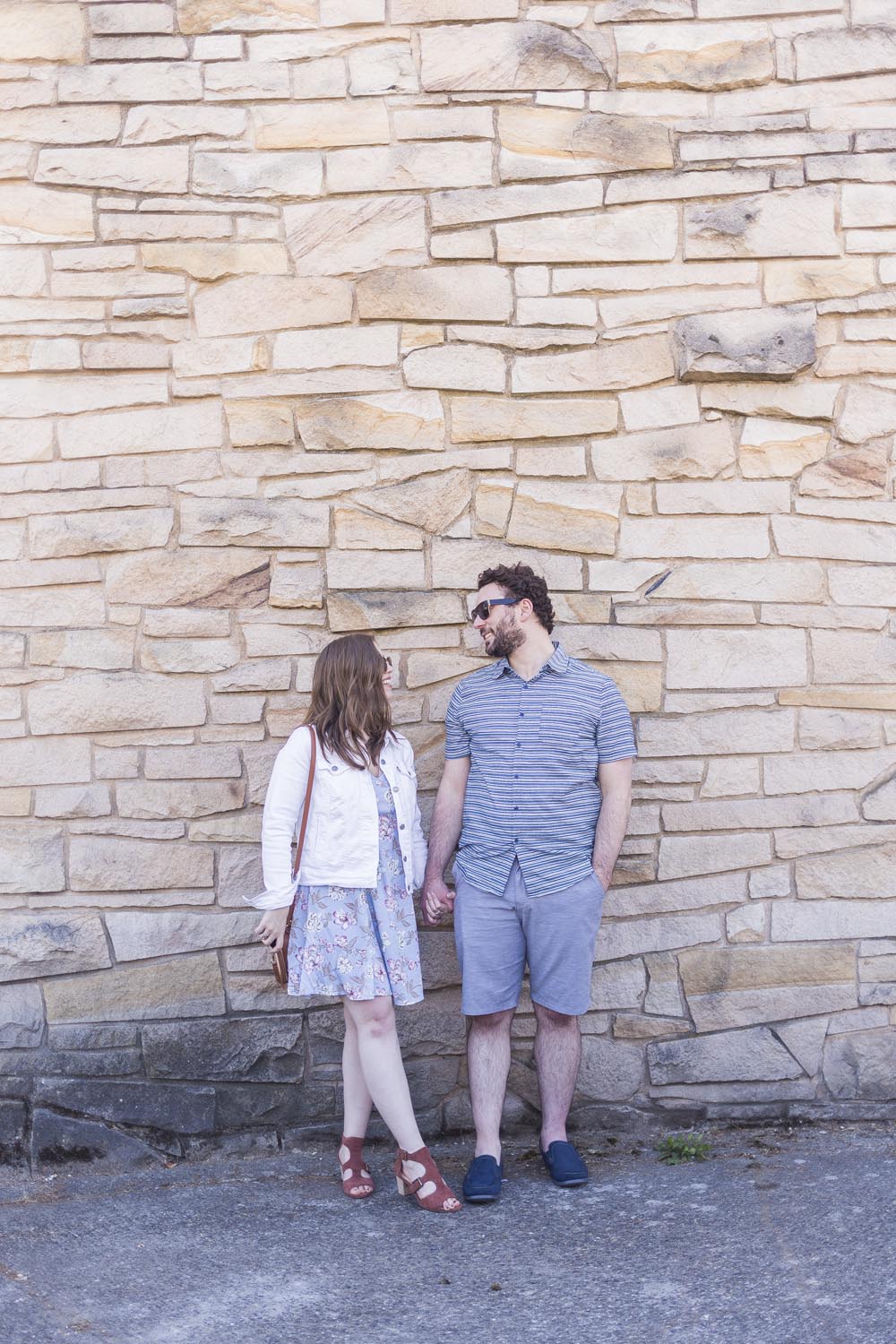 Disclosure: This is a sponsored post with Zappos and Clarks Shoes. All opinions are my own!
So what's the problem with the time between seasons? The weather is always changing and completely unpredictable! Not every day is sunny, some days it rains, and sometimes the forecast is entirely wrong.
Today, I'm partnering with my friends at Zappos to share how to dress for this transitional time between spring and summer, and sharing my picks for comfortable shoes to rock all summer long!
Pick a pair of comfy shoes
Fortunately for us, no matter what we have planned, we can always count on Clarks Shoes to keep our feet comfortable. I don't know how many times I've found myself kicking my feet up at the end of the day, not for comfort but because my feet were on fire.
Especially when traveling, it can be a literal pain to find shoes that are both cute and comfortable. And who's got time to break them in? Not me! As a someone who enjoys putting together a stylish outfit, most of the time I find they are not very attractive and while comfortable, I've been burned many times when they didn't work for my feet. Ouch!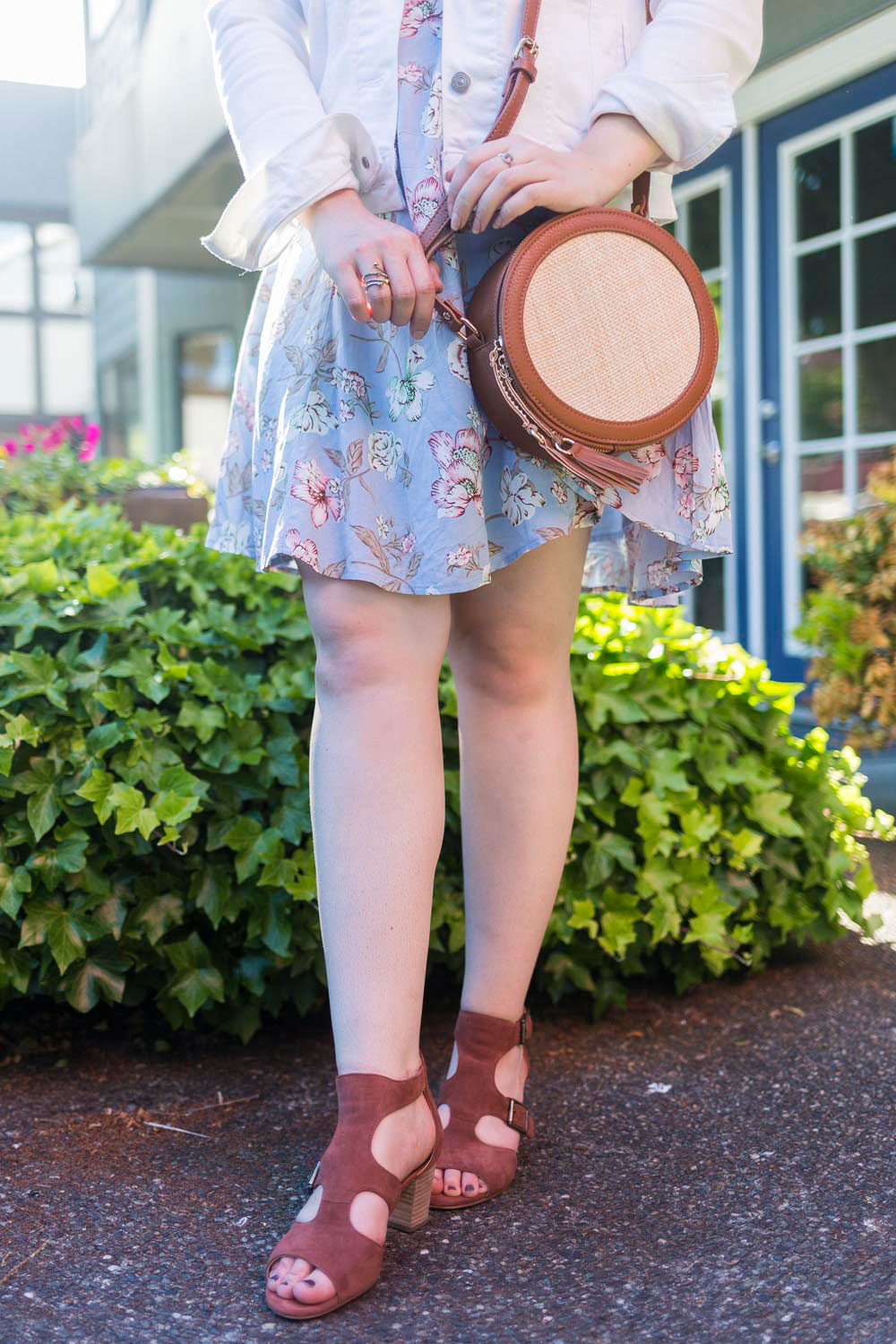 The best part? Clarks offers many stylish options for him and her! I love that their shoe styles reflect the latest trends, but in a comfortable way. Take my Deloria Kay Sandals – they're not only cute but the insole is padded, and the uppers are made from genuine suede for a high-quality fit. Dave's Un Gala Free Loafers are also made from suede with a microfiber upper to allow his foot to breath all day. The same cushy insole is inside his loafers too, for the most comfort!
You can see both of our previous shoe looks with Clarks here for even more stylish options to wear this summer!
Rock a light jacket
It's that awkward time of year when you need to have layers. The mornings are chilly, the afternoons are toasty, and the temperature drops as the sun goes down. For me, a denim jacket is an essential piece to keep me at a comfortable temperature all day.
For summer, nothing's better than a crisp white denim jacket. It goes perfectly with colorful sundresses but also pairs well with denim and prevents a Canadian Tuxedo if you're not into that look.
Find a trusty pair of shorts
Is it just me or do guys run continuously warmer than us ladies? Dave is almost continually complaining about being warm, even when I'm cold! That's why every time summer rolls around; I'm sure that he's stocked up on well fitting shorts. For me? Eh, shorts aren't my favorite, but these tips can be applied for ladies too!
For him, we look for flat front (not pleated) shorts in a variety of colors that hit just above the knee. For him, length is key. Too short, and when he sits down he's uncomfortable with too much thigh is exposed. Too long and it looks like he is trying to pull off capris. Not a good look.
Another component we look for is material. He plays a lot of golf come spring and summer, which means he's out in the sun and naturally gets sweaty. A material that wicks away moisture and has a lower polyester content keeps him a more comfortable temperature.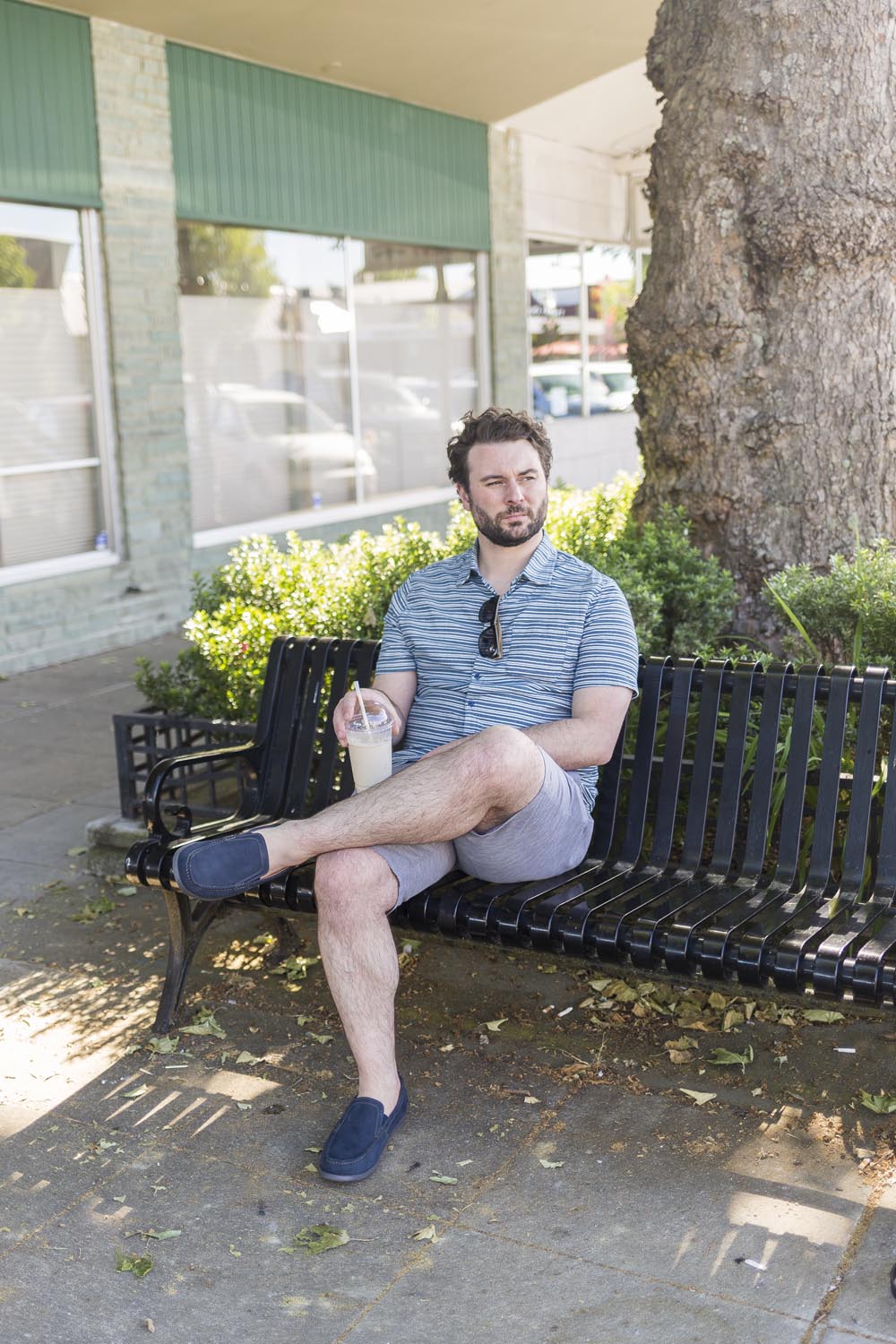 Finally, color is an important consideration. We look for a variety of shades: typically, a gray, a beige or khaki, and one dark color for cooler days. A subtle pattern is also great and can make an otherwise casual pair of shorts a bit dressier.
For ladies, I have a few additional suggestions. I used to wear Bermuda length shorts for work in the summer. For this length, it can be a bit trickier for petites. Like men, I recommend a length just above the knee. But, I think a pleat is flattering for us. The pleat can help lengthen the leg line and looks more professional in an office environment. For Bermuda or any other type of short, I like to test them out in the fitting room by sitting down. My biggest regret with shorts I've bought is that they end up riding up when I sit down. The worst!
Pack a transitional piece
Not sure about the weather? I always pack a transitional piece, either in the car, my bag, or for a trip that might be a little warmer then I think I need. I often pick a moto jacket made from suede, leather, or a faux material to block out wind, a scarf to wrap around my neck but can also double as a coverup at the pool or beach, and a hat to keep the sun off my face.
Choose your fabrics wisely
Something often overlooked come warmer weather is changing up the fabrics you wear, especially in things like undergarments! I often forget the strange places that sweat can build up when doing a lot of walking around, so be sure to switch out your socks and other undergarments to a more breathable fabric like cotton.
The same goes for your tops, pants, dresses, and skirts. Avoid polyester for warm days and instead opt for a cotton or linen blend for maximum comfort. And don't forget to choose your shoes wisely! You're much more likely to overheat in synthetic materials, so be sure to keep an eye out for what the upper and insole is made of. I try to find shoes that offer breathability, whether that's an open-toed sandal, a ventilated flat, or a material like leather and suede that keeps your feet cooler.
And with that, I hope these tips will keep you feeling comfortable in your spring to summer transitional attire! I know I've got all of the above and more packed for my trip to San Francisco, where it's currently a balmy 64 degrees and breezy. Not too much different than Seattle, really, but fortunately no rain in sight.
How do you put outfits together during the transitional time between seasons? Do you have any tips and tricks I missed? I'd love to hear about them in the comments!