As spring comes to an end and summer begins, it's officially time to pack up my fall and winter pieces. I haven't worn a proper coat in weeks. I've been grabbing my open toe shoes over ankle booties more frequently. And my pale ghost legs have been exposed in outfits more than not.
As many of you PNW natives know, or even those not from here have probably heard, the weather can turn on a dime. That's why for my spring and summer wardrobe, layering knitwear pieces can be a lifesaver. And also keeps me warm in my over-air-conditioned office building! Does anyone else have that problem too?!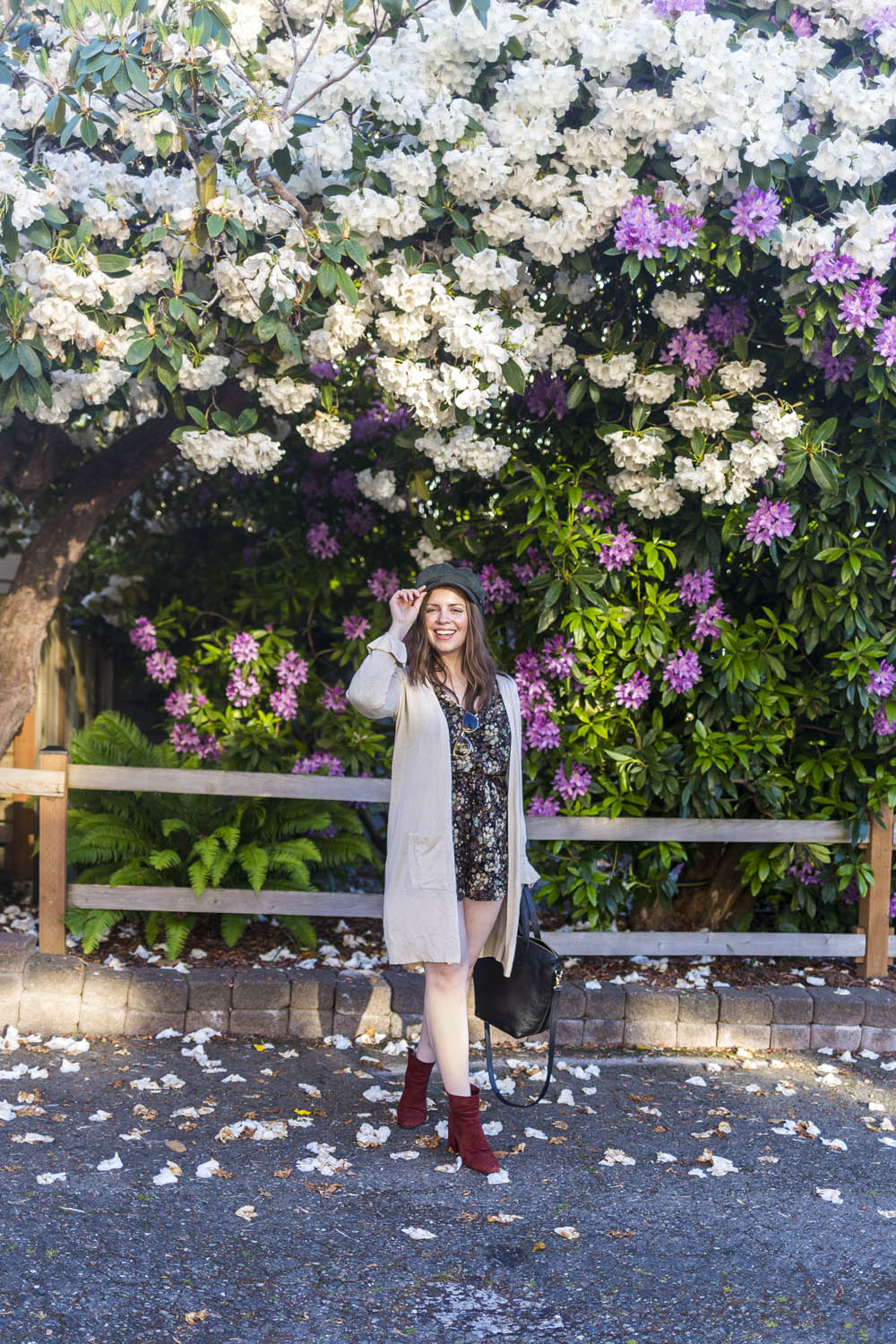 Disclosure: Thanks so much to Joseph A for sponsoring this post. All opinions are my own!
Fortunately, I've been introduced to a new-to-me brand called Joseph A that creates amazingly beautiful, timeless and reasonably priced knit pieces. With a variety of weights and silky soft materials, these pieces have been constants in my wardrobe since I received them! Even better? Almost all of their pieces come in a multitude of colors, from neutrals to pastels to brights. I hate finding the perfect piece only to realize they only offer one color and I can't have more than one in my closet!
Today I thought I'd share a few of my favorite pieces just in time for their Memorial Day Sale! Visit their website and use code HELLO at checkout to receive a whopping 40% off your purchase! Curious what my top picks are? Read on, then shop for your own spring and summer knitwear!
Romping Around in this Long Sleeve Ruffle Cardigan
I love wearing rompers, but sometimes it's just not practical to have bare legs all day long, especially if I'm out and about! So what's a girl to do? Add a versatile sweater, of course! This Duster Cardigan with Ruffle Cuff in Beige is the perfect length to keep me warm (but not too warm, it is pretty lightweight!) and goes perfectly with the tones of this outfit!
The ruffle at the end of the sleeve is honestly my favorite feature! It just adds such a fun little pop to a neutral sweater. The other thing I love? This sweater comes in three other colors (shop it in black, navy, or olive!) plus also comes in other styles sans ruffle if that isn't really for you.
Feeling Flirty in this Off-the-Shoulder Sweater
The off the shoulder trend is still going strong, and for good reason! It's incredibly flattering on all shapes and sizes, and is perfect for casual work or weekend wear. Not sure how to pull it off? The best news about this Bardot-style sweater is that the ruffle is totally customizable!
You can wear it as high or low on your arms as you wish. I like the flirty look of just barely showing off my shoulders, and the pink tone adds to the femininity of this piece. I complimented the pretty pink with one of my favorite prints of the moment: polka dots! This pretty ruffle sweater is also available in black and white.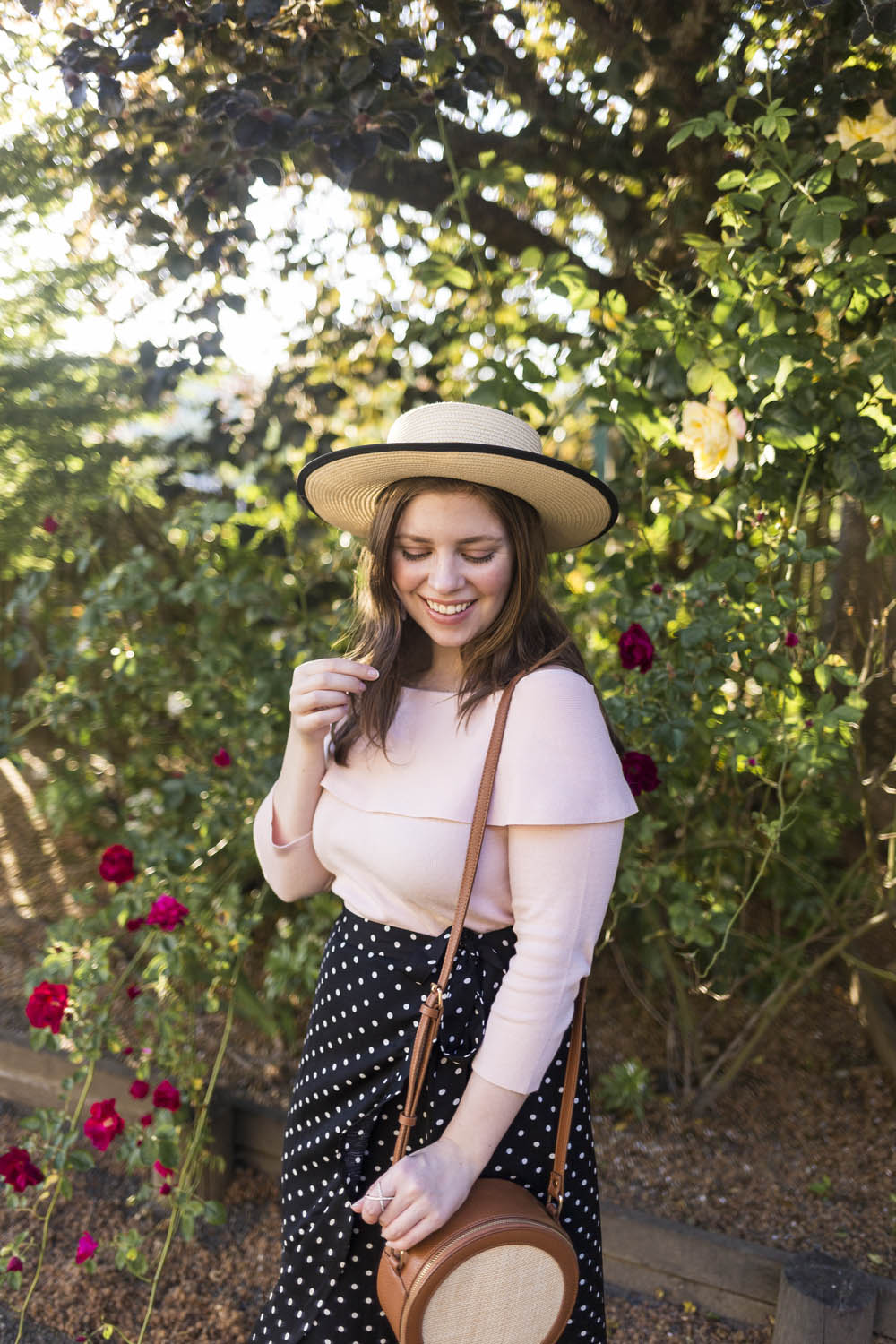 To finish off this look, simple accessories are key. I love the circle bag trend this season, and this bag with adds the perfect touch of texture. To pull it all together, I went for a simple pair of open-toed sandals. 

Is Your Outfit Feeling Dull? Pop a Sweater Vest On!
Have you ever heard of the rule of the third piece? Not be confused with the rule of thirds, for my photography friends, the third piece is all about the way you style an outfit! The idea is that an outfit typically needs to have 3 key pieces for it to really work and wow.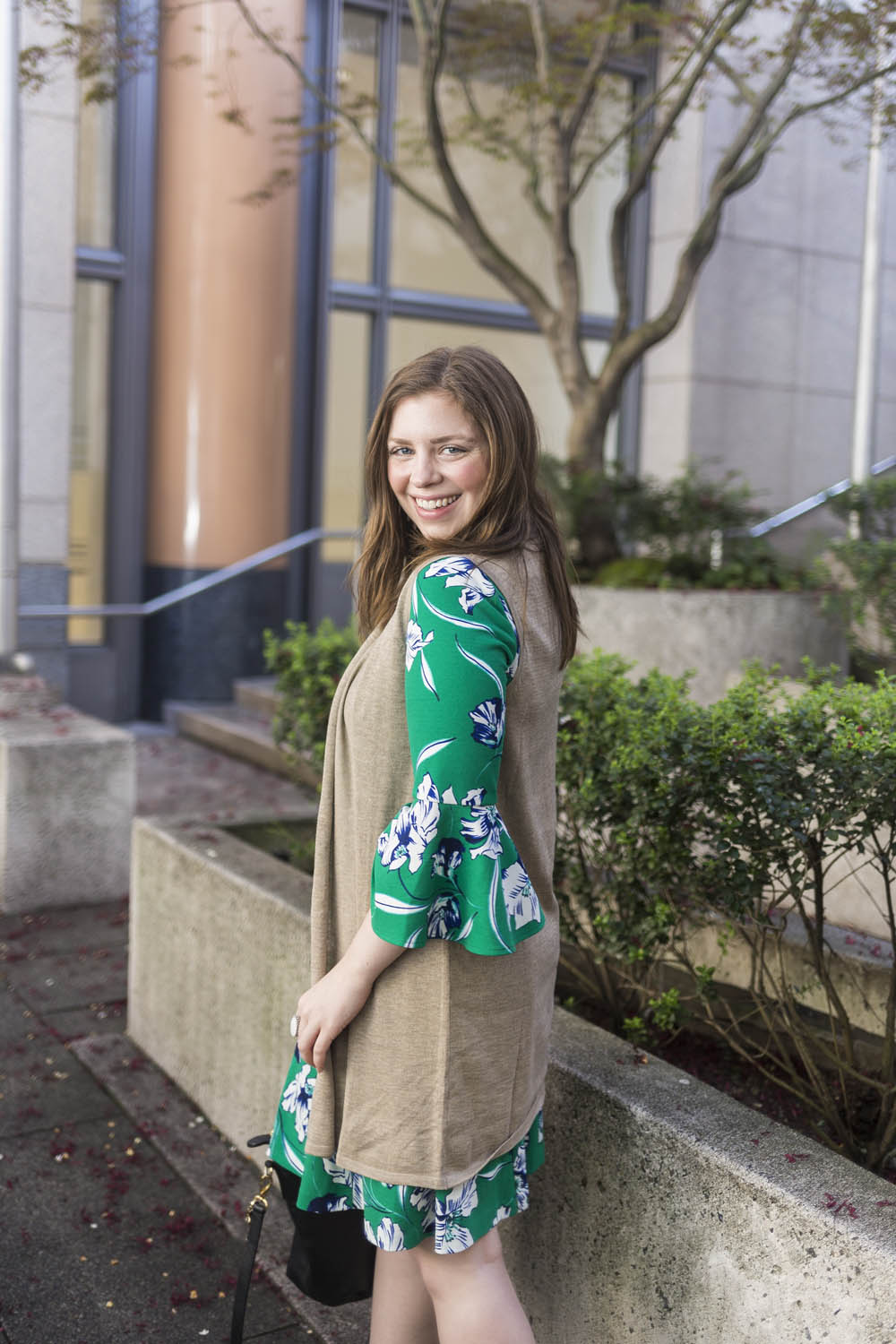 In this case, my dress and shoes are the first two pieces. But honestly, that's kind of a ho-hum outfit. But add a third piece? It really sings! I opted to add this Joseph A Sweater Vest in Mocha Brown to break up this dress's bold pattern and also give his outfit a completely different vibe.
Plus, like most of Joseph A's pieces, this too comes in more colors! Choose from white, black, or orange, and use code HELLO to save an additional 40%!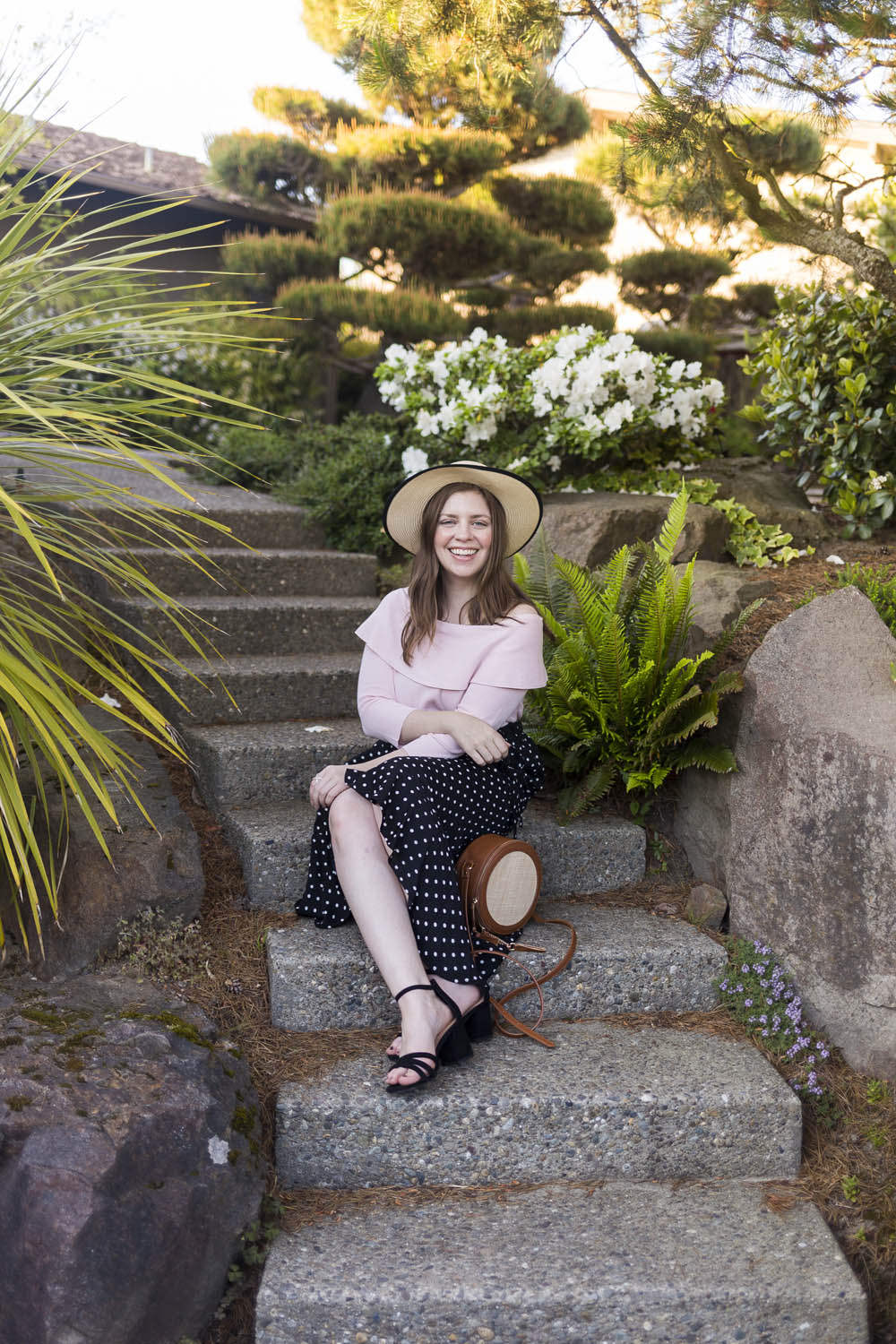 As you dust off your spring and summer pieces from years prior, I hope these outfit ideas featuring layering pieces like cardigans, sweater vests, and off the shoulder pieces help ignite some outfit inspiration! And now that you've seen my top 3 picks for the Joseph A Memorial Day sale, check out their other fun pieces like this cold shoulder sweater, this bell sleeve sweater, or this cute stripe top!  Don't forget to use code HELLO for 40% off! And yes, that's even on top of sale prices!
Now that you've seen my top 3 picks for the Joseph A Memorial Day sale, what will you be picking up?! Let me know in the comments!