At 5:30 am, my alarm started buzzing and I groggily turned it off. Not long after, it went off again. This time, I got up. I was off to Olympia, WA and wanted to be up and on the road early enough so as to not hit rush hour traffic. But, why?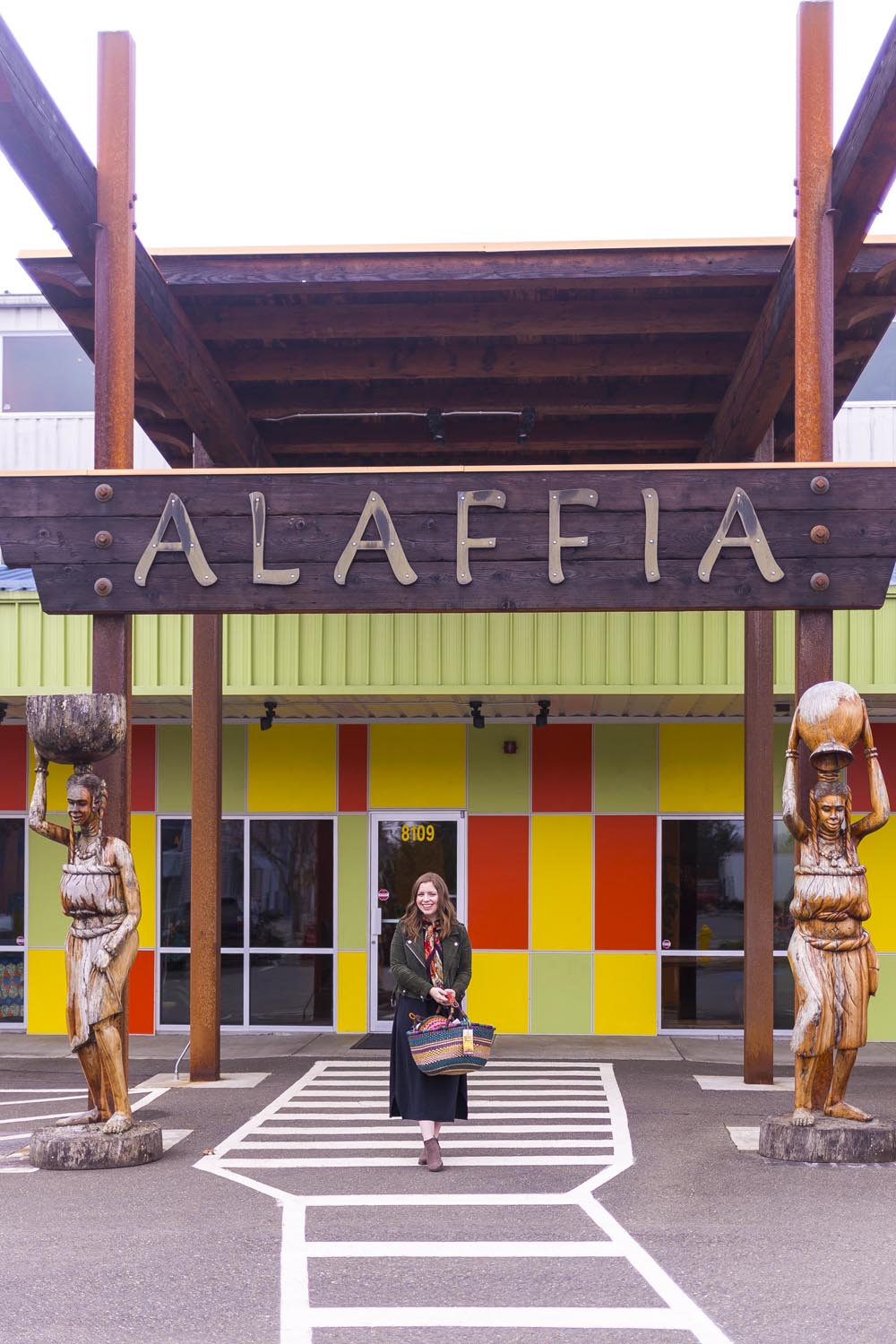 Because I was off on a weekday morning adventure to visit Alaffia, a skin, body, and hair care brand that is known for its ethical trade practices and do-good values for the women of West Africa. They also just so happen to be headquartered right outside of Olympia, Washington's state capital, in Tumwater.
With Acting Assistant Secretary of State for African Affairs, Donald Yamamoto, in town, Alaffia invited state and local government learners, local business leaders and their respective staff, as well as little old me, to welcome him and learn more about the company. Being familiar with Alaffia products already, it was great to get a behind the scenes glimpse of the products, from ideation to manufacturing to shipping.
While there, I was also first to see a lot of new product that will be coming out very soon and of course was sent home with lots of goodies to try! Curious what I learned about Alaffia and want to win some products to try for yourself? Read on!
About Alaffia
So what is Alaffia? Alaffia is a common greeting or valediction originating from central Togo, Benin, and Nigeria. It means a state of peace, health, and well-being.
But what about the beauty brand, Alaffia? You may have heard of one of their other brands, such as Everyday Shea, Queen Alaffia, Everyday Coconut, Beautiful Curls, or Alaffia Authentic. Or you might know them for their Empowerment Projects, like Bicycles for Education, which collects bicycle donations locally, then distributes them in West Africa.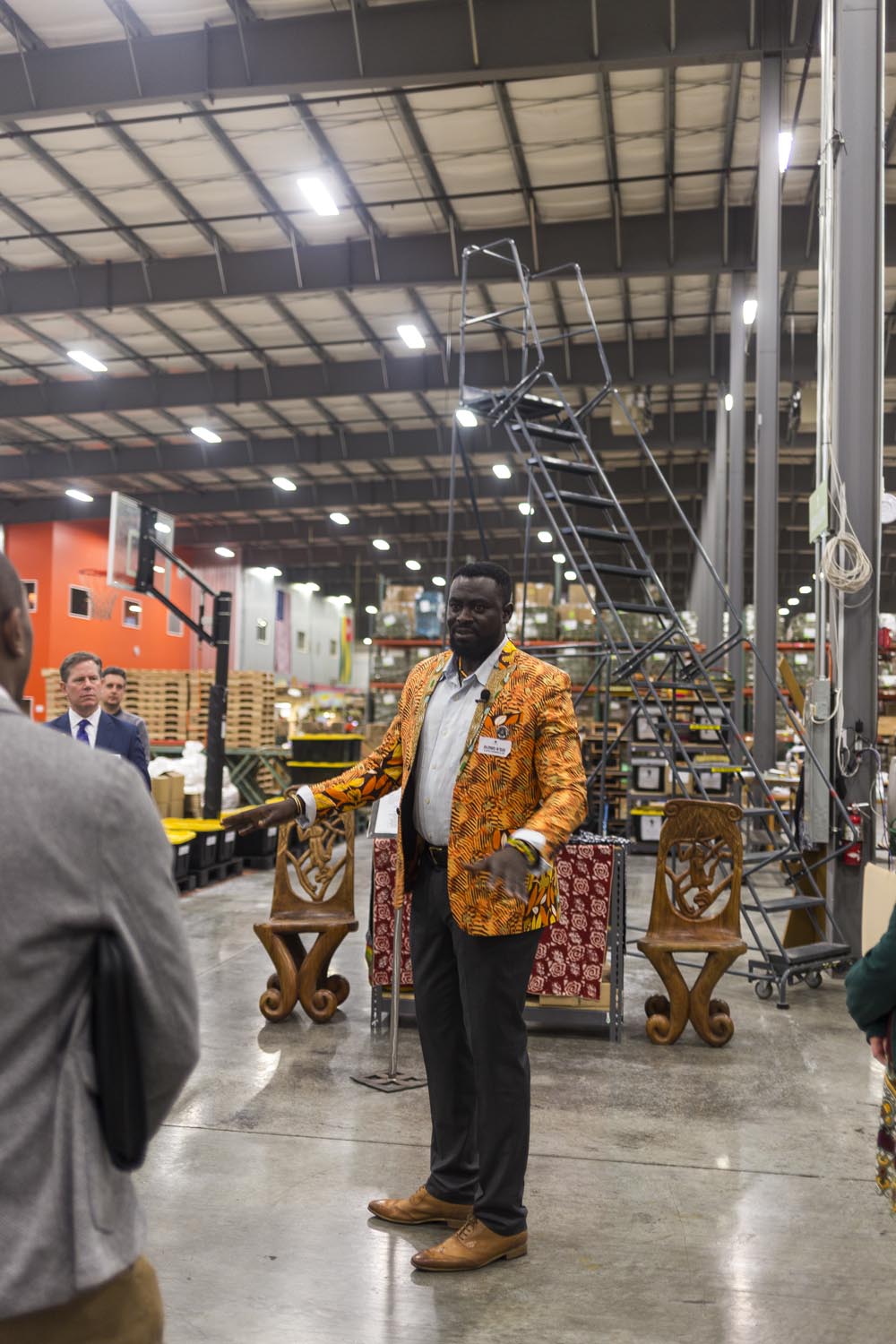 Alaffia was born as the brainchild of Olowo-n'djo Tchala and Prarie Rose Hyde in the 1990s. As a young woman from rural Washington, Rose traveled to West Africa as a member of the Peace Corps. She met and fell in love with Olowo-n'djo Tchala, while she worked in Kaboli. Armed with only a sixth-grade education, a job with his mother on a nearby farm, and a small 8×10 shared living space, Olowo-n'djo Tchala left with Rose to return to the United States. It was here that they were both able to study at the  University of California, Davis, and later, acquire a business loan of $50,000 (with the help of Rose's brother, who offered his house as collateral) to begin the company that is now known as Alaffia.
Beyond profit, Alaffia measures their success on empowerment. Through the sale of products, they are able to realize their mission of alleviating poverty and encourage gender equality in West Africa. All of Alaffia's projects empower Togolese communities to provide their skills and knowledge to the rest of the world and rise out of poverty.
Everything is ethical
Alaffia does all production in-house – from marketing, formulation, and production to shipping and distribution, which is done by hand. They employ a wide array of people in their headquarters, from scientists to chemists to those who pack up your products for shipment. Speaking of shipping, all packaging is ethical and comes from US-based manufacturing. Most of the packaging comes from Utah, California, and cardboard boxes are sourced locally in the state of Washington.
Fun fact: Alaffia produced 5000 gallons of their proprietary soap mix each day, which results in a little over a million gallons per year of soap mix!
Brand new products including okra and peptides
Alaffia's scientists introduced a new line of anti-aging skincare products during my visit. This new line also includes the first-ever scientific claim for their skincare products. The new line features ingredients like okra and peptides for anti-aging benefits. Every lot is tested for bacteria and specifications like ph, density, and viscosity to make sure it is consistent and meets standards.
Other new products include a serum featuring squalene sourced from olive oil and a body scrub made with white clay to keep your shower clean, unlike typical clay-based products!
Empowerment projects & initiatives
Beyond creating great products in their Tumwater facility, Alaffia is all about empowerment and giving back. Funded by the sale of products, Alaffia has several notable empowerment initiatives including maternal care, bicycles for education, reforestation, and more.
Maternal Care: 160,000 women die due to complications with pregnancy and childbirth in West Africa every year. That's about a 1 in 16 chance of dying during pregnancy or childbirth, which is a 2500% higher risk than a woman in a developed country has. While this problem is huge, through education and gender equality initiatives, Alaffia is working to save lives.
Stated in 2006, the Maternal Health Project follows the World Health Organization's recommendation for reducing maternal death rates through pre- and post-natal care in rural Togo, Africa. In addition, The Alaffica Women's Clinic Project partners with Togolese health clinics to provide training and education about women's health issues such as nutrition and female genital mutilation (FGM). This helps to break the cycle: when a woman does not die or have complications during pregnancy or childbirth, her children are more likely to not suffer nutritional or health consequences, are less likely to drop out of school, and have a better chance of rising out of poverty.
Reforestation Project: Climate change and deforestation have a huge impact on West African farming communities, and for this reason, Alaffia works to plant trees to mitigate erosion. So far, Alaffia sales have funded the planting of 59,775 trees. Beyond tree planting, Alaffia provides education to discourage the cutting of trees for firewood and through their Alternative Fuels project, have reduced the demand for wood and charcoal by researching bio-gas and bio-oils.
Eyeglasses Project: It's cost prohibitive for many in Togo to acquire eyeglasses and eyecare on their own. One eye exam can cost a month's wage, and eyeglasses up to four months of wages. Alaffia collects used eyeglasses and employs an optometrist to fit and distribute the glasses in Togo, and has collected over 25,000 pairs of glasses.
FGM Education Project: Through the Maternal Health Initiative, Alaffia works to educate women about the dangers of Female Genital Mutilation (FGM). FGM includes procedures that intentionally alter or cause injury to the female genital organs for non-medical reasons and is recognized internationally as a violation of the human rights of girls and women.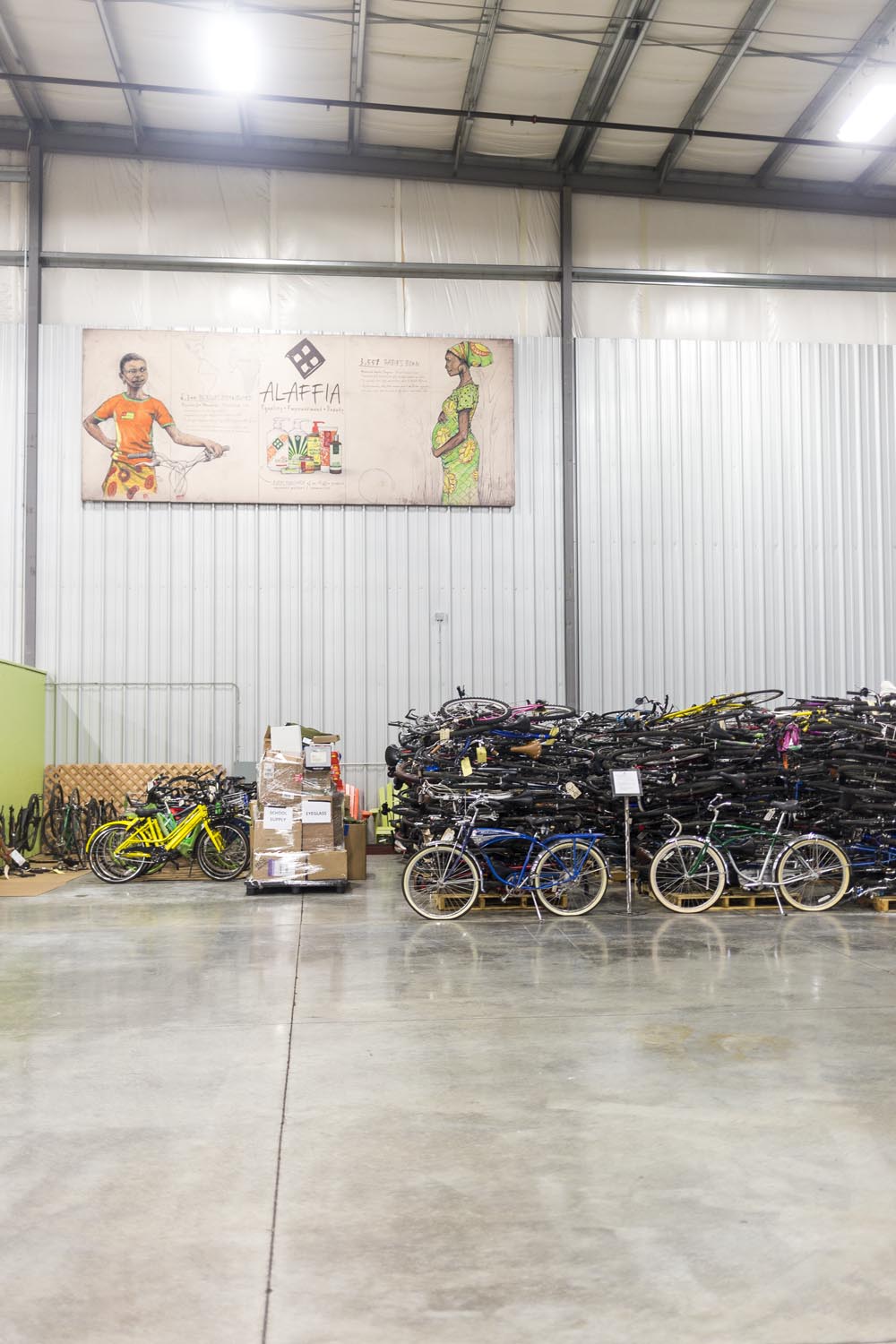 Bicycles for Education: In rural Togolese communities, students may have to walk up to 10 miles per day to attend school. Without buses and with private transportation being cost-prohibitive, school is time-consuming and students opt to quit school to help with familial obligations.
In 2004, Alaffia began the Bicycles for Education program, which sends used bicycles to students in Togo to encourage them to stay in school. So far, Alaffia has sent more than 8,000 bicycles, collected from local communities in Washington and Oregon.
Fun Fact: Having a bicycle in Togo increases graduation rate from 50 to 90 percent!
Education Empowerment: The founding of the Shea Butter Cooperative in 2003 has allowed Alaffia to donate school uniforms, books, and writing supplies to children in Togo. Beyond supplies, Alaffia also donates desks and install new roofs on schools to make learning a more enjoyable experience. Since 2011, Alaffia product sales have funded the construction of twelve schools throughout Togo and provided school supplies to 34,640 recipients.
My favorite products from Alaffia
Since first learning about Alaffia through the Whole Planet Foundation at Whole Foods several years ago, I've had the opportunity to try quite a few Alaffia products. While not everything they offer is a perfect fit for everyone, I thought I'd highlight my favorites below as a jumping off point if you're interested in trying the brand for yourself! All products are available online on their website, and a selection of products are also available at your local Whole Foods, Bartell Drugs, and other select retailers.
What's next?
While Alaffia wouldn't confirm or deny that they may be getting into the makeup and the color cosmetics space soon, they did let me try out a new lip tint that will be launching sometime soon. Do I think that means makeup like foundation, blush, bronzer, and more might be on its way? It's hard to say, but I hope so!
If you're interested in trying out some goodies from Alaffia for yourself, you've come to the right place! Enter below for a chance to win a selection of body care goodies including their deodorant, African Black soap, shea butter lotion, and more, all in a handcrafted pouch plus a t-shirt! This giveaway is open to residents of the US and ends on May 29th at midnight EST! Good luck!
Have you tried Alaffia products yet? What are your favorites? If not, what would you like to try?! Would love to hear in the comments!