Last week, my mom and I were invited for a midweek getaway to the Alderbrook Resort, about two hours or so outside of the city. Located in a small coastal town called Union, the Alderbrook is situated right on the water and amongst the trees. It's quiet, a respite from the hustle and bustle of city life and the perfect getaway for two ladies who were desperately seeking a little R&R.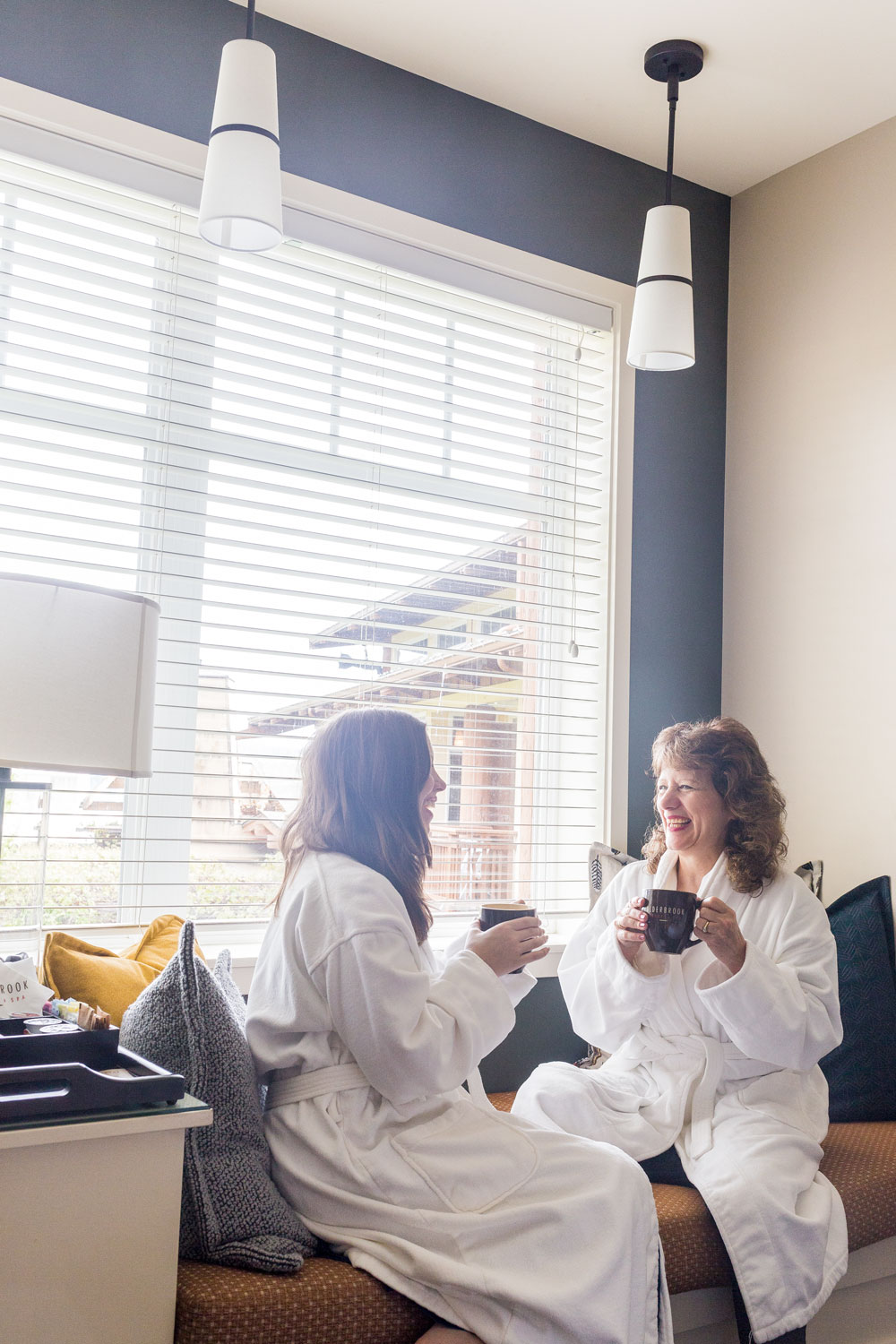 Disclosure: Thanks so much to the Alderbrook Resort and Spa for hosting my mom and I for a fun overnight trip! All opinions are our own.
We actually have spent a lot of the time on the Peninsula, as we have family in the area. Often, we travel there and don't get to really explore or get to know the area. It was nice to play tourist and visit some of the hidden gems and spots recommended by the hotel! After all, it's always best to ask the locals where to go, right?!
With about 24 hours from arrival to departure, what were two girls hanging out on the Olympic Peninsula to do?! Read on to find out what we did at the Alderbrook Resort and Spa!
Enjoy a glass of wine and room service
The Alderbrook knows all about hospitality, which is why you will more than likely spot a bottle of wine and a room service menu right away after entering your room. Sure, these are both things that aren't free, but if you're on vacation or celebrating, you deserve it! Treat yourself.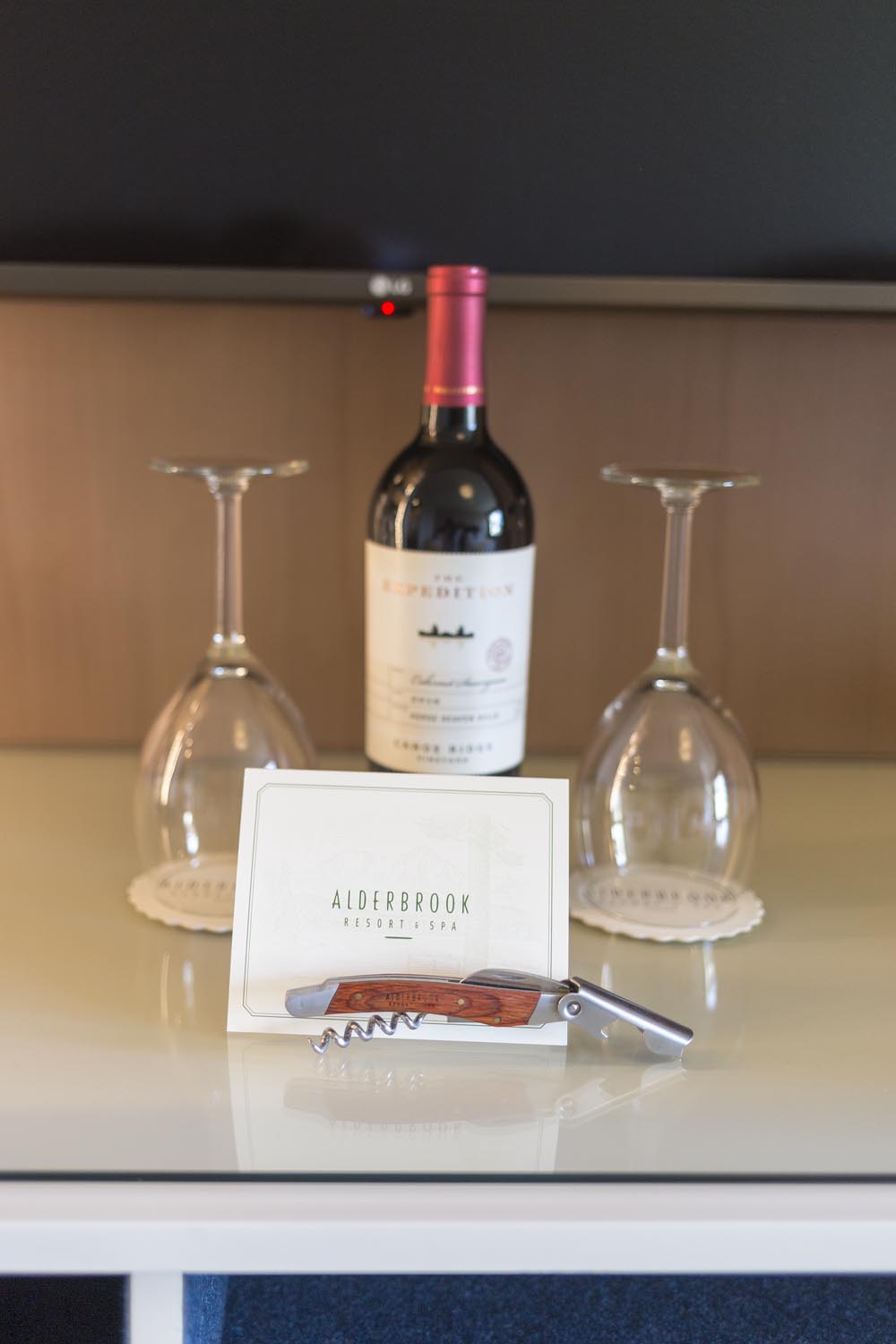 Nothing is better than enjoying a cheese plate or tasty dessert with a delicious glass of wine as you kick up your feet! All bottles of wine are 1/2 off on Tuesdays and Wednesdays at the Resturant, too! Start at the restaurant, then finish the night in the reading nook in the bay window or out on your balcony for a perfect relaxing evening.
Visit the Spa at Alderbrook
The Alderbrook was kind enough to treat us to a spa day, something I will never say no to, especially based on what I had heard about their award-winning spa. I was not disappointed, either! The custom 90-minute facial was pure bliss. The scents from the Kerstin Florian products used will have you nodding off and feeling pampered from head to toe in no time at all. I especially loved the attention to detail, from the hot stone arm massage to the foot soak and scrub to the facial and scalp massage throughout the treatment.
My mom had never had a facial before, and was actually quite nervous about the whole thing. She even mentioned not going the morning of! Fortunately, she got over her nervous jitters, and when she left, she had never been more relaxed! And shout out to her spa attendant, Laura,  for making the whole experience a perfect one for her. I'm pretty sure she's going to expect this kind of treatment on Mother's Day for years to come!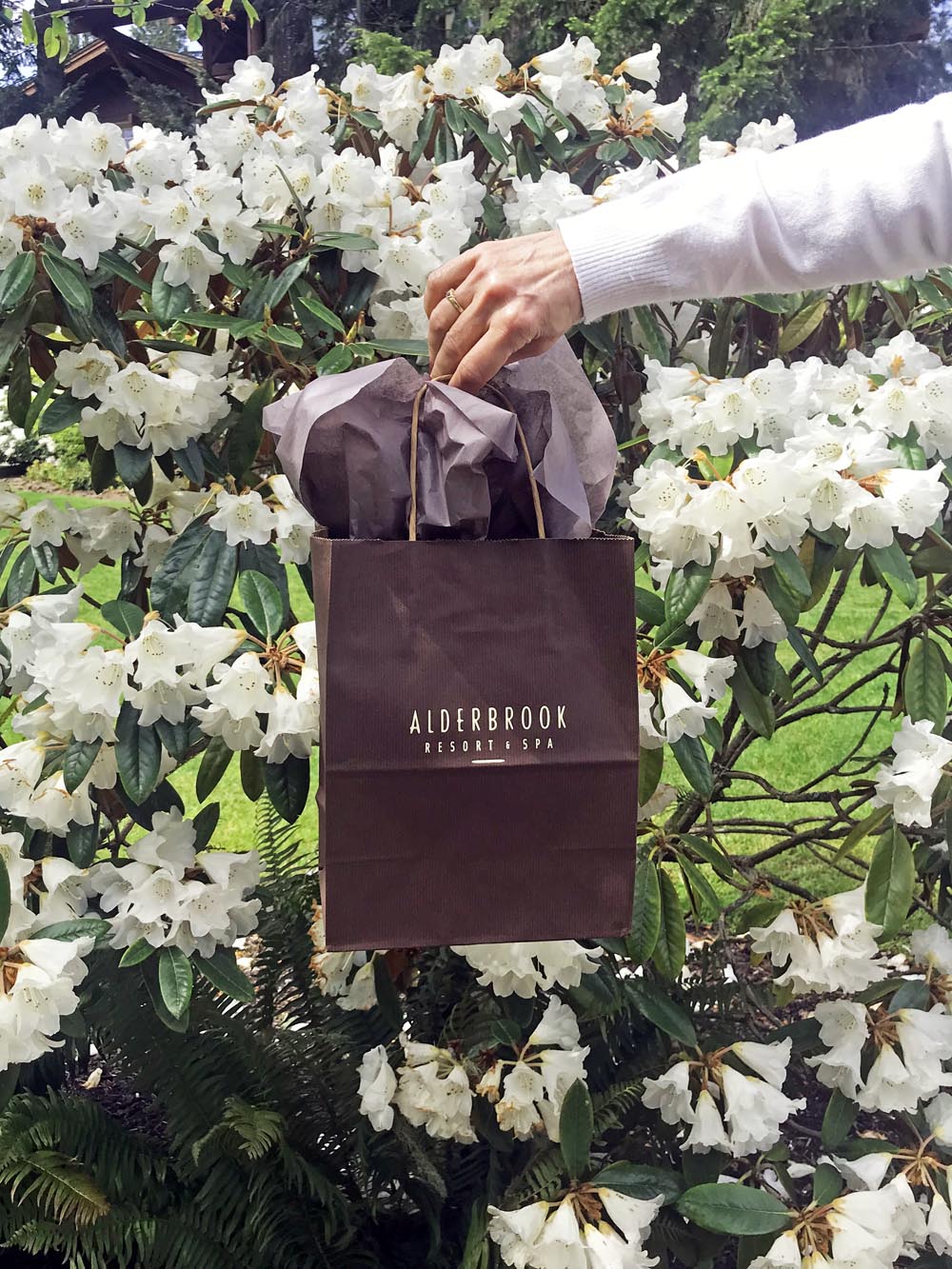 If you'd like to treat yourself and Mom this Mother's Day, the Spa at Alderbrook is offering a great offer with any booking of their 90-minute custom facial from May 13-20:  Take home two incredible travel-sized gifts, the Kerstin Florian Spirulina Masque and the Moor Mud Masque along with a $20 retail credit (a $128 value).
About the Custom Facial: 
This facial imparts total bliss as it pampers you from head to toe. Beginning with an invigorating foot scrub, deep cleansing and advanced exfoliation, the skin is perfectly prepared for an Acu-lifting massage using personalized essences and serums. Cooling globes, healing stones, and a warm floatation pillow enhance this extraordinary facial // 90 minutes, $180 weekdays, $195 weekends
Dip your toes in the pool or hot tub
My mom and I both forgot our swimsuits, but that didn't stop us from dipping our toes into the pool and jacuzzi! The jetted jacuzzi felt amazing on my tired feet, and honestly, it was hard to ever want to leave!
The pool area is in an amazing glass-enclosed structure that is literally on top of the water with a full view of the Hood Canal and the Olympic Mountains. Talk about incredible!
Enjoy an unforgettable meal at the Restaurant at Alderbrook
Feeling famished? Get yourself to the Restaurant at Alderbrook. They treated us to dinner, and the whole experience, from the kind waitstaff to the food itself was incredibly delicious.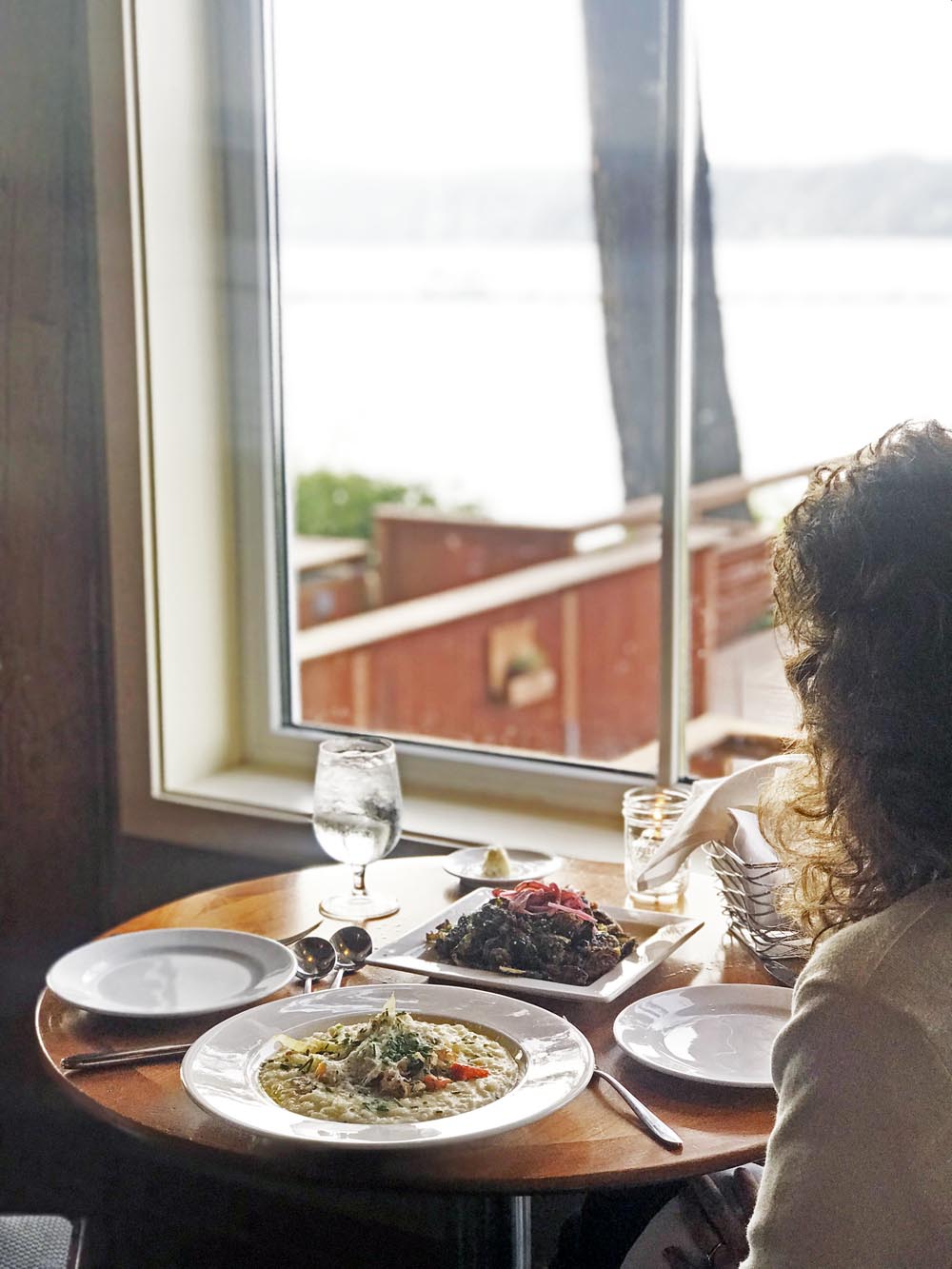 We started off the with the seasonal soup (cream of mushroom) and the beet salad, made with fresh roasted beets, goat cheese, and oranges, which were both incredible. We shared a vegetable risotto for our entree and added on a side of the fried brussel sprouts. The risotto was creamy and perfectly cooked, and the brussel sprouts were to die for. Yep, I said that about brussel sprouts! But really, when they're fried to a perfect crisp, they're heavenly. Unfortunately, we ended up being so stuffed we had to pass on dessert!
Take in the fresh air along the dock and viewing the grounds
After we stuffed ourselves silly at dinner, we needed a little fresh air and to walk off our meal. We walked out to the boat launch, taking in the sunset, views of the Olympic Mountains, and taking in the sea breeze.
It's so peaceful and quiet, and the hotel grounds are beautiful too! We loved looking at the flowers and listening to the soothing sounds of the water features just outside of the hotel lobby.
Get your blood pumping on one of the many walking or hiking trails, or go golfing
The Peninsula offers spectacular views and amazing outdoor adventures for any skillset. While I'm not a huge outdoors type of girl, I appreciate a good walking trail and taking in the views. Stop by the Harmony Hill Retreat Center to walk to the labyrinths and garden tours. Or, take a walk through the Theler Wetlands. The Alderbrook also rests below over five miles of walking and hiking trails. Take the Big Tree Loop Trail, or spend more time on the Huckleberry Hillclimb Trail.
Nearby, find the 72 PGA-class Alderbrook Golf Club, open all year round. Beyond the course, find a Pro Shop, restaurant, driving range, private lessons and cart rentals.
Go into town for shopping and local fare
A short drive away, find several boutiques offering local art, gifts, and things to see. Or, step out for lunch or meal at one of the other local restaurants in town.
Cameo Boutique & Wine Shop – a gift shop for women featuring unique clothing, yummy treats, lots of wine options, and other gifts
Union City Market – stop by for local art, gifts, and snacks
Go antiquing at Kari's Collectibles, Lady of the Lake, or Creekside Antiques
Hunter Farms – offers fresh produce and a nursery for all your plant needs
Hama Hama's Oyster Saloon – for those that love oysters and fresh seafood
Union Deli – offering fresh-made sandwiches (we ordered the Reuben and the Cuban from the specials board) and coffee, plus treats like cookies and milkshakes
Visit nearby state parks for incredible views
It's all about the outdoors on the Peninsula! From water sports to fishing to golf and hiking, you can be as active as you want to be!
I personally like exploring and walking some of the outdoor excursions, which is why state parks are always on my to-do list. Just a 5 minute or so drive away is Twanoh State Park, with incredible views of Hood Canal and plenty of picnic tables perfect to stop for a quick picnic. It also features the warmest saltwater beach in the state of Washington! Camping is encouraged, and you can find activities like volleyball, badminton, and horseshoes to keep you busy.
Nearby is Potlatch State Park in Shelton, WA, a 57-acre state park with on a saltwater shoreline. Shellfish harvesters will love the shoreline here, and everyone else will enjoy the expansive campground and wildlife (think elk, woodpeckers, shellfish, and salmon.)
Enjoy a good book or magazine in the in-room day bed
Winding down for the night? As I mentioned before, there are plenty of great nooks for relaxing at the Alderbrook Resort. In the room, find a selection of local magazines in the nook by the bay window. Just a few steps away, you can also enjoy the sights and sounds from your balcony.
Or, step into the lobby and into one of the cozy chairs for a read. There's also an incredible fire pit area outside that would be a perfect spot by the fire in the evening or early morning! Just be warned, mosquitos might get you if you stay out too long. ;)
Show off your competitive side at Cookies and Board Games
On Wednesdays, head down to the lobby for Board Games and Cookies. We opted for a game of Battleship, but there's plenty of other classics like chess, checkers, and more available to play or to take back to your room. Don't forget to grab a fresh baked cookie, too!
Join the Alderbrook for one of their many events
In town on Mother's Day? Why not take yourself and Mom to brunch! The restaurant will be hosting Mother's Day Brunch on May 13th by reservation. Make a reservation by calling the restaurant at (360) 898-5500.

Other upcoming events include The Canal Cookout on May 17th, Full Moon Yoga on May 29th from 7-8pm, Magic 7 Comedy Shoes with Nate Jester on may 29th, Father's Day Brunch on June 17th, and Thunder on the Canal on July 3rd!
As you can see, there's no shortage of things to do with Mom out at the Alderbrook Resort and Spa on the Olympic Peninsula. Just a short drive from Seattle or Portland, it's the perfect respite to relax and treat Mom to a Mother's Day she won't forget!
How are you planning to celebrate Mom for Mother's Day this year? Have you ever visited the Alderbrook Resort? I'd love to hear about it in the comments!