Pet ownership is not for the faint of heart.
I can remember clearly the day we came home to find wood splinters from Rigby's chewing escapades on the wood-framed futon on our carpet floor. And then later discovered some chew marks on our newly replaced baseboard trim.
Or the time we thought he might have gotten into a pack of gum. (And if you didn't know, Xylitol is incredibly toxic to dogs and is in a lot of gum and oral care products! Yikes.)
And I'll never forget the time, shortly after we moved into our house, that Rigby got out the sliding door, and I ran screaming out the door only to find him sitting in the middle of the street, surrounded by my very kind and nice new neighbors. Nothing like welcoming ourselves to our new neighborhood!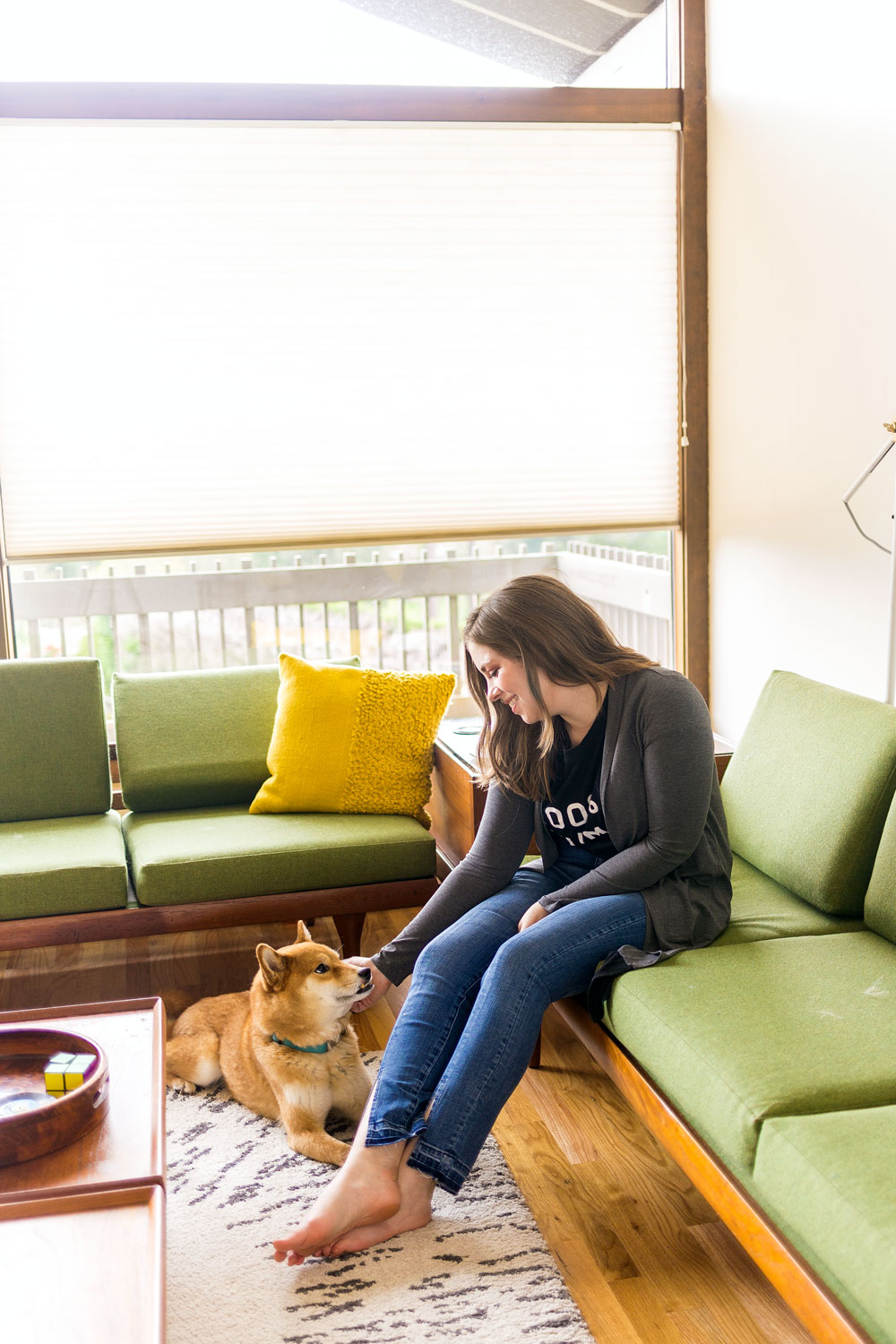 Disclosure: Thanks so much to Supreme Source for sponsoring this post. All opinions are my own!
Fortunately, while panic-inducing and even a bit embarrassing, these incidents were all relatively minor. While Rigby is no saint, most of the time he is a very good boy. But, we all have our moments, even this Dog Mom and her pup. Today I thought I'd share some of my dog confessions: the truths that I sometimes would rather not admit to, and the hacks I've learned to compliment these embarrassing, funny, and honest reflections on dog ownership over the past five or so years.
Dog Mom Truth #1: I've been known to crinkle the closest bag to get my dog's attention
Yep, I'll admit it. Shibas are notoriously fickle, and sometimes Rigby could care less if I'm trying to get him to pay attention to me. Nothing like the crinkle of a treat bag, a mention of his favorite word "cookie," or the opening of the fridge door to bring him running. And I'm not heartless; I'll usually hook him up with one of his favorite Supreme Source® Salmon Recipe Soft Dog Treats or Lamb Meal and Sweet Potato Recipe Dog Biscuits when I get his affection. ;)
Want to try Supreme Source treats yourself? Learn more here, then print a coupon to save on your next purchase!
Dog Mom Hack #1: Keep your pup busy with a treat puzzle
Rigby was an energetic little puppy, and sometimes it was hard to get time in for a meeting when I was working from home. To keep him busy and prevent him from barking or trying to get my attention by being naughty, I would fill up a treat puzzle with grain-free kibble like Supreme Source to occupy him. It was good for his brain, and he was encouraged to keep busy until the very last morsel of kibble. You can find Supreme Source, a kibble that is made in America from the world's finest ingredients and not any corn, wheat, soy, artificial flavors or colors, nationwide at select grocery stores and online on chewy.com. Find a store near you that carries Supreme Source.
Dog Mom Truth #2: I've been known, on epically rainy nights, of course, to cheat at bathroom time
Shibas are… interesting dogs. Almost more like cats, they have very particular standards about where they do or don't do their business if you get what I'm saying. When it rains and pours here in Seattle, this can make bathroom time a nightmare. I've been known to come home looking like I just got out of the shower, so I've learned a few tricks to make potty time a bit faster. In no particular order, here are some of the things I've done to speed things up:
Put Rigby's food in his food bowl so he can see it, then take him outside
Drive him to his favorite poop spot
Sprint around the block a few times with the hopes of "getting things moving."
Dog Mom Hack #2: Out of dog treats? Use these instead!
Ran out of dog treats? That's ok! There are tons of great things you might have around the house that will work in a pinch. I love utilizing Supreme Source kibble during training moments instead of dog treats to keep it lower calorie, and also as a way to prolong mealtime. If you're not a kibble feeder or you prefer something different, why not cut up some fresh produce? Rigby love carrots, sweet potatoes, and apples, which are great, healthy options for dogs. Bonus, dehydrating these in the oven at low heat can also be a great packable snack for your pup, and they can last months if kept in a sealed container.
Dog Mom Truth #3: Nothing gets me out of bed faster than dog barf
Sigh. It's the sound every Dog Mom hates: the splatter of dog yuck. It never ceases to wake me from the dead. No one likes to see their pup feeling sick, which brings me to my next hack!
Dog Mom Hack #3: Here's how to help a sick pup feel better quick
It's never fun to see your little pup not feeling well. Unfortunately, Rigby has a sensitive tummy, so I've learned a few things about how to get him feeling better quick and avoiding an unnecessary* trip to the vet. Here are a few tricks I like to use when Rigby has tummy trouble:

*Please note, if your dog is rarely sick or having severe symptoms like lethargy, refusing to eat, could have been in contact with an ill animal, or is otherwise acting unusual, a vet should be consulted right away!
Switch to a bland diet of chicken (or a safe protein for your pup) and rice.
Substitute water for unflavored Pedialyte or another electrolyte beverage to rehydrate sick pups quick.
Is he or she turning their nose up at food? Try chicken broth! Just be sure the broth is free of onions, garlic, or other spices, or make your own by boiling chicken in water.
Don't forget to avoid treats or potential dietary indiscretions until things are back to normal, and be sure that all that come into contact with your pup know that he or she isn't feeling well!
Dog Mom Truth #4: Yes, all dogs can and will get fleas
I'm not sure why I thought this, but I didn't believe Rigby would ever get fleas since he's an indoor dog. My bad. He got fleas as a puppy, and I felt like a terrible mom for subjecting him to even a moment of itching!
Dog Mom Hack #4: Have a great support system
First-time pet parent? Rigby is my first dog and first Shiba Inu. And let me tell you, they are a unique breed. That's why I've joined a few Shiba-specific groups and try to share my knowledge about Rigby here on this blog. It's helpful to know you're not alone and to have others to ask questions to who have been through it. Trust me, you might need it when you're up Googling at 2am about why your dog won't stop pacing around, or is whining at strange things. (Yep, another bonus Dog Mom Truth.)
Supreme Source thinks Pet Moms deserve to be treated this Mother's Day. Enter to win their Mother's Day Sweepstakes including $500 Spafinder.com gift card and a prize pack from Supreme Source and Chewy.com. And bonus, I'm throwing a giveaway too! Enter to win a prize pack to spoil your pups (or cats!) below! You'll receive a selection of food, treats, and swag from Supreme Source. Ends on 5/18 at midnight EST. Open to US residents only. Good luck!
a Rafflecopter giveaway

Do you have any pet mom (or dad!) truths or hacks you've learned from pet ownership? How do you like to spoil your pet? I'd love to hear about it in the comments!