If you've been reading for awhile, then you probably already know that cooking isn't my favorite activity. It's not that I'm not capable or don't enjoy food, it's just that at the end of the day, the last thing I want to do when I get home from work is spend hours in the kitchen laboring over a meal and cleaning up.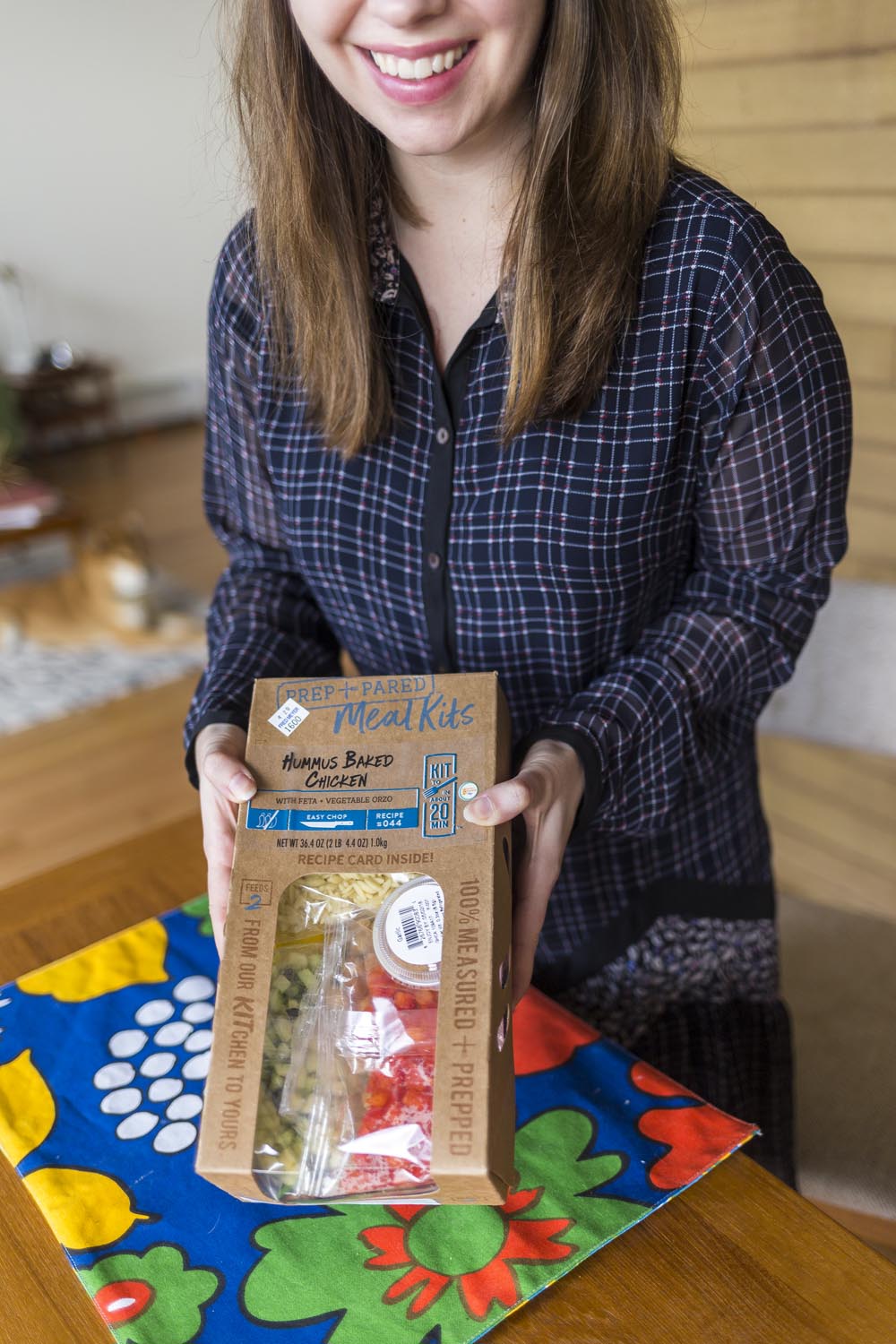 Disclosure: Thanks to Fred Meyer for partnering on this sponsored post. All opinions are my own!
I've tried meal planning. We've tried subscriptions. But often, the prep work involved means the meal still takes just as long to prepare, if not longer, than if I had found a recipe online, or whipped up something simple.
What if there was a meal kit prepared for you, and all that was left to do was assemble it and put it in the oven or on the stove?
Enter Fred Meyer to rock my world with their Prep+Pared Meal Kits.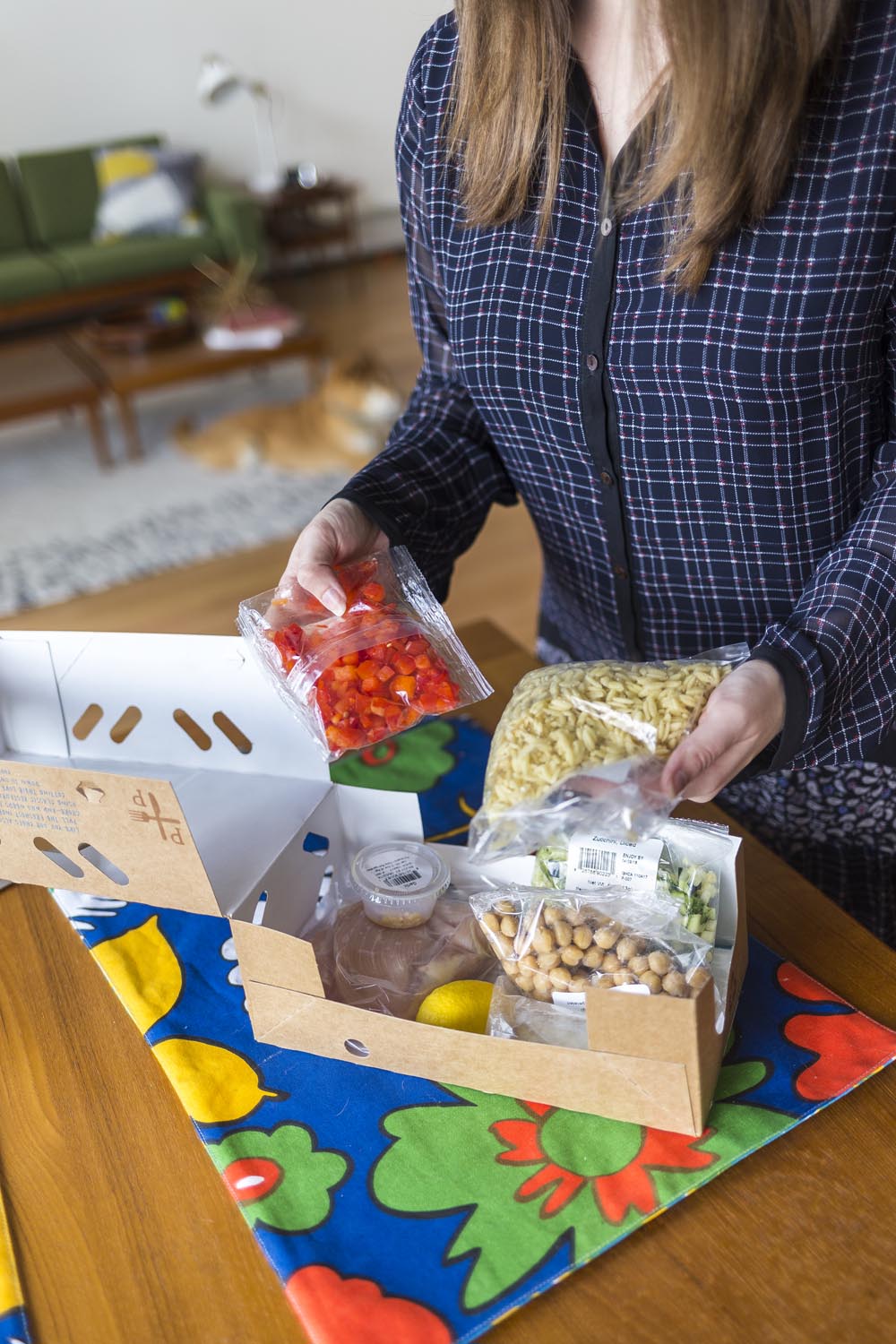 It's a busy girl's dream, and what I've always wanted but didn't quite realize I needed. Unlike meal subscription services, the vegetables come chopped, ingredients come pre-measured, and all that needs to be done is some minor assembly, seasoning, and cooking. They're fresh, easy, chef-designed and even better, taste delicious and are affordable at $14-20 per two serving meal kit. (And we're not talking about tiny servings either, we had enough for leftovers for me to take to work!)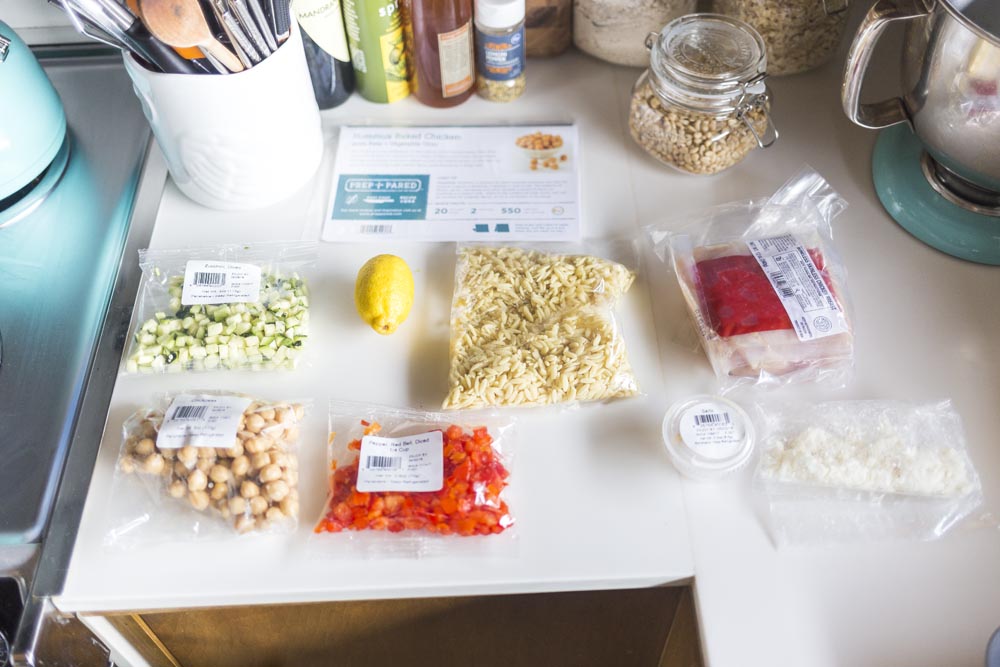 With no extra waste and recyclable packaging, it's better for the environment than many alternatives, including making your meal! With no subscription necessary, you can quickly pick these up on the way home from work at you local Fred Meyer, or stock up on a few for the week ahead. Just be sure to check the best by date, as these are 100% fresh and prepped meal kits.
So which meal kit did we try first?!
We went for the Hummus Baked Chicken with Vegetable Orzo. It had been awhile since I'd had orzo, one of the most underrated and underused pasta in my opinion. Since I'm a huge fan of Mediterranean flavors, I thought this one would be perfect to try first. (Spoiler alert: I was right! This was tasty, and even better reheated!)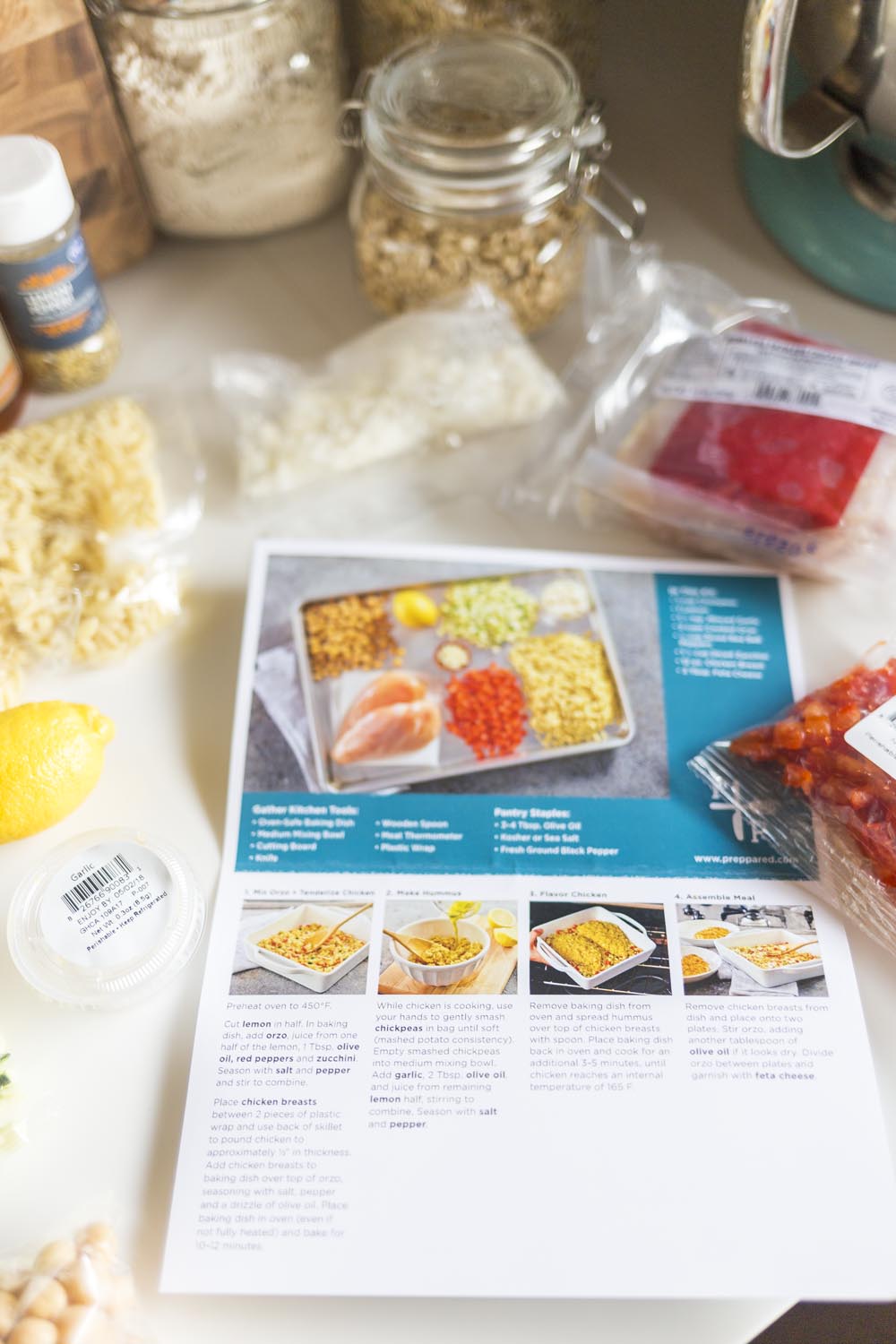 First things first, I emptied out the contents of the box, laid out my ingredients and located the meal card. Minor details, right?
With the meal card, I was able to know precisely what other ingredients I needed: salt, pepper, olive oil, a cutting board, knife, plastic wrap, spoon, medium mixing bowl, and an oven-safe baking dish. It also naturally included the recipe, which I've included below for your cooking pleasure, and for me to save for the future! This would make a fantastic prep meal for work lunches!
Hummus Baked Chicken with Vegetable Orzo
From the Meal Card:
Hummus Baked Chicken with Feta and Vegetable Orzo is a delicious and healthy home cooked meal! Smashed chickpeas, lemon, and olive oil smother boneless skinless chicken breasts which are baked on a flavorful bed of orzo with bell peppers and zucchini and then topped with feta cheese. So delicious!
Ingredients
1 cup chickpeas
1 lemon
1 1/2 tsp garlic minced
3-4 tbsp olive oil divided
2 cups orzo cooked
1/2 cup red bell peppers diced
1 1/2 cup zucchini diced
12-ounce chicken breast
3 tbsp feta cheese
salt and pepper to taste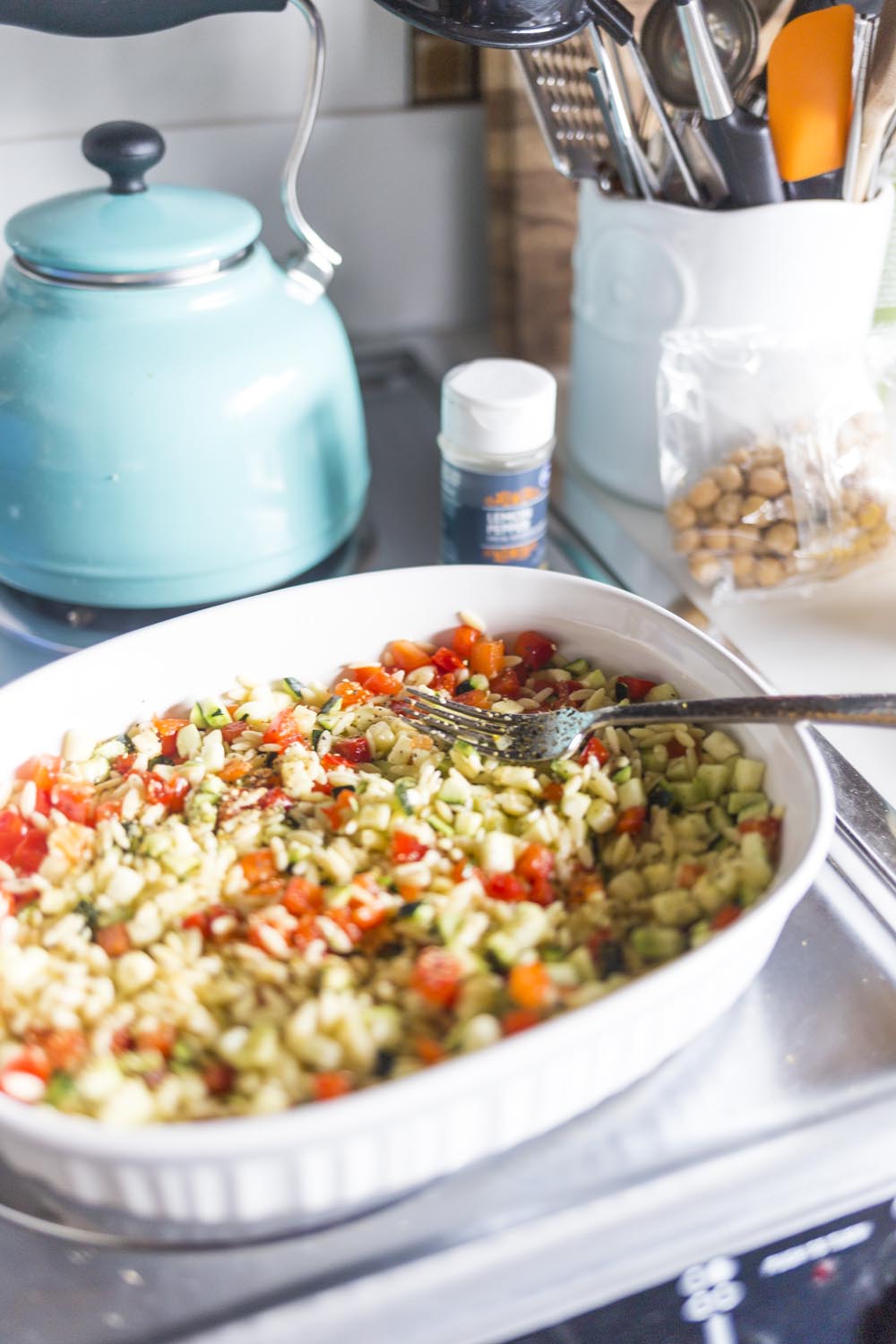 Instructions
1. Mix Orzo + Tenderize Chicken: Preheat oven to 450 degrees Fahrenheit.
Cut lemon in half. In a baking dish, add orzo, juice from one half of lemon, 1 TBSP olive oil, red peppers, and zucchini. Season with salt and pepper, and stir to combine.
Place chicken breasts between two pieces of plastic wrap and use back of skillet to pound chicken to approximately 1/2″ thickness. Add chicken breasts to the top of baking dish over orzo, seasoning with salt and pepper and a drizzle of olive oil. Place baking dish in the oven for 10-12 minutes.
2. Make Hummus: While the chicken is cooking, use your hands to gently smash the chickpeas in a bag until soft ( mashed potato consistency). Empty smashed chickpeas into a medium mixing bowl. Add garlic, 2 Tbsp. olive oil, and juice from remaining half of lemon, stirring to combine. Season with salt and pepper.
3. Flavor Chicken: Remove baking dish from oven and spread hummus over top of chicken breasts with a spoon. Place baking dish back in oven and cook for an additional 3-5 minutes, or until chicken reaches an internal temperature of 165 degrees Fahrenheit.
4. Assemble Meal: Remove chicken breasts from dish and place onto two plates. Stir orzo, adding another tablespoon of olive oil if it looks dry. Divide orzo between plates and garnish with feta cheese. Enjoy!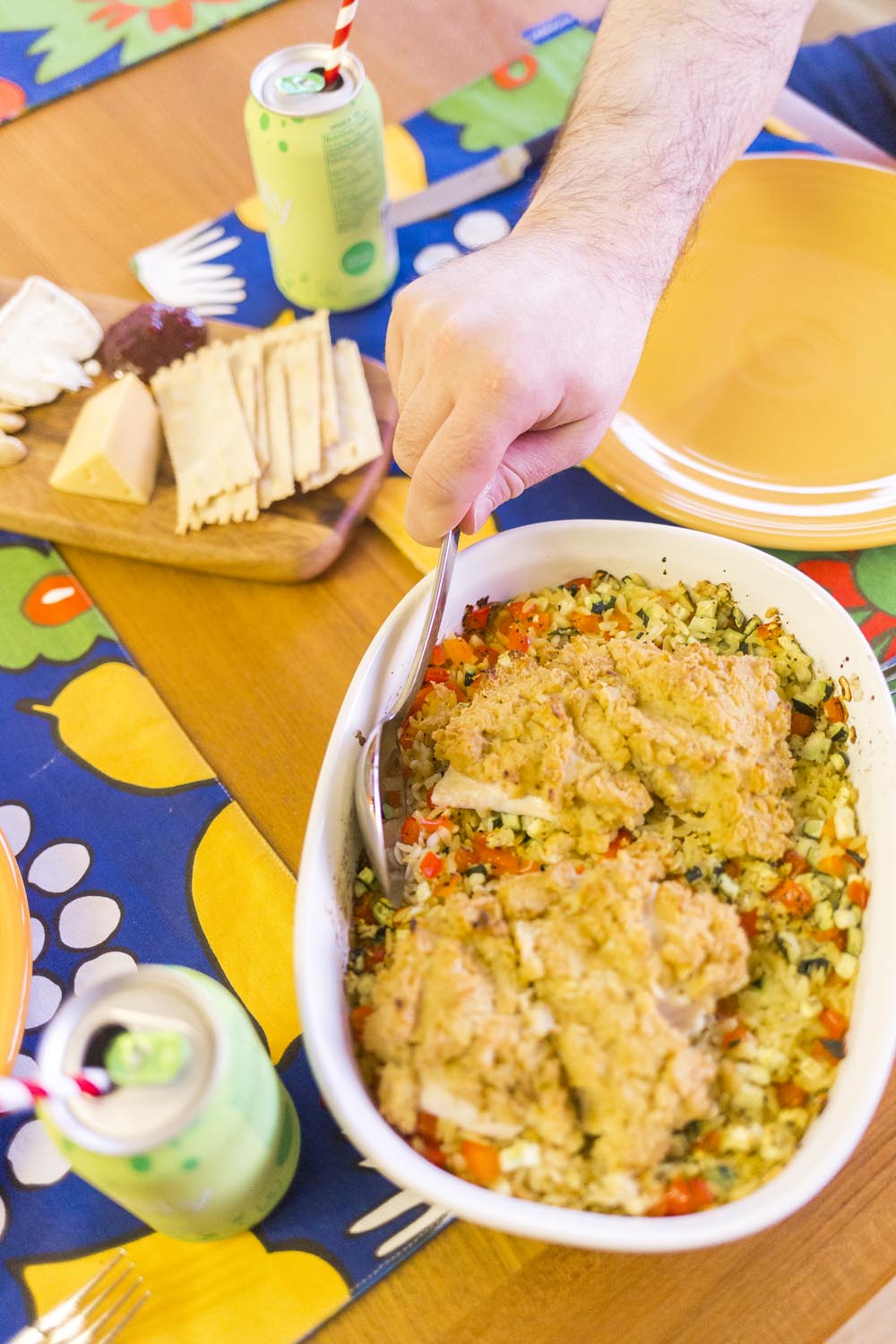 In just about 20 minutes, we had a healthy and fresh dinner on the table, which also freed up my time and energy to whip up a cheese plate for snacking while it was cooking. What can I say, I was feeling a little extra, and the Murray's Cheese Shop at Fred Meyer had been calling my name. They have a killer selection of cheese and accoutrements, and I always love picking out a new-to-me cheese to try! The one that caught my eye was a soft cheese made with truffles. So. Good.
I hope this quick dinner idea is helpful, and next time you're in a pinch and need a meal fast, skip takeout and grab a meal kit at your local Fred Meyer. And if you're in an extra big hurry, utilize ClickList. Just park, pick up, and go!
How do you like to save time and energy at mealtime? Do you have any quick dinner go-tos? Have you tried the Prep + Pared meal kits from Fred Meyer or QFC yet?! I'd love to hear about it in the comments!