It was another rainy spring day in Seattle when I headed out to my local Value Village™ store for a little thrift adventure. If you follow me on Instagram, then you might have watched to see what I found, and voted on some of the thrift fashion finds I was contemplating. (And if you don't, shameless plug to follow me now!)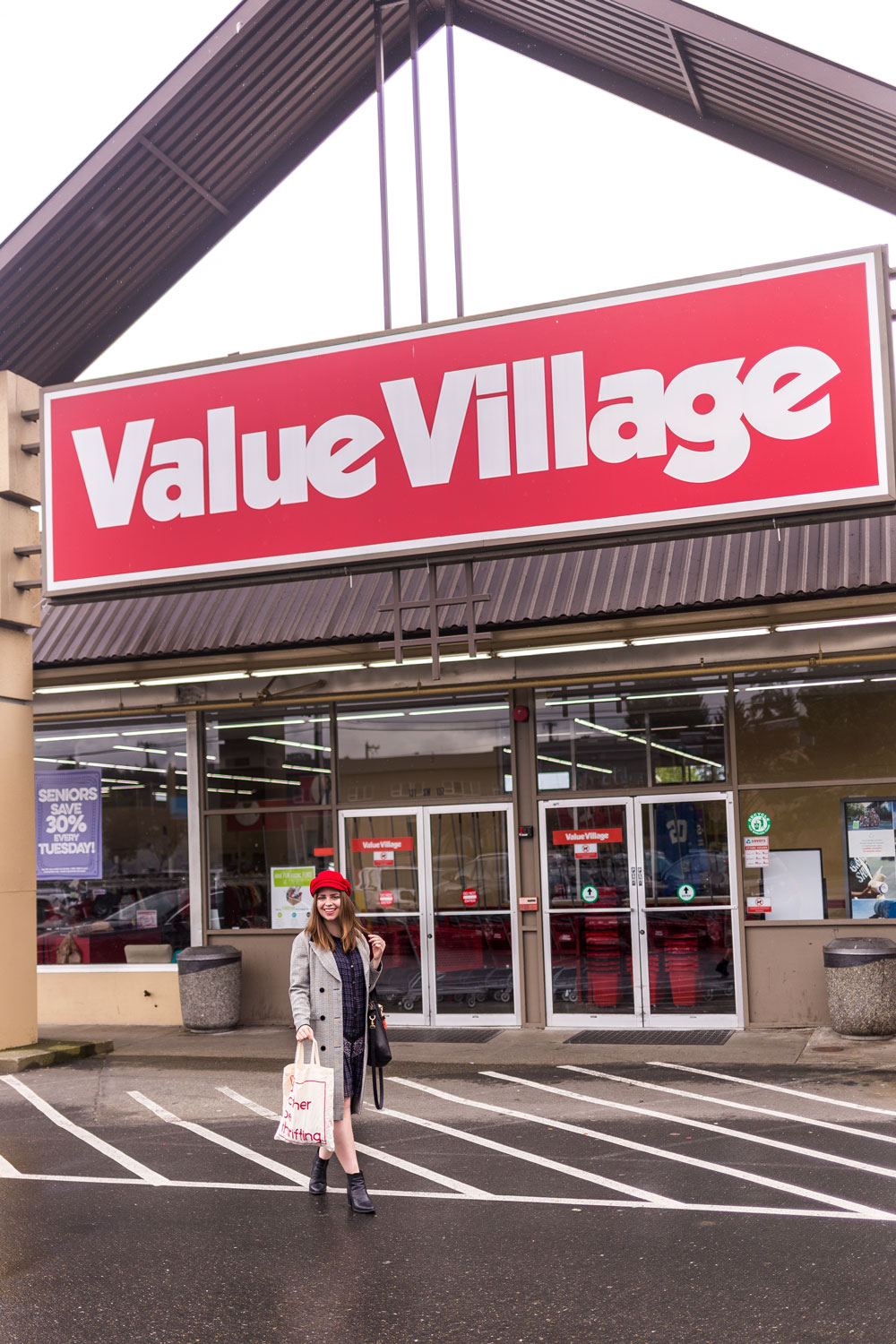 If you're not an avid thrifter quite yet, let me sing the praises. Value Village, also known as Savers® or Unique® Thrift depending on your location, offers a wide variety of quality designer label and name brand clothing at unbeatable prices. With over 100,000 items on the sales floor at any given moment and thousands of quality items arriving every single day, you can be sure you'll find a treasure at every turn. Almost every outfit I wear has a piece I've thrifted, like the coat and the dress I wore to shop were both found at Value Village locations around Seattle this past fall!
With most items below $7, you can count on great deals and thrift fashion finds no matter when you shop. Don't forget to also join the Super Savers Club™ to earn rewards and save even more on future purchases. For every $1 spent,  you get one step closer to 20% off your purchase of up to $100.
So what was I thrifting for this trip? Read on for my 5 spring trends that you should be shopping for at Value Village this season!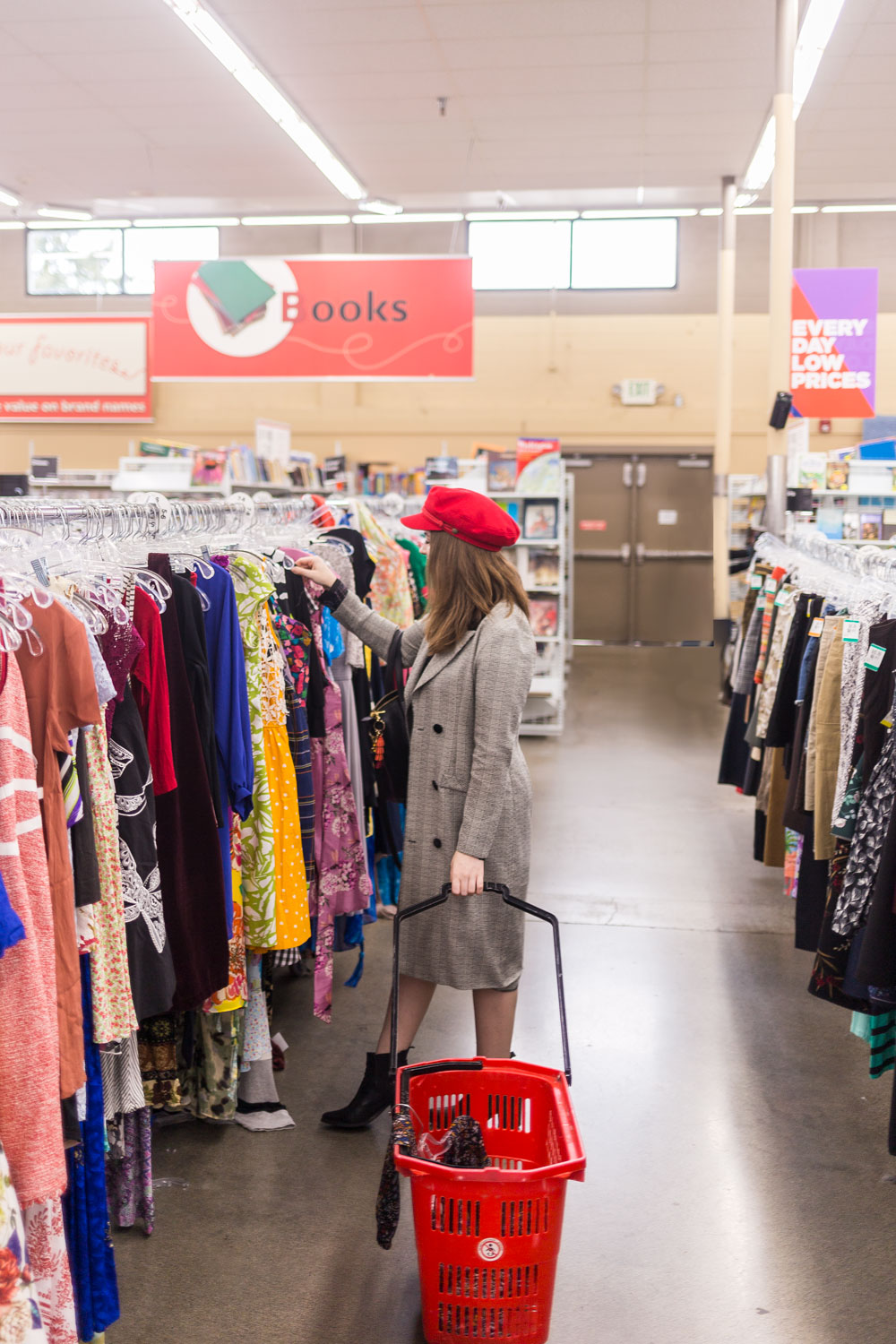 For first-time thrift shoppers and even those experienced, the store may seem overwhelming. Having a plan of attack helps me, so I typically start with the top 2 or 3 sections I most want to shop, which on this trip was dresses, accessories, and jackets. Then, I take a break to try on a few of my favorite items, and then finish the other sections I'm interested in, like shoes and handbags.
With color on my mind, I was hoping to score a few brightly colored pieces to round out my spring wardrobe. And color I found! From candy-colored blazers to fit and flare dresses with bold prints and accessories like scarves, sunglasses, and hats to round out a spring ensemble, I had quite a selection to choose from. And almost all of it was under $10, too! Score.
Block the Rays with Vintage Sunglasses
I've been loving the vintage styles of sunglasses this season, but I wasn't sure I wanted to spend the cash on getting a brand new pair of shades I wasn't sure about. Value Village made the choice easy for me, with their wide array of sunglass options. I landed on a 90s pair from Foster Grant that will be perfect with a variety of fun outfits this spring and summer!
Try on a Boater Hat
Hats serve two great purposes: they keep the sun out of your face, and they take any outfit from drab to fab! Surprisingly, I don't have a boater style in my hat collection yet, so when I stumbled upon this hat for just $3, it was hard to resist!
The only problem? It had a brand name on the hat band that I wasn't crazy about. Fortunately, I had the perfect solution, which leads me to my next recommendation…
Tie on a Neck Scarf
Every time I visit Value Village, I like to have an idea of what I'd like to find in mind. I try to maintain an open mind and be flexible to whatever comes my way, which is exactly what happened when I landed on the boater hat from before! It was such a cute style, but the logo ribbon was a bummer,
Value Village to the rescue with a wide selection of scarves! I landed on a pastel floral scarf that would easily tie around the hat, plus could be worn around my neck when not wearing the hat. I love wardrobe multitaskers!
Twirl in a vintage dress
Dresses are my favorite thing to thrift because there is always such a wide selection of styles, colors, and fabrics! I often have the best luck with vintage dresses, however, on this trip the styles were modern fabrics with vintage-inspired patterns. The best of both worlds! I found several that fit what I was looking for, but ended up landing on a navy belted midi dress with yellow flowers.
Top it off with a Candy Colored Blazer
Jackets are an essential here in Seattle, but for spring weather, I love layering a blazer! They're great for the office, for weekends, and for dressier events too! I was instantly drawn to a hot pink blazer from Banana Republic. The only problem? It was two sizes too small.
My motto with thrifting is to always try it on just in case, but to my dismay, it wasn't meant to be. It truly was too small.
When I went to return it to the rack, however, I stumbled upon this oversized yellow blazer instead. I picked it up, tried it on, and it fit perfectly. Talk about meant to be!
Beyond shopping for specific spring trends, I always love checking out what the rest of the store offers! I always try to check for fun vintage finds like shoes (on this trip I scored a vintage pair of Ferragamos!) and bags, especially vintage Coach and Dooney and Bourke. I didn't have luck this time on the latter but did find a cute leather Fossil bag that will be perfect for travel.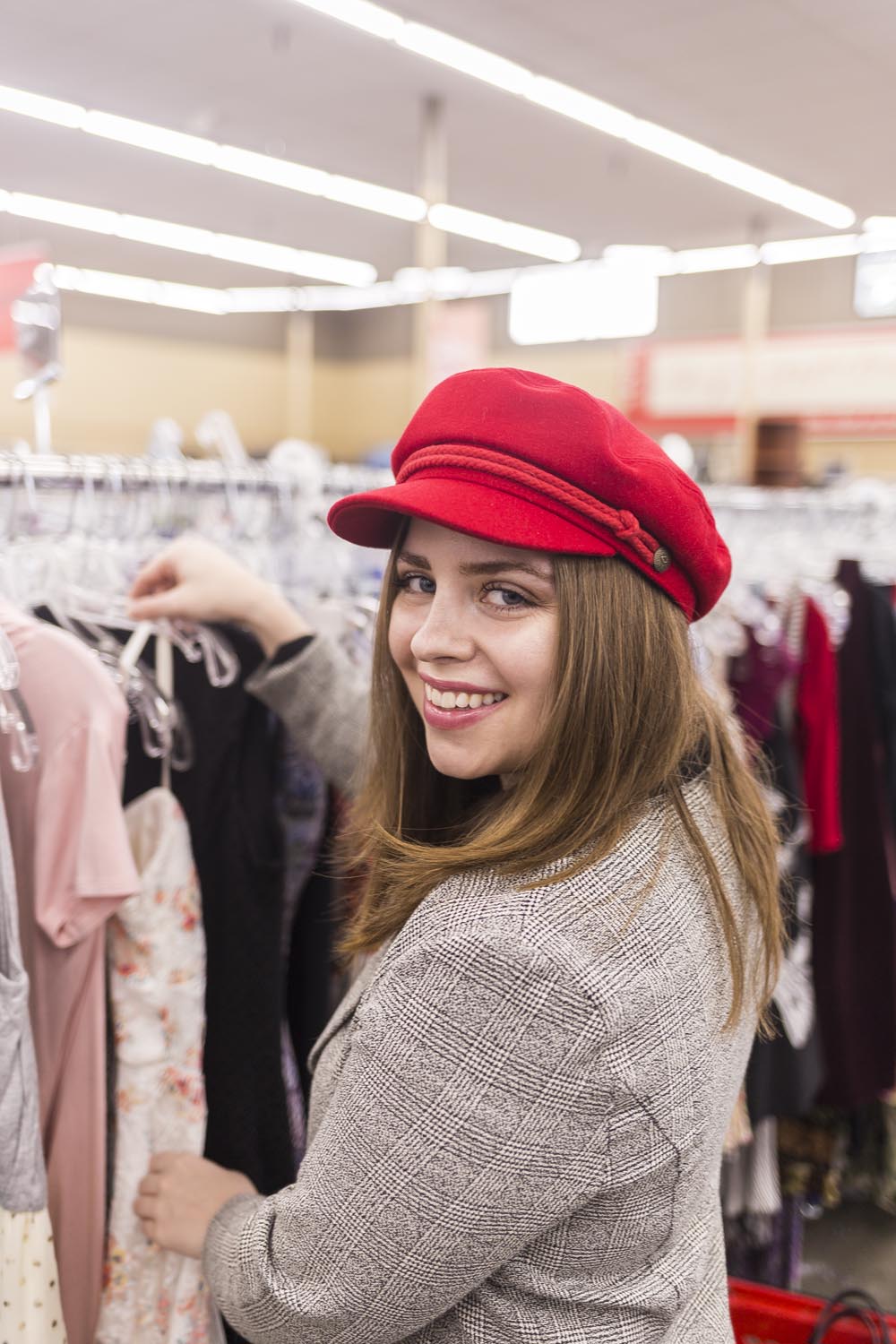 I also can't miss checking out the skirts, blouses, and denim section for my favorite brands. I can almost always find an awesome deal on labels like J.Crew, Madewell, and Anthropologies brands. If you're ready for your own thrift adventure, then you're in luck! Value Village would love to send one lucky winner a $50 gift card to shop their local store.
Just enter the widget below to win! Open to US residents only; giveaway ends on May 15, 2018, at midnight EST.
What do you like to shop for at thrift stores? Any specific tips or tricks to find the best items? I'd love to hear about your thrift adventures in the comments!
This is a sponsored conversation written by me on behalf of Savers. The opinions and text are all mine.