Disclosure: This post contains affiliate links, which means if you click through and make a purchase, I may make a small commission. St. Martin's Press is kindly sponsoring the giveaway in this post. All opinions are my own!
Who can believe summer is actually here? Last week, yes. This week? Well, the weather is a bit confused about whether it's almost July or if we're back in spring shower mode. Random rain sprinkles at 2 pm? Eh, no thanks. I'd rather be basking in the sun, book in one hand, a glass of wine in the other.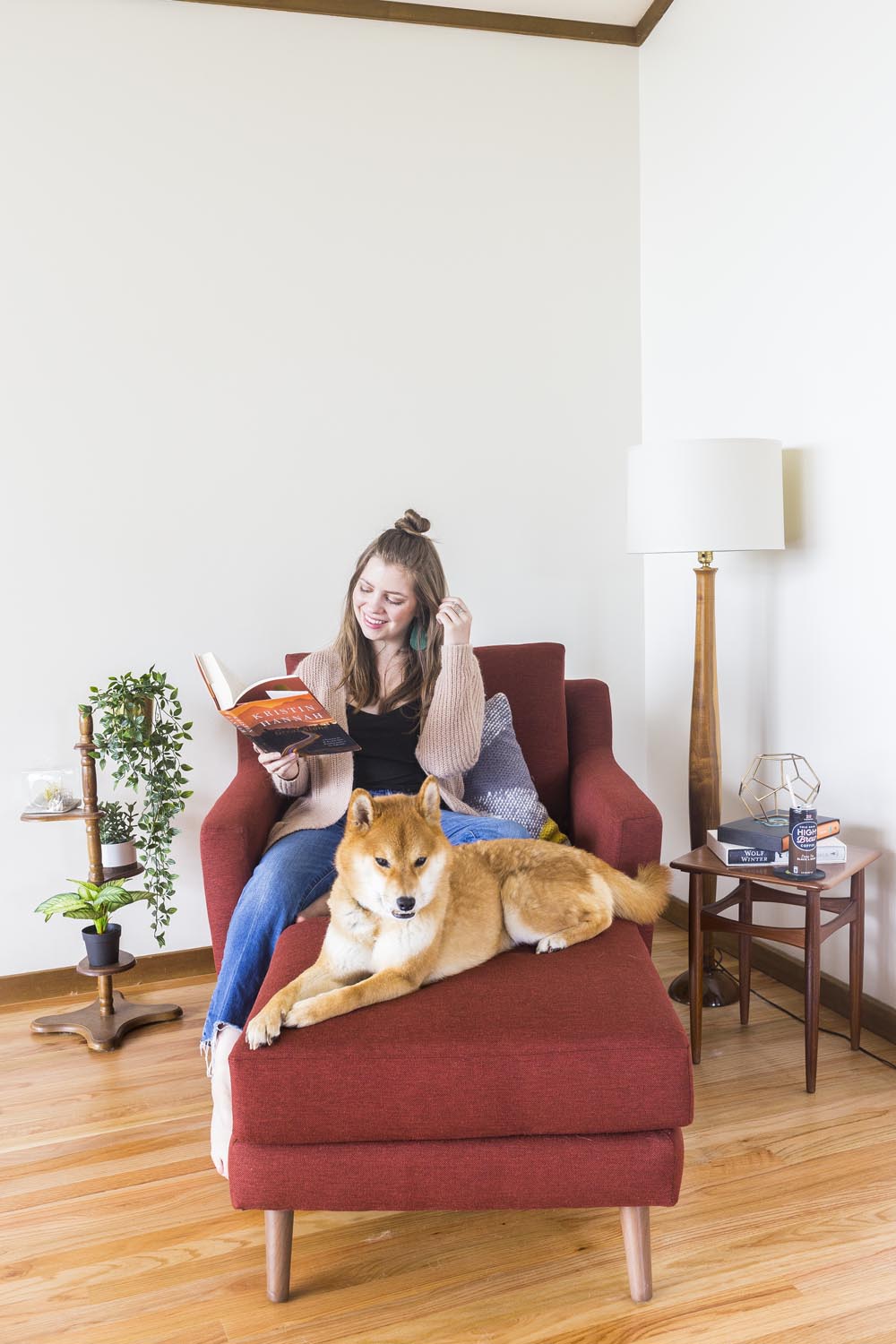 Shop my Furniture: Burrow Arm Chair // Similar Plant Stand + Faux Plants // Similar Side Table // Similar Lamp // Target Project 62 Pillow // Similar Geometric Sculpture
For the gray days where all I want to do is to do is curl up on my Burrow armchair, or for the beach trips or long plane rides you have planned this summer, you're going to need a good summer read. And for that reason, I thought it was about time I dust off the old bookshelf, dig into some of my archives, and pull together a list of some of my most recommended books, plus a few new releases! While I haven't finished each of these quite yet, they are definitely going to be read before summer is over.
If you're curious about my top book picks AND are interested in a giveaway for a special book package to kick off your summer reading, then read on!
For the historians and the adventurous
The Great Alone by Kristin Hannah – It's Alaska in the year 1974, and a family finds themselves in crisis. Ernt Allbright, a former POW comes home from Vietnam and decides to move his family to Alaska after losing yet another job. At first, it seems like Alaska seems to be perfect for the Allbright family. But then, as winter approaches things begin to fall apart and the Allbright family finds themselves having to persevere in the face of darkness. This book would make a great book club pick, and if you'd like to read it, be sure to enter the giveaway at the bottom of this post!
Necessary Lies by Diane Chamberlain – ★★★★★ – Can I just tell everyone to do yourself a favor and read this? A 15-year-old girl loses both of her parents, then has to take over care of her grandmother, sister, and nephew on their tobacco farm in the rural south. The novel deals with a lot of really interesting social, political, and women's rights issues in the 60s, and I really loved the way the story was woven into it.
Cinder (Lunar Chronicles #1) by Marissa Meyer – ★★★★ – A creative take on the classic novel Cinderella, but done in a futuristic way. The Lunar Chronicles are great sci-fi adventure books for anyone, regardless of whether you typically read that genre (I don't often go for sci-fi) or not!
For the romantics
Forever Interrupted by Taylor Jenkins Reid – ★★★★ – Elsie and Ben are newlyweds, married only a short time when Ben sets off to the drugstore to buy a box of cereal one fateful night and never returns home. Elsie feels something is terribly wrong and discovers a horrifying scene. I know it sounds like I'm spoiling this book, but I'm not as this all happens in the first chapter. While this book is terribly tragic, it is overall a beautiful story of love and loss and definitely worth the read.
Attachments by Rainbow Rowell – ★★★★ – Attachments is Rowell's first adult novel, and I really enjoyed it. It's quirky, the characters are lovable, and I found it totally believable. I think that's what makes Rowell's novels fun, they're realistic and charming, and the characters feel real.
What to Say Next by Julie Buxbaum – Perspective makes a difference, and when an unlikely friendship is sparked between popular Kit and unpopular David, everyone is shocked. However, they each appreciate different aspects of their personality. When tragedy strikes, will their friendship be able to survive truths that are uncovered about each of them?
Modern Romance by Aziz Ansari – ★★★★ – A sprinkle of facts about romantic relationships. A dash of humor. Probably one of the most surprising reads, Ansari brings a nonfiction book that is unique and quirky much like the characters he's famous for playing on TV.
The Rosie Project by Graeme Simsion – ★★★★ – The story revolves around a man with Asperger's (who doesn't know he has Asperger's) who wants to find a wife. He launches what he calls the "Wife Project" until he meets Rosie, who changes everything. Such a fun and quirky read that reminded me a lot of some of the nerdy types I've worked with in the tech industry.

For the Modern Girl
My Ex-Life by Stephen McCauley – David's life seems to be falling apart. He lives in San Francisco where he helps rich kids get into college. His boyfriend left him, and the house he is renting is up for sale. Then he hears from his ex, Julie, and just like that he finds himself flying back east and back into old habits.
The Knockoff by Lucy Sykes – ★★★★ – The story of a high powered magazine editor who finds her career in jeopardy after being away due to breast cancer treatment. She returns to find her former assistant has taken over the magazine, which is now nothing more than an app.
One Plus One by Jojo Moyes – ★★★★ –  An overworked mom, a bullied teenager, a genius, geeky math wiz. This family's life is a car wreck, almost literally, as they try to get their family to the Math Olympiad in another country. Moyes starts this novel off a little slow, but soon you'll find yourself getting attached to the characters. A really great and enjoyable read.
32 Candles by Ernessa T. Carter – ★★★★ – I was scrolling through available audiobooks from my library on Overdrive, and the name caught my attention. I'm a huge fan of the movie Sixteen Candles, so I was curious about this book. Turns out the main character has a thing for the movie, and it was a theme running throughout, even though her story couldn't be more different from the classic film. Highly recommend.
Shotgun Lovesongs by Nickolas Butler – ★★★★ –  Based around the story of Bon Iver (which I didn't know until I finished reading it), Shotgun Lovesongs is an interesting read. Centering around the messy lives of those around Leland (the main character, a struggling, former rock star) and his friends from back home in a small Wisconsin town. While the characters are not overly complex, the words flow well, and I appreciated the story being told.
Goodnight June by Sarah Jio – ★★★★ – For those that enjoyed The Storied Life of A.J. Fikry (which if you haven't read yet, I highly recommend that one!), you will love this. June's great aunt has passed away and has left her the estate, which includes a beloved bookstore. All is lost with the store, debts and double mortgages until she discovers communications between her late Aunt and Margaret Wise Brown, author of Goodnight Moon, a beloved children's story. I couldn't put this one down!
Dollbaby by Laura Lane McNeal – ★★★★ – I really, really liked this. At first, I'll admit I was kind of bored, but one review compared this to The Help so I had to continue on. I'm really glad I did. This is the coming age of Ibby, a young woman whose father dies unexpectedly and she's shipped off to live with her eccentric grandmother, Fannie, in the south. Lots of secrets are uncovered about her past, and you easily get wrapped up in the characters. I wouldn't say this is the next The Help, but it is definitely enjoyable.
For those that love a good crossover story
Orphan Train by Christina Baker Klein – ★★★★ – I really enjoyed this, however, I would have much preferred less of the present day storyline and more of the Orphan Train storyline. Regardless, the story follows modern day Molly, who is close to aging out of the welfare system, and Vivian, whom she's helping clean out her attic as a community service project to keep her out of trouble. While they seem different, Molly soon discovers that their lives aren't quite that different after all.
Sarah's Key by Tatiana de Rosnay – ★★★★ – I absolutely loved this. Such a captivating story. The story is about two women – Sarah who was arrested with her family in a French Police round-up, and modern-day Julia, a journalist who is retracing Sarah's story. I much preferred the past story to the present storyline. Either way, still a solid book that I would recommend.
The Girl You Left Behind by Jojo Moyes – ★★★★★ – My absolute favorite book by Jojo Moyes… even more than Me Before You! (Though completely different in subject and style.) This blended a modern day story with a historical one, and I loved how she went back and forth between them. It was a captivating story, written in two different time periods about two different women, all based around a painting called The Girl You Left Behind.
For YA Lovers
Aristotle and Dante Discover the Secrets of the Universe by Benjamin Aliere Saenz – ★★★★ – What a sweet coming of age young adult book! It's the story of Aristotle and Dante, two unlikely friends who find each other and "discover the universe" together. I'll leave it at that, no spoilers.
Fangirl by Rainbow Rowell – ★★★★ – A fun spin on a fan fiction writer (Cath) who finds herself in some hot water when her creative writing teacher isn't a fan of her "recycled" stories.
Tilt by Ellen Hopkins – ★★★★ – A book that merges three storylines? Yes, please. Love these kinds of books, so long as they're done well. I actually randomly picked this one at the library without knowing a thing about it, and I'm so glad I did. A teen who's just discovered she's pregnant, a boy who loves another boy who is HIV+, and a teen girl who's perfectionist life is complicating things takes the stage in this book.
For a Good Laugh
People I Want to Punch in the Throat by Jen Mann – ★★★★ – Jen Mann is a fellow blogger of a completely different category – humor. She lacks a filter and shares witty and humorous anecdotes about some of her favorite topics, including how she met "The Hubs," life in the burbs, marriage, and motherhood. I cracked up quite a few times throughout the book, even if it a lot of the topics (marriage and motherhood) don't relate to me.
Where'd You Go Bernadette by Maria Semple – ★★★★ – Be prepared to not be able to put down this wacky novel about a mother and daughter's relationship in a tumultuous and sometimes wild world. Bernadette Fox is notorious in her career, a best friend to daughter Bee, and an embarrassment to the "PTA Moms" at her daughter's school. But then Bernadette goes missing, and Bee has to piece together her life to figure out what happened.
Bossypants by Tina Fey – ★★★★ – While not the funniest book I've ever read, you'll definitely find a chuckle or two in Fey's book. Chronicling her childhood and adult years at SNL and beyond, Bossypants is an autobiography that would make for the perfect silly summer read.
Yes Please by Amy Poehler – ★★★★ – Amy Poehler is hilarious. She narrates the book in the audiobook version (which I, of course, picked up via Audible. I have no patience to wait in line at the library.) and I really enjoyed some of the additional commentaries that I assume wasn't in the print version. If you liked Bossypants, you'll like this.
Lies That Chelsea Handler Told Me by Chelsea Handler – ★★★★  – While this isn't the first Handler book I've read, it is a more recent one that I'd recommend. This is basically written from the point of view of Chelsea's friends, who have caught Chelsea in lies and put them in awkward scenarios. Definitely a quick read that was good for a few laughs.
For aspiring Nancy Drews
A Single Breath by Lucy Clarke – ★★★★ – A little bit suspense and mystery rooted in a contemporary story this book reminds me a bit of a more mature Nancy Drew novel, where the characters are full of secrets that are slowly unfolding throughout the entire novel. Lucy Clarke's other book, Swimming at Night, I had a hard time figuring it out exactly what happened and love that the author keeps you feeling intrigued the entire novel.
The Husband's Secret by Liane Moriarty – ★★★★ –  I still can't believe it took me the entire book to figure out what the secret was. I kind of felt a little dense about that, but I guess it's a sign that the author did her job well. A book that keeps me wondering is always welcome when it comes to mystery and suspense novels!
After I'm Gone by Laura Lippman – ★★★★ – The parallel storylines that eventually came together to an "ah-ha!" moment, and figuring out how these characters got themselves in such a mess captivated me as a reader. As much as I enjoyed the mystery, I never felt terribly connected to any character and I think that feeling continued throughout the entire book. Overall, if you're craving a mystery, this is a good pick but don't expect to grow too attached.
The Silent Wife by A.S.A. Harrison – ★★★★ – If you can, grab this on audiobook, as while the book is definitely good, it can be a slow start. However, the audiobook version is excellent and I enjoyed listening to the narration. Okay, enjoyed might be a strange word to use for a book about a philandering husband who knocks up a woman half of his age who happens to be his best friend's daughter… but I'll let you decide what you think of it. ;)
The Book of You by Claire Kendal – ★★★★ – If having a stalker is one of your top fears, maybe skip this. But this psychological thriller creeped me out in the best way possible that a good book can do. Years later, I'm still creeped out for Clarissa, the main character.
Whew, with over 25 books to choose from, I'm sure you'll be busy reading this summer. But, to kick-start your summer reading, don't miss an awesome prize thanks to St. Martin's Press. Just enter below for the chance to win The Great Alone novel by Kristin Hannah, cozy socks, and a Tea Forte tea collection!
What book(s) do you have on your summer reading list? Or what are you currently reading? I'd love to hear about it in the comments below!