Just over a year ago, I chopped off all of my hair. Ok, well maybe not all of it, but it sure felt like it! What is craziest to me one year later is that at this point, having long hair feels so foreign to me that I almost don't recognize older photos of me with long hair.
But a year ago, I didn't feel that way.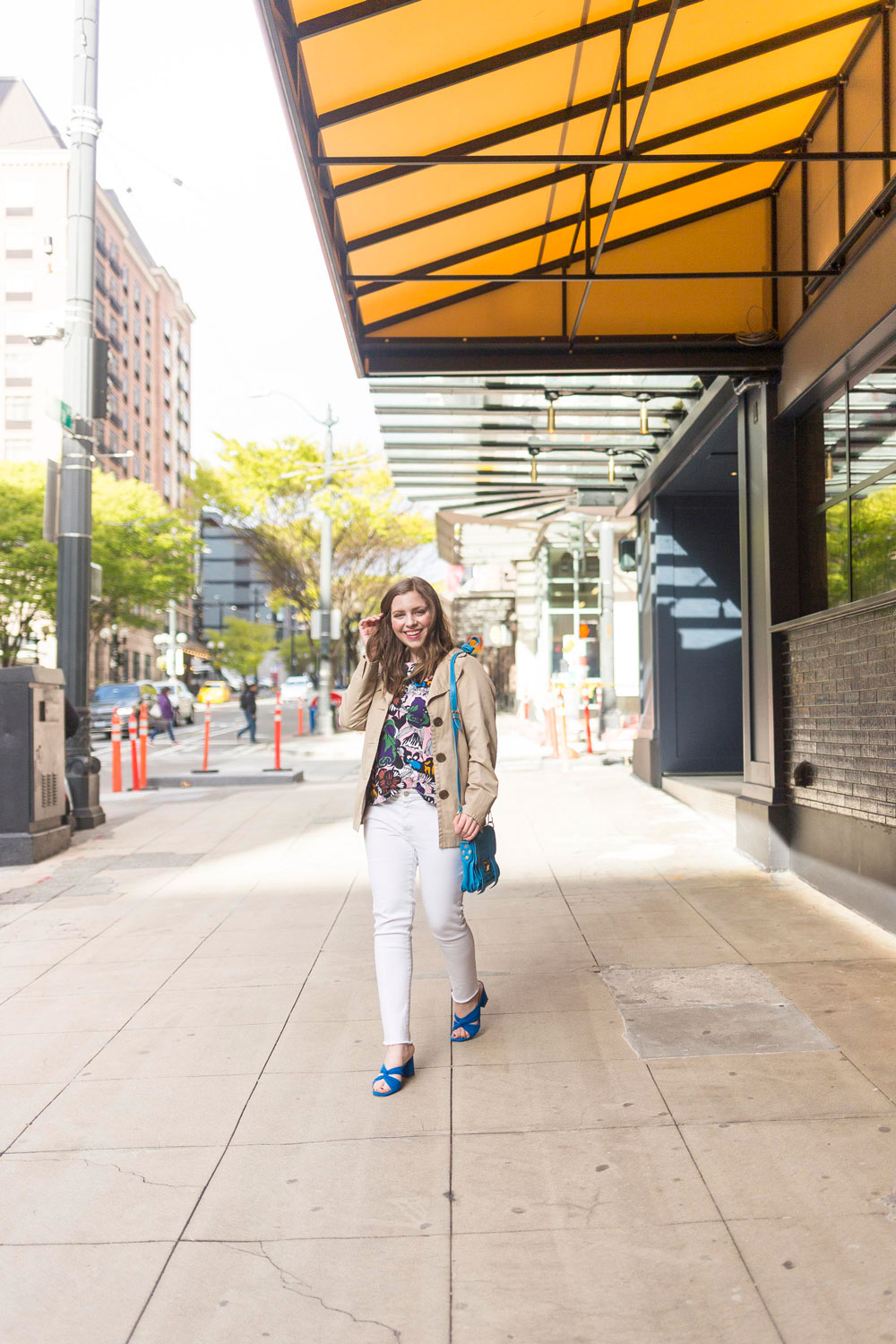 Disclosure: The Style Witch did provide me a complimentary haircut and the conversation I had inspired during it helped inspire this post, however, I wasn't obligated to write it. All opinions are my own! :)
Photos by Megan of Diary of this Girl Megan
Last year, you might recall that I wrote a post called Short Hair, Don't Care. Right before we bought our house and moved, I walked into that salon, sat in the chair, and showed my hair stylist the top photo that comes up when you Google "LOB" and asked what she thought. We agreed it would be a good style on me, and off I went to get shampooed and conditioned.
About an hour or so later and my hair was feeling lighter. Much lighter. And I honestly may have had a minor freak out inside. And again the next morning in the shower. You know when you get a fresh cut and run your fingers through your hair? It's usually one of the best feelings, but this time it stopped abruptly and I remembered again:
Oh yeah, it's all gone.
But as they say, time heals all wounds. Or at least helps you process things, like a major change to your hair that you decided on a few hours before a scheduled haircut. And while I honestly didn't need much healing, it did take me a bit to get used to it.
Sitting in the chair at The Style Witch, a new salon in Fremont, a year later I was reminded of that same day. How I felt, and how much my opinion of what I want to do with my hair on the go forward has changed.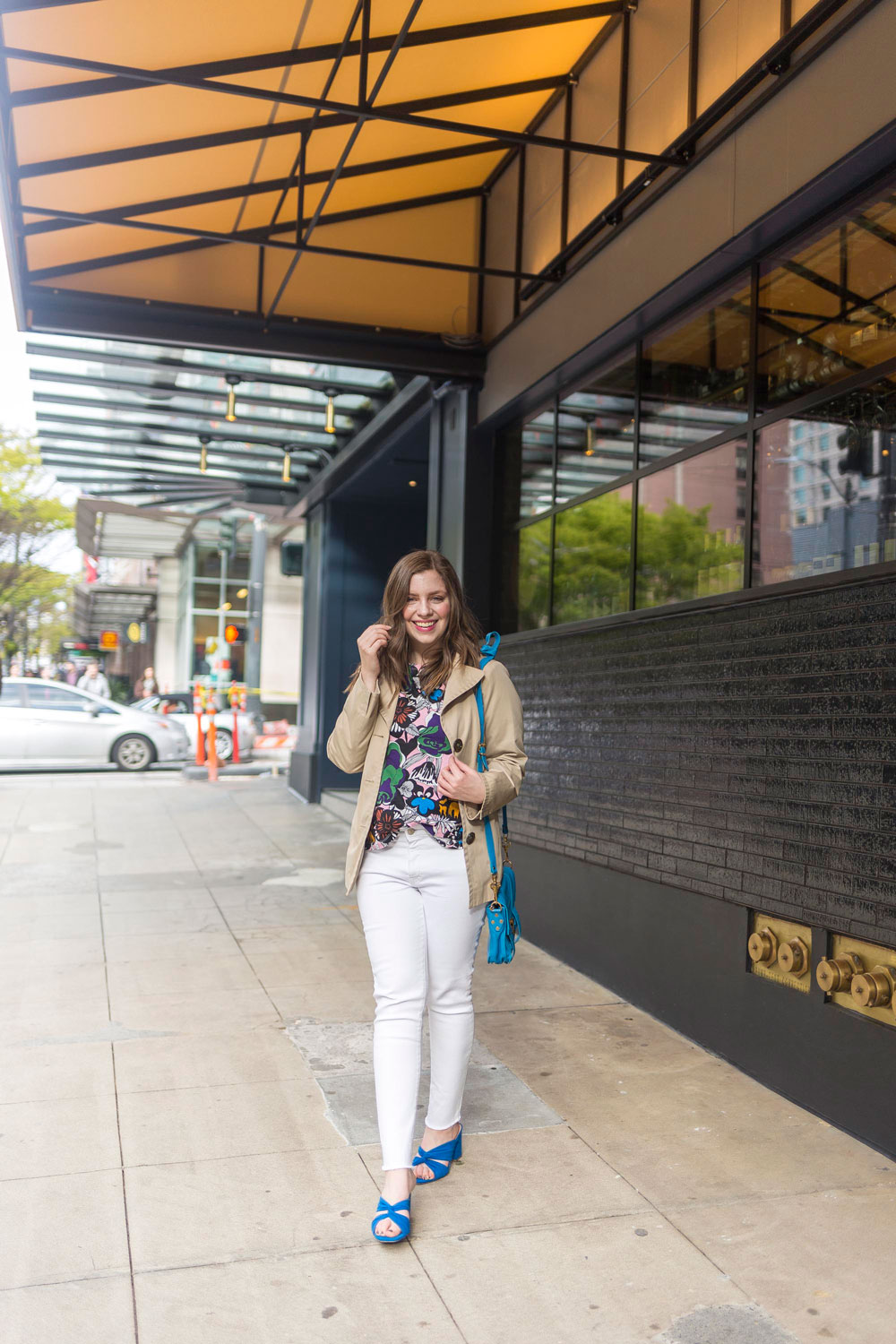 Shop my Outfit:
Marimekko x Uniqlo Top
// Similar 
Short Trench
//
Proenza Schouler PS1 Pouch
//
Warp + Weft JFK Skinny Denim
//
A New Day Adina Block Heel
Now though? I really can't imagine my hair long again. Things that drove me crazy about my hair no longer do. In fact, there are so many benefits of having short hair that I never imagined!
Short hair benefit #1: No more knots & tangles
My biggest complaint about long hair? How often I would battle knots and tangles. It seemed no matter what I tried, they'd come back whenever I wore something that rubbed the nape of my neck like turtleneck sweaters, coats with large collars, or scarves. Now with shorter hair, I rarely get tangles and knots in my hair. No longer do I waste so much time and energy with products and potions to try to prevent them from getting started, either.
Short Hair Benefit #2: Quick & easy to dry and style
Not only am I spending less time battling a rat's nest at the back of my head, but I'm also spending less time drying and styling my hair. I used to wake up with wet hair if I went to bed after a shower, and now my hair can air dry in just a couple of hours.
It also no longer takes anywhere near as long to dry and style my hair with hot tools. I'm much more likely to curl my hair these days because it's just so much easier. I can spend just five minutes on it and get a huge return on investment, even if my curls aren't perfect, I can get a texutre that looks natural and a bit lived in.
Short hair benefit #3: My hair gets stuck and ripped out a lot less
Long hair girls will know the struggle of getting your hair zipped into a coat, stuck under someone else's arm, or otherwise caught in something and subsequently ripped out. It hurts, and it's kind of the worst. Fortunately, with shorter hair, I've noticed the frequency of this happening less and less.
Short hair benefit #4: You can use less product in your hair
Afte cutting my hair shorter, I can use a lot less dry shampoo, styling products, and shampoo/conditioner to get the same result as before. In fact, with shorter hair, I've noticed my products lasting considerably longer and in turn, saving me money!
Short hair benefit #5: Short hair can update your look
The key to a good haircut is all about the framing. I always ask for face framing layers that are longer so that it will elongate my round face. For a soft effect that gives some dimension to my face, I intentionally give extra care to the front two curls on either side of my face. The curl on the right side is lower to help give my jawline more dimension, and the left side curl starts higher up to soften my overall look. Sounds like a lot of work, but I found this really came naturally to me based on how my hair is parted and my natural growth pattern.
And the most important of all? Short hair makes life a lot easier. What's the most shocking one year later? That I probably won't go back to long hair anytime soon. And that I'm 100% okay with that. When I wrote this post last year, I really wasn't so sure about that last part.
So what's not so great about having short hair?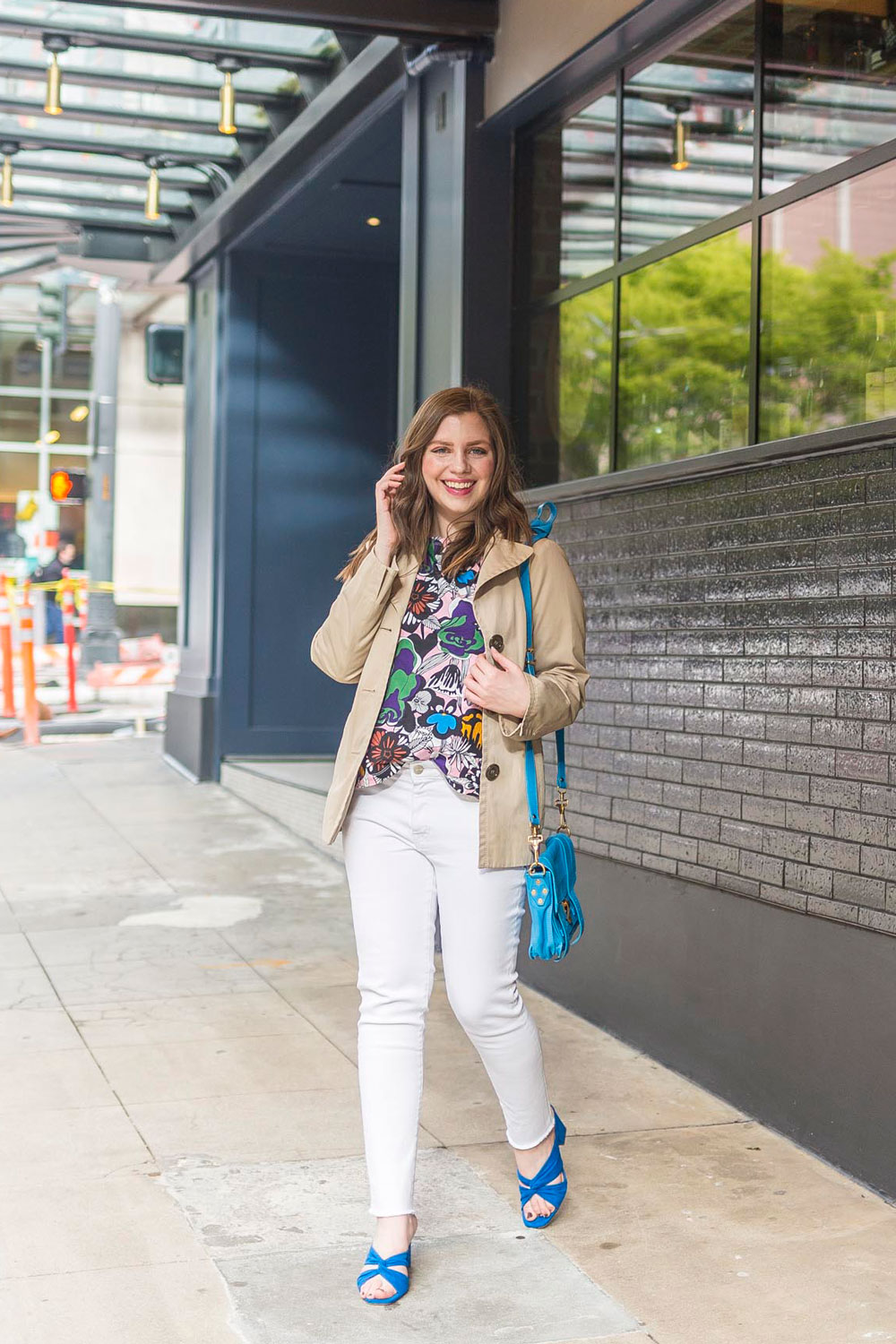 Along the way, I've also learned some new things about having shorter hair that aren't necessarily the best. Some of my old favorite products don't work quite the same. I have to get my hair cut more frequently to maintain the style and layers. My hair also seems to get a bit greasy faster than I remember previously. And I can no longer top knot my hair, put it in a high pony, or have a very long braid. I thought I would miss those things, but honestly, it hasn't really been a big deal.
When I was getting a cut at The Style Witch, I asked owner Cara about what she would recommend for those that have recently taken the plunge with a new LOB (long bob) haircut, or any new and different shorter style. What's the best way to style it, and what products should someone be seeking out?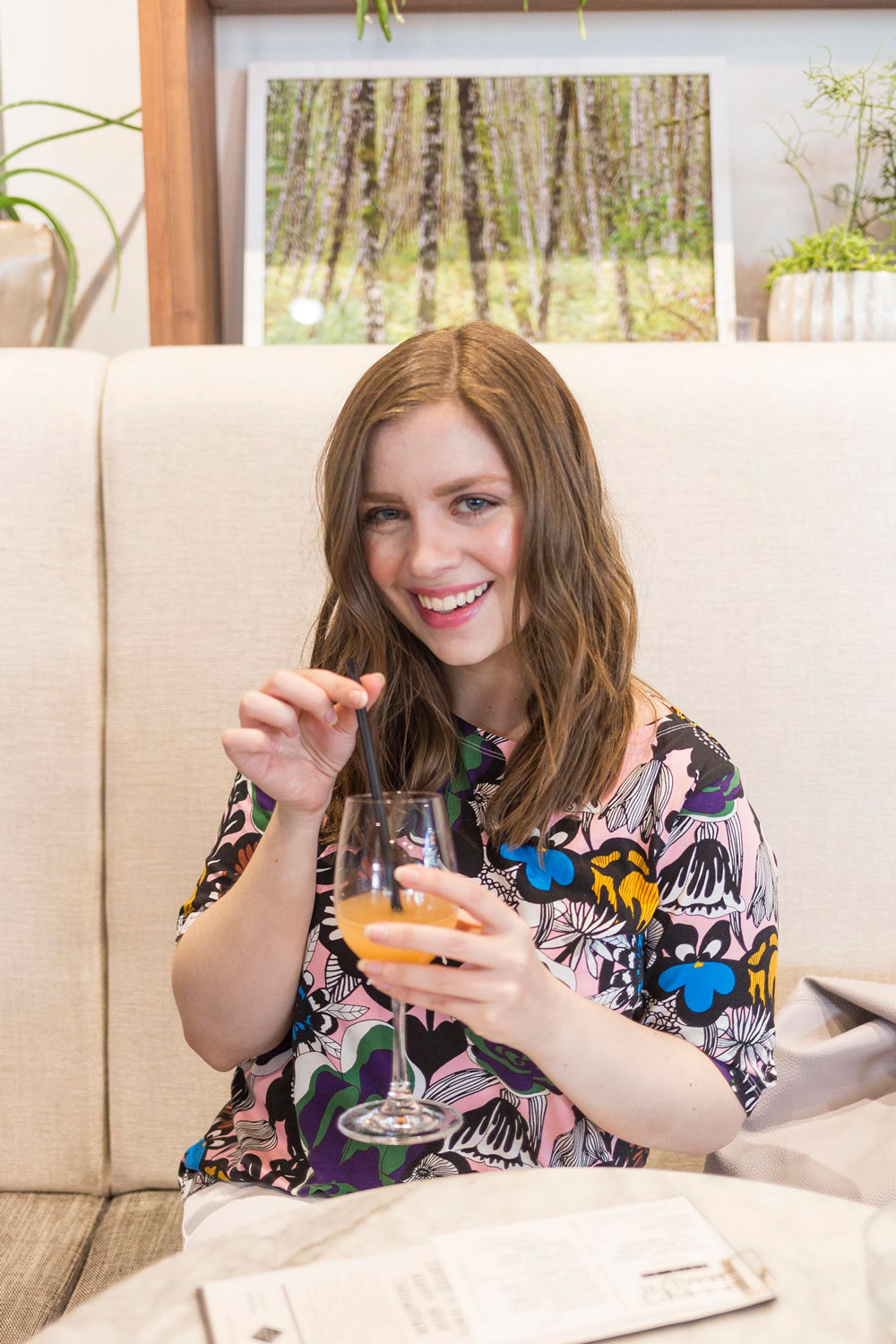 She had a few recommendations, and the first is an organic brand of hair care that she sells in her salon. I wasn't familiar with it previously but was impressed with how shiny and hydrated my hair felt after my appointment. Plus, it smelled amazing! Her two top recommendations are the O Way Flux Potion and the Nurturing Drops to protect ends (available at her salon for purchase!). Both products are organic, and work great to add shine and hydration to LOB style cuts without weighing down the hair or making it look greasy.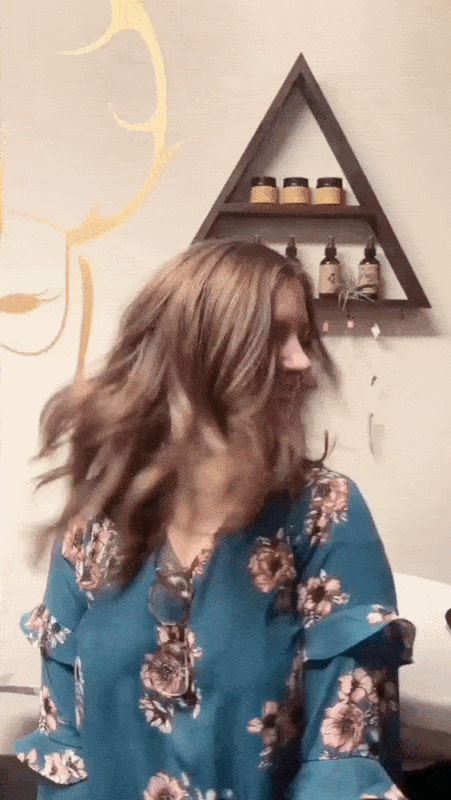 As for styling, she recommends curling away from the face, and leaving ends straight for a natural and modern look. For texture and volume, she rough dries hair with her fingertips, then goes over and smooths the style with a curling iron. After that, you'll be ready to hair flip in no time!
Overall, am I surprised to be writing this? Yeah, kind of. I never imagined myself sticking with a shorter hairstyle this long. But, I'm glad I tried it because I always thought so much of my identity was in my long hair. Turns out, not so much. I'm still me, even with shorter hair.
Have you ever radically changed up your hair or another element of your look? How did it impact the way you felt about yourself? Any surprises? I'd love to hear about it in the comments!