Can you believe 4th of July is almost here?! As June comes to a close, I'm over here wondering what happened to this month! Quickly it's gone from spring showers to temperatures in the high 70s and 80s. It's most definitely feeling like summer here in the Pacific Northwest, and I can't think of a better way to celebrate summer than with a 4th of July celebration!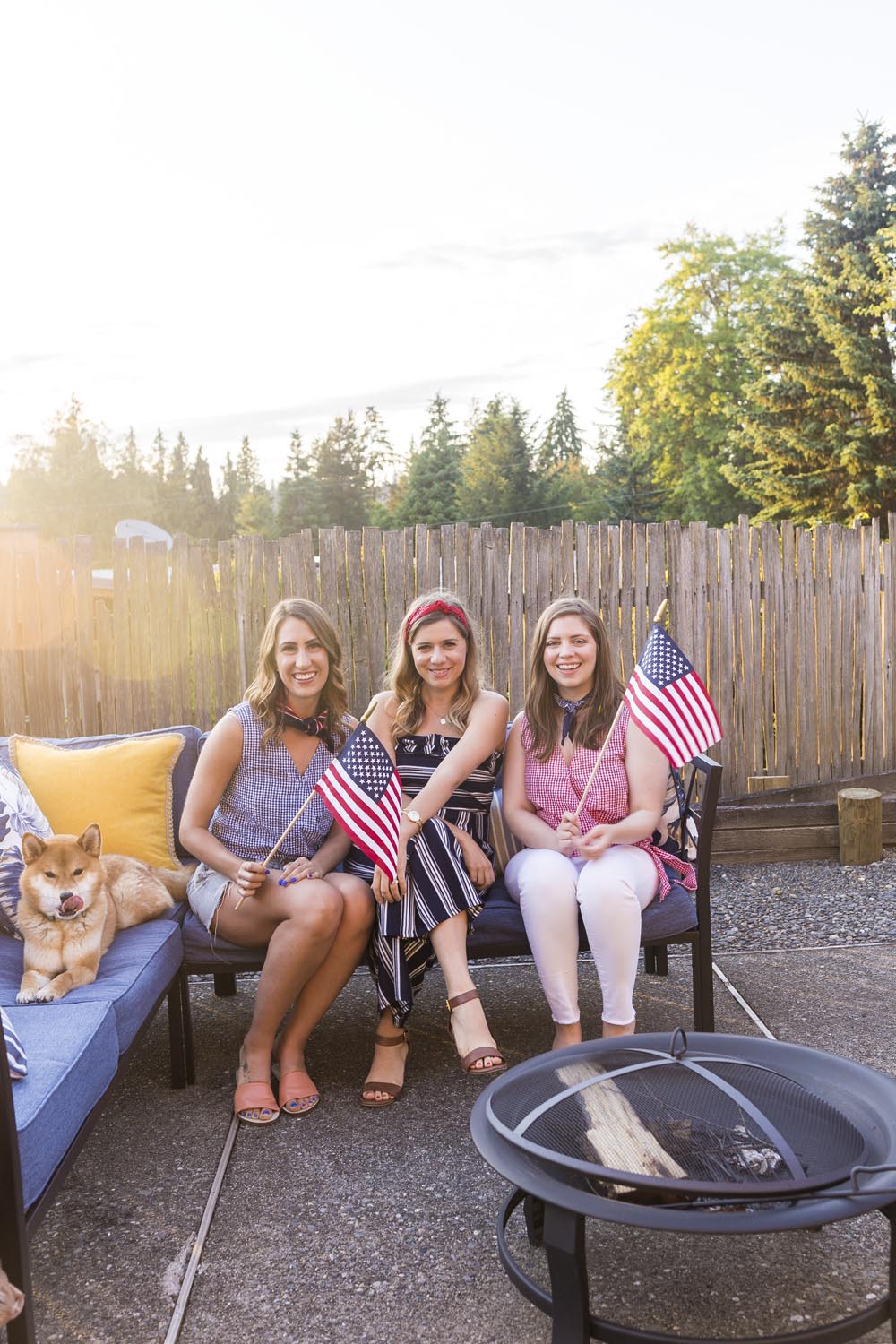 Disclosure: This post is sponsored by Fred Meyer. All opinions are my own!
If you're like me and tend to be a last minute party host, never fear! I've got some ideas to make your 4th of July a swinging success, and hopefully without too much prep or clean up. It's pretty easy when you have a store like Fred Meyer close by, which has everything you need to host the perfect summer bash. Maybe you're planning to grill up some hot dogs and hamburgers or just looking for some new decor for the Fourth. Or if you're planning to hang with your BFFs and get in a little girl time, or want to have a big bash, Fred Meyer has it all!
So what's on tap for Fourth of July 2018? Read on for all the fun ideas for your summer party!
Red, white and blue decor
With a new house, I've been enjoying the freedom to pick up new decor for every holiday gathering! So far, I really only have a few red, white and blue items which is why I couldn't wait to see what Fred Meyer had for the 4th of July! I loved all of their fun summer and patriotic options, from outdoor serveware, decor for inside the house, and more!
Plus, with a wide variety of outdoor furniture and grills available, you can load up the car and be ready for the 4th in no time! Fred Meyer is where we bought both our patio furniture and gas grill too. We loved their affordable selection for all of our outdoor home entertainment needs and extensive accessory options for any backyard party!
All about the festive dress
Can't forget to show off your patriotism for the 4th! I love a good excuse for a new outfit, and the selection at Freddy's didn't disappoint. I loved the faux wrap gingham tops in blue (Megan rocking it above!) and red. Once the sun goes down and it gets a little chilly, we paired it with a Levi's Denim Jacket. Fred Meyer carries both white and denim, and I own both!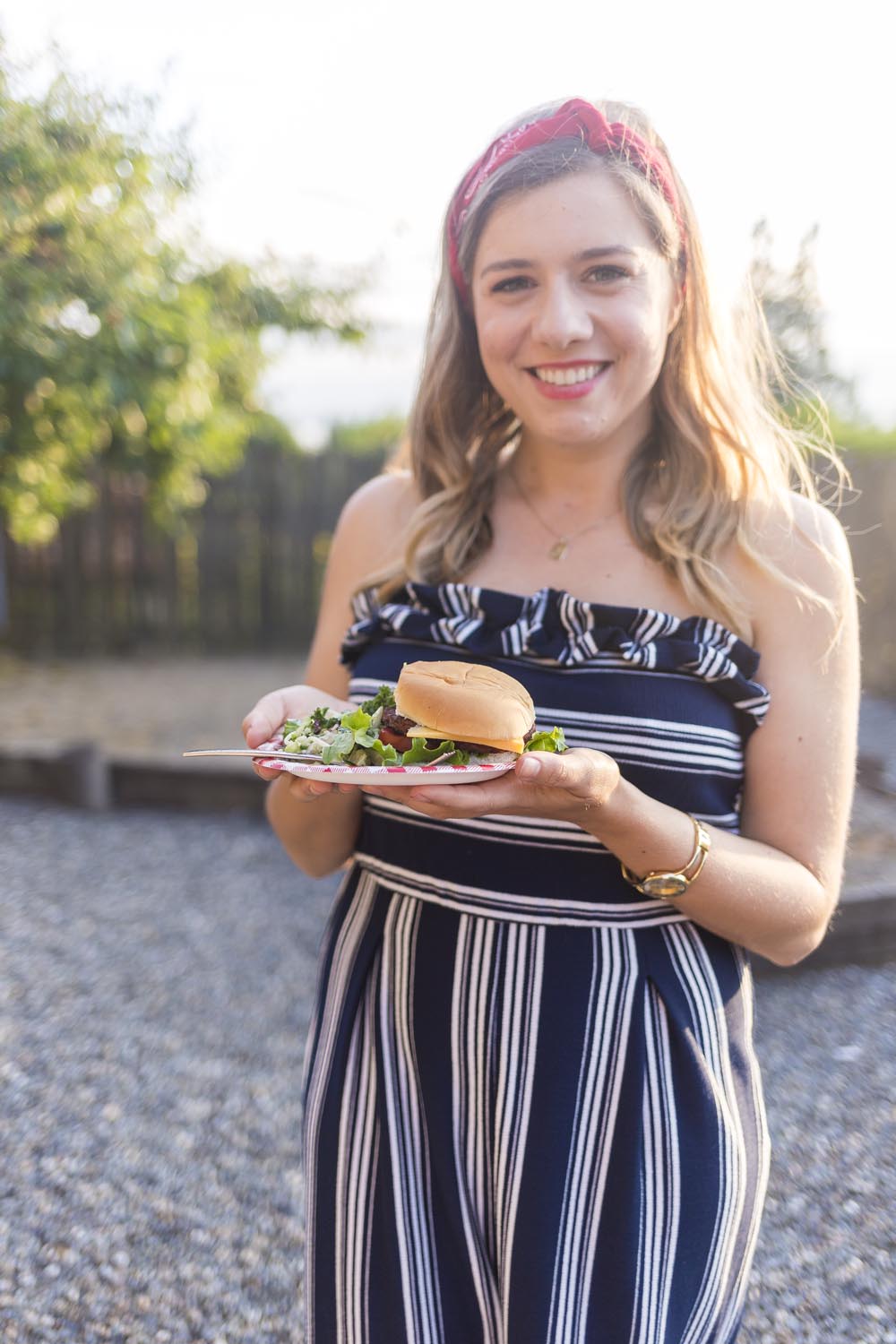 Gingham not your thing? They also had plenty of other cute outfit ideas! From graphic t-shirts to rompers, jumpsuits, and dresses in varying shades of red, white and blue to choose from, you'll be sure to find something fun and festive to wear! My friend Ana Luiza was in love with this comfortable striped jumpsuit. It has the cutest ruffle along the bust and looked amazing on her! Don't forget to accessorize, too! We found red, white, and blue bandanas to pair with each of our looks.
Have a little fun in the sun
Have a backyard pool? If so, I'm jealous! I recently picked up a flamingo pool float at Fred Meyer, and I can't wait to splash around with it. I couldn't help but eye the fun avocado pool float, too!
If you're pool-less like me but still want to treat your guests to some outdoor fun, don't miss Fred Meyer's toys and games aisle. Board games, bean bag toss, bocce, and frisbees are all fun items for a backyard gathering! I couldn't resist picking up some bubbles and another pool float for an upcoming lake trip. Plus, select Fred Meyers also have an assortment of fireworks to choose from as well. (Please stay safe and follow all local laws!)
Backyard grilling
A party wouldn't be complete without some yummy snacks and treats, too! Fortunately, with Fred Meyer's extensive grocery options, I don't have to worry about leaving empty handed! My go-tos for summer parties are always hot dogs and hamburgers. Since my friends have some dietary restrictions, however, this can make things a little tricky!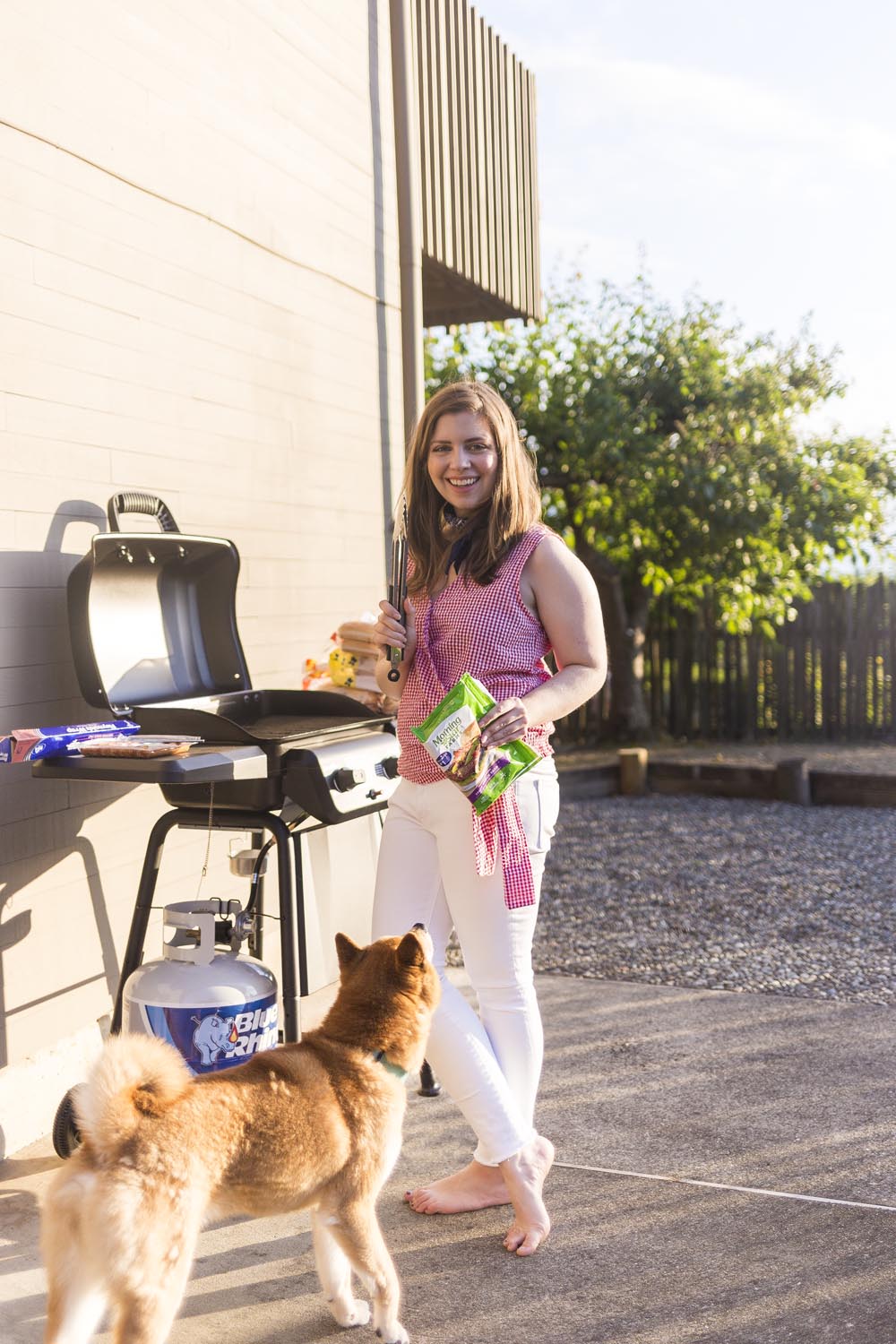 For this party, I have one friend who is vegetarian, and the other is dairy-free and gluten-free for health reasons. This can make traditional grilled items a challenge, but I'm glad to have a few options! For my GF and DF friend, I picked up Simple Truth Uncured Chicken Hot Dogs and gluten-free Texas Toast. For my veggie friend, I picked up Morningstar Veggie Burgers! Fortunately, condiments are easier, and both will have their choice of all the fixings! I paired our mains with a broccoli kale salad and plenty of fresh veggie options for topping.
Cocktail hour
It wouldn't be a girl's party without a little wine! My friends and I love a sweet fruity beverage, which is why my go-to cocktail of choice is Sangria. But not just any old Sangria, I'm setting up a fruit bar so they can customize their beverage to their personal preference! If Sangria isn't your thing, you could do this for a variety of cocktails, like mojitos, margaritas, or even create non-alcoholic mocktails made with sparkling water!
Here's the recipe I'm using for Sangria, and I've also included the fruits I'll have cut & prepped for serving during the party!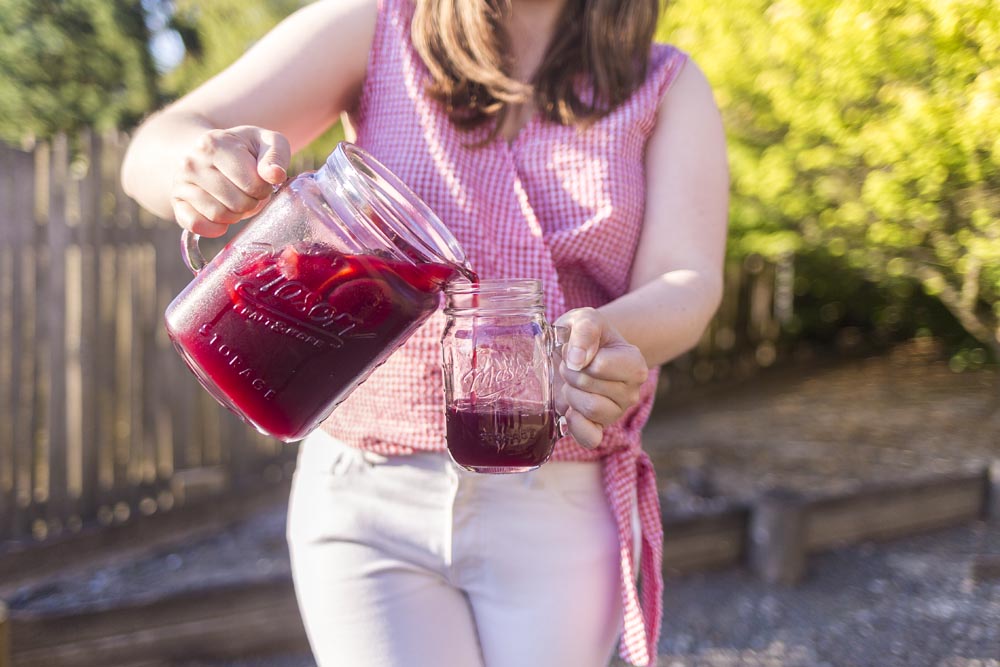 Sangria Recipe
1 Bottle of Sangria Wine (I used Barefoot Sangria)
1 c of fresh squeezed orange juice
8 oz of Cheribundi Tart Cherry Juice
Fresh citrus fruit slices (I used limes, lemons, and oranges)
Cubed ice
Mix ingredients, then chill for an hour or two before serving. Pair with a variety of fresh or frozen fruits such as strawberries, blackberries, blueberries, raspberries, cherries, orange slices, lemon slices, lime slices… or any of your favorite fruits! Enjoy responsibly!
Finish the night with a sweet treat
Can't forget the sweet treats too! I'm a big s'mores fan, and after recently discovering Smashmallows, I can't stop trying new combinations! I'm serving up a pick-your-own s'mores bar, complete with flavored Smashmallows, Hershey's candy bars, local chocolate, and Kroger Grahams! Everyone had a different go-to; Ana Luiza loved Strawberry Creme, Megan loved Churro, and my go-to is always the Mint Chocolate Chip! Which would you pick?!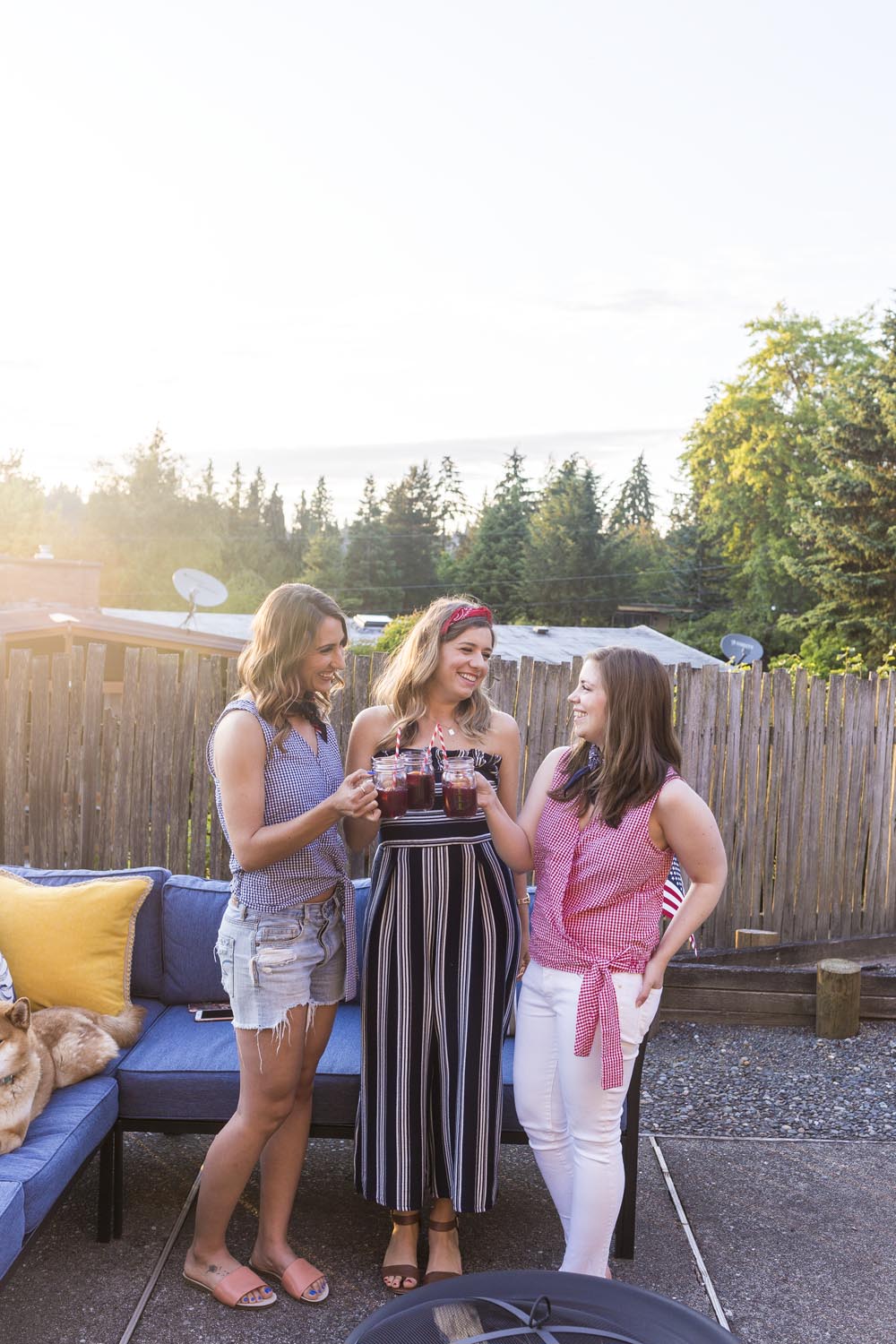 Cheers! I hope these fun 4th of July party ideas have inspired you to get out there and celebrate with your BFFs this summer! And if you're already tied up on the Fourth, there's no reason not to host a backyard shindig another day. If there's anything I've loved about home ownership, it's the space and freedom to entertain friends and family for impromptu and planned gatherings, both big and small!
How are you celebrating the 4th of July? Do you have any fun summer party traditions? I'd love to hear about them in the comments!