Long day at the office? Feeling a little sweaty after running a few too many errands? These are all situations I find myself in fairly frequently, especially come the warmer months here in Seattle. After a lot of trial and error, I've found a few beauty essentials to keep in my purse at all times that make it easy to refresh your look in just a few minutes!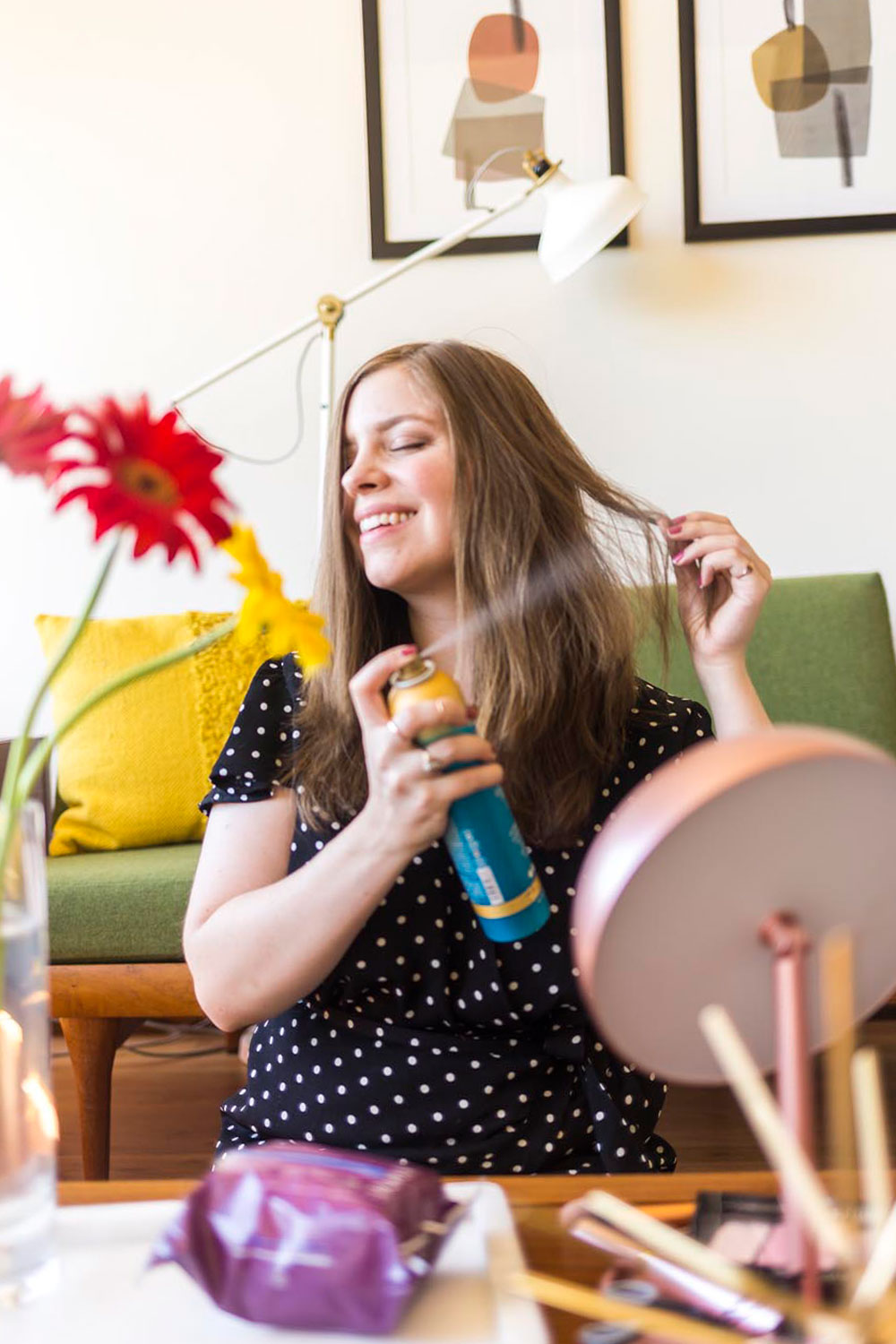 Disclosure: This is part of a sponsored collaboration with Kroger and DiMe Media. However, all opinions expressed are my own.
So what are these coveted beauty essentials? Fortunately, you won't need to spend a fortune to get them because they are all available at your local Fred Meyer, QFC, or Kroger store! I love that I can buy my groceries and pick up my beauty essentials in one place. Hello, convenience1 For me, a great texturizing spray, a one and done makeup palette, and a few simple beauty tools are all you need to refresh your look in 60 seconds.
How to Refresh Your Look in Just a Few Minutes
For the full list of must-haves that you can find at your local Fred Meyer, QFC, or Kroger store, read on!
Add volume and texture to limp hair with OGX
Is your hair feeling limp? Do your ends look dried out? Or maybe your flyaways are about to take flight! Any problem can easily be solved with one of my go-to OGX hair styling products! They are one of my absolute favorite hair brands that Fred Meyer carries because they pack a punch. With each product priced at less than $10, they won't break the bank either!
To boost hair that's gone flat, I love spraying either the OGX Big Hair Spray or the Argan Oil of Morocco Elevated Finish Spray. Both act as texturizers that adds body and life back to a hairstyle that's gone limp and increases body to any curly or wavy hairstyle. To reign in flyaway hairs, I look to the OGX Coconut Water Weightless Hydration Oil. Because it's blended with coconut water, it doesn't look greasy, even if you don't have super thick or coarse hair, but adds a beautiful shine and helps keep flyaways down. I give it bonus points for the fantastic coconut scent, too!
Finally, for those struggling with dried out hair, frizziness, and otherwise over styled or over-processed hair, the OGX Penetrating Oil is a must-have. It's a blend of Vitamin E that heals and strengthens hair. Be warned; a little goes a long way. I recommend adding a drop to your hands, rubbing together, and then putting it on the areas that need it the most!
Put some color back in your face
When it comes to refreshing my face makeup, I love a multi-use palette. A couple of years ago, I discovered the Maybelline Total Facestudio Master Palette. At the recent Kroger Beauty event I attended here in Seattle, I was reminded again of how much I love it after seeing the makeup artist using it on some of my blogger friends! With a built-in bronzer, blush, and highlight for light to medium or medium to deep skin tones, it's a convenient on-the-go essential.
So how do I use it? When I'm out and about, I can use the contour to add dimension to my cheekbones, as well as in the crease of my eyes. The blush is a beautiful color perfect for any look, and the highlight works great on the high points of my face. I use it in the corner of my eyes, on the center of my eyelid, along with my brow bone, on the cupid's bow above my lips, and on my upper cheekbones!
Make your eyes pop with curled lashes
Did you know Kroger has its own line of beauty products and tools? I had been purchasing them for years without realizing it, like my pink cotton swabs, cotton balls, makeup removing cloths, and beauty implements like my eyelash curler, tweezers, nail clippers and more!
Speaking of eyelash curlers, I love the Kroger Beauty Eyelash Curler for making my eyes pop in one fell swoop! A quick curl for about 15 seconds is all I need to see a big difference.
Define your lashes with a fresh coat of mascara
Once I've curled my lashes, it's time to polish off my refreshed beauty look with a new coat of mascara! I find that often, without realizing it, I rub or touch my eyes throughout the day, leaving my mascara looking less than fresh. A quick wipe of a Kroger Beauty Makeup Removing Cloth under my eyes and a fresh coat of mascara is all I need to look put together!
Keep lips hydrated with a glossy look
The final step in any refresh would be adding a dash of color on my lips! I have a few go-tos, but lately, my favorite lip trend has been the glossy lip. With so many amazing brands to choose from, it's hard to pick just one favorite, but both Maybelline and L'Oreal have pigmented glosses that leave lips looking colorful without drying them out.
I recommend the L'Oreal Infallible 8 Hour Pro Gloss or the Maybelline ColorSensational Lip Lacquer. A nude pink is a great staple for any makeup look, or go bold with red, hot pink, or daring with a purple ready for hot summer days!
And with that, I hope you're feeling refreshed, polished, and ready to take on the rest of your day in just a few minutes. If you're missing one of these great products in your on-the-go makeup bag, Fred Meyer (or your local Kroger store) has them on sale with coupons this week for a limited time. Be sure to check out all of the deals at Kroger.com/Beauty!
Do you have a go-to product for refreshing your makeup or hair? I'd love to hear about your favorites in the comments below!