Last week, I hopped on a plane and spent a few days in San Francisco. It was my first time in SF, and I honestly was so excited to visit the city. For years I've wanted to visit the Bay Area, but for whatever reason, I always ended up in SoCal instead. Conveniently, I was invited to attend Pinterest's first-ever creator conference called in the making. Even better? I was going to be flying down with my bag mostly packed thanks to Stitch Fix, who provided the clothes for my trip!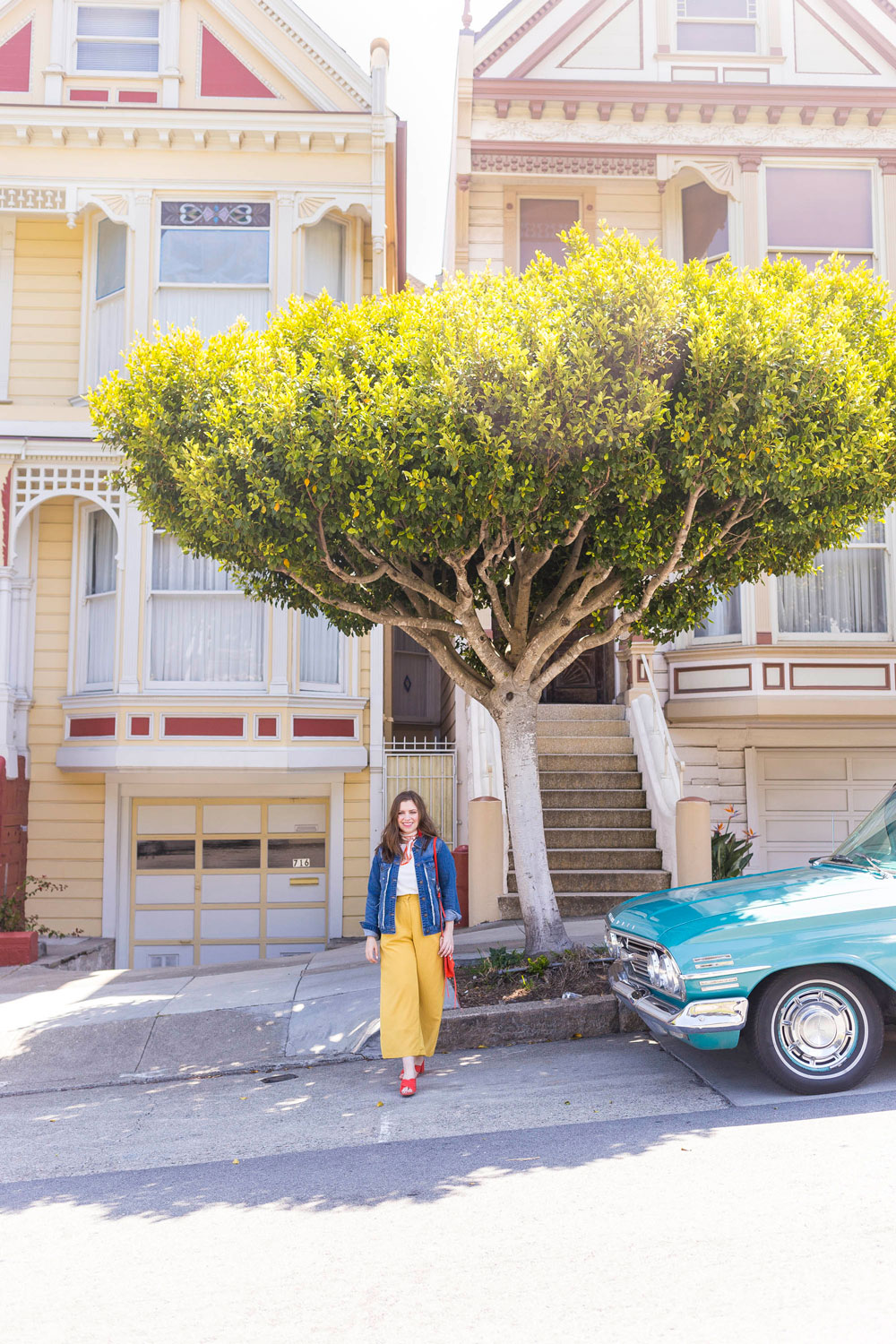 Disclosure: This post has been created in partnership with Stitch Fix. They provided me credit to purchase items in my Fix. Additionally, the links in this post are affiliate links which means if you schedule a Fix, I will earn a small commission. Thanks so much for your support!
If you follow me on Instagram, then you might recall seeing my Stories where I was packing my bags for the trip. Documenting the packing process was a lot of fun, especially since it's often something I struggle with. A lot of you let me know that you struggle with packing – either overpacking or waiting until the last minute, too! I usually end up with too many outfit ideas, and so my suitcase often is overflowing. Yep, I'm that girl that has to sit on it to get it shut.
Fortunately, this time around, starting with my pieces in my Fix cut down on my packing time by half. And I wasn't tempted to overpack. Since I was pulling together looks based on key pieces I was sent, I had more than enough outfits (about 5). I knew I could also mix and match pieces if I changed my mind while there, too. If you're jumping on a plane or traveling soon, I can't recommend this method enough. Even better, when you sign up for a Stitch Fix by June 30th, and you'll be entered to win a 10-item Fix PLUS a trip for you and your BFF here!
So what the heck did Stitch Fix send me? Read on to find out!
This time around, I had a new Stitch Fix Stylist, Tiffany R. Hi, Tiffany! Amanda, my Stylist from the past several Fixes, was away on her honeymoon. Congrats!! Tiffany took inspiration from my Pinterest board and used it to inspire her for my Fix. Overall, I think she nailed my style and even put me out of my comfort zone with a print I never usually gravitate to!
Just USA Leanne Frayed Trim Denim Jacket, Size Small – $68
Denim jackets are the anchor for any quintessential west coast look, and this one came in handy with San Francisco's chilly breeze! I honestly was a bit taken aback by how cold it was while we were there! The 60-degree weather here in Seattle usually means comfortable and warm. In San Francisco, however, the wind had me freezing for a good portion of my trip. Fortunately, this frayed seam jacket from Just USA came in handy and mixed easily into my vacation wardrobe!
I wore this fun colorful outfit for a visit to everything quintessential SF. We visited the Painted Ladies, shopped in Hayes Valley, Lombard Street, and took in the view of Golden Gate! If you're visiting SF soon, I highly recommend packing a pair of pants, comfortable walking shoes, and a denim jacket for walking around!
Laju Kaliska Surplice Textured Cotton Top in Green, Size Small Petite – $54
I'm not one to wear many tank tops, but I do love them for layering! This green tank went perfectly with a recent addition to my closet, a beige wrap skirt with ruffles down the side. I ended up wearing this outfit to the Pinterest Conference, hence some of my fun props in these photos!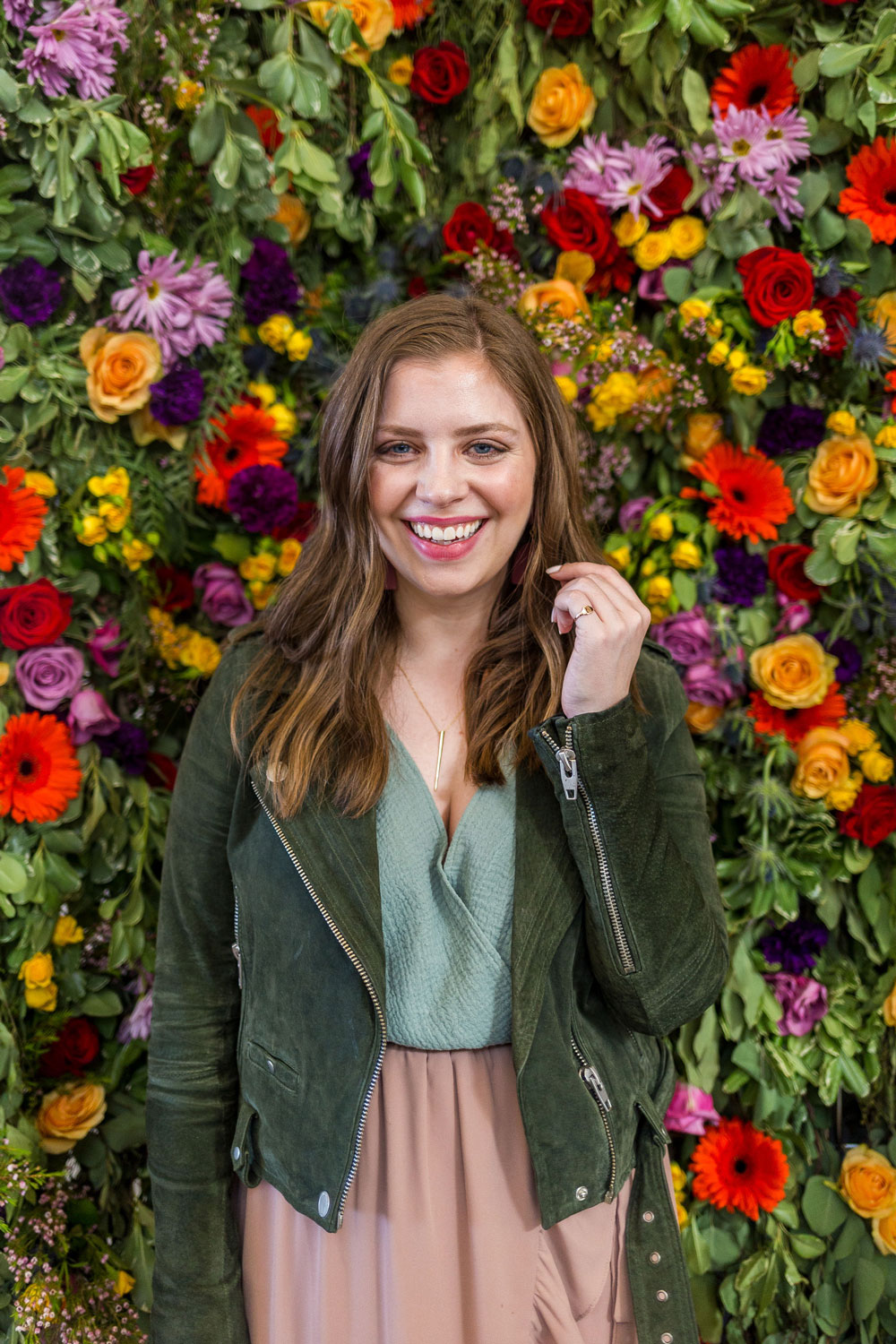 Because it was pretty chilly in San Francisco and the space was air conditioned, I topped off the outfit with a moto jacket. A comfortable pair of blush oxfords were perfect since I wasn't sure how much walking I'd need to do that day! My only complaint with the tank is that I'll need to put a couple of stitches in the straps to shorten them, as I found myself pulling it up throughout the day.
Trina by Trina Turk Juju Knit Halter Dress in Pink, Size Small – $128
If you had asked me previously if I would ever wear a halter dress like this, the answer would have been no. However, this ended up being my favorite outfit! I struggled a bit to figure out how to style this fun halter dress but ended up loving it the most backward. Yep, I turned it around, so the bow was in the front, and then layered a cream bell sleeve top underneath.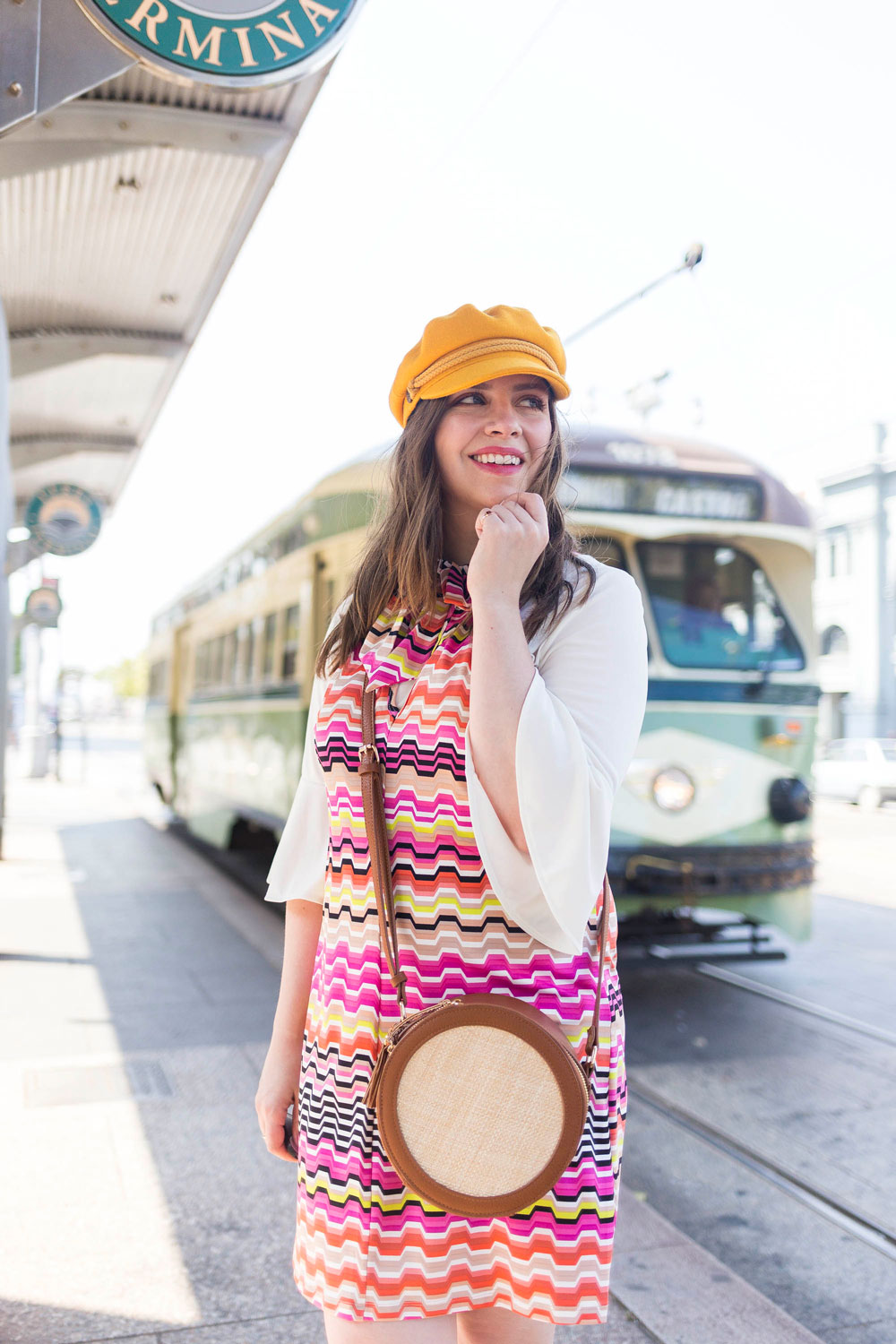 Popping a baker boy hat on top and adding a pair of white ankle boots, this outfit totally channeled the 1960s in the best way possible. The F Train in the back with an awesome conductor who gave me the salute when I got my shot was the cherry on top!
Schutz Walquiria Studded Slide Sandals in Red, Size 6.5 – $180
Who doesn't love a fun sandal for summer? This girl does, and I audibly gasped when opening the dust bag to these beauties from Schutz! These gorgeous ruby red cuties featured the prettiest embellishments, from fringe to gems!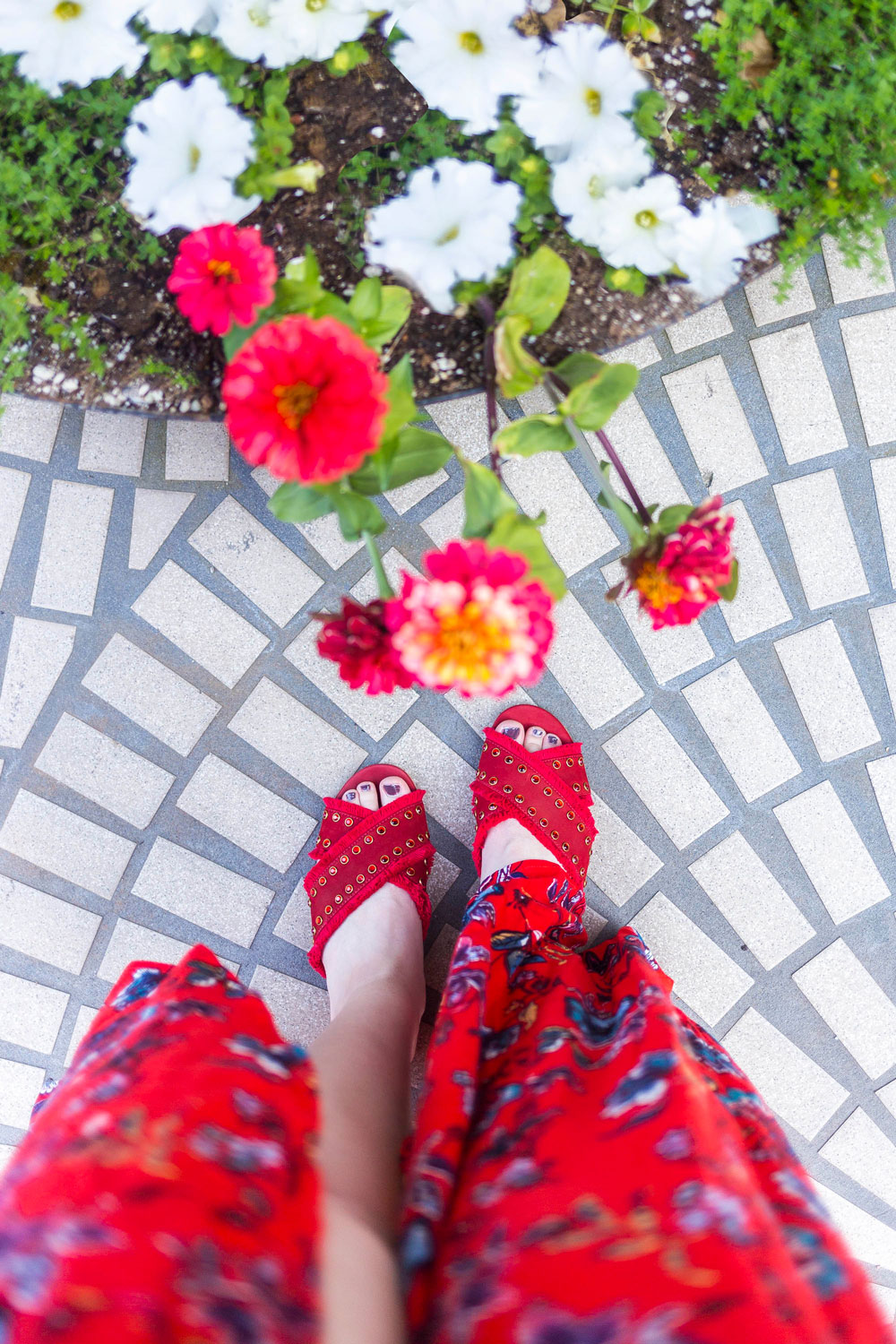 I couldn't picture styling these with anything else but a head to toe red outfit! A red floral wrap skirt and a cropped blouse tucked in made the perfect outfit with these sandals for visiting the club lounge at our hotel. Taking in the stunning views of the Bay and enjoying a nice glass of wine was the perfect way to end a busy day taking in the city sights!
Lila Ryan Adelita Angled Fray Hem Skinny Jeans in White, Size 4 – $98
White skinny jeans are the quintessential summer piece. The hem on these white skinny jeans took them to the next level, and I love how comfortable the material is! Bonus points for being thick enough not to show every lump and bump underneath, too!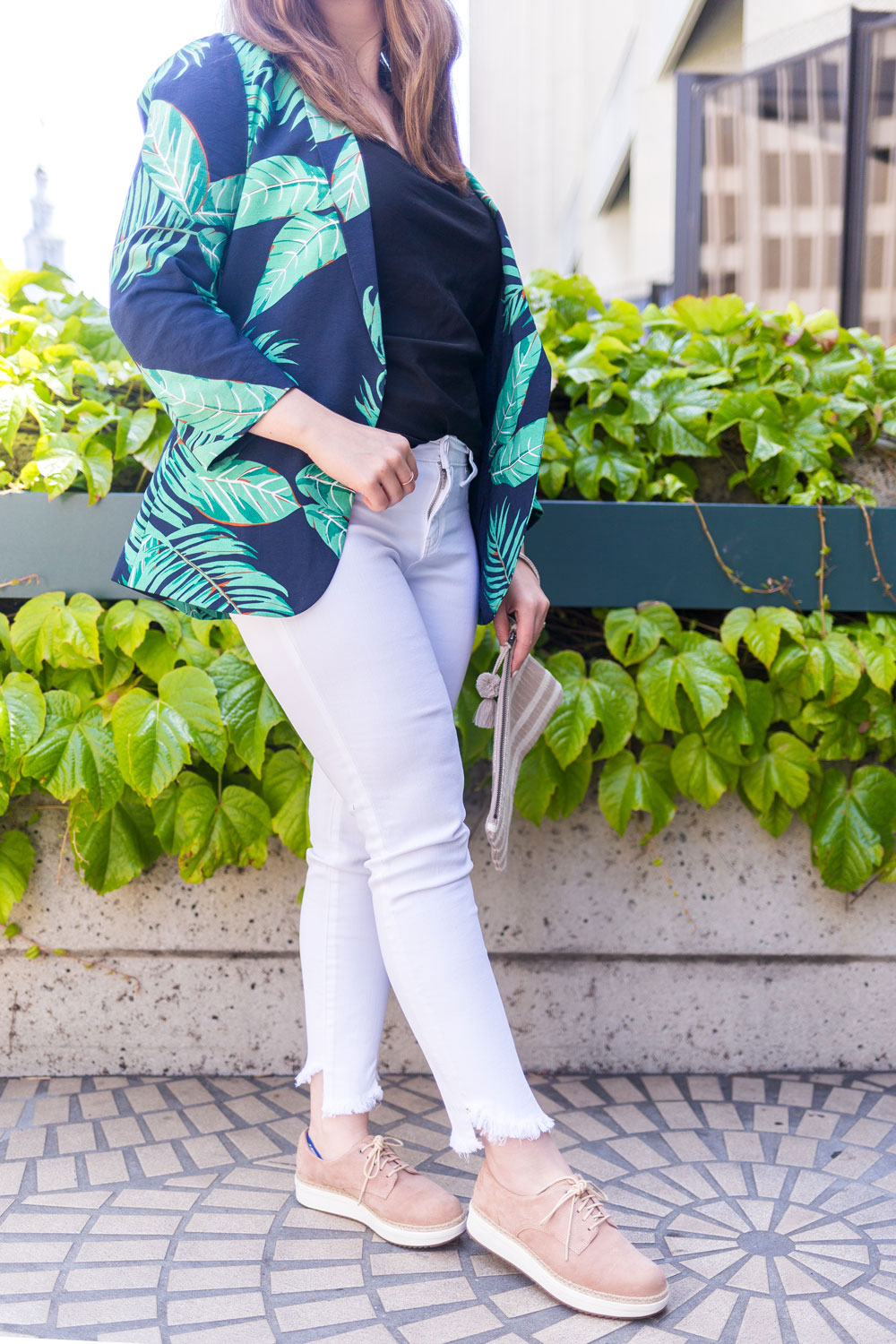 I wore this cute palm print blazer & jeans outfit to brunch on my last day in San Francisco. Posing with the Port of San Francisco Clock Tower behind me from the roof deck of our hotel was the perfect way to conclude an enjoyable stay in the city!
If you're prepping for a vacation or special event, I can't recommend Stitch Fix enough. It saved me a ton of time when prepping for my San Francisco trip. If you liked any of the looks in this post, don't forget to Pin them and share the Board with your stylist! This always helps me get Fixes with pieces that I've been looking for and fit my personal style the best.
Plus, through the end of June, when you sign up via my affiliate link, you'll get your style fee waived AND be entered to win a getaway for you and your BFF + a 10-item Fix of your own!
Photos in this post are by Alicia of Alicia Tenise, Jessica of My Style Vita, and myself!
Which piece that Stitch Fix sent was your favorite? Have you scheduled a Fix recently? What did you keep? Let me know in the comments!