Ever come back from a trip and feel the need to go back on vacation promptly? That's about how I felt after returning from San Francisco last week! While the trip was enjoyable, it was really a working trip and left little time for any relaxing vacation type activities.
Don't get me wrong, I am 100% not complaining. San Francisco is a beautiful city that I can't wait to return to. But to say I was exhausted upon return was an understatement! And, returning home was basically go-go-go too – from heading back to work, then having a weekend full of events with friends and family.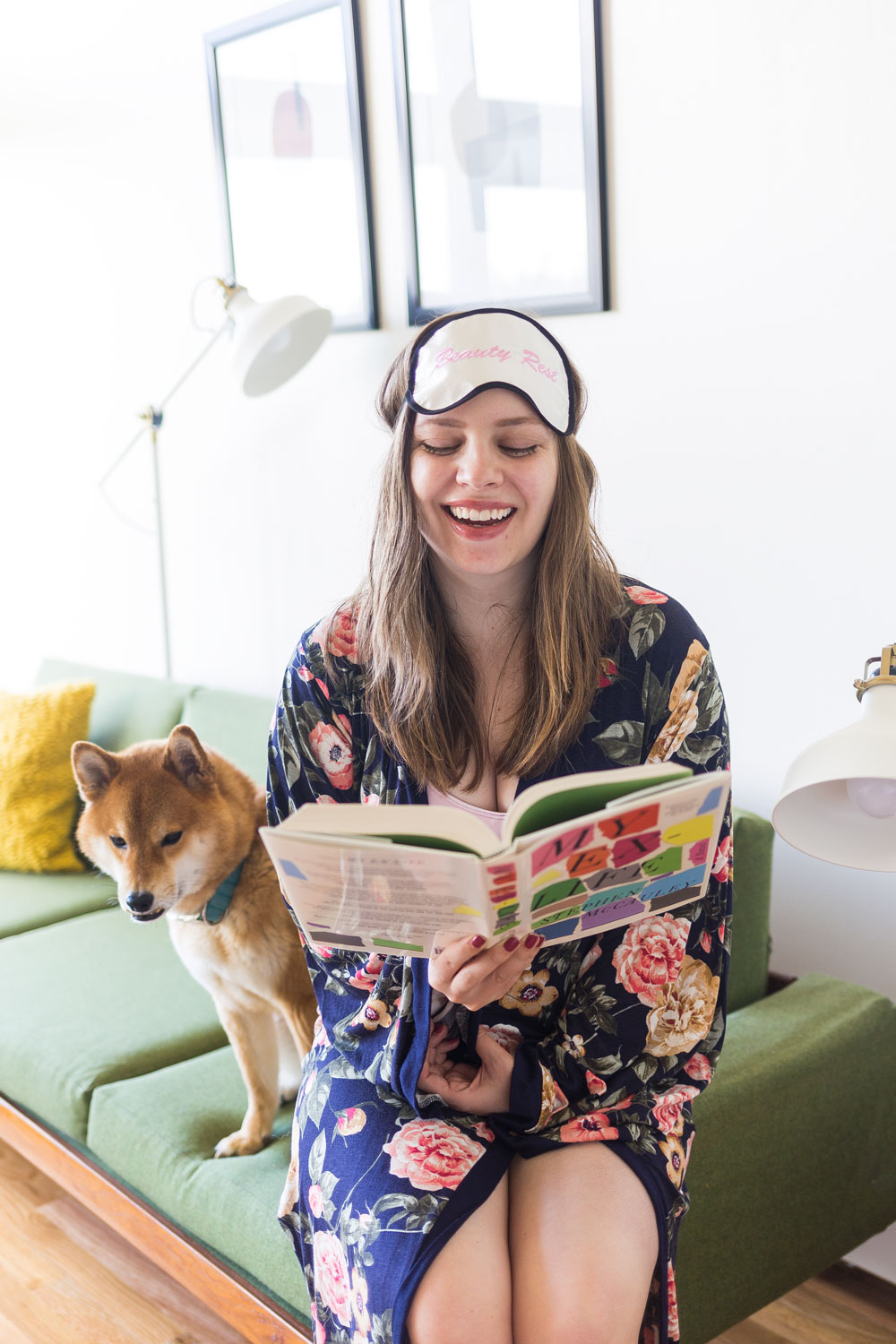 Disclosure: Thanks to Babbleboxx for sponsoring this post. All opinions about the products included in this post are my own!
That's why I'm planning the ultimate, stress-free staycation for myself at home this weekend. With only a single item on my calendar (yay!) I can't wait to kick my feet up and enjoy some of my favorite leisurely activities around the house and my neighborhood.
Looking for some staycation ideas you can do at home this summer? Here's what I'm going to be doing this weekend!
Get in your favorite comfy outfit
The first step to any successful staycation is to cozy up in your favorite comfortable outfit! My go-to around the house is a robe or kimono, a wireless bra, and a comfortable pair of boy shorts. It's just enough coverage to not feel totally exposed while also being incredibly cozy!
My new Cool Comfort Bra from BALI Intimates is my favorite for around the house wear. It's wirefree, provides superior shaping support, and is part of their comfort revolution line which means it's made for comfort all day! Best of all, it's a pretty pink color and seamless, so it's not itchy or uncomfortable!
Treat yourself to a glass of wine
After you're all comfy and cozy in your favorite loungewear, why not pour yourself a glass of wine? (if you're of legal drinking age, of course!)
I'm pouring a glass of Rioja from Bodegas Faustino, Spain's largest producer Gran Reserva wines. If you're a red wine fan like me, you will absolutely love this blend of Tempranillo, Graciano, & Mazuelo grapes which are aged for 26 months in French and American oak barrels, then at least 3 years in the bottle. If you are a fan of Cabernet Sauvignons, this 93-point wine will be a winner.
Kick up your feet with a good book
When I think of relaxation, I think of curling up in my favorite armchair or on the couch with Rigby and spending the afternoon reading a good book. Thanks to Babbleboxx, I was recently sent the new novel from Stephen McCauley, My Ex-Life. It's about two exes that reconnect and reflects a modern look at love and friendship. I'm just getting started on the book, which so far has felt like the perfect easy summer read, and I can't wait to read more this coming weekend!
You might recognize McCauley as the bestselling author of The Object of My Affection, which was made into a movie with Jennifer Aniston and Pual Rudd! I'll have to pick up that next.
Indulge in an at-home spa treatment
At home spa days are kind of my favorite. For me, they typically start out by cleaning my face, then using an at home peel (Vitamin C or AHA peels are my go-tos), followed by a moisturizing mask.
Once my masking is complete, I'll follow up with my favorite skincare products to lock it all in. Recently I've been using the Acqua Lumiere Hydrating Moisturizer from Bellame, which targets fine lines, wrinkles, and uneven skin tone with ingredients like Hyaluronic Acid. For additional anti-aging benefits, I then follow up with the Acqua Lumiere Hydrating Eye Cream, which is a hydrator that stands up to the special demands of the orbital area and softens fine lines, deflates puffiness, and diminishes dark circles. So far, my skin has felt more hydrated and gently firmed, which is exavtly what I want as I enter my late 20s and early 30s. :)
If you're interested in adding these to your own skincare routine too, you can receive a FREE set of six ultra-luxe Bellame bamboo sourced washcloths
with the purchase of the Acqua Lumiere Collection. ($22 value!)
Treat your tresses
While you're masking and relaxing waiting for your skincare to work its magic, why not treat your tresses too? I always forget about giving my hair some extra love, and I'm so excited to have received some amazing products from OMM to use on my hair. It definitely has been a little crazy this spring and I'm in need of something to calm my split ends and flyaways.
First I'm using the OMM Thickening Hair Mask, which is a super rich, deep conditioning, weightless, and reparative leave-in treatment with a fresh jasmine scent. Then, either leave it in for extra hydration or rinse out and follow with the Thickening Oil. The Thickening Oil acts as a leave-in treatment oil that is light and non-greasy to nourish, repair, and strengthen hair roots and form a protective shield around the hair shaft. Both of these make my hair feel super soft, hydrated, and ready to have a good hair day!
Want to try both or one of these products on your hair? Use code SUMMER for 20% off through September 15, 2018, when you purchase from www.OMMCollection.com!
Get out and enjoy walking a local nature trail or park
One of the ways I enjoy relaxing and also rejuvenating my creative energy is walking. Some find relaxation from running or jogging, but for me, a power walk through the park or a nearby nature trail does the trick for me. I love breathing in the fresh air, feeling the sun on my skin, and taking in the beautiful PNW surroundings.
Of course, it's important to keep safe, too, which is why I always wear sunscreen and if needed, a bug repellent. With Mosquito season upon us, I'm grateful to have found Erin's Faces Deet Free Mosquito Repellent. It's a vegan mosquito repellent keeps you bite-free using the essential oils of Eucalyptus, Citronella, and Lemongrass. Even better, it's safe for all ages and also can be used on our furry friends! A couple of sprays on myself and Rigby and we'll be bite free and worry free on our next hiking adventure.
Another on the go essential is sunscreen, and I love the great stick options available! Erin's Faces also offers a Sunstick with SPF 30, and since it's water and sweat resistant, this is essential that needs to be in my purse all summer long.
Erin's Faces is cruelty-free and PETA Certified, too, so you won't have to worry about harsh ingredients or animal testing with any of their products! If you'd like to try Erin's Faces, use code BABBLEBOX05 at checkout now through September 30, 2018!
Make it a date night
After a day of rest, relaxation, and rejuvenation, I love ending the night with those I love the most. For me, that means a cute little dog and Dave, of course! Since we're all about stress-free life, why not ask your partner to plan something for the two of you? While Dave and I are pretty equal when it comes to pulling the weight around here, I do appreciate when he puts in a little extra effort and plans something for us to do since that's typically more of my thing.
This weekend, date night will consist of a movie (we just signed up for Moviepass!) and try a new restaurant. It's simple, but these are the moments I look forward to the most.
And with that, those are my suggestions for an enjoyable staycation at home this summer. While it might not be the world's most exciting adventure, there's nothing like self-care, relaxing, and pampering yourself at home after a long week, busy trip, or just because!
What are your favorite staycation activities? Do you have a particular favorite thing to do for ultimate relaxation? I'd love to hear about it in the comments!