At the beginning of June, I set off on an adventure to San Francisco. If you can believe it, I had never been before! With family in SoCal, I had yet to make the adventure up to the Bay Area. With Pinterest hosting the in the making conference for creators, it was the perfect opportunity to visit San Francisco!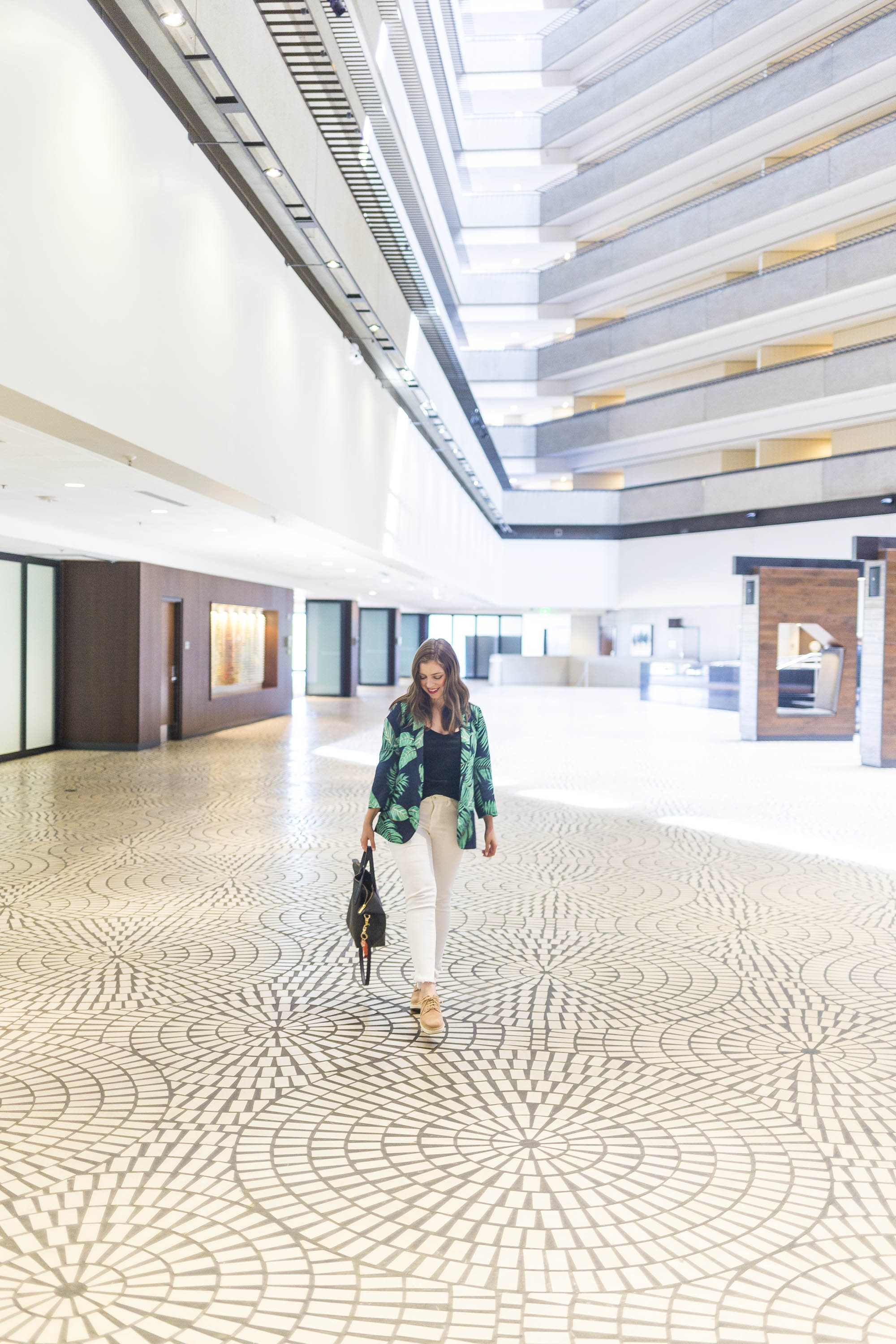 Disclosure: Thanks to the Hyatt Regency San Francisco for hosting our stay! All opinions are my own.
San Francisco is a beautiful city bordering California's bay and the Pacific Ocean. With wine country, Sausalito, Alcatraz Island, and the iconic sights of the city like the Victoria houses and cable cars, there is plenty to do and see in the city, no matter what your interest may be. Shopping, food, drink, sports, arts, and culture can be found in nearly any neighborhood, and we were thrilled to stay at the Hyatt Regency in Embarcadero, which is in one of the most exciting and interesting neighborhoods.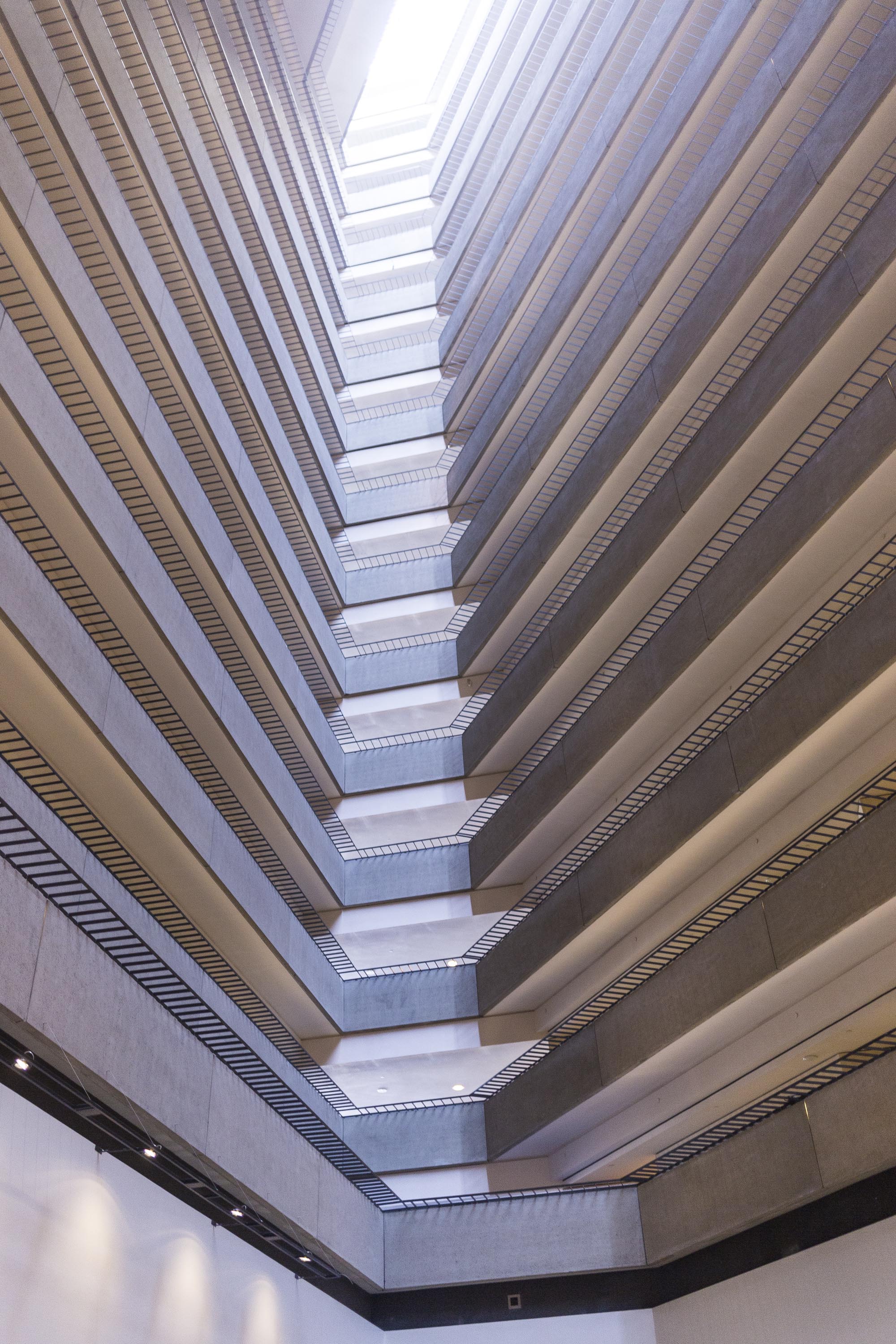 Just a 30-minute Lyft Ride from the SFO International Airport, the Hyatt Regency in downtown San Francisco has a beautiful view of the Bay Bridge and is right in the heart of the Embarcadero neighborhood, a bustling hot spot with shopping, food, and the waterfront nearby. The Embarcadero is host to the iconic clock tower, the Ferry Building (a food lovers paradise) and a series of piers that offer ferries to Alcatraz Island, Sausalito, and more.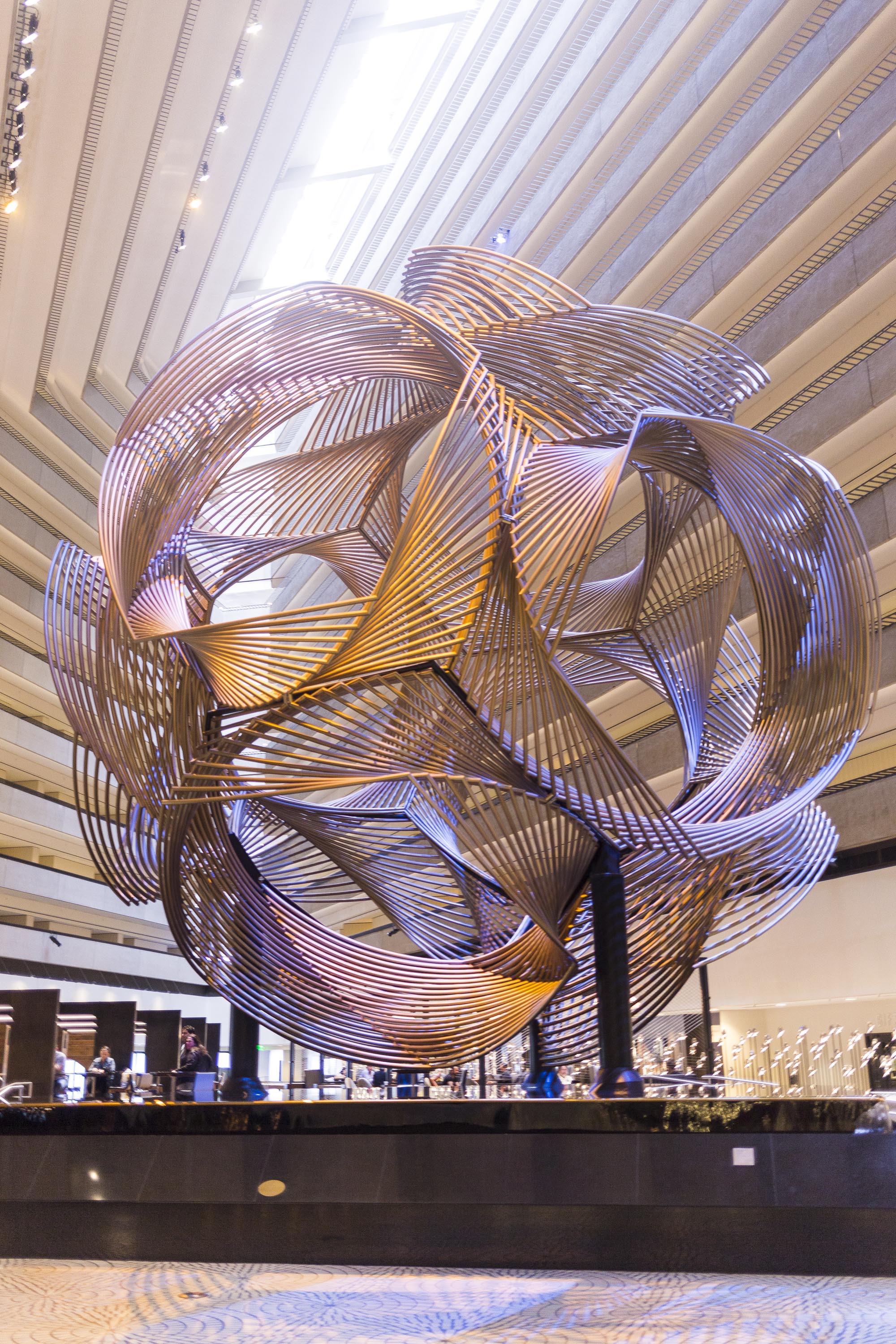 Attending conferences alone can always be a bit nerve-wracking, so I was excited to connect with Alicia of Alicia Tenise, whom I've followed pretty much since I started my blog and met in person for the first time last year during NYFW. Alicia arrived before I did and was able to give me the full scoop of our room, the hotel, and the Hyatt Club before I even arrived, thanks to Instagram Stories!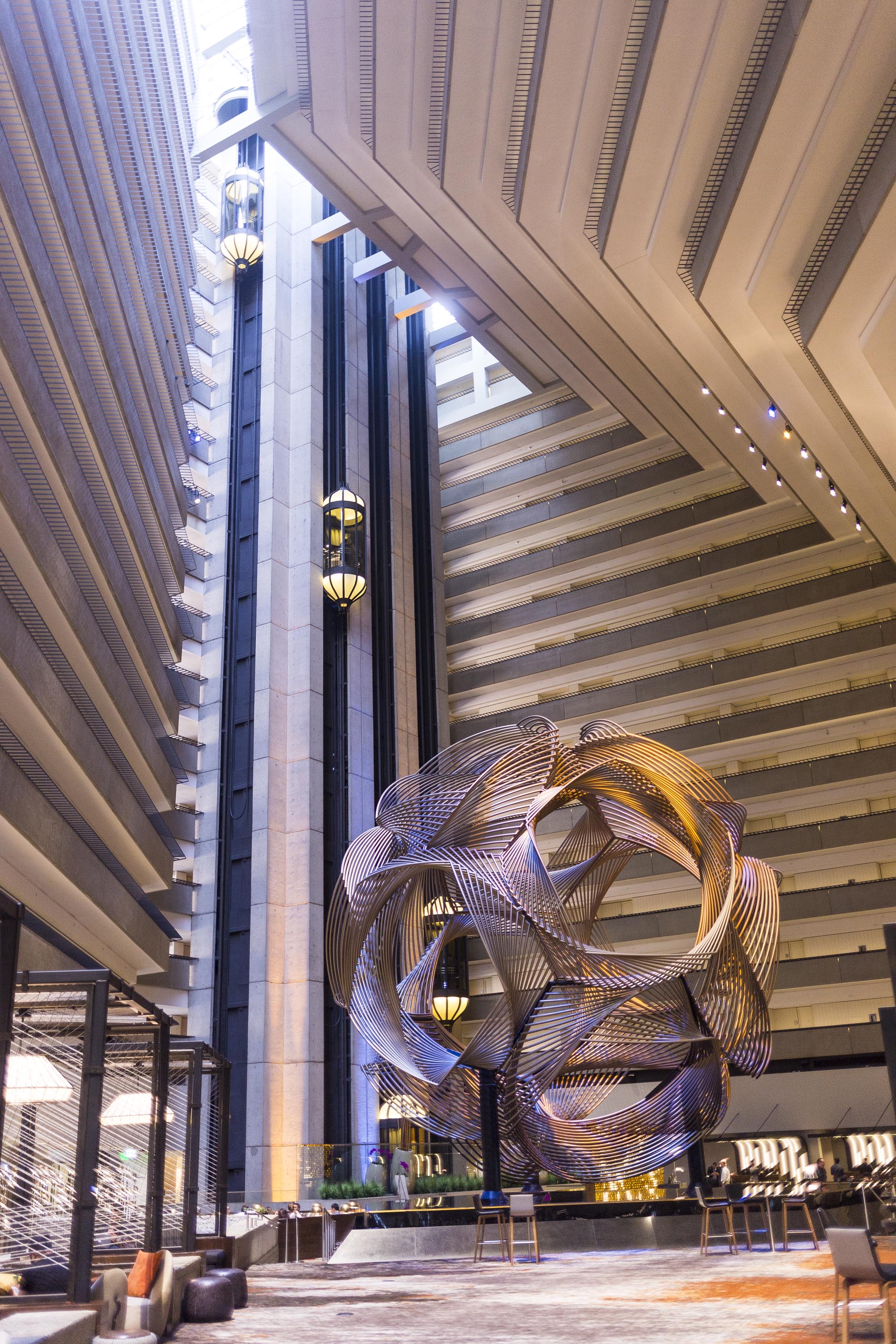 Upon walking into the Hyatt Regency Hotel Lobby, I was greeted with the highest ceilings I think I've seen, Art Deco style tile flooring, interesting sculptures, and the coolest glass elevators. Check in was a breeze, and I was quickly heading up to my room, but not before stepping outside to see the back hotel gardens and a beautiful view of the Ferry Terminal.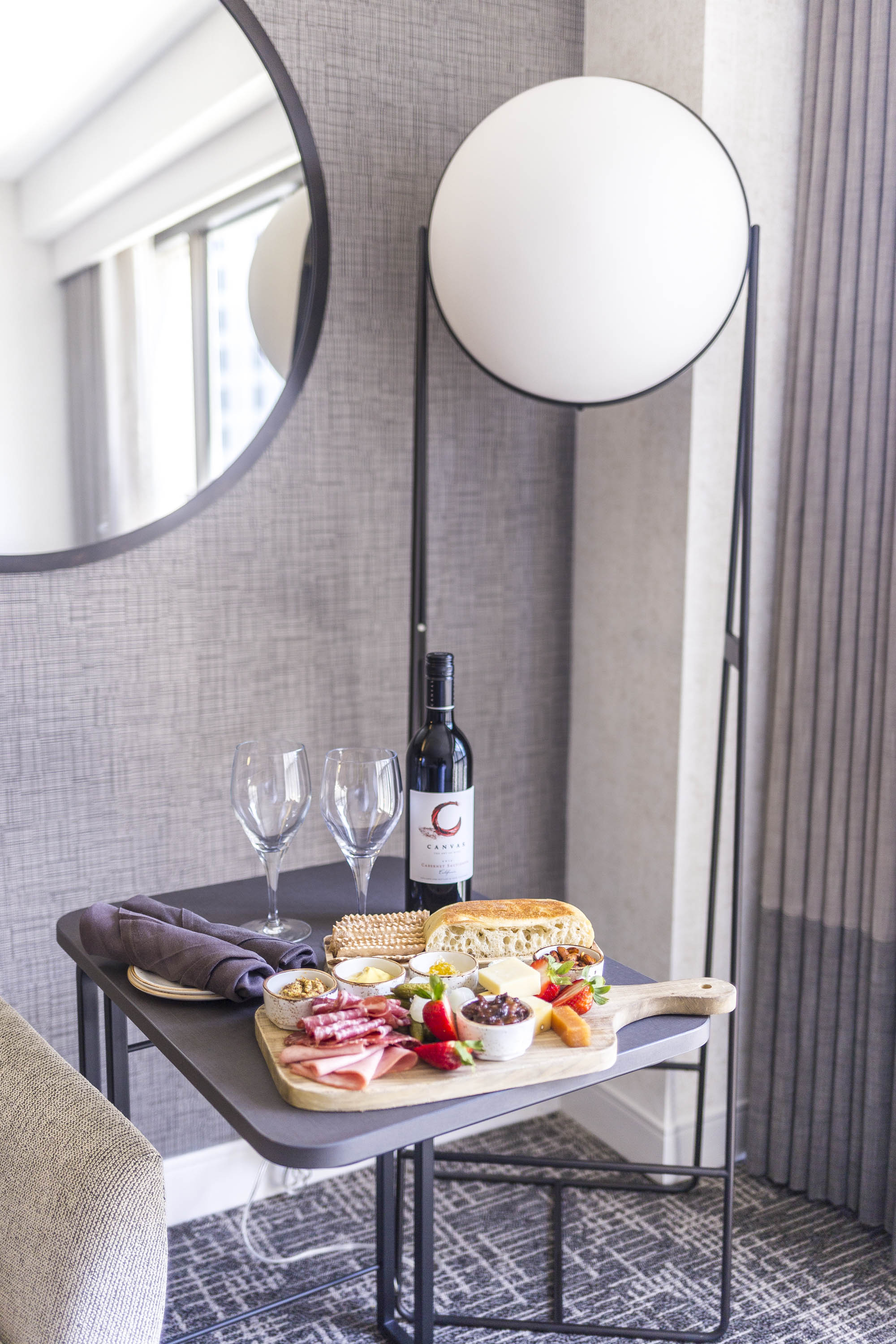 Once upstairs, we were welcomed to the upscale and generous sized room (for a big city like San Francisco, I was expecting tight quarters!) with views of the city and modern decor. The bathroom was generous, with a huge mirror (perfect for getting ready in!) and a large glass shower. Also waiting for us was a cheese plate and glass of wine. Only fitting on National Cheese Day!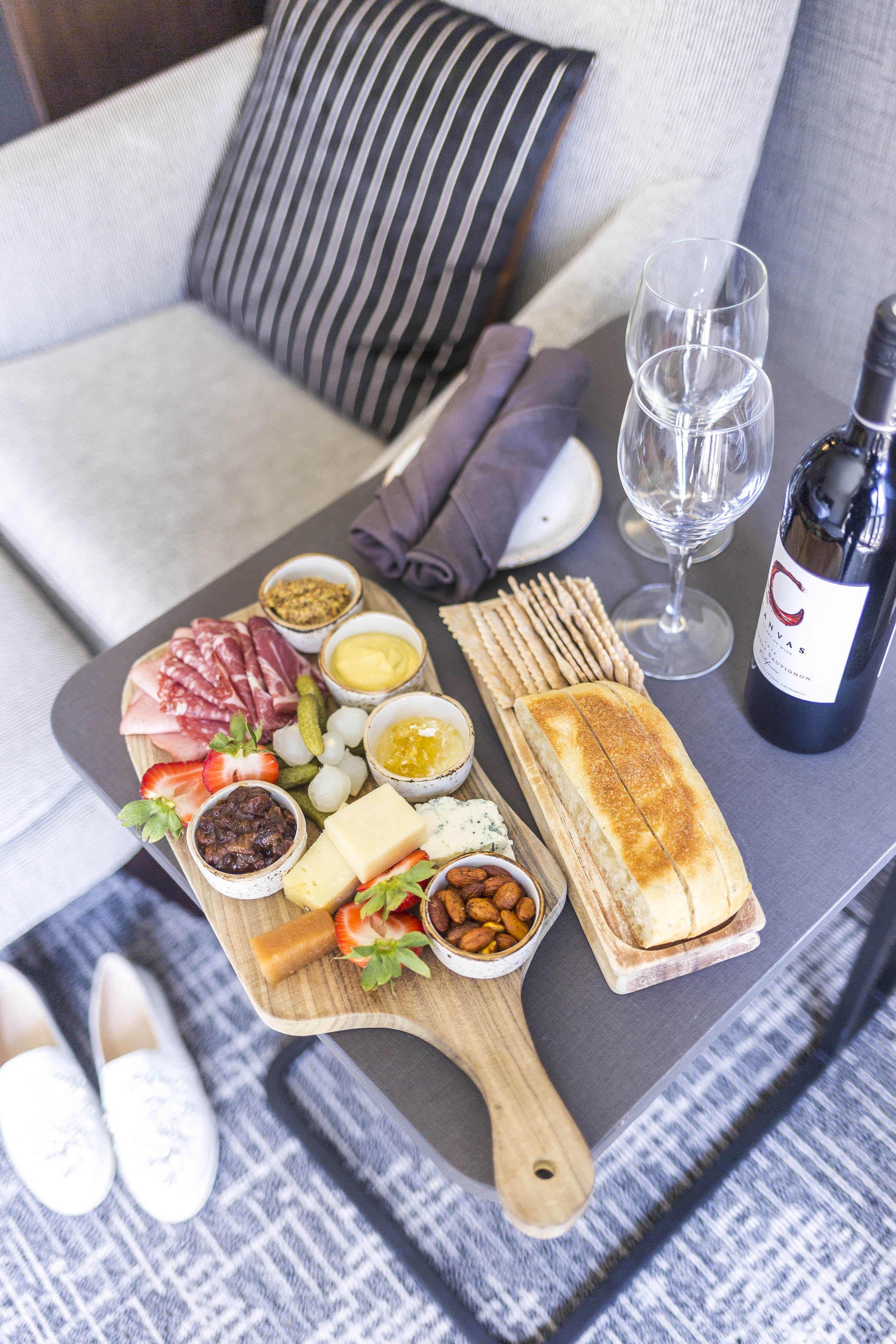 With the first day mostly gone from traveling, we spent most of our time getting work done (blogger life), chatting, and I later met up with her and fellow bloggers Jessica of My Style Vita and Josh of The Kentucky Gent for dinner and drinks at nearby Atlas Bar. After a busy day, there's nothing quite like returning to your hotel room and falling into a soft and cozy bed. I fell asleep hard and fast!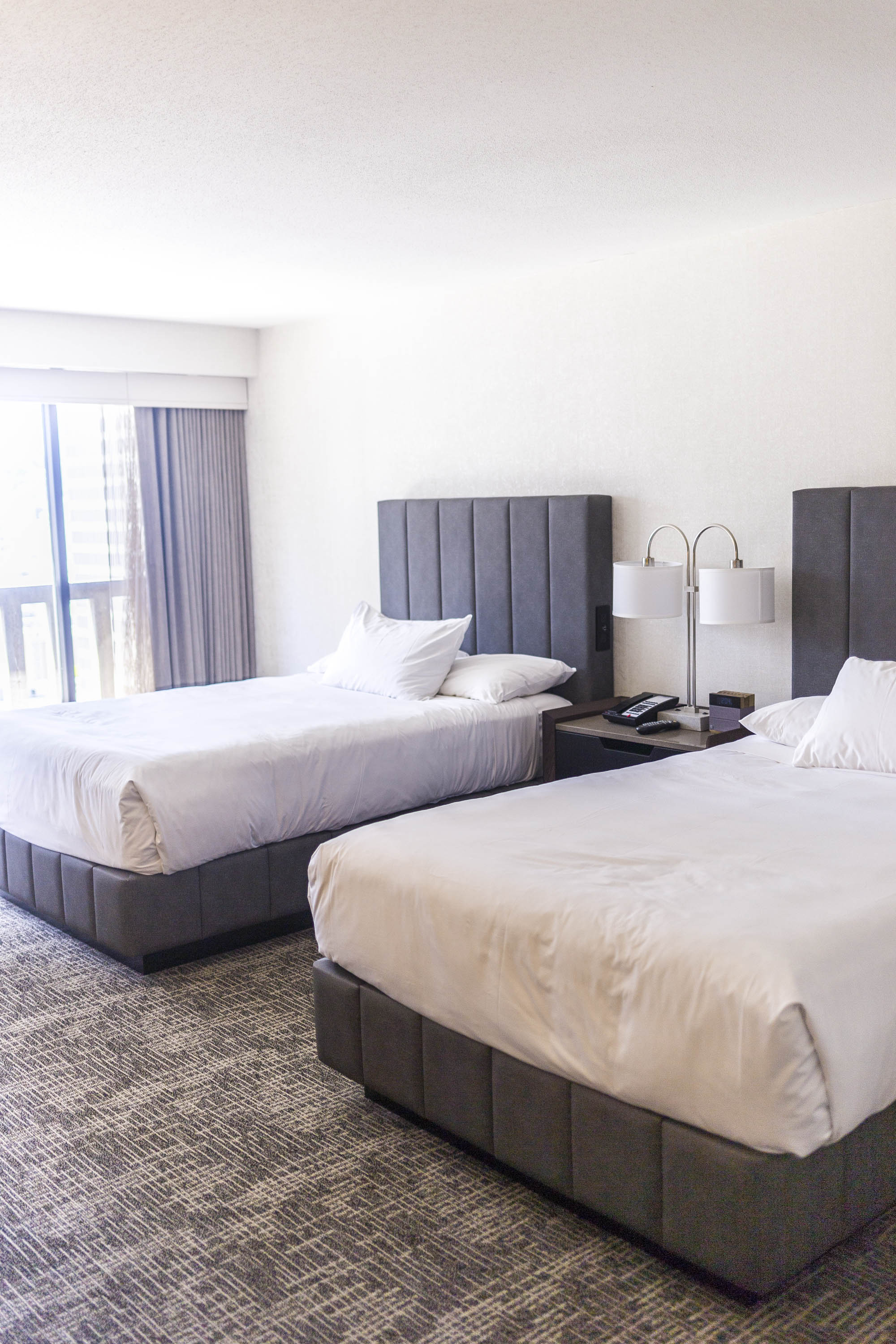 Since we were in town for the Pinterest Conference, our second day was dedicated to that. I'll be sharing more about the conference and what I learned soon, but for now, let's just say it was a lot of information to take in and I was definitely exhausted by the end of the day! Our third day, however, led us to adventure around San Francisco and take in some of the famous sights and scenes of the city.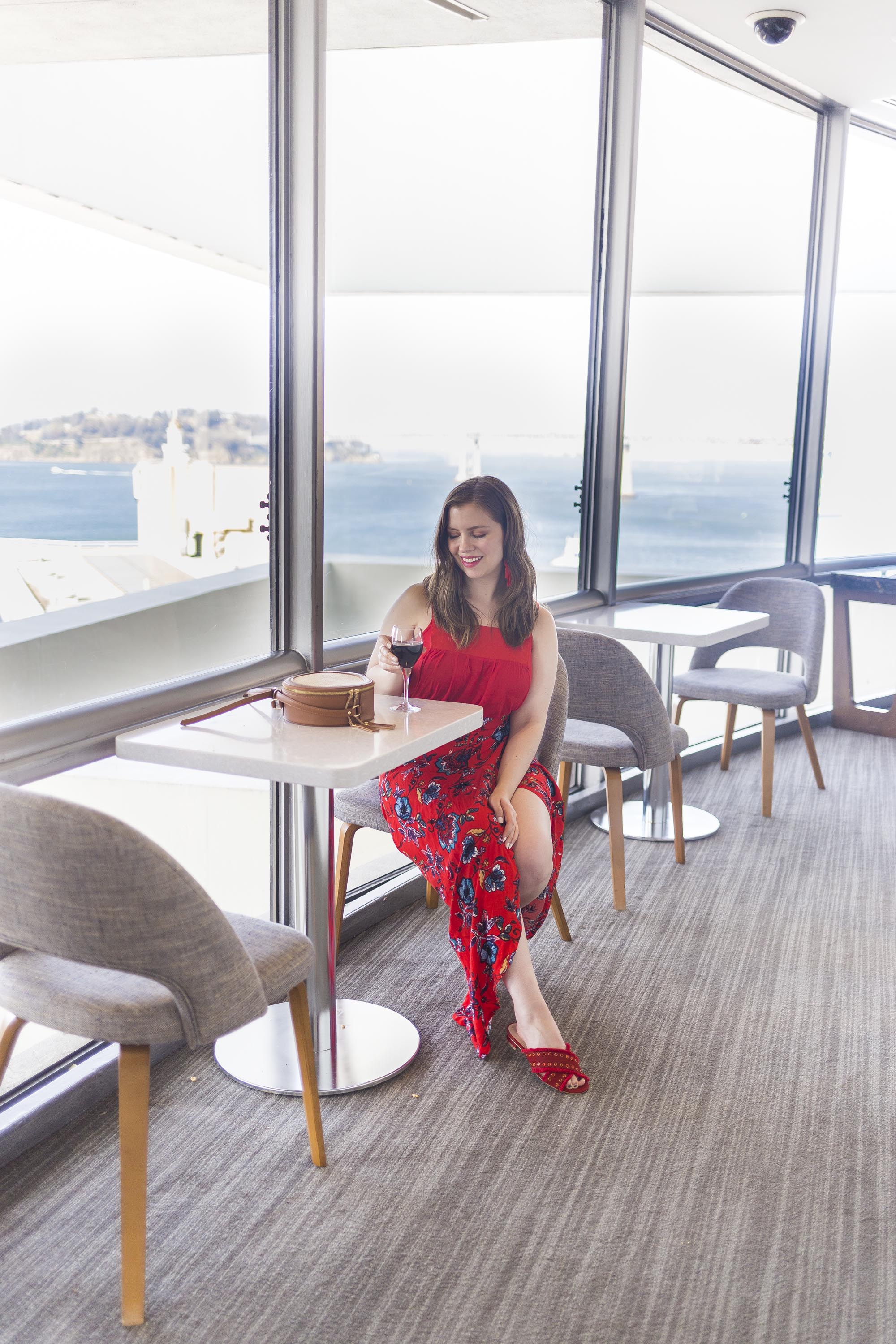 After adventuring around some of the most infamous tourist spots in the city, we returned back to the room for a bit of a respite. This gave me a chance to explore the area around our hotel and see what the Embarcadero neighborhood had to offer. I poked through the Ferry Building, walked along the pier, and snapped a few iconic photos in front of the trolley cars. (You can also find out a fun behind the scenes story on my Instagram post here. Sometimes photos aren't quite as glamorous to get as they might seem!)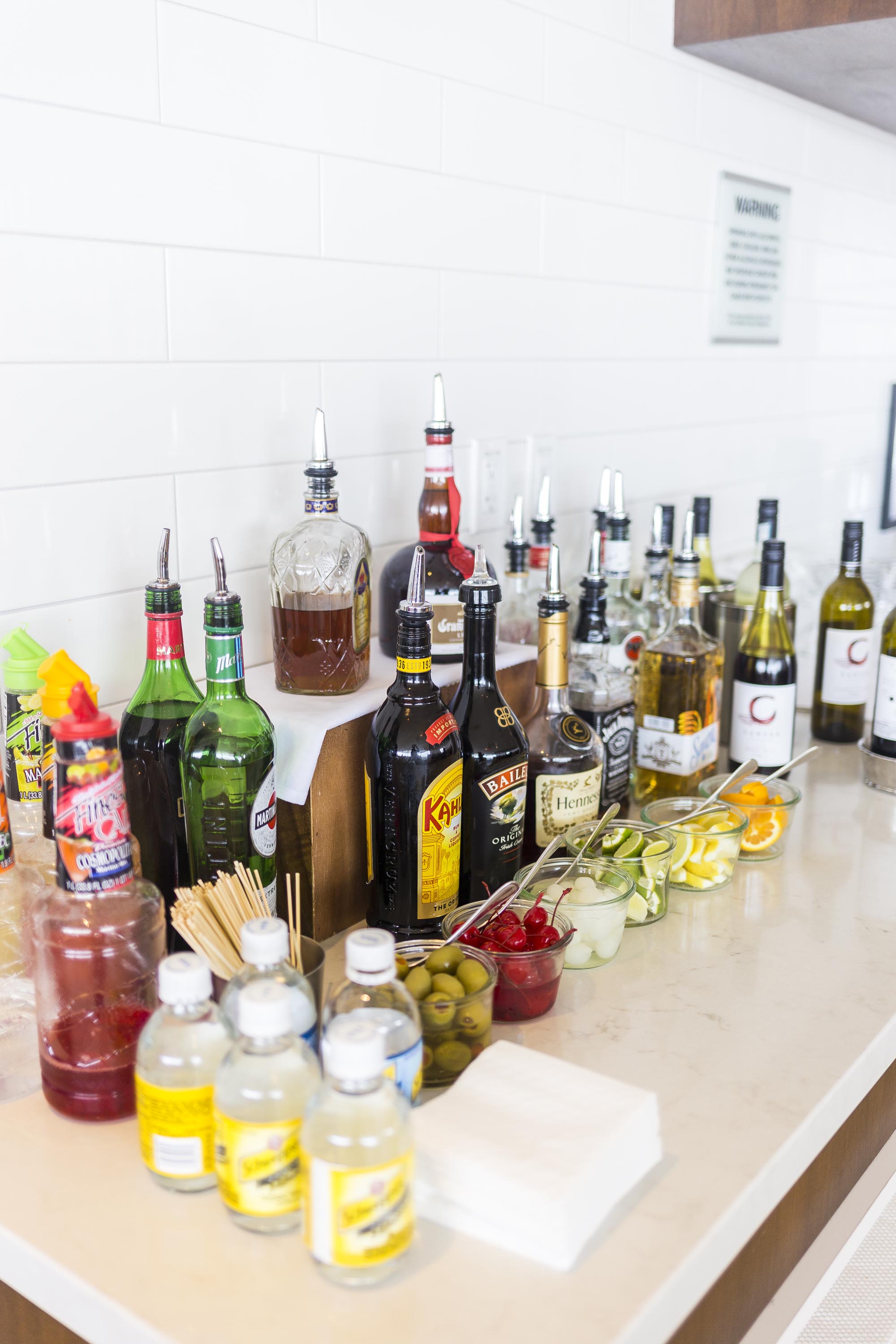 After, we popped up to the Hyatt Regency Club Lounge. There guests could enjoy freshly prepared snacks, appetizers, or desserts depending on the time of day, as well as a wide array of alcoholic and non-alcoholic beverages. I couldn't get over the incredible views of the Bay Bridge and the beautiful water. The other side of the lounge also had incredible city views, too.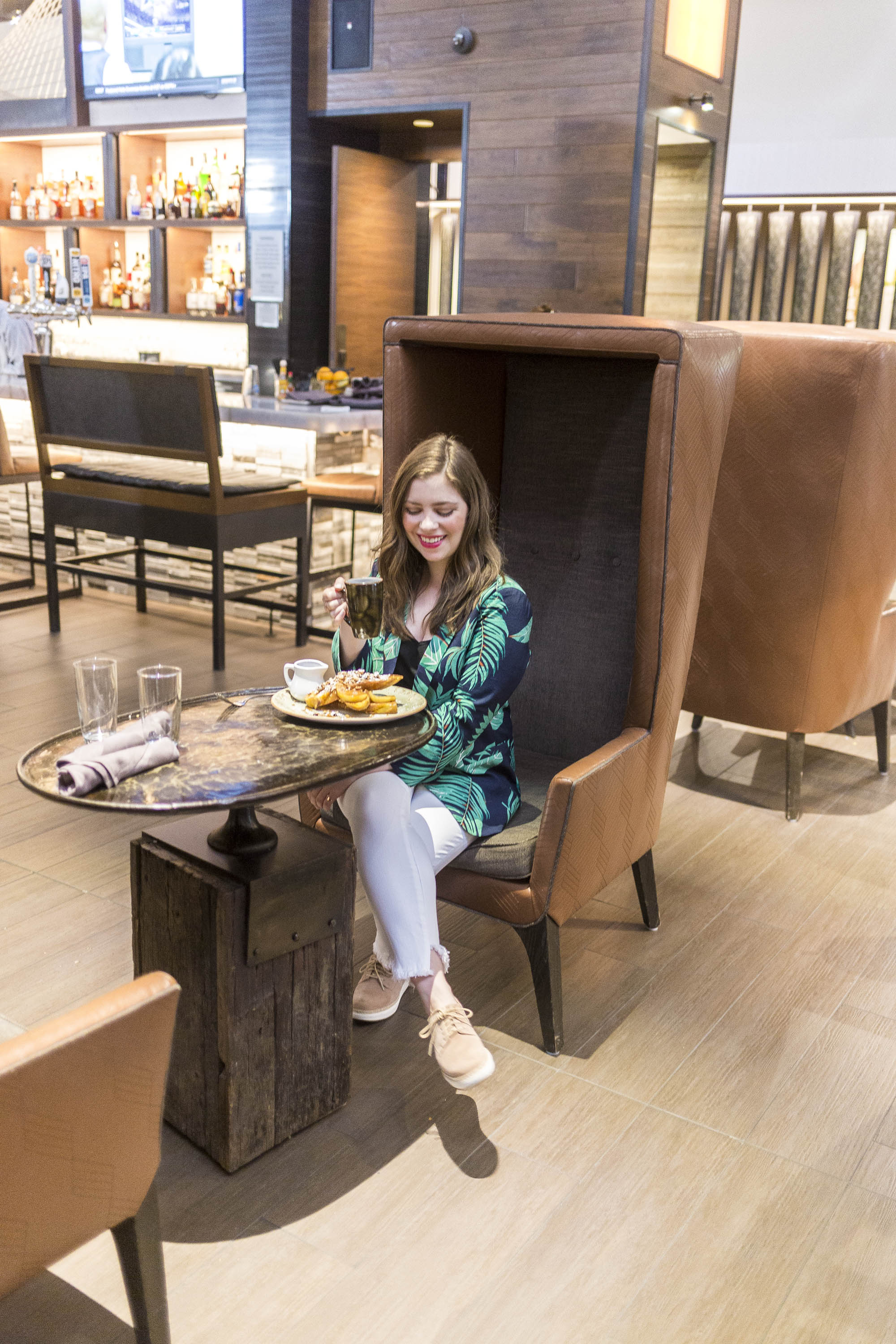 Our last day in San Francisco was short and sweet. I had an early afternoon flight, which meant I had to be packed up and on the road to the airport no later than about noon. It gave me just enough time to enjoy one last stroll around the Embarcadero neighborhood and enjoy brunch with Alicia at Eclipse Kitchen and Bar, the hotel restaurant.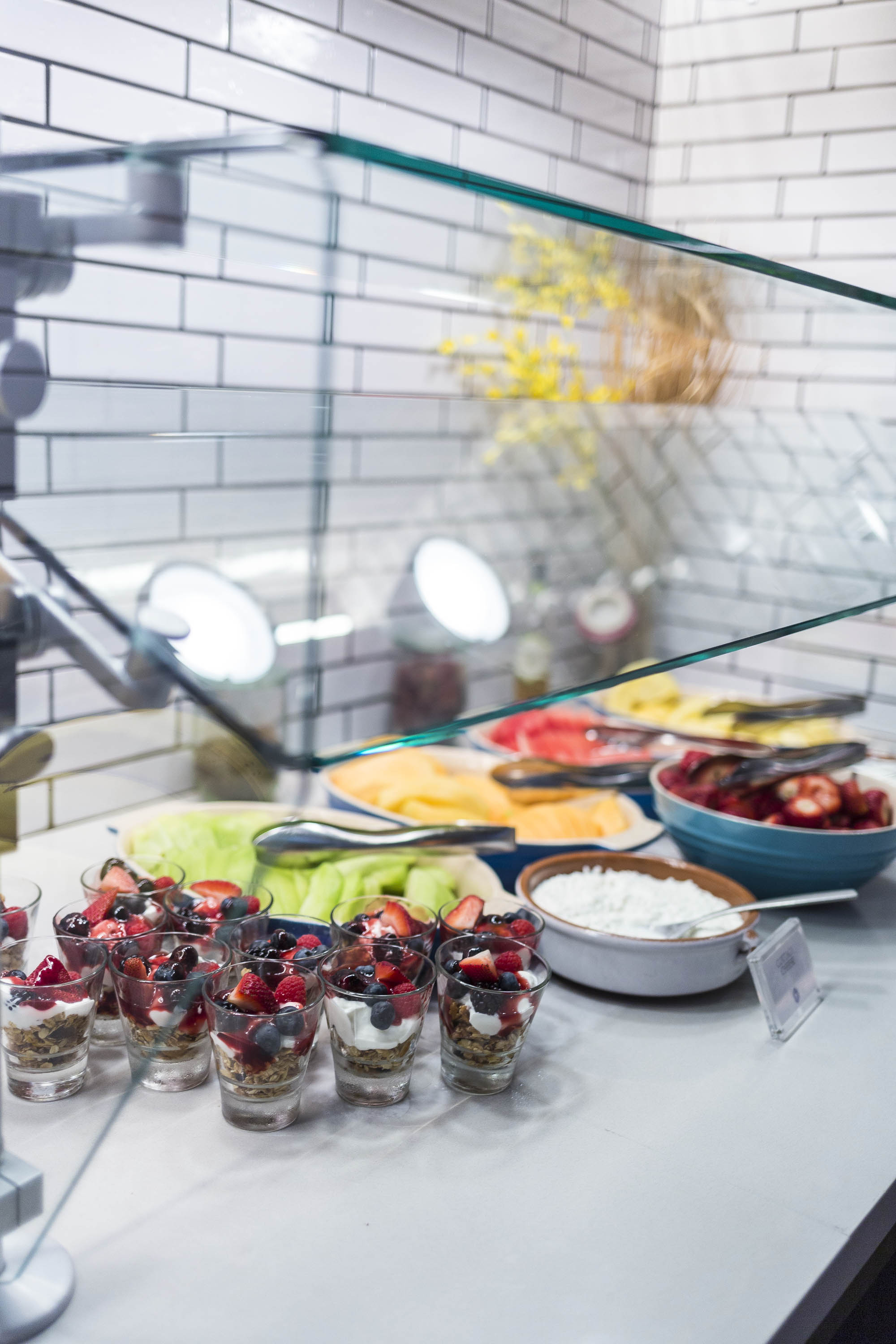 I won't lie, we were pretty hungry, so we opted to order several items off the menu. We started our brunch off with coffee and smoothies. Freshly prepared, the smoothies were a refreshing start to our morning and curbed those hunger pangs. For those who can't make up their mind, Eclipse Kitchen + Bar also offerings a full breakfast buffet with all the fixings, from fresh cheeses and fruit to homemade quiche and pastries and hot items like eggs and bacon.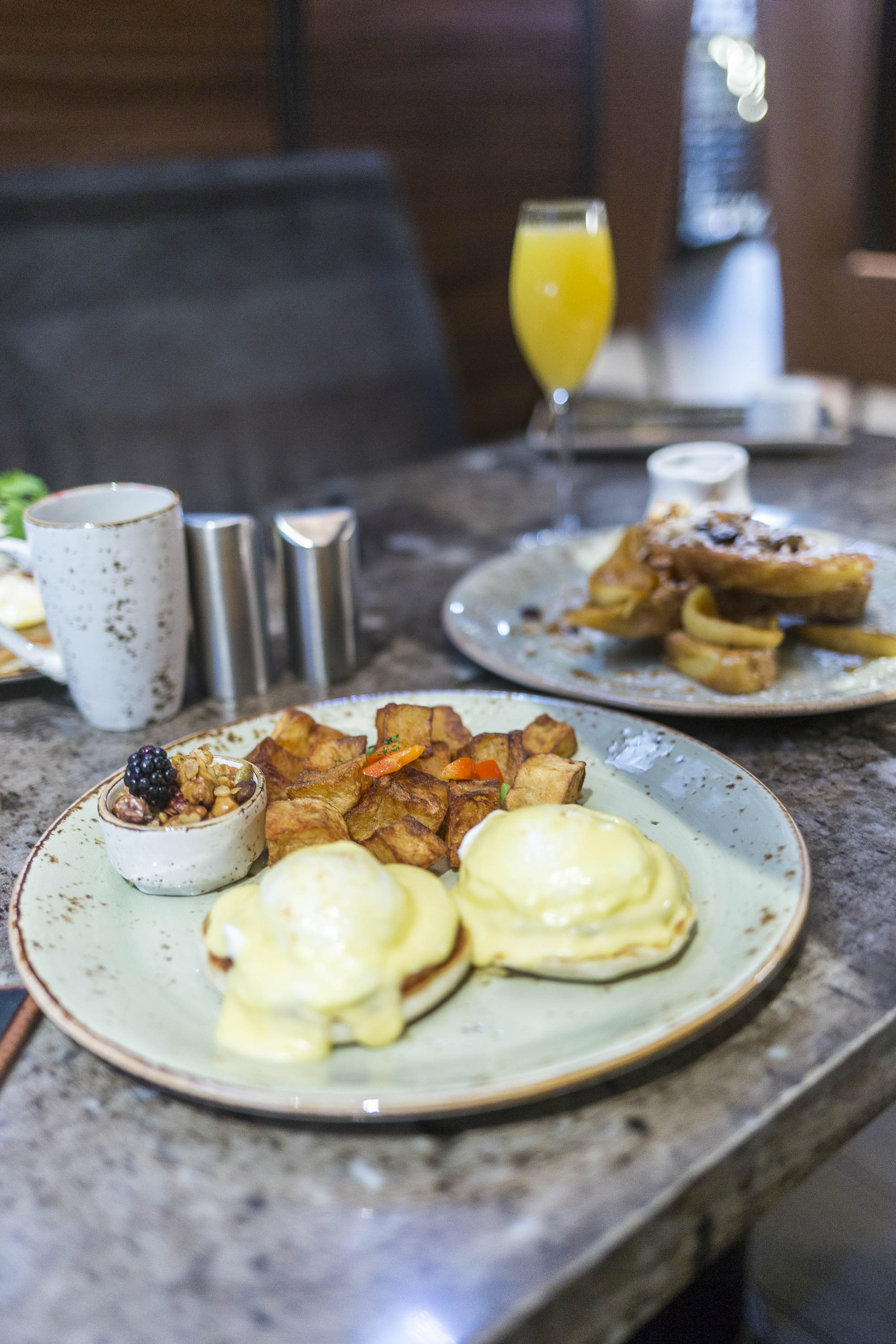 Our entrees arrived shortly after, Eggs Benedict for me and Huevos Rancheros for Alicia. We decided to order something sweet to share, and on the recommendation of our server, went with the Caramel Apple Sourdough French Toast. Yum! I really enjoyed the tangy-lemon hollandaise sauce which was generously distributed on my eggs benedict, and both of us gobbled up the french toast. Overall, it was the perfect meal to end a fun trip!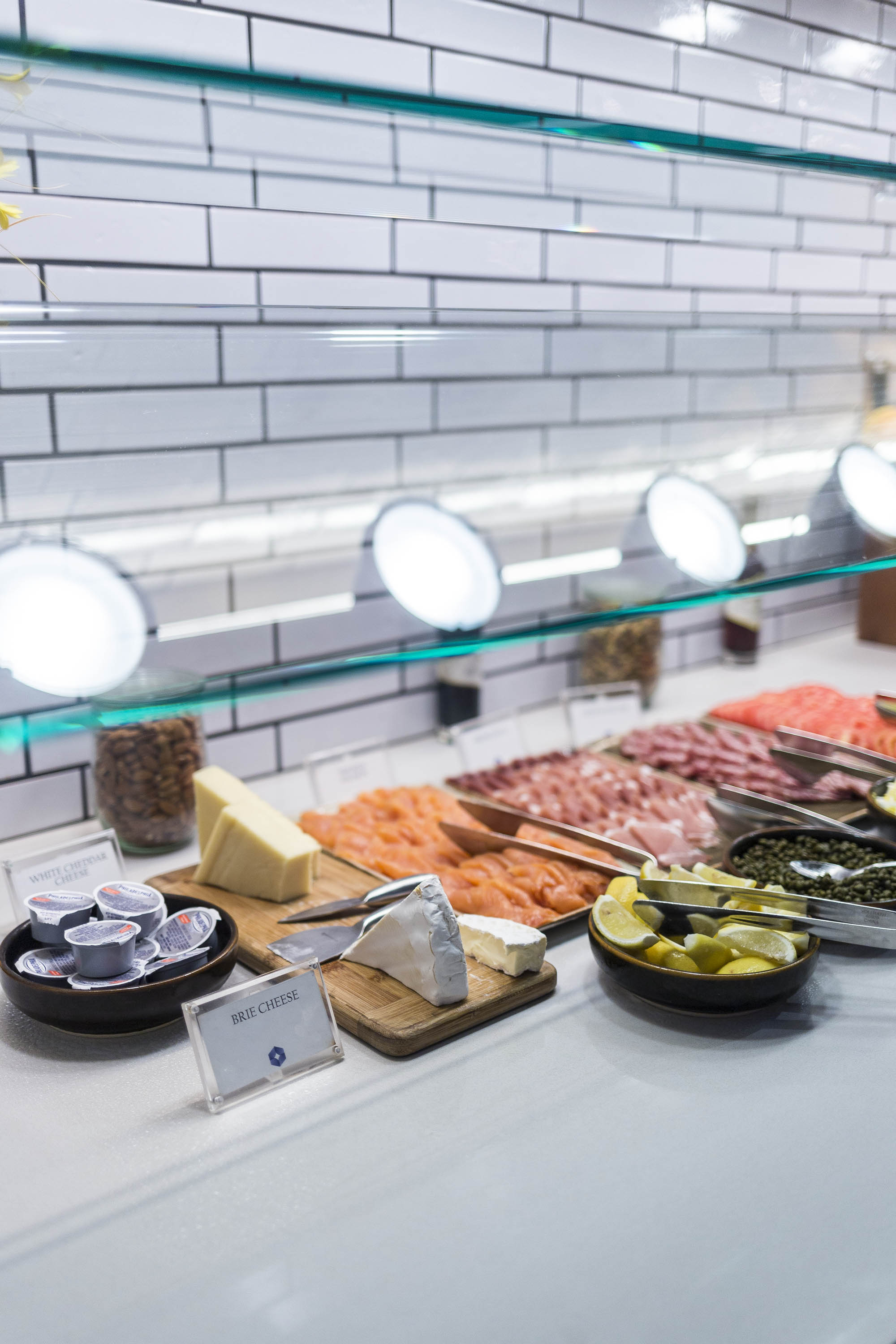 If you're heading to San Francisco soon and in search of somewhere to stay while visiting, I can't recommend the Hyatt Regency enough. The hotel itself is beautiful, perfectly located, and the service we had while visiting was top notch. The Embarcadero neighborhood was the perfect spot to stay for a first-timer, and would definitely be somewhere I'd stay again. The proximity to the ferries and water views really cannot be beaten.
What to do Nearby the Hyatt Regency:
Ferry Building
Shop 'til you drop at the Embarcadero Center
Take the ferry to Sausalito
Walk across the Bay Bridge
Take in a Giant's game at ATT Field
Take a SoulCycle Class
Have you visited or lived in San Francisco? What would you recommend to do on a short trip to the city? I'd love to hear your recommendations in the comments!