Happy 4th of July week! I can't believe the holiday is nearly upon us. Before everyone heads out to celebrate with friends and family, I wanted to share some ideas for red, white, and blue outfits, whether you love being patriotic or it's not really your thing. Flag tees, in my opinion, should be a thing of the past, and instead, I encourage you to take a stylish twist this holiday by incorporating your favorite color, whether it's red, white, or blue into your outfit!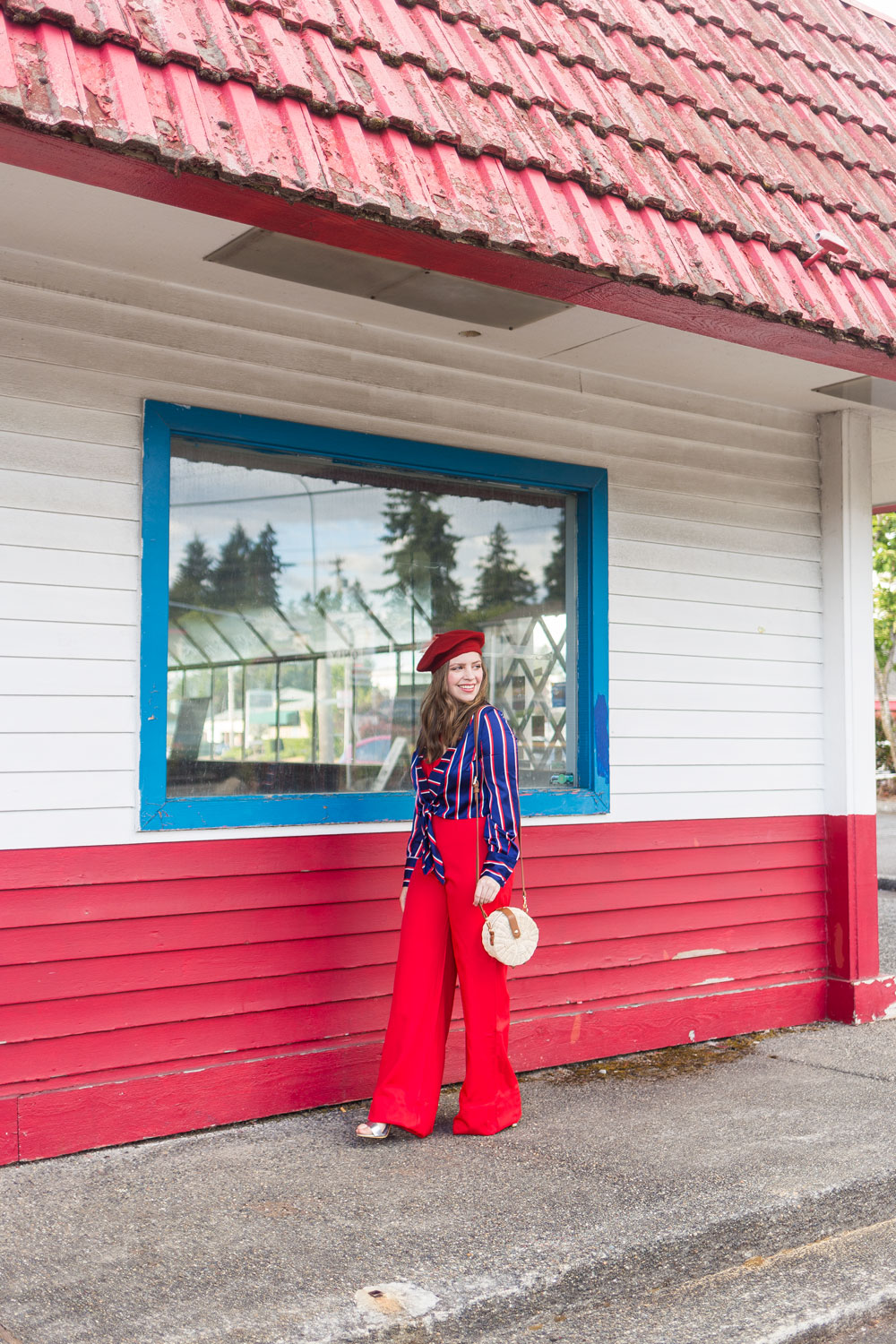 Disclosure: Thanks to PrettyLittleThing for sending me complimentary clothing to style in these outfits. All opinions are my own!
Stripes, plaid, polka dots, solids, oh my! The choice is yours when it comes to what pattern, if any, to choose for the holiday. You can go subtle, or go bold. I opted to take two extremes – an outfit that to me, literally screams patriotism, and one that is more subtle and can be worn any day! Just add patriotic accessories, or not, and go!
Read on for more about my two red, white, and blue outfits!
Go Bold with Wide Leg Pants
If bold is your style, then wear it loud and wear it proud! I went all-in with this classy red, white, and blue outfit. Red is my favorite color, which is why the anchor of this outfit is most definitely these statement-making wide leg crepe trousers and corresponding top underneath. It almost gives this the look of a jumpsuit! A high heel is key for this short girl to keep these pants from dragging all over the ground. I selected a silver metallic strappy block heeled sandal from PrettyLittleThing for the occasion!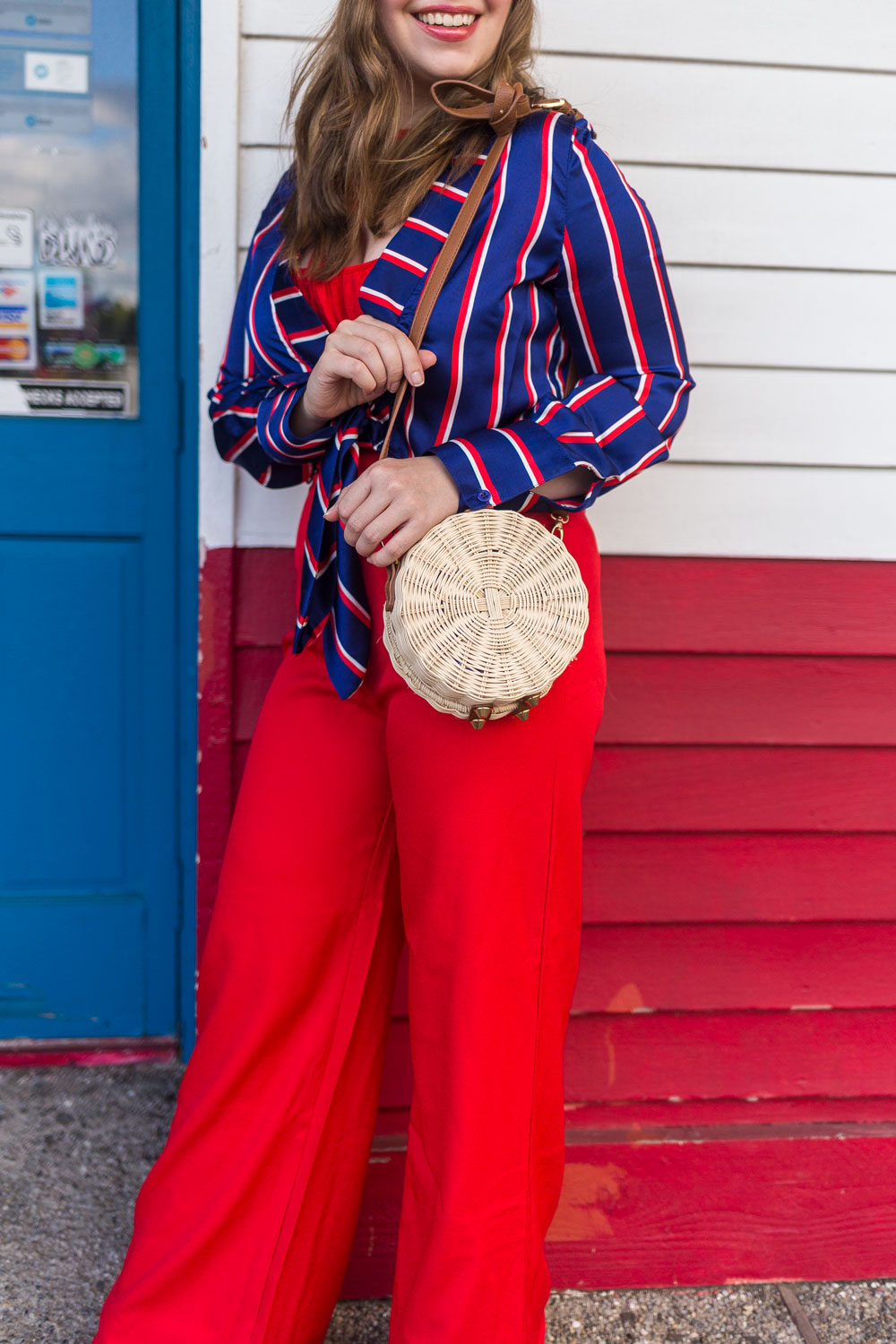 As for my top, I've selected a red, white and blue stripe crop blouse. This wrap top adds interest to this otherwise monochromatic outfit, and will most definitely fit into my casual work wardrobe as well as long as it's paired with something underneath. A fun and on-trend wicker crossbody bag is the perfect accessory, and to hold all of my necessities like my sunglasses, keys, and my wallet.
Even for summer, I'm still a fan of hats. Lately, in Seattle, it's actually been rather chilly in the mornings and evenings, which makes a hat an even more compelling choice. This red felt beret from PrettyLittleThing was the perfect cherry on top of this patriotic outfit.

Keep it classy with a suit alternative
Not so into the bold red, white, and blue look? Go with a fun alternative, like gray or white. Add a pop of color with your accessories and you'll be set for the Fourth of July Holiday!
For my second look, I paired a checked blazer dress in a grey and white plaid suiting material. I love how put-together this dress looks, but to give it a casual spin, I've rolled up the sleeves. A scarf tied around the neck gives it a playful touch of red, white, and blue, as does my baker boy cap in a bold red shade.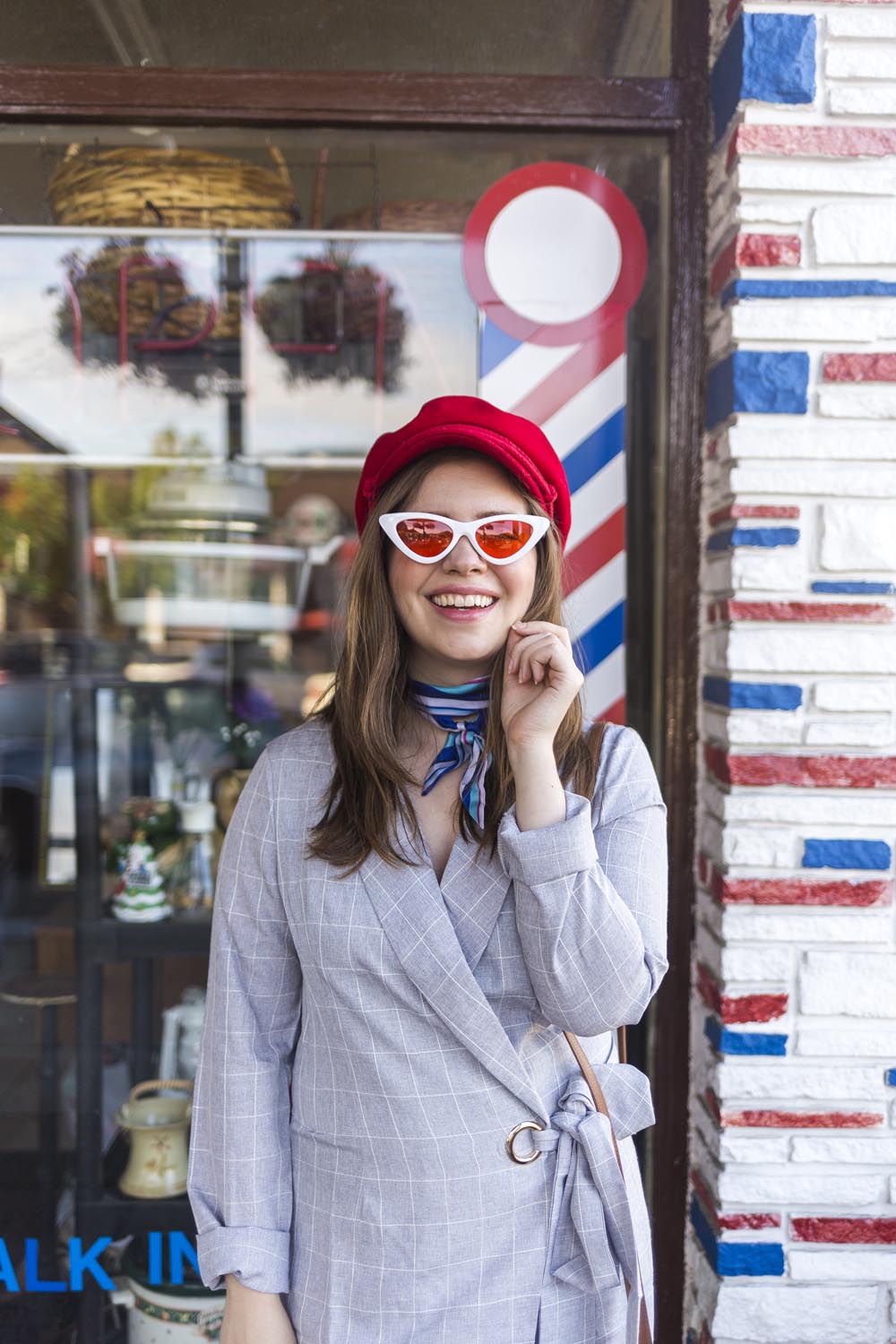 To complete the look, I've accessorized with the same straw bag as in the other outfit, and a pair of on-trend cat-eye sunnies. The bold reddish-orange lenses pop against the white frames. A pair of white ankle boots give this outfit a retro spin, which I totally love.

The best news of all is most of my outfit contains budget-friendly pieces from PrettyLittleThing. A UK-based retailer, PrettyLittleThing is owned by Boohoo, which I've posted about previously, and I find quality and sizing to be very similar. For me, that means I order a size US 6 or size UK 10 in pretty much everything. For shoes, beware that they do not carry half sizes, and in my experience, most of their shoes run a bit large. I order a half size down in regular shoes like flats, sandals, and heels, and would recommend a half size up in ankle boots.
While these pieces will all need slight alterations to fit me perfectly, (the struggle of a short girl is real!) I was incredibly impressed by the wide leg pants, which are fully lined, and fit perfectly despite the length. (I've pinned them up for these photos, but will have them hemmed to fit.) The plaid dress also comes lined and the wrap component allows the dress to be adjusted to fit. The only thing it needs is a bit of alteration to the sleeve and a tank or slip dress underneath. I can't wait to wear it again over a pair of jeans come fall for a fun jacket alternative!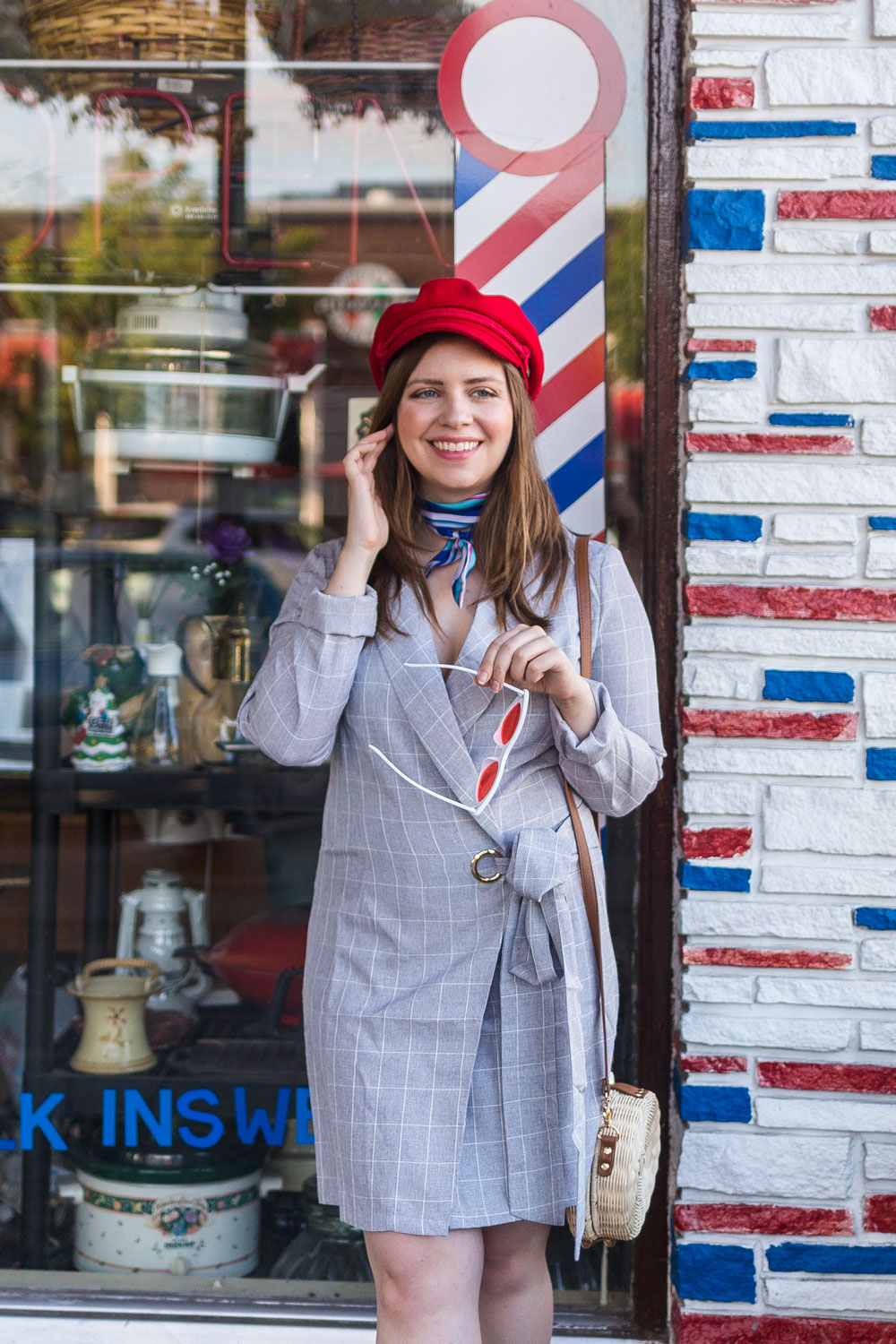 I also can't recommend the accessories section enough – for trendy pieces like straw bags, on-trend sunglasses, and jewelry, the prices are affordable and cannot be beat. Note that this is a UK-based company and shipping does take a bit longer since your order will come through customs. I've placed orders on my own and I find that they typically come towards the end of the delivery window (about a week) to the west coast.
And with that, I hope these red, white, and blue outfits inspire your holiday look, and if you're in the shopping mood on your day off, be sure to check out PrettyLittleThing's sale.
How are you celebrating the Fourth of July? What are you wearing for the occasion? I'd love to hear about it in the comments!