Disclosure: Thanks to Pantene for sponsoring this conversation. All opinions are my own!
My hair has been top of mind lately as we go into summer. It's the time when my hair goes through the most extremes; whether it's taking a dip in the pool, spending time outside in the sun, or getting blasted by the air conditioning in the car and at the office. With a medium length haircut right now, I'm fortunate that I have less overall hair to manage than I used to. However now I find I battle different problems, like product build-up, greasier roots, and dry feeling ends. How's a girl supposed to keep her hair fresh all summer long and manage all of these problems within her haircare routine?!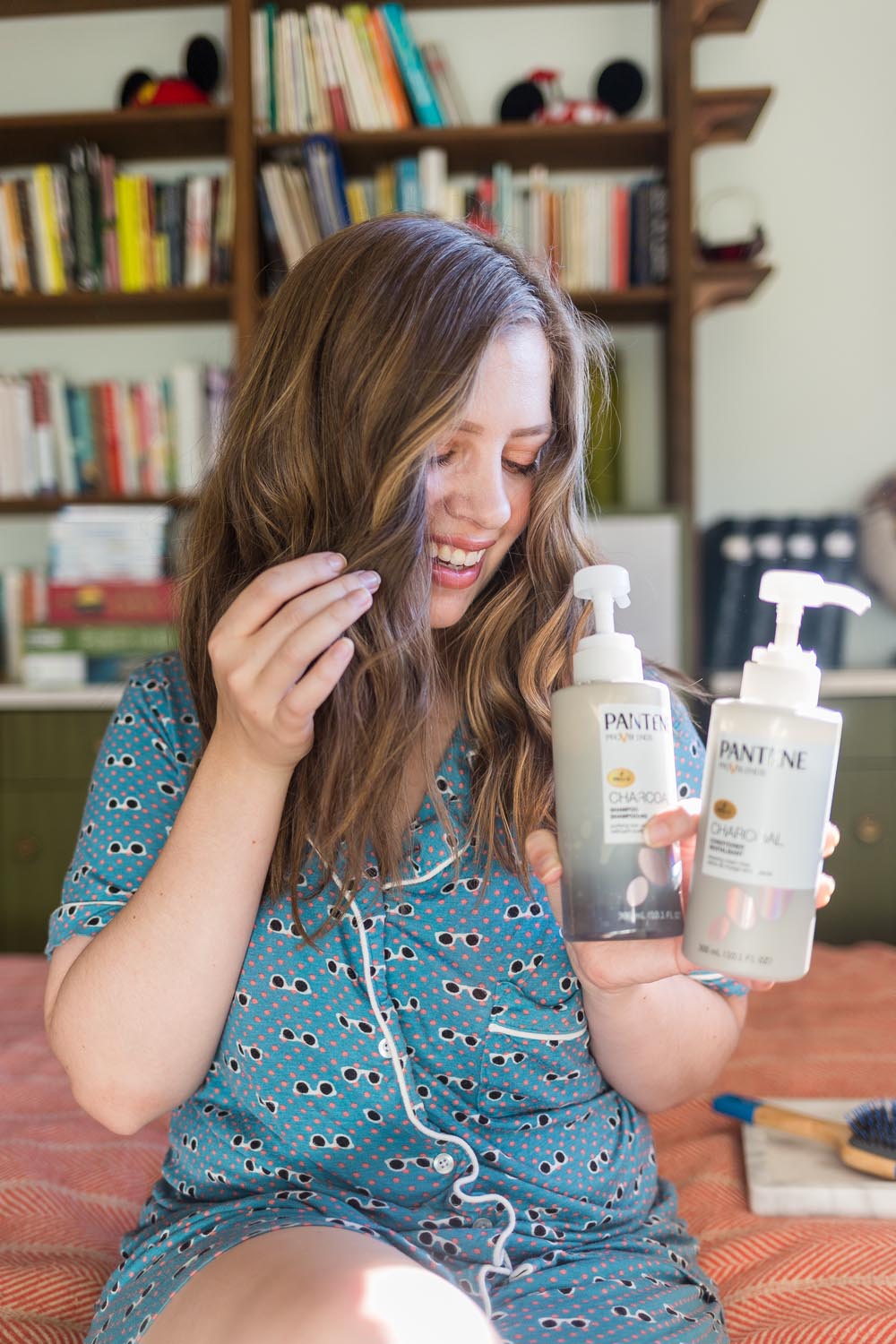 After recently adding some soft highlights and lowlights to my hair for summer, I've been noticing that my scalp has been more sensitive than ever. I've been trying to go easy on the products, but I find that even after one wash, my hair is already looking greasy. Heavy moisturizers in my shampoo and conditioner leave my hair looking dull, weighed down, and ultimately oily after just a single day. Fortunately, I was recently able to try out the brand new Pantene Charcoal Collection. Just like charcoal in skin products, the charcoal in this new shampoo and conditioner works to purify the hair, from the root to the ends in only one wash. Pantene is a brand that I've loved and used since I was in elementary school, and I love how they're always creating innovative products to meet the needs of a modern woman like myself!
How activated charcoal benefits your hair
I'd always known that charcoal works great at removing impurities and works as a natural detoxifier for the skin. But did you know it can function similarly for your hair? I didn't realize this, but your hair does not have a built-in purification system. The activated charcoal in the Pantene Charcoal Collection's Shampoo and Conditioner gently purifies by absorbing impurities, like magnetic attraction, while also releasing antioxidants to help with shine!
The purifying, nutrient-infused shampoo with a Pro-V blend of activated charcoal, pro-vitamin B5 and antioxidants is also free of silicone, parabens, and dyes. The activated charcoal cleanses hair and the scalp to remove dirt and impurities. For those of us with an oily scalp, this helps reset the balance and helps you have more great hair days by keeping hair clean and refreshed in between washes.
The Pantene Charcoal Conditioner is Pantene's first-ever silicone-free conditioner. It rinses out quickly and leaves the ultimate clean feeling for renewed fullness and shine. It's also free of paraben and dyes and contains pro-vitamin B5, white charcoal, and antioxidants for use after shampooing. I love that while my hair felt super clean after shampooing and conditioning, it also felt soft, smooth, and hydrated. While this collection is most definitely great at cleaning, it will not leave you with dry or stripped feeling strands!
How to prevent greasy roots and product build-up
Since I've chopped my hair shorter, I've been using a lot more hair products than usual. Dry shampoo, texturizer, and heat protectant have quickly become a part of my daily routine to keep my hair looking good. However, this has caused my hair and my scalp to feel irritated and my ends to feel dirtier than ever before. A quick wash with the Pantene Charcoal Collection has made a massive improvement to my hair. Instead of feeling weighed down with heavy products, it feels lighter and healthier than ever. Did you know some build up can result in hair gaining 4% of its weight?!
How to give yourself more days between shampoos
Previously after washing my hair with a standard moisturizing shampoo and conditioner, I began to notice oiliness at the roots at the end of the first day. Not cute. I've seen this issue most during summer, when I'm most active out and about, wearing hats to protect my skin from the sun, and overall getting a bit sweatier than the cooler months. If you're like me and want to re-train your hair to go longer between washes, a clarifying shampoo and conditioner like the Pantene Charcoal Collection will make a giant difference by really deep cleaning each strand and removing product build-up, from the root to the tip.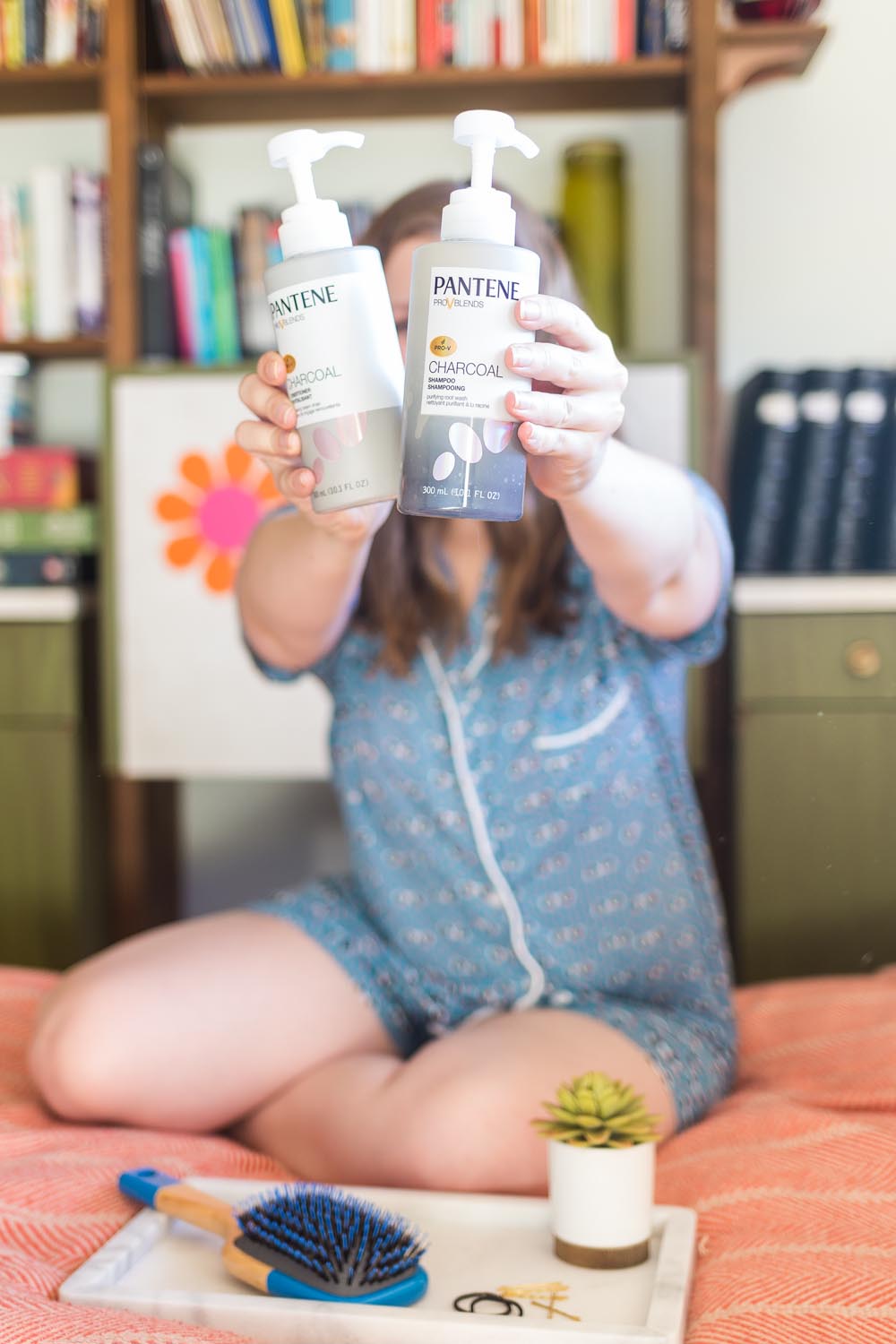 If you've noticed a change in your hair this summer too, I can't recommend trying the new Pantene Charcoal Collection enough. The collection will be available for purchase at Target in mid-July – right around the corner!
What hair struggles do you have in the summer months? Are you going to try the new Pantene Charcoal Shampoo and Conditioner? I'd love to hear about it in the comments!