Happy Halloween!
As October comes to a close, I look back at how fast it all flew by. The weather has gone from sunny and fairly warm for fall to chilly and rainy. Before the weather change hit, my friends and I made our way to a local pumpkin patch. After all, would it really be fall if pumpkins and a cute pumpkin patch outfit weren't involved?!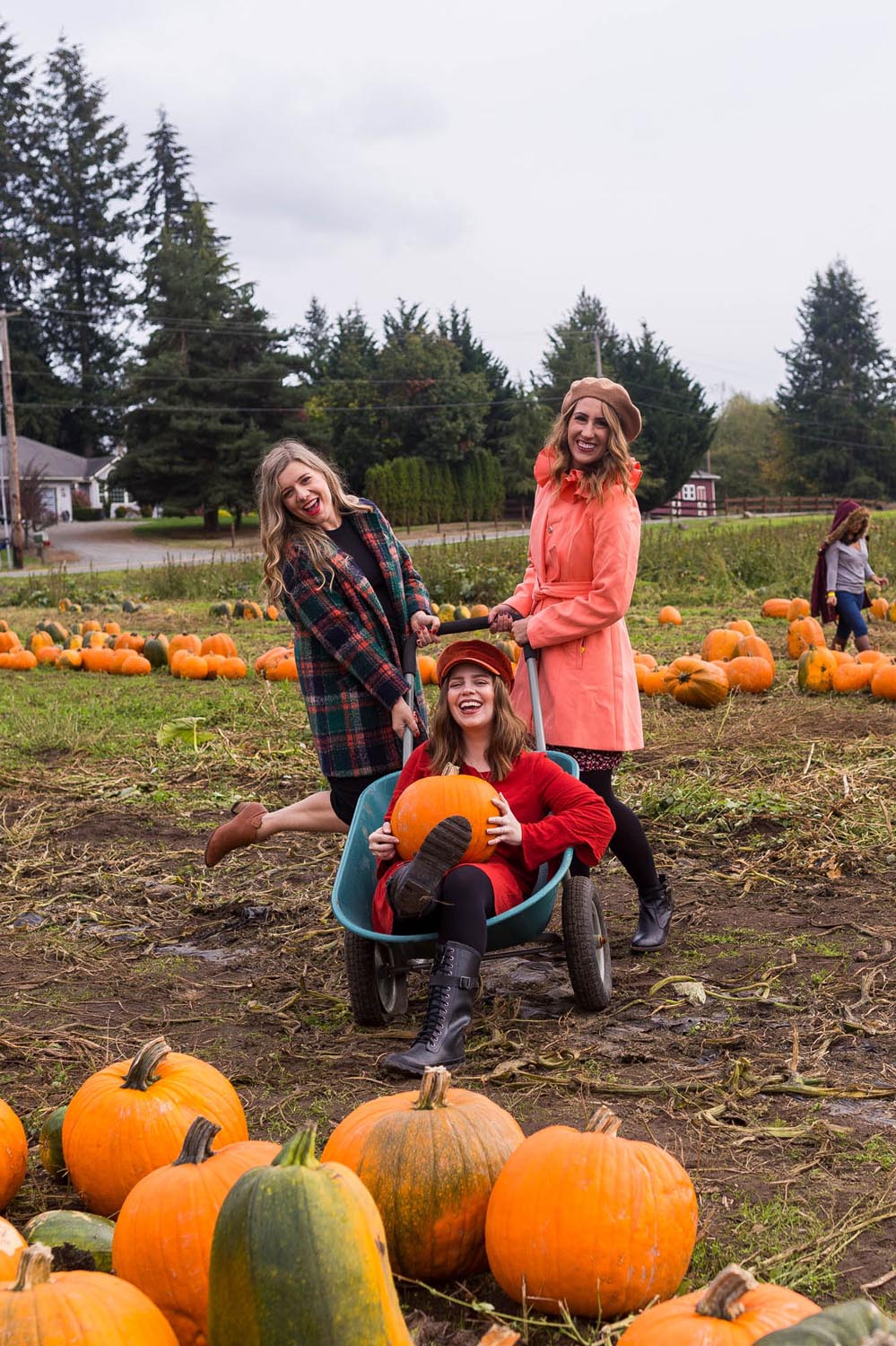 Just 45 minutes outside of Seattle is a small farm town called Enumclaw. It's the same town that Dave spent some of his formative years in, and he has family in the area. That's how I stumbled upon Thomasson Family Farm several years ago. Since it's a bit farther out and the only pumpkin patch in town (that I know about anyway) it tends to be a bit less busy then some of the others I've been to in years past. While they don't go all out with some of the farm-fun like apple picking, fresh food, and over the top decorations, it's still a cute place to pick a pumpkin and snap some photos.
With that said, if you're looking for a few pumpkin patch suggestions, I've included them at the bottom of this post for next year! Most are open for just the month of October, but it's never too early to plan for next fall.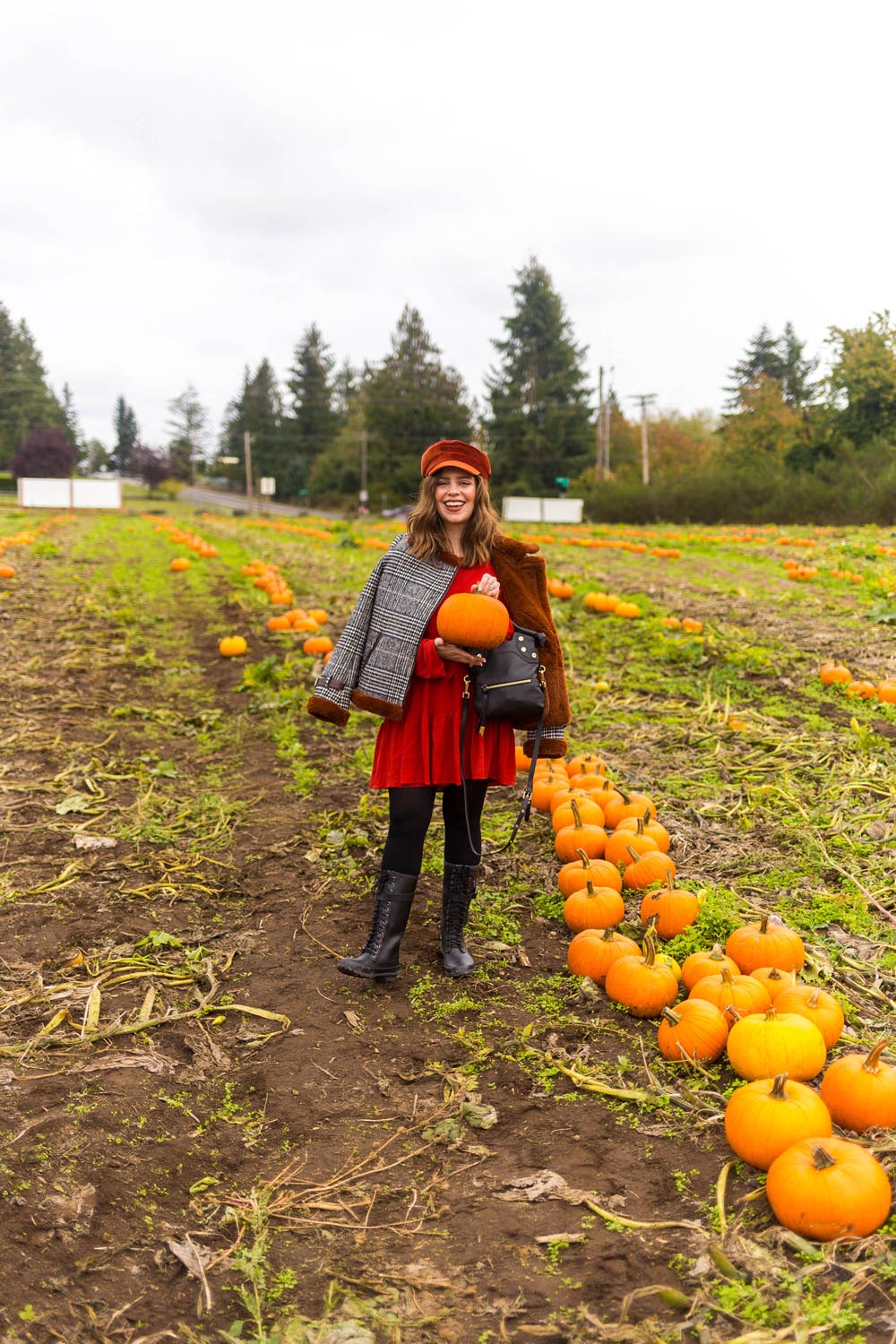 Shop My Outfit


Speaking of planning, am I the only one that outfit plans for a trip to the pumpkin patch? A quick Google Search told me that no, in fact I'm not alone! This year, my outfit was inspired by the pumpkins themselves! I thrifted this burnt orange dress at Value Village during the summer with the intention of wearing it all fall long. It's loose and swingy, which makes it perfect for layering under oversized jackets like my fun moto jacket from Avec Les Filles.
If a dress-based outfit is on your radar for your next adventure to the pumpkin patch, or even this coming holiday season, I can't recommend layering enough. To keep the cold chill at bay, I recommend wearing a pair of tights, and a pair of rain boots are a must if it's rained recently. I packed a few extra pairs for my friends just in case it started to rain while we were there, too. Never can be too prepared!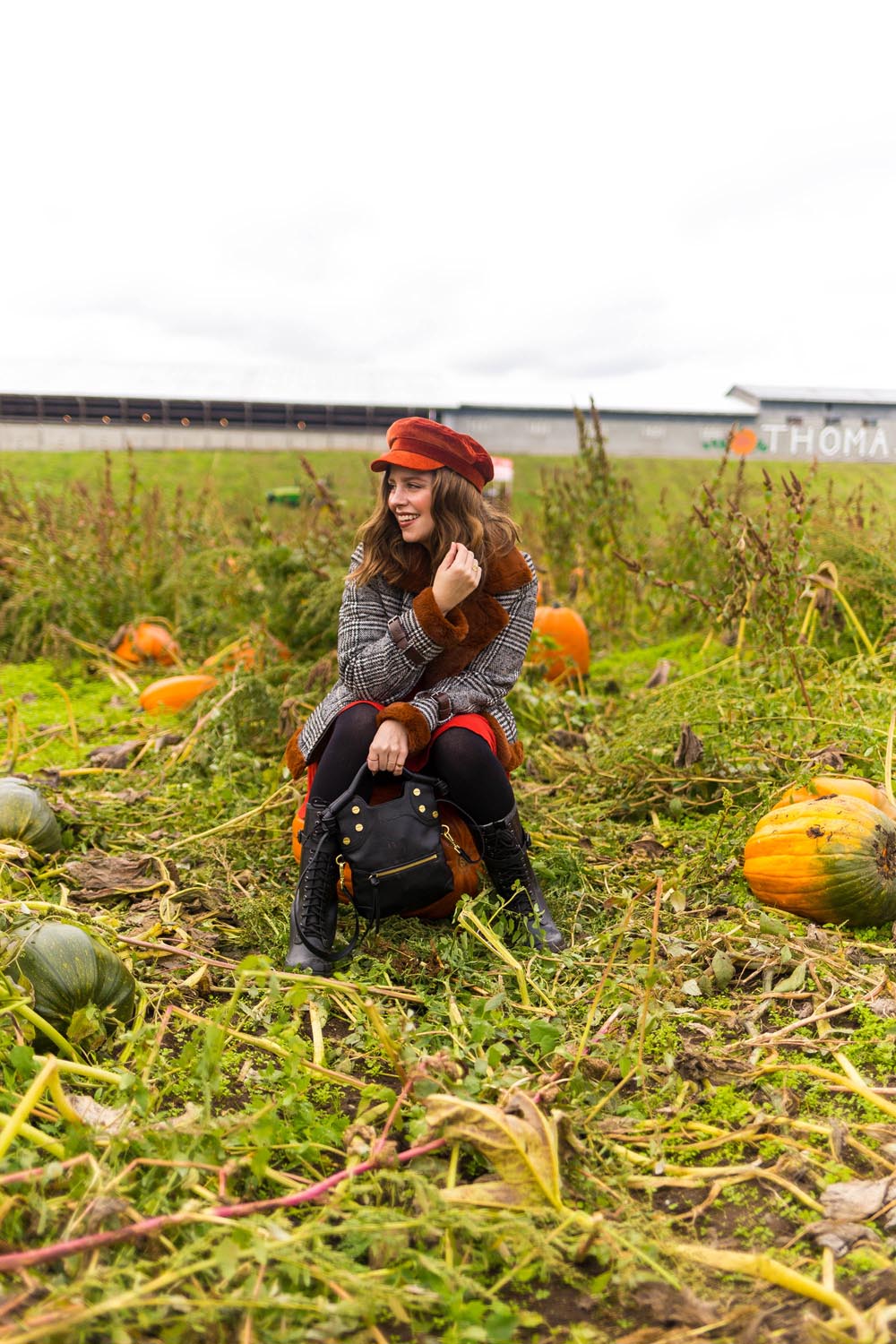 And if you're feeling adventurous (and brave, depending on the mud situation!) why not wear a statement coat to the pumpkin patch? I loved the coat my friend, Megan, wore or you can wear something fuzzy and classic to keep you toasty like my friend Ana did. Don't forget about accessorizing too! A fun baker boy cap ties my whole look together, or grab a beanie or beret to keep your head nice and toasty!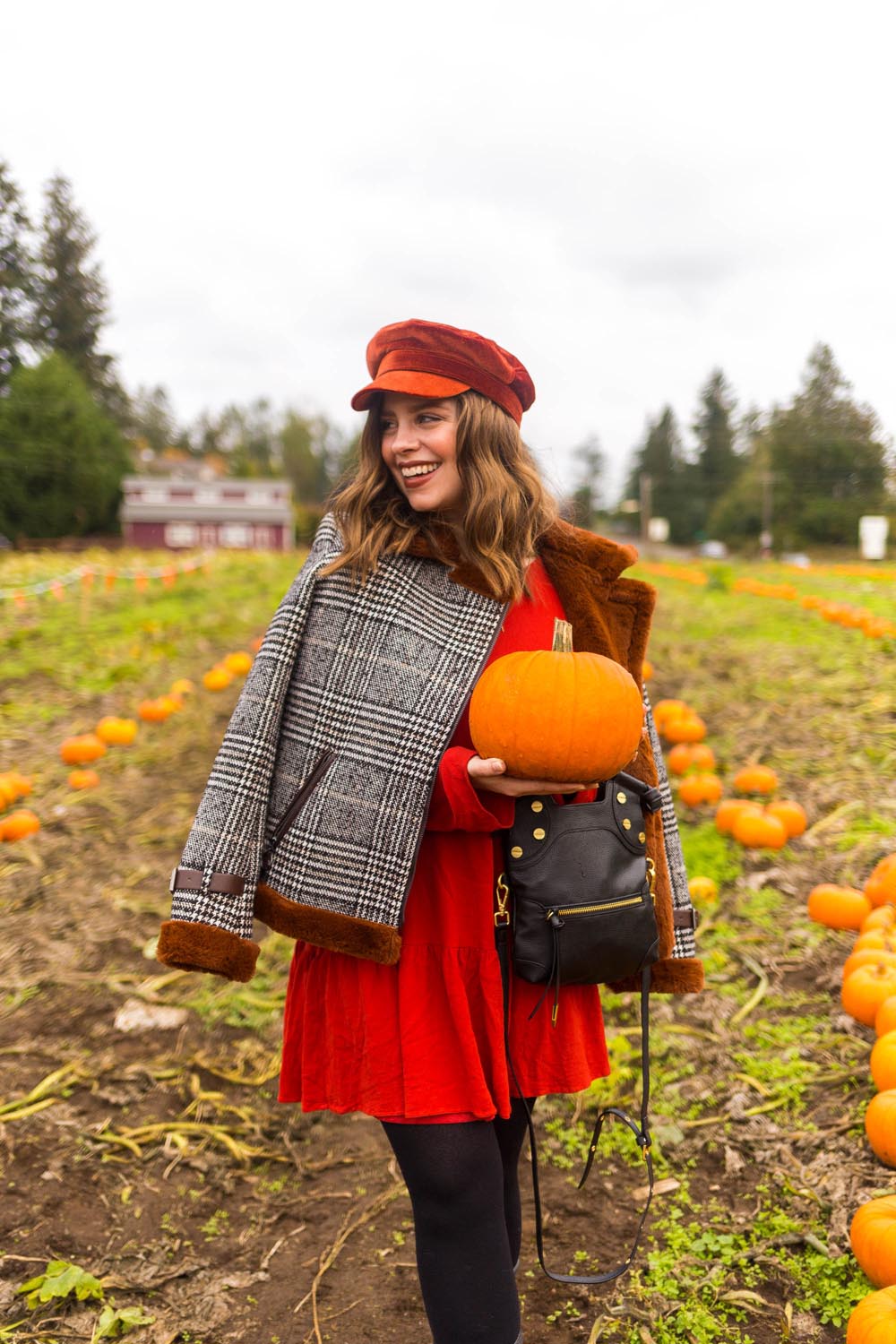 Speaking of adventurous, if you're a fellow PNW-er, how many pumpkin patches have you been to? We started going every year about 7 years ago so I've been to a few different ones over the years. Below, I've included a round up of some of my favorites, as well as a few that I haven't made it to quite yet. I hope this helps you for next year's fall adventures!
Pumpkin Patches in the Greater Seattle Area
Stocker Farms – Snohomish, WA
Bob's Corn & Pumpkin Farm – Snohomish, WA
Craven Farm – Snohomish, WA
The Farm at Swan's Trail – Snohomish, WA
Thomas Family Farm – Snohomish, WA
Kelsey Creek Farm – Bellevue, WA
Serres Farm – Redmond, WA
Fox Hollow Farm – Issaquah, WA
Fall City Farms – Fall City, WA (near Snoqualmie Falls)
Remlinger Farms – Carnation, WA
Jubilee Farm – Carnation, WA
Spooner Farms – Puyallup, WA
Thomasson Family Farm – Enumclaw, WA
Maris Farms – Buckley, WA (near Enumclaw)
Creek House Farm – Port Orchard, WA (across the water from Seattle)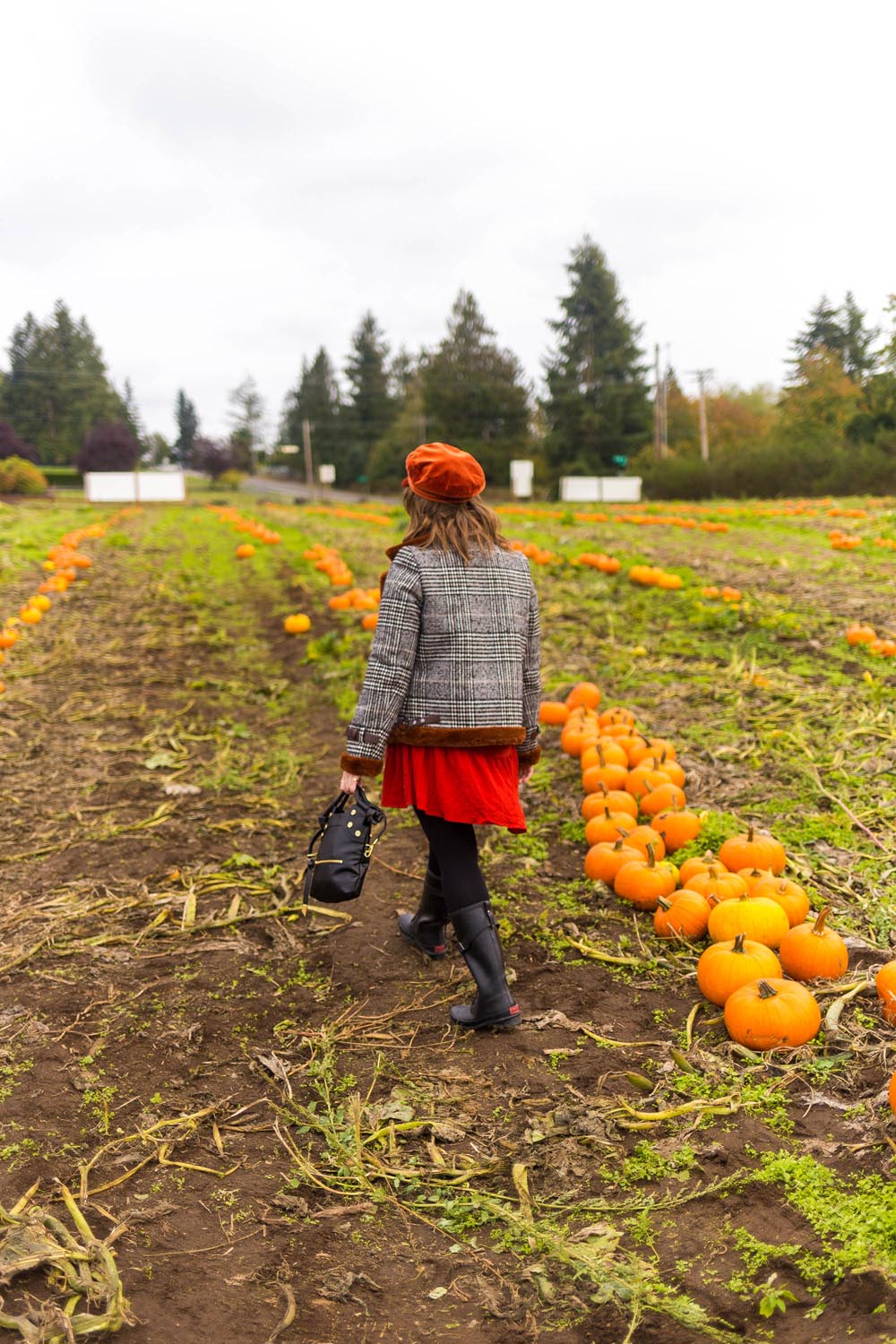 Photos by Megan of Diary of this Girl Megan
And with that, it's time to get planning some holiday content for this year! It feels like fall is just getting started here in Seattle but I know that before we know it, the holidays are going to be upon us. I can't believe November begins tomorrow. Eek!
Did you hit a pumpkin patch this year? What's your favorite fall activity? I'd love to hear about it in the comments!