Affiliate Links / Product Sample
Well, it's that time of year again. No, not the holidays. (Well, not yet anyways!) I'm talking about the rainy season. It has officially hit Seattle. Puddles puddles everywhere, and again I'm puzzled as to how to dress. Waking up and seeing the sun shining is quite misleading when it's raining within the next hour. (And it always seems to start up right as you're hitting the freeway to the office… without a coat.) As much as I love Seattle, and it's beautiful spring and summer weather, playing the fall and winter dressing game is always fun. Or something.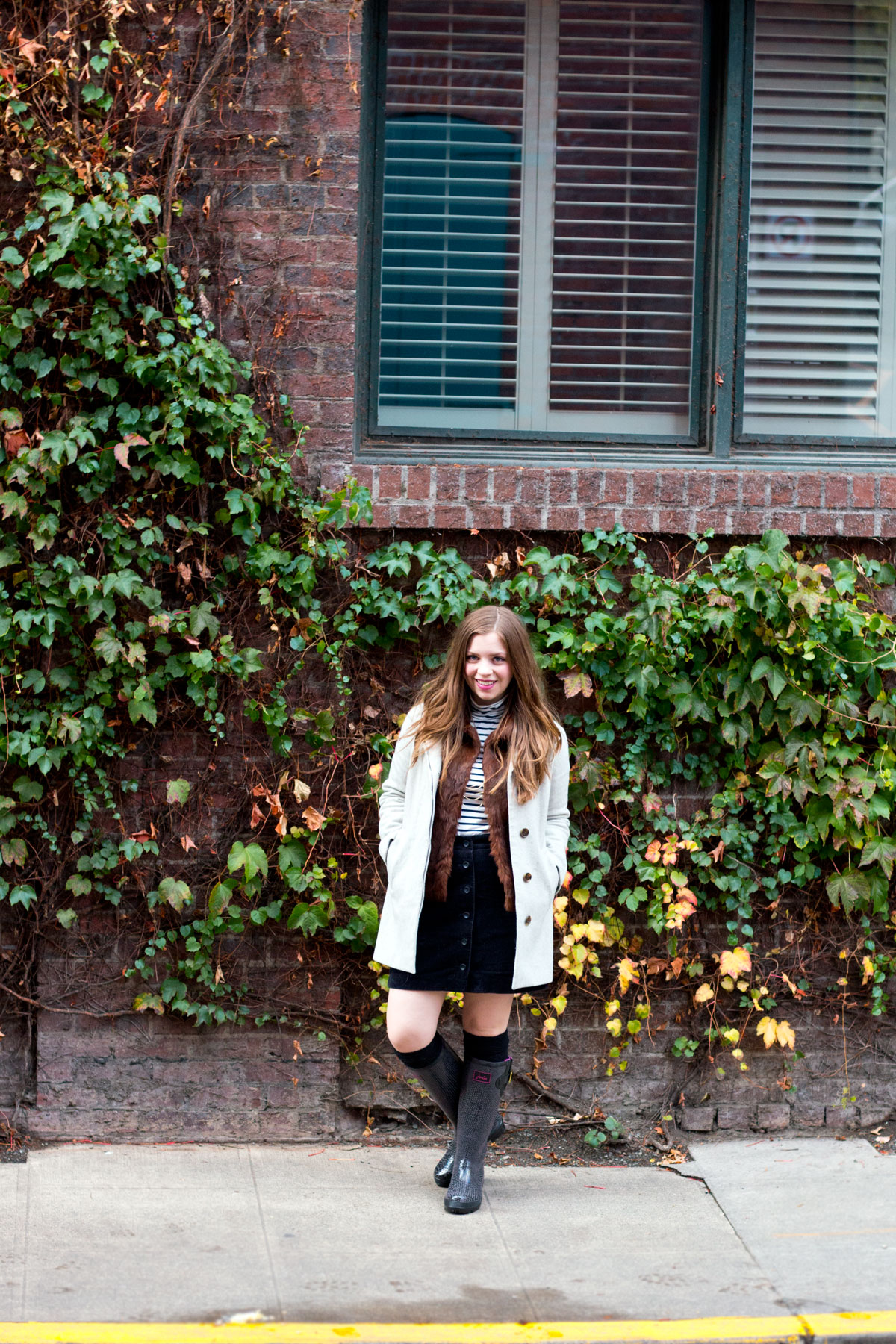 What I'm Wearing
Coat: City Coat via J Crew Factory
Vest: Vintage found at Seattle Goodwill (similar)
Top: Striped Turtleneck via Old Navy (similar)
Skirt: Idlf Corduroy Skirt c/o Uniqlo
Socks: Over the Knee Boot Socks via DSW
Rain Boots: Nessie Tall Textured Rain Boot c/o Joules
Necklace: via Purre Boutique (similar)
I won't lie – returning from the California sun has been a bit of a struggle this week. Getting back into the swing of work has been a challenge. The gray skies and the rain? Not helping.
A package arriving with these adorable Joules Rain Boots inside? That definitely helped! It's only in recent years that I've even owned rain boots, and incorporated them into their own rain boot outfits. Very rarely will you see people in Seattle donning umbrellas and rain boots. Raincoats? Absolutely. Hoods? You bet. But umbrellas are mostly pointless because we often have the wind with our rain, and you might as well kiss your umbrella goodbye in one of those types of storms.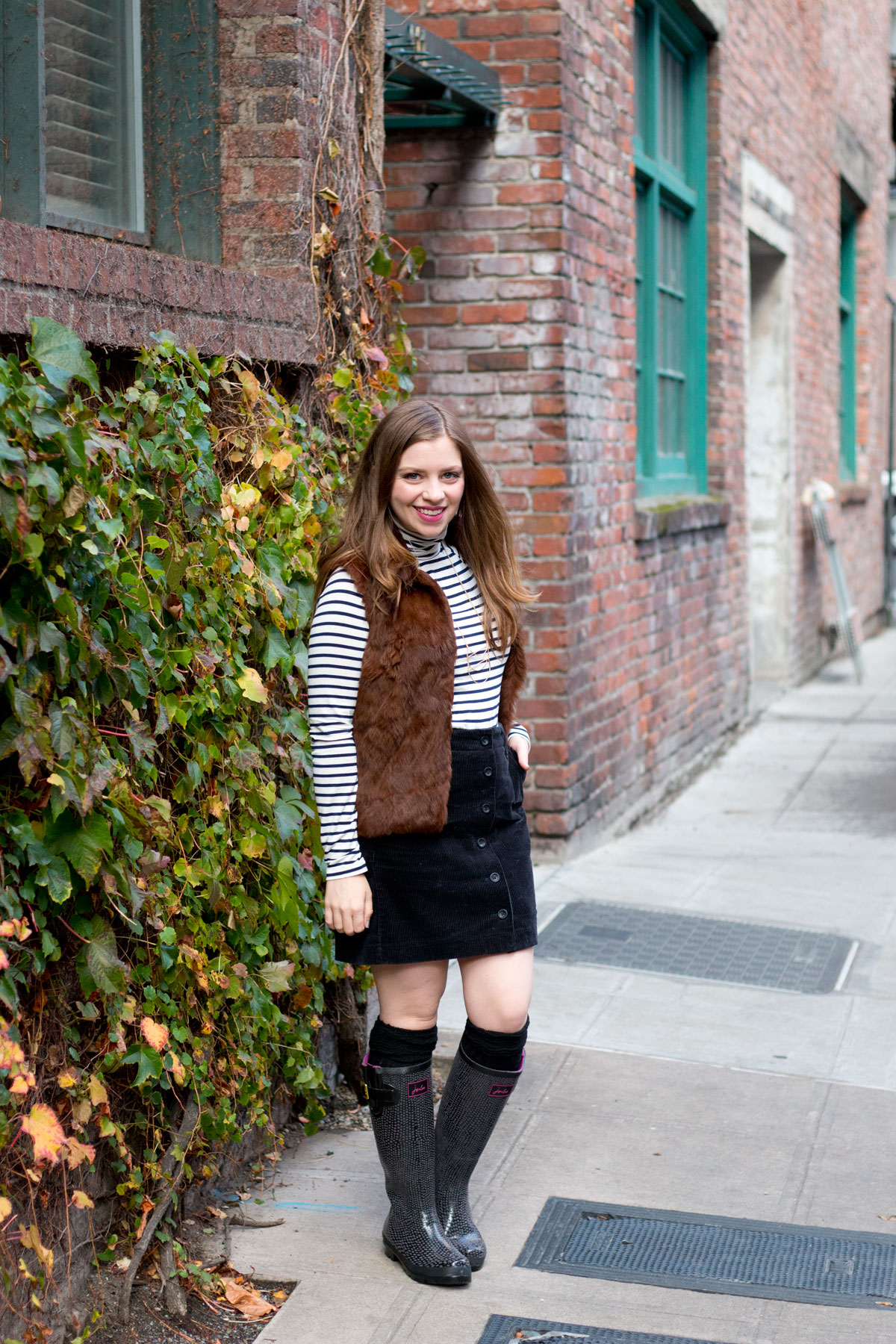 I've since learned, however, that rain boots are incredibly useful for a variety of situations. Snow, mud, and rain-soaked grass when you're running your dog out at one in the morning to do some business are no match for rain boots. When I lived in Pullman and went to WSU, I lived in waterproof boots. It wasn't long before I turned my furry boots into house slippers and opted for rain or weather proof boots only.
In fact, I have another pair of Joules Wellibobs Short Boots that hang out by our front door for Rigby's special occasions. As much as I love that dog, he sure picks some interesting hours for nature to call. (To be fair, our erratic feeding schedule probably doesn't help…)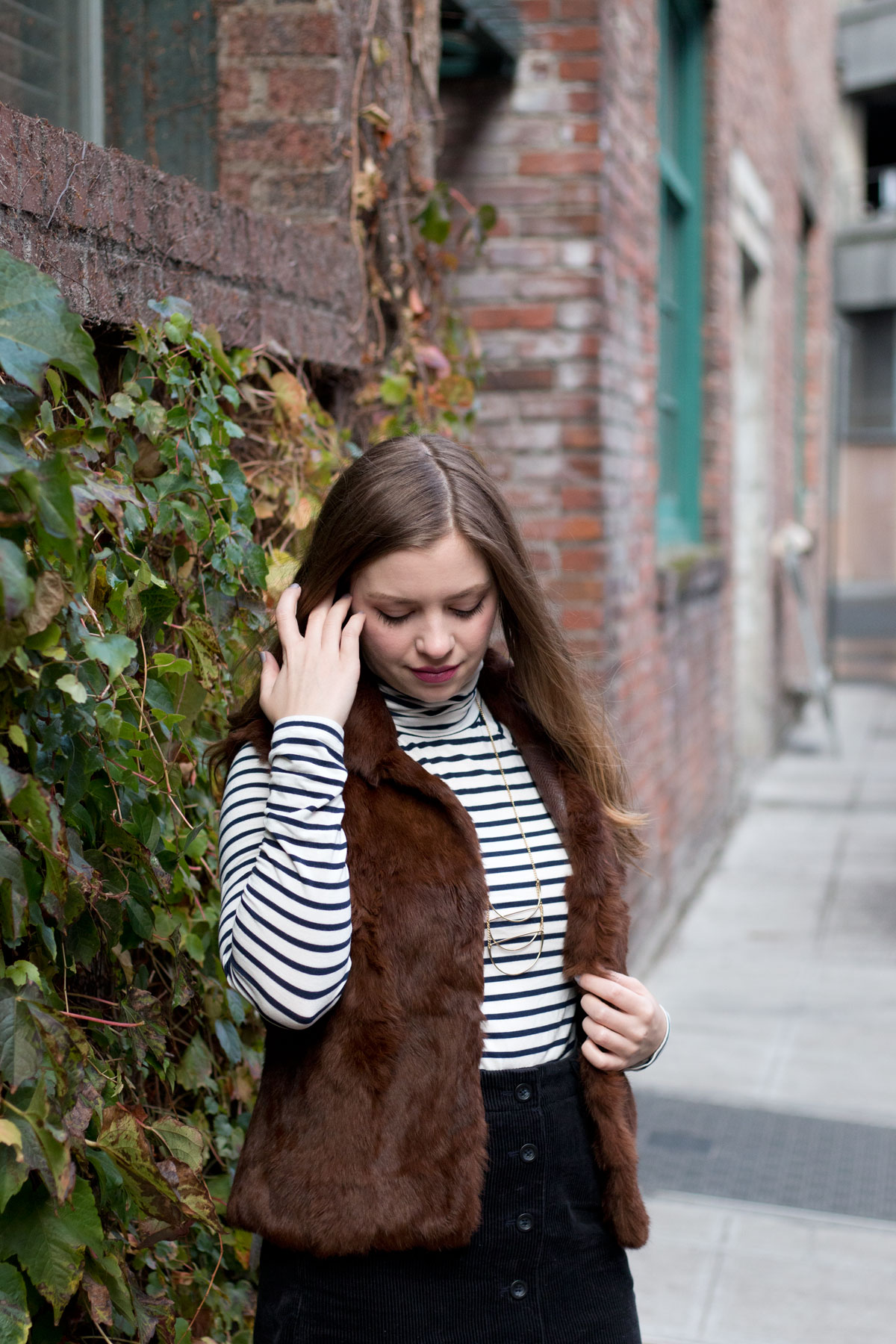 Anyways, I'm excited to add these new rain boots into my collection of fall and winter-wear. I have a sneaking suspicion that these are going to easily fit into my boots rotation. With their textured design and neutral color palette, they will literally go with almost everything. I'm also a huge fan of the adjustable side buckles. They fit my calves nicely as it is, but it's nice to know if I want to layer up for colder weather I won't have a problem with sock thickness.
I do find Joules Rain Boots to run about a size large. I ordered a size 6, and I wear a 6.5. Even the half size smaller is quite roomy, and I feel like there's about a half size of extra space. I am wearing a relatively thick pair of boot socks here, however with the extra room it will be easy to wear several layers of socks if I so choose. That's the one downfall to rain boots – they are not the warmest shoes since they're just a piece (or several) of rubber!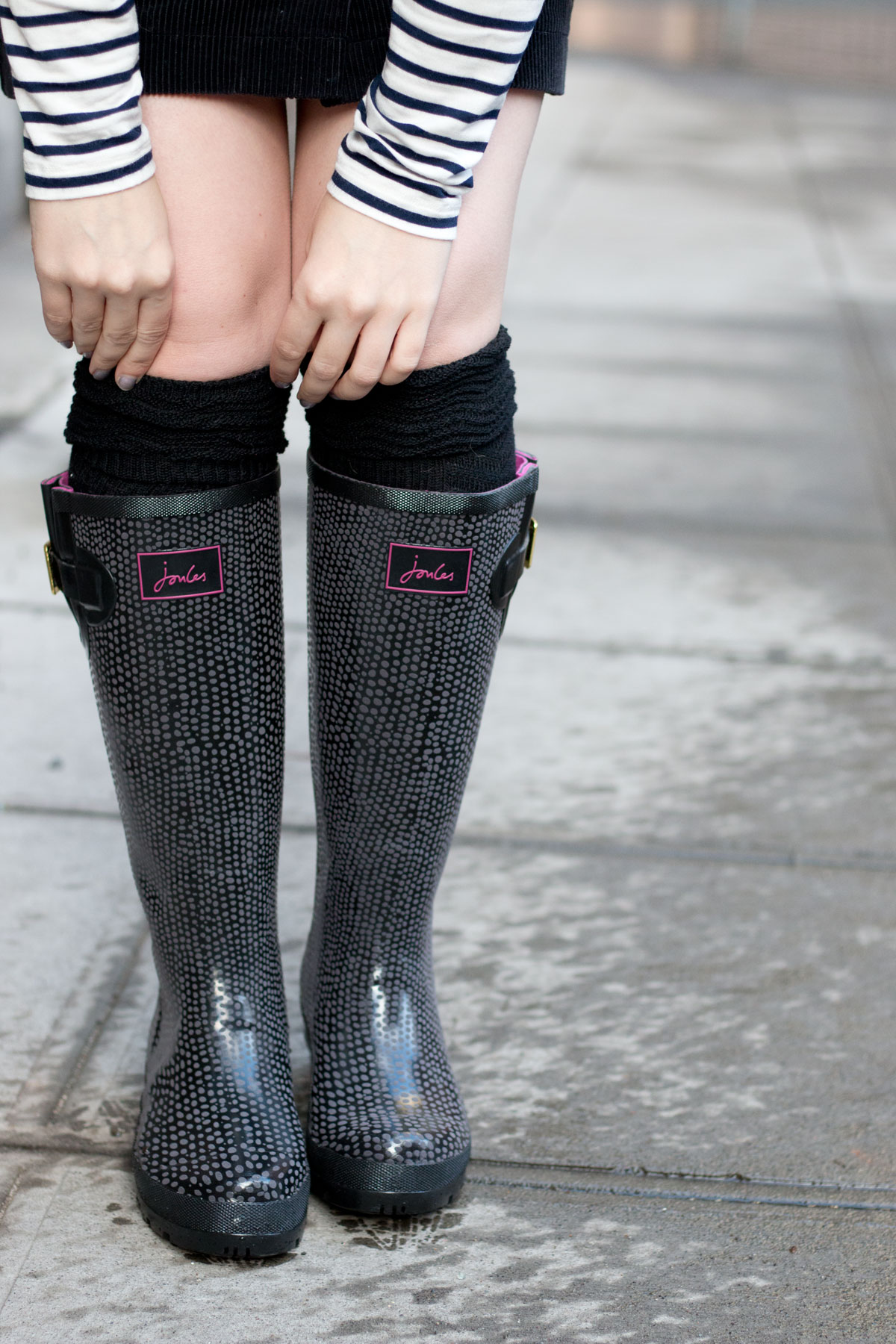 As much as I love the pair of rain boots I'm wearing in this outfit, how cool would it be to have your own, custom pair of Joules Rain Boots designed and produced? They're currently running a design contest where you could win just that (plus a trip to London including hotel, airfare, and spending money!) I'll admit I had to try my hand at designing my own pair. Can you guess what I drew on mine? I know, I know. Crazy Dog Lady, and predictable. #SorryNotSorry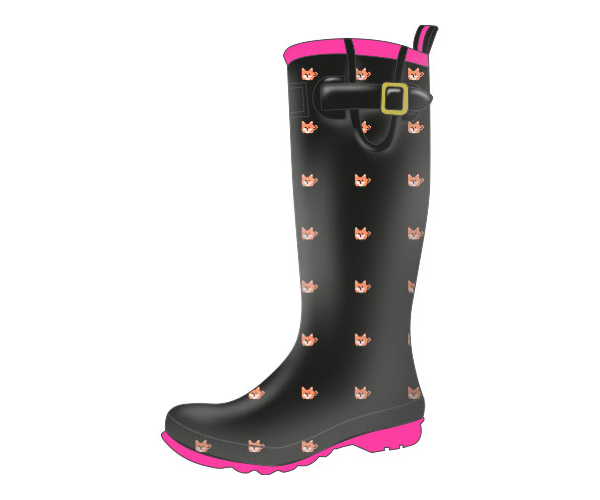 The contest ends on December 4th, so be sure to get those entries in. You can submit up to 5 different designs as well! If you win, be sure to let me know so I can buy your winning design. (And be super, super jealous!)
Do you rock the rain boot outfits in the fall and winter, or are you more of a casual rain boot wearer? I'd love to hear how you style your rain boots, and if you enter the competition, let's see those designs!