A couple of weekends back, I ventured downtown despite some insane traffic (due to all the events happening that weekend and lane closures) to meet up with a group of bloggers for the Seattle Food Tours at Pike Place Market! Of course this post is also timely because I just shared where to eat, shop, and what to do in Seattle at Have Need Want. Talk about kismet, right?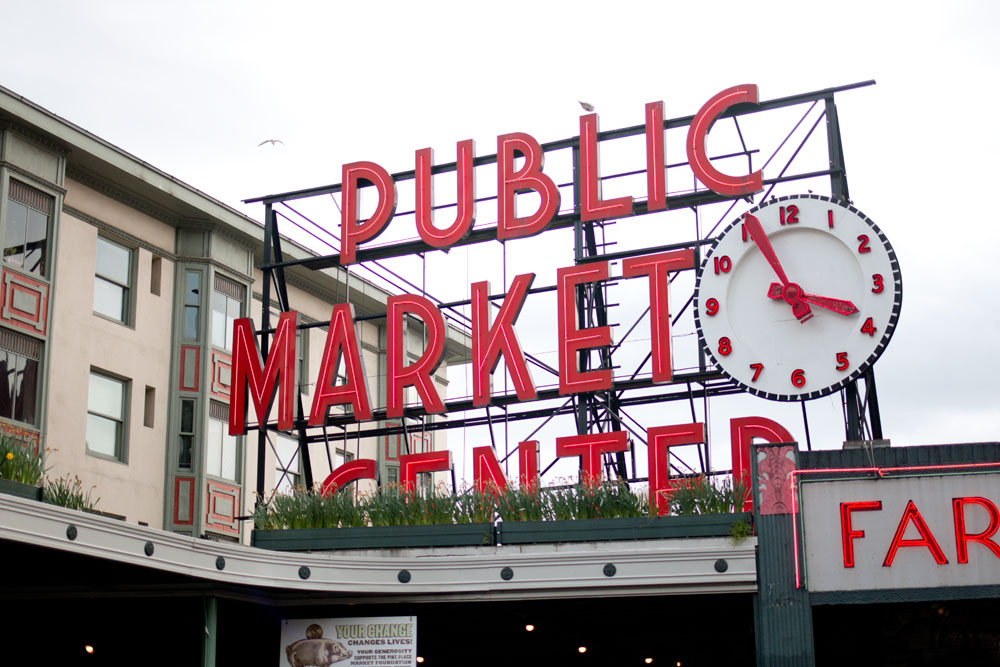 Our adventure began in the heart of Pike Place Market, hearing the history of how it began, how it almost was destroyed, and how the people of the city resurrected it. It's one of my favorite places to recommend to new visitors to Seattle. From the farmers to the artisans to the amazing food available in just a few steps in every direction, Pike Place has it all.
It was so much fun getting to know fellow Pacific Northwest Bloggers Kelly, Jennifer, Britt, and Jessica! These group of ladies were up to try anything, and Kelly's selfie stick had us cracking up and taking the perfect Instagrammable photos the entire adventure. Luckily, for a group photo opp, our tour guide was more than willing to oblige us with a non-selfie-stick photo. ;)
We had the opportunity to try cuisine from all sorts of locales. The ones that stuck out the most for me were the Indian Samosas, Greek Yogurt (yes, seriously. It was amazing!), and the tacos pictured below. We also got to try some great local seafood – the Salmon Burger from Tom Douglas' Rub with Love Shack and fresh smoked salmon from one of the fish stalls inside the market were equally delicious.
These tacos from Los Agaves were so good. Pork, pineapple, onion, and cilantro? Yum!
No trip to Pike Place would be complete without visiting a street performer. This guy was like magic – his tricks were unbelievable! I thought I saw him slip up once, but he still had us fooled in the end.
No trip to Seattle is complete without a celebrity sighting! Just kidding, that doesn't really happen very often around here. Kelly, Jennifer, and Jessica had plans to go to the Dan & Shay/Canaan Smith concert after the tour, and what do you know, they ran into Canaan Smith while strolling through the market! I had no idea who he was, oops.
Later, we ran into the headliners while waiting to be seated at the Hard Rock Cafe for dinner. Dan & Shay confused me for a fan and thought I wanted a selfie with them. I'm real nice; I told Shay, "Um, to be honest, I'm not really sure who you are…. but okay!" Proof here. :P
Have you ever played tourist in your city? What do you recommend for out-of-towners?