Well, it's that time of the month again. (No, not that time, sheesh.) It's time for my once a month book recaps, and of course the fun Goodreads link up so that you can meet fellow book lovers! I've actually been slacking pretty hard on reading this summer. I just haven't been into reading books, and I think part of my problem is that the good books have been few and far between.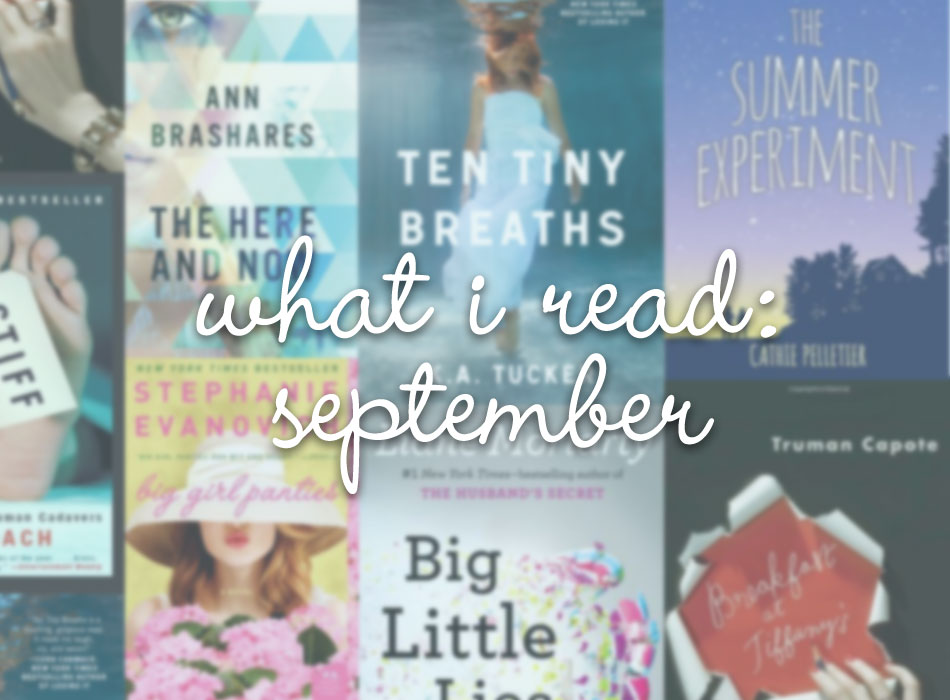 Stiff by Mary Roach – ★★ – This was dreadful, because well, it's about cadavers. I mean, it's well written and very scientifically accurate and whatnot, but who really wants to read about dead bodies while relaxing on the beach? Not this girl. Sorry not sorry, I just couldn't get into this one.
Big Little Lies by Liane Moriarty – ★★★ – I honestly expected to love this one, but really, it wasn't as good as I expected it to be. With that said, it's not a bad book by any means – just wasn't quite as thrilling or engaging as I wanted it to be. Perhaps it was because I just didn't feel particularly connected to any single character. I did really like Moriarty's The Husband's Secret, and recommend that over Big Little Lies if you're choosing between the two.
Breakfast at Tiffany's by Truman Capote – ★★★★ – Love loved this. So good, it's whimsical, wistful, and dreamy and kind of silly, but I love the movie and I loved this book too. What was great about this is that it's super short, and the audiobook version on Audible is narrated by Michael C. Hall and is perfection. (It goes on sale for time to time for a couple of bucks, which is totally worth it!)
The Here and Now by Ann Brashares – ★★ – I was so looking forward to reading this. I loved Ann Brashares' Sisters of the Traveling Pants series. And I like the concept of time travel, and let's be real, the cover is pretty good looking. But this was so boring! I gave it until about 25% of the way through, and I still had no idea what was happening or why, and I just didn't care. What a bummer.
c/o NetGalley
Big Girl Panties by Stephanie Evanovich – ★★ – I honestly have NO clue why I had this on hold from the library, but I got a notice that it ready to be picked up, and still didn't know why. So that was a bad omen… and again, another one that at 25% I gave the good old heave-ho to. It was just not interesting, the characters were immature and obnoxious, and I really was not enjoying myself.
Ten Tiny Breaths by K.A. Tucker – ★★★★ – For the first half, this was a solid 3 stars. Good, but not great. Then, a huge, and I mean, HUGE twist presents itself and I was so excited about the rest of it that it turned it into a 4-star. I'm not a big romance reader, and I will say this has quite a bit of romance lovey-dovey going on here, but it wasn't too graphic and was done well.
The Summer Experiment by Cathie Pelletier – ★★ – This middle-grade novel is what I was supposed to read for the SBSBC14 challenge… and I definitely did not finish that. I did start this before the deadline but it was just so slow that I never got into it and put it down. I picked it back up while on vacation and remembered why I put it down in the first place… it's just really slow and too young for me.
What was your favorite book that you read this summer?