Disclosure: This post is sponsored by Autotrader, however, all thoughts and opinions are my own.
I don't know about you, but being in quarantine at home has inspired me to tackle a lot of projects that I've been putting off. From home decorating to mending to spring cleaning, now that I'm home 24/7 I'm more aware than ever of all the things that need my attention. When it comes to spring cleaning, one thing that's often forgotten is our car!
While we're under the stay at home order, why not use this time to give our favorite vehicles a little refresh, too?!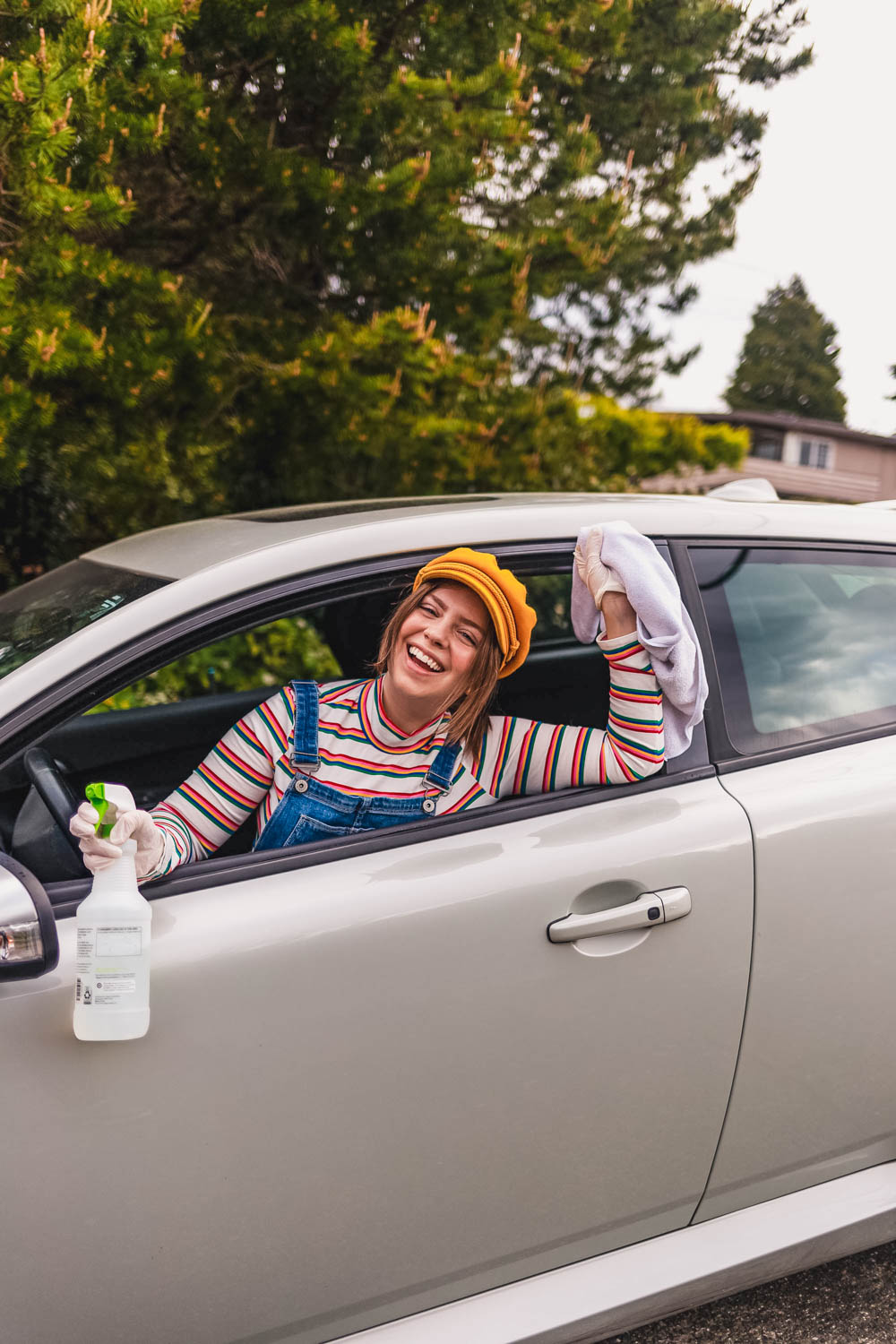 11 Car Spring Cleaning Hacks You Can Do At Home
Whether you're in the market for a new ride or are in it for the long haul, it's important to keep up with our car maintenance, including cleaning the interior and exterior! It's amazing what you might discover just by doing a little car cleaning. You might find rock chips on the windshield, worn-out wipers, low fluid levels, or even loose hoses or belts that you didn't know about. Cleaning and inspecting your car at home once or twice per year will help you keep your car in tip-top shape and running safely longer.
If you're thinking about buying a new car and are getting your current one ready for sale, there's no better time to check out Autotrader. They make car shopping easier than ever, even during COVID-19. Click here for some of their amazing auto-related resources and spring cleaning tips!
Today, I thought I'd share some of my car cleaning hacks and easy ways you can spring clean your car at home!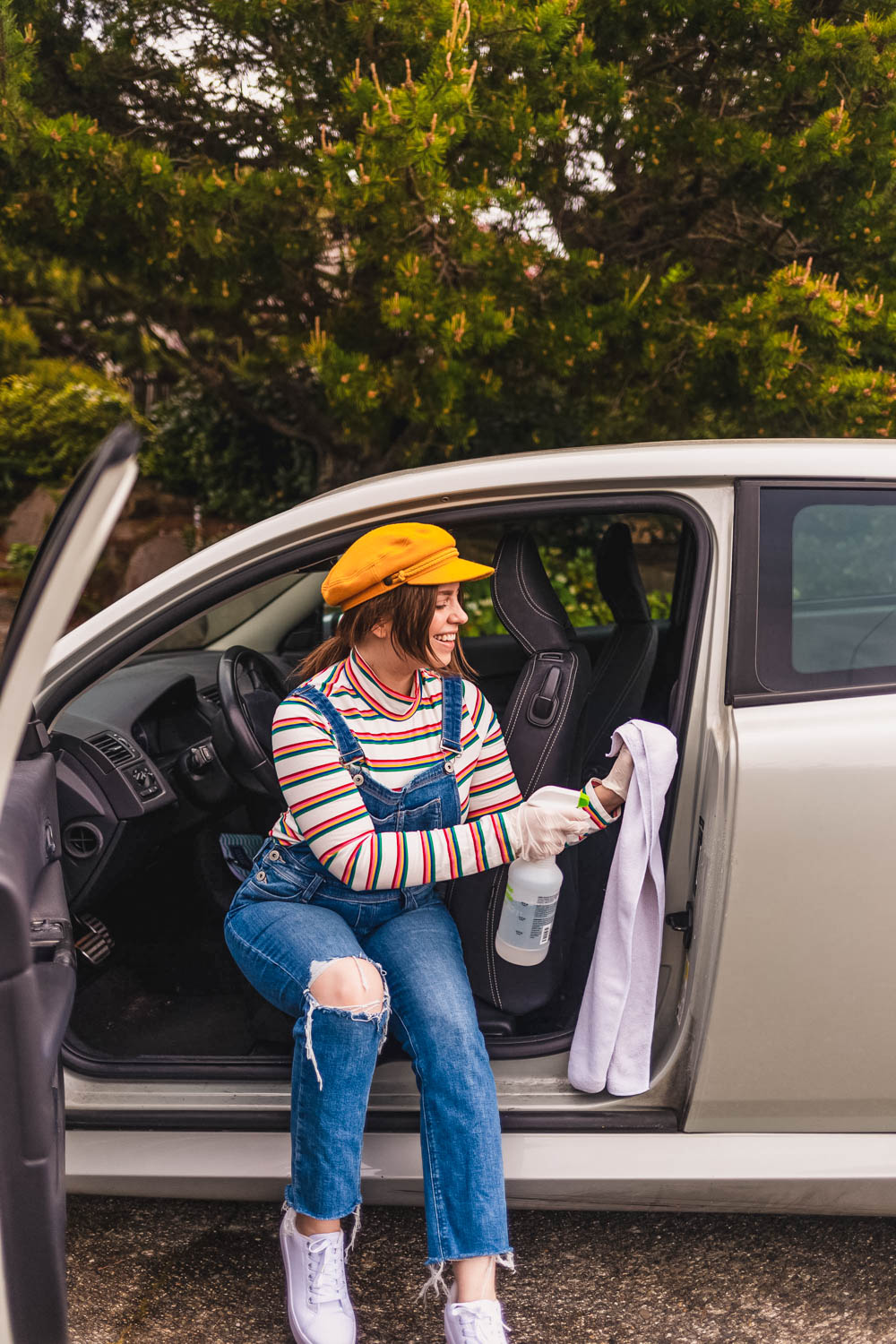 Give the outside a good scrub
Who loves washing the car? I don't know about you, but it's not exactly high on my list of favorite things to do. Make it easier on yourself and pick a warm, sunny day to tackle washing the exterior of your car and put on your favorite tunes. First, park your car out of direct sunlight. Then, hose it down with water to get all loose debris off. I like using a nozzle on the hose to kind of "blast" the grime off so that there's less risk of me accidentally scratching the paint with existing dirt and debris.
Next, use warm, soapy water and a sponge to gently wash your car's exterior. For the wheels and rims, I've always used a dish brush so that I can get into the grooves and give it a good scrub. Finally, rinse all of the soapy water off and double-check for any missed spots. When you think you've got them all, give it another rinse with the hose and wipe it down carefully with a large microfiber cloth.
Take out the trash (and leave a new one in your car!)
Does it look like someone lives in your car? Do you have wrappers and water bottles hiding in all corners? You are not alone. I almost always have way too many things floating around my car and there are definitely more wrappers and garbage than I'd like to admit to.
Since COVID-19, I haven't been driving much so it's a great time to bring these items inside and reorganize the interior. Use a clean trash bag to place all the items you don't need in your car and take them inside. Then, leave a new small trash bag or grocery bag in your car to prevent future garbage pile-ups!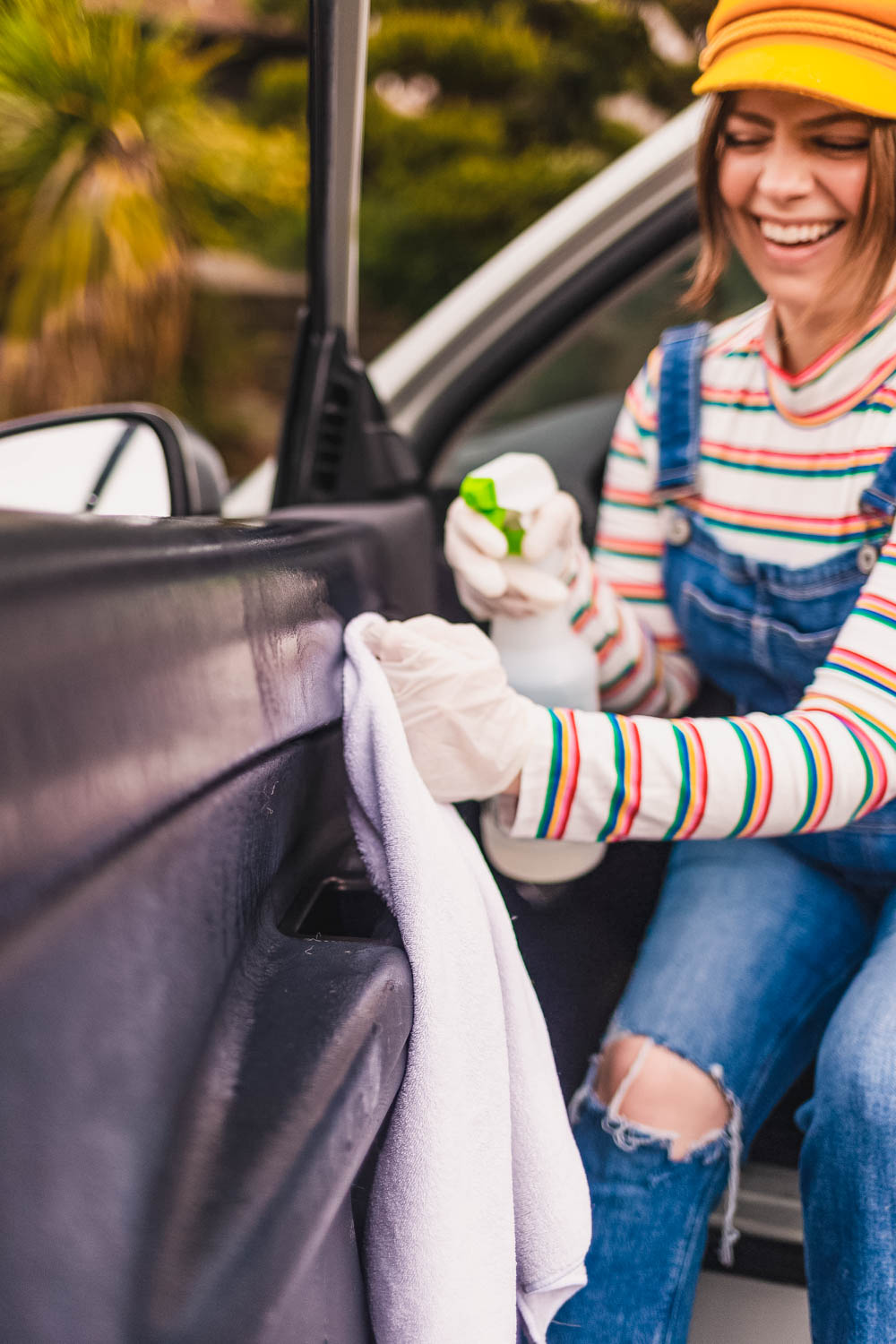 Sanitize your car's interior
Worried about bacteria and viruses lurking in your vehicle? With COVID-19 at the top of everyone's mind, I can totally understand. Now is a great time to think about car sanitation, especially after essential trips when you might have come into contact with something. Read this helpful article from Autotrader for their expert tips on topics such as properly sanitizing your car! 
An easy (and inexpensive) cleaning hack to disinfect your car is to create your own disinfectant spray. Fill a clean and empty 16 oz spray bottle with 1 ⅓ cup 70% or higher isopropyl alcohol (also called rubbing alcohol) and ½ cup water.
If you're unable to find rubbing alcohol, using mild soap and water with a sponge or cleaning cloth should adequately clean most surfaces. Just be sure to avoid bleach or harsh chemicals that might damage more delicate interior materials like cloth or leather. You can also use cleaning wipes or other mild cleaning sprays that you might have at home already!
Shake out those floor mats
The dirtiest part of your car's interior is probably hiding under your floor mats. Be sure to remove them, give them a good shake, then vacuum up anything left underneath. Do this at least once a season to prevent caked-on dirt and debris from damaging your car interior.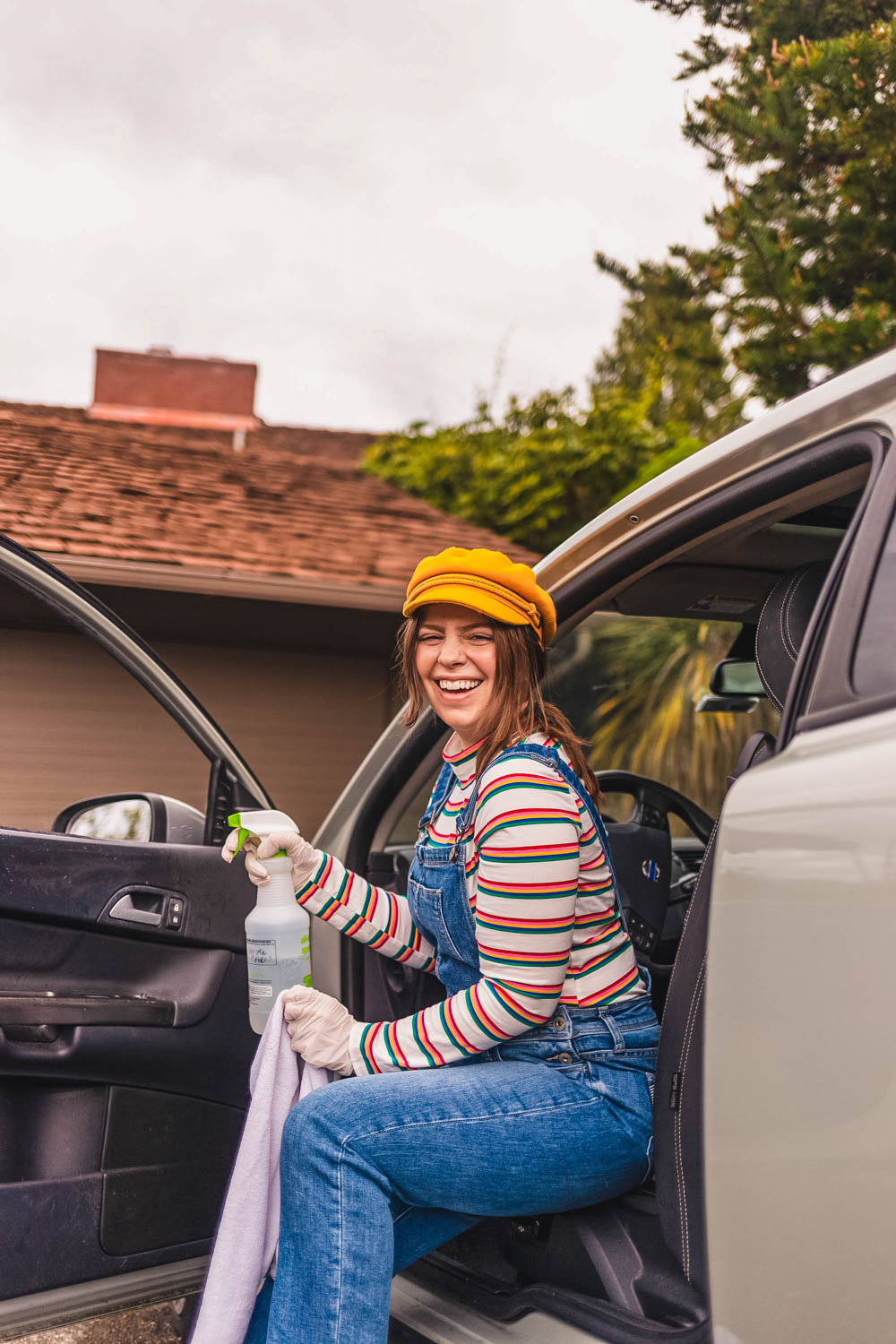 Don't forget about the windows
Do you know what I almost always forget to clean? The INSIDE of my car's windows! Sure, the outside gets a frequent cleaning, but the inside… well, I can't recall the last time I did those. Use a mild cleaner to spray down the inside of your windows, then wipe clean with a microfiber cloth to keep them streak-free and dustless! 
Take a peek under the seats
One area of my car that I clean out the most is underneath the seats. Why you might ask? Well, let me tell you a story. Once upon a time, I innocently put a can of dog food in a bag in my trunk with some other items to drop off at a pet shelter. Unbeknownst to me, it rolled out of the bag, between my backseats, and then lodged itself under the driver's side seat. Chaos ensued when my significant other attempted to move the driver's seat back and instead was met with a loud "crunch" and a dead power seat. 
A few hundred dollars and several days later, my car was returned to me "good as new" after the technician plugged my seat back in. Word to the wise: always check under your seat, and don't keep cans of dog food in your car!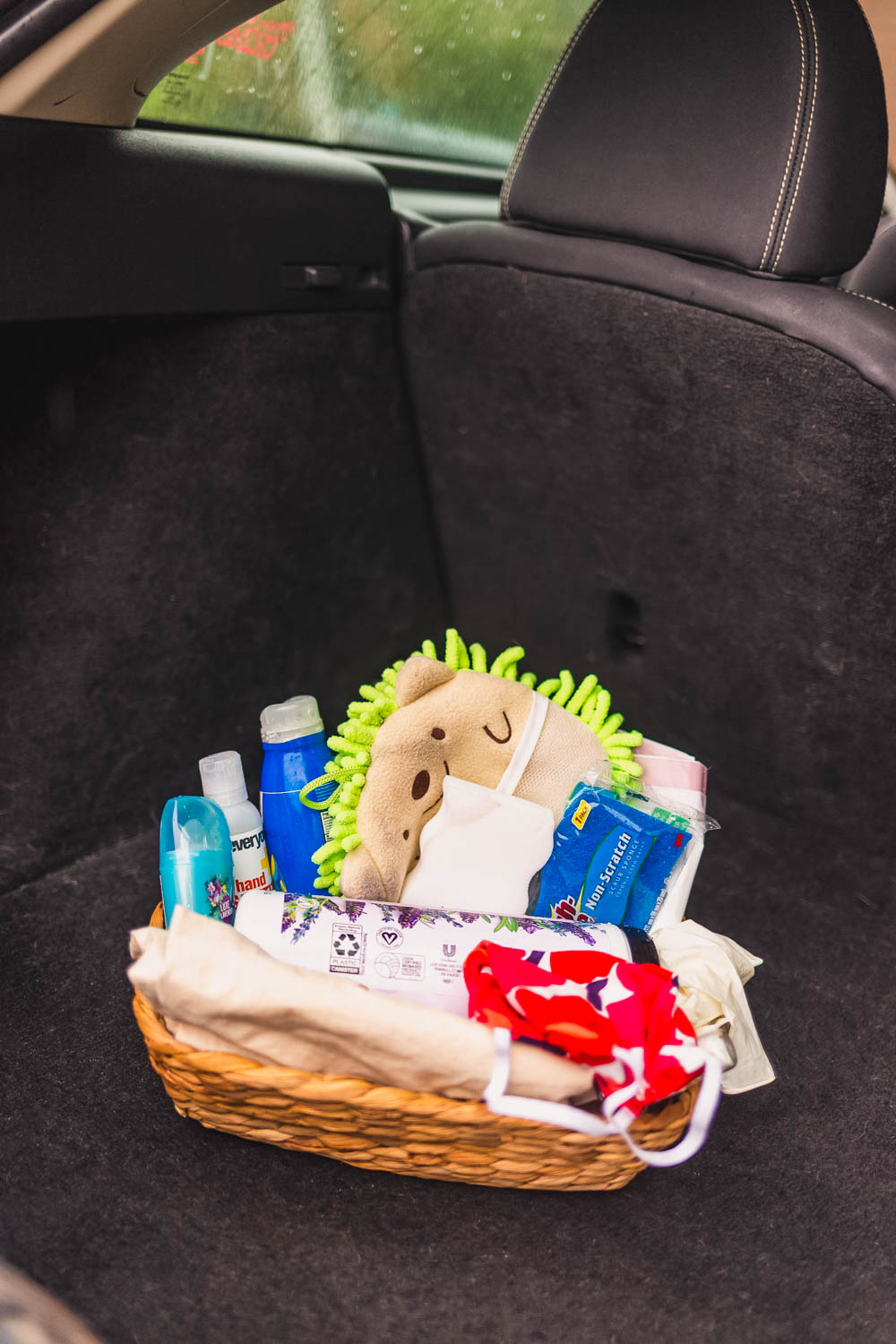 Create a car essentials kit
Since I normally spend a decent amount of time in my car, I like to have a car kit filled with all the essentials in a spot for easy access. These can be items you frequently forget to bring with you, things you might need in case of an emergency, items to help disinfect groceries and other items during COVID-19, or personal care items.
Here are some of the items I like to include in my car essentials kit:
Cleaning wipes
Gloves
Bandaids and ointment, or a small first aid kit
Trash bag
Face mask
Hand sanitizer
Alcohol spray (recipe above)
Sunscreen
Deodorant
Lint roller
Reusable shopping bag
Sponge to wipe up spills/messes
Place these items in a basket, storage box, or another container that can be placed behind your seat, in your trunk, or in another easy-to-access spot in your car.
Check under the hood
Now is a great time to check under the hood! With the car off, remove any leaves or debris that might have collected over fall and winter.
It's also a great time to peek at fluid levels like washer fluid and your oil levels. Visually scan your hoses and connections, too. If something seems off, schedule time with your local mechanic to catch problems before you're stuck on the side of the road.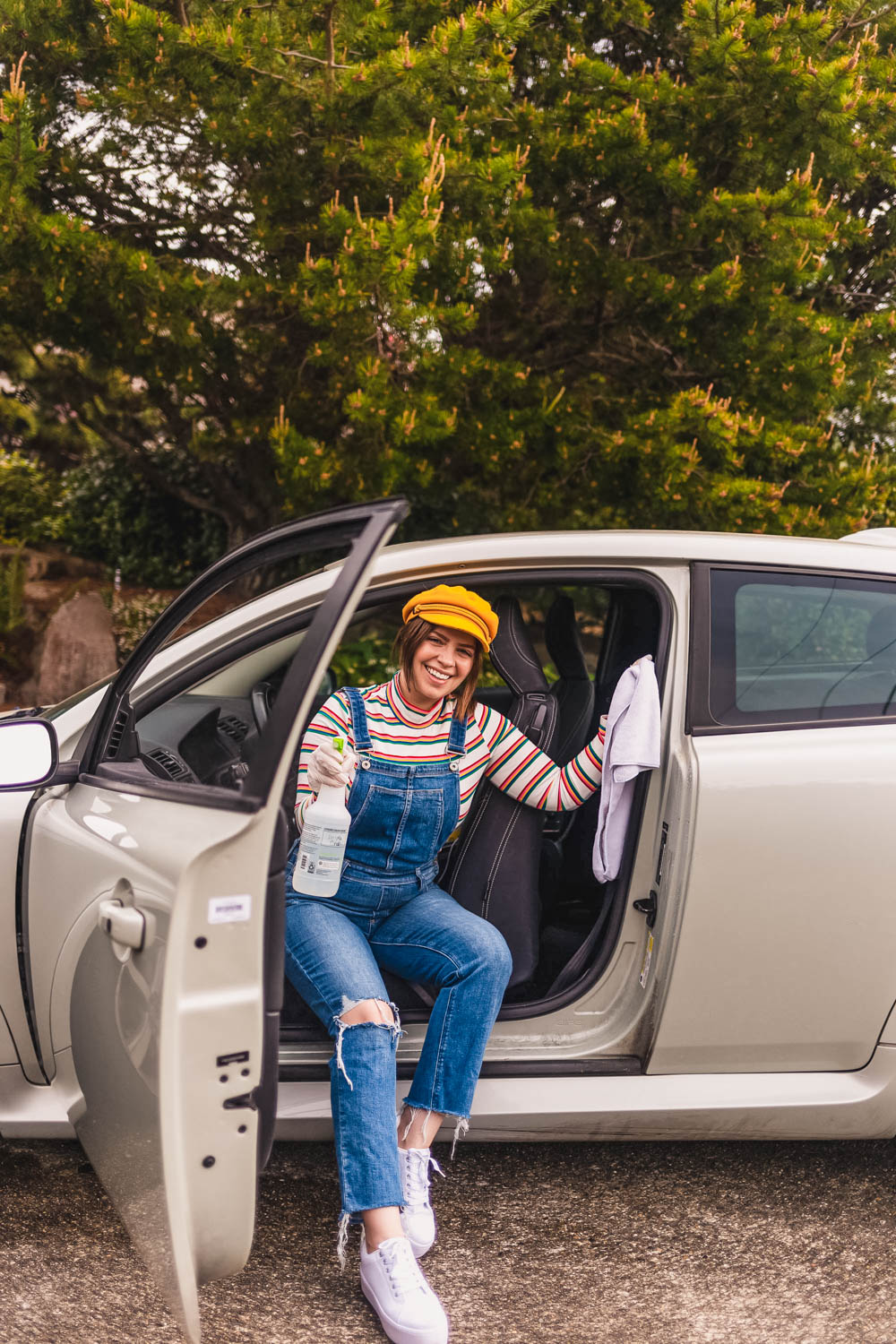 Replace worn-out wipers
Is your windshield looking streakier than before? Are your wipers making it harder to see rather than easier? Then it's likely time for new wiper blades. Now is a great time to order a pair of windshield wipers to install yourself! Most can be purchased online and are easy to install yourself. I put a new set on my car last fall and it was less than half the price of what the dealer would have charged!
Inspect your tires
Has it been a while since you replaced your tires? Inspect those treads for wear! The penny test is a quick and easy way to know if it's time to make an appointment for new tires. Place a penny head side down in between the tire tread. If you can see all of Lincoln's head, your tires are worn and you need to replace them now. If the tread is above his hairline, consider making an appointment in the near future for new tires. Don't forget to check your spare tire, too!
Additionally, don't forget to check your tires for proper inflation. If you don't have an air pressure gauge at home, check on your next trip to the gas station.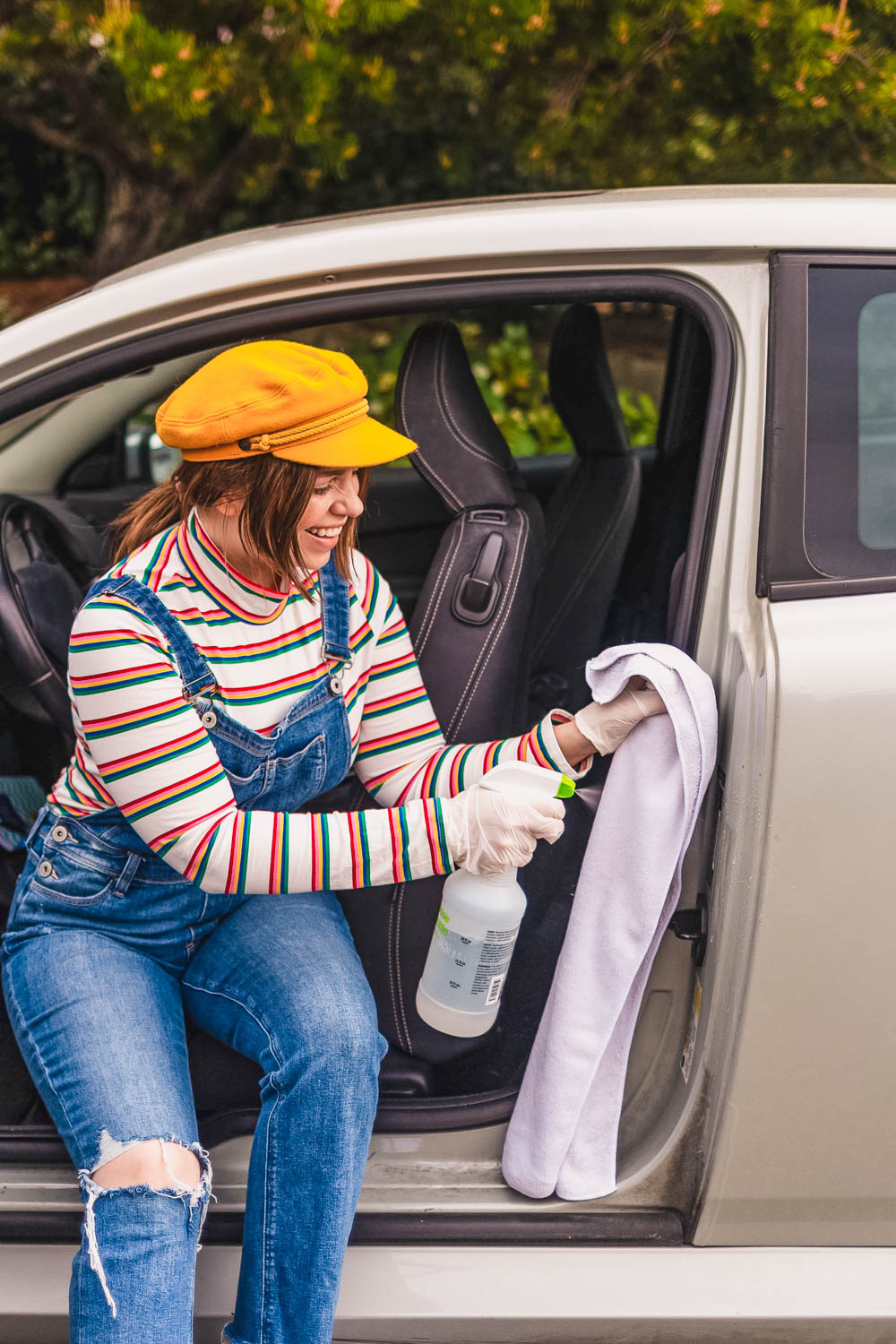 Give it a Coat of Wax
Take your spring cleaning next level with a fresh coat of wax. If you're using a new wax product, be sure to test it out of direct sunlight on an inconspicuous part of your car. Once you've got the hang of it, then proceed to wax your car. This is a great way to not only add shine and luster to your car, but also protect your car's paint and keep it looking newer longer.
Set aside an afternoon and get to spring cleaning your car while we're home during the quarantine. Not only will your car thank you, but you will be glad you kept up with maintenance and keeping it in tip-top shape when it comes time to sell your car. For even more spring cleaning tips, check out this article from Autotrader, and be sure to visit all of their other great resources for safely buying a car during COVID-19!
Is spring cleaning your car on your quarantine to-do list? I'd love to hear if you have any favorite spring cleaning tips in the comments!