Affiliate Links: If you click on a link in this post I will make a very small commission for your click.
Happy Friday! I'm so glad the week is finally over (though I won't lie, I know this weekend is going to fly by and that bums me out.)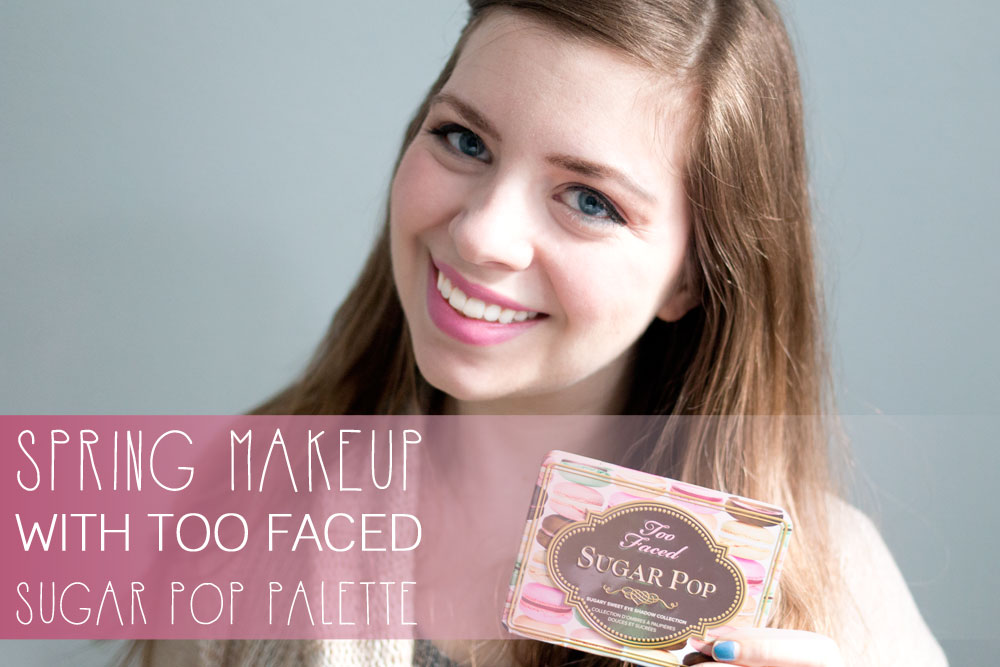 Today I'm not going to be writing a whole lot because I have a new video! My friend Erica from Coming Up Roses had the idea to share our favorite Spring Makeup Looks, so I filmed mine and am sharing it today! I grabbed my new Too Faced Sugar Pop Palette that I picked up during the Sephora sale because the colors just scream spring.
Spring Makeup with Too Faced Sugar Pop Palette
What I Used:
Too Faced Sugar Pop Palette: I'm loving the bright fun colors in this palette. I find that the light colored shades do seem a bit more powedery than I'd like (you can kind of see in the video that when I pick them up with the brush they fly all over) but they're so pretty that I'll forgive them. The matte and lightly shimmery shades do not seem to have this problem, and all shades last 8+ hours when using primer. (Sephora, $36)
Eyeko Eyeliner: I've been using this for about a month or so and love it. It's a nice cross between a small liner and the fat "marker" type of liners. Unfortunately, it does seem to be drying out, but this was a sample size from my Birchbox last month so I'm assuming it could just be running out. (Nordstrom, $16)
Tarte Lights, Cameras, Lashes Mascara: This is great – no clumps, looks natural, and stays on all day. (Sephora, $21)
Maybelline Age Rewind Under Eye Concealer in Fair: If you watched my Holy Grail video, you know how much I love this product. It's amazing. (Target, $5.63)
Joeur Mineral Powder Blush in Peony: I subscribed to the new Joeur Le Matchbox (let me know if you'd like to see a full review!) and I just love this. The color is so pretty, goes on smooth and lasts all day. (Nordstrom, $26)
Joeur Hydrating Lipstick in Whitney: This also was in my first Le Matchbox. This hydrating lipstick is perfect for those like me who have super dry lips. So hydrating, smooth, and creamy! (Nordstrom, $24)
And if you can't get enough, I'm answering a few questions over at The So-Called Homemaker today! I'm talking about Spice Girls, my dream job, and more. Check it out here.
What's your favorite spring makeup look? Hope you have a great weekend!