And just like that, it's October. Fall is most definitely here; yesterday I woke up chilly, looked outside to be met with leaves everywhere and grey skies. I layered three tops and still wasn't warm enough. I hope it's not a sign of what's to come this fall and winter season. I like cooler weather, but not that cool.
Last weekend my most recent Stitch Fix arrived, and I can't wait to share what I received with you. A new month always brings a new package on my doorstep, and you know by now that my stylist, Lucy, always does a great job picking out things for me.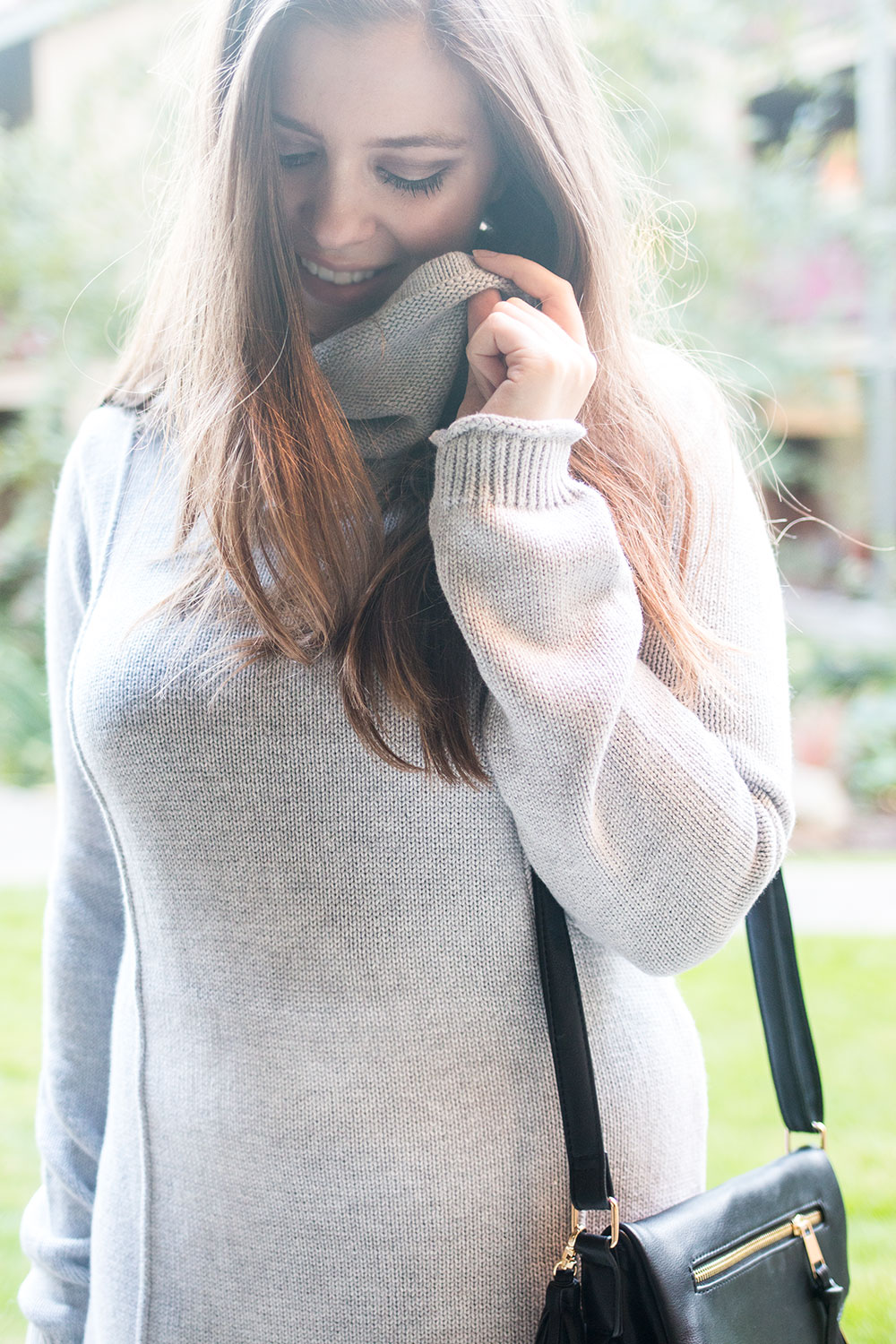 Disclosure: This Stitch Fix October 2016 post contains affiliate links. All opinions are my own, and I purchase this subscription myself.
Stitch Fix October 2016 Review
If you're new to Stitch Fix, I'll break it down real quick. For a $20 styling fee, receive a box on your doorstep containing 5 items – anything from clothing to jewelry to handbags to shoes based on your style profile and Pinterest style board. Send back what you don't like, keep what you do, and your $20 styling fee will be deducted from the total. Keep all 5 items and receive an additional 25% off. Stitch Fix also is now serving male clients too! Have a significant other or male relative in need of some shopping assistance? Send them over to Stitch Fix Men! It works the same way.
So without further ado, here's what came in my Fix this month!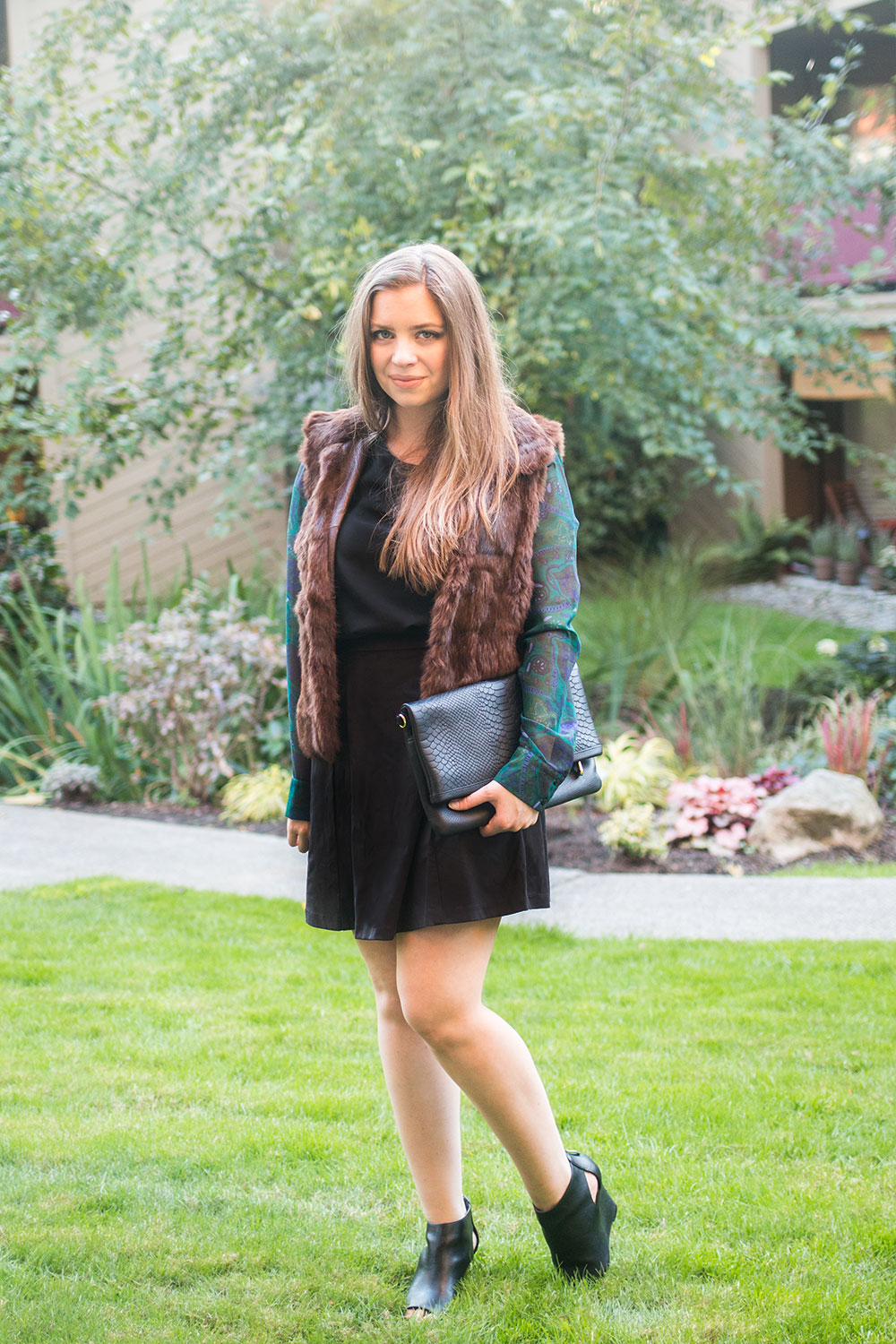 Pixley Aubrey Faux Suede Swing Skirt in Black, Size 4, $68
»» Similar Free People skirt in faux suede with pleat details for $45
The first item in my Fix was the Pixley Aubrey Skirt. This cute black skirt is super swingy, and the suede-like material makes it perfect for fall. If I didn't own something similar already, I'd consider keeping this wardrobe staple!
I've styled it here with a black top that has printed sleeves that I love wearing this time of year. It's dressy but also works in more casual settings too. To add a little interest, I popped this vintage fur vest on top. It's one of my staples for the cooler months as it goes with just about everything! If you don't already own a similar vest, I recommend it. (And here's one from Jack by BB Dakota that has a similar look and isn't terribly expensive but looks like it is!) A pair of black peep toe booties and my GiGi New York Carly Clutch completed the look.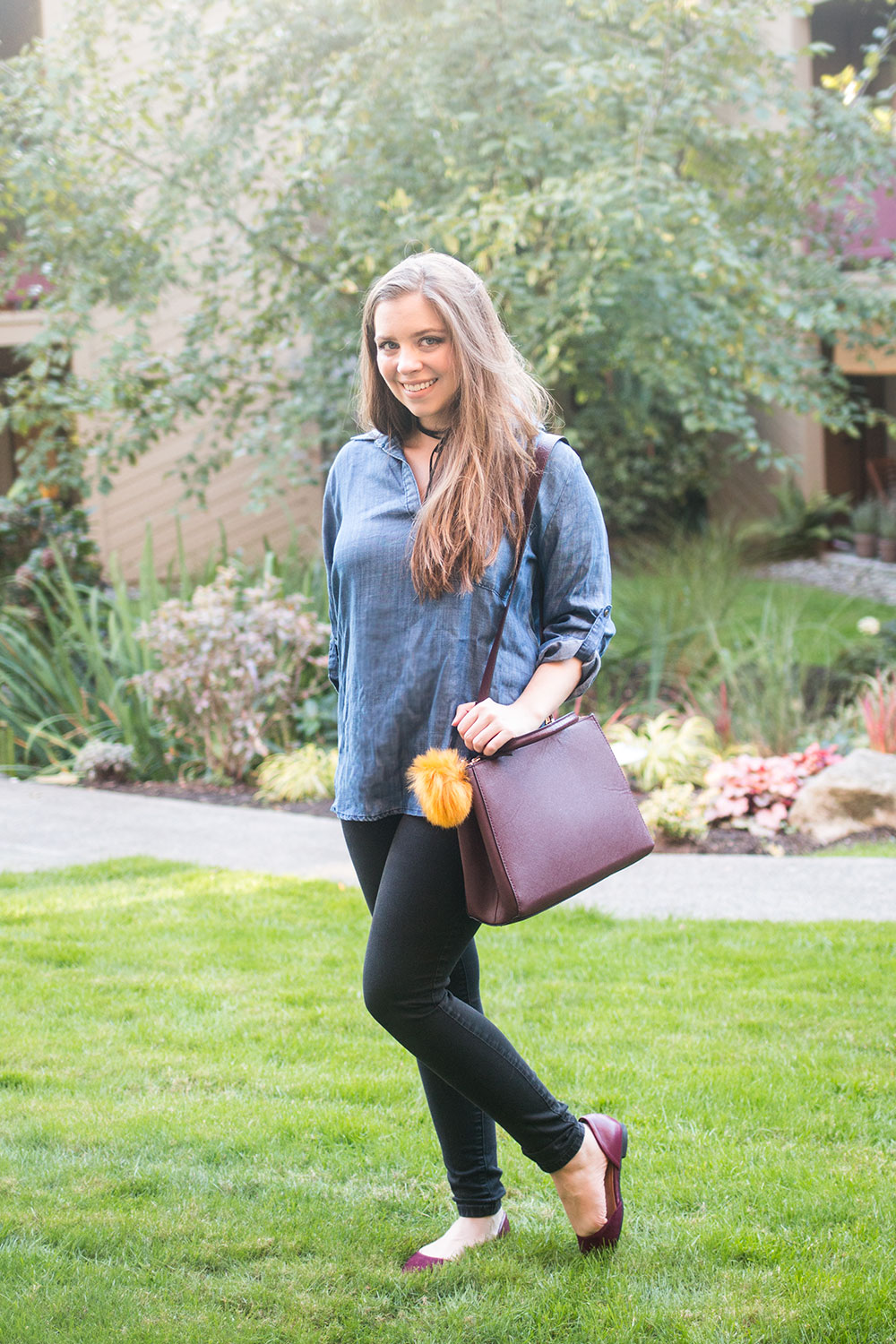 Skies are Blue Gustav One Pocket Chambray Top in Blue, Size Small, $58
A couple of months ago, I had been on the hunt for the perfect Chambray Top. I had just about given up, so I decided to ask for one in one of my summer Fixes. Unfortunately, Lucy told me that they didn't have any available in my size, until now. While I like the wash of this one, the fit and the overall style isn't quite right. I was hoping for a chambray that buttons up so I can wear it open or closed, and it's a little bit too tight in the chest for my taste.
One of my favorite ways to style denim is with a different colored denim. I opted to style it with these black denim jeggings from LC Lauren Conrad. For a pop of color, I picked a pair of pointed toe ballet flats from J. Jill and a burgundy bag from H&M.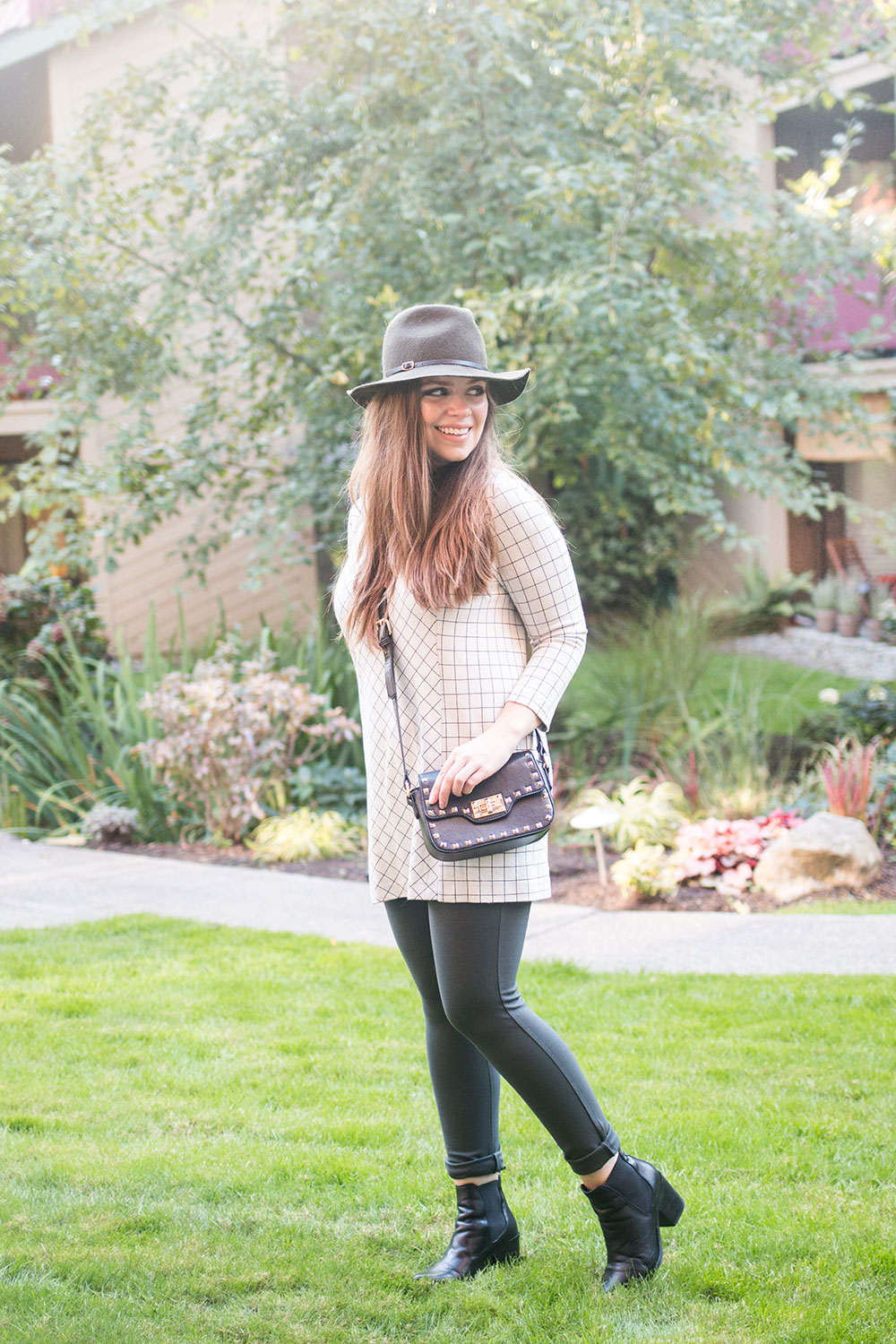 Liverpool Anita Skinny Pant in Olive, Size 4P, $88
It's hard to tell in the photos, but these "skinny pants" (I'd call them a jegging, they are made of a ponte material and feel very much like a thick legging) are actually olive. I loved the color but didn't love the overall fit or price tag of these. If, however, you are looking for a very fitted legging-denim hybrid, these would be a great option as they come in a variety of colors. If you're okay with giving up a working button closure, the Uniqlo Legging Jeans are just as good and almost a third of the price at $30.
I paired these skinny pants with this cute windowpane tunic from J. Jill (I'm wearing a petite x-small, they're cute generously!) and olive fedora from Topshop (this similar style in black on sale for just $12!). A studded crossbody from ASOS and Steve Madden Pistol Booties finish off the casual but edgy look.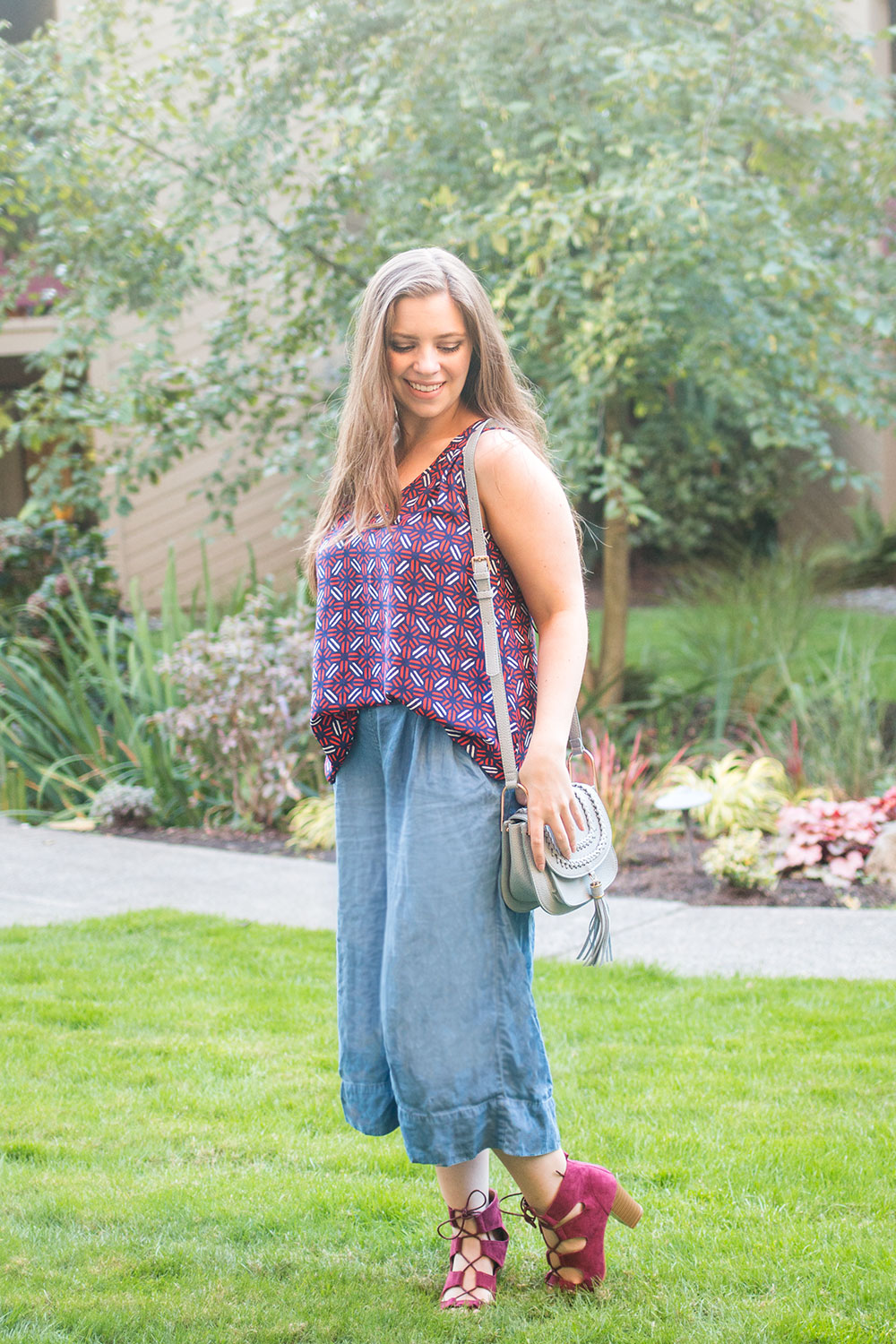 Renee C Pedrine Keyhole Back Top in Blue, Size Small, $37
While this blouse is very cute (and probably the cheapest clothing item I've received from Stitch Fix so far) it's not my favorite. The overall fit is oversized and boxy. I'd recommend sizing down on this for a fitted look. It is, however, a great office staple and if you're looking for tops to pair with a variety of blazers and sweaters, this might be a good option. Amazon seems to stock this exact style in more than 30 colors and patterns!
For this look, I thought I'd play up the oversized fit by tucking it into a pair of wide-leg denim from Target. My crossbody bag is one of my favorite Stitch Fix finds to date and is made by Moda Luxe. (You can score this exact bag at DSW for less than $40!) I played up the burgundy tones from the top with these Olivia Ghillie Heels from Boohoo to complete this outfit.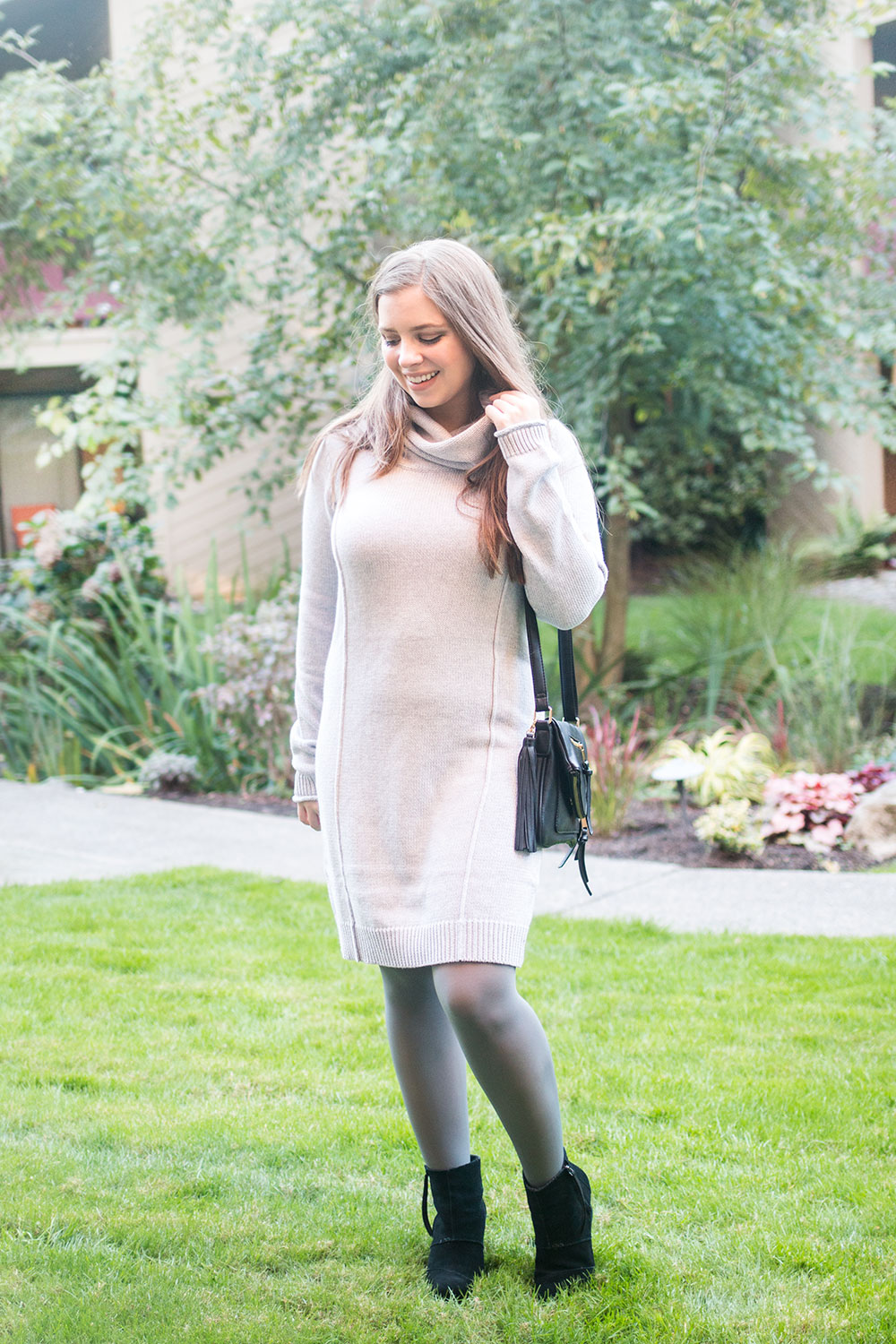 Market & Spruce Gretel Sweater Dress in Grey, Size Small, $88
»» Similar Marc New York Sweater Dress
This Market & Spruce Sweater Dress is cozy and fall-ready. Unfortunately for me, the fit wasn't quite right. The sleeves run a bit long, and it hugs a bit too much through the abdomen for my taste. I think the color also isn't doing me any favors.
To play up the grey of the dress, I opted for my grey shimmers tights from Berkshire Tights. I opted for my super comfortable wedge booties from TOMS and matched a black crossbody bag from Under One Sky to finish off this look!
Unfortunately for me, this month's Stitch Fix was a bust. While I loved the idea of the items in my Fix, I didn't really need anything in my box, nor I love anything I received. Oh well, there's always next month!
Stitch Fix Giveaway
Thanks so much for checking out my most recent Stitch Fix! Now, I have a little Stitch Fix surprise for one of you. I have a necklace that I kept but never ended up using myself (it's still new in its box, don't worry!) and a few fun goodies for one lucky winner. Just enter below before the giveaway ends on 10/24 at 11:59 pm EST. Open to US residents only.
What did you think of my Fix? Have you tried Stitch Fix recently? Let me know if you've received anything amazing in the comments below!