PR Sample/Gifted: Complimentary hair care products were provided to me in exchange for this review. Some items mentioned were also gifted to me with no review required. Affiliate Links: If you click on a link in this post, I may make a very small commission.
Come summer my hair is quite different from the rest of the year. I find it's quick to get greasy at the roots, but the ends stay dry. When we get summer rainstorms, I can always tell because my hair starts frizzing away. I've tried to be better about choosing products for my hair to keep it in line, but I'm more of a dry-and-go kind of girl then a blow-out-and-curl. What can I say, I'm kind of lazy… and I like my products to be lazy-girl-friendly too.
So what have I been trying out this summer? A few oldies and a few new ones. Read on to find out what I'm liking to tame my hair this summer.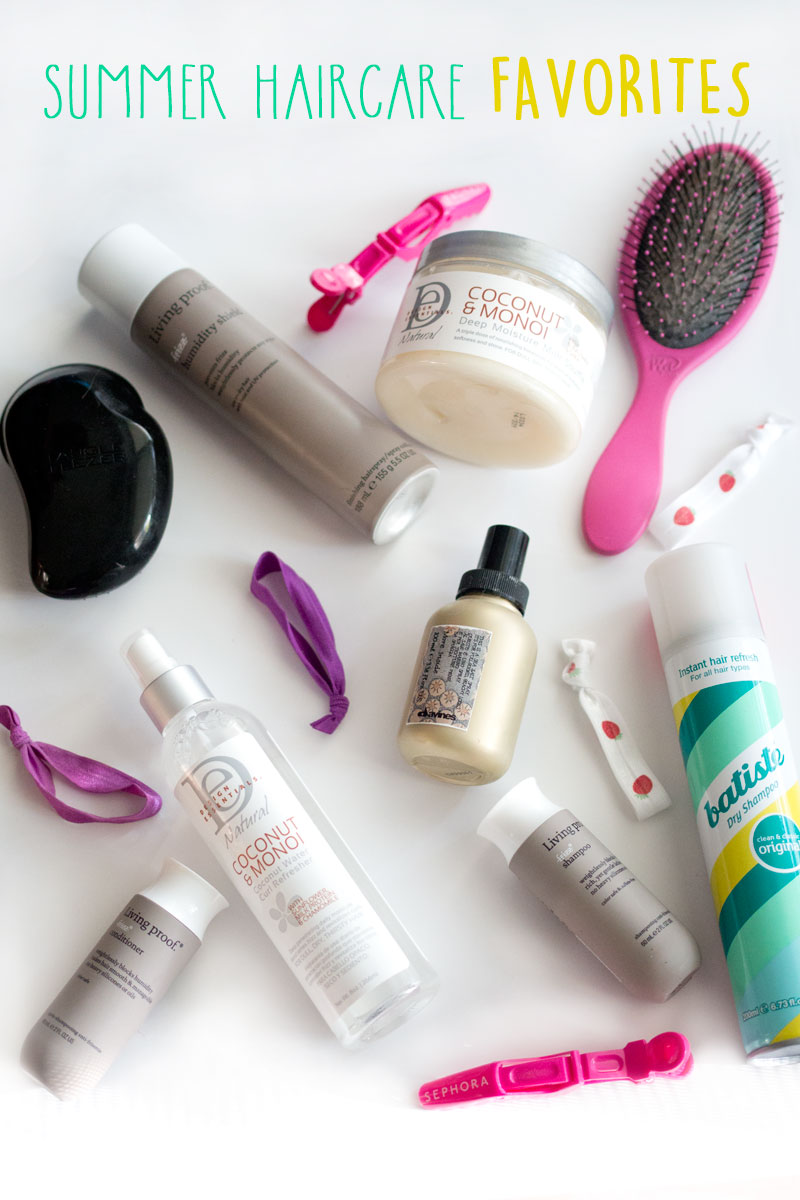 Summer Hair Care Favorites
For shampooing and conditioning… Living Proof No Frizz (Gifted)
I've noticed a huge difference in how volumized my hair has been post-showering after I started using the Living Proof Frizz line. My hair definitely feels fuller, softer, and shinier with each wash, and these are making me change my mind about higher end hair products! (Nordstrom, Discovery Set $29)
For deep conditioning… Coconut & Monoi Deep Moisture Milk Souffle (PR Sample)
Technically this is supposed to be a styling product, but for me it's a little heavy for that, so I use it right at the end of a shower and rinse it out. I find it makes my normally dry ends feel so much smoother and silkier. (Sally's Beauty Supply, $15)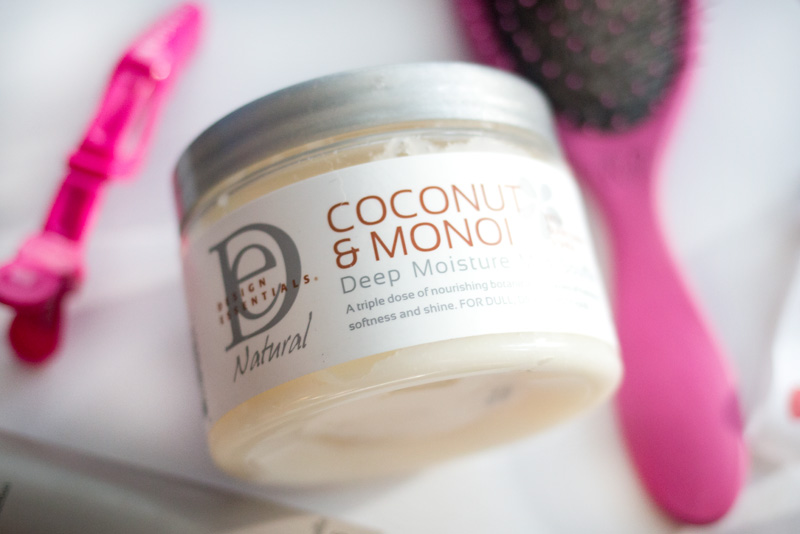 For brushing it all out…Wet Brush
This is still my favorite brush. There aren't many brushes that are safe to use post-shower, and that's when the majority of my hair brushing happens so… this is perfect. If you haven't tried it, try it. It may change your life. (Ulta, $12)
For styling limp hair… Design Essentials Coconut & Monoi Curl Refresher (PR Sample)
On days when I don't have time to shower in the morning (real talk, it happens) a few spritzes of this in my hair gives it some texture. I actually don't have curly hair, but instead it's halfway between straight and wavy. When I use this, it brings back the natural texture I get after air drying my hair. (Sally's Beauty Supply, $13)
For styling beachy waves… Davines This is a Sea Salt Spray
I feel like I've talked about this one before, I think it may have been in my empties video in comparison to another brand, but this one is my favorite. It came in my very first Birchbox and it smells amazing (like marshmallows, yum!) and compared to all other sea salt sprays I've tried, it's the standout. It gives the perfect texture, leaves a yummy scent in my hair all day, and seems to hold the beachy texture longer than other sprays of its kind. (Amazon, $27)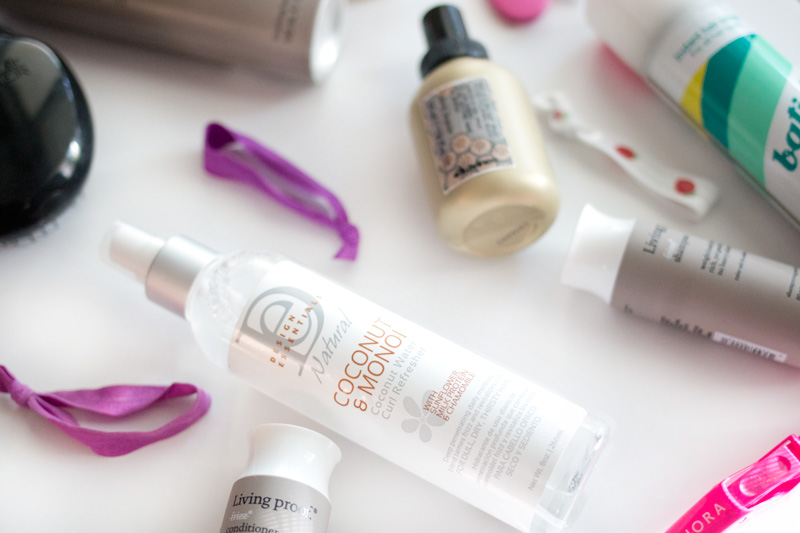 For getting the tangles out… Tangle Teezer
I WISH I had known about this magic when I was younger. I used to swim competitively year-round and chlorine did a number on my hair. I would get knots or "ratties" as my mom called them at the nape of my neck continuously. I'm still plagued with knotty-prone hair, so this is my BFF. (Sephora, $20)
For preventing frizz… Living Proof No Frizz Humidity Shield (Gifted)
I'll admit, I was majorly skeptical of this…. but it really works! I've actually started spraying it on wet hair (even though it says not to) to prevent flyaways. I've noticed a huge decrease in the amount of "baby hairs" that are sticking up and waving around once dry. (Nordstrom, $14-22)
For lazy days... Batiste Dry Shampoo in Original
For days when I'm not washing my hair, dry shampoo is a must. I have a hard time deciding which dry shampoo is my favorite. Batiste is my favorite at the drugstore, and it's so cheap in comparison to Klorane Gentle Dry Shampoo with Oat Milk, my other fave. Luckily, in France, where Klorane is from, it's half the price so I stocked up while I was there, but first I'm finishing up my Batiste. This is the original scent, which I really like over some of the others. (Ulta, $8)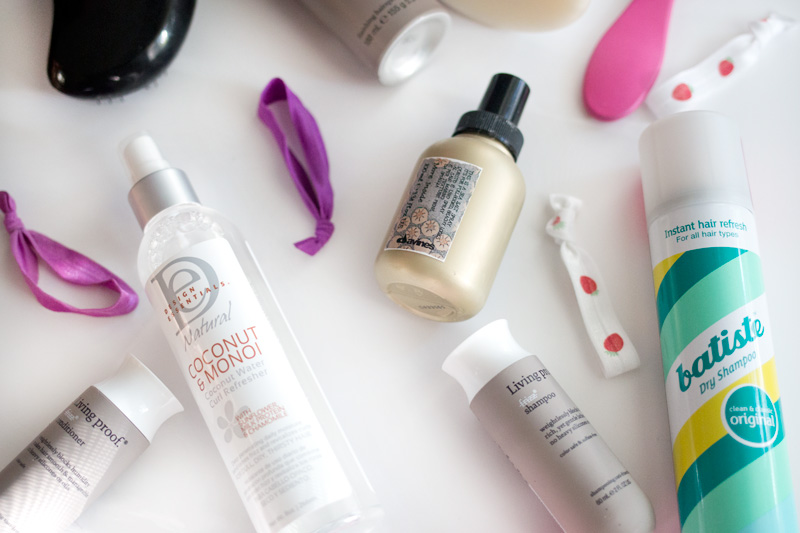 For holding it all back… Sephora Collection Hold It Together Blow Dry Clips
Now I know I said I'm not a blow dryer-er, (Is that a word? One who blow drys? Whatever.) but I also like to do my makeup and when it's sweaty out I need something to keep my hair out of my face. This is what I use. I also use these for sectioning hair off while curling or straightening. (Sephora, $10)
For bedtime hair styles… Sephora Collection Ribbon Hair Ties
I'm so glad these ribbon hair ties were invented, as I HATE the crease that normal hair ties leave. Drives me crazy! Plus, these are so much more gentle and I notice far less hair breakage, even when my hair is a bit tangled. I personally don't like the looks of these for daytime hair styles, so I stick with your standard Goody "ouchless". (Even if they aren't really ouchless. Lies!) (Sephora, $5-9)
So that's my summer hair care favorites as of late… did I miss something amazing? What is your favorite hair product? I'd love to hear all about your must-haves for your hair!