Affiliate Links: If you click on a link in this post, I may make a very small commission.
If I'm honest, I totally overspent this month. Between the trip to Paris and London, I stocked up on way too many beauty products that would take me hours to locate online… so I will save that for another post. Ironically, I didn't end up with much in terms of new clothes this month, even despite my shopping in Europe. Even the temptation of the #NSale didn't end up panning out – most of what I ordered was a dud and got sent back. I did, however, stock up on some basics like bras and underwear (which I also don't count into my budget, because these things are necessary.) I highly suggest checking those items out in case you're in need as well.
Anyways – onward with what I did end up buying, returning, and receiving in July!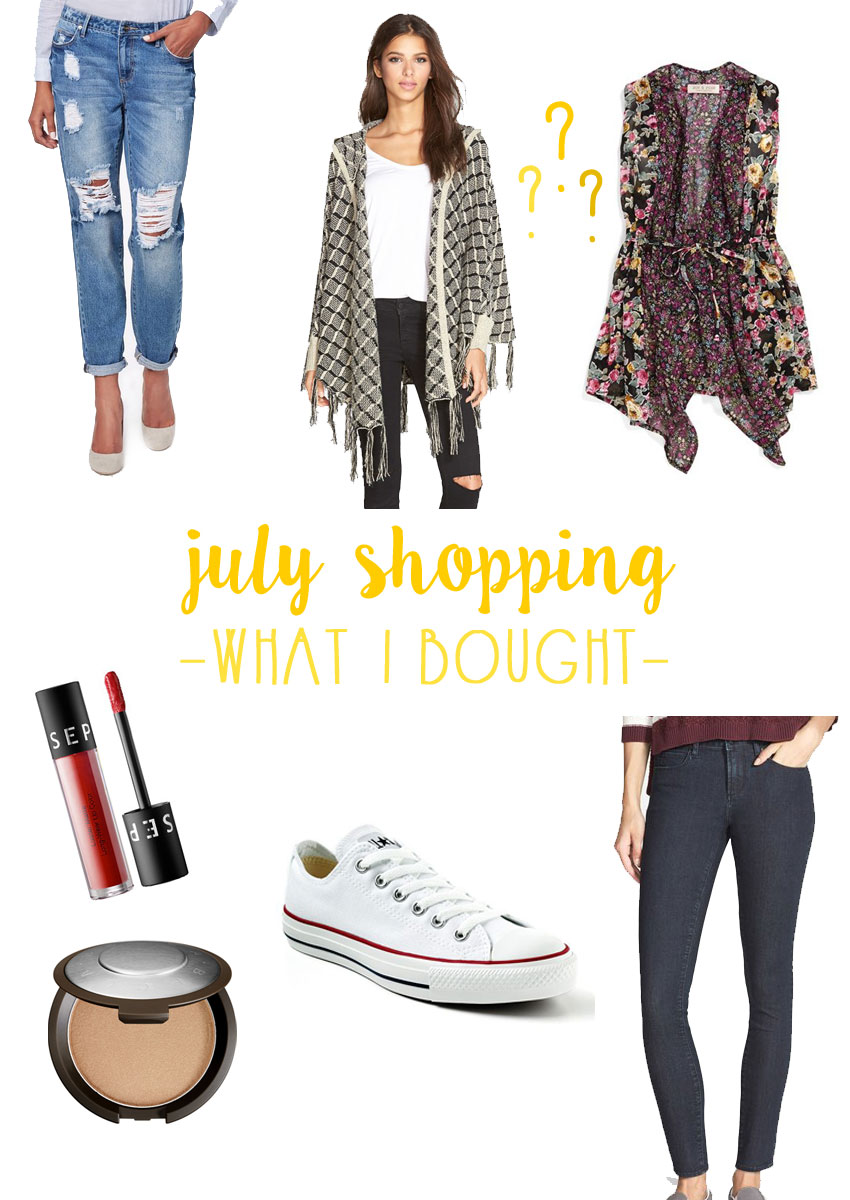 What I Bought
Nordstrom: I loved the Articles of Society Sarah Skinny Jeans, and the price was perfect at $36. I ordered a second pair as well and found these to run true to size if you like a fitted skinny. I ordered a 26 and typically wear the same size at Madewell and a two at Old Navy/Gap. I also shopped the kids section (I swear I'm mature…) and found this cute floral vest. I haven't 100% decided on it because I'm afraid it will be something that just hangs in my closet and doesn't get worn often. Same with this poncho from BP. Thoughts?
JustFab: Never ordering clothes from JustFab, I figured I'd give their jeans a try. I remember Sarah had mentioned liking them, so I ordered the Slim Boyfriend jeans this month. I liked the fit and found them to be true to the size chart. If you're in-between sizes, I'd recommend going down as the waist does stretch with wear.
Sephora: I couldn't resist ordering the Jaclyn Hill x Becca Champagne Pop highlight. I'd been eyeing Becca's highlighters for months anyway so figured I might as well splurge on a special collaboration. I also grabbed this Sephora Collection Matte Lipcolor in Scarlet Luster, which I'd also been wanting to try, to get free shipping.
Kohl's: I picked up the Converse Oxford Low-Top Sneaker in White before we left for Paris. I thought they'd be amazing for walking… but I forgot that you need to break them in first. My feet were hurting by the end of "breaking" them in, but I survived. ;) Pro tip: If you have small feet, try the kids size on too!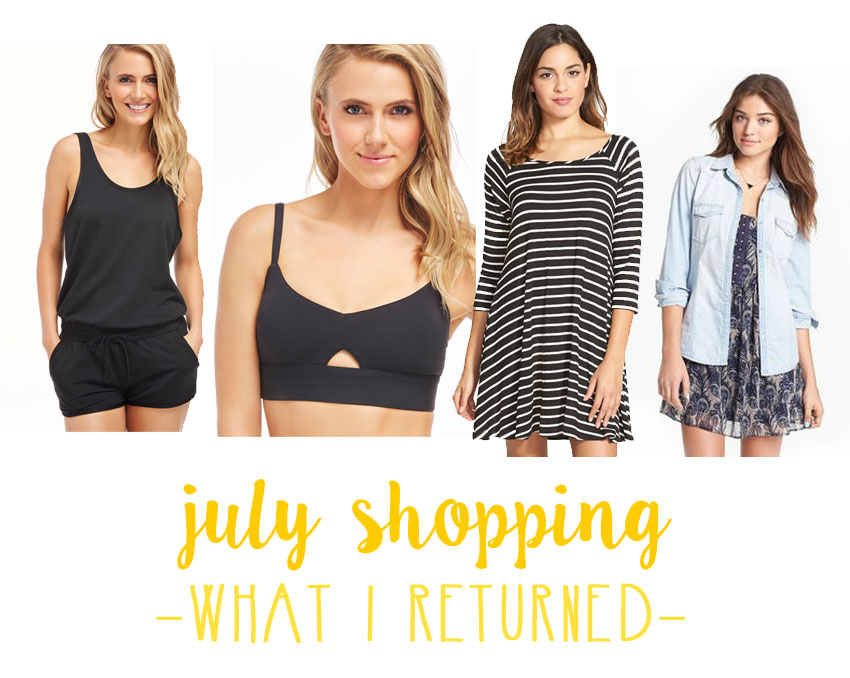 What I Returned
Fabletics: When I was in Europe, I totally spaced on my "automatic" subscriptions like Fabletics, JustFab, and ShoeDazzle, so I ended up with credits to each. Whoops. I liked the items this month, though, but sadly they didn't like me. This Leonora Romper looked cute on the model but horrid on me. The shorts portion was fitted while the top gaped open in the back, and not in a cute way, at least on me. The Malindi sports bra was too big in the band and too small in the cup, causing a strange, puckered look.
Nordstrom: I loved this Halogen Denim Shirt, it was so soft and looked great… except I couldn't move my arms/shoulders. I tried sizing up to a Petite Medium and still had the same problem. (To be fair, Nordstrom does note this, and it's true.) I tried this washed chambray from BP as well, but it arrived looking like a wrinkled mess and just wasn't very attractive in general nor as nice as the Halogen. I liked the look of these Topshop jeans (and the fact that they come in regular, short, petite, and long lengths) but overall they were like a second skin. Too fitted for my taste. This denim jacket/hoodie combo was cute, but the medium size suggested was way too big all over, and the sleeves covered my hands. I loved this Socialite Swing Dress, but it was just a touch too fitted in the chest and was sold out in a medium.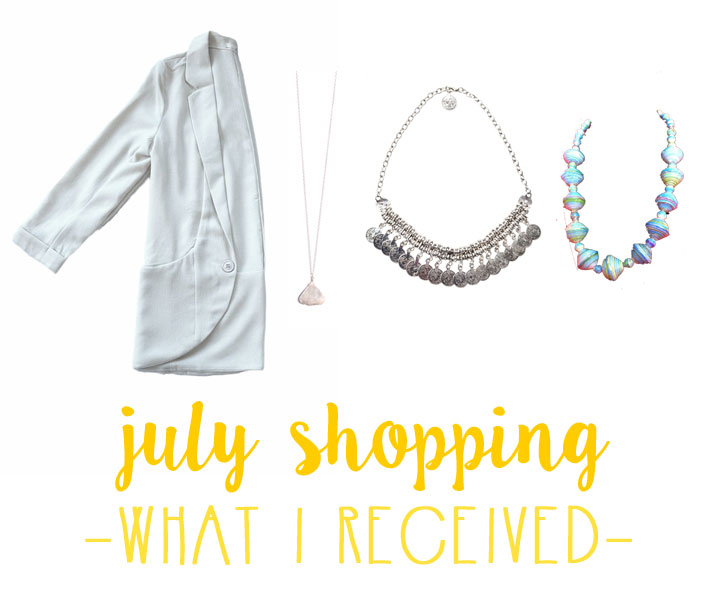 What I Received
Emerald Cuff: I loved curating a custom collection from Emerald Cuff. I picked out the Ellison Boyfriend Blazer, Cutie Gems Druzy Necklace and also received the Ambiance Apparel Sheer Yoke Top as my bonus basic, which are great transitional pieces for fall!
Happiness Boutique: I received this fun Ancient Coins Statement Necklace that I styled in a recent casual outfit post.
LOT2545: You may remember this funky Big & Bold Paper Bead Necklace from my bohemian look right before our Europe trip.
All in all, I actually didn't do that terribly with "normal" purchases this month. Since it was an expensive month traveling to Europe, in August, my goal is to cut back on the spending. I already placed a few orders from Ulta, ShoeDazzle, and Old Navy so hopefully I can control myself and not do any further damage. Wish me luck! ;)
Linking up for Budgeting Bloggers with Fran
What have you been shopping for recently? Did you splurge at the #NSale or anywhere else this month? I'd love to hear about your purchases lately!