Now that you've donned your best comfy and cute Thanksgiving outfit, I'm sure you're going to want to get into the holiday spirit with your makeup too! I thought it would be fun to share one of the makeup looks I wore in yesterday's post, and also give thanks for you by offering up my favorite holiday makeup palette from Make Up For Ever to one lucky winner. (More on that at the very bottom of the post!)
I'm so used to seeing holiday tutorials featuring a bright red lip and shimmering champagne eye makeup… so instead I went a little more 90s grunge and opted for a brown smokey eye and mauve-taupe lip. This eye makeup has enough shimmer, but enough boldness to offset an even bolder lip look. I recently wore this lip combination to an event and got so many compliments that I knew I had to recreate it, and why not for Thanksgiving? Follow along with the simple tutorial below.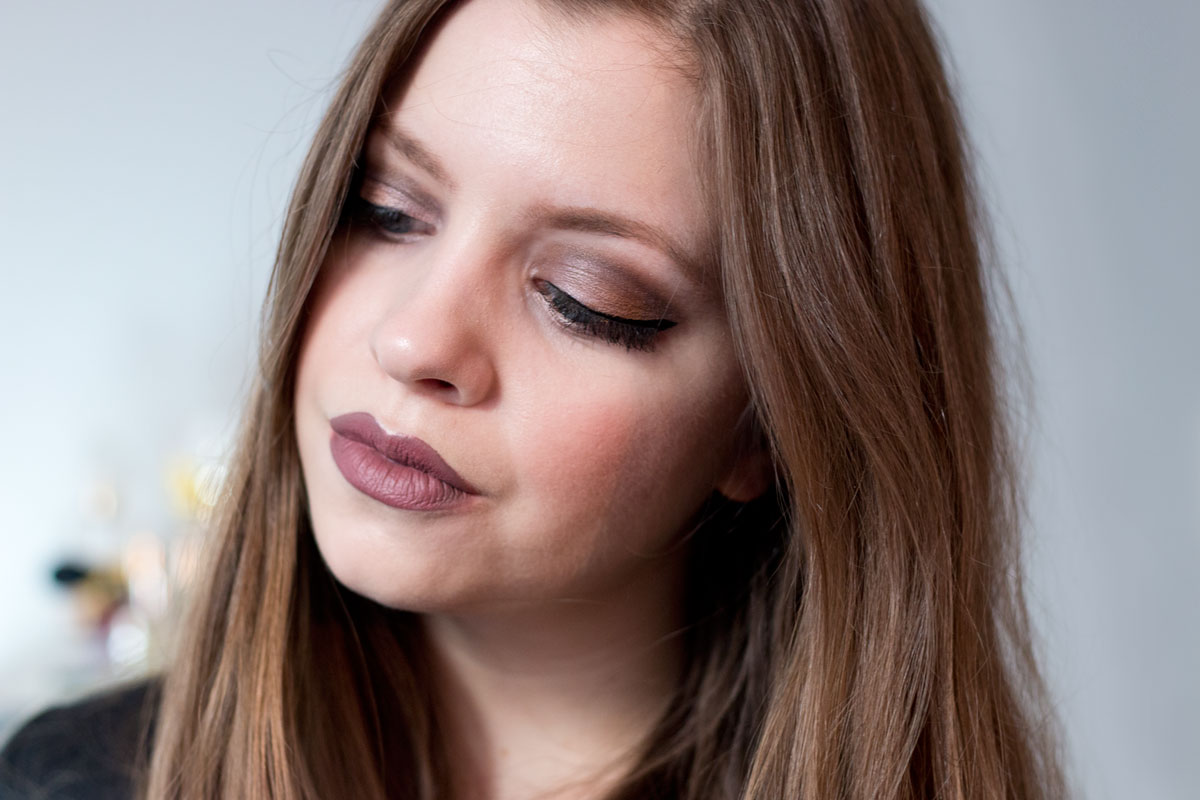 Thanksgiving Holiday Makeup Tutorial
For the Eyes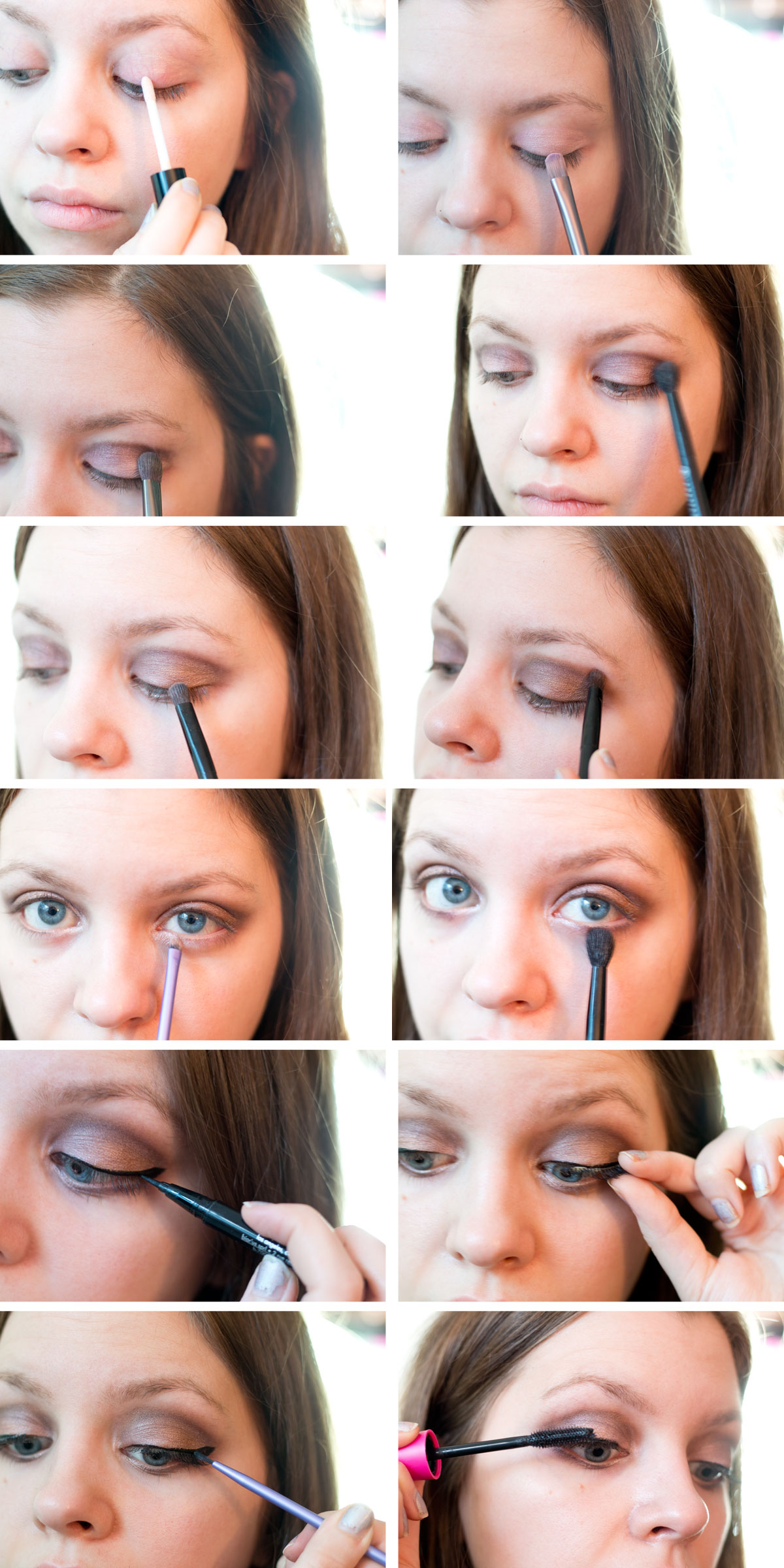 1. With an eyeshadow primer, prime your eyelids. I'm using NYX Proof It Primer here. I find this lasts all day and is comparable to my UD Primer Potion.
2. Next, I'm grabbing my Make Up For Ever 15 Artist Shadow Palette for the entire eye look. With a flat shader brush, pat MUFE shadow i524 (Pinky Beige) all over your lid.
3. In your crease, blend in d826 (Fig), taking it to the outer corner of the lid.
4. Grab a fluffy blending brush to blend out Fig so to soften the look.
5. With a smaller precision brush, load up i662 (Amber Brown) and pat on the center of your lid, meeting the Fig shadow on the outer corner.
6. Then with this same precision brush, sweep Amber Brown across above the crease. Blend softly with Fig.
7. Next, grab a small brush and pat i528 (Pearl) into the inner corner and down the first half of the lower lash line.
8. With the same fluffy blending brush from earlier, blend Fig across the outer half of the lower lashline. Diffuse any harsh lines by blending with Pearl in the center.
9. Next, apply your favorite liquid or cream eyeliner. I used Stila Stay All Day Liquid Liner in Intense Black.
10. If you wish, apply lashes now. I'm using Ardell Natural 110s.
11. With a liner brush, pat s102 (Onyx) over the top of the lash band. I find shadow is easier for me to work with and conceals any lash glue deposits a bit better. ;)
12. To finish off the eyes, blend your lashes with the falsies with a coat of mascara. If you skipped falsies, just apply your regular mascara.
For the Face & Lips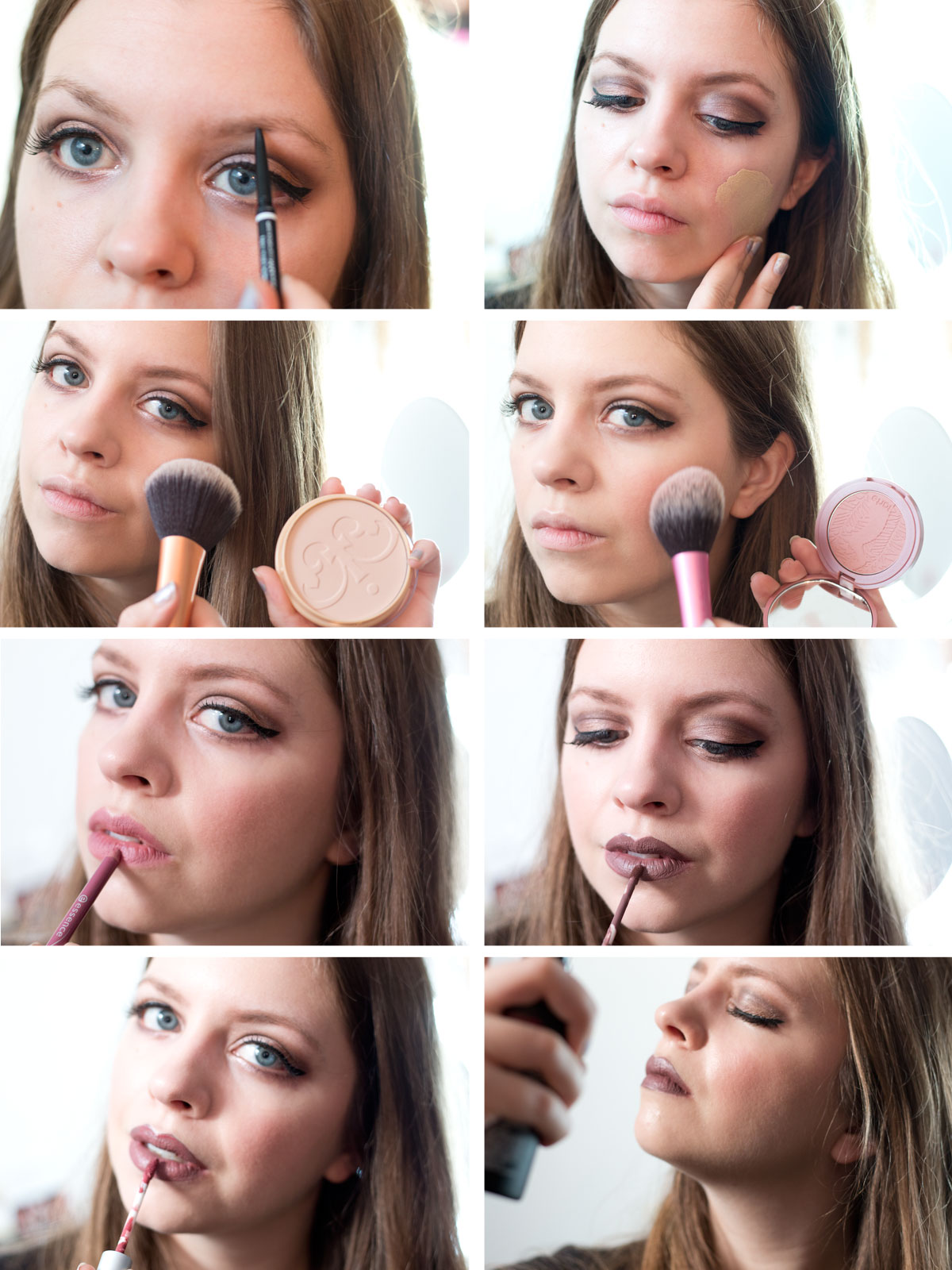 1. Alright, now that the eyes are all done, let's finish up the face! First I'm going to fill in my brows with my NYX Micro Brow Pencil. It's not my holy grail, but is awfully similar to the ABH Brow Wiz but about half the price.
2. Next I'm applying my IT Cosmetics CC Cream in Fair. I like this because it keeps my skin pretty hydrated all day. If your family is full of shutterbugs, skip anything with SPF and opt for something like Make Up For Ever Ultra HD Foundation (splurge) or L'Oreal Infallible Pro Matte (save).
3. Since we're going to have a long day, I'm sure to set my makeup, so I don't look too dewy with Rimmel's Stay Matte Pressed Powder in Transparent focusing on areas like the t-zone and under the eyes.
4. Then, I'm applying my favorite neutral blush – Tarte Amazonian Clay 12-Hour Blush in Exposed. It's very similar to my neutral makeup favorite, Tarte's Prim, which unfortunately was limited edition.
5. With the face all done, I'm going to focus on the lips. This lip look is going to have to make it through snacking, dinner, and dessert, so I'm starting it off with a lip liner. This one is Essence Lip Liner in 06 Satin Mauve.
6. Now I'm going to get a little fancy with the lip and apply a blend of two shades. The first is ColourPop's Ultra Matte Liquid Lipstick in Kapow. This is a little dark for me as is, so I'm layering theBalm's Meet Matt(e) Hughes Liquid Lipstick in Charming over the top.
7. I'm finishing off the entire face with a coat of L'Oreal Infallible Makeup Extender Setting Spray so that my makeup makes it through the long drive, dinner, and into the evening for a little shopping on the way home. Happy Thanksgiving!
Make Up For Ever 15 Artist Shadow Palette Giveaway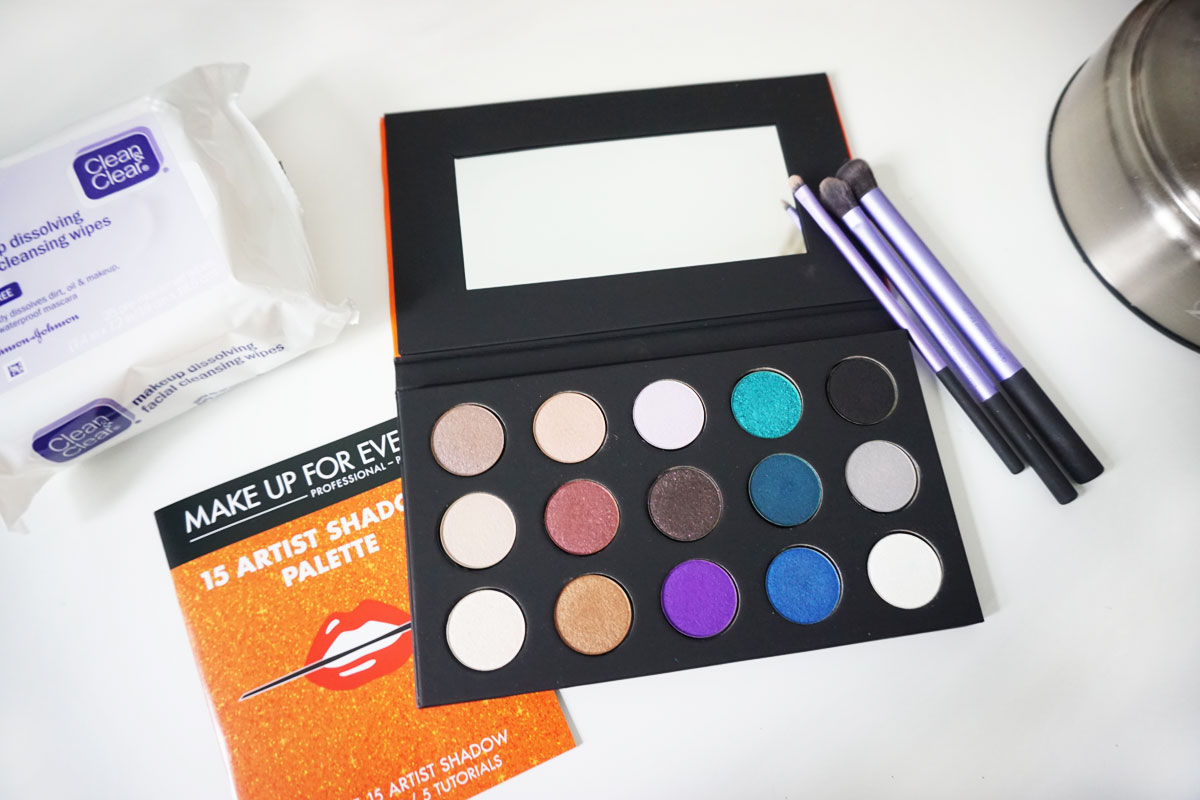 Don't worry, I'll be sending you a brand new, unopened palette! ;)
And now to give thanks for all of you who support me throughout the year, I want to share my favorite holiday makeup palette! I picked these up at the Sephora Friends & Family Sale and have been dying to use it for the holidays ever since. I mean, look at those colors! If you're new to Make Up For Ever Eye Shadow, you're in for a treat. These are almost a cream type consistency, which means they pack a punch when pressed directly on the lid. Enough about the palette, get to entering below! This is open worldwide and will end on 12/7 at midnight EST.
Do you have big plans for Thanksgiving Day? What are you planning to do with your makeup, if anything, to celebrate? I'd love to hear about it in the comments, and thank you so much for reading; I truly am thankful for each and every one of you! :)