Over and over again I've heard people buzzing about the new releases to the Too Faced Sweet Peach Collection this past December. I was fortunate enough to nab a few goodies on launch night via TooFaced.com, despite the mass amount of traffic that was slowing their site down and making it incredibly hard to check out.
In typical me fashion, I wanted to take a little time to be able to try out the products fully so that I can give you my honest thoughts. I'd hate to make recommendations or express displeasure with something that I end up changing my mind on a later date, which is why I wanted to write out the good, bad, and ugly about this collection.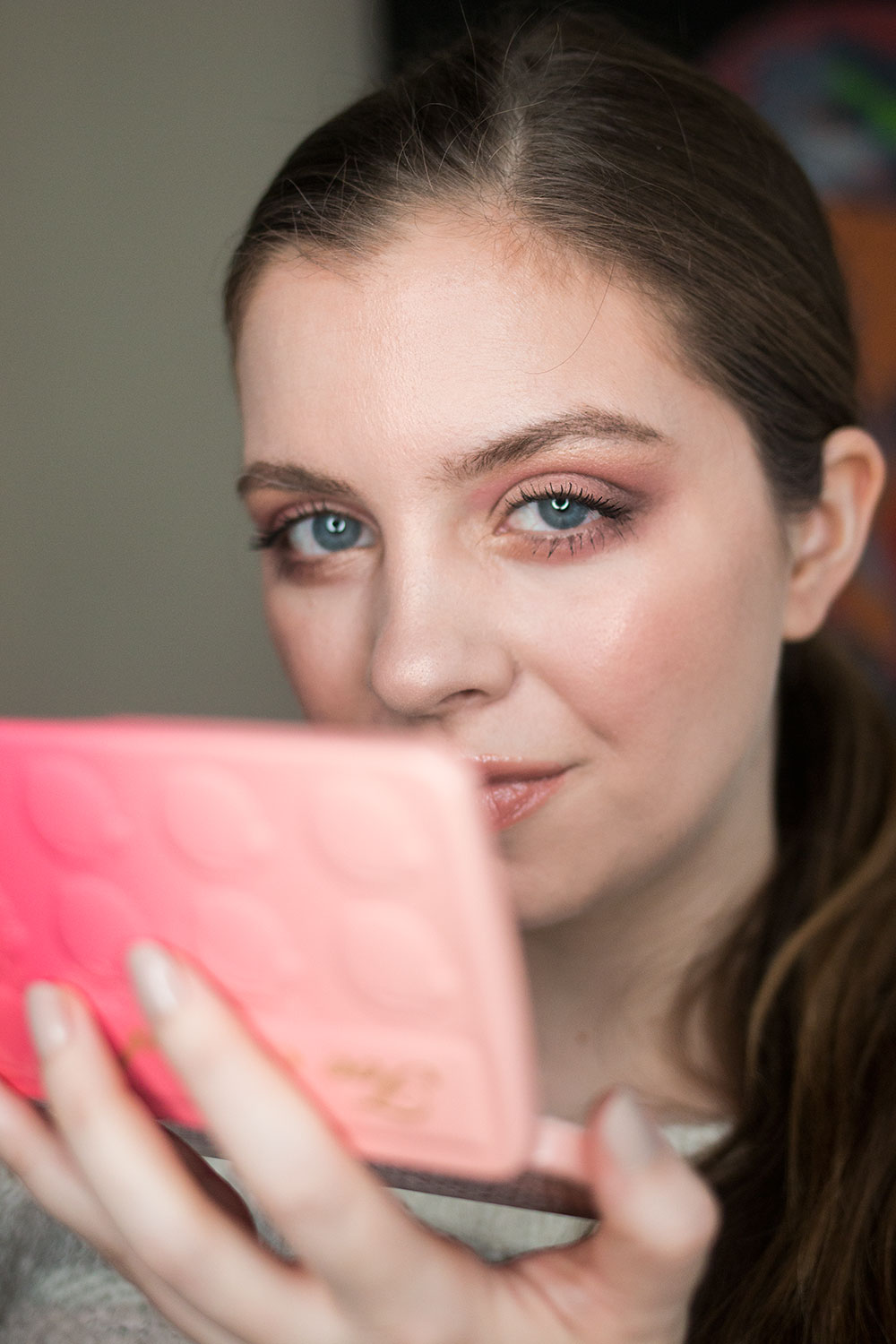 Disclosure: Some links in this post are affiliate links and I may make a small commission if you click them and make a purchase. I purchased all items in this post myself. :)
So first off: the elephant in the room. If you're someone who follows "makeup drama" on social media and YouTube, then you might have heard about the shipping "scandal." I was not affected by this, as I believe it was only those who ordered the eyeshadow palette. I can't give a first-hand account of how my customer service experience was because my order shipped about two business days after placing it (on December 17th), and then I received the product on December 21st via FedEx, so I didn't need to contact customer service. My order arrived well packaged with everything I ordered inside.
Now that we're past the elephant in the room, let's get to the good stuff! The products themselves, of course.
Too Faced Sweet Peach Collection First Impressions, Demo, + Swatches
https://www.youtube.com/watch?v=xXPYEW4_j7w
Sweet Peach Eyeshadow Palette Review
After the above video was filmed, of course, I played more with the entire collection! While this eyeshadow palette wasn't technically new to me (I had it from the original launch back in summer), I really hadn't used it much. With it not being available, I didn't want to share any looks with it since you wouldn't be able to go out and buy your own to recreate it unless you'd already owned it.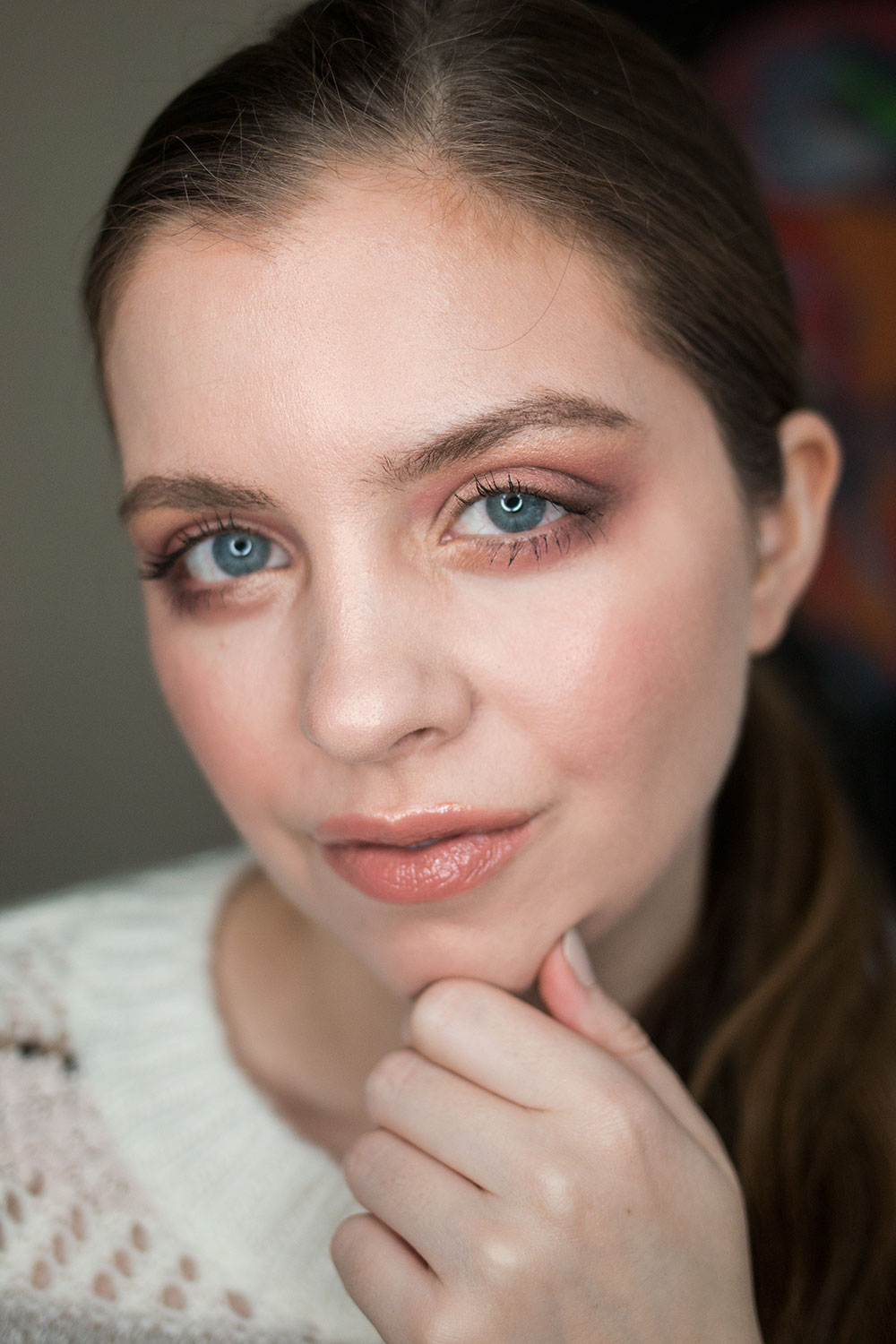 My first impressions of the eyeshadow palette remain true: this is for neutral lovers that want to play with some peachy-pink, warm shades. The peaches I used in the video demo were by far my favorites in the entire palette because that's what sets this palette apart from say, the Naked 3 Palette or the Chocolate Bon Bons. The peaches are gorgeous, and I absolutely love the pink toned look I created. In fact, I recreated this look again and wore it in a couple of upcoming outfit posts!
For those that don't own many palettes with a wide variety of brown and other neutral colors, you will love this if you're a peach fan. For those that do own every Naked or Chocolate Bar palette, I might recommend swatching this in person at Sephora or Ulta to see if this would be something you would truly love and get a lot of use out of.
Sweet Peach Glow Palette Review
The Sweet Peach Glow Palette is a new release that features three products in one: a highlighter, blush, and bronzer all in illuminating peach tones. I was most looking forward to this palette, but unfortunately, it was the biggest letdown.
Before you think that means I don't like it, that's not entirely true; I just believe that it takes a bit more work than I expected to get it to work for me. I have a feeling the palette was intended to compliment a full face look, and that the blush is more of a blush "topper" and the bronzer is also a bronzer "topper." I haven't experimented with it in that regard quite yet, but if you're interested, I'd be happy to try it in a future tutorial!
To make the highlighter pop, I found using my finger to apply it was much more efficient than using a brush. For the blush, I concluded that using the brush in a pointed, straight down manner picked up more product and made it easier to get the desired pigment to my cheeks, though it was still relatively light. I wouldn't recommend this blush for skin tones much darker than a light-medium based on the pigmentation. As for the bronzer, again, I don't think this would be ideal for skin tones deeper than a light-medium unless used as a highlighter. It is a pretty peachy-bronze shade that I did end up liking, but it does require a bit more of a heavy hand than the Too Faced Milk Chocolate Bronzer, which I apply sparingly.
Sweet Peach Creamy Peach Oil Lip Gloss in Papa Don't Peach Review
The most surprising product of all? The Sweet Peach Creamy Peach Oil Lip Gloss. I did not expect to love this as much as I did, and I've been using this lipgloss almost every single day so far this month. I picked this up in Papa Don't Peach and am happy I did. I not only love the versatile nude tone (that seemingly goes with every single neutral lip color that I own) but also the taste and smell of the gloss. It's very much peachy without being terribly overpowering.
The formulation is pigmented without being fully opaque and is tacky enough to stay on your lips without feeling overly sticky. The gloss feels hydrating. However, I do notice that after an hour or two it's mostly disappeared without much of a trace. I think the only way I would like this more is if it left behind a stain, similar to the IT Cosmetics Lip Gloss Stain.
Enter to Win the Sweet Peach Papa Don't Peach Blush
As a thank you for all of your feedback about wanting to see me review this collection, I wanted to give you an item from this collection! Enter in the widget below for your chance to snag the Papa Don't Peach Blush from the Sweet Peach Collection. Open worldwide, ends on 2/13 at midnight EST. Good luck! :)
Have you tried anything from the Sweet Peach Collection yet? Which product did you like most? Which would you most like to try? I'd love to hear your thoughts on the collection in the comments!