Sitting  down to write tonight was hard. I've been staring off and on at this screen for about 2 hours, willing the words to flow. But I got nothing.
It's not because I'm burnt out. It's not because I don't have specific subjects I could be writing… it's because I'm disappointed. And this is the part of blogging that's really rough – not being able to share everything, even when you feel crummy and you know it would help. Some things just can't be public for a myriad of reasons.
But, if we're being very general, something didn't work out the way I would have hoped, and it sucks. I gave myself the night off last night from posting. I just was too exhausted by the thought of trying to write a happy-go-lucky post when it just wasn't how I was feeling. But today was a new day, and it was better, but I'm still bummed. So, I let myself wallow a bit because sometimes life bring along disappointments, but I can't let them define me.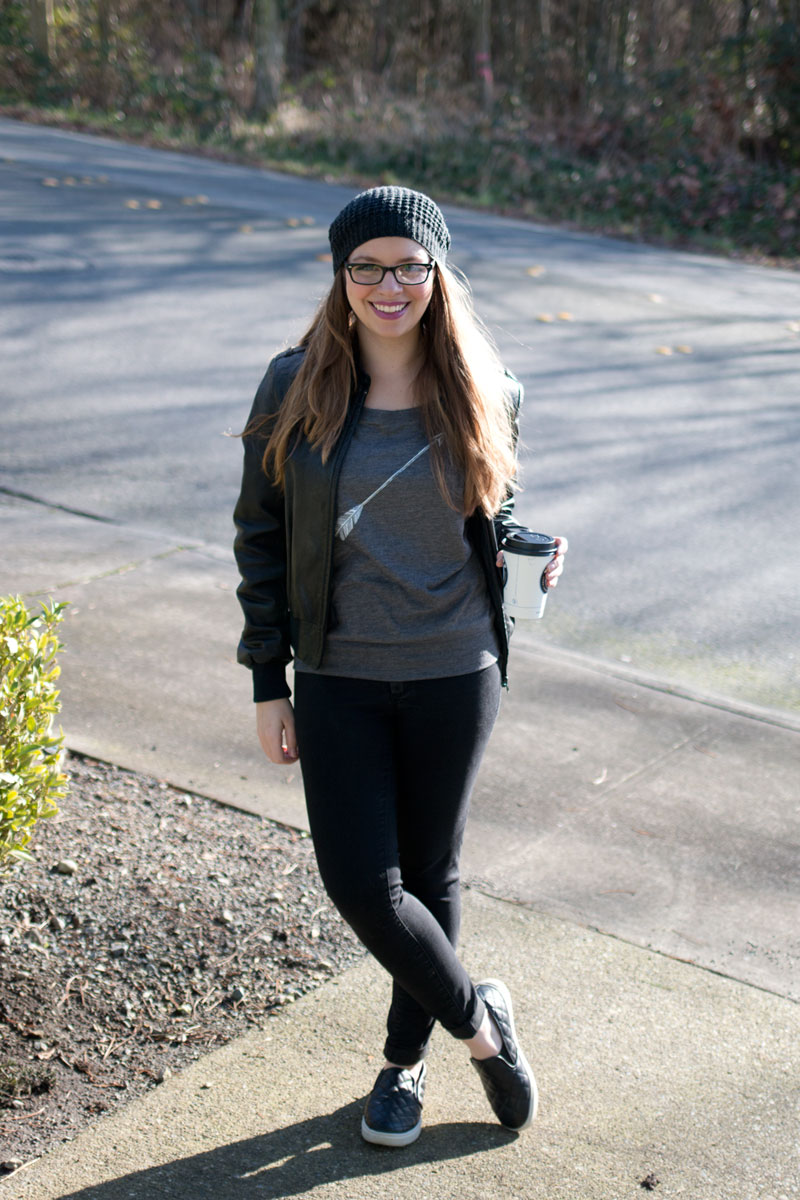 Whew. Alright, now that I've got that off my chest (sort of) we can move on to the good stuff. This weekend I tried to get back into the swing of real life. You know the fun adult things like running errands, doing laundry, cleaning toilets. Amazing right? Luckily I did get to escape those really fun things at my monthly book club, which was held at Top Pot. You know, the donut place. And if you don't know Top Pot, be sure to visit next time you're in Seattle. Being the nice girlfriend that I am, I brought the goods home to share with Dave, and bribed him to take these outfit photos.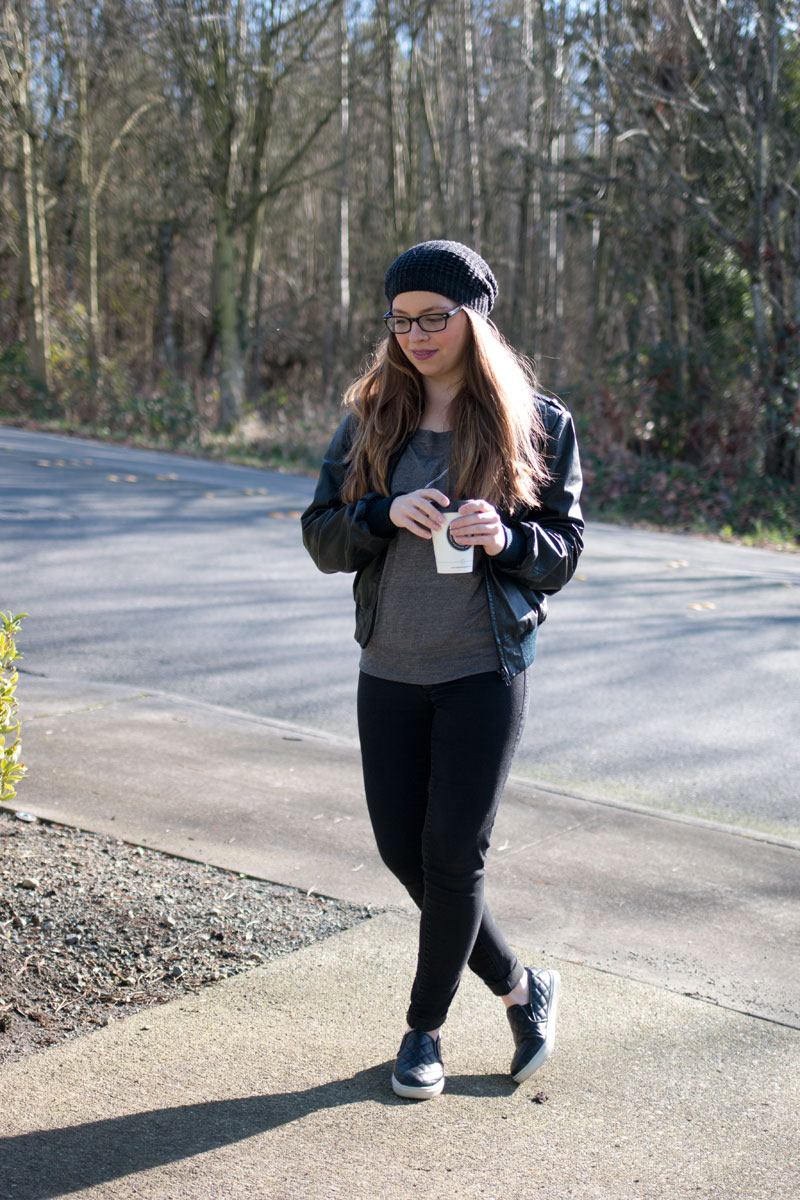 My weekend wear is even more casual than what I wear to work, if you can believe it. Okay, actually, that's kind of a fib. I wore a very similar outfit to this to work on Monday as well… what can I say, I dig the comfort. This arrow print dolman top I'm wearing is from my friends at Wear Clothing Co., and is the absolute softest and most comfortable shirt ever. It's also made in the USA which is always a plus in my book. Plus, they've offered 10% off anything in their shop with coupon WEAR10. And those slip-ons? One of my favorite (and cheapest) purchases of 2014 from Target. I wasn't sure I'd wear them often, but I've worn them a ton with all sorts of different outfits.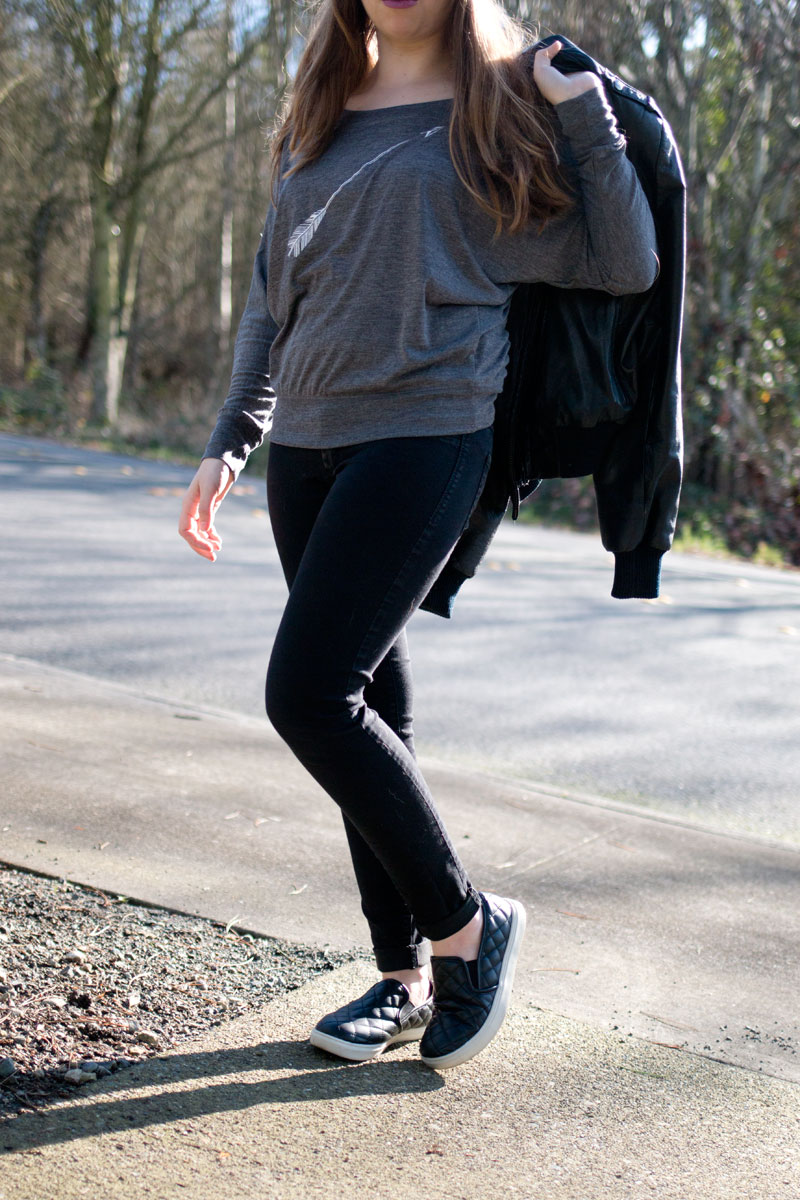 What I'm Wearing
Jacket: Wilson's Leather Bomber Jacket, thrifted (similar)
Top: c/o Wear Clothing Co. (Use coupon WEAR10 to get 10% off your own top!)
Jeans: LC Lauren Conrad Jegging
Shoes: Mossimo Supply Co. Dedra Quilted Slip On
Beanie: Mossimo Supply Co.
Glasses: Ray Ban Style 5150
Do you have anything in your closet that has surprised you with how often you've worn it? Or if you want to wallow with me, anything bumming you out lately?