Affiliate Links: If you click on a link in this post, I may make a very small commission.
Ah yes, it's time to confess what I've bought this past month. I know, you're on the edge of your seat, riveted and all. I actually didn't go too crazy this month, despite extensive time shopping in Miami… and then buying nothing. I actually bought more FOR the trip than on the trip, so that's good. Anyways, onto the budget reveal.
What I Bought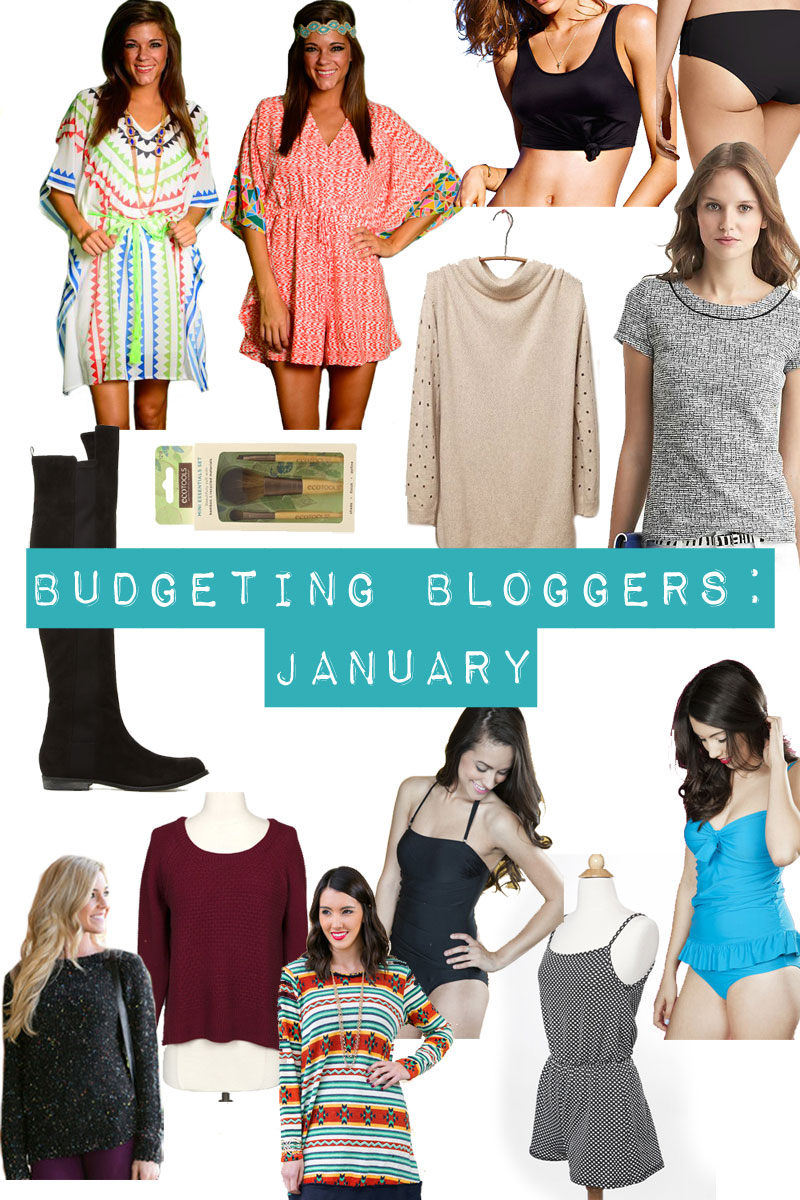 Mint Julep Boutique – I grabbed a couple of swim cover-ups during their clearance sale. Luckily I had a gift card and just paid shipping. :)
Victoria's Secret – I also had to grab a new swimsuit prior to my trip, so I ordered this top and swim short bottoms (sold out; similar), also on clearance. I also picked up a t-shirt bra when I was making my reject swimsuit returns. – $29
Goodwill – I had to drop off some donations, so I  figured I might as well stop in. I found a Moth Ceres Pullover Sweater and a Loft Boucle/Tweed Top, worn here. – $7
ShoeDazzle – Somehow I got on Shoedazzle's their mailing list, and they emailed me that I had a $10 credit and they were having some huge sale. I ended up with these Azedeh Boots for $10, which is crazy because they're similar enough to the Stuart Weitzman 5050 boots to make me happy. I will say that if you're not planning on wearing thick socks, these run about 1/2 size large. I also think they are a bit generous in circumference, so if you have thinner than average legs these may not be for you. – $10
Target – To go along with my Naked On the Run palette, I bought these mini brushes from EcoTools. They're tiny and adorable and are perfect for throwing in my work bag with my palette. – $5
White Plum Boutique – None of this has arrived yet, so some of it may not work out… but I picked up tons of stuff on their 70% off sale: the Portland Sweater, the Weave It To Me Sweater in Red, the Cozumel Sweater Dress, the Boathouse One Piece, the Eloise Romper, and the Marlowe Tankini. A pretty killer deal if it all ends up working out! – $44
Old Navy – I've seen these jersey turtlenecks making the rounds on various blogs, and I'm cold. Plus, they were on clearance for about $5 each so how could I say no? I sized up to a medium in these and like the fit. – $10
What I Returned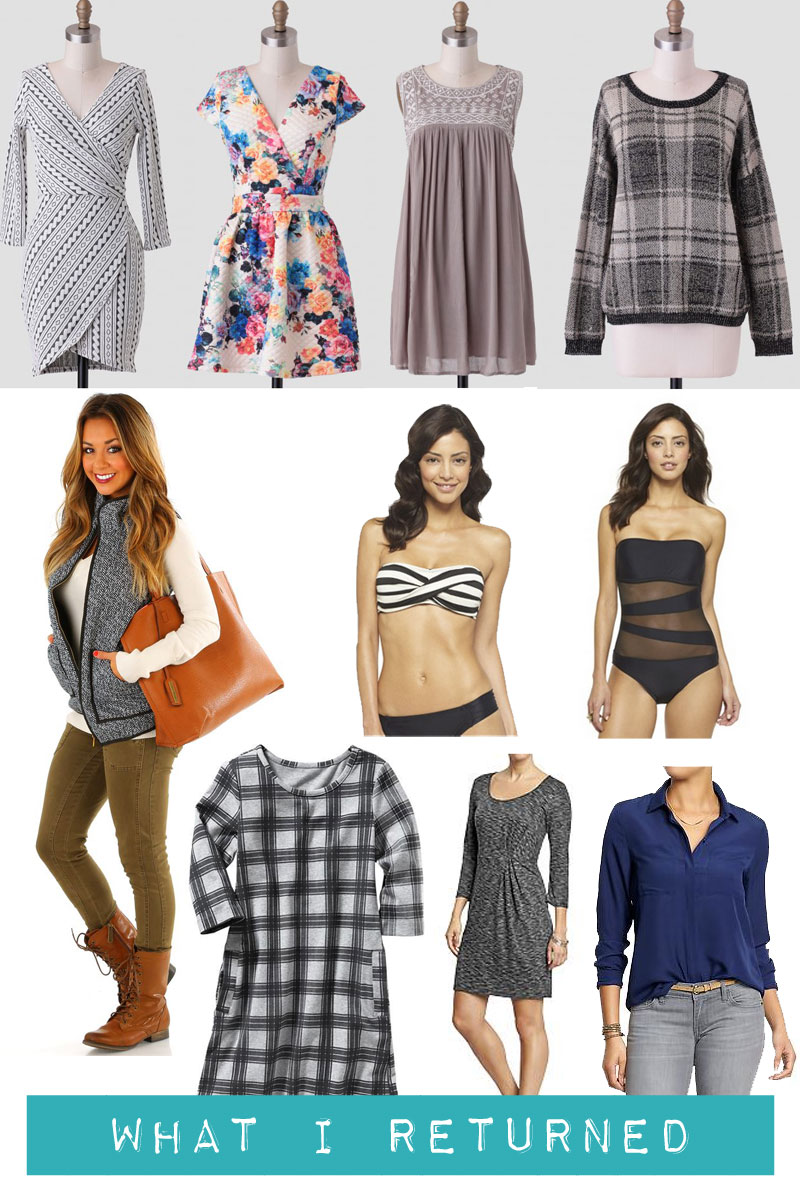 ShopRuche – Yikes, I struck out really bad here, and had to eat the shipping cost back to them. This Higher Ground Embroidered Dress would have looked much better on someone smaller busted (plus it arrived beyond wrinkled and I wanted to wear it on the cruise…) I loved the look of this Edenderry Dress and this Whimsical Garden Quilted Dress, but both were too tight on my chest, despite sizing up to a medium. I also picked this Prep School Metallic Sweater, which sadly was just not very flattering.
ShopHopes – I bought a knock off of that infamous J Crew Herringbone Vest back during Thanksgiving, but it was back ordered and didn't arrive until the end of last month after December's budget recap. It was a size too big, and honestly, I never would have worn it. It was unreturnable so I sold it on Poshmark and somehow ended up ahead $3. Winning. + $3
Target – Have I mentioned how much I hate swimsuit shopping? I thought Target would be my savior because my favorite bandeau swim top is from there, but apparently someone changed their design because this year's does not fit me in the slightest. I ended up returning that bandeau and matching bottoms and this one piece mesh swimsuit (sized up to medium because of my chest, but looked ridiculous because it was too big everywhere else).
Old Navy – I swear, shopping with Old Navy online is a huge gamble. About half of the time, things arrive and look nothing like the photos. That was the case with this plaid girl's dress (yes, sometimes I shop the kids department…) I loved the idea of this Space Dye Jersey Dress, but sadly it was way too small in the bust. It was also a thinner material than expected, but I thought it was flattering regardless. This crepe button up was also nice, but something was just not quite right about it on me. It just wasn't particularly flattering and I couldn't foresee myself wearing it much.
What I Received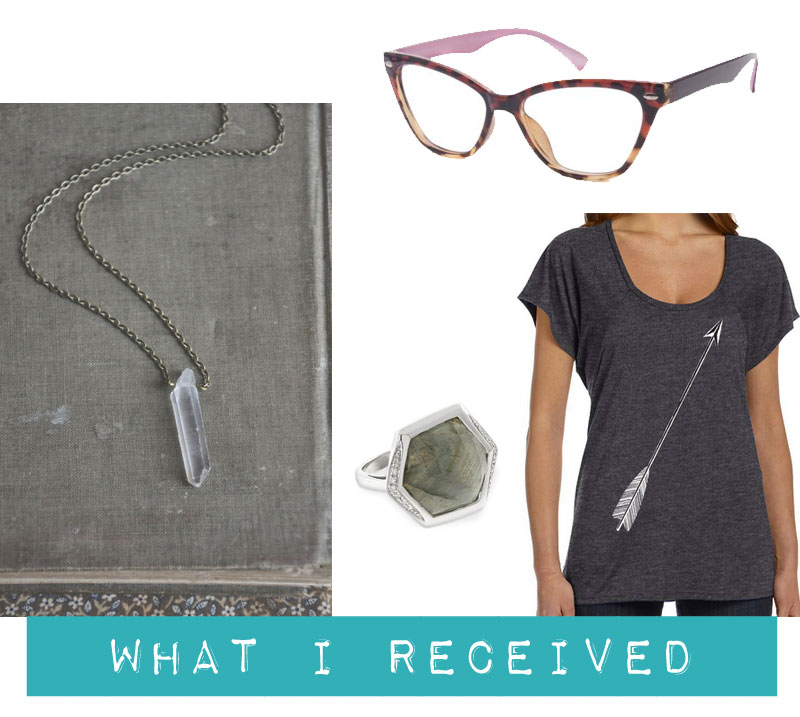 As always, I am beyond appreciative of the fabulous brands I get to work with and I'm really not trying to "humble brag" here. I think it's important to be clear about what I receive, hence why I started including it in this post. Thanks, Fran, for the inspiration!
GlassesShop – I haven't had a chance to shoot the photos yet, but squee, I am loving these retro-inspired frames!
Wear Clothing Co. – You saw this yesterday, but I could live 24/7 in this soft dolman (same print pictured). These types of tops are my go-to choice on nights and weekends.
Belle Hibou – I'm excited to style this pretty crystal necklace from a lovely Etsy seller!
Ben Bridge Jewelers – I was beyond shocked to receive this gorgeous Labradorite and Diamond Ring from the new Lisa Bridge Collection. I had even Instagrammed a shot I took after trying it on from the event's display, so imagine my surprise when I got home and that was what was in our gift bags. Heart eyes emoji all over the place.
Additionally, one last bag made it to ThredUp, and again they offered me the option to cash out early for $34. I took it and  ended up winning a blogger giveaway for a total of $84 extra this month. All in all, I did pretty well this month, spending well under my normal budget of $149, not including my "income" and despite some last minute vacation shopping. :)
Now, what I'm sure you're most curious about – the giveaway! My birthday is coming up (February 8th, just in case you need to know ;) ) and I figured I'd give away a few presents throughout the month of February to celebrate. Part one of that will be one Urban Decay Naked Basics palette! I absolutely love the Naked Basics, the matte shades are perfect for everyday wear, and Urban Decay is by far my first choice in shadow. Get yourself entered below and good luck!
*Giveaway is open internationally!
How did your shopping go this month?