It's no secret that New Years is often a time of reflection, a realization that you met none of your goals in the previous year (or maybe that's just me) and you resolve to do better in the year ahead. Last year, it meant setting anti-resolutions, as I felt myself getting caught up in a lot of FOMO and trying to do all the things. This year, I've opted to do nothing. I have no goals this year and that's just fine with me.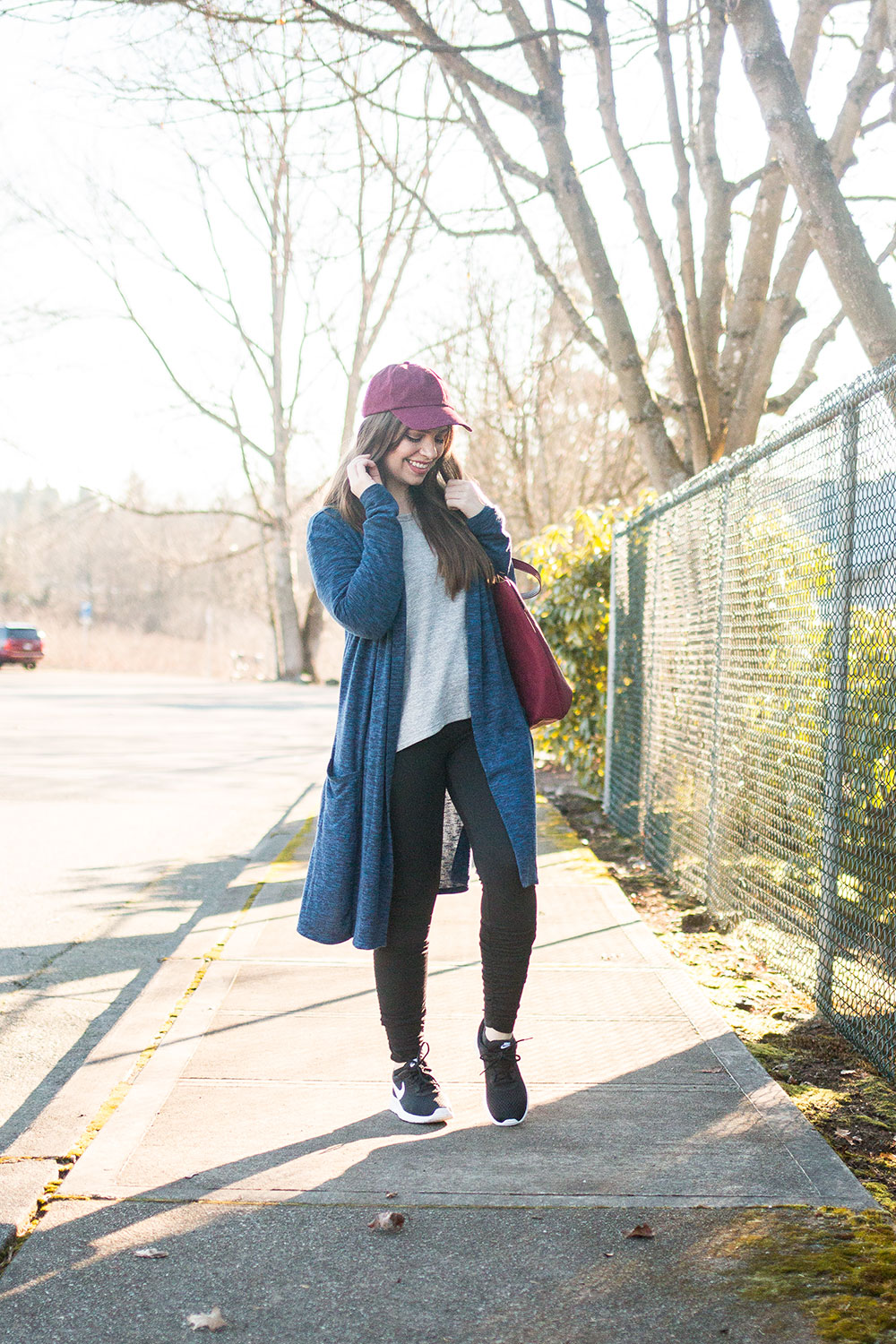 Disclosure: This post was created in partnership with Fred Meyer. Thanks so much for supporting the brands who help support this blog!
I've learned that making plans sets the stage for disappointment. Last year, in the course of a month or so, we got the crazy idea to list the condo for sale and start looking for a house. Truth be told, I thought we would be in a house right now. We are not, and I've learned that not everything works out when you think it will. And also that house hunting sucks. I'm not sure why I thought it would be fun, but it is not.
For me, New Years meant a fresh perspective. I'm no longer feeling sorry that last year didn't work out as I planned. I'm no longer setting myself up to feel overwhelmed with blogging and attaining any certain professional or business goals. Instead, I'm opening myself up to new things on the blog. New ways to challenge myself, to share new outfit ideas, to try new things, and hopefully, to bring you content that you will enjoy or will be helpful.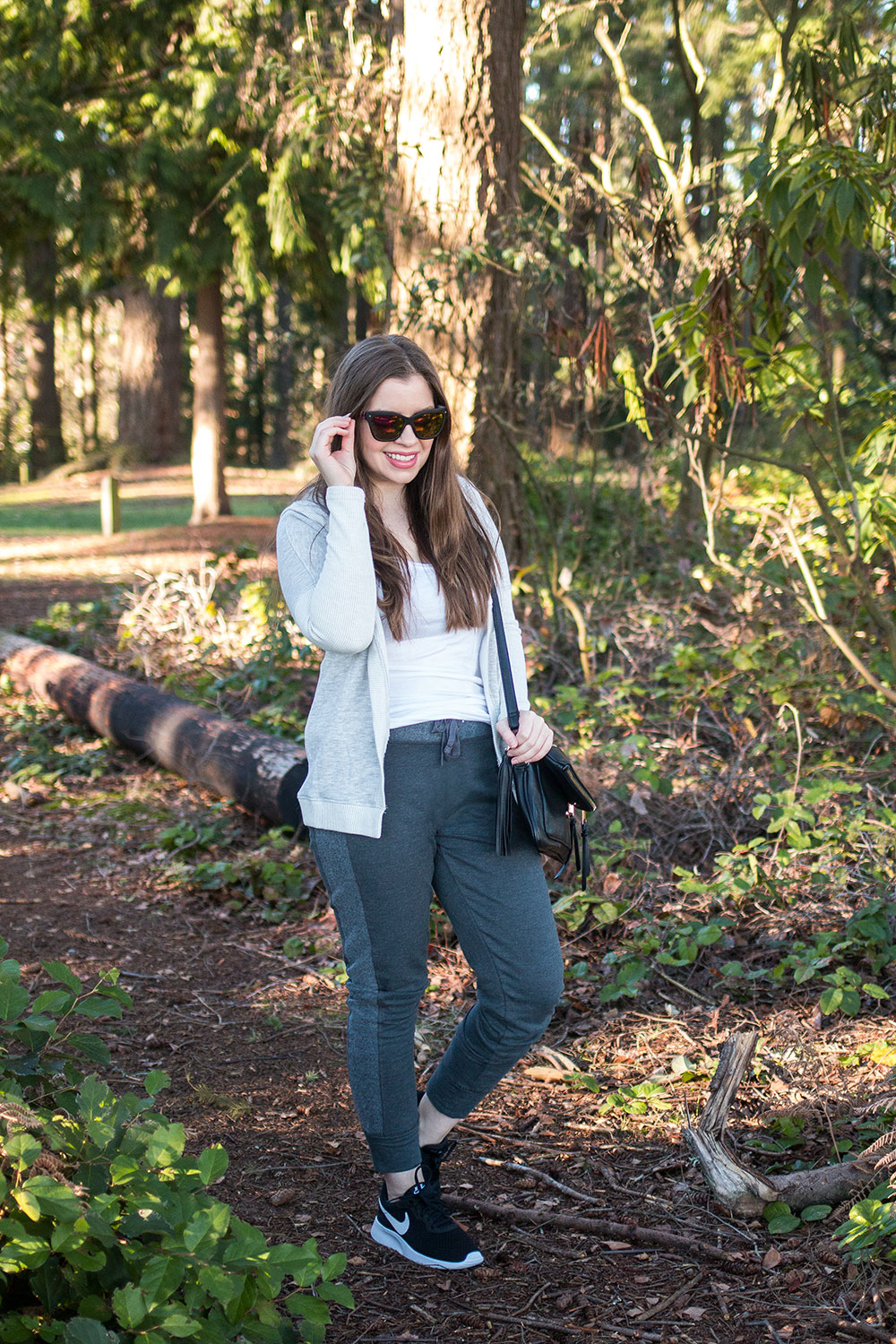 And with that in mind, I thought I would take a stab at the athleisure trend. After all, with New Year's resolutions fresh on everyone's mind, it's likely that you've started hitting the gym or a new fitness class recently. And maybe you have been finding yourself buying some new workout clothes too and are up for trying the athleisure look out for yourself.
Turn Your Workout Clothes into an Athleisure Outfit
I was recently shopping at Fred Meyer and found myself perusing the fitness section. I stumbled upon the cutest little rack of yoga gear and couldn't stop myself from grabbing a few pieces. Not only did these look perfect for my workout needs, but they also looked stylish enough that I could see wearing them on the weekend to run a few errands in, and even to grab brunch with friends.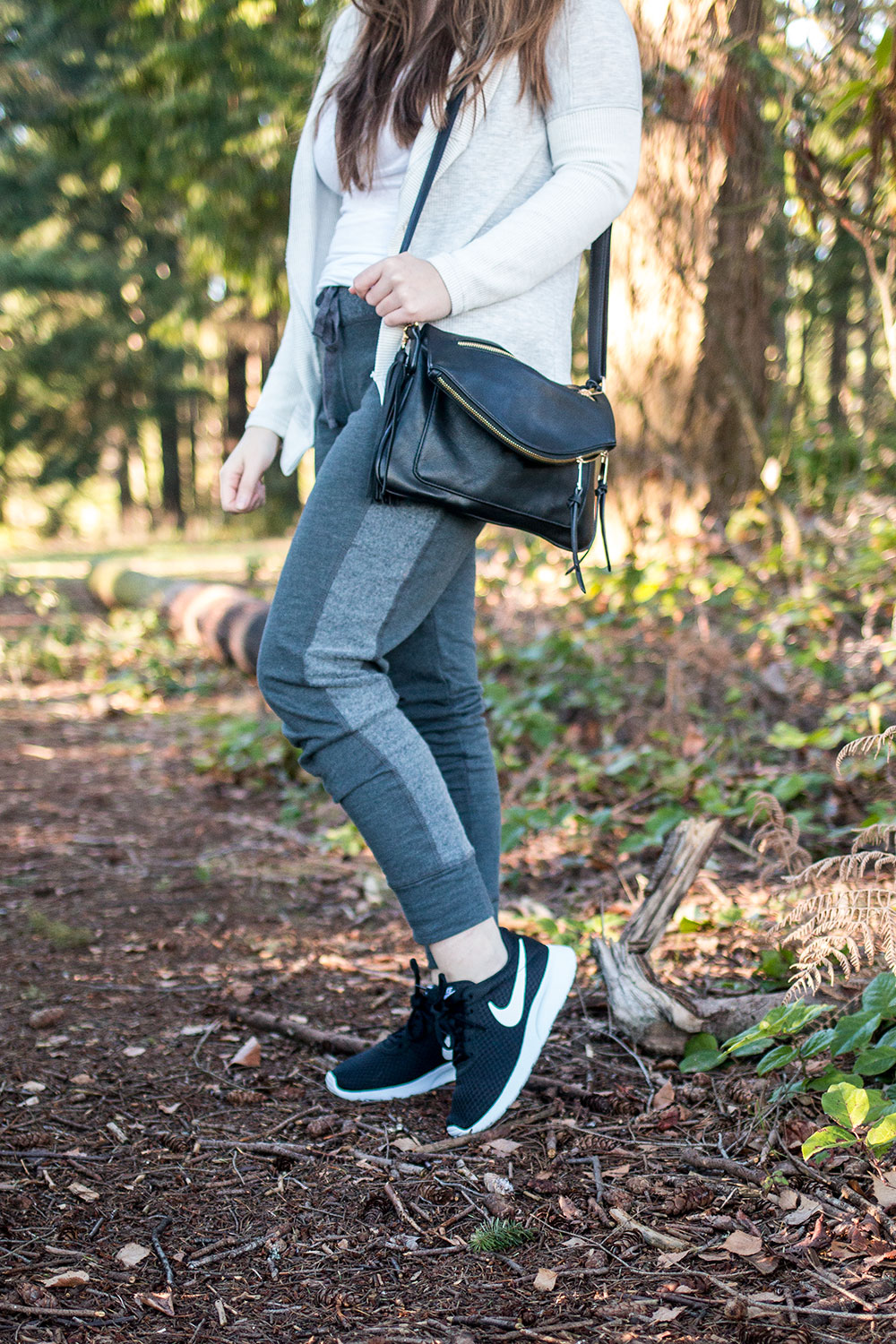 What I love about this jacket from Marika's Balance Collection is that it is both functional as a work out piece and beyond. The hood keeps my head dry in the rain, and it's simple to layer this under a thicker coat or wear a long sleeve tee underneath. For this outfit, I opted to style the hoodie with a basic white tank from GNW and low impact sports bra from Rene Rolfe. The Marika Balance Collection pants are casual yet cozy, and look comfortable but not sloppy.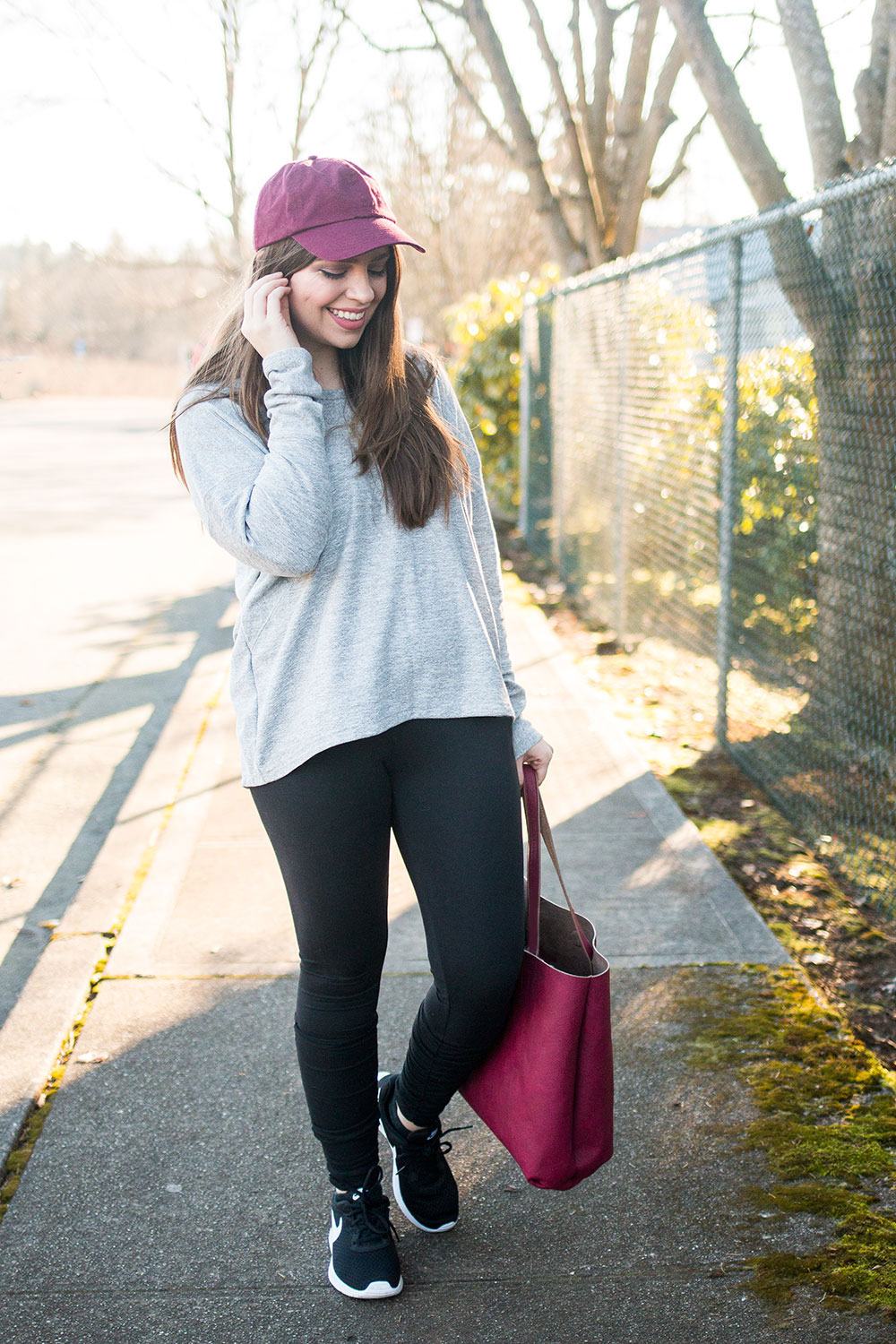 As the dawn of the New Year rolls on by, I'm yet again reminded how my fitness routine is a deplorable one. I'm not athletic. I'm not fit. And I'm okay with that, but that doesn't mean I shouldn't make an effort. The problem for me is that often I feel overwhelmed with the gear required and the pressure to be already fit.
That means I have to be conscious when purchasing new items and I have to plan multiple ways to wear it, so I know that I'm making a wise purchase. Beyond the cost, each piece has to be worth finding a place for. When I was shopping, I kept in mind that each piece I purchased needed to be versatile enough to be worn in a variety of ways, even beyond the gym.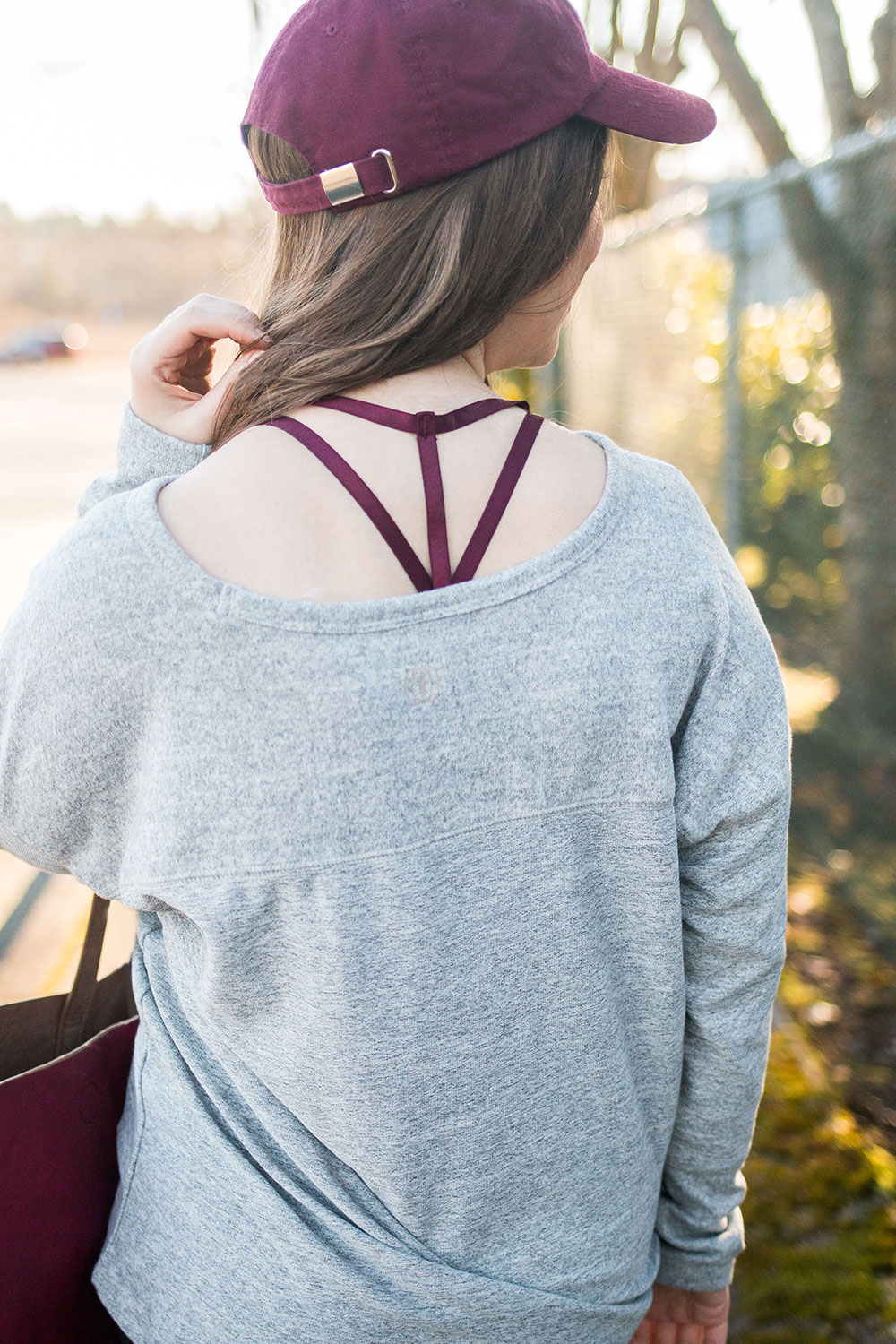 Fitness gear is necessary for any new workout, and my favorite exercise is by far yoga. I feel so much more relaxed (hello, anxiety!) and accomplished, which is why I opted to add pieces that would be perfect from studio to street. For the second outfit, I opted for a pair of yoga leggings and cozy sweater.
I layered on a slightly oversized sweatshirt from Marika's Balance Collection underneath and finished the look off with a strappy sports bra from Rene Rolfe and black and white Nike sneakers. I also grabbed this reversible tote from Under One Sky. I mean, not only can I tote around my workout gear, but I can fit an entire outfit into this thing! Score.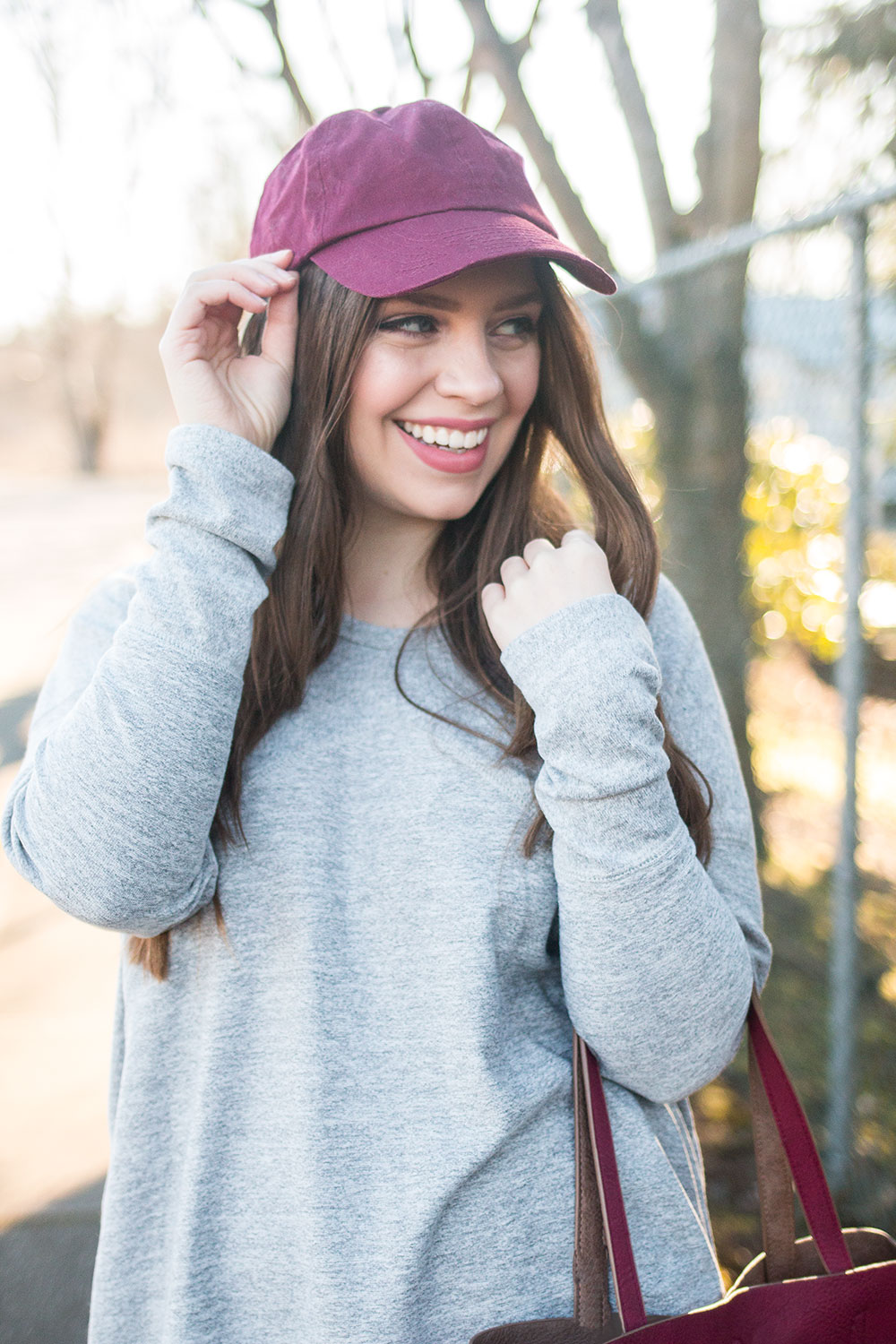 To make these looks work for the (casual) workplace, I could see making a couple of easy swaps. Instead of the gray sweats, opt for a pair of skinny or straight leg jeans, a white crewneck tee, and a simple piece of jewelry or a scarf for a put together outfit. And instead of the sneakers in the first look, pair your yoga leggings with a tunic top and pair of riding boots. No one will have a clue you're in fitness gear! ;)
How do you incorporate athleisure looks into your outfit wardrobe? Did you make any New Years resolutions this year? I'd love to hear all about it in the comments!