In past years, I've celebrated the New Year with goal setting, a look back on the year previous, or a resolution that I'm really excited about. 2016 is going to be different. Instead, I want my resolutions to be about things that I'm going to stop doing, because for whatever reason, they're not adding anything positive or meaningful to my life.
I think sometimes we start dreaming so big and setting so many goals for ourselves that we can lose sight of some of the smaller things that we shouldn't be doing and that, in turn, are making us unhappy. For me, that can mean trying to please others or paying too much attention to what others are doing instead of focusing on myself. For 2016, these are the 5 things I'm going to stop doing, hopefully once and for all.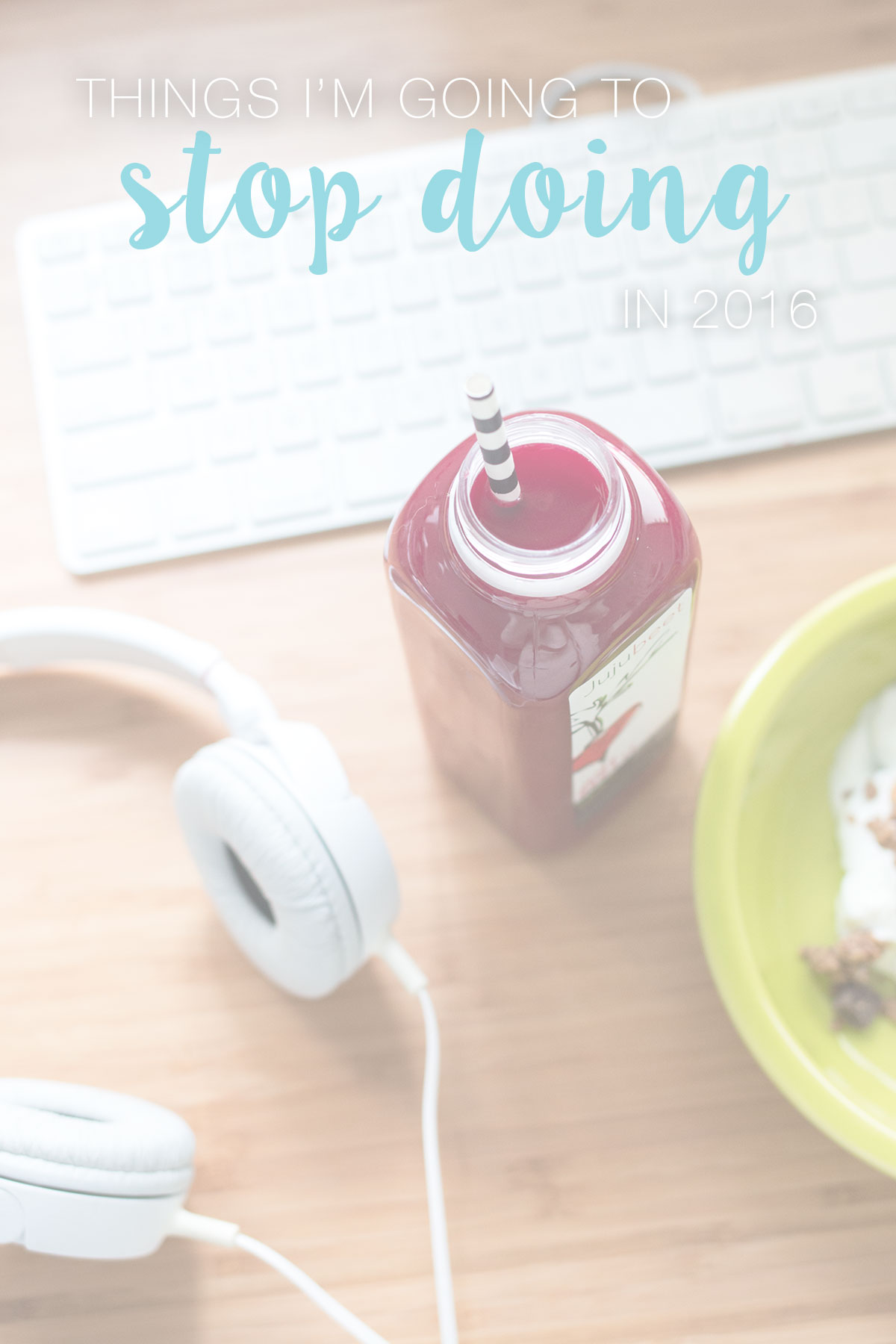 5 Things I'm Going to Stop Doing in 2016
1. Over Apologizing
Now, of course if I do something wrong or hurtful, apologizing is very important. However, what I'm talking about is more of the "I'm sorry for not responding sooner…" or "I'm sorry I'm not interested in…" type of qualifying responses. If I'm busy and I don't have time to respond to my emails, or am not interested in something, why do I need to feel bad about it?
I recently downloaded a Chrome Plugin called Just Not Sorry that I'm hopeful will help me improve my writing and communication with others by removing qualifying statements like "I'm sorry," "I think," and "in my opinion". #NotSponsored, just thought it was a cool idea that I should pass along if you find yourself doing that too!
2. Dieting
It's been awhile since I've truly attempted a diet (3 years ago I attempted to go Gluten Free as a New Year's Resolution, which did teach me a lot, but isn't something I plan to do again unless I have to for health reasons.) and I don't want to do it again anytime soon. I toyed with the idea of the Whole 30 (I blame Instagram) but there's no way that's sustainable for my life. I just don't have the time or desire to plan that much and I love food. I don't want to have to give up some of my favorites.
Now with that said, it is not to say I don't want to make healthier choices! I finally broke down and joined the gym with Dave and so far we've been going about 3 times per week. We hope to just stick to a consistent schedule more than anything else. We also have tried to make healthier swaps and choices in our meals and snacks. Instead of chips and crackers we've been buying hummus to eat with sweet peppers and carrots. Instead of fulfilling my Top Pot Doughnut craving yesterday, I stopped by JujuBeet and fulfilled my sweet craving with their beet juice blend. (And maybe I ate a few of my Christmas chocolates later… I will never tell!)
Speaking of, Jujubeet also offered to provide me with a certificate to provide to one of you to try out their juice or smoothies! They're located in Seattle, Bellevue, and Redmond so if you're local, enter on Instagram!
(Don't worry, this isn't sponsored either! ;) I just like sharing local small businesses with you guys!)
3. Overcommitting
Maybe it was obvious, maybe it wasn't, but last month was exhausting in terms of blog content. I had a feeling I was in for a rough month, and I slept A LOT during my time off after Christmas to make up for it. There were a lot of 3 and 4 am nights leading up to Christmas, and I'm not planning on doing that to myself again anytime soon. It was my own fault for overcommitting, and I'm going to do my best to avoid doing that to myself in 2016.
4. Oversharing
2016 was the introduction of another set of new social media profiles to maintain: Snapchat and Periscope. I still have yet to Scope, and while I think Snapchat is fun, it's awfully time-consuming to keep up with. I remember when I first downloaded Snapchat, I started snapping everything, adding everyone, and promptly hit my data limit faster than you can say rainbow puke filter. Over the holidays, I did my best to put my phone down, only snap a few photos during the festivities, and enjoy time with friends and family. This year, I want to do that more often. Snapchat, Instagram, Facebook… it can all wait.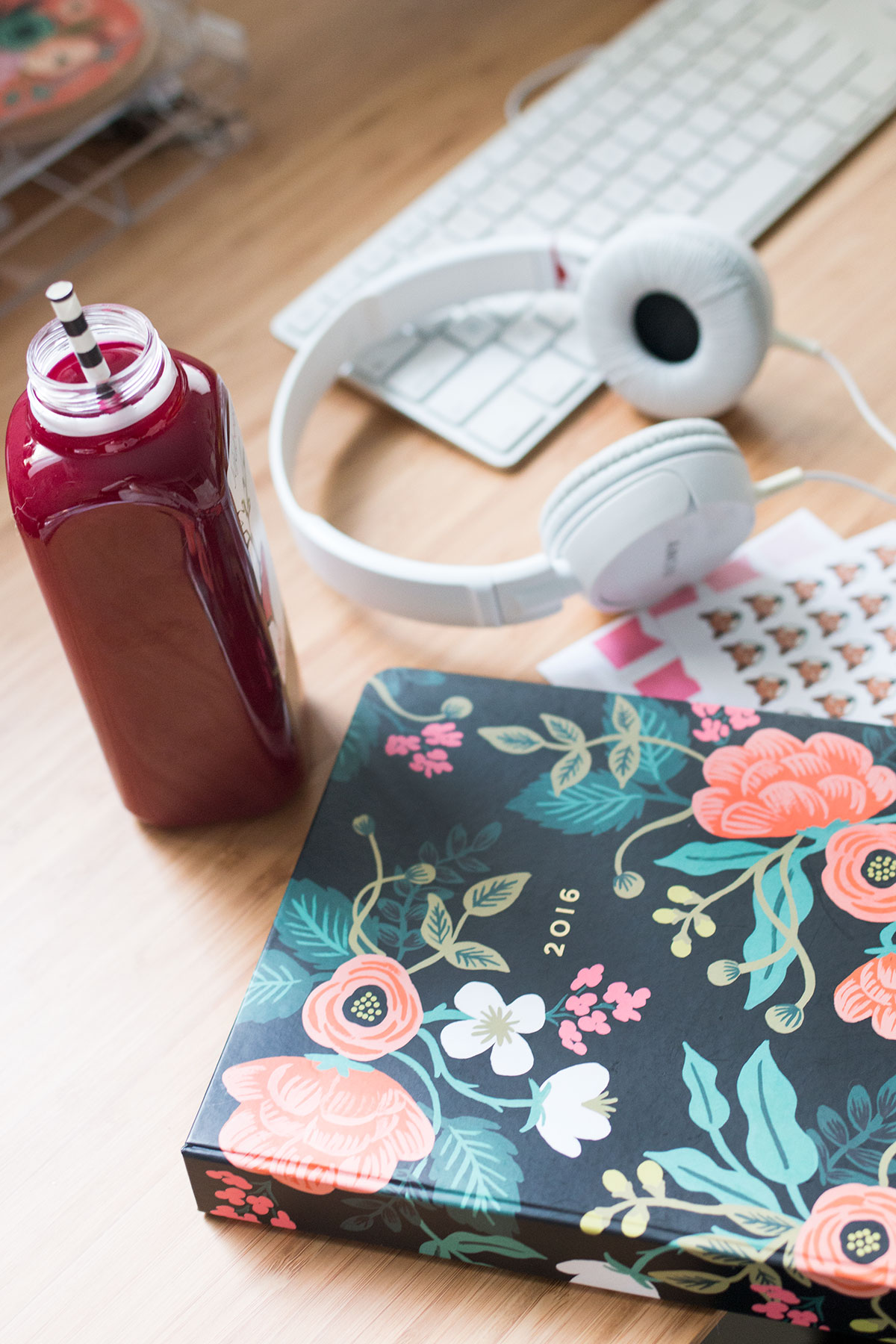 5. Overbuying
Eek. This is going to be the most difficult one, and it's also the hardest to truly quantify. How much I buy, to you, may seem like a lot or a little. It's all about perspecitve. For me, it means buying things I don't need just because I want to have them. The gray area with this, however, is huge because as a blogger who writes about personal style and beauty, it means it's kind of my "job" to have the latest and greatest. What things count as buying them "for the blog" versus things that I'm buying "just because" or impulsively?
While I don't have the answers to these questions, instead of hitting the "buy it now" button immediately, I want to think longer and harder about each purchase. I want to carefully consider each purchase and not get caught up in the hype of popular collections, a big makeup release, or what the masses are buying. Wish me luck, because I'm sure going to need it.
Are you a fan of New Year's Resolutions, or are you more of the unresolution type? I'd love to hear what you're working on in 2016!