Sponsored Post: This shop has been compensated by Collective Bias, Inc. and its advertiser. All opinions are mine alone. #GoodyStyle #CollectiveBias
It seems that as soon as March hit, I've been rapidly changing into spring preparation mode. From florals to stripes and bright colors, I can't switch my wardrobe over fast enough. In addition to my wardrobe changes, I've been changing up my hair styling and makeup too. Instead of vampy colors, I'm opting for lighter and brighter hues and am opting for pretty and softer spring hairstyles like braids and buns.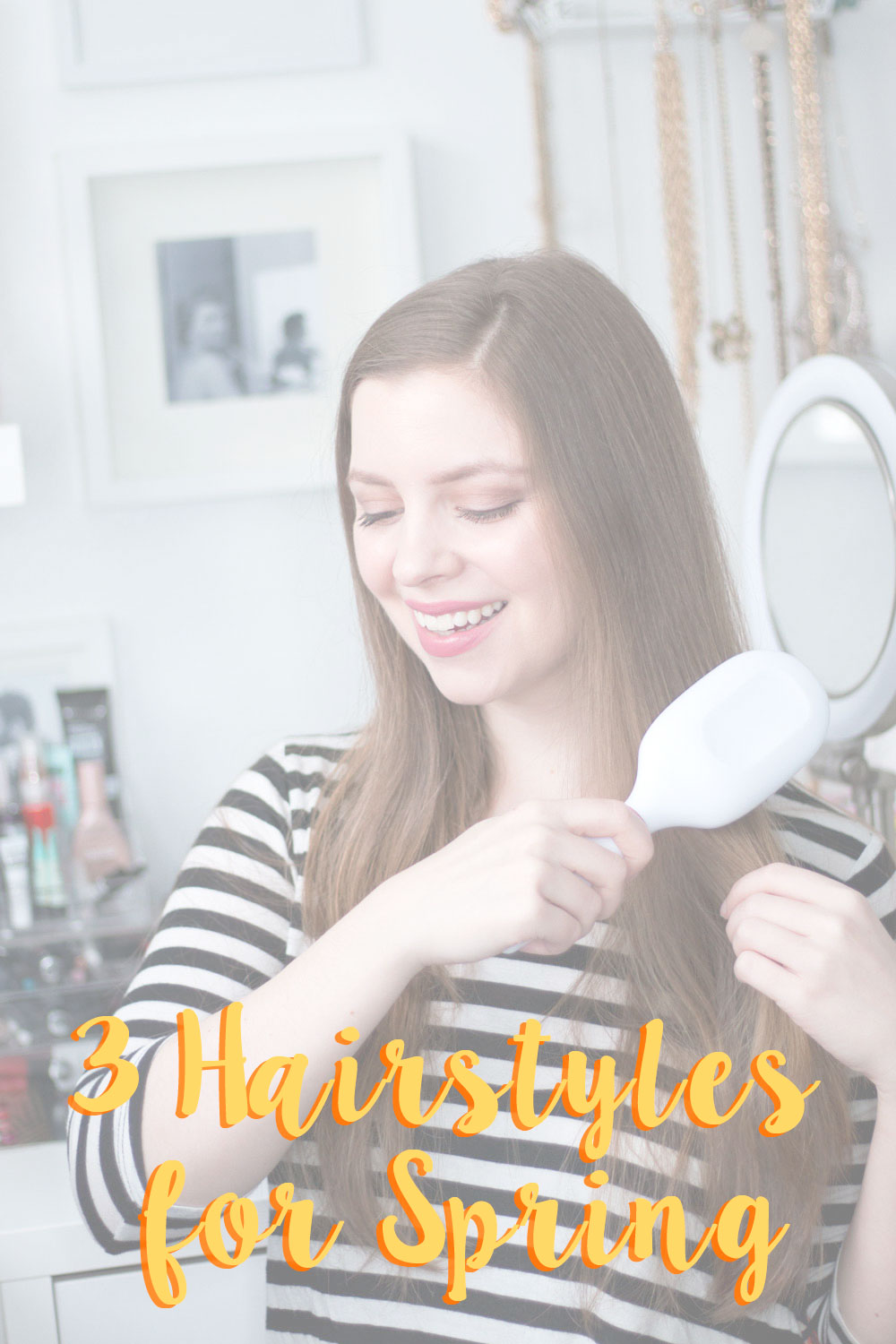 I've also recently switched up my hair tools. One such switch is to the Goody Clean Radiance Oval Cushion Brush, which uses copper bristles to add smoothness and shine to even the most unruly hair. (Mine!) As you know, I've battled tangly, dry hair all winter long, and while it still likes to be a bit of a pain, I've noticed a tremendous improvement since adding it to my arsenal.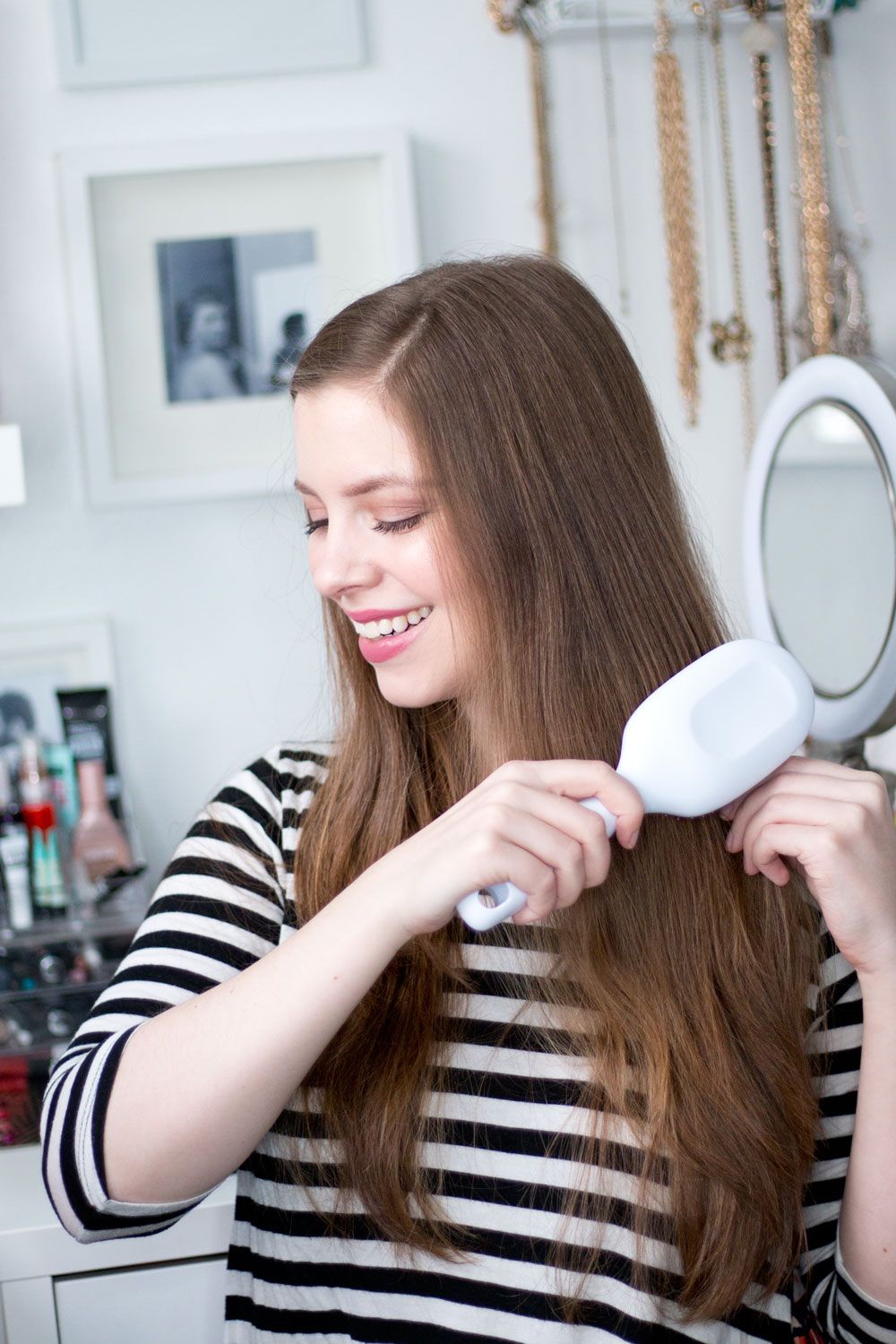 After smoothing in a hair oil and detangling my air dried hair, I run the Goody Clean Radiance Oval Cushion Brush all over until it glides through seamlessly and hair feels soft and smooth. It doesn't take a whole lot either – I ran the brush through my hair Saturday afternoon, and it left my hair soft and smooth all the way through Sunday evening. I also have found that it prevents my hair from getting tangles throughout the day, regardless of what I'm wearing. For someone like me that is constantly plagued by knots, the brush has changed my hair game. Plus the scalp massage you get from the copper bristles isn't bad either! ;)
My hairstyles wouldn't be complete without some security too, and that's why I've always used Goody Ouchless Elastics. Gone are the days of wincing when taking your hair out of a high bun or ponytail in fear of how much hair will be yanked out. I also love that the Ouchless Elastics come in a variety of sizes to suit any hair length, thickness, and style. Best of all, both products are available at budget-friendly prices at your local Target! Target also has some incredible Cartwheel deals for both products, and if you haven't downloaded the Cartwheel app yet, you should! Just remember to search quickly for whatever you've picked up while you're waiting in the checkout line and save big at the register. Super simple!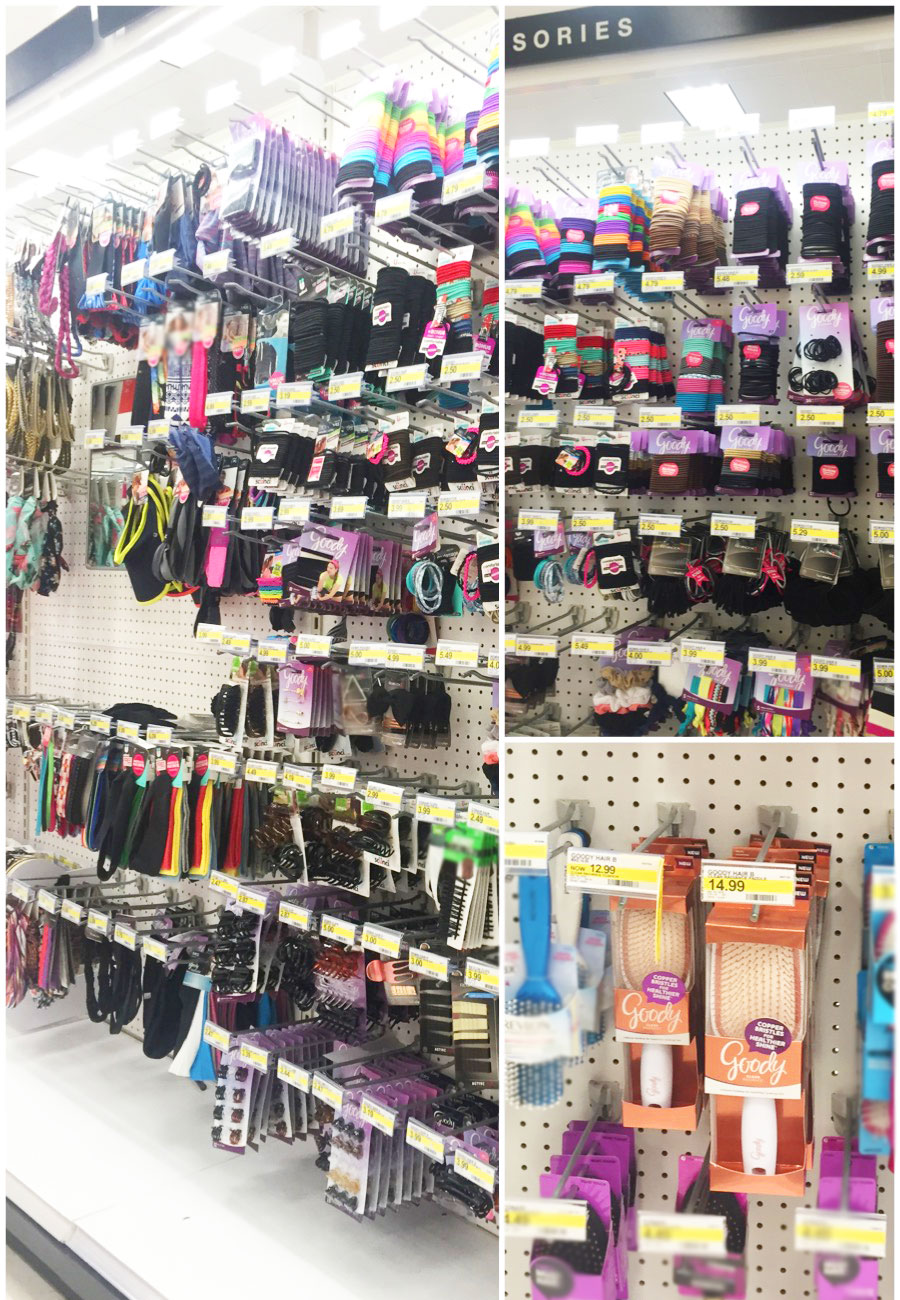 Here are a couple of upcoming offers you can score in March & April, but don't forget to keep checking the Cartwheel app everytime you shop for Goody at Target!
Speaking of simple, there's nothing worse than overly complicated hair look that no one but a professional can accomplish! I opted to highlight three different spring hairstyles that are easy to manage for anyone from beginner to advance. If you're like me, you much prefer to stay in bed for an extra 5 minutes rather then spend it on your hair, which is why each hairstyle shouldn't take you any more than a few minutes to accomplish!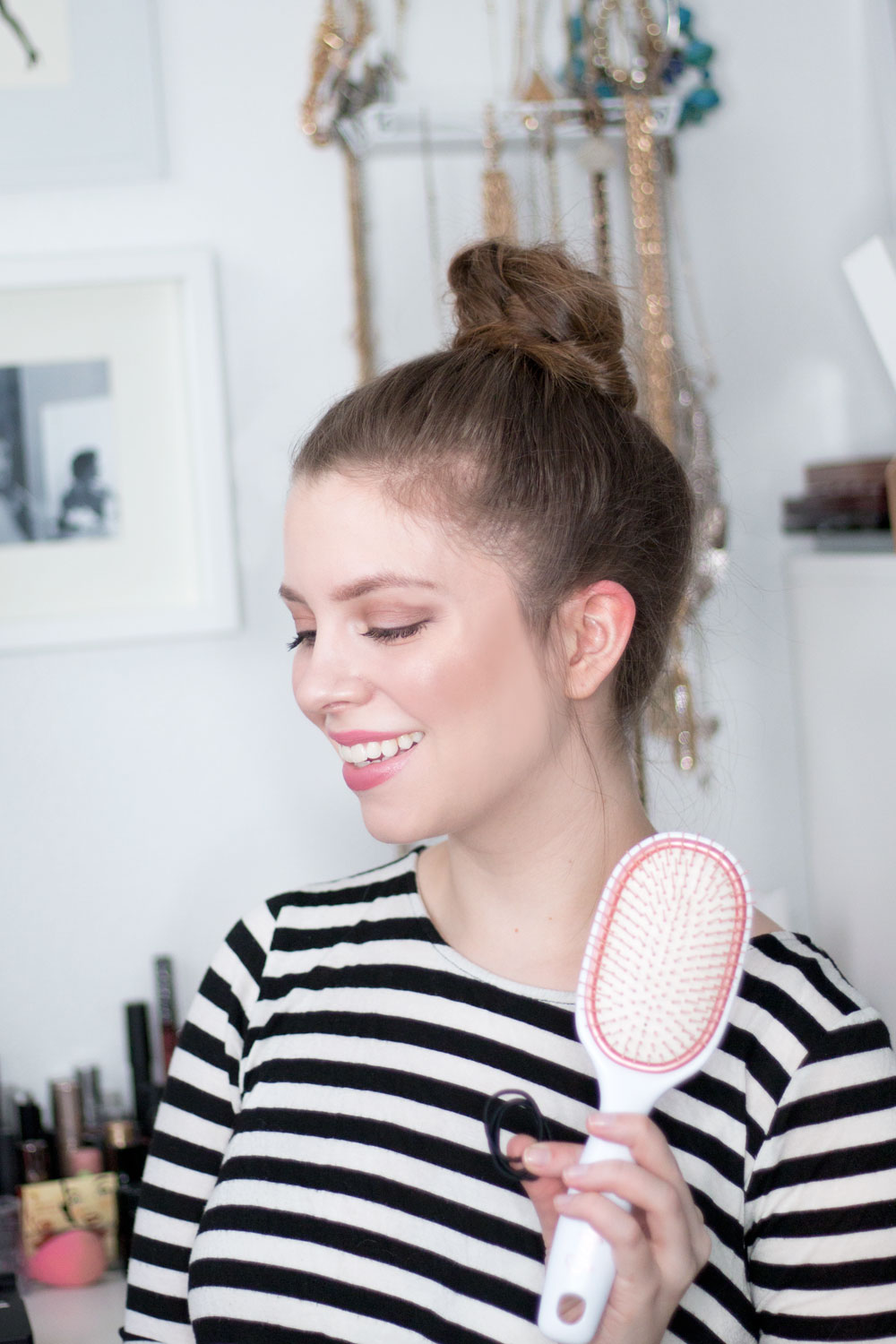 3 Spring Hairstyles to Love
Braided Bun
Sounds complicated, but is actually super easy as long as you can get your hair into a ponytail and then braid it! I find that braiding the hair adds a fun twist to the traditional top knot, and you can make it look as polished or not as you'd like. I opted to pull some of the hair loose for a bit of a bohemian vibe in this one. See the full tutorial on my Instagram video!
Voluminous Ponytail
Another super simple hair style, the volumized ponytail is a classic for all year round. I especially love the high ponytail with a little curl on the ends to bump up the volume and add a bit more polish to an everyday look.
Center Braid
This is the most complicated of the three because it requires a bit more dexterity and skill to keep the hair taut. At the crown of your head, split hair into three sections, then braid it down the back and secure it with a Goody Ouchless Elastic. You can also take it to the next level and incorporate the center braid into one larger braid too! For the slightly messy and romantic vibe, gently pull the braid loose.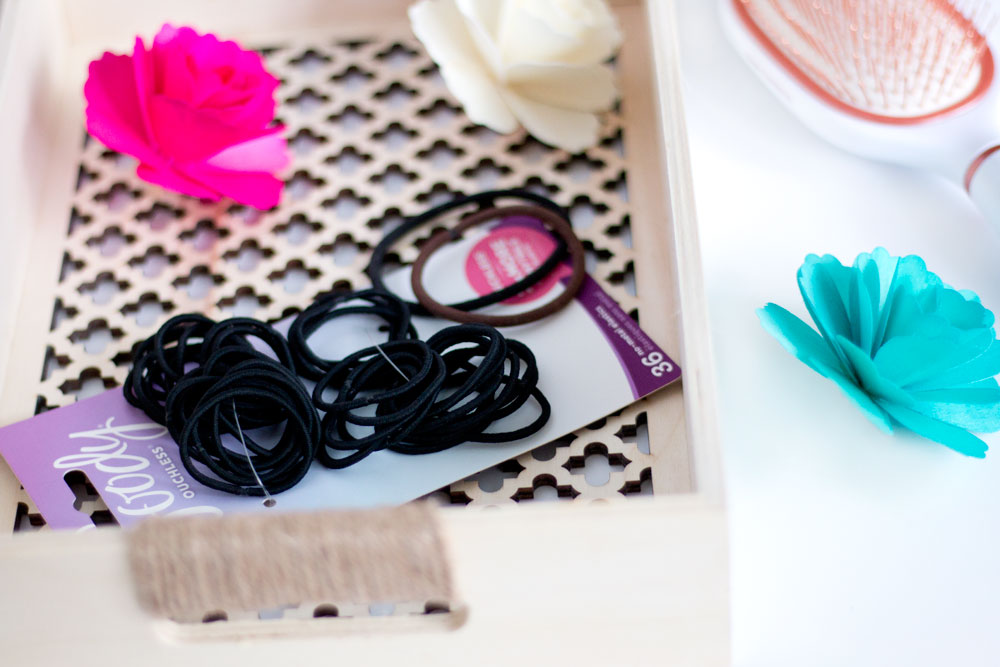 What are your favorite hairstyles for spring? Have you tried the Goody Clean Radiance Oval Cushion Brush to add a little shine to your 'do?