Even though I am several years beyond my back to school days, I still love back to school shopping. Let's be honest: who doesn't love a good back to school outfit?! Call me reminiscent of the easier days when adult challenges weren't a thing, or maybe I just love shopping for fall. Either way, the back to school clothing racks call to me every year, and I almost always end up going on at least one shopping adventure in August.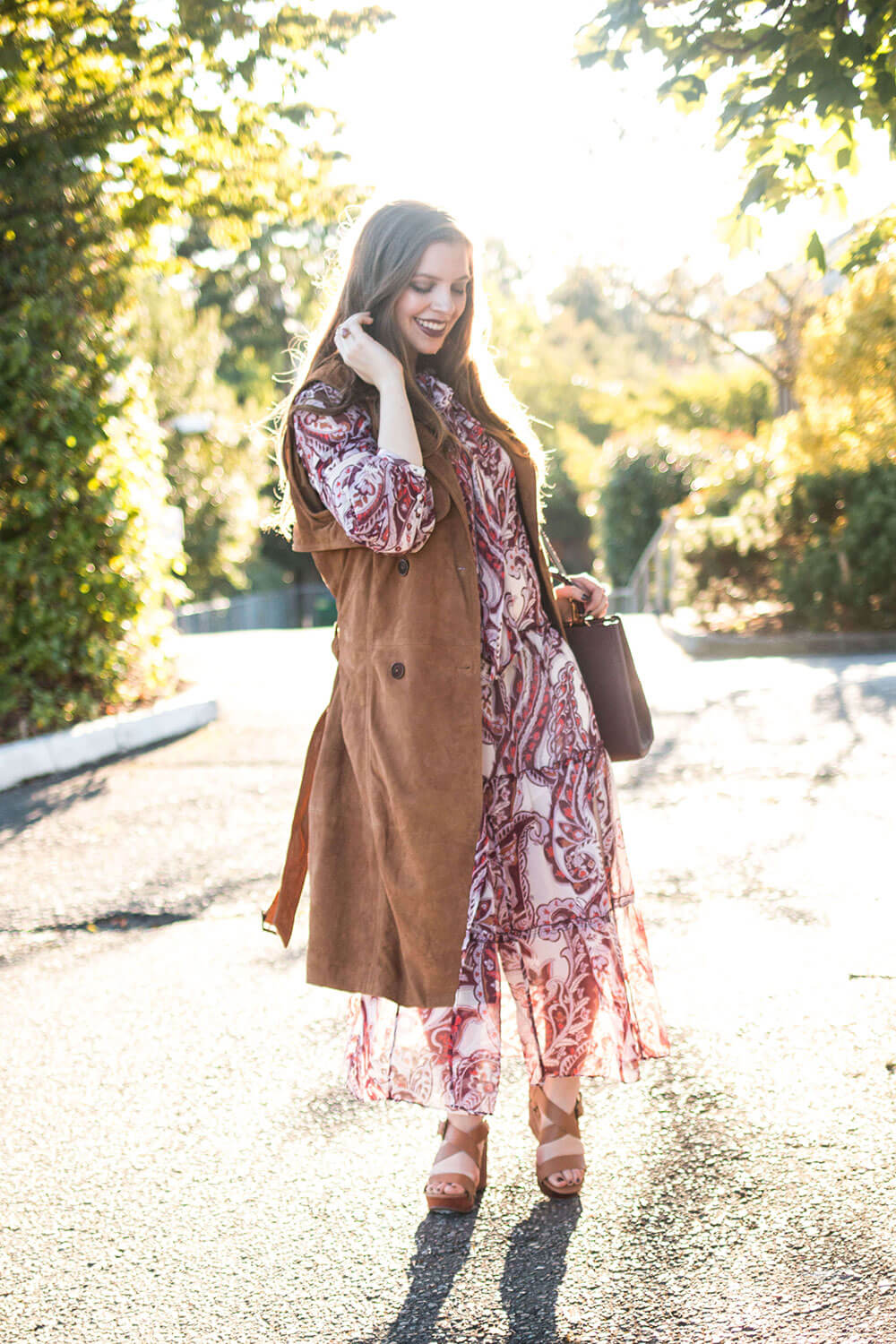 Disclosure: The Outlet Collection Seattle sent me shopping with a gift card in exchange for this post, but all opinions are my own!
I was thrilled to be invited down to The Outlet Collection near Seattle last weekend to do a little back to school shopping. They challenged me to style one back to school outfit, from head to toe, with just $250. It sounds like a lot of money, but when you think about all of the pieces required for an entire outfit (a statement piece like a coat or dress, or both, accessories, a bag, and shoes) you can run up a bill pretty quick. I also was able to catch a fashion show that they had going on that afternoon. I loved many of the looks, but I won't lie, the last segment focused on hippie chic was most definitely my style and inspired a lot of the direction of this outfit!
Back to School Outfit Idea: 70s Inspired
Today, I thought I would share some of my tips for how I created this back to school outfit on a budget shopping at The Outlet Collection Seattle, and some of the wardrobe staples I think are super hot this year for fall whether you're in school or not!

What I'm Wearing
Dress: Olivia Palermo x Chelsea28 Paisley Chiffon Dress via Nordstrom Rack, c/o The Outlet Collection
Coat: Olivia Palermo x Chelsea28 Suede Trench Dress (worn as coat) via Nordstrom Rack, c/o The Outlet Collection
Shoes: Lucky Brand Missey Wedge Sandal via Burlington Coat Factory, c/o The Outlet Collection
Bag: Oxblood Crossbody with Purse Charm via H&M, c/o The Outlet Collection
Rings: Red Stone Rings via H&M, c/o The Outlet Collection
Shopping Tip: Make a Loop of the Mall Before Buying
Shopping is overwhelming. To me, outlet malls are especially so because quantities of items are limited. With so many options at your fingertips, the first thing I always do is take a loop of the mall to plan out my strategy and to get an idea of exactly which stores I'm going to go into, and which aren't worth my time. Then, I get some coffee and go to work.

Wardrobe Staple: Suede
The first thing I was shopping for in this outfit was suede. I didn't necessarily want genuine suede, as being on a budget I figured that would basically be impossible. Well, it wasn't. I happened upon this beautiful trench dress from Olivia Palermo's Collection with Chelsea28 at Nordstrom Rack and fell in love. While I loved the idea of it as a dress, I decided I'd use this piece as a coat for fall. It's a nice heavyweight, but since it doesn't have sleeves, it's the perfect transition for back to school time. This ended up being the anchor piece that I created the outfit around.
Shopping Tip: Take Photos of Must-Have Pieces
Once I had my anchor piece, I then decided to shop for the pieces that would create the rest of the outfit. By popping into the remainder of the stores on my mental check list, I snapped a quick photo of every item I saw that struck my fancy. The first thing on my to-find list was a midi dress. I didn't have to look much further; I found another piece from the Olivia Palermo for Chelsea28 Collection at Nordstrom Rack on a nearby rack. After trying it on and comparing it to a few of my other snapshots, I knew it was the perfect compliment to the colors and length of my sleeveless trench coat.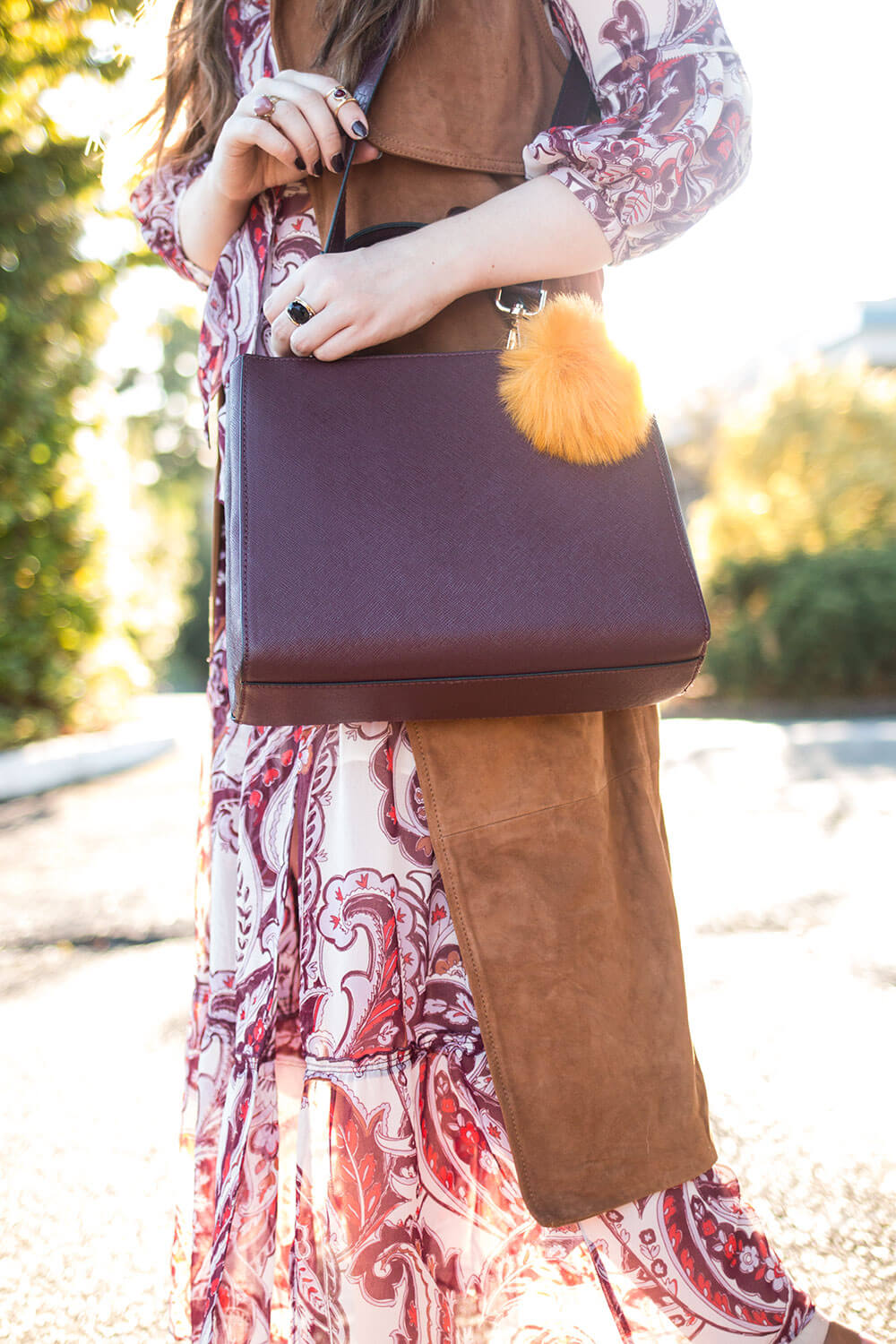 Wardrobe Staple: Fall Colors
I also knew I wanted to add some fall colors to my wardrobe. Oxblood is my go-to fall color, so when I found this handbag at H&M, I knew I had to have it. The pop of mustard in the bag charm made me smile, and I love how luxe this bag looks, and it's less than $35 price tag.
Shopping Tip: Take a Break
At some points throughout my afternoon, I felt the overwhelm set in. I'm very particular about what I add to my wardrobe because I only have so much space and I want every piece that to be something that I love and will wear again and again. This meant I had a lot of photos and couldn't decide what pair of shoes or which accessories to go back and purchase. At this point, I opted to give myself a break. I needed calories and fluids, so taking a break allowed me time to recharge and see my purchases with a fresher set of eyes. If you're feeling the overwhelm, take a break, treat yourself, or phone a friend. A new set of eyes will help you accomplish your shopping task.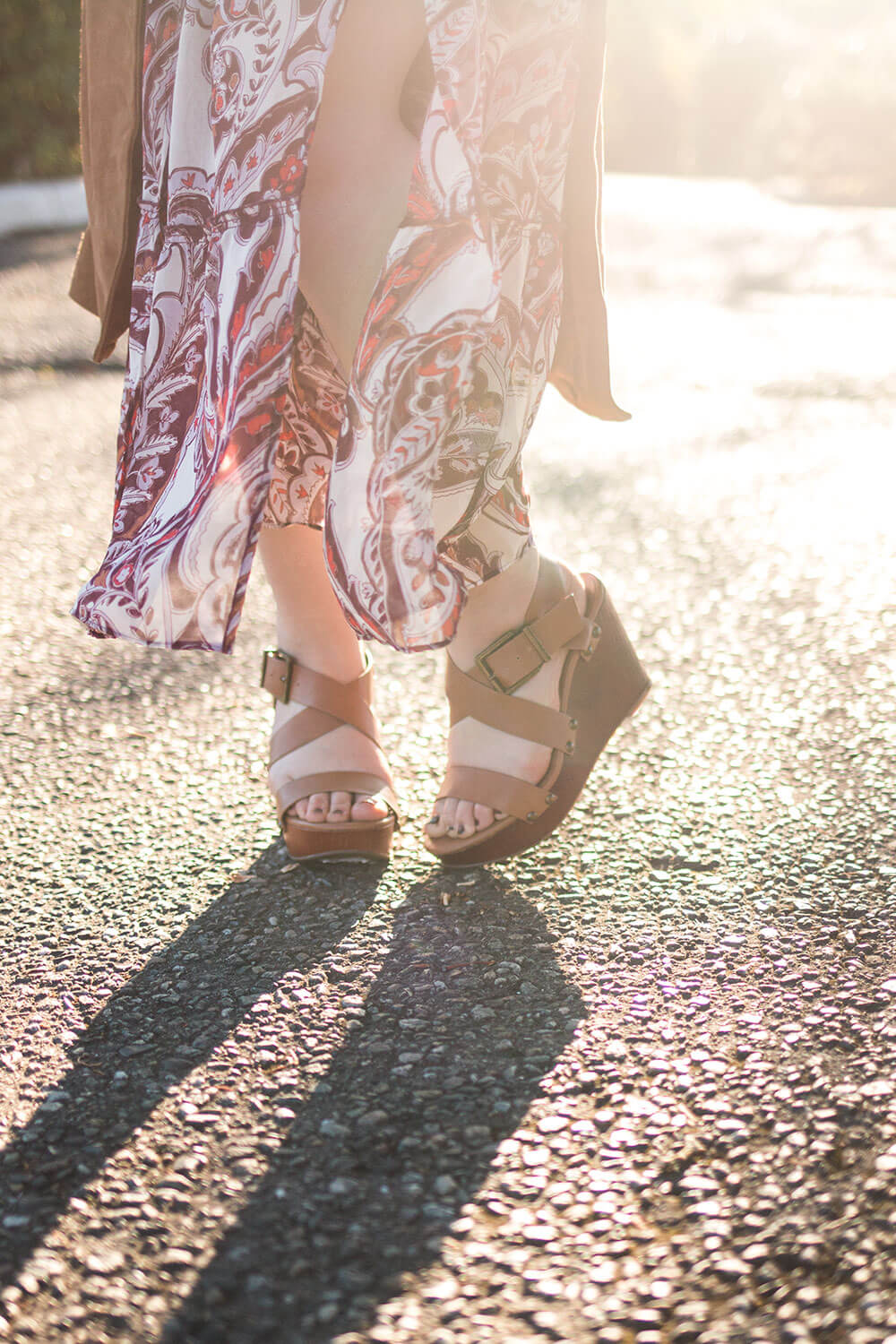 Wardrobe Staple: Wedges
Finally, I decided on my shoes. Wedges have been everywhere this summer and I don't think they're going anywhere for fall. Whether it's a pair of sandals or a pair of ankle booties, wedges are both comfortable and fashionable. They're incredibly easy to walk in, whether you're walking in a city or down the halls of your school. I selected this cute neutral pair from Lucky Brand that I found for less than $25 at Burlington Coat Factory and couldn't be more pleased. In fact, I'm wearing them right now as I'm writing this! ;)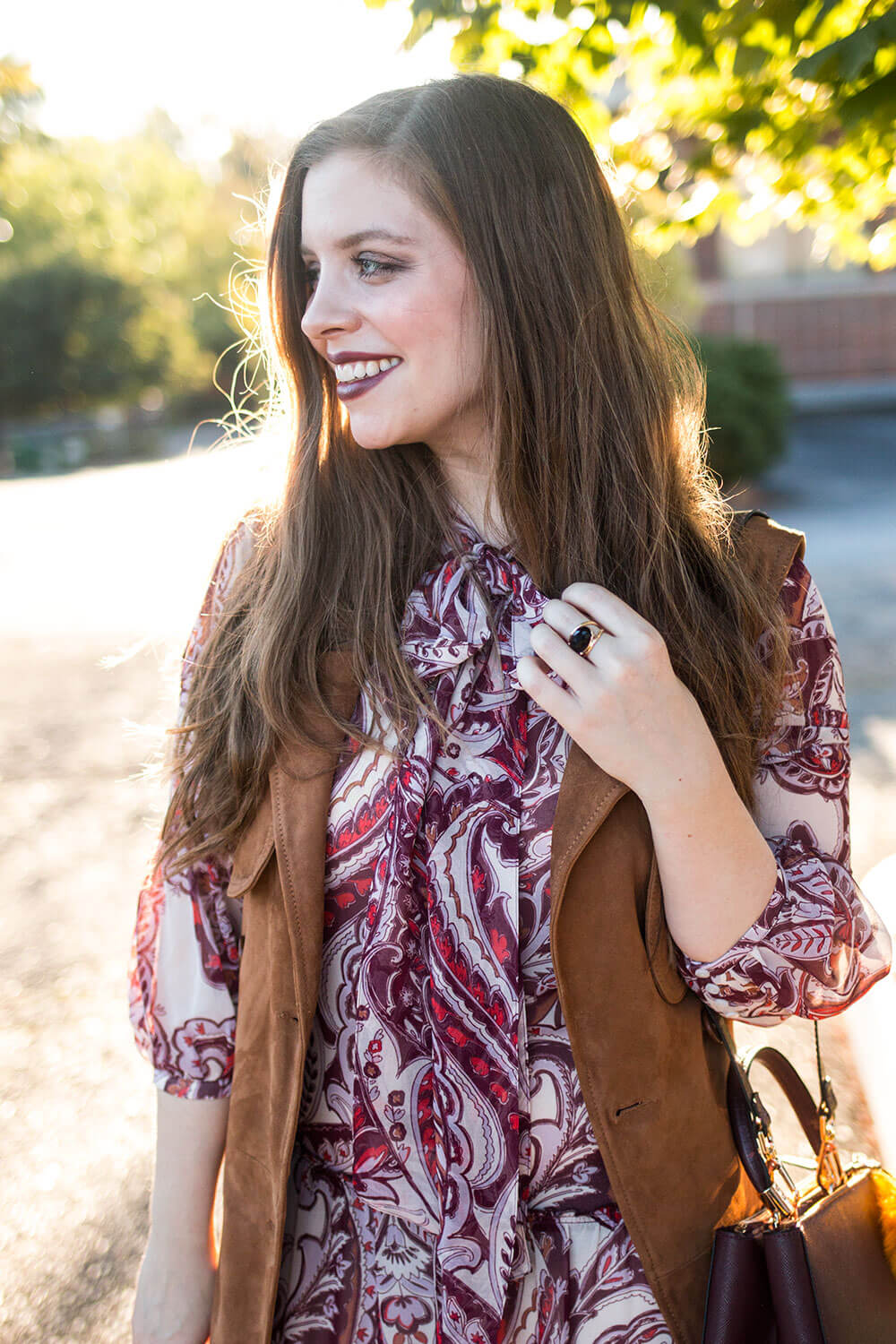 Shopping Tip: Review Your Pieces, Then Try Them On
The key to having a put together outfit is trying all the pieces on together. Lucky for me, two of the main pieces I was concerned about were found at the same place (Nordstrom Rack) so trying them on together was a breeze. In addition, I wanted to make sure I had cohesion with the color of the coat and my shoes, and the handbag with the dress. Having already purchased these pieces made it easy to cross reference color and tones as I was trying on accessories and shoes. If you're trying to create an entire, cohesive outfit, shop for the most important pieces first (in this case, my coat and dress) then seek out accessories to match. Oh, and make sure you're purchasing items that can be returned in case you change your mind. Avoid "final sale" if you have any doubts in your mind.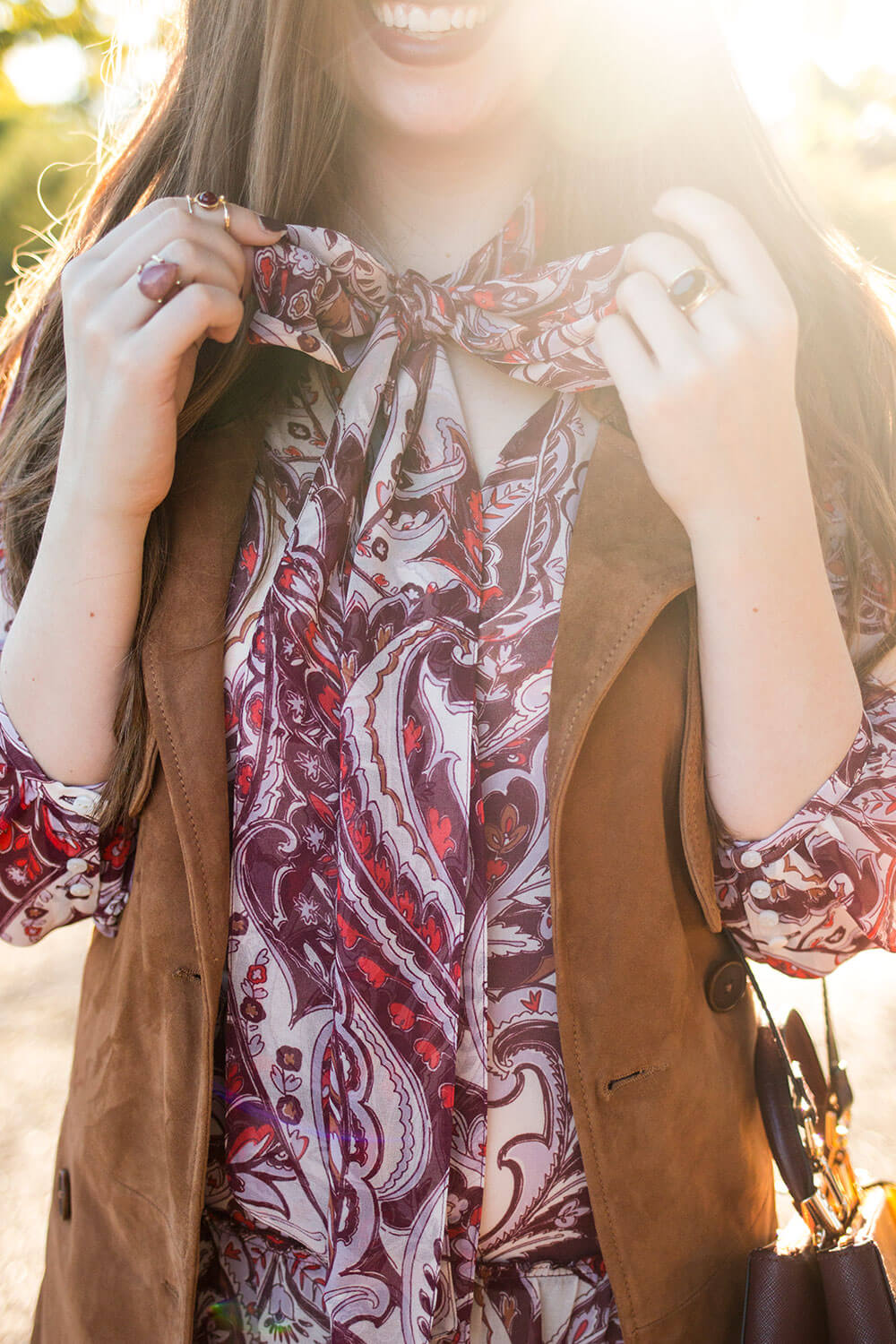 And that my friends, is how I shopped The Outlet Collection for an entire head to toe look perfect for any 70s loving back-to-schooler! I hope my shopping tips are helpful if you haven't ventured out shopping yet. Oh, and if you're in need of some shopping help, never fear! The Outlet Collection has a massive giveaway for a  $2,500 shopping spree and personal styling session with celebrity stylist, Lo VonRumpf, going on right here. This is open nationwide, just choose the Outlet closest to you. Fingers crossed!
Are you back to school shopping this year? What have been your favorite shopping finds as of late? I'd love to hear about your favorite back to school outfit ideas in the comments too!