Spring has finally arrived, and there's nothing better than getting outside and enjoying the sun! While it's still a little chilly here in the Pacific Northwest, it's never too early to plan for the warmer days.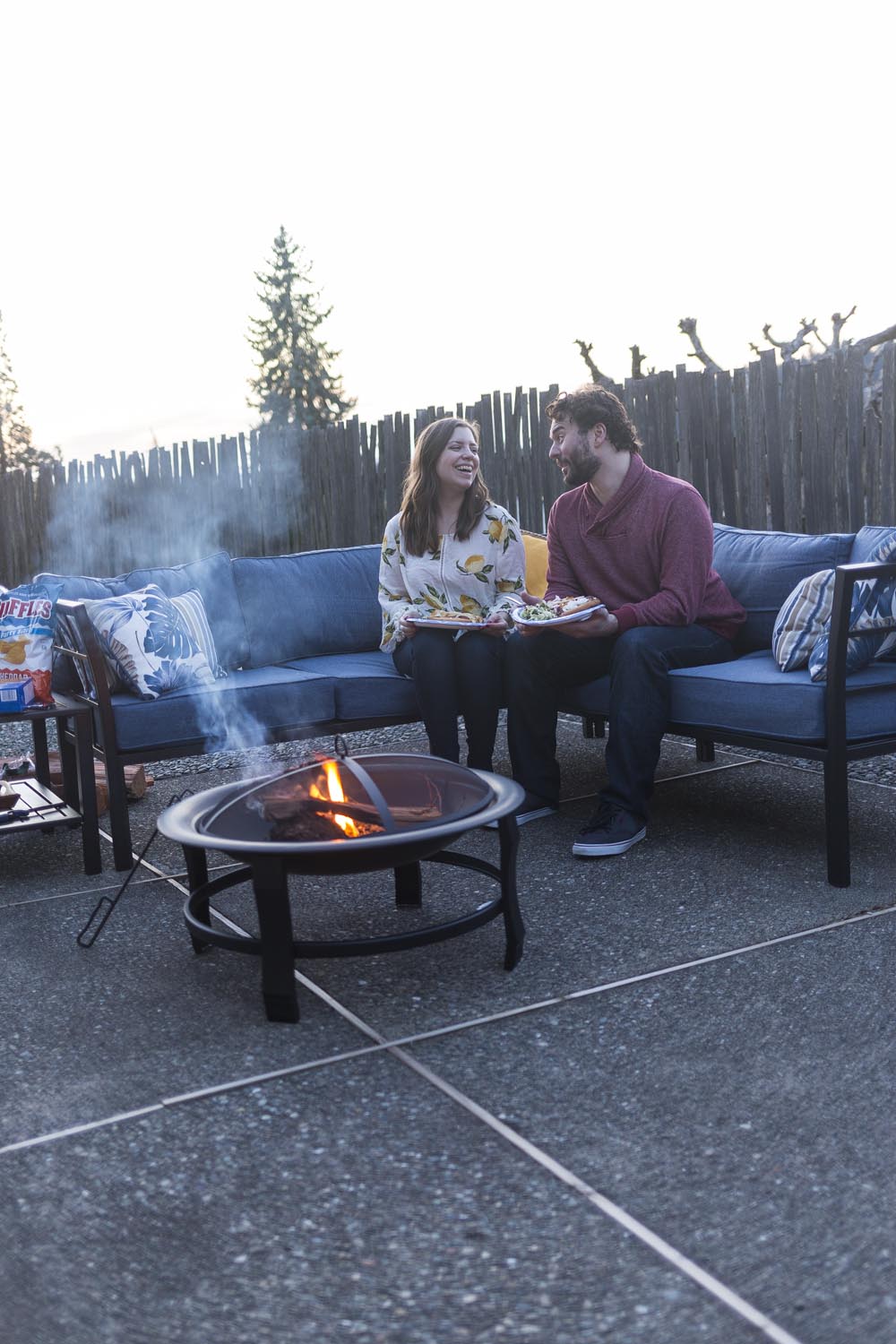 That's exactly why I've partnered with my friends at Fred Meyer on this sponsored post to share how we've been working to upgrade our backyard. While our house has a decent sized yard, what it doesn't have is grass. At all.
For us urban Seattleites, it's actually quite awesome. Instead of tending to grass, we can work to make sure everything in our raised planter beds and fruit trees are happy. And, it means the perfect entertaining space.
The only problem?
We had no patio furniture or even a grill yet! Enter Fred Meyer. You guys already know I'm a huge fangirl of the store. I swear they have everything! And whenever I have guests coming over, I know it's the perfect place to get everything, and yes, that even extends to grills and patio furniture!
So off to Fred Meyer I went, and because I like to get Dave's input on everything, I tend to pick what I think we'll both like and send him photos for confirmation. Do any of you do this with your partners?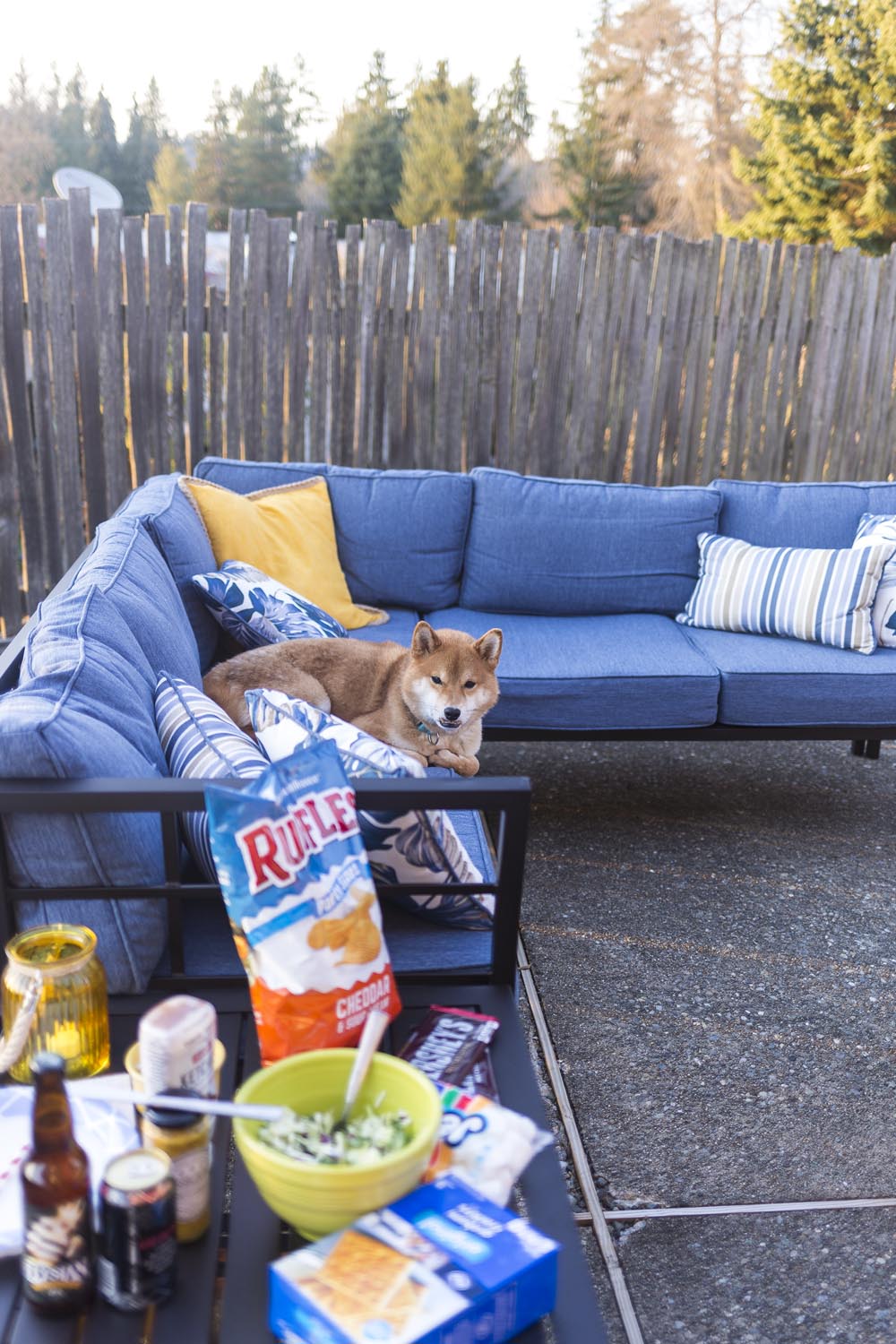 We both agreed on this modern Lakewood Patio Set in blue. The color reminds me of the water, and I was impressed with how comfortable the cushions were to sit on. Plus, it's weatherproof, so I don't have to worry about it getting a little wet in the inevitable spring showers we'll have this season. It also included decorative pillows (so convenient!) and a side table which is perfect for setting up some snacks and drinks for your guests!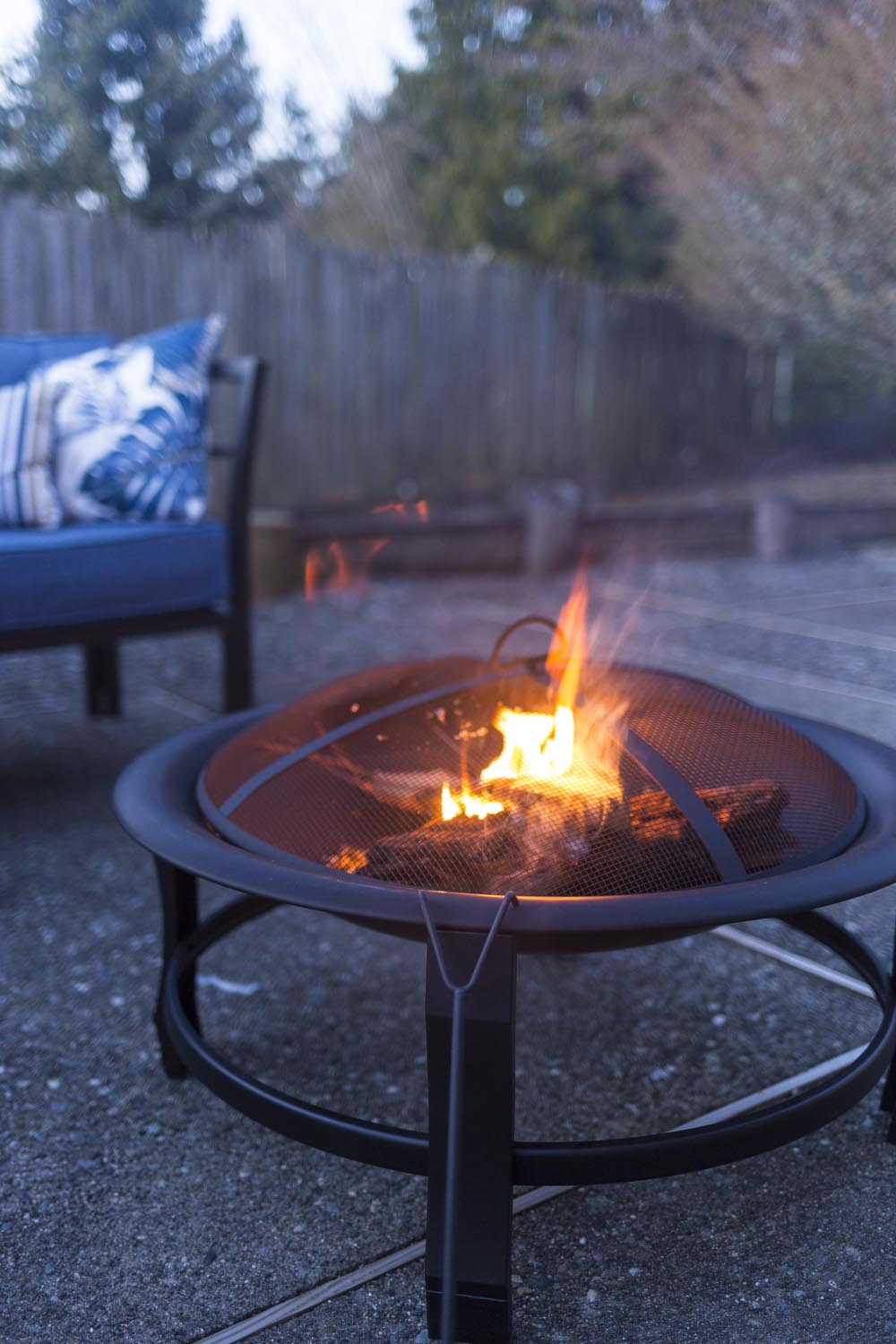 I also found this great fire pit, perfect for keeping us a little toastier on those chilly spring nights. We've been talking about getting a fire pit for a while and there's nothing better than finding an affordable option like this one, which was less than $50!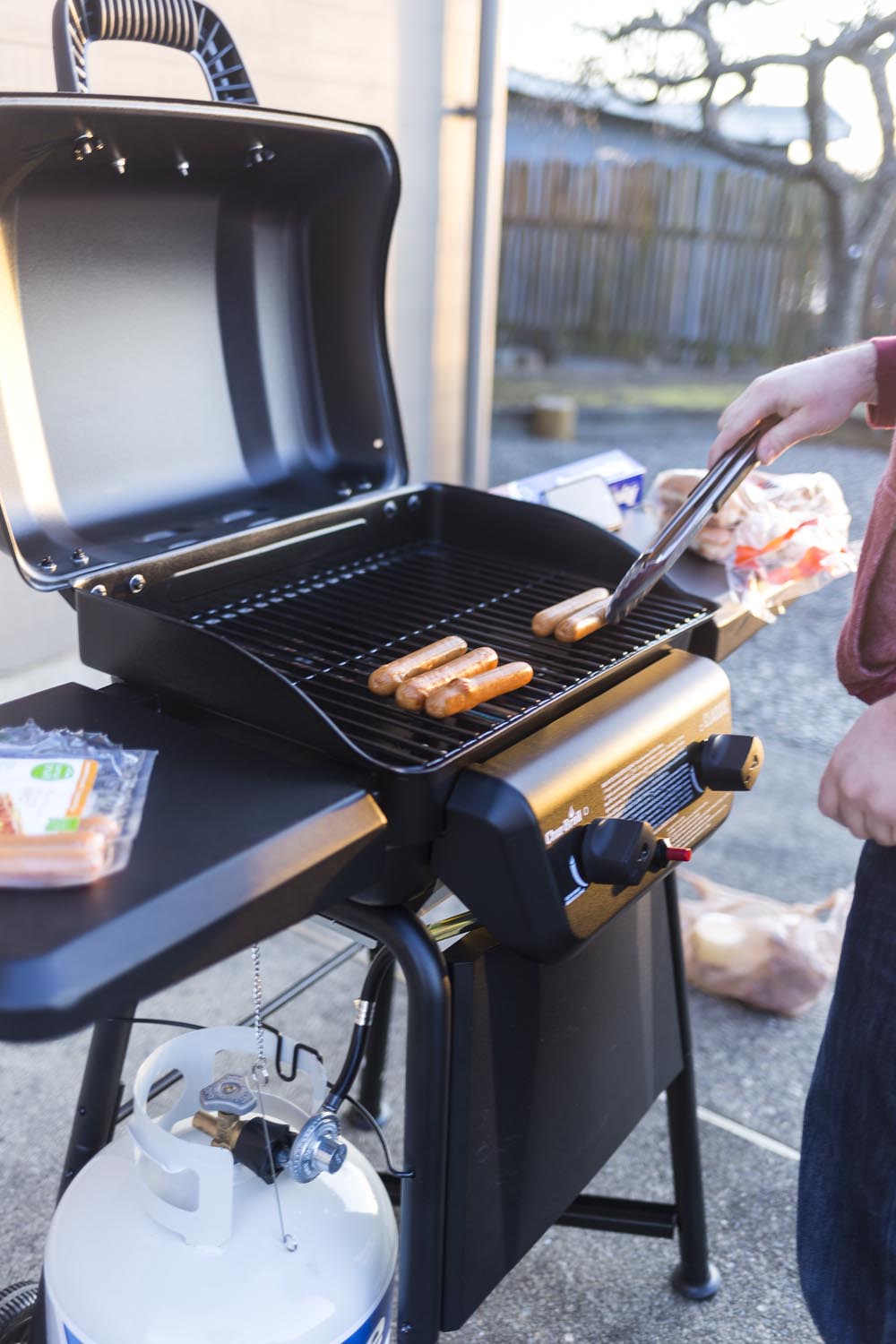 Our final big purchase was this gas grill. We're not expert grillers, however, I can't deny that the occasional grilled hot dog or burger is hard to beat. I also found a grilled s'mores recipe that I wanted to try out, so this little gas grill was perfect for us beginners!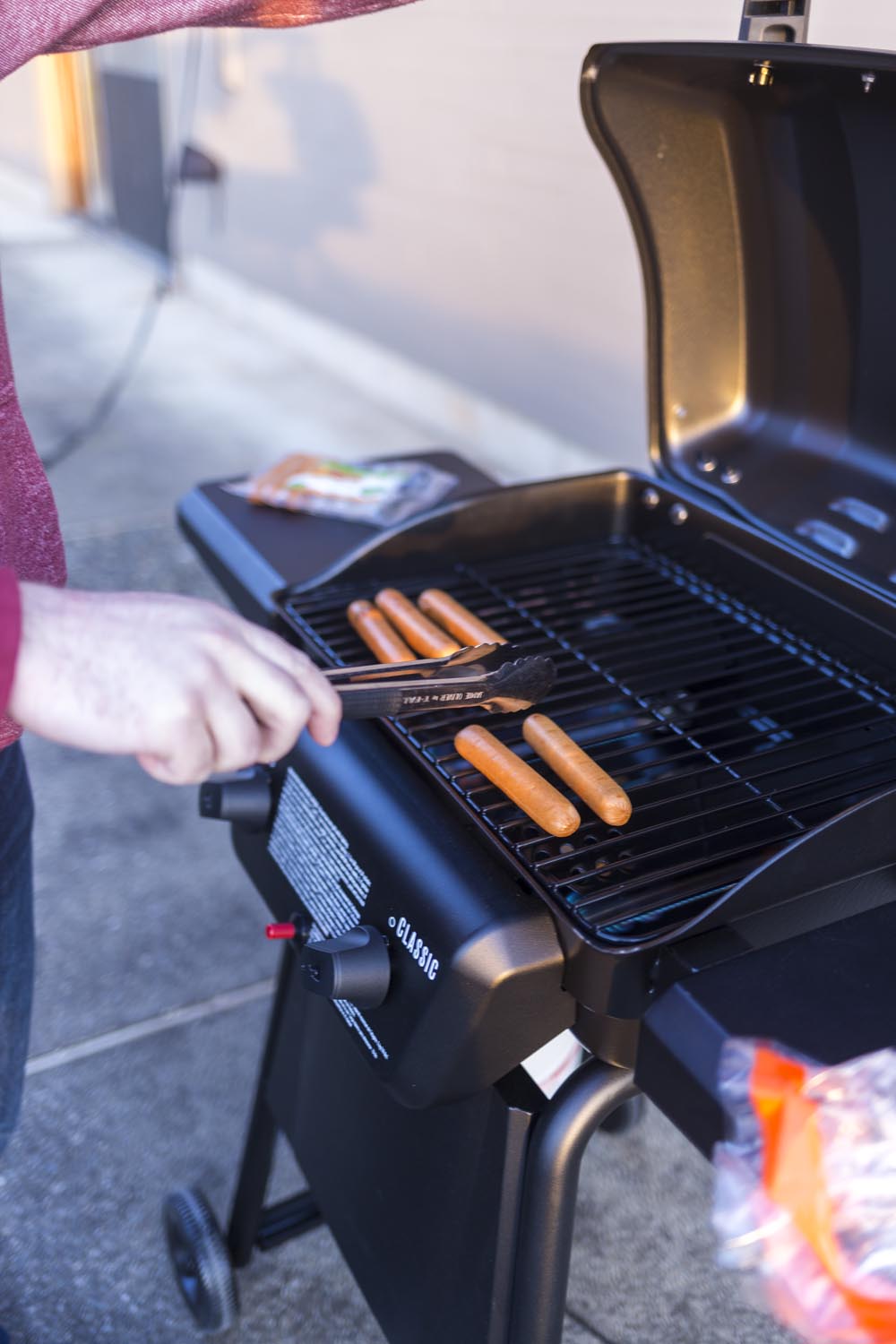 I was impressed with the gas grill selection at Fred Meyer at a variety of price points. You can start small like we did, or for more expert grillers or large families, there are larger and grills with more bells and whistles, too!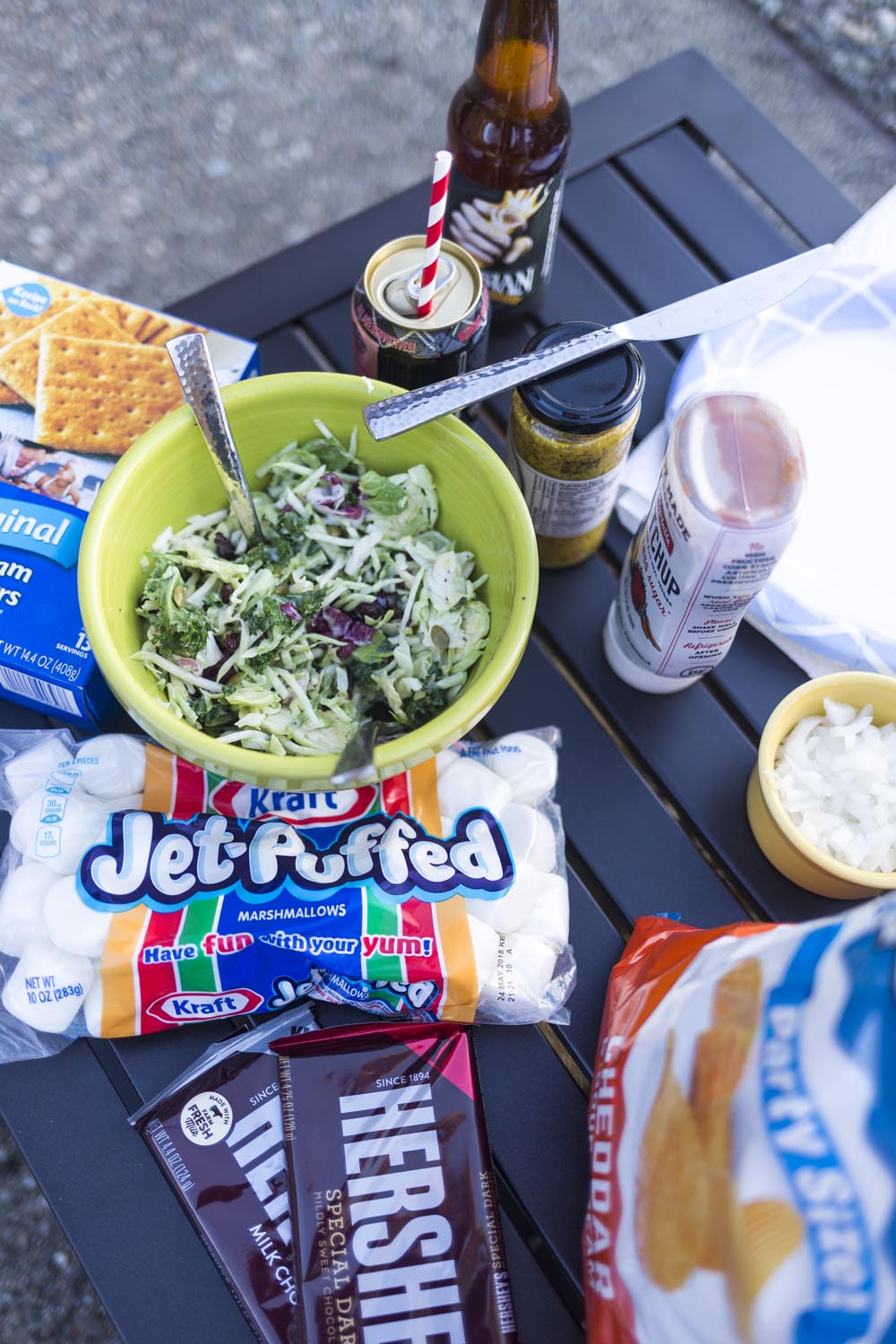 And of course, when putting all of our patio furniture and grill together, we had to celebrate! Off to Fred Meyer I went for all the ingredients we needed for a little BBQ. I picked up Simple Truth Chicken Dogs, Hawaiian buns, Ruffles chips, broccoli slaw, and everything for s'mores. After all, I had to try out that grilled s'mores recipe I found!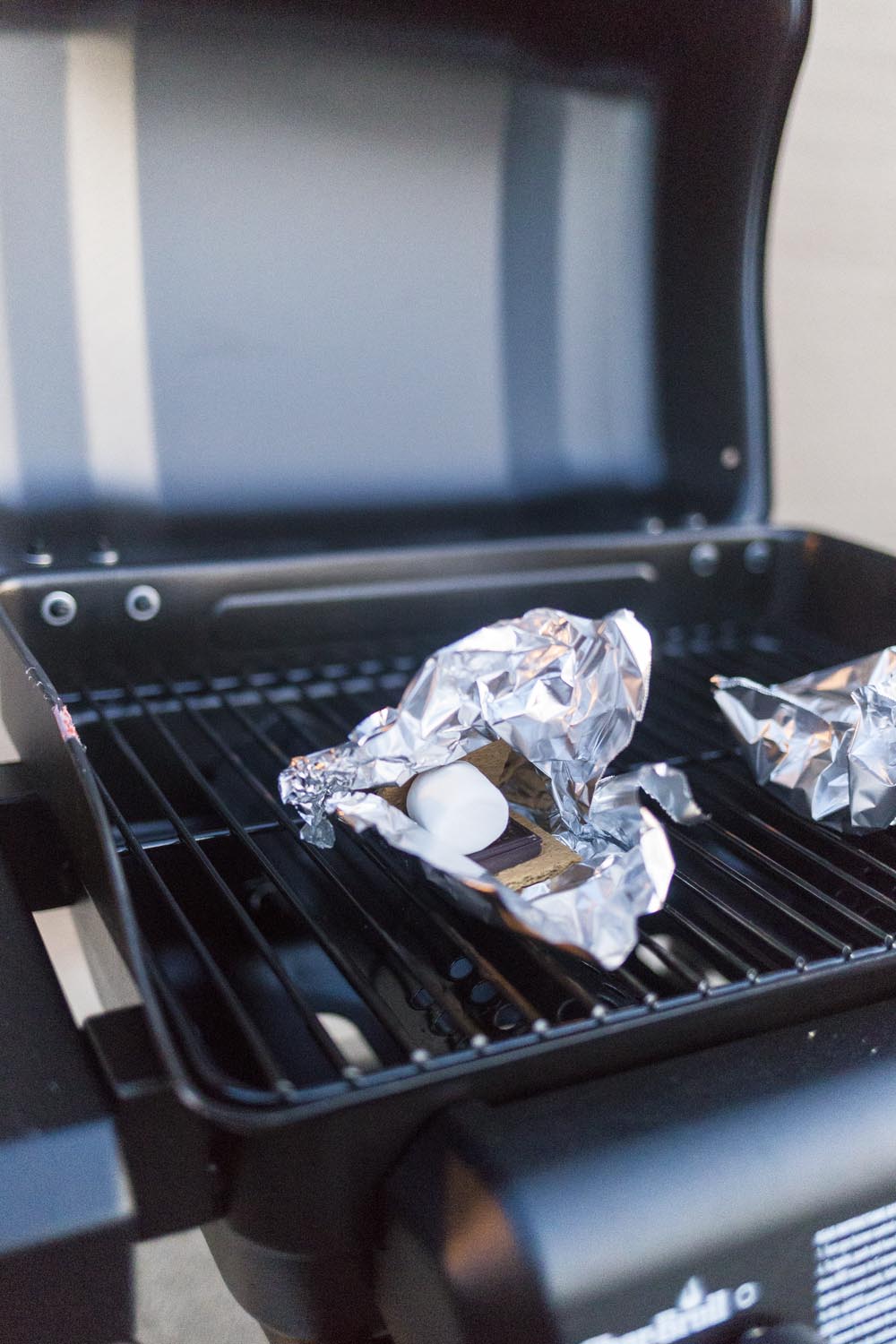 Fortunately, it's super easy. All you'll need is aluminum foil, graham crackers, marshmallows, and your favorite chocolate. Just get your ingredients together, place your marshmallow between two graham crackers, add your chocolate, and then place it in an aluminum foil boat. Fire up the grill, and then place it in the center. It takes less than 2 minutes to cook (depending on your grill's temperature), so keep an eye on it so you don't burn it!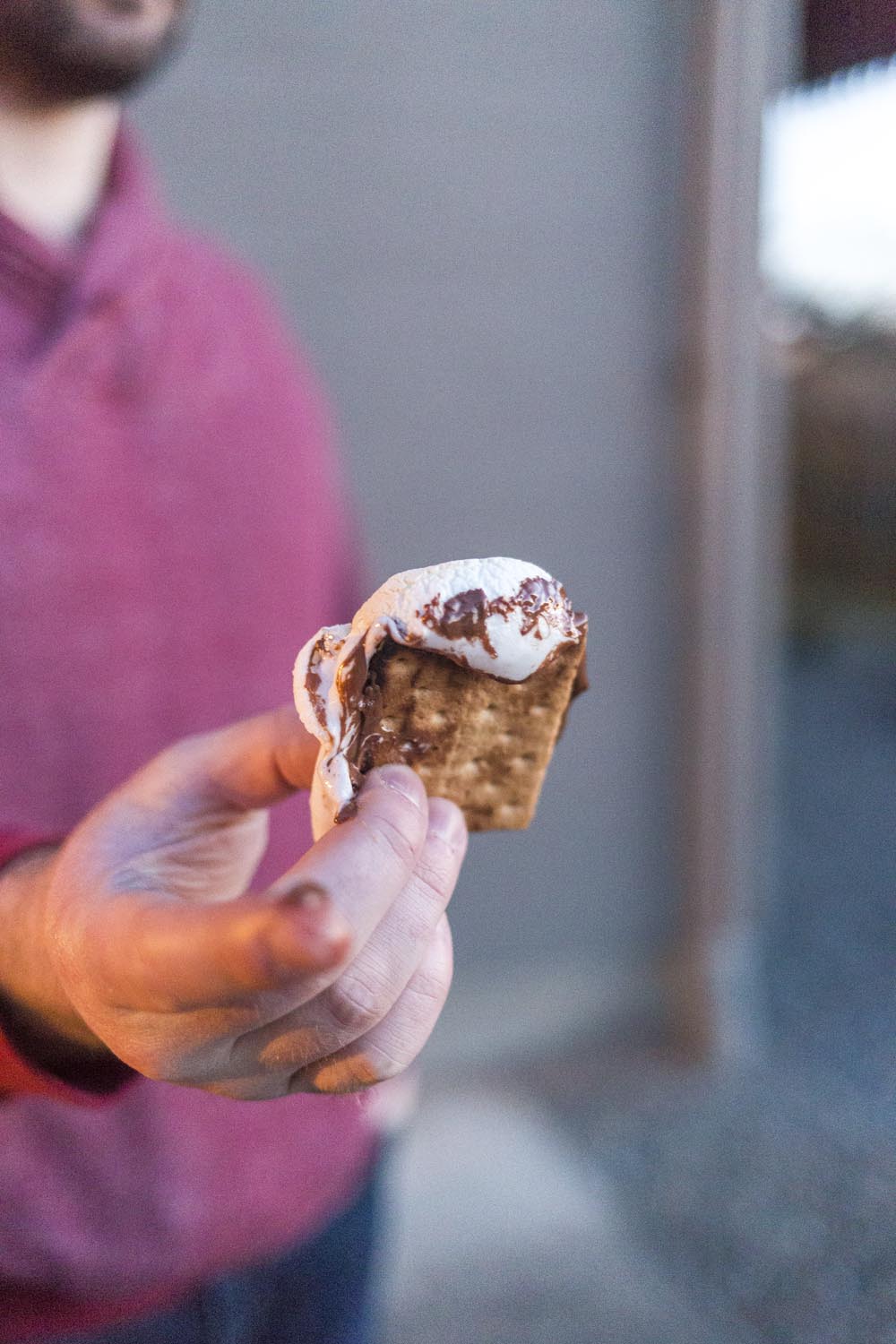 I must admit, the grilled s'mores were my favorite part of our meal. I mean, who doesn't love chocolate, marshmallows, and graham crackers?!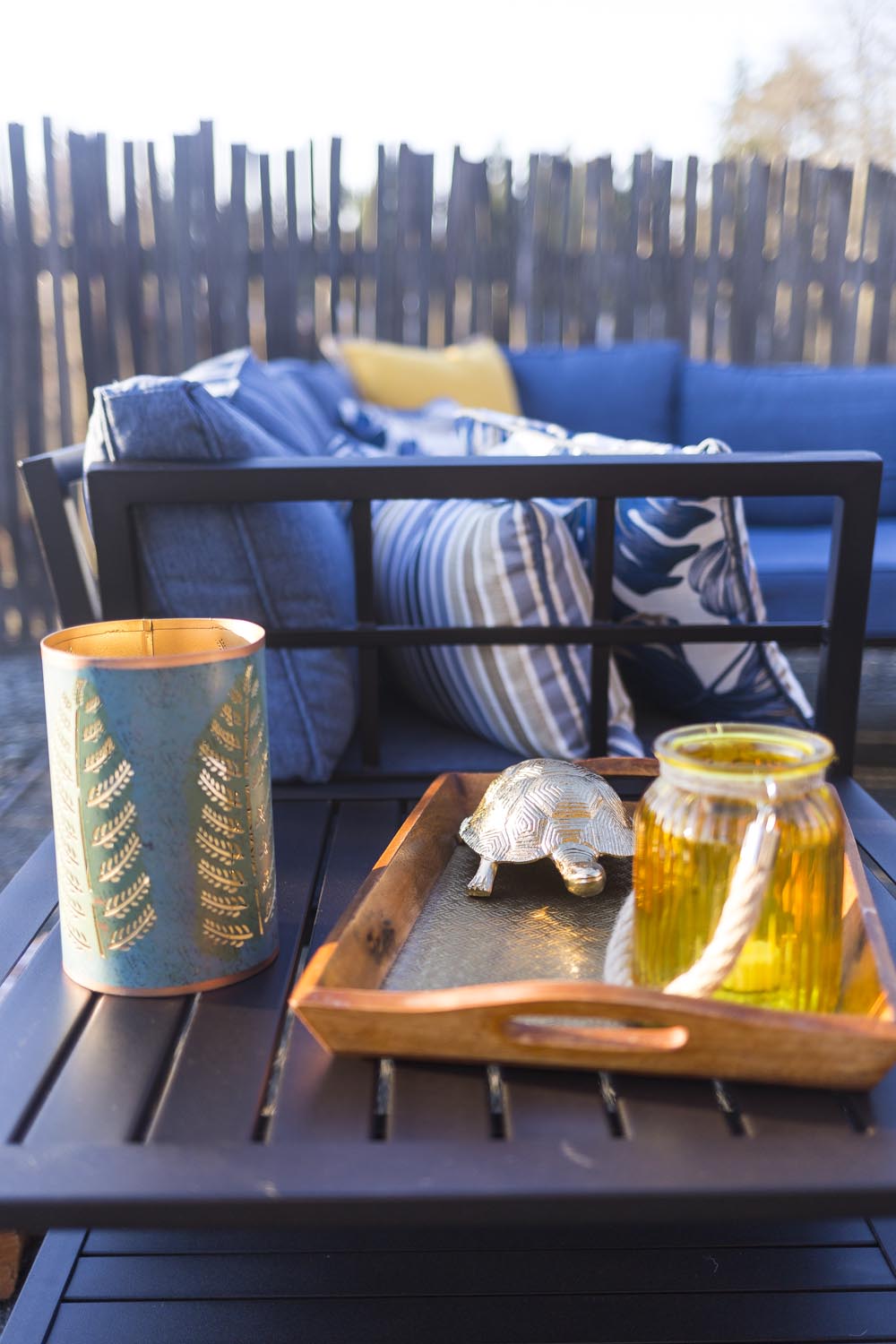 The last part of our patio that I'm excited about is all of the details. One of the things I've learned about homeownership is that the details matter, and take a space from looking just okay to great. I like to show my personality and decor style through the decorations, so I didn't forget to stop by the home decor department to grab a few things before I checked out at Fred Meyer. While these items can't be outside 24/7, they add some flair to our side table and our sofa that I love.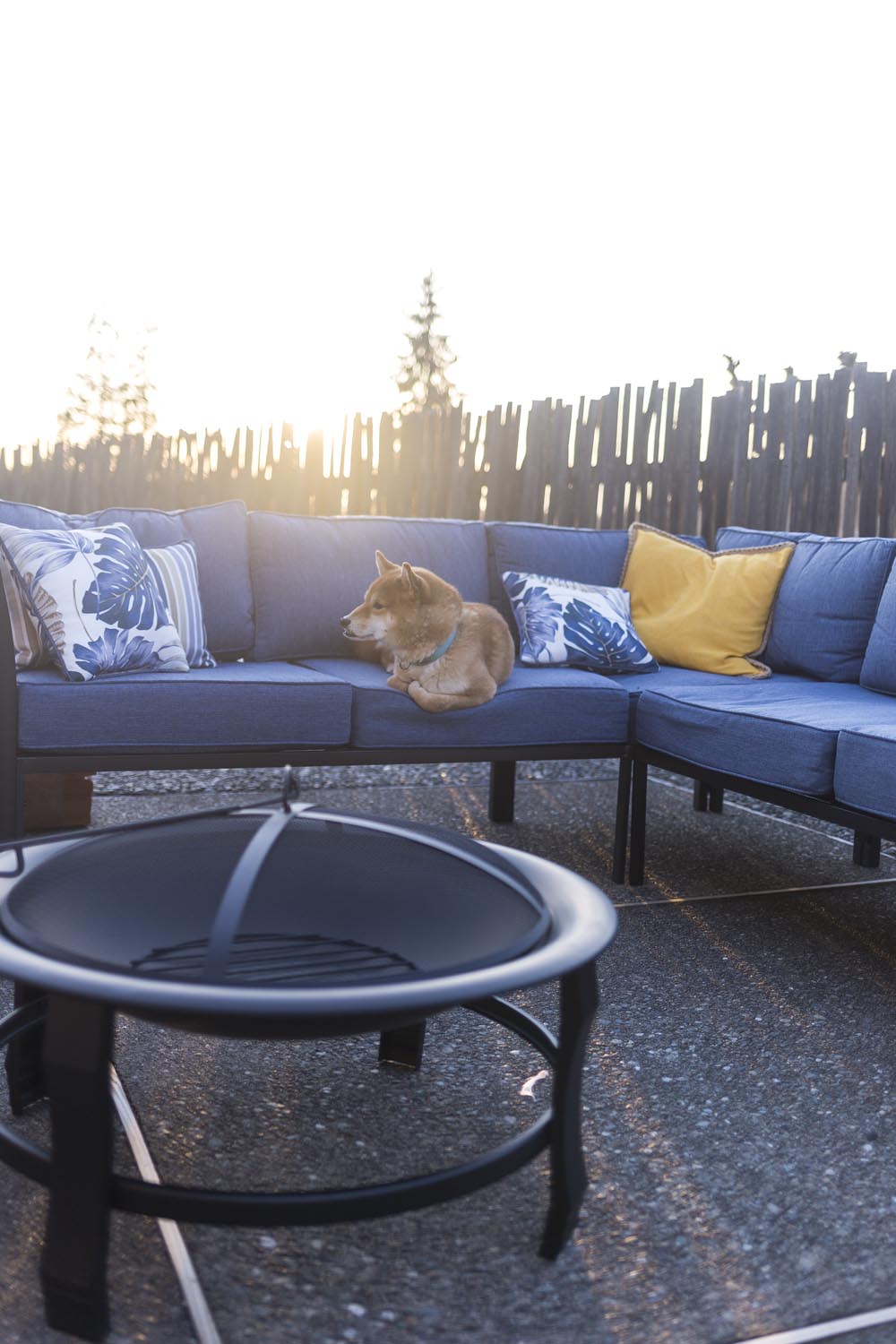 The first thing I grabbed was this wood and gold stamped tray. I love the convenience, as I can use it to bring food from inside to outside, and it also looks cute holding this gold turtle and lantern! When it gets dark, light is important, so I picked out a hurricane vase and battery powered candle. Another important part of our outdoor decor is pillows. The sofa came with its own cushions and decorative pillows, but I also added a mustard toned pillow. Technically it's not made for use outdoors, but I love the color combo and don't mind bringing it inside after. The contrast between these tones is stunning and if you ask me, and it looks like it belongs!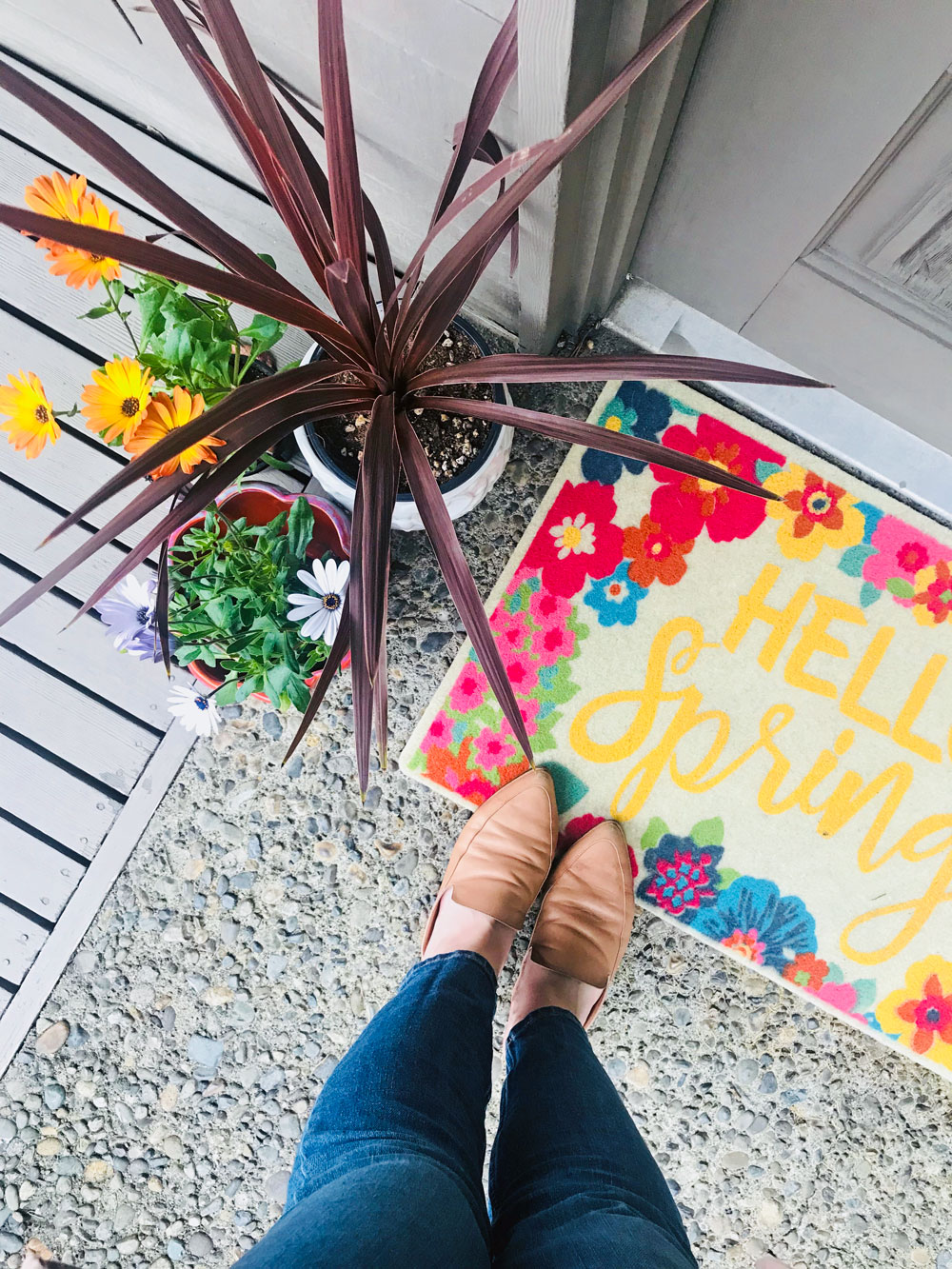 Finally, you can't forget about your front door! It's the first place where guests to my house will experience our home, and I want it to feel happy, welcoming, and inviting. For that reason, I found this adorable "Hello Spring" welcome mat to be perfect! I've also updated our front door with two new planters and flowers. Wish me luck on keeping these babies alive! I'm not known for having a green thumb, but there's a first time for everything. ;)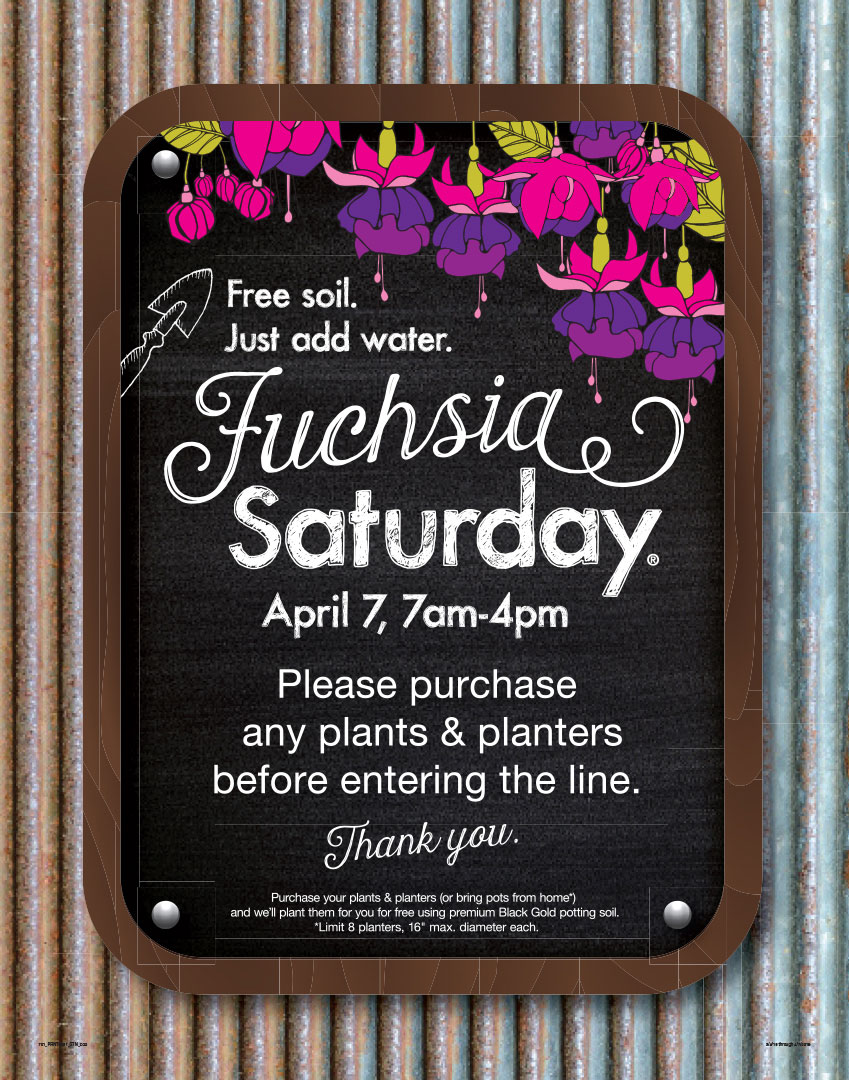 Speaking of green thumbs, Fred Meyer is celebrating all things fuchsias this coming Saturday, April 7th in store from 7am-4pm! (Participating stores are in Washington, Oregon, and Idaho, unfortunately not Alaska this time.) Fuchsia Saturday is a springtime yearly event at Fred Meyer. When customers buy fuchsias or any other live plants, Fred Meyer Associates will pot them for free – including soil! You may bring your own pots, or buy new ones at the event.
I hope these ideas for decorating your outdoor space has inspired you to give yours a little upgrade! The best thing is, it doesn't have to cost an arm and a leg to do so. Trust me, home ownership can be pricey but with the help of Fred Meyer, I'm thrilled with our outdoor upgrade that didn't cost much more than $500!
How are you planning to spend your spring outdoors? Do you love gardening, grilling, or something else?! Let me know in the comments!