Press Discount / Affiliate Link
Is it just me or is it blog conference season? Everywhere I look someone is hashtagging a conference, sharing a recap, or posting photos at a new conference I haven't heard of. I went to my first conference last year in Dallas, and while I'm not sure I'd hop a plane to go again immediately, I definitely learned and experienced a lot.
One thing I didn't even think about and felt kind of ill-prepared for was packing. I was too focused on what I'd be wearing to think about any of the things I might want to have during the conference sessions. Whether you're traveling near or far to a blogger conference, hopefully this list will cover the basics that you may forget!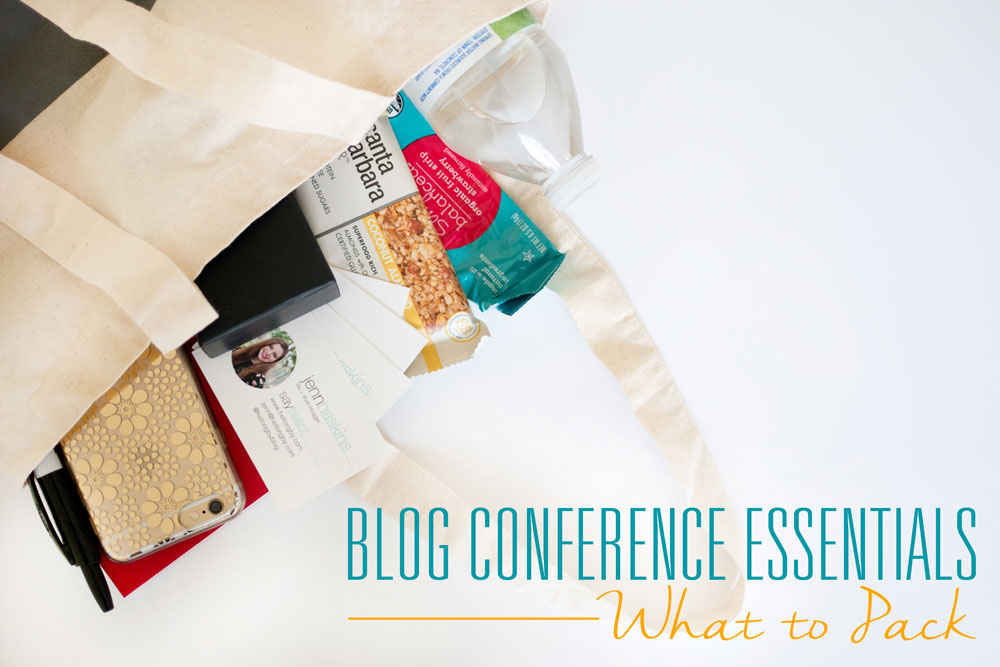 Blog Conference Essentials You'll Want to Pack
1. Notebook and pen, or for those who prefer electronic, your favorite tablet. I've packed both, and honestly still prefer good old pen and paper. What can I say, doodling on a tablet just isn't the same as in the margins of a notebook! ;)
2. Your camera or just your phone. I've learned that I rarely bring out the 'big guns' during sessions and prefer snapping a few photos with my phone. For more social gatherings like dinner or an activity, I'll pack bring my "big girl" camera. Don't forget memory cards, extra batteries, and your battery charger!
3. Speaking of phones, don't forget your phone charger! I don't know how many times I've left it plugged in at home for a last minute charge before vacation. Also, be sure to check all your outlets in your hotel room before you leave – they're sneaky and like to keep your chargers! :P
4. Business cards and a business card holder are super useful. Networking is my favorite part of conferences, regardless of how awkward it feels at the time, I've made some amazing connections! When you had someone a business card and get theirs in return, it's super helpful to have an easy way to organize their cards. I like ordering from Moo because their boxes double as a mini "filing cabinet" for your cards. I've had good experiences with the quality with Moo and think they're a great value! (P.S. if you want to try 'em out, my referral link will get you 10% off your first order!)
5. Keep away the hangry with healthy snacks and keep hydrated by packing bottled water or a refillable water bottle. I think that's all pretty self-explanatory, but hanger is real and no one wants that!
6. Don't forget a reusable tote! You may end up with another promotional one at your conference, but just in case not, you'll need one! Trust me, you'll be filling it with all the freebies and swag you could dream of. Most conferences will send you home with a few goodies from each of their sponsors.
So now I bet you've figured out that I'm heading to a conference soon… Well, you'd be right! I'm packing one small bag and I'm headed to SoFabU on the Road, which is coming to my 'hood on April 18th at the Crowne Plaza Hotel in Downtown Seattle.
The keynote speaker is Andy Hayes, founder and creator of Plum Deluxe, the website that helps you create moments that matter. A published author, prolific writer, tea lover, and public speaker, he is based in sunny Portland, Oregon (AKA Seattle's sister from another mister.) Featured in sites and magazines such as CNN, Wall Street Journal, and National Geographic, Andy is known for his fresh ideas on living a good life.
SoFabU also has networking, brands, a city-specific Adventure, and other learning opportunities (check out the agenda on the SoFabUOTR website!) Bonus: Johnny Rockets for lunch, and some other sweet sponsors like Muller, Kraft (crossing my fingers for some mac & cheese), and iBlog.
To find out if they're coming to a city near you, check out the SoFabU on the Road Website or search the #SOFabUOTR and #cbias hashtags on Twitter.
Disclosure: In exchange for writing this post, I received a discounted ticket to SoFabU on the Road in Seattle. All opinions and thoughts are my own, as always.
Fellow Seattle bloggers, will I be seeing you at SoFabU on the Road? What other conferences are you planning on attending this year?