Affiliate Links
I've been thinking a lot about shopping and budgeting this past month. Why I do it, how it benefits me, if I should share it on the blog, and so on. I thought I'd take a step back before I share what I bought last month and share why I post about it. As much as I'd like to say it is for you, it's really not. It's for me. I don't need a post, I keep a little running tally each month that reminds me every time I'm thinking about adding something to the proverbial shopping cart. But it is nice to also visualize it at the end of the month, to see it all laid out, and to think again about whether or not I am getting value from my purchases.
What's been nice about blogging about my budget and shopping habits is that it really has changed the way I perceive individual pieces and their quality. I'm doing a better job of realizing that if I can't visualize myself wearing something more than once, then it really doesn't belong in my closet.
When I was in college, I couldn't afford any "big" purchases so I shopped at places like Ross and Forver 21 almost exclusively. I bought low-quality pieces that would last me a season. It's a tough habit to break. But I'm working on it, and that's what has kept me writing about this topic. I love budget shopping and striking a deal as much as the next girl, and that's still a huge part of who I am and what I buy. But I also have grown to appreciate things that will last in the longer term and may be worth going "out of budget" for too.
Anyways. On to the good stuff.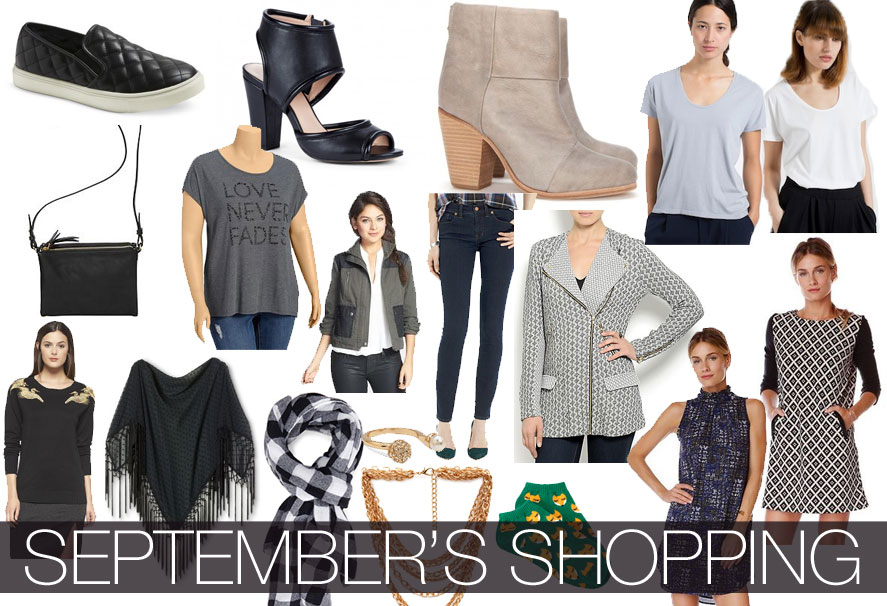 Target: I picked up their Faux Leather Slip Ons… buy these. This is the best $16 (got them on sale) I spent this month.
Old Navy: I bought this Crossbody to take to Disneyland for $15, and it was seriously the perfect travel bag. It shockingly held a bunch of stuff (my wallet, sunscreen, and two pairs of sunglasses if we wanted) and is great quality for the price. I also picked up this Graphic Tee for $8, which I recommend. Soft, flattering, and comfy!
Sole Society: I bought the Gayle Block Heel to wear to one of the fashion shows I went to last month, and they were a steal for $22.50!
Rag & Bone: These were a splurge this month, but the Newbury Bootie in Grey was on sale ($250 from $525) and I was obsessed. I drooled and obsessed for 4 days before Dave told me to just buy the damn things and be done with it.
Everlane: My first time purchasing from Everlane, and I have no idea why I waited so long. Love the U Neck tees I bought in white and gray for $15 each!
Nordstrom: This cute canvas military inspired coat I'd been watching (with my Shoptagr app, thank you very much!) went on sale during their Labor Day Sale and I snatched it up for $35!
Madewell: I finally took the advice of the 5 million bloggers and fellow shopping addicts who told me Madewell jeans got it going on and stopped in to try on a pair. I couldn't leave empty handed, so I picked up their Skinny Skinny for $92 after discount. Expensive, but these are the best fit of real jeans (not jeggings) I've found at any price point! (I sized down to a 26 there, if that helps anyone, and they offer free hemming for us shorties in store!)
Lucky Brand: I was walking by the Lucky store when we were waiting for our iPhone 5 batteries to be replaced when I saw the Marnie Jacket in their window display. It was love at first sight, and it came home with me for $74 on sale.
Forever 21: I went accessory shopping at Forever 21 and picked up several things. Of note are this plaid scarf for $6, this pearl & rhinestone ring for $4, fox ankle socks (hi, fox obsessed party of 1) $2, and I was shocked how much I love this remixed chain necklace for $8!
Thrifting: While in California, Dave's aunts and I went on a shopping adventure. I had fun thrifting and found some amazing things, like an Ann Demuelmeester blouse for $9 (!!!) I'll be styling some of those finds this season in my outfit posts, obviously.
Target x Altuzarra: If you didn't see the collection, then you may be living under a rock. Just kidding, it actually wasn't as great as I wanted it to be. I ordered a ton of stuff, and only kept this swiss dot scarf ($30) and the Crane Sweater ($40). I really love both pieces I kept, even if someone described the Crane Sweater as a little Golden Girls (because, hello, I love the Golden Girls. #NoShame)
Golden Tote: I picked the Diamond Mosiac Cocktail Dress (now sold out) and this Romantic Cocktail Dress which didn't work out for me, and thus promptly sold! That's what I love about Golden Tote – even if you don't love everything you can resell on their swap group on Facebook. Win-win.
…And that's a wrap! While I didn't technically stay within my budget this month, I'm letting it go and appreciating that it's okay because I'm happy with each purchase. I also cleared out a lot of my closet on Poshmark and ThredUp, and hope to share more on that next week. And, I'm super excited that fall is finally here (and it's actually feeling like it!) so I can start wearing a lot of these pieces.
What did you pick up last month while shopping?