Last month, I asked for your thoughts and opinions, and you shocked me with a ton of positivity and even better, helpful criticism! Thanks so much for that, I sure appreciate each and every 267 of you who took my survey and told me what you thought about this little old young blog!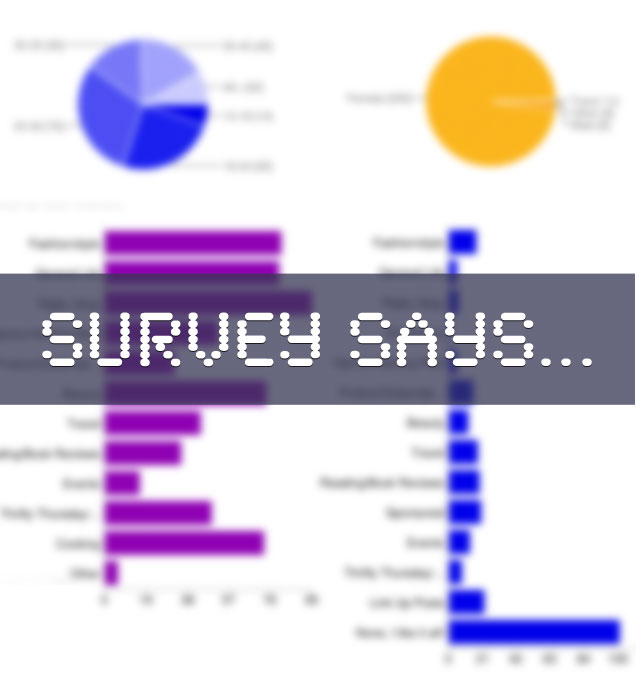 Since I'm sure you're dying of curiosity (or maybe you're not, that's cool) I thought I'd share the results of my survey, and my thoughts on what you had to say! I promise I'm not throwing anyone under the bus (it was anonymous, after all) but I may or may not be responding to some of your comments and critiques below.

Surprise surprise, the majority of you around my age (18-30) and female.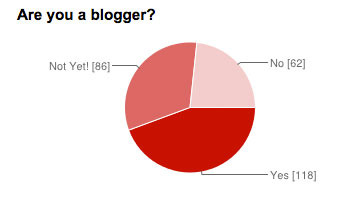 I was surprised to see how many of you are aspiring bloggers! And I'm pleased to see non-bloggers participating in this survey – thank you so much!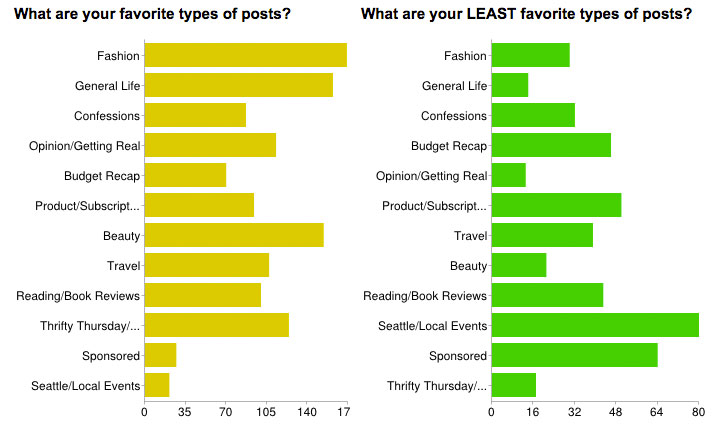 So happy to see my favorite posts are yours too! (Fashion, life, and beauty) But am surprised to see that budget recaps and book reviews are pretty high on the least favorites list! I figured local events may not be interesting to a lot of you, so those will mainly be showing up on Instagram in the moment instead of on the blog.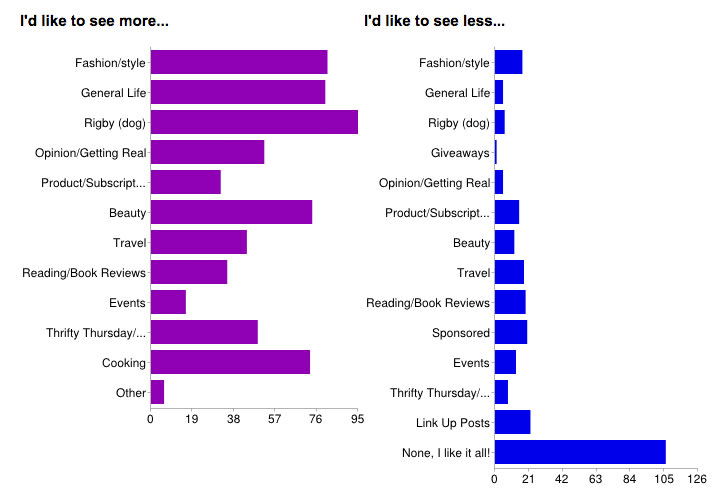 Okay, I am so shocked you guys want to see cooking posts. I actually kind of hate cooking, but absolutely love baking! I just don't have much time for it, but I will definitely consider sharing some recipes in the future and see how it goes. And Rigby will definitely be making more appearances around here, because obviously you'd like to see that too. So tell me, what type of dog posts would you like to see?
I'm pleased to see that overall, you seem to like the content on here!

Yay, very few of you feel like I have too many sponsored posts. So relieved! I actually don't intend on having many on here, but I'm glad to know that you won't hate me if I occasionally have the chance to make some extra spending cash to put back into the blog! (And just FYI, sponsored posts will always be denoted as such at the very beginning so that you know!)
And so glad that you want to see posts 3-4 times a week, because that's what I'm doing currently and it seems to work best for me too.

I was shocked that a lot of you actually follow me (and prefer to do so) on Facebook! It's something I feel like I've neglected, so I'll work on getting my social sharing on there a little more consistent.
Hi new readers, a lot of you found me for the first time during my one year blogiversary! Happy to have you and hope you stuck around ;) It seems like the rest of you hang out here once to a couple of times a week so that's great!
As for advertising, the consensus is that there's not enough interest for me to offer it, and to be perfectly honest, I'm not sure I have time to dedicate to paid sponsors/advertisers. Needless to say, if you want to do a swap or work together on a post, email me anytime! I also discovered that you guys are content with my current WordPress comment system (72% of you, anyways!) so I will be leaving good enough alone.
And now… time to share some of your comments!
The Good
"I love the writing and the atmosphere! You are so friendly and it makes me want to come back to your blog." – Yay, thank you! :)
"This isn't a favorite, but I really really like your signature at the end of your posts – its is so cute! But overall, keep up the awesome work, girl!" – Haha thank you! It's my handwriting :)
"The picture quality and writing quality featured throughout." – Yay, I love this! I got a few comments about the photos and so glad you like them.
"You are absolutely adorable and so is Rigby!" – Blushing over here. Thank you, and Rigby says thanks too!
"I follow a lot of blogs but I always find myself reading your blog the most! I like how you are very honest in your posts, it makes you very relatable and a joy to read about." – Wow, thank you so much! I am so glad to hear this. <3
"That Rigby is your dog." – Haha, me too!
"The simplicity! I cannot stand blogs that are covered in a million designs and ads. Your simplicity is so refreshing, and lets me read without getting a headache!" – As a designer (my day job), I'm so glad to hear that! I try to keep things as simple as possible since I think the content is the important part!
"it's a real, down to earth blog. none of that crazy high fashion stuff no one really likes, they're just supposed to because it's high end." – HA, cracking up so hard over this. I know what you mean, and am glad to hear it!
The Bad
"MORE RIGBY. Actually, can I just come over and hug him? Thanks so much :)" – Haha, this wasn't bad, but definitely something I will be working on adding more of in the future!
"I'd like to see more haul posts!" – Interesting, and definitely something I can consider doing on YouTube!
"A little random some time, there doesn't seem to be a real theme" – This is valid, I do have a lot of interests and so I blog about all of them! It's hard to narrow it down, but it's something I'm working on and will continue to work on.
"A bit picture heavy sometimes" – I will definitely make sure that photos are useful before I add them! Great feedback.
"Not much a fan for book reviews." – Eek, I saw this a few times, and so sorry if you're not a fellow book nerd, but I promise to keep these to once a month and not become a book blogger! Ain't no one got time to read that much.
"Would love an easier navigation between categories/etc." – I so know I need to do this. My goal for October is to get a mini redesign done which includes a better navigation system!
"I don't live in Seattle so I mostly skim the posts about local events." – Good point, and these will be lessened for that very reason! I usually Instagram about these in the moment, and I only plan on sharing recaps if I think there's something useful (like fashion and styling events, for instance.)
The Ugly (Okay, or maybe the Not-So-Ugly)
"I generally not a fan of sponsored posts. I have never seen a sponsored post on any blog that wasn't glowingly positive. I don't trust them and don't bother with them." – I totally know what you mean! But I will say, the reason my reviews tend to be positive is because I only will work with brands whose products I either 1. already use, or 2. have tried and actually liked/agree with. I hate writing about things I'm not a fan of, unless it's a part of a beauty box in which case it's no biggie if it didn't work for me.
"I hate the giveaways where you link with a million blogs. It's so time consuming I don't even enter them. I'm here for your blog.. not theirs." – This is SO helpful to hear – thank you! I will definitely be more discerning on giveaways I contribute to in the future and do more of my own. (And I say this and have one below, oops. I'm still learning!)
"Budget report. Shouldn't that be personal." – This is super interesting to me and I actually thought a lot about this particular comment. I personally don't find talking about my budget to be extremely personal, but I can understand where others may think it is. I try to be discerning with my purchases, and may take the money component out of future monthly posts.
Again thank you all so much for your kind thoughts and your critiques! They were so valuable, and I truly appreciate each and every one of them. And as always, if you have any thoughts or comments related to the survey or just in general, I would love to hear them anytime in the comments, or if you'd prefer to keep them private, I'm just an email away! ;)