I came down with a summer cold at the end of July, and to get me through my boring weekend of canceled plans, I began re-watching Sex and the City. I've always fancied myself a bit of a Carrie. While I don't have the wild curly hair, a bad smoking habit of smoking, and have not been on nearly as many dates as Carrie Bradshaw, her creative fashion, carefree spirit, and freelance lifestyle have always appealed to me.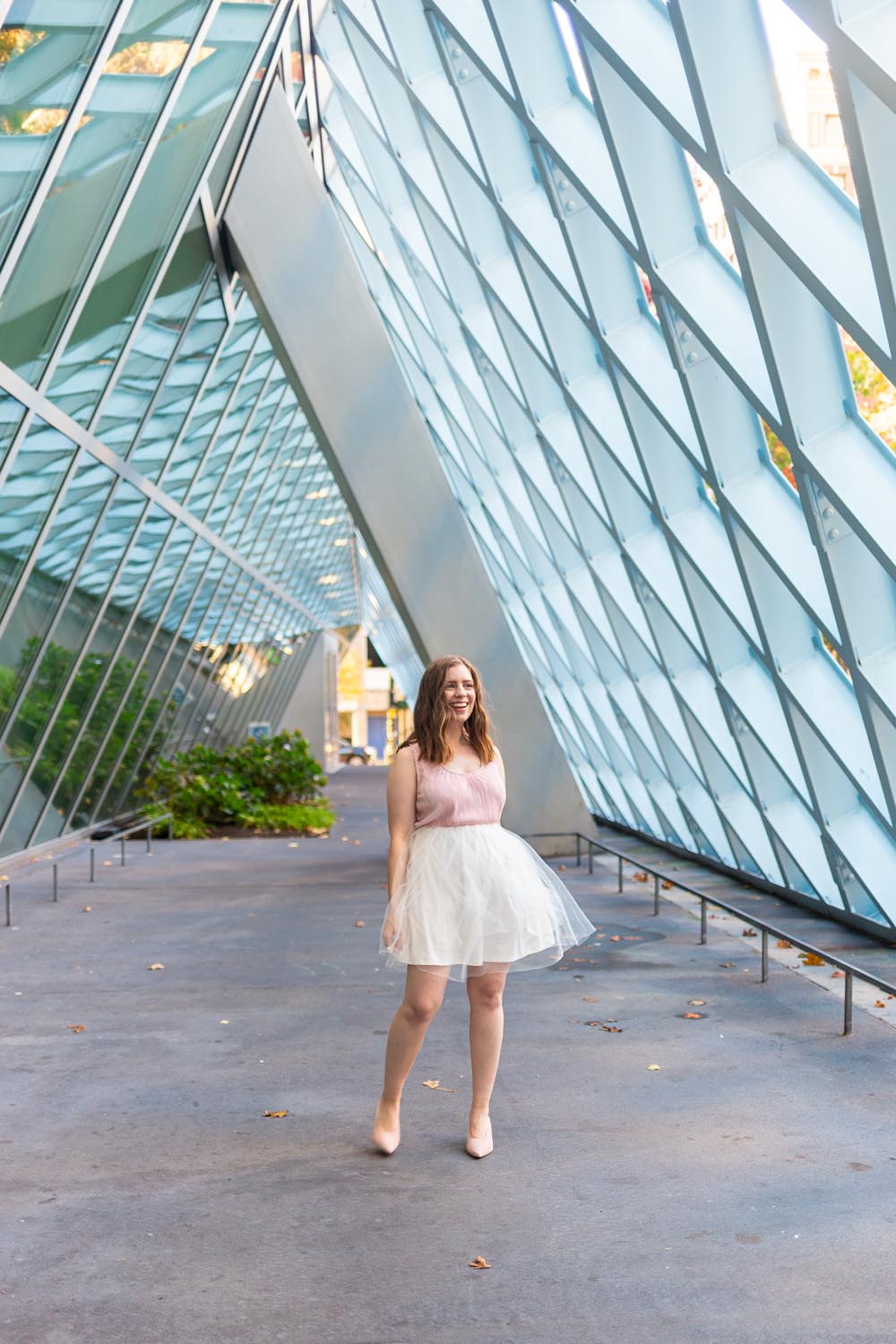 When it came time to think about Halloween costumes, I instantly knew I had to create some of Carrie Bradshaw's amazing 90s and early 00s outfits. Today, I'm rounding up 5 easy Carrie Bradshaw costumes that you can re-create for your Halloween soirées, or like me, for answering the door for trick-or-treaters. Best of all, these costumes are all created from real clothes that I either had in my closet, thrifted or purchased on a budget making them truly do-it-yourself!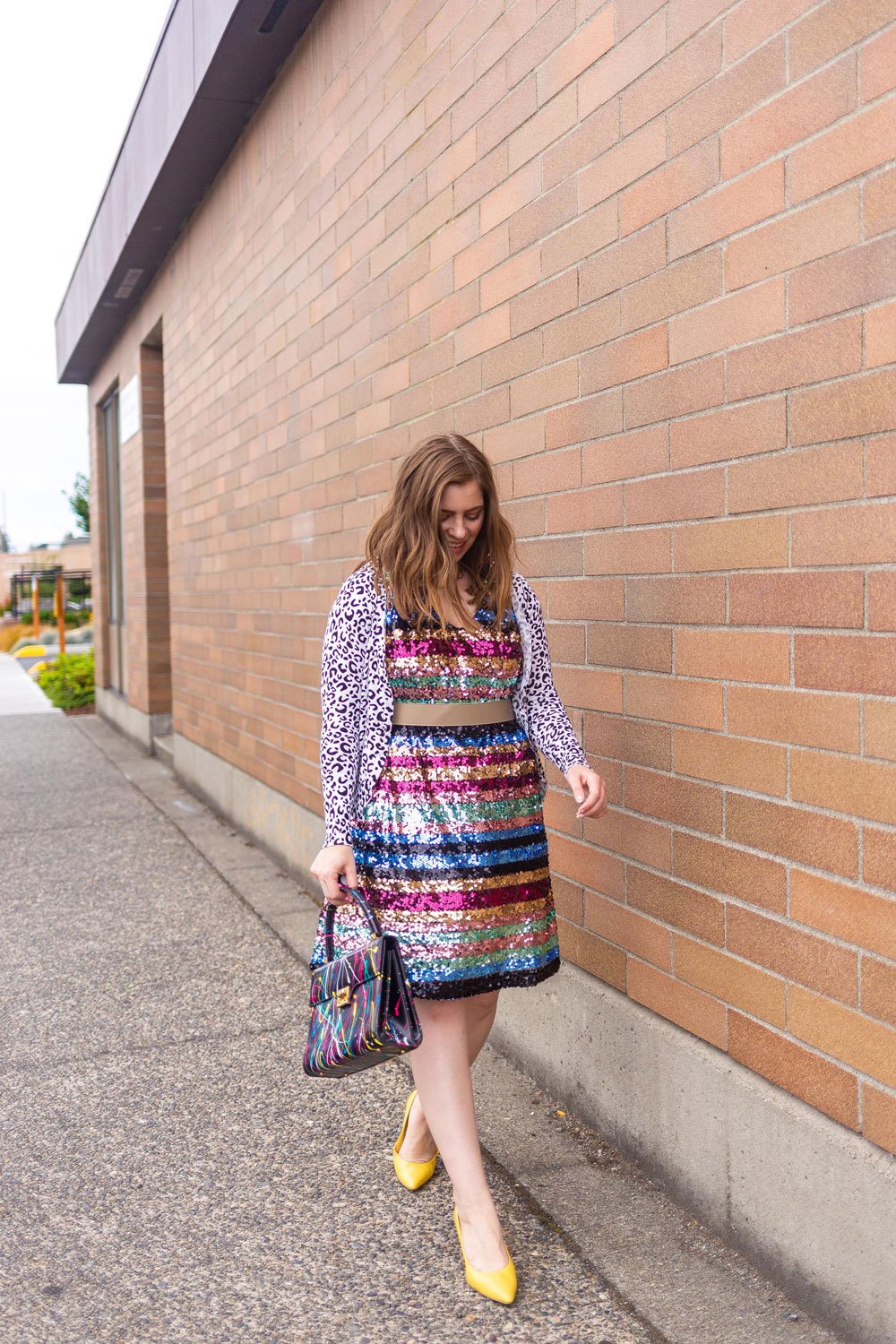 Young Carrie Bradshaw Costume from The Carrie Diaries
If we are starting with Carrie Bradshaw costume ideas, then we might as well begin with Young Carrie from The Carrie Diaries! My friend Sahily from Pretty in Pigment inspired this costume thanks to the DIY Carrie Diaries purse she made.
She let me borrow it for this look, but easily make your own with her DIY tutorial! Then, bust out your best sequins, an animal print sweater, and 80s jewelry to recreate this quirky look.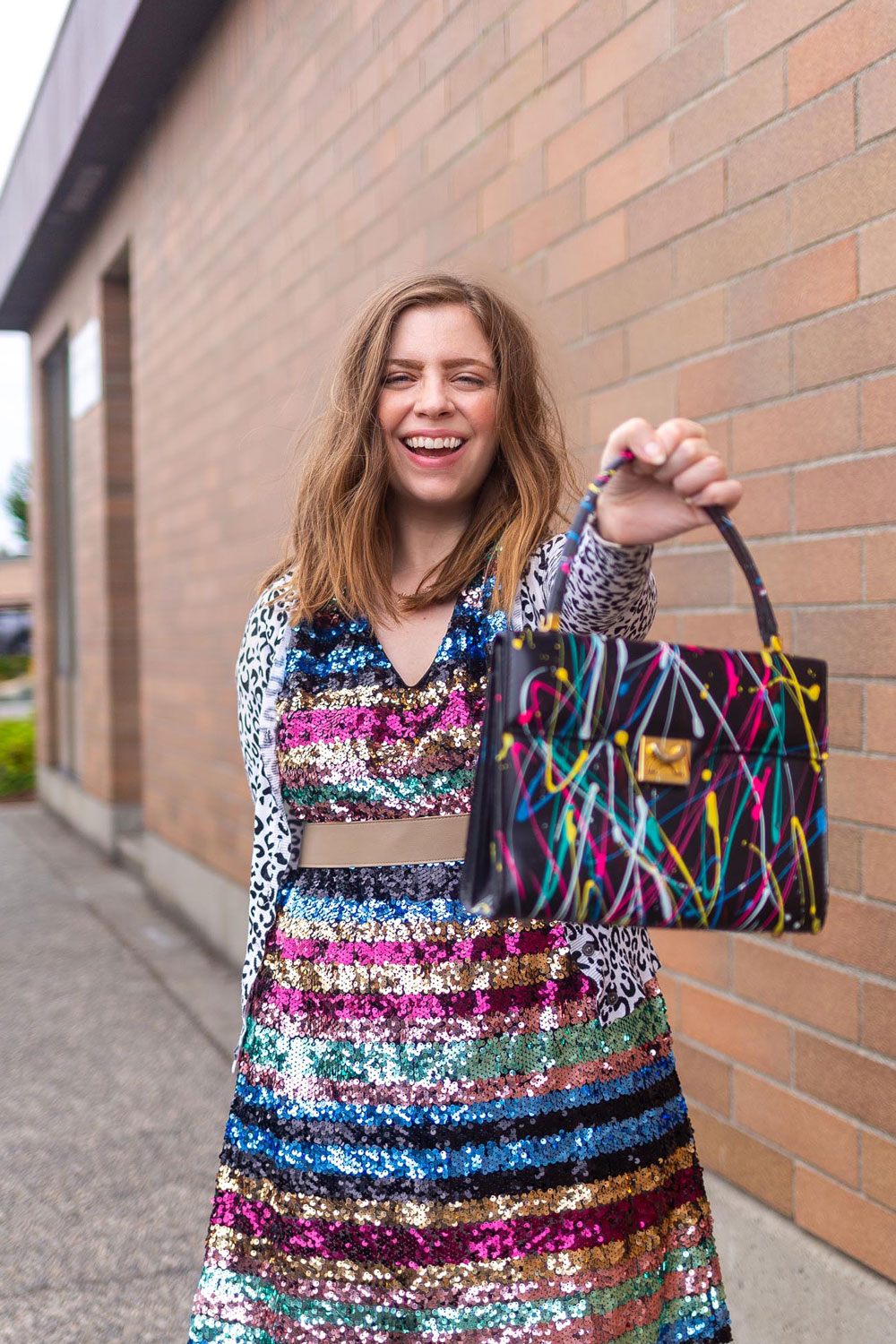 Here's what you need for this DIY Carrie Diaries costume:
Sequin dress
Leopard cardigan
Carrie DIY Purse (Find the tutorial here.)
Rainbow Belt
Colorful Heels
If young Carrie isn't your thing, then never fear! The rest of the Carrie Bradshaw costume ideas highlight 4 of my personal favorite looks from the tv show and first Sex and the City movie. For the early 90s and 00s Carrie looks, you'll need to acquire a couple of essentials to create any of these looks:
3/8 barrel curler, to recreate her curly hair
Hairspray
Carrie (or your name) Necklace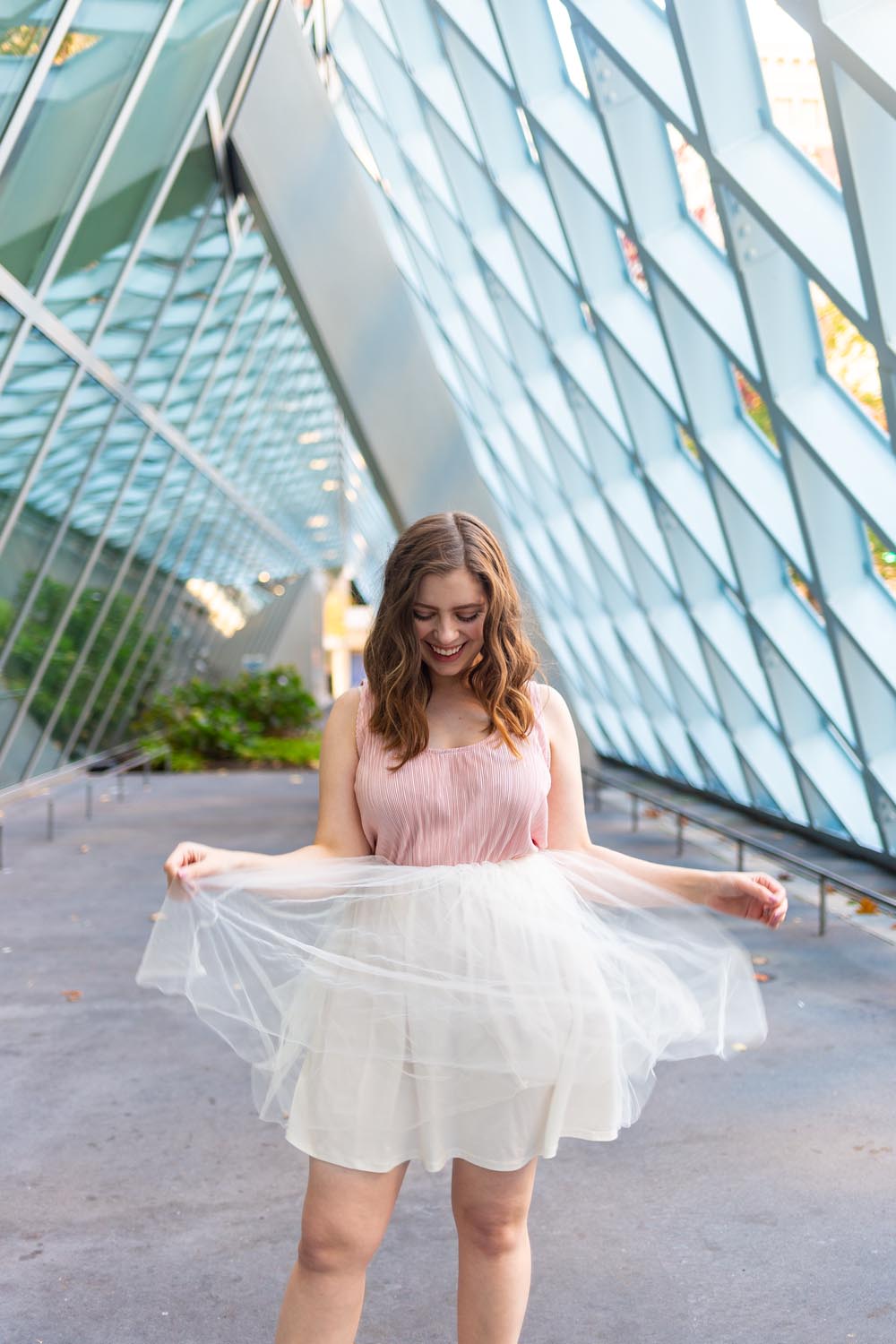 Opening Credits Carrie Bradshaw Tutu Costume
When it comes to iconic Sex and the City looks, I think the one that most often comes to mind is the Carrie Bradshaw tutu outfit. As Carrie walks through the streets of NYC with iconic views flashing in-between steps, a bus pulls alongside her and splashes her!
Let's skip the bus splash and instead recreate this fun cream-colored tutu and pink tank look! I thrifted this tutu (it actually was a girl's dress that I deconstructed), light pink tank top, and then added my own shoes. Technically Carrie wore strappy heeled sandals in the opening sequence, but I recommend wearing whatever you have in your closet!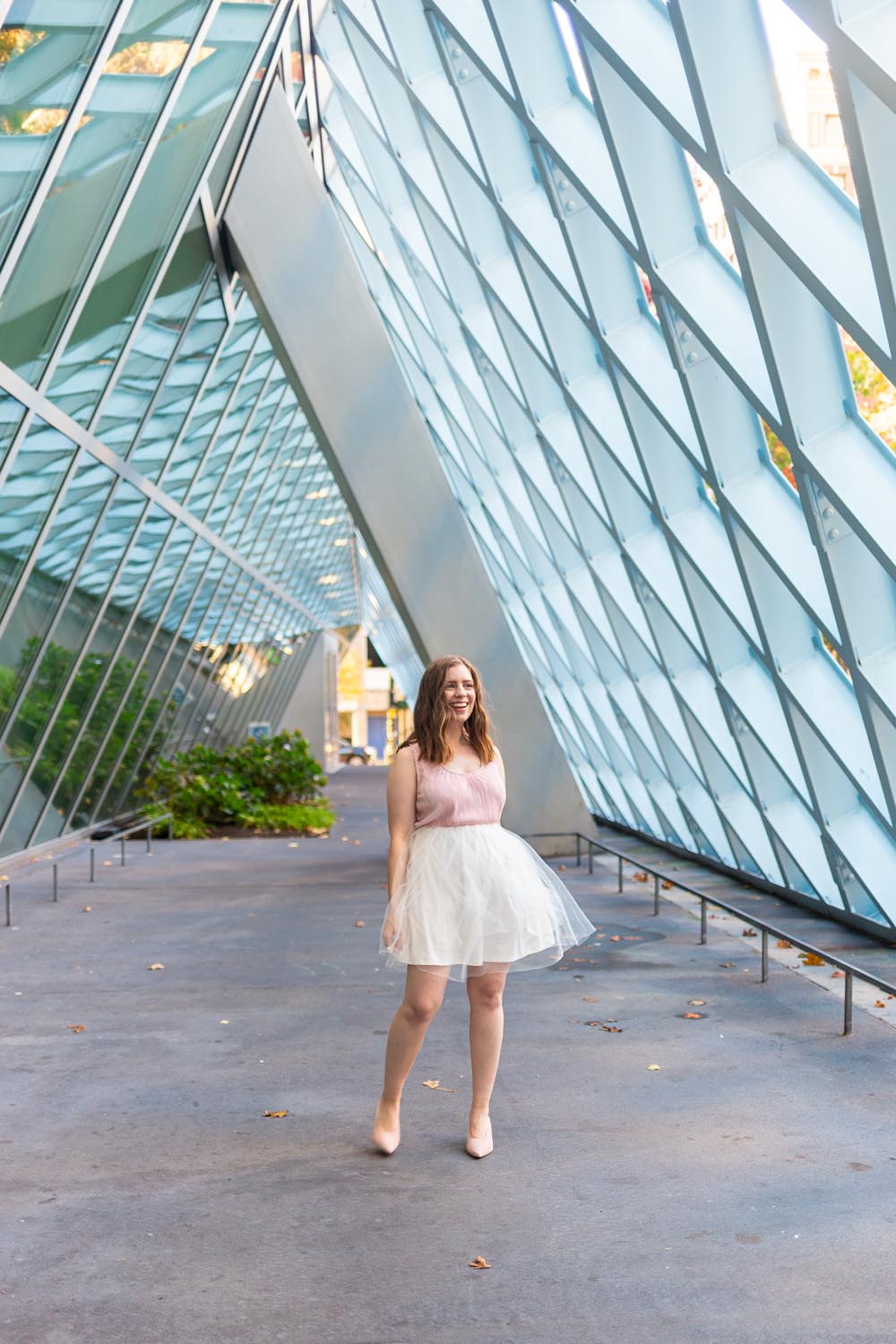 Here's what you need for this DIY Carrie Bradshaw tutu costume:
White tutu
Pink tank top
Strappy high heel sandal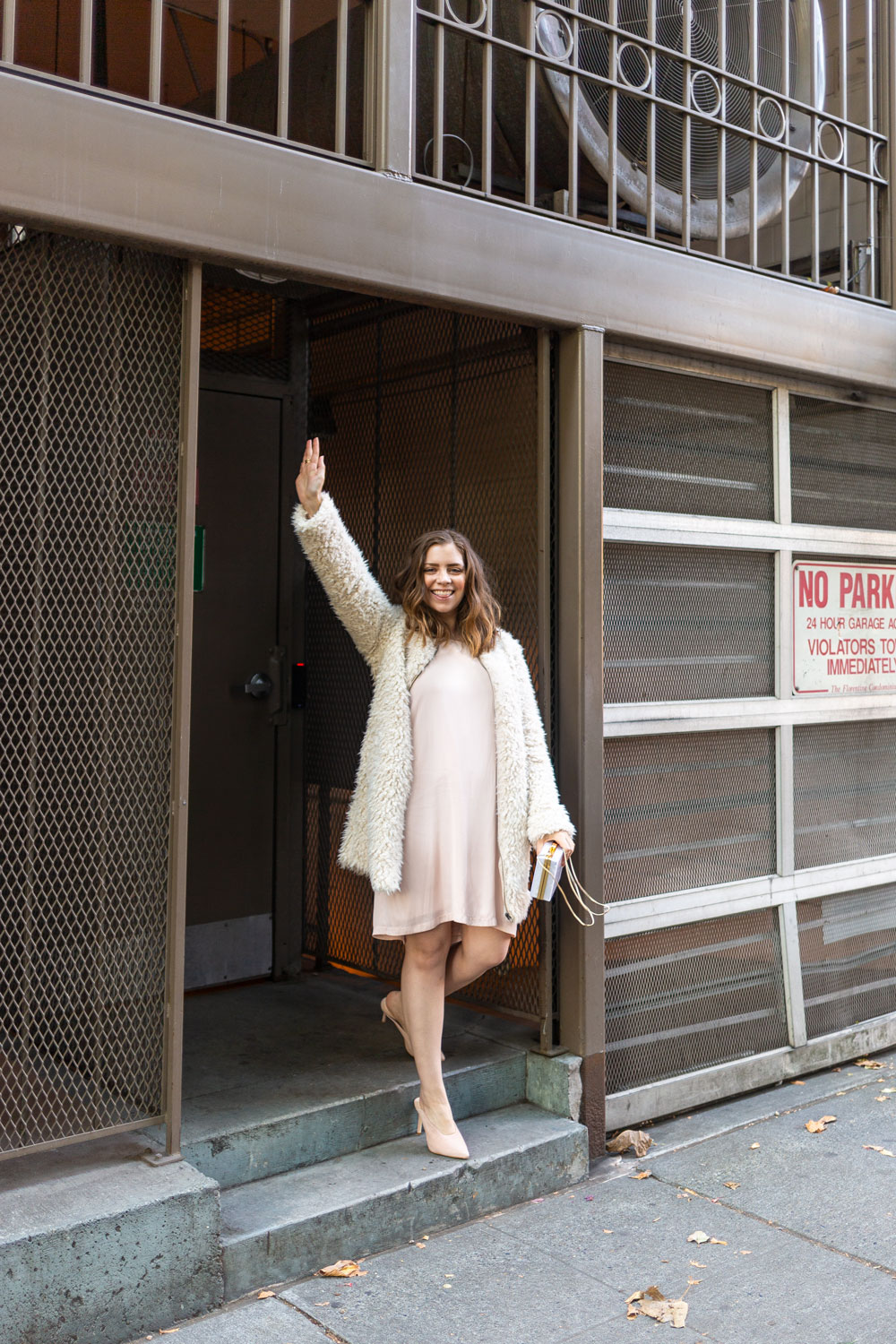 The Naked Dress Carrie Bradshaw Costume
When I think of Carrie Bradshaw, I think of The Naked Dress. It was the dress she wore on her first date with Mr. Big. In the back of his black car, she threw a furry coat on top, too, which I've done for this look since let's be honest: Halloween is a chilly time of year!
Carrie also sports The Naked Dress in the ad on the bus in the opening credits, too. To me, The Naked Dress is an iconic look that those in-the-know will immediately recognize.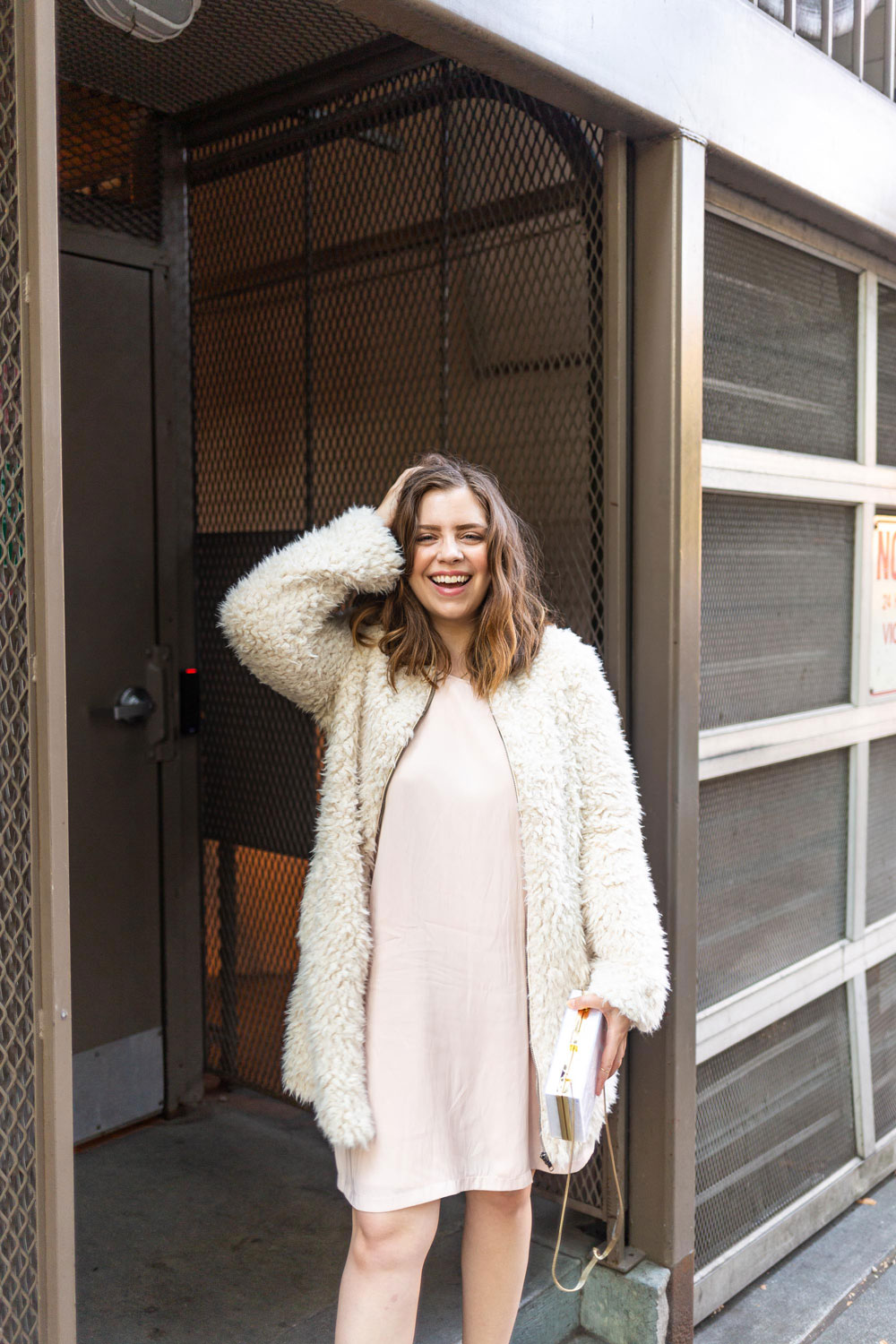 To create this look, you have a couple of options. Check the dresses in your wardrobe for a nude slip! If you don't have one, try this or scope out your local thrift store. Add a fuzzy or furry jacket of your own, and your favorite pair of nude heels. Finally, grab a clutch for your "date" and the look is complete!
Here's what you need for this Carrie Bradshaw naked dress costume:
Nude toned slip dress
Fur jacket or coat
Nude heels
Clutch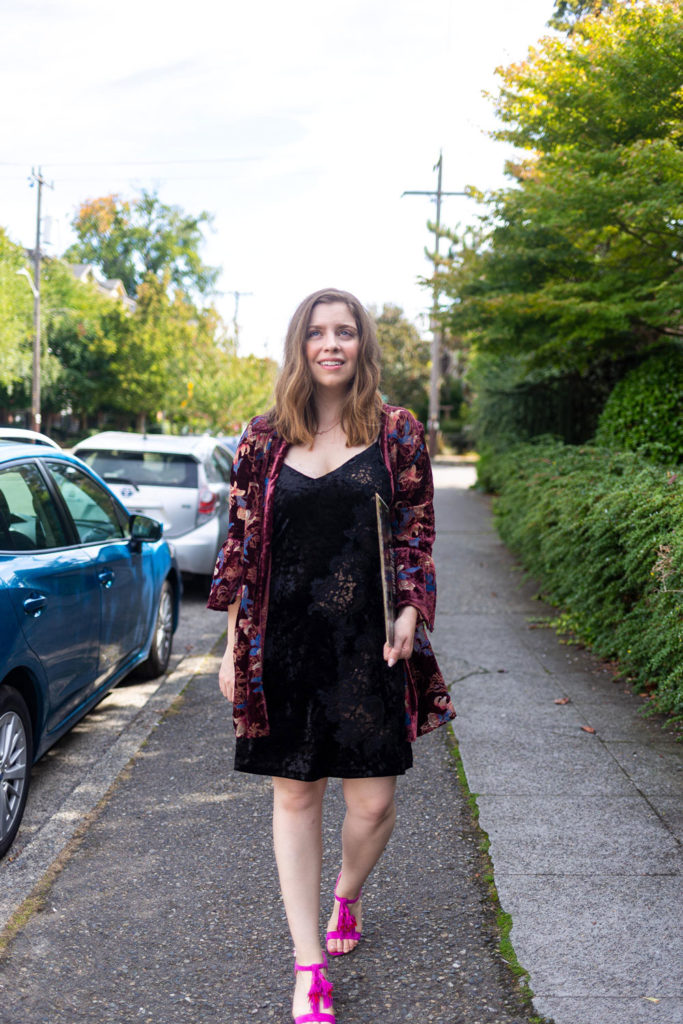 Hello and Goodbye to Mr. Big DIY Carrie Bradshaw Costume
Some of Carrie Bradshaw's outfits stand the test of the time. Many do not. The outfit she wears when she bid adieu to Mr. Big who is jetting off to Napa? It most definitely does. In fact, this entire outfit came from my closet!
In this episode, Carrie finds out Mr. Big has big plans… to move away to California! They have one last night out on the town in a horse-drawn carriage when Carrie's emergency phone for Miranda, who could give birth at any moment, begins to ring. Carrie hops off the carriage and arrives to be with Miranda. After Miranda gives birth and things calm down, Carrie pops back for one last visit to Mr. Big, only to find a Harry Mancini record, note, and roundtrip plane tickets waiting for her.
It's simple; pull together your favorite black dress, a jewel-toned coat, jacket, or in my case, kimono, and your favorite pink sandals to recreate this look.
Here's what you need for this Carrie Bradshaw Halloween costume:
Black lace slip dress
Velvet jewel-toned kimono
Pink fringe heels
Carrie necklace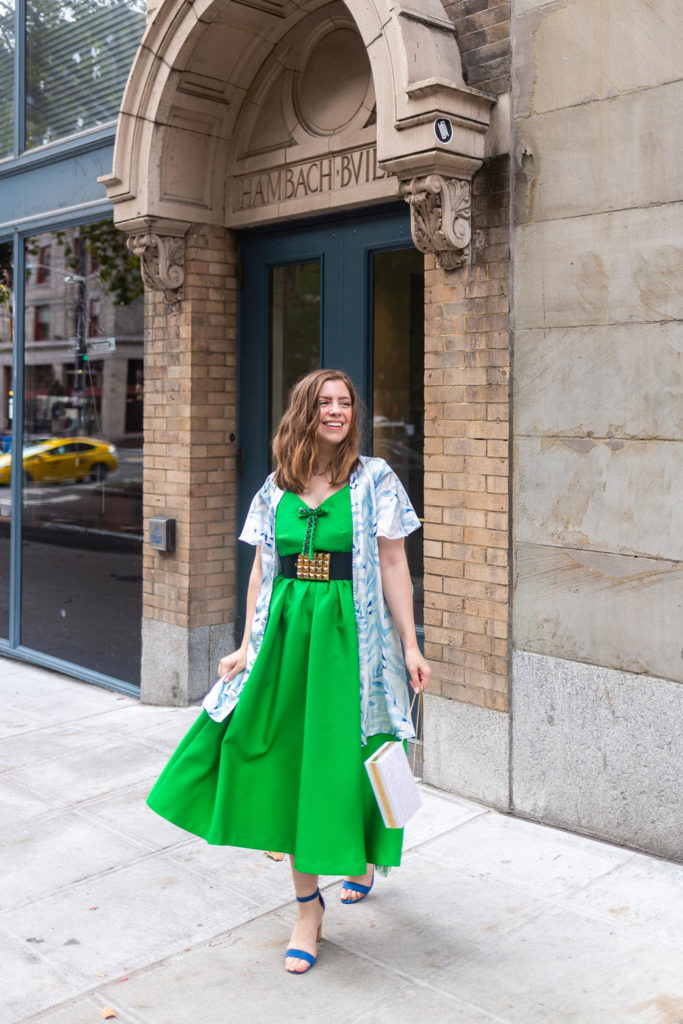 House Hunting with Mr. Big Carrie Bradshaw Costume from the Sex and the City Movie
When the Sex and the City movie came out in 2008, I saw it opening night at midnight in the theater with one of my good friends. My friend and I were not alone; I've never seen a theater so packed full of screaming women!

Other than getting a semi-satisfying conclusion to the television series, the movie brought back the amazing outfits and fashion that the series was well-known for. Nothing caught my eye more than Carrie's studded belt that she wore multiple times throughout the movie. With a black coat and fedora, with an amazing green floral dress and jacket, and with a little hot pink number, it was so intriguing!
When I started thinking about creating Carrie Bradshaw costumes, I knew I had to incorporate one of those studded belt looks. Ironically, finding the belt was easy. I found it on thredUP for about $15. The hardest piece of this costume to find was actually the coat!

I tried looking for green floral kimonos, jackets, and coats to no avail. I also kept my eye open for wrap dresses that I could re-style, but this cute little blue floral robe was the closest I could get without cutting up a dress. I think the spirit of the outfit is still there, and think this look might be my favorite!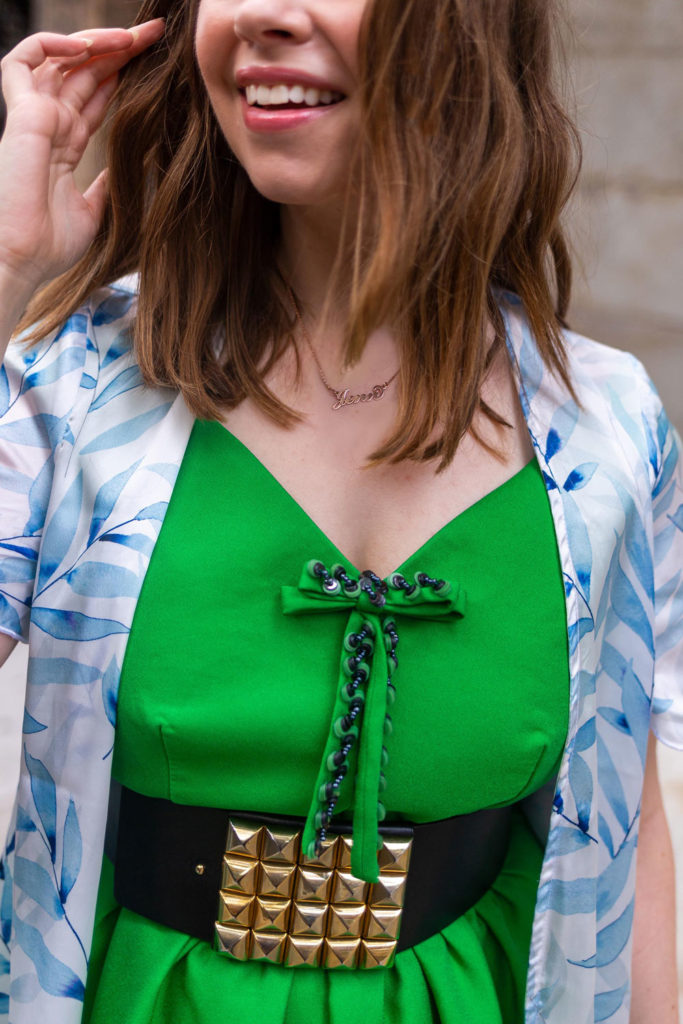 Here's what you need for this DIY Carrie Bradshaw costume:
Green formal dress
Green and white jacket, or similar 
Studded belt
Strappy high heel sandals
"Your name" necklace
As Halloween quickly approaches, I hope these easy to recreate Carrie Bradshaw costume ideas will inspire you to be your own Carrie. (Or, if you prefer, Miranda, Samantha, or Charlotte!) Happy Halloween, friends!

What are you dressing up as this Halloween? Which Carrie costume is your favorite? I'd love to hear your thoughts in the comments!