Affiliate Links
so, remember when i said last month that i was not going to budget for may because i "didn't need it"? yeah, i'm crazy. my confession this week? i definitely needed it. i think i may be a tiny bit of a shopaholic.
one of my favorite things about "blog land" is the camaraderie around interests. mine tends to focus a lot on things. clothes and makeup, specifically, are my weakness. some people have booze, the gym, sports… not me, i choose shopping. shopping is my cardio.
so one big confession this month: i overdid it. and i feel bad i did, but i like what i got. so sue me, i guess.
first it was Golden Tote. then it was the Nordstrom Semi-Annual sale. i don't discriminate, i also spread the money around to Etsy and Ulta too. so who wants to see what i got? i figured.
what i (over)spent on in May: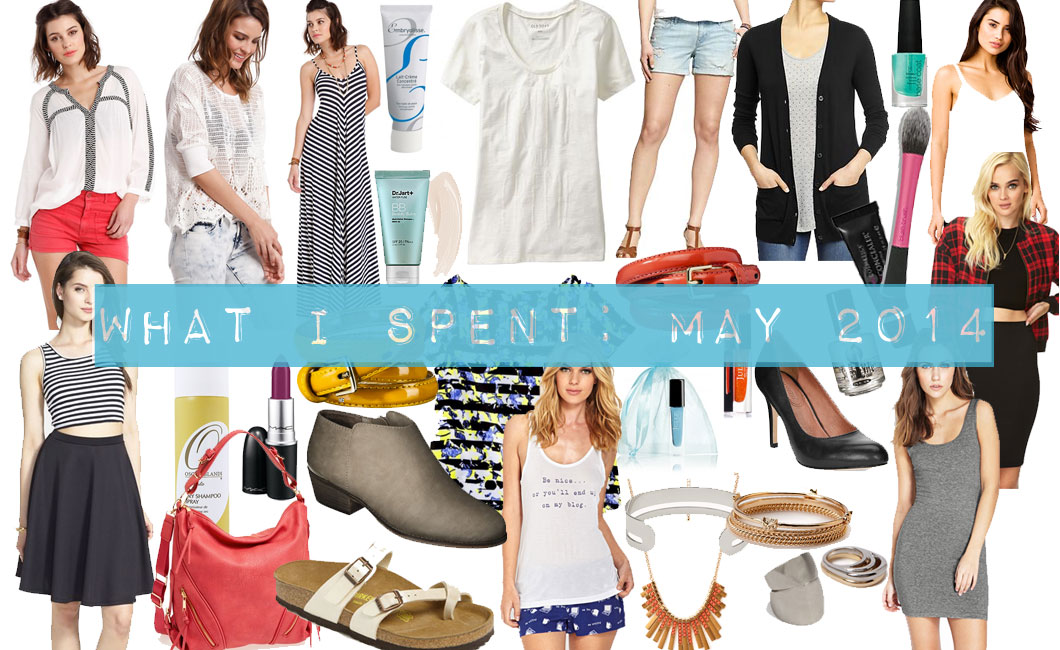 Golden Tote / I picked up another Golden Tote this month and chose the Webbed Trim Tunic, Puella Classic Maxi + surprise items, and add on Crochet Coverlet ($30) / spent $179 (-$25 for selling one surprise item item)
Birchbox / Embryolisse Lait Creme, Dr. Jart Water Fuse BB Cream / $16 (used Birchbox Points to cover some)
Old Navy / Creme de la Creme Tee, Boyfriend Shorts, Boyfriend Cardigan / $24
Julep / Kyla and Something Blue Nail Polishes / $3
Target / Coral Belt, Mustard Belt, my new favorite Booties, Peter Pilotto x Target blouse / $59.75 (-$39 gift card) = $20.75
Macy*s / Corso Como Del Pumps (finally, found my perfect black pumps!) / $74.75 (-$39 gift card) = $35.75
Ulta / Little Amazing Concealer, Seche Vite top coat (amazing!), CND Stickey Base Coat (also amazing!), Real Techniques Blush Brush / $55.50
Forever 21 / Sleeveless Bodycon dress, Midi Skirt, Knee length bodycon skirt, 2x V-neck Camis, Braided Owl Bangles, Crescent Rings, Classic Ring Set, Stripe Cuff, Blogger PJ Set (so cute!), Art Deco Pendant / $48.20
Etsy: RSVPHandcrafted / Camera Strap (see my custom one on Instagram!) / $50 + shipping (-$30 gift card) = $28
Etsy: Wiggle Perfume / Buxom, Samples of Speakeasy Vanilla + Lila / $20
Nordstrom / Birkenstock "Mayari" in Antique Lace (yes, i did it, shut up.), Big Buddha Bag (new camera bag!), Painted Threads A Line Skirt, MAC Up the Amp, Oscar Blandi Dry Shampoo / $190
yeesh. all totaled that's over $600.
so, i think it's time to hop right back on the shopping budget bandwagon. i'm going to challenge myself to spend under $150 in June to make up for my bad behavior.
i mean, let's just face it. i have a slight shopping problem. it's not going to put me in debt or bankrupt me anytime soon, but i probably don't need to spend that much in the near future.
anyone else have a shopping problem they'd like to confess?